OVHcloud is a small hosting company that simply isn't a match for big brands like
Hostinger
. The bigger hosting companies simply offer a better price for similar configuration.
OVHcloud screams premium right from the homepage with its choice of a rich royal blue and deep purple for the color palette. Its high-performance servers are scattered across four continents, allowing the company to provide rapid cloud hosting from around the globe. It specializes in working with companies that need to grow at scale through the smart use of cloud technologies.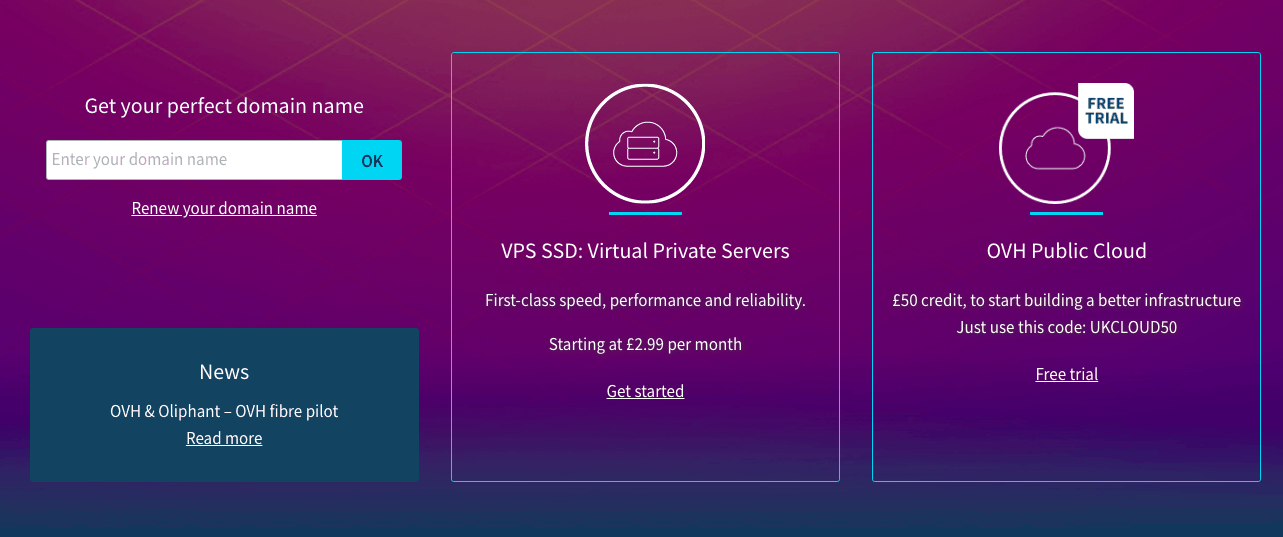 OVHcloud has 1.3 million customers around the world and hosts 18 million web applications across 19 countries and over 25 data centers, so it must be doing something right. It has pretty good reviews on third-party rating sites, too.
In fact, at first glance, there are none of the warning signs that I'm used to looking out for when comparing web hosting providers.
But that doesn't mean there's nothing there. There's no such thing as a perfect web host (if there were, everyone would use the same host), so as always, it all comes down to figuring out whether it's the right host for you.
OVHcloud is mostly known for its cloud and dedicated hosting, although it does also provide personal web hosting packages at a lower price. On top of that, while it does have those cheaper packages, its focus is clearly on higher value customers, so if you're looking to cut costs and save money, you should look elsewhere.
Still, they say that you get what you pay for, and that's certainly the case here. With that in mind, let's take a look at what OVHcloud has to offer and together we'll figure out whether it's the right provider for you.
Before we get started, as you've likely guessed already, this is a multinational company. There are 24 versions of the website, depending on your location and currency. While you'd think that all the services and products would be the same, they're not.
In European and African countries, OVHcloud sells shared hosting, while in Asian, North American, and Oceanian countries it focuses on selling dedicated and private servers. Unless otherwise mentioned, this review focuses on the U.K. website and its shared hosting plans.