With a poor VPS plan, your website is going to be slow and sometimes completely unavailable.
Just getting the server to run can take hours.
I signed up for dozens of VPS plans and tested them myself, after also testing the top web hosting providers on the market, to find out which ones can meet my standards. 
Most companies didn't even come close, but the best prevailed. Read on and understand what's really under the hood, and which cheap VPS hosting service is best for you.
Short on Time? Here Are the Most Affordable VPS Web Hosting Services in 2023: 
Kamatera – A global cloud infrastructure that gives you the most flexibility and scalability, on the best possible hardware
InterServer– A great option if you want to move your WordPress website from shared hosting to a powerful VPS, with all the perks involved
A2 Hosting– An extremely affordable option with some of the cheapest VPS plans to date
What We Look For in the Best Cheap VPS Hosting Services
High-quality servers – There's very little magic in servers. Just like a PC, Mac, or smartphone, some servers are much more powerful than others. Higher-end offerings from Intel and AMD, hosted in well-maintained data centers complete with redundancy measures, guarantee your website the fastest loading speeds and the most reliable uptime.
Generous resources – A VPS is a virtual part of the server's resources, to which only you have access to. It's possible to make a teeny-tiny VPS, but that isn't going to help anybody. Even with the basic plans, the following hosts offer sufficient storage space and a lot of RAM and CPU power.
Scalability – The greatest part of a VPS is how you can always upgrade your machine and adapt it to your changing needs. Still, not all hosts make this as simple as it should be. The ones on this list let you upgrade your VPS easily and without any downtime.
Managed support – Compared with good old shared hosting, a VPS is more difficult to set up and maintain. The best providers either teach you exactly what to do or offer a managed service – meaning they'll do it for you. Keep in mind that not all managed support was created equal, and I'll elaborate on what you can expect from each host.
Price – Price is tricky. Even if it only costs a few bucks a month, there's nothing cheap or affordable about a low-quality plan with flimsy resources and no support, hosted thousands of miles away from your target audience. The hosts on this list are not only affordable but actually provide value for your money.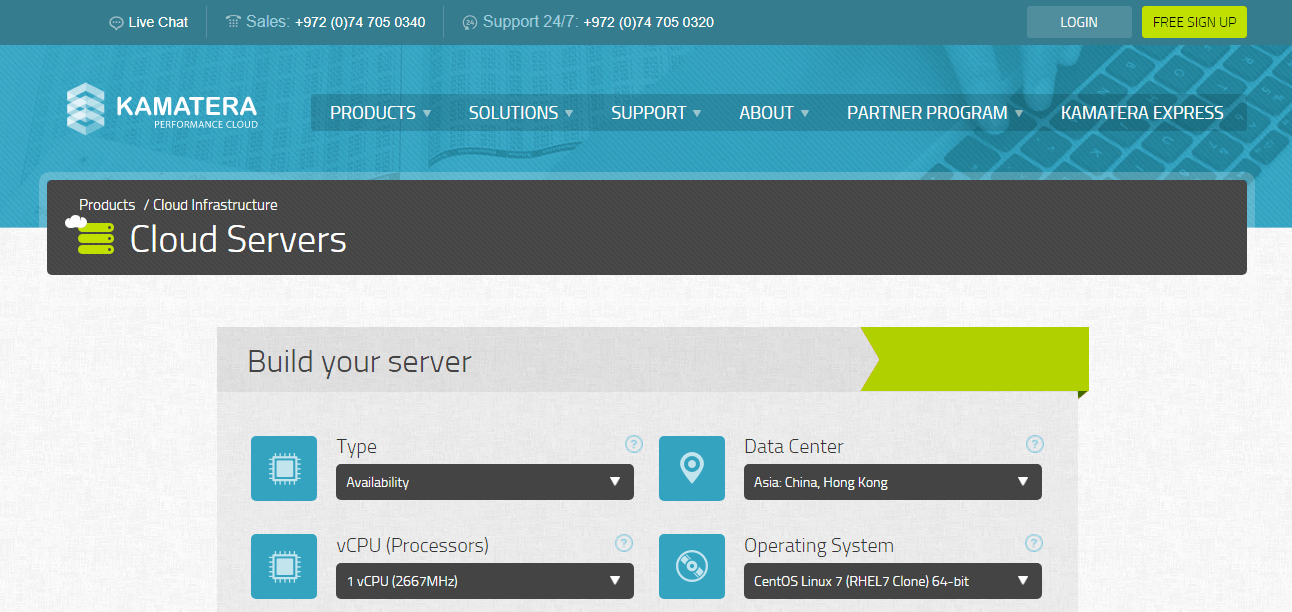 A funny thing about Kamatera is that if you take a glance at the company's homepage, you might not immediately realize that it actually provides hosting services. Kamatera brands itself as a "performance cloud", and
operates no less than 13 data centers: from the US and Canada to the UK, Netherlands, Germany, Israel, and Hong Kong.
You can use this global infrastructure in many ways, but a cheap VPS server is obviously what we're here for. Whether it's a regular website you want, an application server, or an enterprise web service, Kamatera's cloud servers are up to the task. The company upgrades its hardware on a regular basis (without raising pricing), making sure you'll never get left behind. The only caveat? The service is geared towards functionality, not sales. There are no pretty graphics, flashy interfaces, or great deals when signing up for years to come.
What you do get is an affordable, powerful, and scalable server, complete with either cPanel or Plesk for easy management. And that's what's important.
Resources – Choose between 1 to 32 CPU cores, 1GB to 132GB of RAM, and 20GB to 1TB of SSD storage. Costs are calculated on an hourly basis, not monthly, so you can make changes at will and have them immediately take effect.
Free 30-day trial – A completely free trial, without any commitment or money down. This makes Kamatera the safest and easiest choice for you aspiring VPS owners that are still on the fence. Just open a trial account, get a server running, and make a decision afterward.
Global deployment – Kamatera, FastComet, and A2 Hosting are the only hosts on this list that let you reach the Asian markets, and Kamatera is the only one with a presence in the Middle East. If that's where your audience is, this is the host for you.
Fully managed service – Available at an extra cost, it includes server setup and full system configuration and maintenance. While Kamatera's basic plans are among the cheapest on this list, this service will raise the cost considerably. Still, you can always remove it after you get the hang of how things work.
To see what our expert thought of this host, read our
full Kamatera review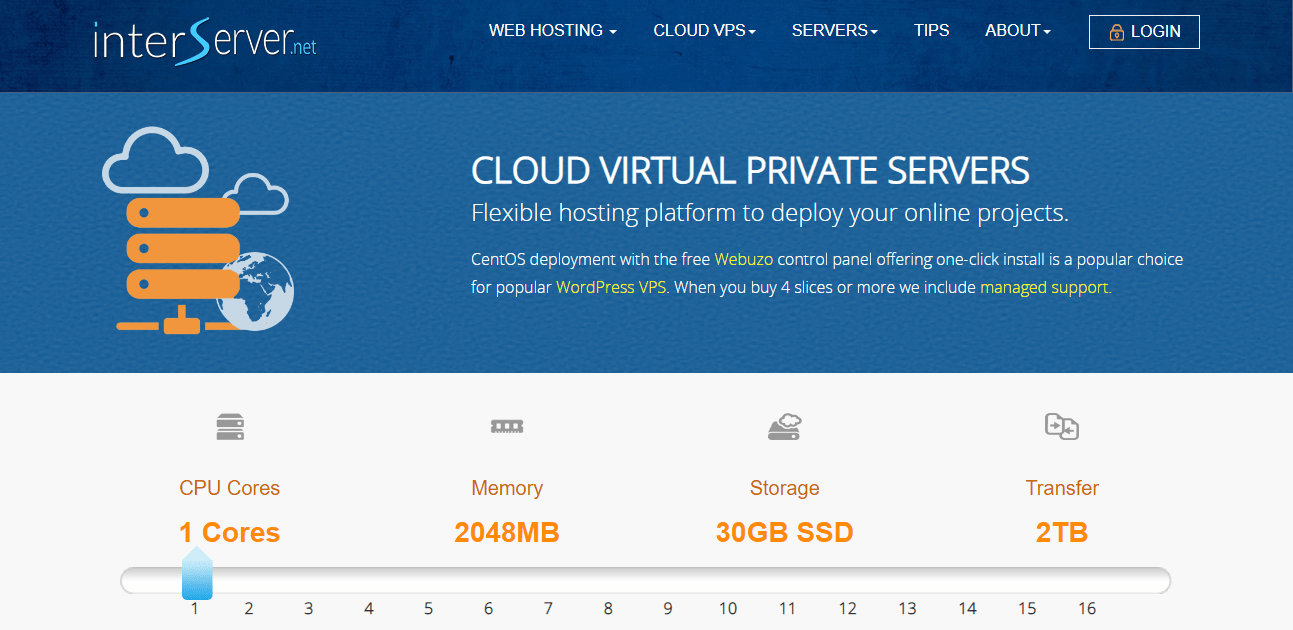 While it might not be very well-known yet,
InterServer's VPS plans
pack a serious punch.
With state-of-the-art data centers strategically located on both US coasts, you'll be in prime position to serve visitors from all over North America.
Even for your European visitors, loading times will be well within reason.
16 different VPS configurations are available, and managed support is included on all but the three most basic configurations. During setup, you'll be able to specify your OS (Operating System) of choice, and a hosting control panel such as cPanel or DirectAdmin. InterServer's managed support includes OS and control panel reinstallations, and the repair of any server malfunctions.
One of the best things about InterServer's service is how easy it is to get a WordPress website running – almost as easy as a shared hosting auto-installer.
The Webuzo tool allows you to quickly configure your new server and automatically install the necessary dependencies. Even if you're not very tech-savvy, the whole process should take you around twenty minutes. Whatever happens, rest assured that support is available 24/7.
VPS by the slice – InterServer calls its basic VPS unit a "slice". A slice includes 1 CPU core, 2GB of RAM, 30GB of SSD storage, and 2TB of bandwidth. Adding more slices results in more powerful configurations, with 16 being the maximum.
Speed-boosting server technologies – Using Webuzo, you can quickly configure your VPS to run the latest web technologies, such as the Nginx web server, XCache caching tool, and more. Their combined power will go a long way in improving your loading speeds.
Remote backup option – You can always perform local backups to your VPS, but for complete peace of mind, I recommend also using a remote storage solution. For a low monthly cost you can get access to dedicated backup storage on InterServer's cloud solution.
99.9% uptime guarantee – It's in the SLA (Service Level Agreement). If at any month InterServer provides less than 99.9% uptime, you'll be compensated by up to 50% of your monthly fee. I'm all about a 100% refund, but understand that some companies only do a measly 10%.
For the full list of features, check out our
in-depth InterServer VPS Review
.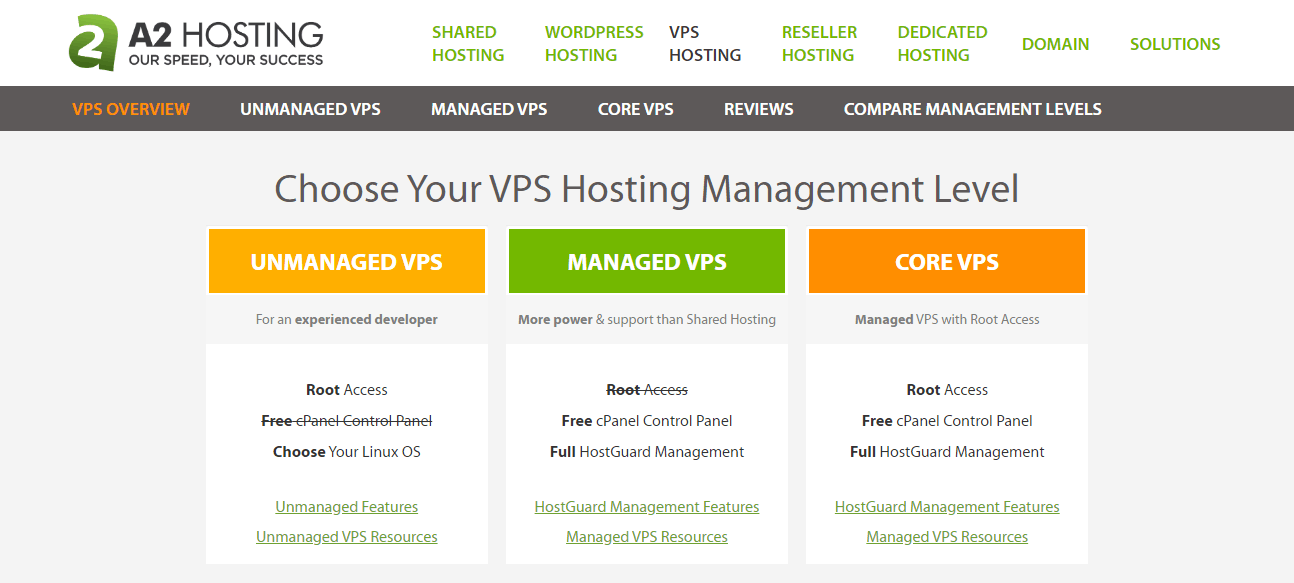 A2 Hosting offers excellent cheap VPS servers in all of its four data centers, located in Michigan, Arizona, Amsterdam, and Singapore.
Plans are backed by a 99.9% uptime commitment and the company's signature "anytime money-back guarantee". The pricing structure can get a bit confusing, so I'll try to explain. There's unmanaged VPS, managed VPS, and core managed VPS. Managed and core managed are available for the same price, with the difference being that the core plans also provide root access to the server. All other hosts on this list offer root access, and my recommendation is to have the option – just in case you need to perform server tasks yourself. If you choose the unmanaged option, A2 has what might be
the cheapest VPS plan available today
. A basic unmanaged VPS will not be able to deal with more than a basic website and little traffic, but it's a great opportunity to get your hands dirty and see if unmanaged can work for you.
By learning to set up and maintain an unmanaged VPS, you'll be able to save a lot of money in the long run.
Resources – Unmanaged servers are fully customizable. Managed VPS comes in three plans, from 4 CPU cores, 4GB RAM, and 75GB SSD to 8 CPU cores, 8GB RAM, and 150GB SSD. In general, A2's strongest machines are fit for medium projects, and not for hugely popular websites.
Managed VPS – Service includes the cPanel control panel, security patches, and 24/7 support that assist in setup, updates, and server maintenance.
Turbo boost – Both managed and unmanaged VPS plans can be upgraded to A2's turbo servers, which are less populated and include performance optimizations. This boost is appreciated, but the price might not be worth it.
Anytime money-back guarantee – With A2 you can always cancel your hosting contract and get a pro-rata refund. There's no 30-day limit, so feel free to sign up for the longest period, which brings the most savings.
To learn more, read our
full A2 Hosting review
.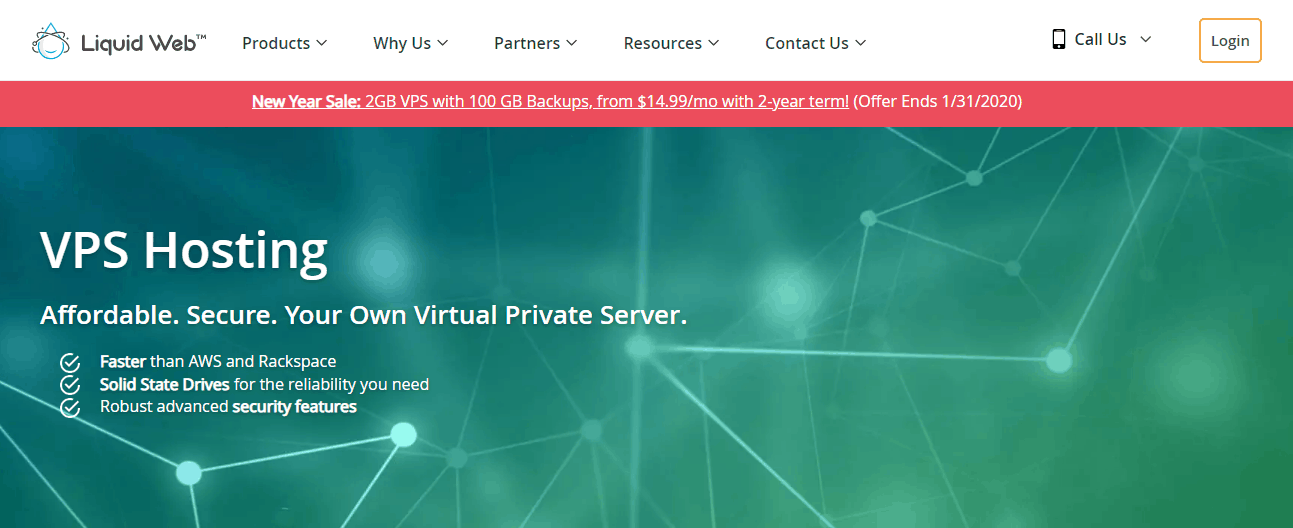 With over 20 years in the web hosting industry, Liquid Web is known for delivering high-performing, feature-packed VPS plans. Prices might seem a bit steep, but you have to realize that
Liquid Web's VPS plans
 include control panel licenses, active 24/7 monitoring, a firewall and security service, Cloudflare CDN, and DDoS protection.
These features are available at an extra cost with most other hosts, and if you try adding them to the basic plans you'll see that Liquid Web's service is actually cheaper. The company's commitment to a fully managed service, one that includes everything from server setup and installations to ongoing management, only sweetens the deal. It doesn't hurt that support is guaranteed to answer your call within 59 seconds or less, 24/7. If you're looking to get the best possible service and wish to be as uninvolved as possible in server management, Liquid Web is the host for you.
Ready-made VPS plans – Liquid Web is about ease of use, not granular customization. Four plans are available, with the basic one containing 2 CPU cores, 2GB RAM, and 40GB SSD storage. The most advanced one has 8 CPU cores, 16GB RAM, and 200GB SSD.
3 data centers – Two in the US, in Michigan and Arizona, and one in Amsterdam, the Netherlands. Independent benchmarks show Liquid Web's servers outperforming even Amazon's cloud infrastructure in terms of speed.
Extra services – Remote off-site backups, extra cloud storage, VPN firewalls and more, are available at an extra cost.
No money-back guarantee – I wish there was one, but that's simply not the case. You won't be able to cancel yearly and bi-yearly contracts, so start with monthly and make sure the service is for you.
To see if this is the right solution for you before committing to a plan, read our
in-depth Liquid Web VPS review.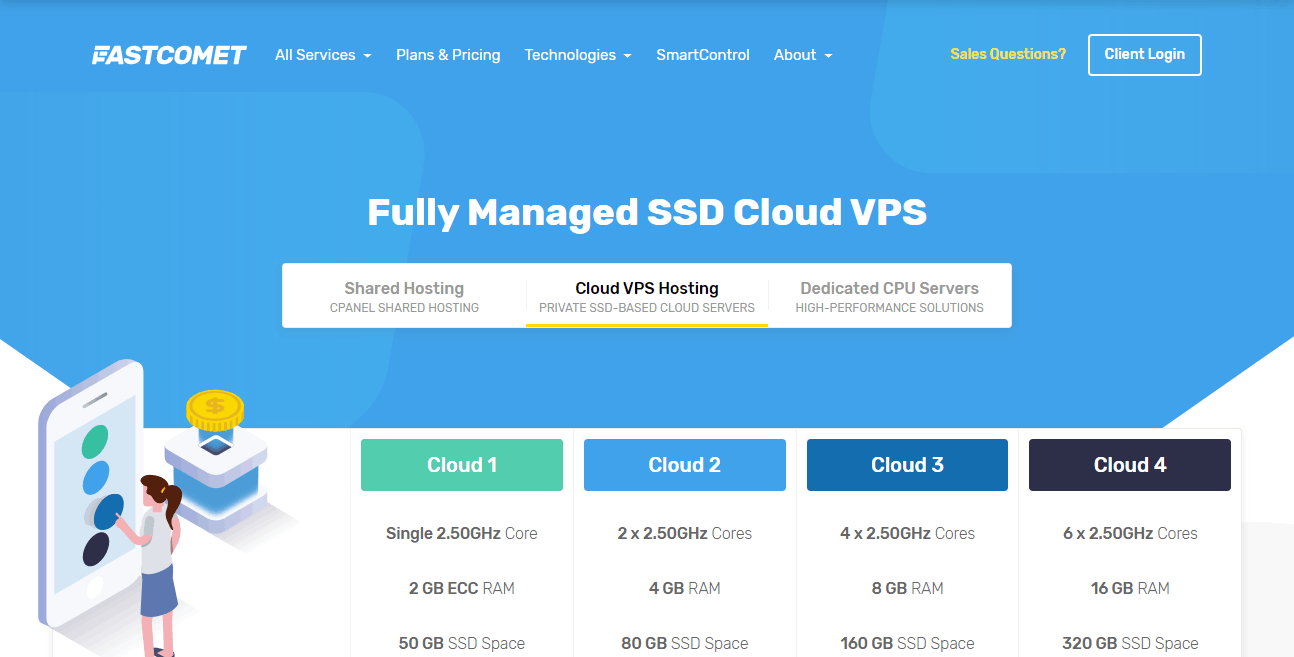 FastComet's VPS service is similar to Liquid Web's –
FastComet offers only four VPS plans, all fully managed
.
 Here too, the focus is on making the choice and process as easy to use as possible. What differentiates FastComet from Liquid Web are the locations of the company's data centers. In addition to the obligatory US and European locations, FastComet also operates in Singapore, Mumbai, Tokyo, and Sydney. Because of the way the global internet infrastructure is built,
loading speeds in Japan and Australia have been notoriously slow when trying to access servers located elsewhere. If that's where your audience is, no other host on this list can compete with the speeds FastComet provides.
Four easy plans – The basic VPS plan, Cloud 1, comes with one CPU core, 2GB RAM, and 50GB of SSD space. The most advanced one, Cloud 4, has 6 CPU cores, 16GB RAM, and 320GB of SSD space.
Fully managed service – FastComet takes full server responsibilities, and the 24/7 support agents will take time to understand your needs and set up your server accordingly. They will also perform optimizations and update it regularly.
Global deployment – With a location in every part of the world except Africa and South America, FastComet is the only host I'd recommend for a VPS in Japan and Australia.
7-day money-back guarantee – Not as flimsy as Liquid Web's no money-back guarantee, but less than the 30-day standard. Use that week well and make your decision before time runs out.
To make a more informed decision, read our
expert FastComet VPS review.

This Texas-based host operates data centers in both its hometown of Dallas and in Sofia, Bulgaria, making it
a good jumping-off point for projects aimed at North American and European audiences alike.
You can provision a VPS machine in either of the data centers, and choose whether to go the managed or unmanaged route. Whichever one you choose, you'll be able to customize the VPS to your exact specifications. Any combination of CPU cores, RAM memory, and SSD space (or the cheaper HDD kind) goes, and scaling up or down is always an option. Various add-on services, such as proactive monitoring, automatic backups, and speed-boosting features, are available at an extra cost.
Scala Hosting's managed VPS plans
are only a tad more expensive than the unmanaged ones, and in my opinion, are the obvious choice.
Scala Hosting's 24/7 managed service not only includes complete management of your server, from setup to optimizations, but also daily remote backups and the company's proprietary control panel and security suite.
Complete customization – Choose between 1 to 24 CPU cores, 2GB to 32GB of RAM, and 50GB to 500GB of SSD space. If you're looking to bring costs down, feel free to choose HDD storage instead of SSD and use it for your various media files.
SPanel – Scala Hosting developed its own control panel for VPS, and it poses some stiff competition for industry leaders DirectAdmin and cPanel. In addition to being sleek and easy to use, it's considerably cheaper than the aforementioned panels. If you're interested in running multiple accounts, you'll be happy to hear that unlike cPanel, SPanel doesn't get more expensive as you add accounts.
30-day money-back guarantee – All VPS plans are backed by a complete money-back guarantee. Request a refund within your first month as a new client and the full amount will be returned to your account, no questions asked.
99.9% uptime guarantee – Scala Hosting offers 10% credit for each 0.1% of downtime, starting from 99.9%. That means you'll get 10% back at 99.8% , and a whopping 100% back at 99.0% or less. Talk about a commitment to quality.
To learn more, see our
expert Scala Hosting VPS review.
It All Depends on Location – and on How Much Time You Have
So, it's time to make your decision. Here's step one for you: think long and hard about where your main audience is. Only consider hosts that operate a data center in its general vicinity.
If InterServer and A2 Hosting are now on your shortlist, know that InterServer is the winner in terms of performance, especially for visitors from the US coasts. 
In terms of value for money, Scala Hosting takes the lead.
The company's self-developed control panel truly simplifies VPS management, and is considerably cheaper than the commercial panels offered by other hosts.
If you're looking to spend the least possible time tinkering with your VPS, go with either Liquid Web or FastComet.
They're a bit more expensive, but you'll be treated to a streamlined experience unlike any other on this list. You can also check out
our list of the best web hosting services
to learn more. Still unsure? check out this table for a quick comparison:
| | | | | |
| --- | --- | --- | --- | --- |
| | Management options | Data center locations | Money-back guarantee | |
| Kamatera | Unmanaged, managed | US, Canada, UK, Netherlands, Germany, Israel, and Hong Kong | 30-day free trial | |
| InterServer | Unmanaged, managed | US | 30 days | |
| A2 Hosting | Unmanaged, managed | US, Netherlands, Singapore | Anytime pro-rata refund | |
| Liquid Web | Managed | US, Netherlands | No money-back guarantee | |
| FastComet | Managed | US, Canada, UK, Netherlands, Germany, Singapore, Tokyo, India, Australia | 7 days | |
| Scala Hosting | Managed | US, Bulgaria | 30 days | |
FAQ
Which is the best VPS service?
There's no single VPS server that's right for everyone, unfortunately. The best VPS host is the one that best meets your needs. However, Kamatera is a great choice because you can try it out, risk-free, for 30 days. It's the closest thing to free VPS servers (those are a myth). You can find other almost-free VPS hosting in our guide to the best VPS free trials.
Is VPS hosting better than shared hosting?
Yes! VPS hosting is more powerful than shared hosting, resulting in faster page loading speeds and better reliability. For example, Kamatera scored a perfect 100% for uptime in our recent tests! Many shared hosting providers over-populate their servers (they host more websites than the servers can effectively handle), but some of the cheapest VPS servers offer guaranteed resources and fully contained server 'slices' for better performance and security. However, if you only have a small, personal website, then you don't necessarily need VPS hosting. You could opt for cloud-based hosting or managed hosting – both which offer better performance than basic shared hosting, but without the complexity of VPS servers. We've tested dozens of web hosts – discover the best host for you in our guide to the best web hosting providers in 2023!
Is it possible to get free VPS hosting?
You might see some "hosts" that advertise free VPS hosting, but my colleague recently tested these so-called free VPS services and found that… well, most of them don't actually exist and others seemed very sketchy! It's a much safer option to choose a cheap VPS server or one that has a decent free trial (like Kamatera or DigitalOcean). To keep the costs down, check out our coupon page for regularly-updated discounts and offers.