If you're on a tight budget, or just unsure about committing yourself to a particular website-hosting service, you might be considering whether you can skip the bill and use their free plan. After all, what do you have to lose?
The simple answer is nothing…for now. However, even when it comes to free plans, it's important to realize what restrictions you might face and how these might be an obstacle for running your website. Free plans are often subject to limitations which make them unsuitable for anyone to seriously build and host a professional website long-term.
Don't get me wrong, because there can be plenty of legitimate reasons to join a service for free (at first, at least). You can:
Try Out the User Experience. Just because a service provides enticing features doesn't necessarily mean that you'll enjoy all aspects of it, such as the user experience of their dashboard.
Test the Performance. As websites are usually hosted on the same hardware, performance or uptime issues on free trials might be indicative of problems with paid plans as well.
Get Ready for Launch. If you're on a budget, or if you don't have a lot of time to finish your website, a free plan could help you get close to being launch-ready without having to pay just yet.
By being mindful of the following considerations, you should be able to avoid most sources of frustration and time-wasting when creating and hosting your website:
You'll Have Less Control Over How Your Website is Monetized
This potential limitation when using a free website builder or plan will be the most troubling for those who want to monetize their website using ads, such as via Google AdWords. Most website building and hosting platforms either disable monetization ads on your website entirely, or place their own curated ads of other brands on your website. Wix and WordPress.com are two examples of platforms that place their own ads on free websites.
The inability to make money this way yourself isn't the only concern. Some users don't want ads (even their own) displayed on their website, as they can be tacky and annoying. In other cases, ads that aren't related to your content or that you don't want to be associated with could be displayed on your website, which could affect your image.
Your Ability to Take Ownership of Your Website Will Be Reduced
Here, I'm referring to the fact that most websites operating on a free plan must be hosted on a subdomain of the provider. For example, a free WordPress plan must be hosted on a wordpress.com subdomain which would look like wordpress.yoursitename.com. This goes for almost all builders, such as Wix, Site123, and Jimdo.
You might also have to display branding of that platform on your website, which would be almost the same as having sponsored ads on your website. For example, you might have to show branding for Wix that says something like "Proudly created with Wix." WordPress might show similar branding. This is usually not very intrusive, as both platforms display only a simple bottom bar with a link to their websites. Still, hosting on a subdomain and having to display branding can be construed as a lack of commitment and professionalism.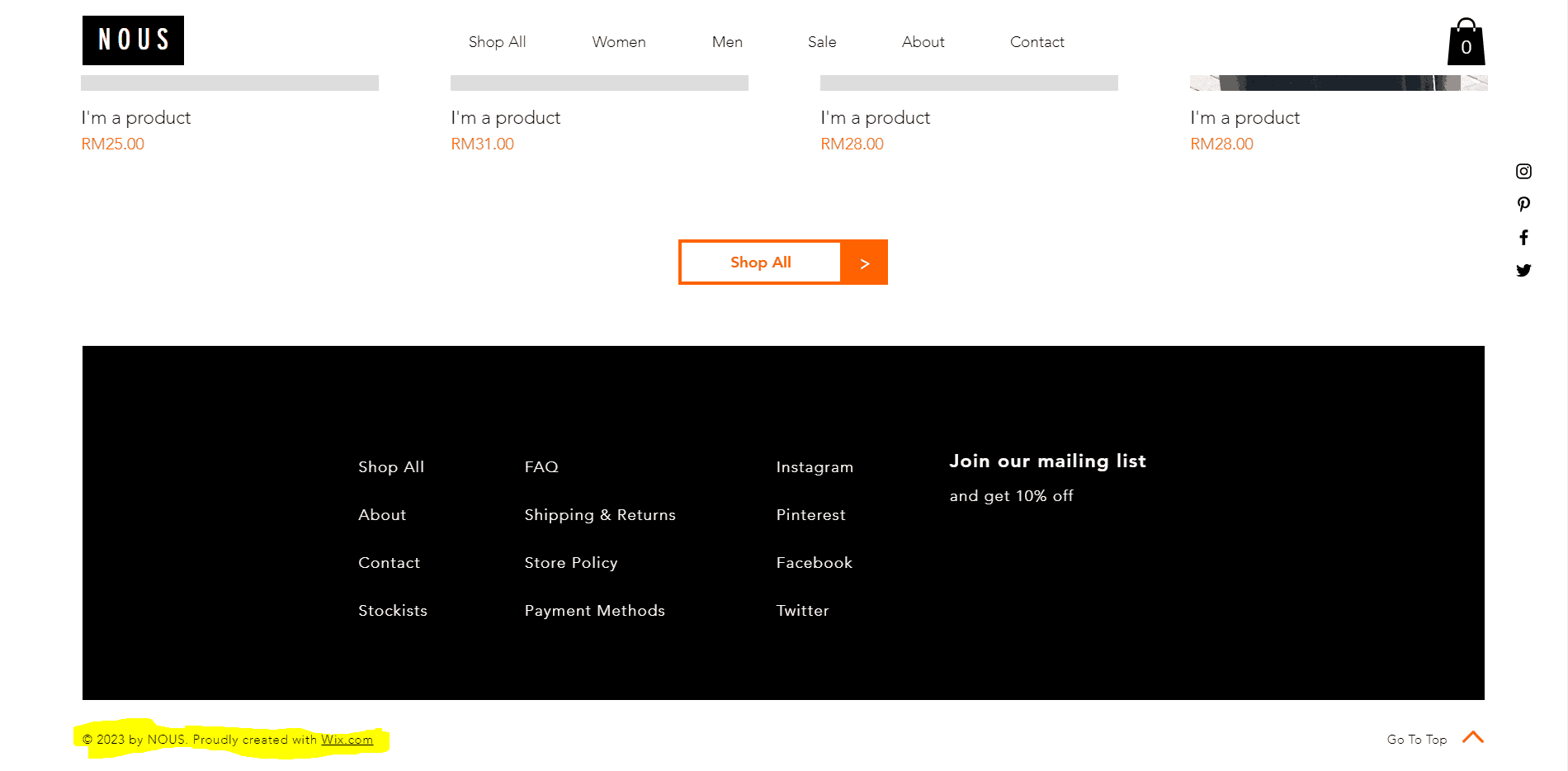 Resources to Build and Expand Your Website Will Be Limited
Most website builders and hosts provide only a limited amount of storage space, monthly traffic, monthly visitors, and bandwidth that you can use when creating and hosting your website. With free plans, these are usually much more restricted than with any of the paid plans. Obviously, the more you pay, the more you get.
How big a concern this is will depend largely on what type of website you're hosting. For most bloggers and SME business websites, 5 GB of disk storage should be more than enough, with 500 MB being the lowest acceptable amount. Wix and Site123 provide just 500 MB of storage, while Jimdo and WordPress are a bit more generous with 2 and 3 GB of storage, respectively. This is suitable for smaller websites, but nowhere near enough for online stores, media-rich websites, or large business websites.
Your Access to Templates or Apps Will Be Restricted
While restrictions placed on free accounts are usually quite standardized, this is one area where it varies a lot from platform to platform. Some providers, like Wix, let you buy or use all their templates and apps with a free plan as normal; others, like WordPress, might restrict you from using them altogether.
You should closely look at what features you need on your website and then decide whether a free plan would enable you to do what you want. In this case, even some paid plans might not be enough. For example, with WordPress.com, you only unlock plugins with the top plan, Business. However, from the Premium plan onwards, you can use all themes (even premium ones) for free.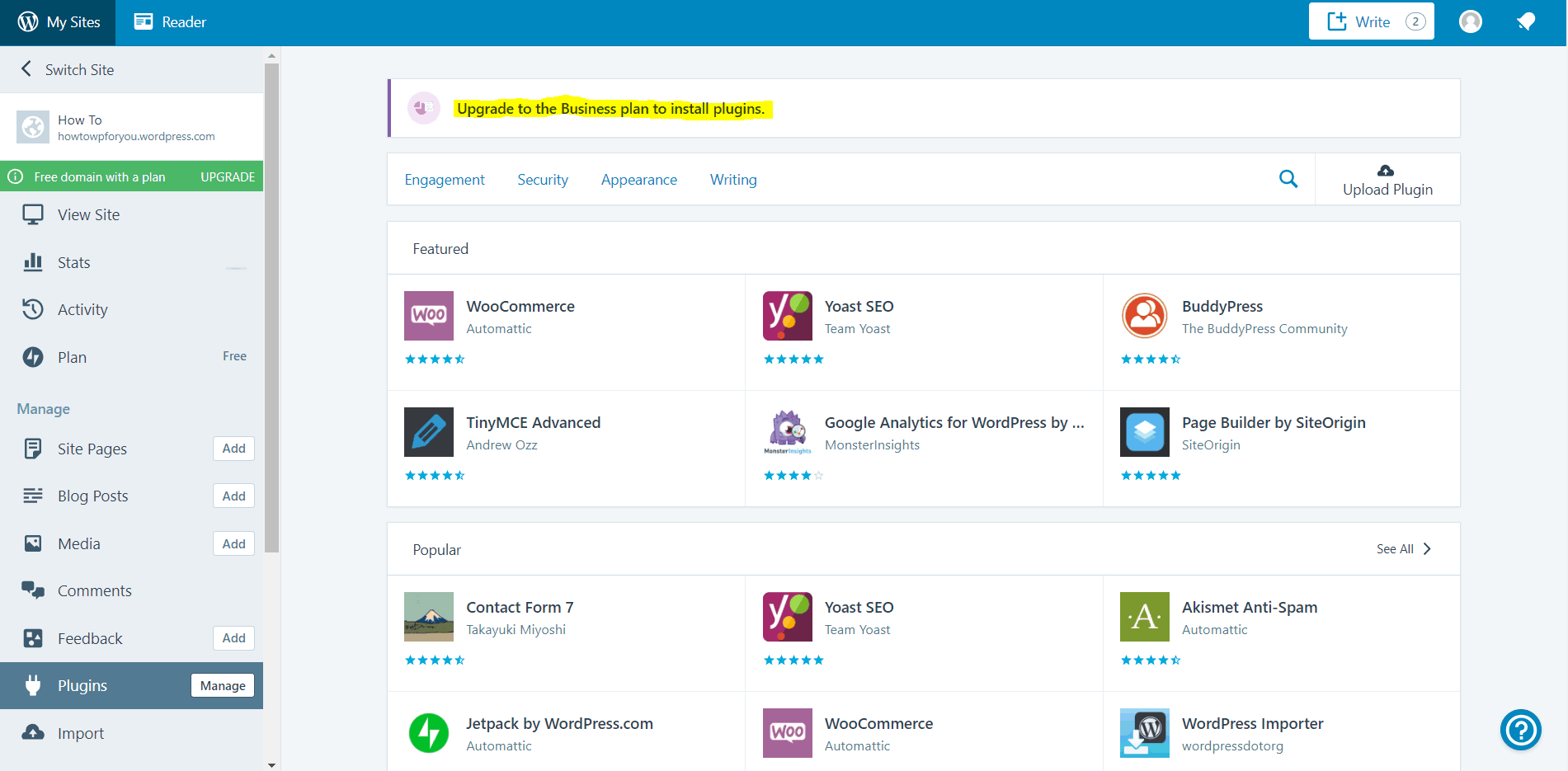 You Might Not be Covered by the Support SLA
Service Level Agreements (SLAs) are usually provided by web hosts to clearly spell out what level of support you can expect. The level and priority of support you'll receive are often dependant on your chosen pricing plan. Priority support (or any support at all) is usually the first thing you lose if you choose a free trial. However, most platforms won't restrict access to their tutorials, blog, knowledge base, or other self-help resources.
For example, WordPress.com doesn't offer any technical support when it comes to their free plan, but technical support staff might reply to your forum threads. Volusion tiers support according to your plan, and Site123 is one of the very rare examples of a service that provides the same level of support for all packages — even their free one.
Extra Considerations
Fair-Use Policies. Even when a host claims to offer "unlimited" storage, bandwidth, or visitors, this is usually subject to a fair-use policy. As you can expect, free plans usually have lower thresholds for exceeding these policies than paid plans.
Domains and SSL certificates. Even if a service doesn't force you to host on a subdomain, it's highly unlikely that they will provide you with an SSL certificate or a domain of your own, as these are usually bought from registrars. Some hosts bundle these with their paid plans.
E-commerce. Stores built with free plans are often very limited in terms of how many different products they can sell, how many sales they can make, and e-commerce functionality (such as abandoned cart recovery). They may also charge higher transaction fees.
Other Perks. This is where website builders can get creative. Some might offer premium courses or learning resources, while others can make paid templates or apps free with certain paid plans (WordPress.com). Improved features like SEO and mobile-optimization are also usually offered in return for using a paid service.
When it Comes to Hosting, You Get What You Pay For
As I mentioned, there are plenty of situations in which it might make sense to first try out the free version of a hosting service before putting down your hard-earned money. However, it's important to realize that hosting companies are also businesses that need to make a profit at the end of the day. If you're good at something, you don't do it for free.
Hopefully, you can see how the limitations above could potentially hamper your efforts at building out a complete website and expanding it with time. Both in terms of fancy features and sheer resources, you'll most likely need to resort to paid plans at some point, unless you have very modest goals for your website.