Wix
and
SITE123
. They offer features such as easy-to-use editors and ready-made templates — and have free plans, too. Wix and SITE123 don't come with the exact same features, though, and when you first look at their websites,
it's not always clear what you do (and don't) have to pay for
. For example, if you're looking to start an online store, both SITE123 and Wix tell you that you can set one up quickly. But it's not until you start the sign-up process that you discover that e-commerce features are available only if you pay for them. We've been hard at work doing the research for you, so you can see how Wix and SITE123 compare. We've put Wix and SITE123 head-to-head to find out which website builder comes out on top in five key areas:
Free plan features
Ease of use and design options
E-commerce features
Add-ons and apps
Value for money (paid plans)
Round 1: How "Free" Is a Free Website Builder?
Wix and SITE123 both market themselves as free website builders. If you're completely new to website building, you'll be happy to know that either platform can give you a safe place to get some experience risk-free. However, you'll quickly realize that both free plans are quite limited.
Wix's free plan stands out because it gives you full access to more than 900 ready-made templates that are  beautifully designed
. Just be sure you really like the template you've chosen, because once you get started, you can't swap it for another without rebuilding from scratch. You should also be aware that
Wix's templates aren't 100% mobile-responsive
. Instead, you get a mobile-friendly version and a desktop version of your Wix website that you'll need to configure separately.
SITE123's free plan gives you almost 200 templates,
but they lack the style and visual impact of Wix's templates. They are, however, mobile-responsive, so you don't have to worry about editing two versions of your website. Both free plans give you 500MB of storage space. SITE123 gives you 1GB of bandwidth, while Wix limits you to 500MB. They also both have image and icon libraries where you can access free stock images to add to your website.
Where Wix edges ahead is in its App Market (for added features)
. Many of the apps are available only on the premium (paid) plans, but there are lots of free apps, too. SITE123 also has an App Market, but most add-ons are available only if you upgrade. Both Wix and SITE123 offer a blogging function, although in both cases, they are quite basic. Ultimately, the free plans enable you to build a website and learn the basics of website building, but many of the features you may need as your website and/or business grows (such as e-commerce) are available only if you pay.
And The Winner Is…
Wix just slips into the lead with its free plan, thanks to the impressive templates and free apps to make the most of your website. Despite SITE123's efforts, it can't match what Wix gives you for free. However, if you want to build a simple website and expect to have a lot of traffic, then SITE123's additional bandwidth may be a good option for you.
Round 2: How Easy Is It to Create a Stunning Website?
If you're new to website building or just aren't feeling confident about the technical side of creating and managing a website, then you want a builder that won't take you hours to figure out. Wix and SITE123 are both easy to use, but each takes a very different approach to helping you design your website. Wix has two options that are both easy enough for even the biggest technophobe to manage. First, there's the ADI (Artificial Design Intelligence) option. You answer a few questions about what your website is for, and Wix ADI builds your website. For a more hands-on approach,
the Wix Editor is a straightforward drag-and-drop editor that gives you complete control over where your website elements go
. You can easily drag image placeholders, text boxes, vector art, buttons, boxes, strips, lists, grids, contact forms, and more into place. It's clear to see why
Wix has such a strong fan base
.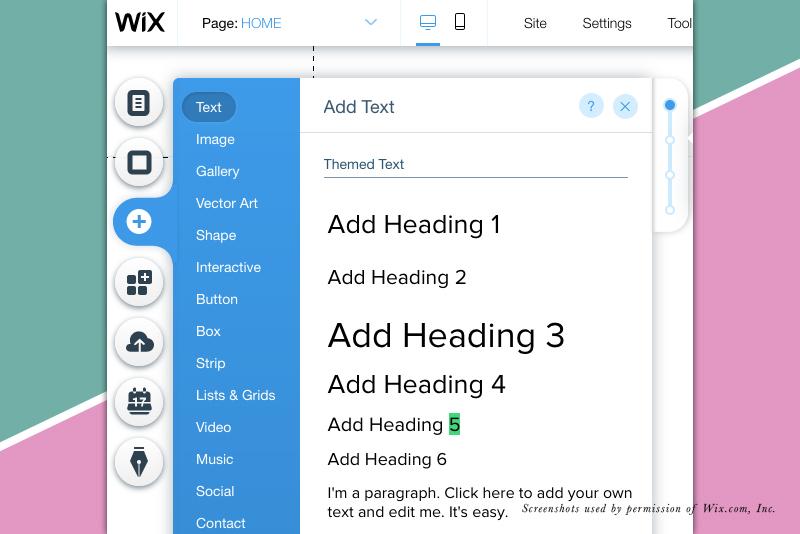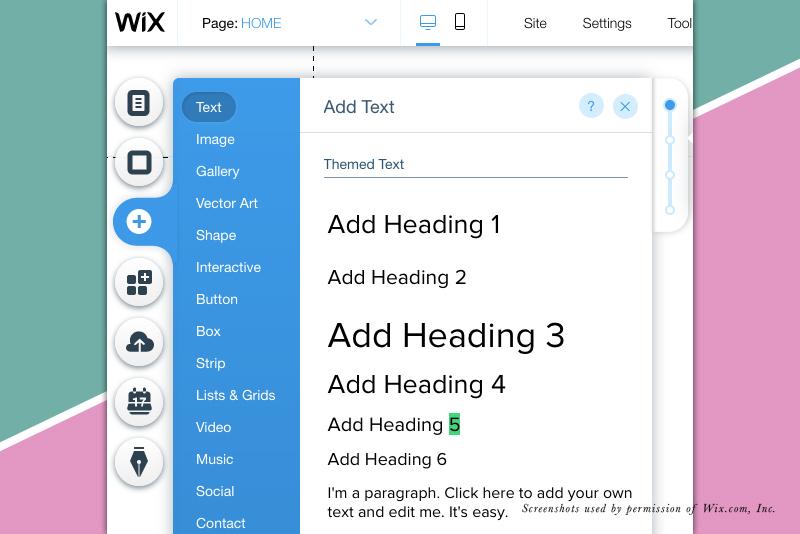 If you happen to have some technical knowledge, you can add advanced functionality to your site with
Wix Velo, (formerly known as Corvid)
. With SITE123, you can only add HTML forms through a plugin — and to use these, you need to be on a paid plan. SITE123 offers a point-and-click style editor that doesn't give you the same control as Wix. You can select a range of predefined layouts, add images, and change fonts and colors, but you can't change column sizes or create your own layout.
If you're a non-techie, the lack of flexibility isn't necessarily a bad thing.
You don't have to worry about "breaking" your website by moving something into the wrong place. SITE123's text editor looks a lot like what you'd find in your regular word processor, making it very beginner-friendly. Both builders let you decide whether your website will have a single page (where you scroll down for the next "page") or multiple pages (with a navigation menu).
And The Winner Is…
When it comes to ease of use, it's a draw. Neither Wix nor SITE123 is perfect in this area, and their editors will appeal to different groups of people:
If you're a non-techie and want a simple, familiar interface that's a lot like filling out a form, then SITE123 is the winner.
If you want greater flexibility and the ability to use code, Wix is the winner.
Round 3: The Myth of a "Free" Online Store
If you want to sell on your website, you need e-commerce features. Both Wix and SITE123 mention online stores as part of their "features and benefits" sales pitches, but that's actually quite misleading.
For a functional online store — one you can actually accept payments through — you need access to premium features
. Is there a clear winner in the battle of the e-commerce features?
Feature
Wix
SITE123
Products

6 product variants (e.g., size, color)
30 options per product (e.g., small, blue)
Optional special effects (e.g., zoom)

Unlimited product variants
Unlimited options
Ribbons and detailed descriptions
Optional homepage categories

Shopping Cart

Abandoned cart technology (with Wix Apps)

Maximum of 50 orders monthly (Advanced Plan)
Unlimited orders (Gold Plan)

Checkout Options

Accept PayPal, Stripe, Wirecard, Square, and many more credit card processors to enable your customers to pay by credit card.

You can accept PayPal with all paid plans (through an app)
To add credit card processing, you need to upgrade to the Professional plan

Stock Management

Automatic inventory tracking and management

Manual or automatic management of your inventory

Selling Digital Goods
Sell:

documents (up to 40MB)
music (up to 100MB)
zip files (up to 1GB)
Your customers will get an automatic email so they can download their purchase

Sell digital products when you upgrade to the Gold plan
And the Winner Is…
Wix's abandoned cart features and lower-cost digital download management put it ahead of SITE123. SITE123's e-commerce features are quite comprehensive, but to take full advantage of them you need to be on one of the higher price plans
Round 4: App Store Offerings for Added Features
As we mentioned in Round 1, Wix and SITE123 have their own app stores with dozens of apps that can take your website from ordinary to exceptional with just a few clicks.
Wix's App Market boasts hundreds of apps, and over 80 of these are free, so you don't have to upgrade your plan to take advantage of them
. You should keep in mind, though, that a lot of free apps are made by third parties (i.e. not Wix). So if an app "breaks" your website, you can't look to Wix for support. If you prefer not to explore third-party apps, you have the option to stick with the ones created by Wix developers themselves. Wix offers approximately 80 supported apps, and the following are a few examples. Free apps:
Wix Events
Wix Get Subscribers
Wix Forum
Wix FAQ
Wix Restaurants Menus
Right Click Protect
Premium apps:
Wix Chat (with a basic free plan)
Wix Hotels (with a basic free plan)
Wix Forms
SITE123's App Market contains over 75 apps in categories such as marketing, analytics, live chat, and webmaster tools
. There's not as much variety as you get with Wix, but there are still apps to meet most needs. There's a problem with SITE123's apps, however. If you check out the apps when you're not logged in, you'll see that many of them have free plans (so you'd think you could add them to your site). When you're editing your website and go to
Manage Plugins
in the settings menu, however,
you'll find that to use plugins, you actually have to upgrade to a paid plan
. That's a bit sneaky — promising free apps but then forcing you to upgrade. It's also confusing that on its main website, SITE123 has an "App Market," but in the editor the apps are actually called "plugins." So, if you go into your editor looking for a way to add apps (which I did), it can take some time to realize that you're actually looking for plugins (you'll find it in the settings menu in the editor).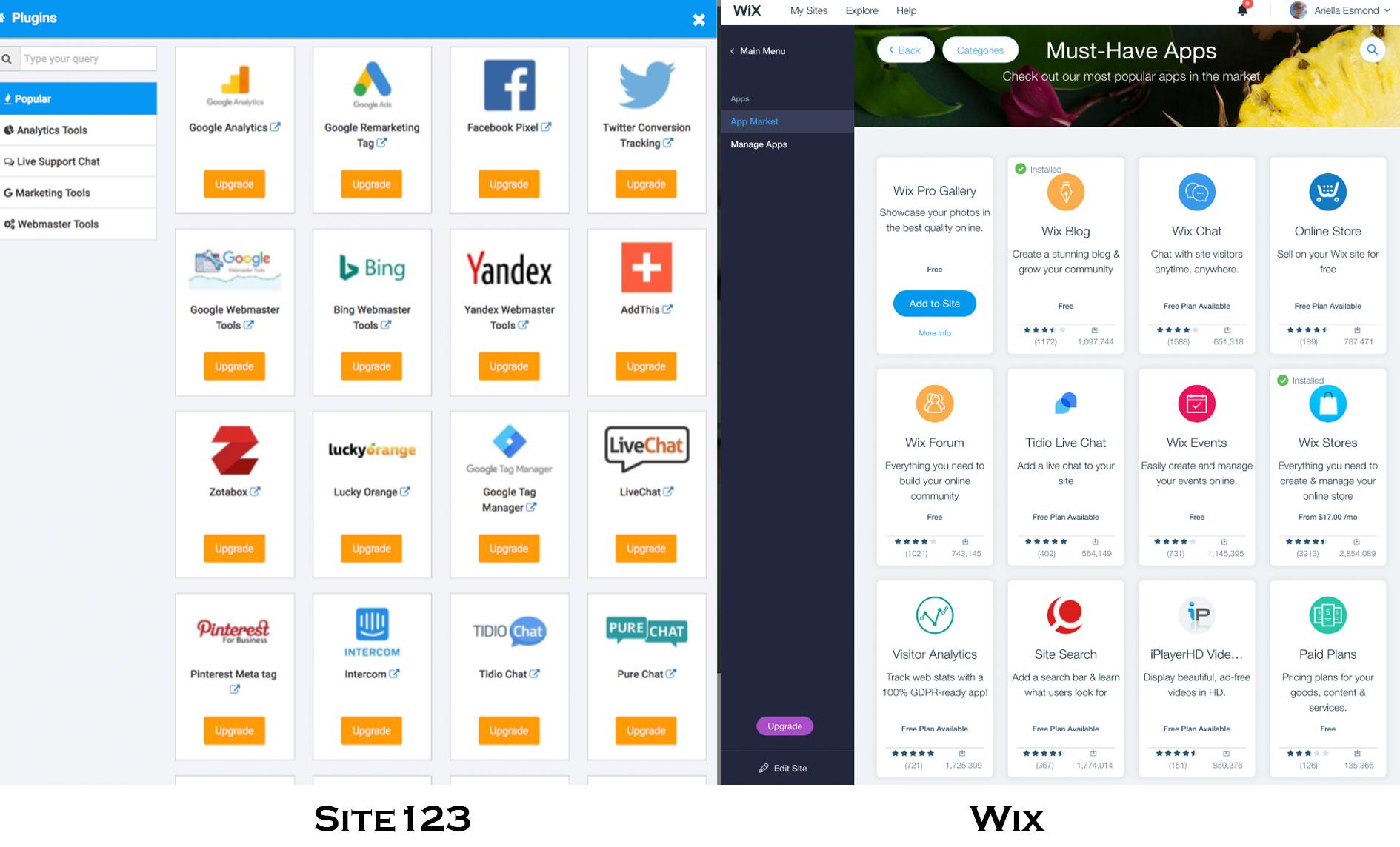 And the Winner Is…
Wix is the clear winner in the app department. Wix gives you free apps that you can install on the free plan, and apps that it can provide technical support for. With more choice in the app department, Wix leaves SITE123 trailing far behind I can't speak for the quality of SITE123's apps (since I'd have had to upgrade to try them out), but Wix's apps work well and turned what was a quite basic website into a feature-packed website that could boost my business.
Round 5: Disappointment or Delight with Paid Plans?
If you're willing to pay for a plan that gives you more space, functions and features, then Wix and SITE123 both have a good range of options to choose from
. SITE123 offers four different plans to cater to a variety of needs — from small personal websites to large online stores. Wix has three website plans and three business and e-commerce plans. Here's what you get:
Plan
SITE123
Plan
Wix
Basic
$$

Free domain for 1 year
10GB storage
5GB bandwidth
Remove SITE123 floating tag
100 mailing list messages

Combo
$$

2GB Bandwidth
3GB Storage
Connect Your Domain
30 Video Minutes
Remove Wix Ads
Free Domain for 1 Year

Advanced
$$$

Free domain for 1 year
30GB storage
15GB bandwidth
2 mailboxes
1000 mailing list messages
Remove SITE123 floating and footer tags
1 additional language

Unlimited
$$$

UNLIMITED Bandwidth
10GB Storage
Connect Your Domain
1 Video Hour
Remove Wix Ads
Free Domain for 1 Year
$300 Ad Vouchers
Site Booster App – $60
Value Form Builder App – $48 Value

Professional
$$$$

Free domain for 1 year
90GB storage
45GB bandwidth
2500 mailing list messages
5 mailboxes
E-commerce features
500 orders
Credit card payments
3 additional languages

Pro
$$$

UNLIMITED Bandwidth
20GB Storage
Connect Your Domain
2 Video Hours
Remove Wix Ads
Free Domain for 1 Year
$300 Ad Vouchers
Site Booster App – $60 Value
Form Builder App – $48 Value
Events Calendar – $48 Value
Professional Logo – $50 Value
Social Media Logo files

Gold
$$$$$

Free domain for 1 year
270GB storage
135GB bandwidth
10,000 mailing list messages
10 mailboxes
5 additional languages
E-commerce
Unlimited orders
Credit card payments
Advanced e-commerce

VIP
$$$$

UNLIMITED Bandwidth
20GB Storage
Connect Your Domain
2 Video Hours
Remove Wix Ads
Free Domain for 1 Year
$300 Ad Vouchers
Site Booster App – $60 Value
Form Builder App – $48 Value
Professional Logo – $50 Value
Social Media Logo files
Priority Response
VIP Support
SITE123 may offer more storage space than Wix, but it doesn't give you unlimited bandwidth. Its price points are also higher, which means that it can't compete with Wix in terms of value for money. (In the table above, I've used the $ symbol to illustrate how Wix and SITE123 compare in price on each plan).
To get e-commerce features, you need to be on at least the Professional plan with SITE123, and the Business Basic for Wix
. Pricing for e-commerce features is relatively high for both, but Wix's (more advanced) Business Basic plan is still cheaper than SITE123's Professional plan — while giving you tons of extras like free apps.
And the Winner Is…
Once again, Wix storms out ahead with paid plans that are cheaper than SITE123's plans. And to sweeten the deal, they offer added extras. SITE123 does give you more storage, but even if you're running a large e-commerce website, the 20GB of storage on Wix's Business Basic plan is more than enough
Wix Takes the Crown
Wix comes out on top in four out of five rounds (and ties SITE123 on one round). It can almost compete with the likes of WordPress.org, the premier self-hosted content management system that powers 27% of the internet. For this article, I built test sites with both Wix and SITE123. Wix offered the best building experience, by far. I found myself getting frustrated with SITE123's site builder, and finding the functions and settings I needed wasn't straightforward.
The drag-and-drop interface in Wix is much more user-friendly, making it more enjoyable to create a website
. If you're thinking about creating a business or personal site with a website builder, I recommend giving Wix a shot. Wix provides numerous options to grow your website with apps (which may be free in some situations), and the pro plan options are also impressively cost-effective.
To find out more about Wix, read our Wix expert review or click the button below.
However, if you're a complete newbie to website building, SITE123's point-and-click editor might well be the right choice for you. You don't have to worry about arranging elements on your website, and adding content is super simple — like filling out a form.
Want to learn more about SITE123? Check out our SITE123 expert review or click the button below.
#1: Free Plan Features
Wix
Wix gives you
Wix Velo
, impressive templates, and allows you to use free apps.
SITE123 doesn't support HTML in the free plan. It gives you less control over your templates, and you can't install apps.
#2: Ease of Use and Design
Draw
Wix is more intuitive and flexible, and even allows you to use JavaScript (through Wix Velo). This makes it perfectly suited to you if you have the necessary technical skills and want to have more control over your website's look.
SITE123 is perfect for complete beginners who want to build a website in a way that's familiar (like filling out a form). It's the easiest possible option.
#3: E-commerce
Wix
You get abandoned cart technology to increase your sales, and the cost of e-commerce plans is less than SITE123's comparable plans.
There are e-commerce features available, but at a higher cost than Wix's plans.
#4: Apps
Wix
You can install apps on your website on the free plan. Plus, there are over 80 free apps. Wix has developed a number of apps itself, so you get additional support.
There are fewer apps on SITE123's App Market, plus you can install apps (or plugins) only if you're on a paid plan.
#5: Value for Money
Wix
Not only are Wix's paid plans cheaper than SITE123's, but they also throw in added extras like marketing credits and premium apps.
SITE123's plans give you more generous amounts of storage, but at a higher price point. There are no freebies, either.
---
Source:
https ://www.whoishostingthis.com/compare/wordpress/stats/