When you're looking for a free web host, you need to be careful. Some fill your website with ads, which makes your website look free. Others restrict storage, slow speeds, or have poor performance in general. The last thing you want is a website that's often unavailable due to downtime.
Some free hosts even try to minimize their expenses by compromising your security with low-grade servers or outdated software. You need to know which ones you can really trust.
So you don't have to do the research, our experts have rigorously tested dozens of free web hosting solutions, to bring you our list of the ones you can really trust.
Our Top Free Hosting Picks You Can Really Trust
We recently removed 000webhost, as the company is focusing on its low-cost brand Hostinger, which is a great option. You're better off just signing up directly with its $0.99/month plan!
What We Look For in the Best Free Web Hosting Solutions
When we put free web hosting solutions to the test, this is what we look for:
100% ad-free hosting. Even if you don't have the budget for premium hosting, you need a website that doesn't look like it's free, with ads everywhere.
Enough storage and bandwidth for a simple website. You need to know that you have enough storage space, and that your website isn't going to suffer downtime due to insufficient bandwidth.
Installation of WordPress and other CMS. Basic website builders are nice for some purposes, but your site may need more. Your free web host needs to offer easy installation of more advanced applications, WordPress in particular.
Easy-to-manage control panels. You want a hosting solution that makes it easy to manage your files and other aspects of your web hosting space, using a control panel such as cPanel.
1. InterServer – Hosting That Won't Increase In Price
If you need the freedom of unlimited SSD storage space, InterServer is a great choice. It also offers some of the best security features around to keep your website protected from malicious traffic and hacking attempts 24/7.
What's more, if you have an existing website that's been infected with malware, Interserver will clean up the website files before migrating it to its servers. Most hosts will charge extra for cleaning up compromised websites – but Interserver includes Inter-Insurance for free.
To learn more about our experience with this host, read our full InterServer review.
Not Free, but Different from Most Hosts
Interserver isn't free to use – however, it has a unique advantage. Most hosts will lure you in with a low monthly price for your hosting and then hit you with massive price rises when it's time to renew. Interserver has a price lock guarantee – meaning the prices stay the same when you renew your current plan, so you always know how much you're going to be paying.
There's also a 30-day money-back guarantee, which means you can sign up with Interserver completely risk-free. You can choose to pay monthly, every six months, annually, every two years, or every three years.
What Do You Get with Interserver's Hosting?
Lots! For a budget shared hosting provider, Interserver includes an impressive set of features. These include:
Unlimited, fast, SSD storage

450+ 1-click apps

Free SitePage website builder

Unlimited email accounts

Intershield security – including virus scanner, machine-learning firewall, and an in-house malware database

Inter-Proxy caching and Cloudflare – to improve speed and security

Inter-Insurance – to remove malware and restore your website

Price lock guarantee

Free migration service

Weekly backups

Automatic WordPress updates

Free SSL certificates
| | |
| --- | --- |
| cPanel? | Yes |
| CMS installer? | Yes, over 450 1-click apps, including WordPress |
| SSL certificate | Free Let's Encrypt SSL certificates are included |
2. FreeHosting – Flexible Free Web Hosting
FreeHosting stands out because of the sheer amount of features included for free. With hundreds of apps like WordPress and Joomla available for one-click install and more technical features like Apache/PHP7 management, FreeHosting gives you premium features at zero cost.
Unlike many free web hosting providers, FreeHosting doesn't give you a subdomain (e.g. freehosting.com/yourusername). This has advantages and disadvantages. Your website will look more professional with your own domain name, but then again, domain names do cost money.
What You Get with the Free Version
FreeHosting is one of the most feature-packed free hosting options in our showcase. Included with your free plan is:
Unmetered bandwidth. Although FreeHosting asks you to comply with its Fair Use Policy, this is pretty standard procedure with web hosts offering 'unlimited' bandwidth, and there are actually very few restrictions.
10GB of disk storage. This is a really generous amount of disk space (10x what 000webhost offers).
Softaculous Auto Installer. You get access to more than 480 web applications that can be installed on your website in an instant. This is almost 10x the number of apps that 000webhost offers.
One email account. You get a single you@yourdomain.com email address included – with the option to purchase more email addresses as an add-on. Spam control and guaranteed delivery are included with the free email address, too.
FreeHosting's biggest limitation is that you can't try it out without purchasing a domain name. Unless you already have a domain name hosted elsewhere, that means you have no choice but to pay something to get started. However, domain names are not expensive, and the extra features you get with FreeHosting can make it worth it.
What Do You Get If You Pay?
With FreeHosting, you have two different options if you want to upgrade your web hosting. You can either upgrade to a paid plan – which includes some extra features – or you can add extra features to your free plan as paid add-ons.
Paid plan exclusives:
Web logs
Web stats
Backups
Extended resources
Add-ons:
Additional email mailboxes
Additional MySQL database
Extra technical support
SSL certificate
MultiPHP – choose which version of PHP your hosting space uses
When Should You Upgrade?
There's so much included with the free plan that you might wonder whether there's any need to upgrade at all. However, if you want to build trust with your website visitors, an SSL certificate is essential, so this is one upgrade that you should seriously consider.
| | |
| --- | --- |
| cPanel? | Yes |
| CMS installer? | Softaculous Installer with 480+ apps including WordPress |
| SSL certificate | You can purchase an SSL certificate as an add-on to your free plan |
3. GoogieHost – 100% Cloud-Based for Better Performance
If you're looking for a free web hosting solution that can deliver fast speeds, GoogieHost offers Cloud Linux hosting for better speed and stability. To improve your performance even more, when you sign up you can add the CDN (content delivery network) Cloudflare to your website for free.
Like 000webhost, GoogieHost uses subdomains for free web hosting – but you can buy your own domain to create a more professional look. If you decide to go with the subdomain, you can choose from two different domains: examplesubdomain.cu.ma or examplesubdomain.thats.im.
What You Get with the Free Version
GoogieHost packs a lot of features into its free plan. You get:
Customer support. While most free hosts don't offer customer support to free users, GoogieHost's support team will be happy to help you to resolve any issues you have.
1GB SSD storage. Faster and more stable than traditional HDD storage, SSD storage can boost your website's speed and performance even further.
Unlimited bandwidth. There's no limit to the amount of traffic you can receive – and GoogieHost also includes a 100MBPS uplink, so your website can easily handle lots of visitors at once.
Free business emails. Create a professional email address for your business to give your customers the right impression.
Softaculous Auto Installer. Quickly and easily add applications such as WordPress to your website. You get access to over 300 different applications with this installer.
Free SSL. Your website is automatically protected by GoogieHost's SSL certificate.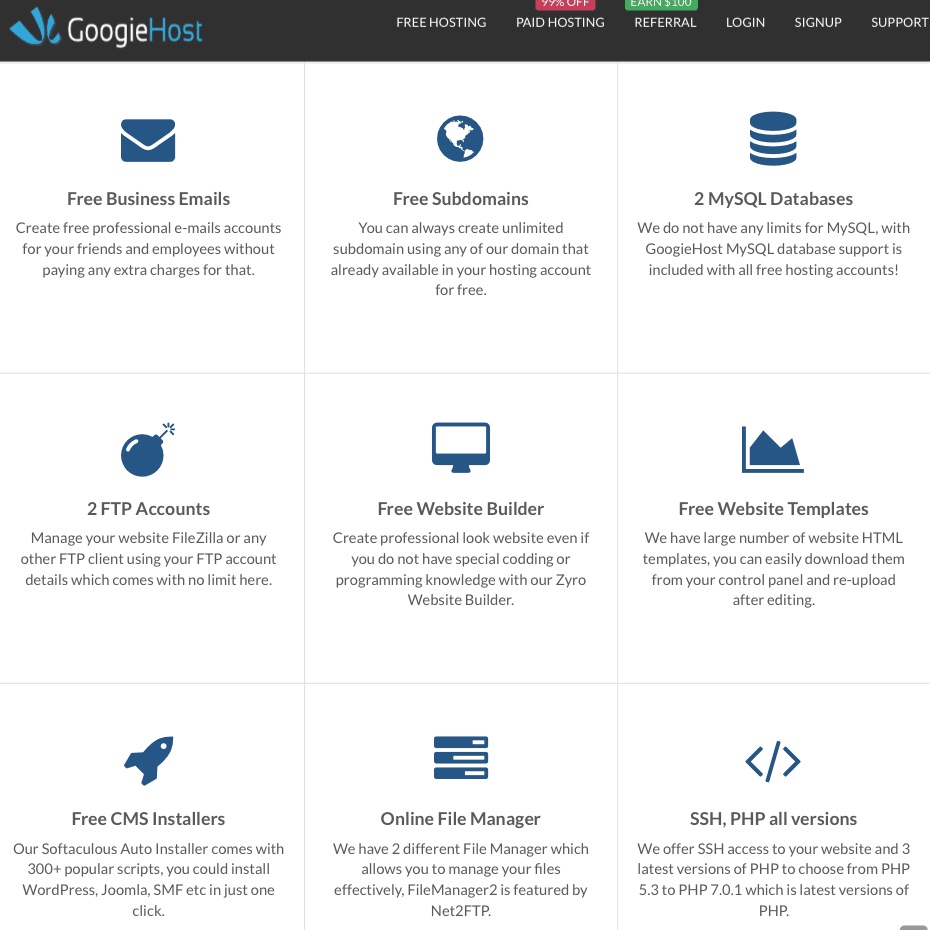 There are some limitations to GoogieHost's free plan, however. Because you can only host a single free website, GoogieHost performs checks to ensure that you're not trying to cheat the system (even if you're not), so there's often a delay before your free account is approved. If it thinks you have multiple accounts, you'll be banned from the platform – and lose your website.
What Do You Get If You Pay?
There's no option to add extra features to your free plan with GoogieHost, so you have to choose a paid plan. When you upgrade to a paid plan, you get:
Lite Speed – make your website load even faster.
Backups
Live chat support
Choose from different server locations
1GBPS uplink
99.99% uptime guarantee
When Should You Upgrade?
If you want to expand your business or blog in another direction and need a separate website, then you'll need to upgrade to a paid plan due to GoogieHost's very strict rules about multiple websites.
| | |
| --- | --- |
| cPanel? | Yes |
| CMS installer? | Softaculous Installer with 300+ apps including WordPress |
| SSL certificate | Free – covered by GoogieHost's SSL |
4. 5GB Free – High-Quality US-Based Servers
5GB Free works on the principle that while you need free hosting to get you started, there will come a point (in the not-too-distant future) when you'll need to upgrade to a paid plan.
While it doesn't offer as much as some of the other free hosts on our list, 5GB Free has the advantage of being based in the US and having the same high-quality servers as premium hosting providers.
What You Get with the Free Version
5GB Free's features list has the basics to get your website online quickly and easily. You get:
5GB disk space. That's 5x as much disk space as you get with 000webhost or GoogieHost and unless you're building a media-rich website, the limitation shouldn't be a problem.
20GB bandwidth. Compared to the unlimited bandwidth offers on GoogieHost and FreeHosting, 20GB seems small – but if you're just building a regular blog or business website, and not expecting huge amounts of traffic, it should be plenty.
Installatron auto-installer. This auto-installer enables you to install applications like WordPress and many others. There are over 150 applications available.
PHP and MySQL. You get three MySQL databases with 5GB Free accounts.
The only type of support available on the free version is via a forum rather than actual support agents. If you run into problems, you have to ask questions in the forum and hope that someone can give you the answers you need. The forum is monitored by experts, but response time varies.
What Do You Get If You Pay?
5GB Free is a platform designed to get you started, and you're not expected to stay on the free plan forever. Many of the desirable-but-not-necessarily-essential features are reserved for the paid plan, where you get:
100GB disk storage
Unlimited bandwidth
Email accounts
SSL certificate
24/7 support by phone, chat, or email
Spam filter
Addon domains
When Should You Upgrade?
Since there's no support for SSL on the free plan, you're likely to need to upgrade if you want to run an online store or handle customer data securely.
| | |
| --- | --- |
| cPanel? | Yes |
| CMS installer? | Installatron Installer with 150+ applications, including WordPress |
| SSL certificate | Only available on the Pro plan (no support for SSL with free hosting) |
5. AwardSpace – Add Extra Websites to Your Hosting Space
If you want to host more than one website, AwardSpace gives you the option to host a total of four free websites – three of which will be subdomains. This gives you the option to host websites for your friends, family or clients.
With an AwardSpace free plan, you benefit from automatic firewall protection that keeps your website secure from malicious attacks. AwardSpace takes security seriously – but for an SSL certificate, you have to upgrade to a paid plan.
What You Get with the Free Version
1GB disk space. As with the likes of 000webHost and GoogieHost, you get enough disk space to build a great looking website. With 1GB, you can store around 600 images, but isn't so great for large video files.
5GB monthly traffic. This is the lowest amount of bandwidth on offer on our list, but it should be enough for simple websites and blogs.
One email account. Your free email account comes with SpamAssassin and ClamAV virus protection.
CMS installation. Although AwardSpace uses the Zacky App Installer, with the free plan you're only able to install one of three CMS options – WordPress, Joomla, or Crav.
Subdomains. You can add up to three subdomains to your hosting space.
With AwardSpace, you're restricted to just three CMS options, which is a huge limitation. Considering the other free web hosting solutions in our showcase, we feel they could do better.
Your access to customer and technical support is limited – but of course, you have 24/7 access to sales support!
What Do You Get If You Pay?
AwardSpace's shared hosting upgrades include these features:
Better speeds
Unlimited disk space
Unlimited traffic
Better security
More email accounts
Free SSL certificates
More than one website
Free domain name for life (on the Web Pro Plus plan and above)
Full access to Zacky App Installer
When Should You Upgrade?
If you want to install web applications for advanced functions such as forums (e.g. MyBB or BBPress), e-commerce (e.g. Magento or OpenCart), or online education (e.g. Moodle), you'll need to upgrade. You're also likely to find that as your website gains more popularity, the 5GB bandwidth limit may become too restrictive.
| | |
| --- | --- |
| cPanel? | Rather than the standard cPanel, AwardSpace has its own control panel "Advanced Control Panel" |
| CMS installer? | You can install WordPress, Joomla, or CRAV on the free plan |
| SSL certificate | Only available on paid plans (no shared SSL with free hosting) |
Paid Hosts That Are Super Affordable – Our Top 4 Picks
While free hosting can fit the needs of small and temporary websites, bigger projects require paid hosting solutions. A custom domain name, more disk space, and 24/7 support are just some of the benefits paid hosting provides.
The best part is, "paid" doesn't have to be synonymous with "expensive." Quite the contrary. I've included some high-quality web hosts that cost less than a cup of coffee at Starbucks. For a more professional looking website, they're the way to go.
Hostinger
With close to 30 million users, Hostinger is definitely doing something right. The company's hosting solutions are easy to use – even for beginners – and simply dirt cheap. How cheap? During sales, I've seen prices go for less than a dollar a month.
Lots of disk space and bandwidth, even on the most basic plan
Easy one-click WordPress installations
Professional and responsive support, available 24/7 through live chat
| | |
| --- | --- |
| cPanel? | Customized cPanel that's been optimized for speed and ease of use |
| CMS Installer? | Softaculous one-click installations include WordPress and dozens of other CMS |
| SSL Certificate | Available for purchase, though I recommend being real nice and asking support for one… you never know |
Hostwinds
Hostwinds continues to provide excellent service, while still keeps prices fair and affordable. The company offers major discounts for new signups, and its shared hosting plans are some of the most feature-rich you'll be able to find.
Free SSL certificate protects your visitors' privacy and boosts SEO ranking
Hosting on Solid State Drives for a speedy experience
Unlimited disk space and bandwidth
| | |
| --- | --- |
| cPanel? | cPanel is included with all plans |
| CMS Installer? | Softaculous one-click auto installers included |
| SSL Certificate | Included with all plans |
A2 Hosting 
A2 Hosting is perfect if you need fast and reliable web hosting that doesn't limit your storage space and bandwidth. Its Turbo plans can offer speeds up to 20x faster than standard shared hosting (but they do cost a bit more). If you already have a website, A2 will migrate it to its servers for free.
It also offers HackScan to proactively prevent security risks to your website.
A2 Hosting isn't just good for your website, it's good for the environment, too. The company offers green hosting and does its part to fight climate change. 
Automatic backups

Anytime money-back guarantee

24/7 Guru Crew Support
| | |
| --- | --- |
| cPanel? | Yes |
| CMS Installer? | Yes, 100s of apps available using Softaculous, including WordPress |
| SSL Certificate | Free Let's Encrypt SSL certificates are included |
FastComet 
FastComet provides low-cost cloud-based hosting that's faster than traditional shared hosting. If you really want the best possible speeds, upgrade to the FastCloudExtra to take advantage of RocketBooster, with specially configured servers.
You used to get a free domain name for life with FastComet, but sadly, that's no longer the case. However, if you transfer an existing domain name to FastComet, it will be renewed for an extra year for free. 
Up to 35GB SSD space

Daily backups

BitNinja server security
| | |
| --- | --- |
| cPanel? | Yes |
| CMS Installer? | Yes, over 450 1-click apps, including WordPress |
| SSL Certificate | Free Let's Encrypt SSL certificates are included |
Surprisingly Good, REALLY Free Web Hosting Options
In the past, free web hosting was restricted to free website builders that splashed ads all over your site, making it easily identifiable as free. Now, free hosting is packed with many of the features normally associated with premium hosting plans – albeit with some limitations.
You can host a WordPress website on your own custom domain for less than $15 if you shop around for a good domain name deal – or, in most cases, just opt for using a free subdomain to get started and add a domain name later.
So, which free host should you choose?
If you're looking for the best level of performance, GoogieHost's cloud-based web hosting is more stable and offers better speeds – plus, you're protected with a free SSL certificate.
If you need the most space and traffic, FreeHosting doesn't restrict your bandwidth and gives you more storage space than any other host on our list.
If you're planning on hosting multiple websites, AwardSpace will let you have up to four different websites on your hosting account.
Here's a handy comparison table to help you make up your mind:
| | | | | |
| --- | --- | --- | --- | --- |
|   | Standout Feature | Bandwidth | Storage | SSL |
| Interserver | Price-Lock Guarantee | Unlimited | Unlimited | Free |
| FreeHosting | Over 480 web applications | Unlimited | 10 GB | Available as an add-on |
| GoogieHost | Cloud Linux | Unlimited | 1 GB SSD | Free |
| 5GB Free | US-based high-performance data centers | 20 GB | 5 GB | Only available on paid plans |
| AwardSpace | Host up to 4 websites | 5 GB | 1 GB | Only available on paid plans |