To test Fiverr's bold claim that you can get quality work for $5, I hired three Fiverr freelancers at different price points to design a logo.
 You can see the results in our full Fiverr Logo Design review, but as far as I'm concerned, the $5 logo was impressive.
I learned that while both Fiverr and Upwork have their advantages in terms of usability, search features, freelancer verification, and other factors,
Upwork simply can't compete with Fiverr in terms of price and overall value
.
1. Platform Structure and Workflow
Fiverr Is (Mostly) for One-Time Jobs, Upwork Is (Mostly) for Long-Term Work
The main difference between these two platforms is that
Fiverr is geared towards hiring freelancers for one-time projects, while Upwork focuses on building long-term relationships between freelancers and clients.
Of course, you can use Fiverr for long-term work and Upwork for one-off assignments, but Fiverr's emphasis on individual assignments (known as "gigs" on the site) and Upwork's focus on long-term hiring clearly influenced each platform's design. How so? When you search Fiverr, you can browse specific gig categories, such as "eBook Writing" or "Video Editing" – which makes sense when you're hiring for individual projects. You can also search by keyword to bring up gigs that don't fit into one of the predefined categories. Each seller has separate gig pages for every service they provide, and each gig page contains detailed information about the freelancer's experience, areas of expertise, and per-project pricing.
If you have any questions for the freelancer before (or after) you hire them, you can easily communicate through the messaging app.
With Upwork, there's no equivalent of a gig page. Instead, you search for freelancer profiles. You can specify the areas of experience you want your freelancer to have (e.g., ad copy, SEO), but the search results will lead you to profile pages, which read like a LinkedIn page.
It's a bit like sorting through job applicants' resumes, as opposed to ads specifically tailored to the service you need.
Both sites allow you to narrow down your search according to specific criteria, such as price range, seller's native language, seller's rating, delivery time, and more.
Fiverr has some additional search filters for specific categories, called "Service Options" – for instance, if you're browsing the
Logo Design category
, you can narrow down your search according to design style, file formats, and more. In my experience, the whole process of ordering a gig on Fiverr is usually quick and simple. You pay, tell the seller what you want, and they do it. To ensure you're happy with the work, Fiverr holds the money in escrow and the seller doesn't get paid until you've approved the work. That way, you have the opportunity to dispute the charges if the seller fails to deliver.
You
can
 post jobs (called "Requests") on Fiverr and wait for sellers to apply for them,
just like other platforms allow you to do, but this option is hidden in a menu. The Fiverr interface encourages you to explore and see just what the sellers can do for you. This is the way I would encourage you to use the site as well, since you can hand-select the sellers you want to hire, rather than wading through applications from sellers who may not fit your criteria. Plus, it's more efficient to search for candidates and book the right ones when you find them, rather than posting a job and waiting for sellers to apply.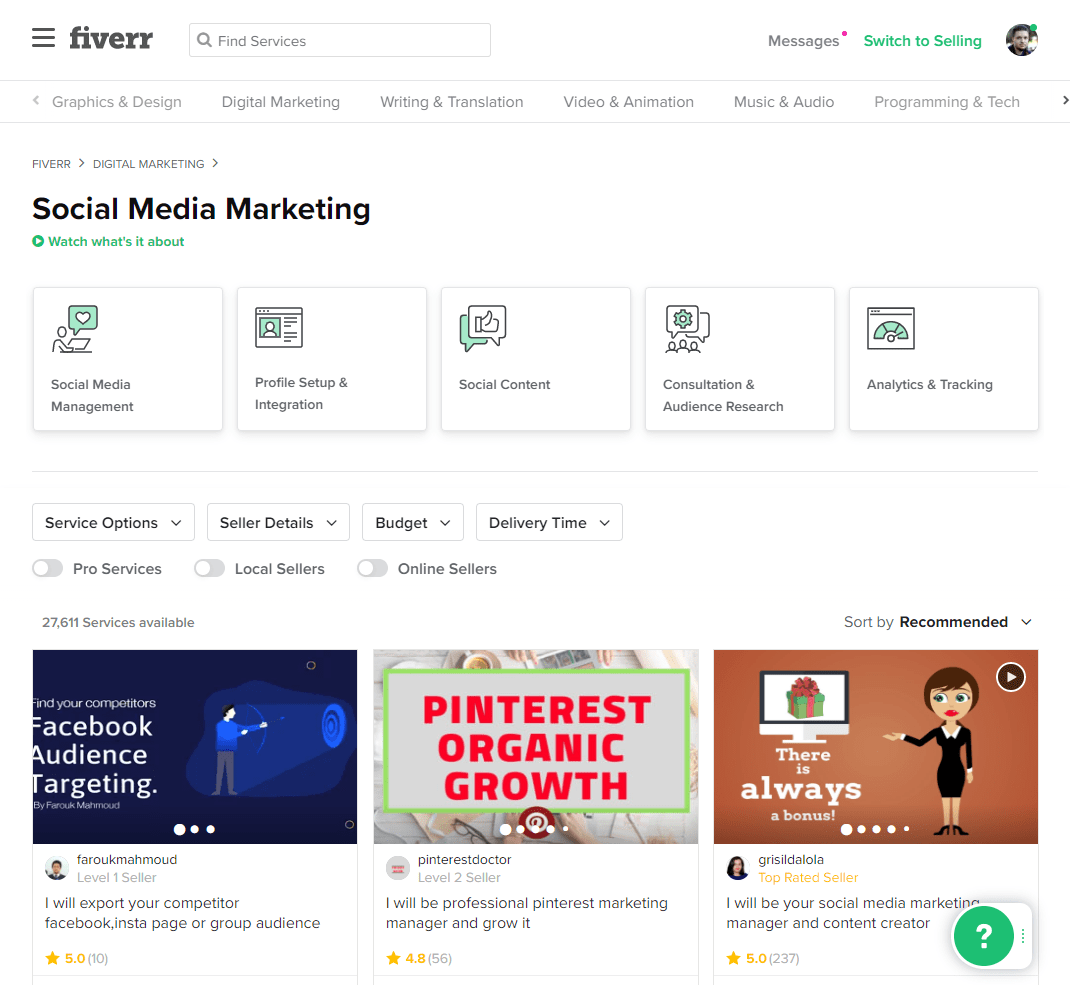 If you're on the go, Fiverr has a mobile app that works almost exactly like the website does. You get pretty much all of the same features as the site has, packaged in a more mobile-friendly way.
On Upwork, you'll find a combination of people offering their services for an hourly rate as well as fixed prices per project.
You can post a job and wait for people to apply. You can include detailed requirements, such as:
Requesting applicants with specific experience and expertise
Defining the project as ongoing or a one-time thing
Adding screening questions
Asking for cover letters
You can also browse through profiles to find freelancers and agencies (yes, entire agencies). You can sort your search by a range of criteria, including:
Your budget
Freelancers' expertise
Their job completion rate
Total earnings on the system
Languages
When you find solid candidates, you can message them directly with details or invite them to apply for a job you've already posted. You can also conduct interviews for potential hirees, which is a handy feature. Upwork actually has two mobile apps – one for freelancers and another for clients.
The client app experience is somewhat simplified compared to the website, but not much is missing.
 One shortcoming is that it doesn't seem to have the "Reports" section of the website, which details how much money you've spent. Also, there are no timesheets (detailing work performed), so you'll have to go through the website for that information.
Winner:
 It's a tie for this section. Each platform offers a slightly different approach for hiring freelancers, and each provides features and workflows tailored to its specific business model.
2. Freelancer Verification Standards
Fiverr Only Vets Certain freelancers, Upwork's Vetting Is Iffy at Best
Both Fiverr and Upwork try to give you some idea of the quality of a freelancer's work, but the difference in their approach is huge, and, well… there's no such thing as a perfect system.
Fiverr doesn't actually verify its sellers – except for "Pro" sellers.
Anyone with a strong work history and a solid portfolio can apply to be in the Pro program, where they'll go through a series of reviews. Fiverr Pro accepts highly-skilled freelancers, whether they're brand new to the platform or Fiverr veterans. Anyone who becomes a Fiverr Pro seller is likely to be good at what they do. Fiverr itself also takes a special interest in any potential problems or disputes involving Pro sellers, to make sure everyone is happy. Of course, all this comes with a price, as
Pro gigs are by far the most expensive on the platform.
You can tell who's a Pro by their prices and by the little "Pro Verified" text on their gig listing. You can specifically search for Pros by selecting the "Pro Services" button, which pushes all the Pros to the top of your search: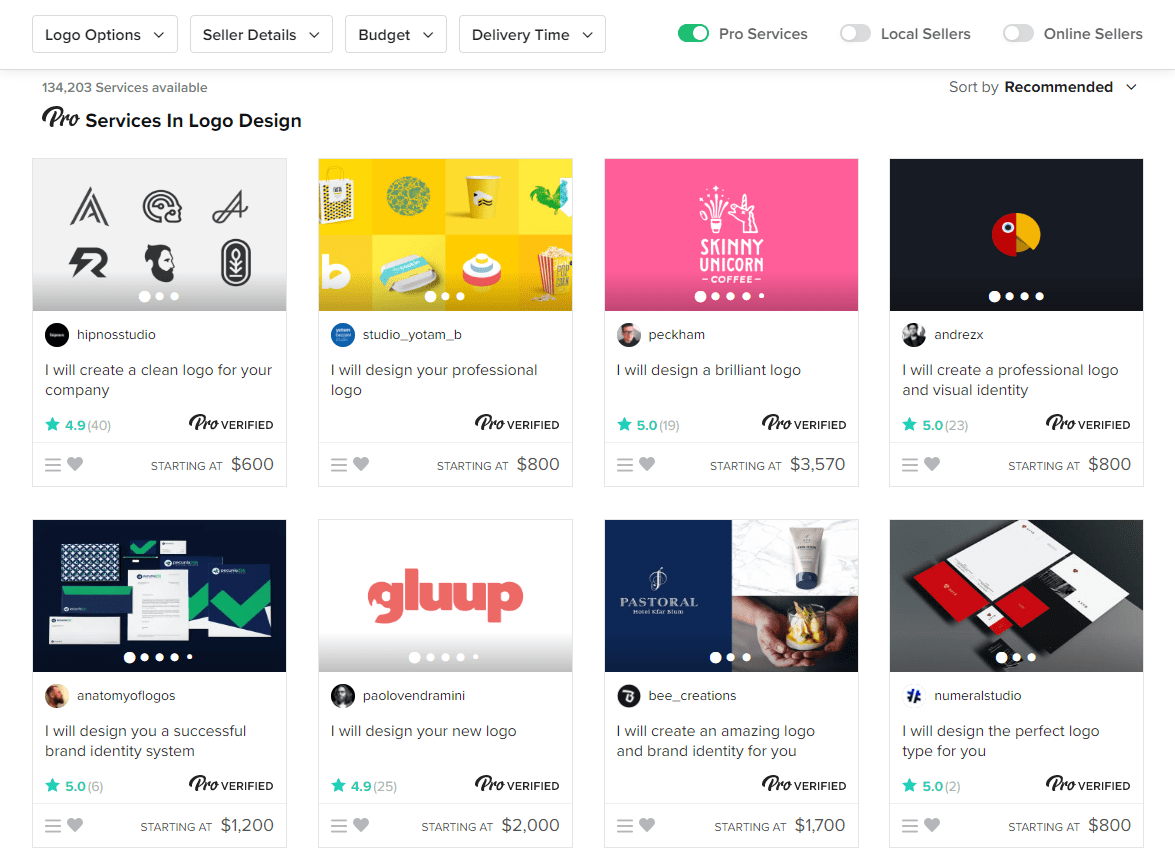 For non-Pro sellers, you'll depend on the community for quality assurance. Buyers review and rate sellers after each gig is completed (and sellers rate buyers), so you
can
 get an idea of how good their services are.
Upwork, on the other hand, is known for "over-verifying" all their freelancers.
Freelancers have to apply to the platform, and not everyone is accepted (this could depend on demand in certain fields). Once on the site, if freelancers want their profile to get noticed and/or promoted, they'll have to jump through a lot of hoops, which often includes skill testing. Upwork also has a system for identifying and verifying their Top Rated freelancers. Top Rated freelancers have to have a Job Success rate of 90% or higher, monthly earnings of at least $1,000 USD, at least three months actively working on the platform, and a number of other somewhat specific requirements. Top-rated profiles are indicated by a little blue shield icon with a crown on it. There's also a category for "Rising Talent" – freelancers who aren't Top Rated yet, but are on their way. Their icon is the blue shield with a star.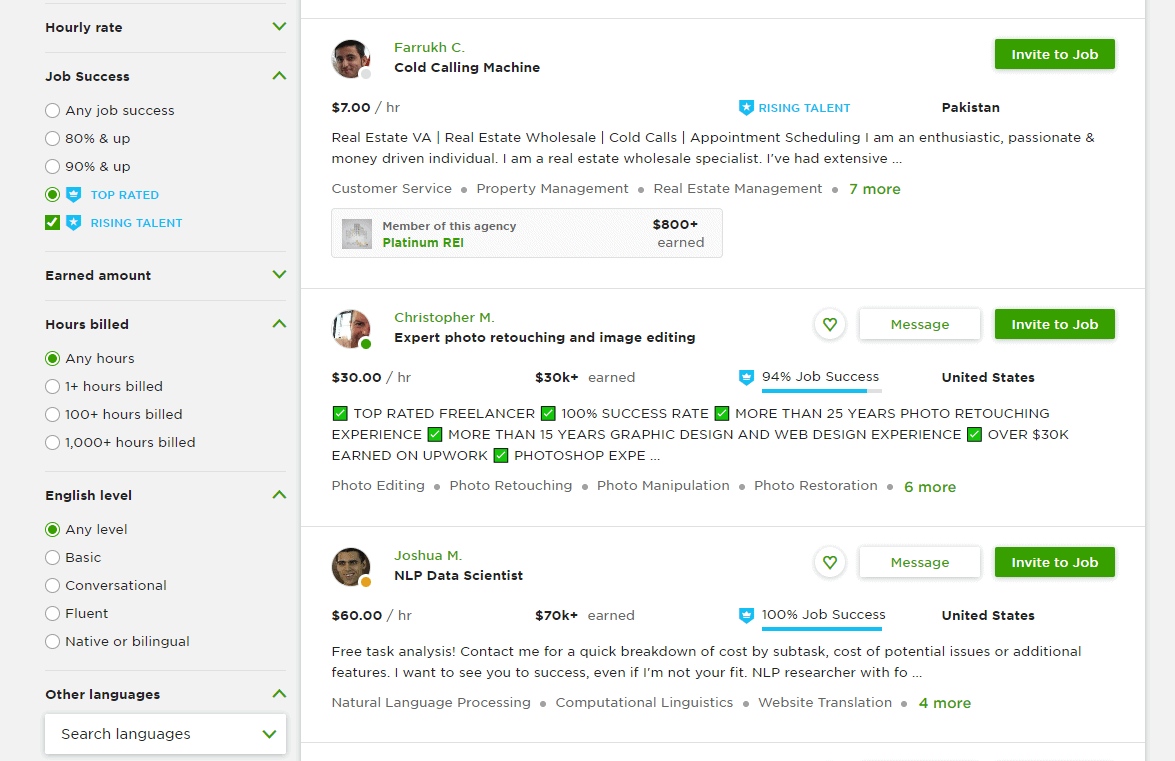 Upwork's vetting processes can actually be detrimental because the standards are a bit arbitrary.
In other words, a lot of good freelancers never have a chance on the platform, and other good ones don't even bother to sign up because it's too much of a hassle. Meanwhile, those who know how to game the system have a huge advantage. What's worse? Fake and "embellished" profiles are
still
 a problem on Upwork, even with all the vetting, verifying, and jumping through hoops.
You can read more about this in our in-depth Upwork review
.
Winner:
 Fiverr. Upwork's verification systems seem to have mostly backfired at this point, while Fiverr's community-based rating system mostly does its job. You should do your research on potential freelancers either way, because
every
 freelance platform has problems with fake profiles and bad freelancers.
3. Freelancer Profiles
Fiverr's Profile Design Is Visual, Upwork's Is Resume-Based
Upwork and Fiverr's freelancer profiles have a lot in common, as you'd expect. There's pricing, user reviews, ratings, lists of applicable skills, languages, certifications, and an easy way to get in touch with freelancers. The difference, as always, is in the approach.
Fiverr's UI is more about directing you to individual gigs rather than user profiles, so even on the profile, those gigs are front-and-center.
This design gives you the most relevant information you need to make an informed buying decision, showing you everything the freelancer can do. You can then click through to the actual gigs to see more examples of past work. And yes, Fiverr encourages everyone – not just designers, illustrators, and videographers – to make their portfolio visually appealing. I actually grabbed a screenshot of a writer's portfolio to show you how that works: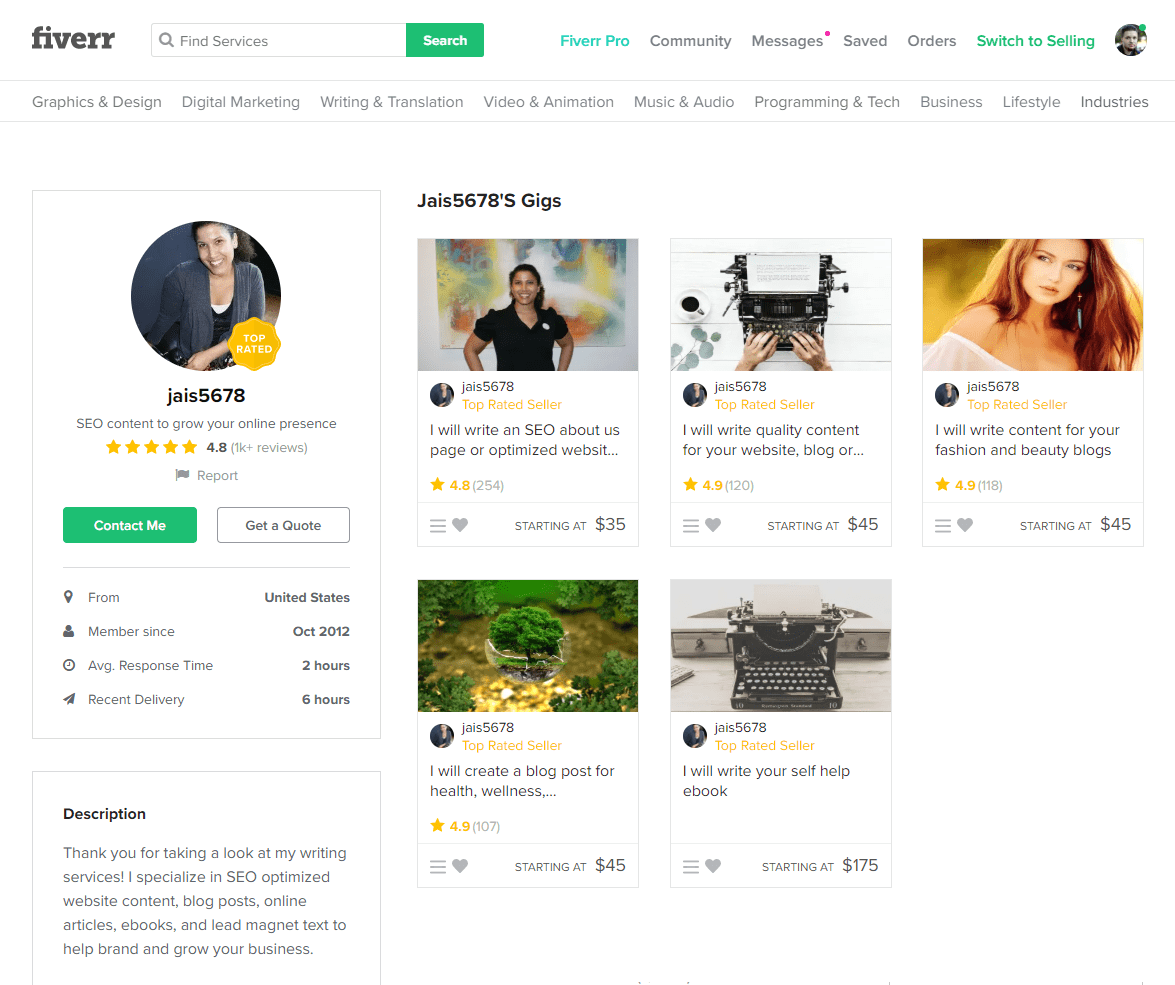 Upwork's portfolios read more like a classic resume and strongly resembles a LinkedIn profile.
There's an emphasis on statistics, such as how much the freelancer has earned via the platform, how many Upwork jobs they've had, how many hours they've worked, and other potentially useful bits of information. There's also the usual resume stuff, like the freelancer's education and work history. If you're looking to hire a graphic designer, for instance, you may actually have to scroll halfway down the page to see samples of their work.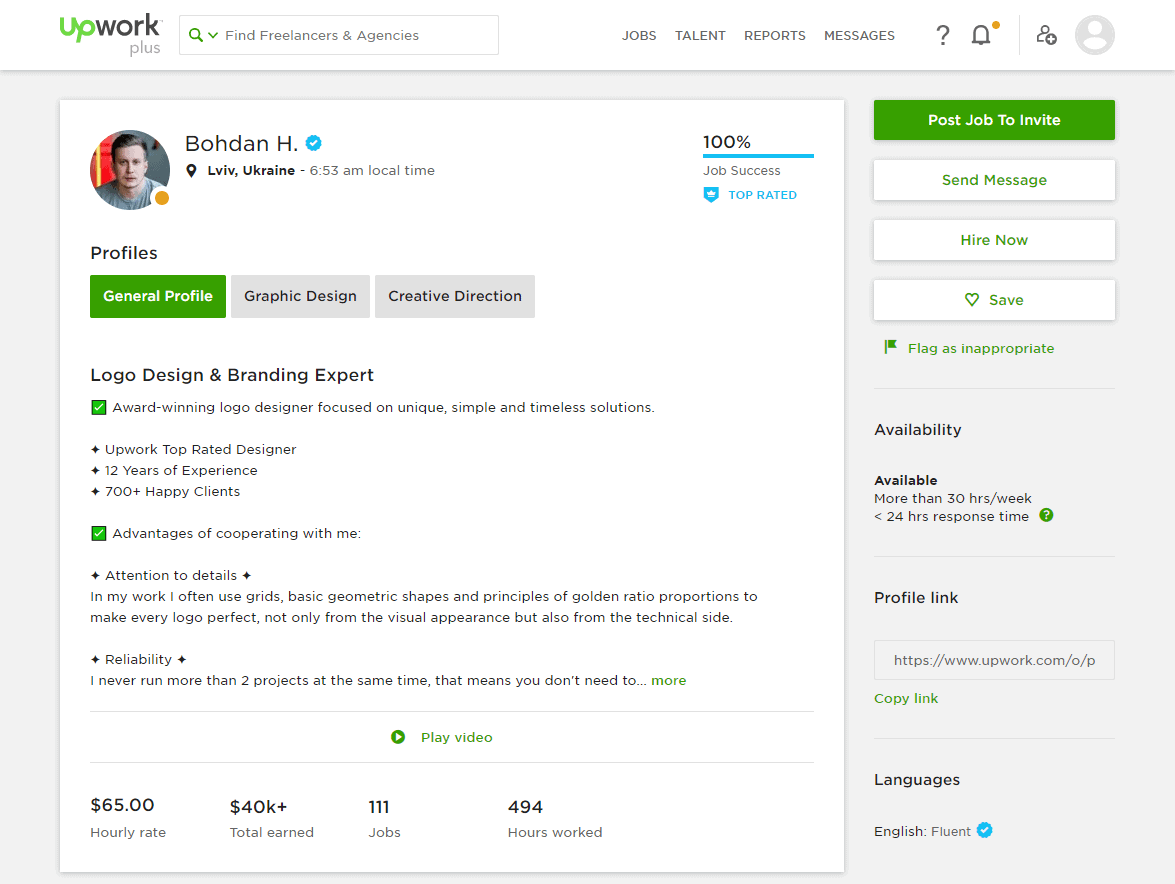 Winner:
 Fiverr. I can see how Upwork's stats-heavy approach might be appealing to some, especially in a corporate environment. However, I prefer to get a feel for the freelancer from the more visually-oriented approach that Fiverr's profiles take. The way Fiverr structures the page makes it easy to navigate and find the most important information (price, expertise, ratings, etc.). Plus, the gig images a Fiverr seller adds can give you a hint about their style, professionalism, and personal brand – even if you're not shopping for a designer.
4. Pricing
Low Price + High Quality = Exceptional Value with Fiverr
Simply put, Fiverr is cheaper. It can't help but be cheaper when
many of the gigs are literally priced at $5 USD.
If you read my review of Fiverr's logo designers, you'll know that those $5 USD projects can turn out pretty decent
, since $5 is a fair bit of money in some countries
.
In other words, judge the sellers by their past work, not their pricing alone. Upwork also has some people willing to work for quite cheap, but not
that
 cheap, and it's usually at an hourly rate. Work can take longer than expected, and you may end up with a bill that's larger than you anticipated. Thankfully, many freelancers also offer fixed-price packages for their services.
On Upwork, almost all fees are paid by the freelancers.
You, as a client, only pay a 3% payment processing fee, which is pretty standard for lots of online services around the world. However, it's known that Upwork freelancers often increase their prices to cover their fees.
Fiverr has a $2 USD fee for all purchases up to $40 USD.
So if you buy a $5 USD service, you're going to pay $7 USD. After $40 USD, the fee kicks up to a considerable 5%. So, if you're going to spend $1,000 USD on website design, for example, Upwork would come out a bit cheaper, though not by much. Both platforms do not offer financial incentives (such as bonuses or discounts) to encourage buyers to maintain a relationship with a specific freelancer. Nonetheless, they facilitate the process of rehiring sellers with whom you have collaborated before. This feature is valuable as it allows you to build upon established trust and anticipate consistent results.
At the very least, both platforms provide some small measure of security for buyers.
 For fixed-price services, all funds paid are generally held by Upwork and Fiverr respectively until approval is given by the client. Upwork also has a system for time tracking used to ensure (in theory) that freelancers are only charging you for time spent on your project. If things go wrong, you can always file a dispute.
Winner:
 Fiverr. Despite the client-facing fee structure, Fiverr is less expensive and offers greater value for the money spent – especially since almost all projects come at a fixed price. Hourly rates can, once in a while, spin out of control.
5. Dispute Resolution
The Details Are Complicated: Here Is the Simple Version
Upwork and Fiverr have something in common: they
really
 want you to settle your own business with freelancers.
 Both platforms have a dedicated section of the site for handling disputes and communicating your way through various problems, including late delivery and/or dissatisfaction with the final product or service. Honestly, this is usually the best way to do things, as most freelancers want good ratings and reviews. However, things don't always go smoothly. In these cases, specific guidelines and resolution options vary depending on the situation, and they take up considerable room in each platform's Terms of Service. It all boils down to this:
 If you're not satisfied with a freelancer's performance for whatever reason, you can report them.
On Fiverr, this means that someone at Fiverr will look over your case and decide whether or not you deserve a full or partial refund. On Upwork, a "dispute specialist" will provide a non-binding recommendation. However, if you reject that recommendation, it means involving legal arbiters, and that can currently cost over $800 USD, with your share of the cost being almost $300 USD. Upwork and the freelancer will cover the remaining amount. Depending on what you paid for the original project, this may not be worth the expense.
Winner:
 It's a tie again. Some people might prefer to have the option of a legal arbiter, and others might not be able to imagine anything more annoying and slow. It's the sort of thing that would depend on how much you've already spent, and are willing to spend, on getting some sort of justice.
Conclusion: Fiverr Is the Stronger Option Overall
Hiring a freelancer on Fiverr is easy, and you get value, simplicity, and clear pricing. This makes it the clear winner in my book.
 Plus, it's very hard to compete with a platform that has a seller for every conceivable budget. Some of those $5 USD sellers are actually pretty good. Upwork is still (perhaps) a good choice if you prefer hourly rates and want to hire lots of people for the long term. Plus, they have some corporate-friendly features. To sum things up, here's a handy table:
Freelancer Vetting
Limited
Maybe too much
FAQ
Which is better for freelancers – Fiverr or Upwork?
Fiverr, definitely. It makes it far easier to set up shop and start selling. Its profile and gig system also makes it easier for your services to stand out from the rest, especially if you offer some niche services. Upwork can work for you, but it's a much bigger investment, and you need to learn how to game its system. If you want to start selling on Fiverr, check out our guide to doing exactly that.
Which freelance platform is cheaper – Fiverr or Upwork?
For a buyer, Fiverr is cheaper overall. The fixed pricing structure combined with the very low minimum price makes it easy to get quick jobs done for a lot less. Plus, prices tend to be lower on Fiverr, even for high-quality work.
Which platform has better buyer protection – Fiverr or Upwork?
This one is a draw. They both have very similar buyer protections, and, the freelancers don't get paid until you're happy. Of course, you have to file any disputes within a reasonable timeframe. Note: Upwork has a legal arbitration option, while Fiverr relies solely on staff arbitration. Some might find legal arbitration comforting, but it comes at a hefty cost and it takes time.
Which is easier to use – Fiverr or Upwork?
Neither is particularly difficult to use. They both have a smooth UI that is generally easy to navigate. I will say again, however, that Fiverr does a better job of drawing you into a portfolio visually displaying pricing, service descriptions, and portfolio samples in an intuitive way. Check out our full Fiverr review to get a better sense of how the whole experience works.
What payment methods are available on Upwork and Fiverr?
Fiverr's payment methods include:
Visa, Mastercard, Discover, and a few other major credit cards
PayPal
Apple Pay
iDEAL (only available in The Netherlands)
Upwork's options are:
Visa, Discover, Mastercard, and American Express
PayPal
Bank Account (U.S. only)
What kind of jobs can I list on Fiverr?
You can list almost any kind of service on Fiverr, assuming its safe and legal. We have a whole article about the weirdest gigs on Fiverr that I strongly encourage you to check out. 
Is Upwork legitimate?
Upwork itself is perfectly legitimate, but the same can't be said for everyone selling their services on it. They've had a real problem with fake profiles. This is a problem on every hiring platform, but Upwork has developed a reputation for it. Of course, since Upwork is one of the most popular freelancing sites out there, it's bound to attract a few scammers.
Is Fiverr safe?
Fiverr is as safe as any other online service provider. It's been an established name in the business for quite some time, and they have implemented processes to protect both clients and freelancers from fraud. Just remember that paying for any service, anywhere, is a risk, so if you suspect fraud, report it immediately (before Fiverr transfers your money to the freelancer's account).