leave your nine to five
– especially during that awful Monday morning commute – you might get stuck wondering what it is you could actually do.
Thank goodness for sites like Fiverr. It's the perfect example of a freelance marketplace where anything (and we mean anything) goes
. Sure, there are lots of buyers who search for more "traditional" offerings, such as graphic design or web development. But there are just as many gigs that are totally out-of-this-world outrageous. Let's just say, we've spent a lot of time on Fiverr. Scrolling through the 500,000+ listed gigs, you wouldn't believe some of the things that people are offering – and others are buying! Our message to you? Use the following as inspiration and dig deep to find a niche talent you can make money out of!
1. Magic and Miracles
"I Will Cast an Extremely Powerful Obsession Spell"
There are a bunch of sellers on Fiverr that offer to perform spells, charms, and hexes –
mostly around love and attraction, which is a popular category with huge potential for sales
. And they seem to be really popular! Laugh all you want, but this seller,
Mystic Zoe
, has hundreds of reviews and a five-star rating. It's unclear from the seller reviews what the exact results have been like, but many seem more than willing to pay for the experience.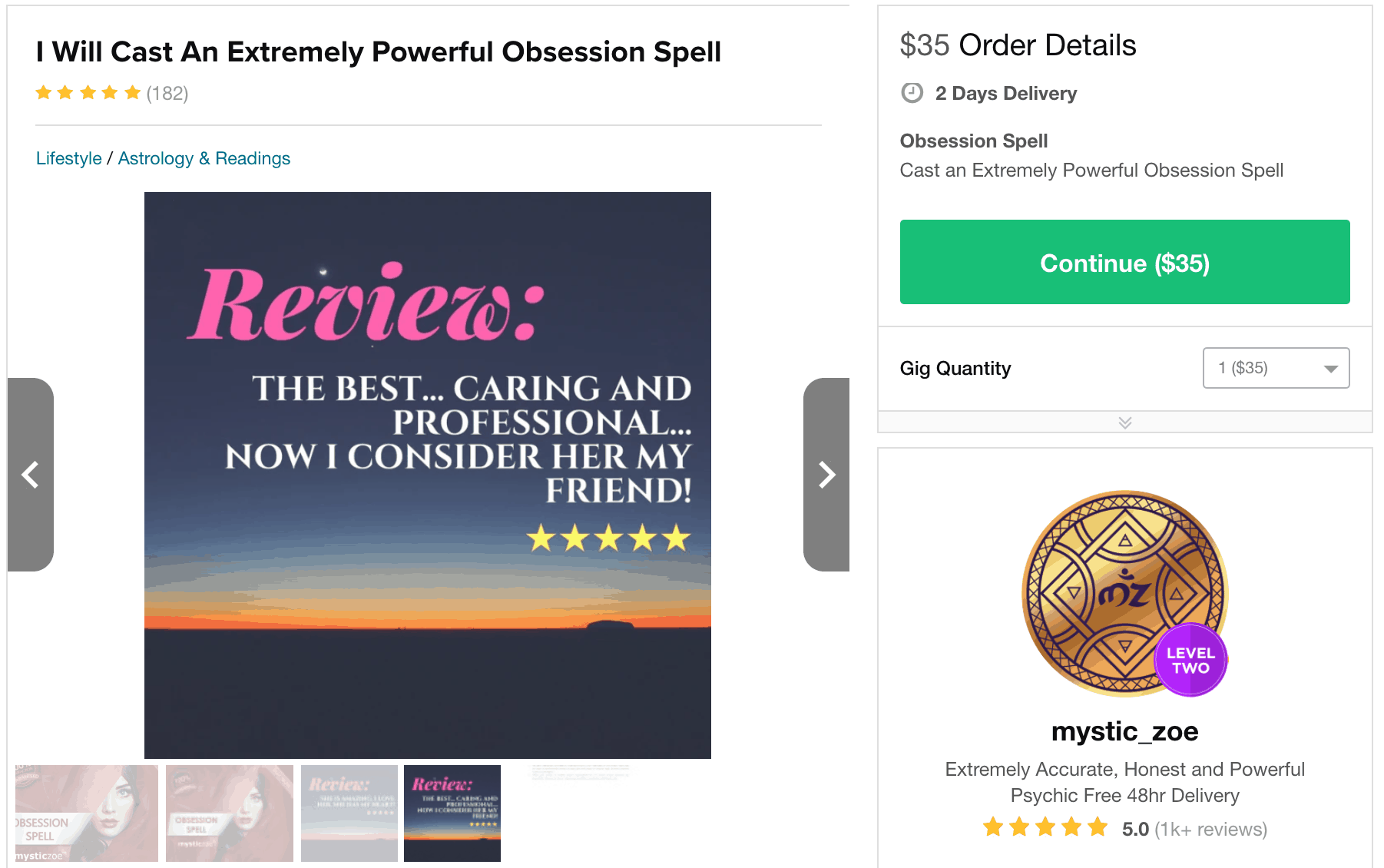 "I Will Release Five Fishes for You"
This is definitely one of the most unique offerings we've seen. Seller
sukan747 
promises to buy five live fish from the market – otherwise meant for the dinner table – and release them.
There are lots of people happy to pay a small amount of money for a quick smile or to feel like they've made some sort of difference in the world
. Case in point: More than 190 people have ordered this gig so far, and all have left glowing reviews.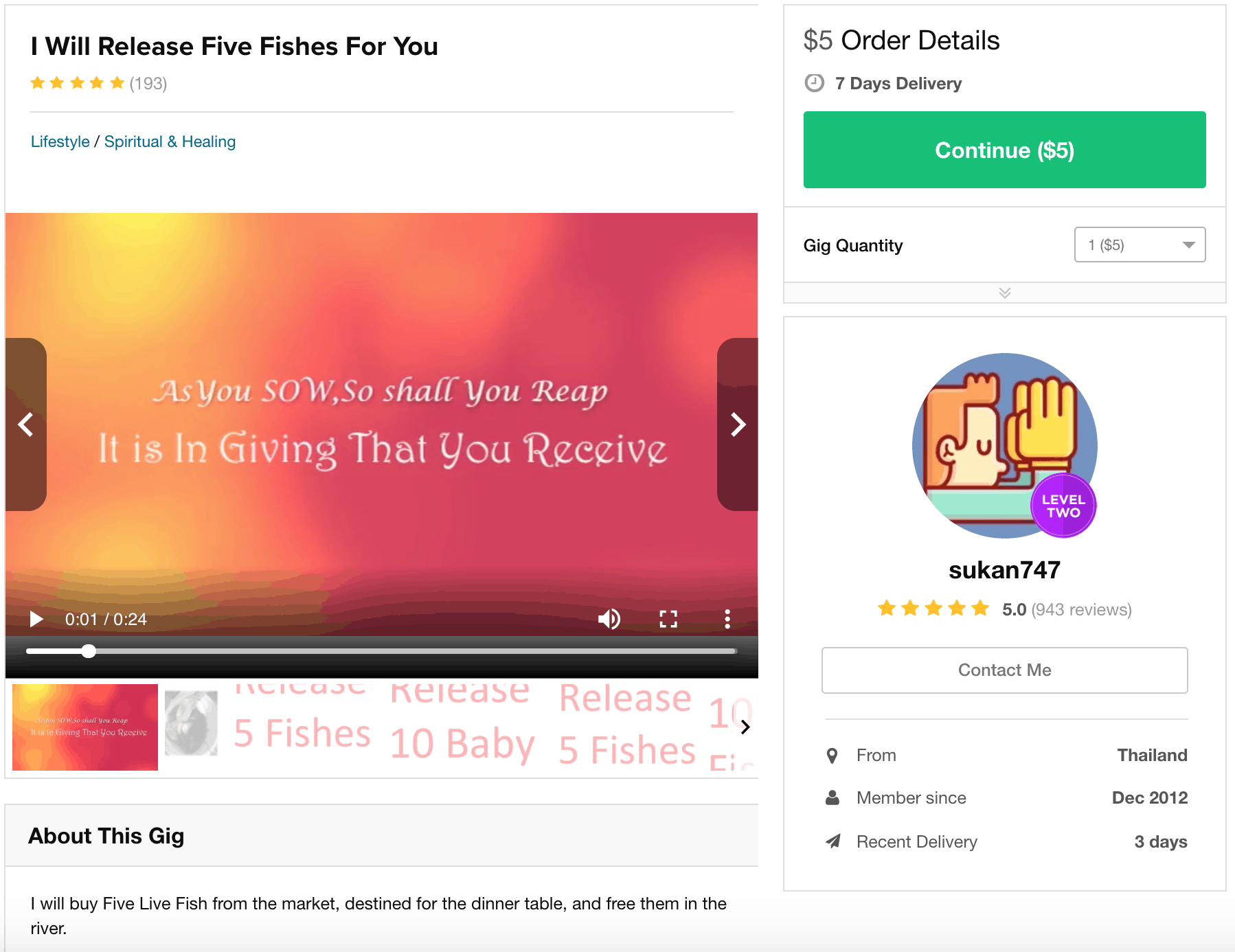 "I Will Provide Kundalini Goddess Healing and Grant Wishes"
There are a lot of gigs on Fiverr that you'd think would need to be done in person – like health and wellness. It may surprise you to learn that
there are a bunch of freelancers that promise to heal clients remotely, whether through advice, one-on-one sessions, or channeling energy
. Seller
kundalinihealer
 is just one example of someone who offers to basically send good vibes to buyers, and she's already made a good amount of money doing it.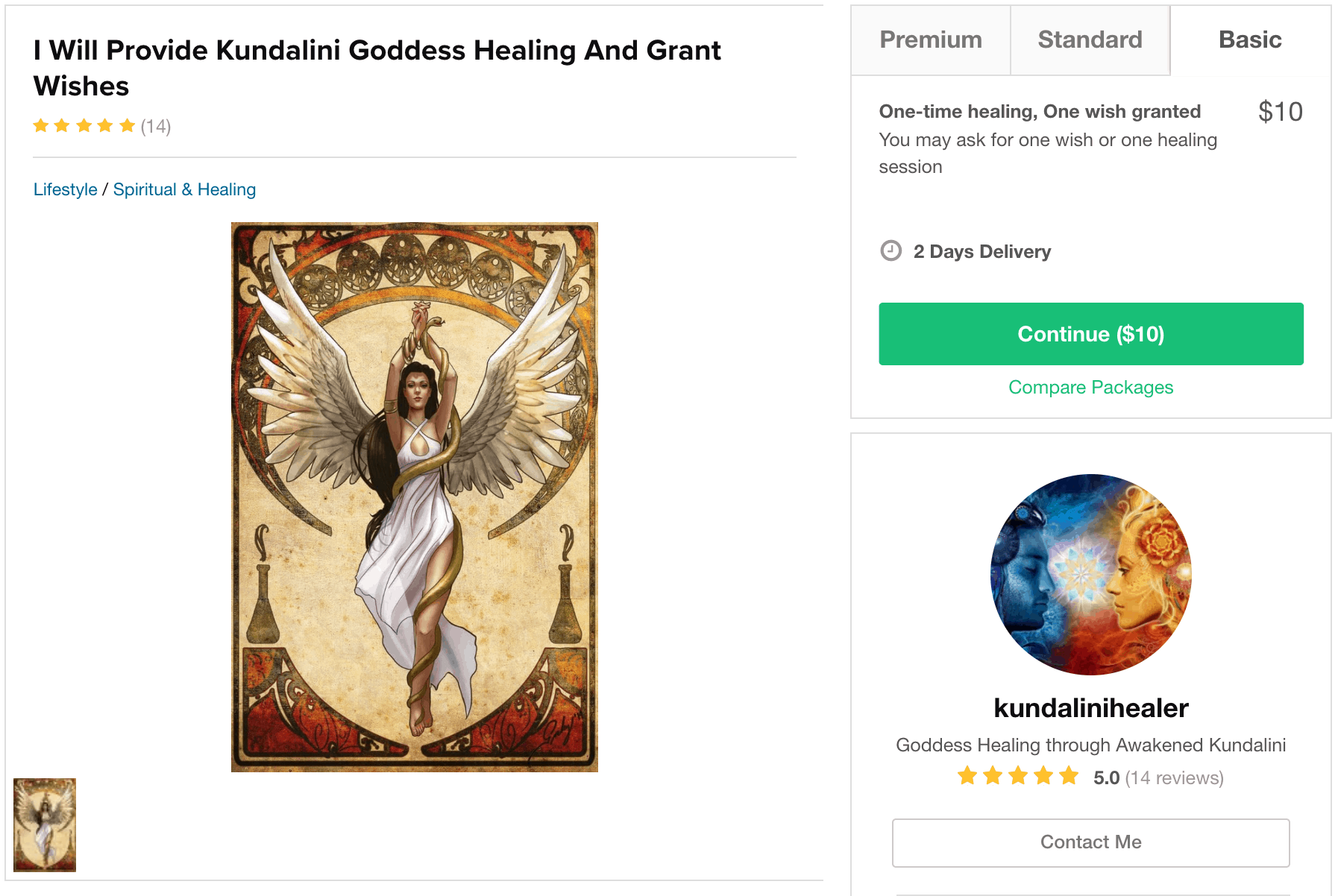 2. Budget Acting
"I Will Have Fun Reading Your Script as Macho Man or Hulk Hogan WWE Wrestling"
Whether it's a birthday greeting, party invite, or podcast promotion you're after, this seller will record a 30-second script for you. He even offers to help write the message if you're stuck on what to say.
Many sellers offer basic packages, as well as a bunch of optional add-ons that can quickly add up to a more substantial price
. For example,
Mike Imburgia
 offers sound effects, multiple voices, or longer scripts for a few extra bucks each.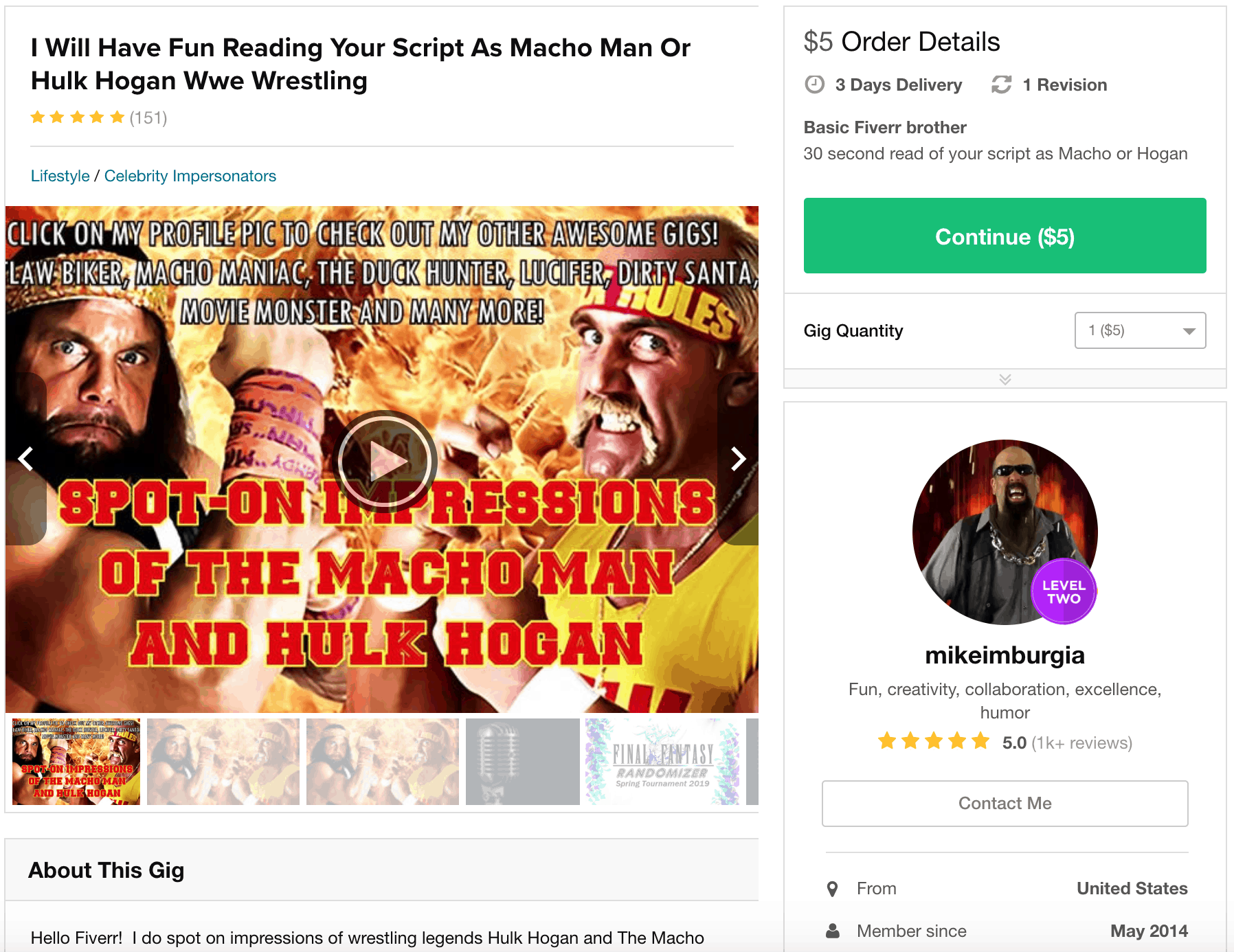 "I Will Have Jesus Create an Awesome Promotional Video"
Seller
SoCal Christ
 has literally had thousands of people buy his various Jesus videos (you can also have Jesus review your product or service, or rock out to any song).
Clearly, he found something that worked for him, and then greatly expanded his related gig offerings
. At this point, it seems like he is probably making pretty good money just by not shaving, wearing comfortable clothes, and creating fun custom videos. Sounds heavenly!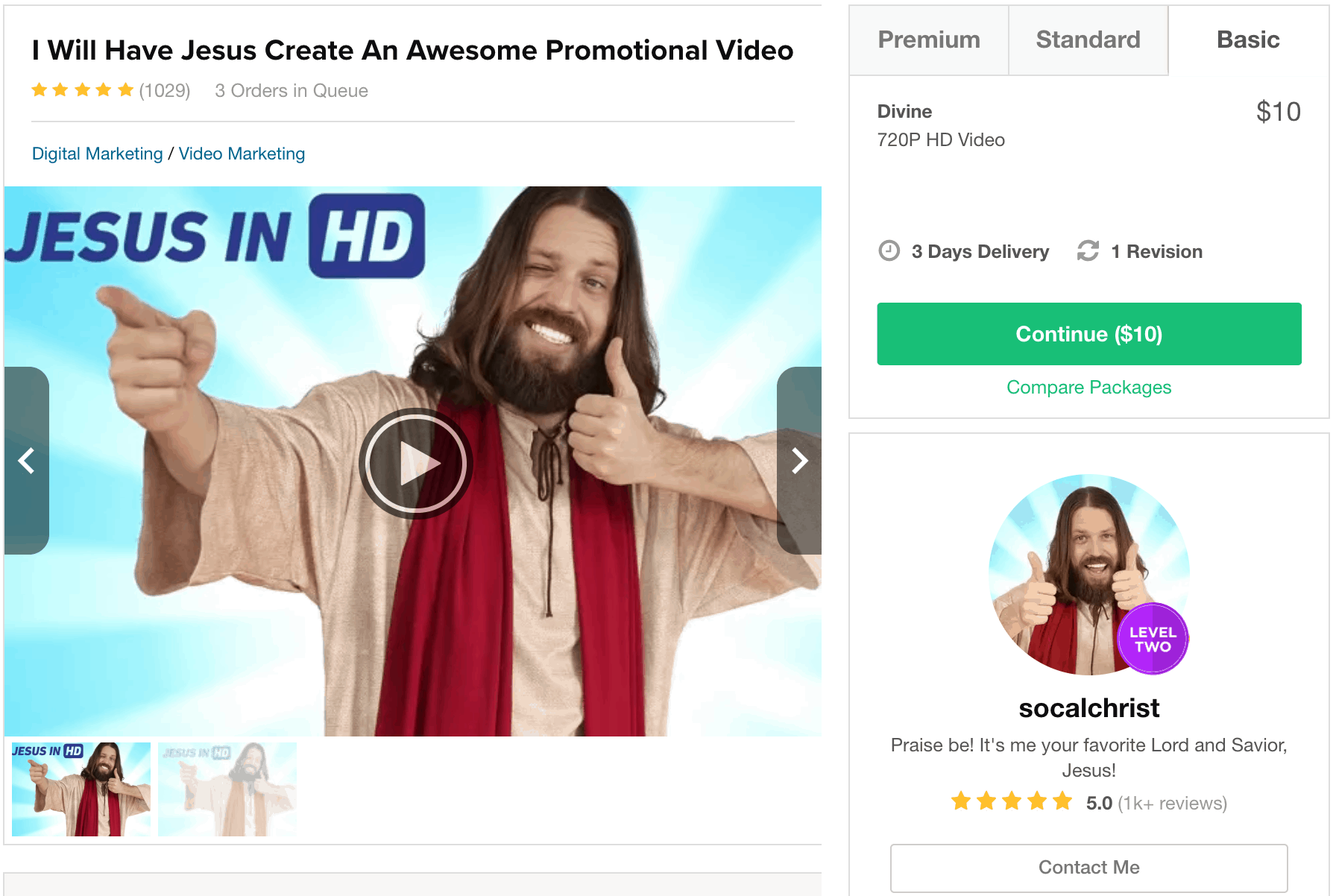 "I Will Record a Sci-Fi Robotic Artificial Intelligence Voice"
There is no limit to what seller
Ravie13
 can do, offering a number of different style voices, as well as overlaying sound effects.
One of the big ways she makes money is to sell commercial licenses separately for an additional (and much higher) cost
. Something good to keep in mind!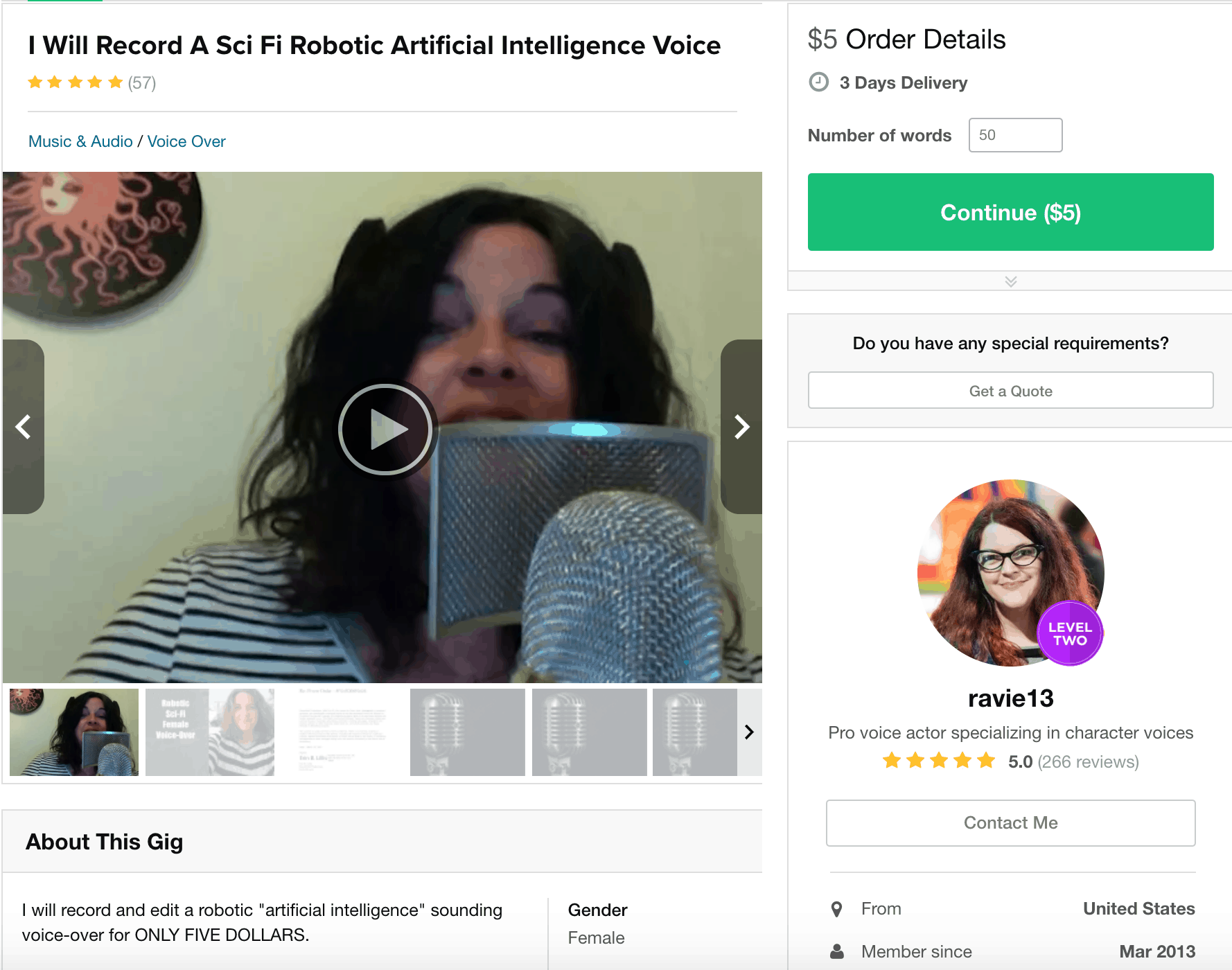 3. Strange Makeovers
"I Will Draw A Creepy Portrait Of You"
Ever wondered what you'd look like with a third eye or a strangely long neck? You're in luck. Seller
Nazreih 
just started on Fiverr recently, but she has already gotten a bunch of orders from people who want an alternative portrait of themselves. With successful offerings like this, it's clear that no matter how niche your talent, you can find an audience on Fiverr.
You can see why the site gets rave reviews
.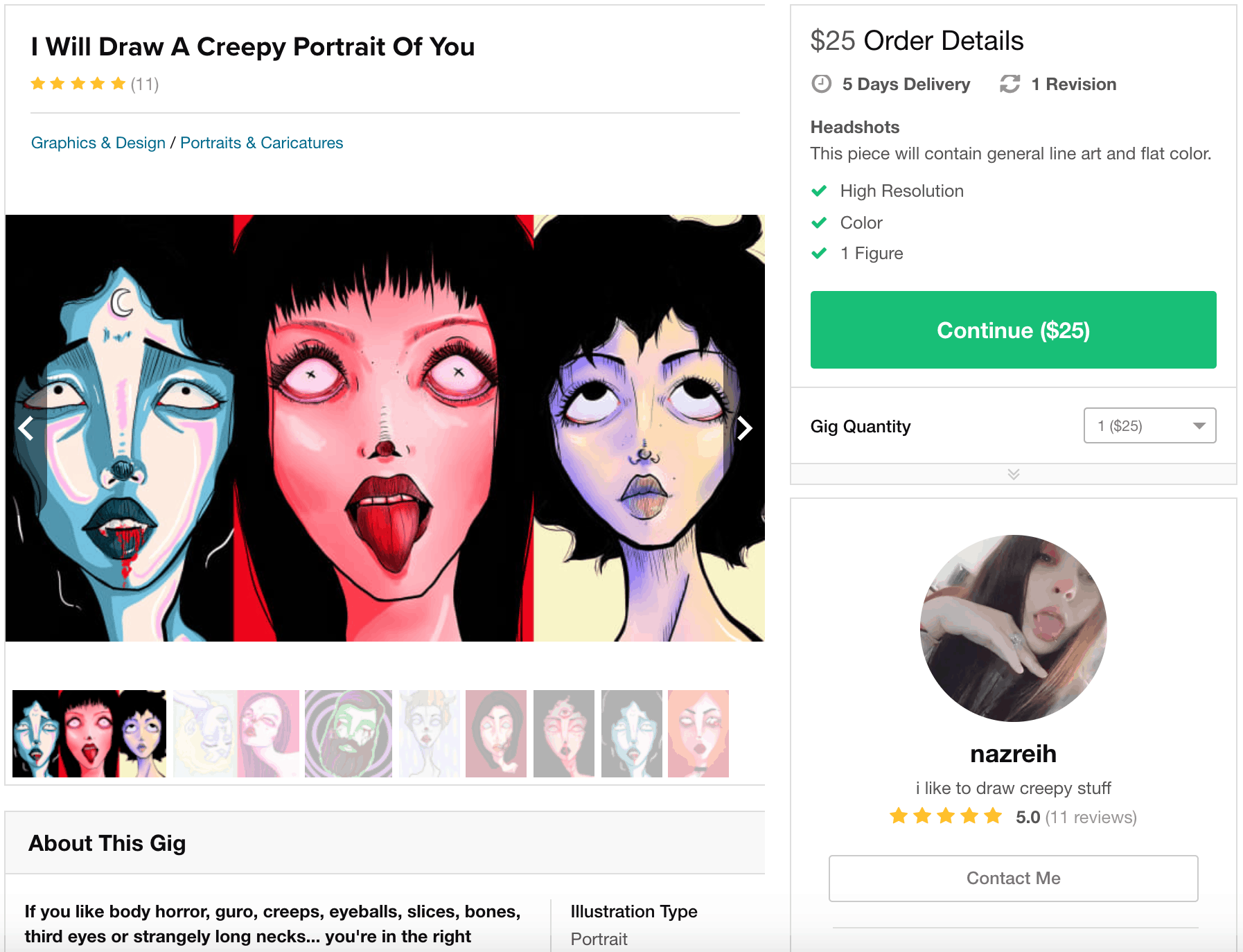 "I Will Draw You as a Mermaid"
Seller
AllanTerArt 
has hundreds of positive reviews doing portraits in a variety of styles – from the standard drawings of pets to illustrations of clients as mermaids. On Fiverr, buyers tend to look for really specialized services, so it helps to
make multiple gigs if you want to showcase your full range of talent
. This will be more effective than trying to fit everything into a single posting. If you want your gigs to stand out, you need to be specific.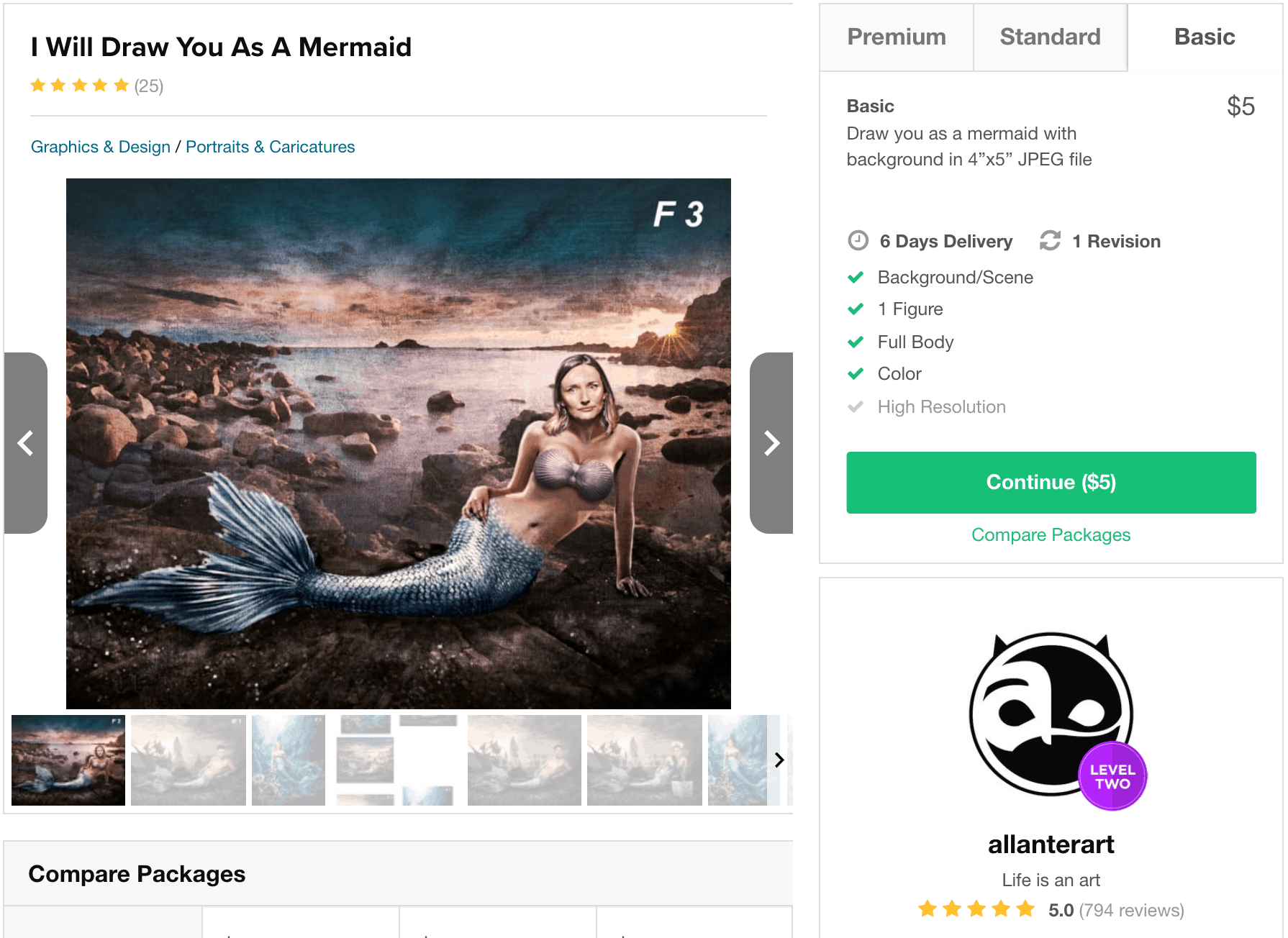 "I Will Photoshop You on the Iron Throne"
Here's a cheap thrill for every Game of Thrones fan out there (read: most of the planet). Instead of just offering his photo editing and Adobe skills,
Toronto Josh
 tapped into pop culture and found his own corner of the Fiverr marketplace
. That's one of the best things about this platform – once you have your profile,
gigs are super quick and easy to create
!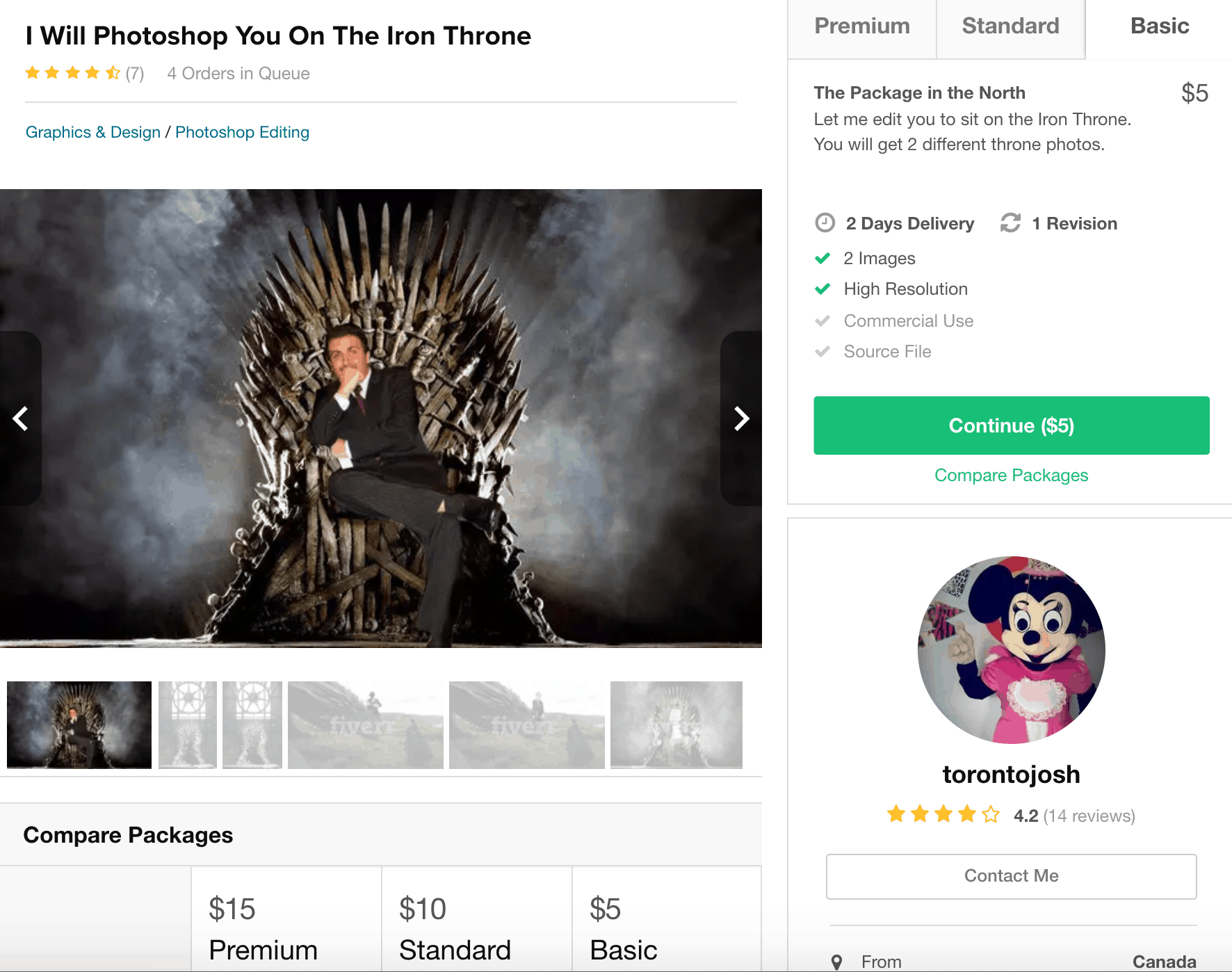 4. Self Improvement
"I Will Teach You to Telepathically Communicate with Your Pets"
Okay, so who doesn't want to know how to do this? (To be honest, I'm totally tempted to place an order with
Animal Energies
.) There are multiple sellers that offer this type of service, many with dozens of positive reviews.
Some specialize in different animals, and others offer specific examples of communication problems that they can help address directly
. For example, helping a pet through a move or grieving process.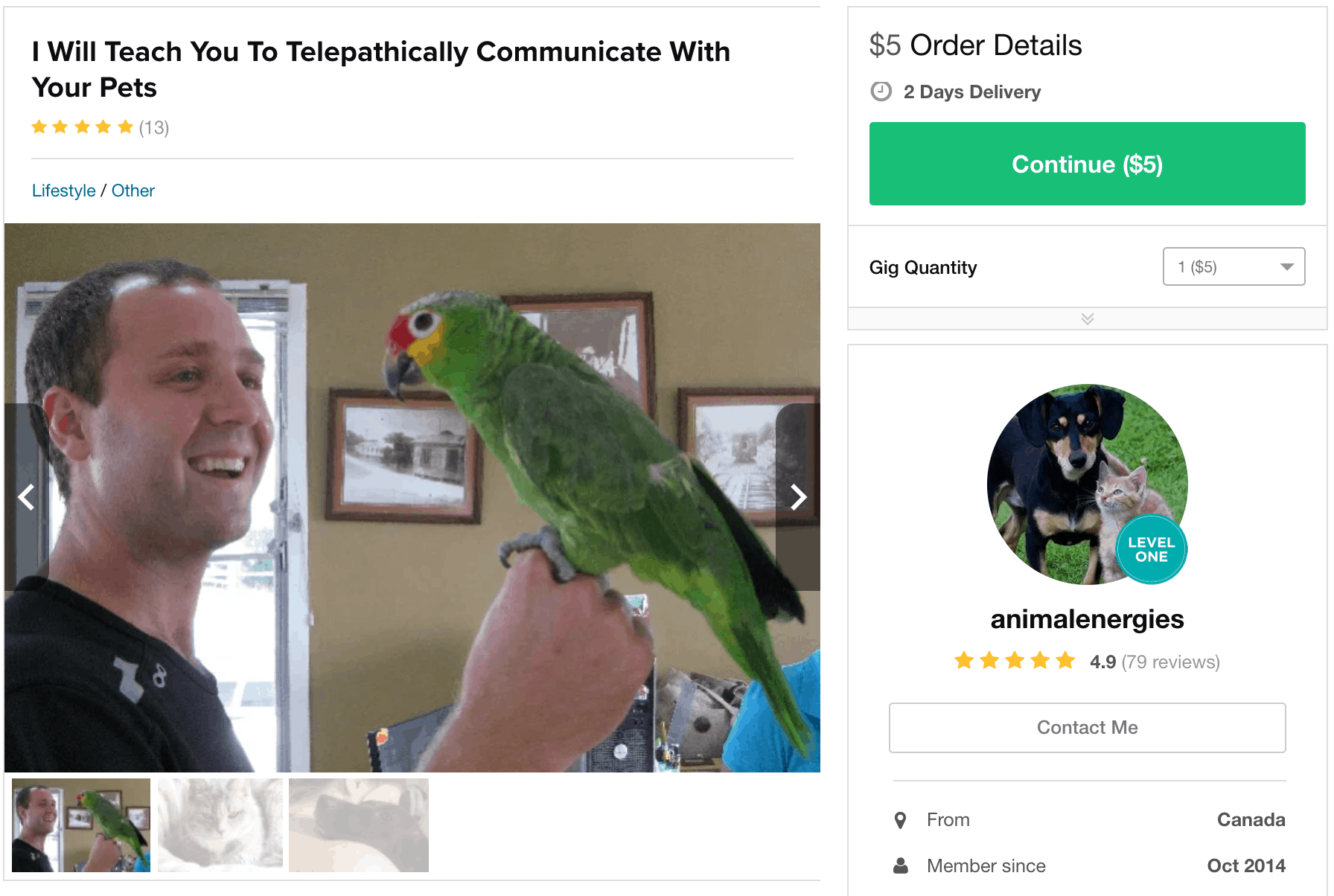 "I Will Teach You How to Start a Business in Georgia"
So here's an example of a gig that's super-duper specific. Seller
Anna Tabatadze
 has only been in business for a short time and already has a positive review. This just goes to show you that,
if you have in-depth knowledge or experience in a particular area, you should offer it as a service
! Why not? After all, it costs nothing to post a gig, and there may just be somebody (or somebodies) out there looking for exactly what you have to offer.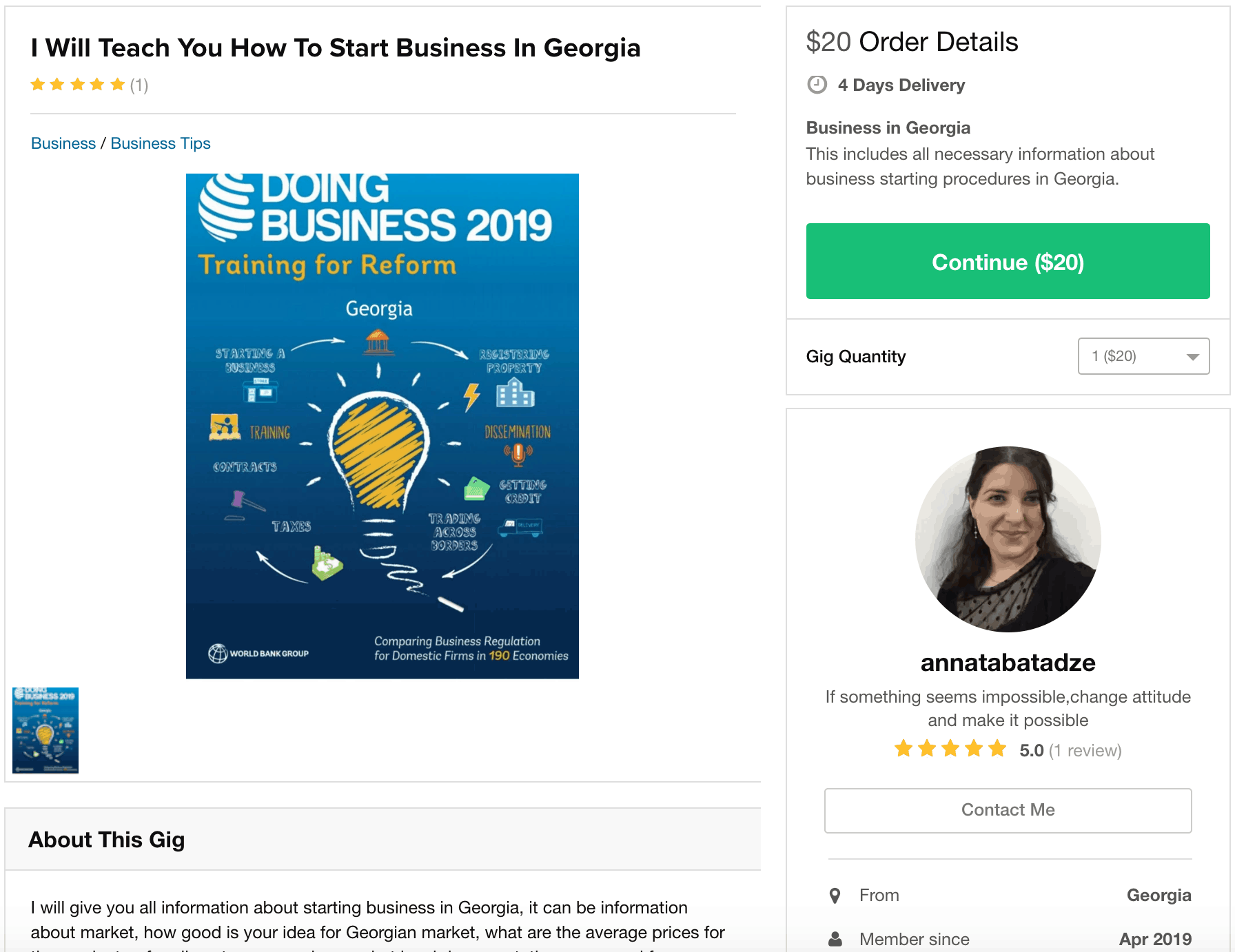 "I Will Teach You How To Fight And Defend Yourself"
This is another gig that we were surprised to see offered as a remote service. And yet, it totally makes sense! People pay for self-defense classes all the time – and for way more than five dollars. Why not learn from a professional from the comfort of your own home? One of
Doc Beaker's
 main offerings is a manual he created –
this is something he only had to do once, and then makes free money on every purchase with basically zero effort.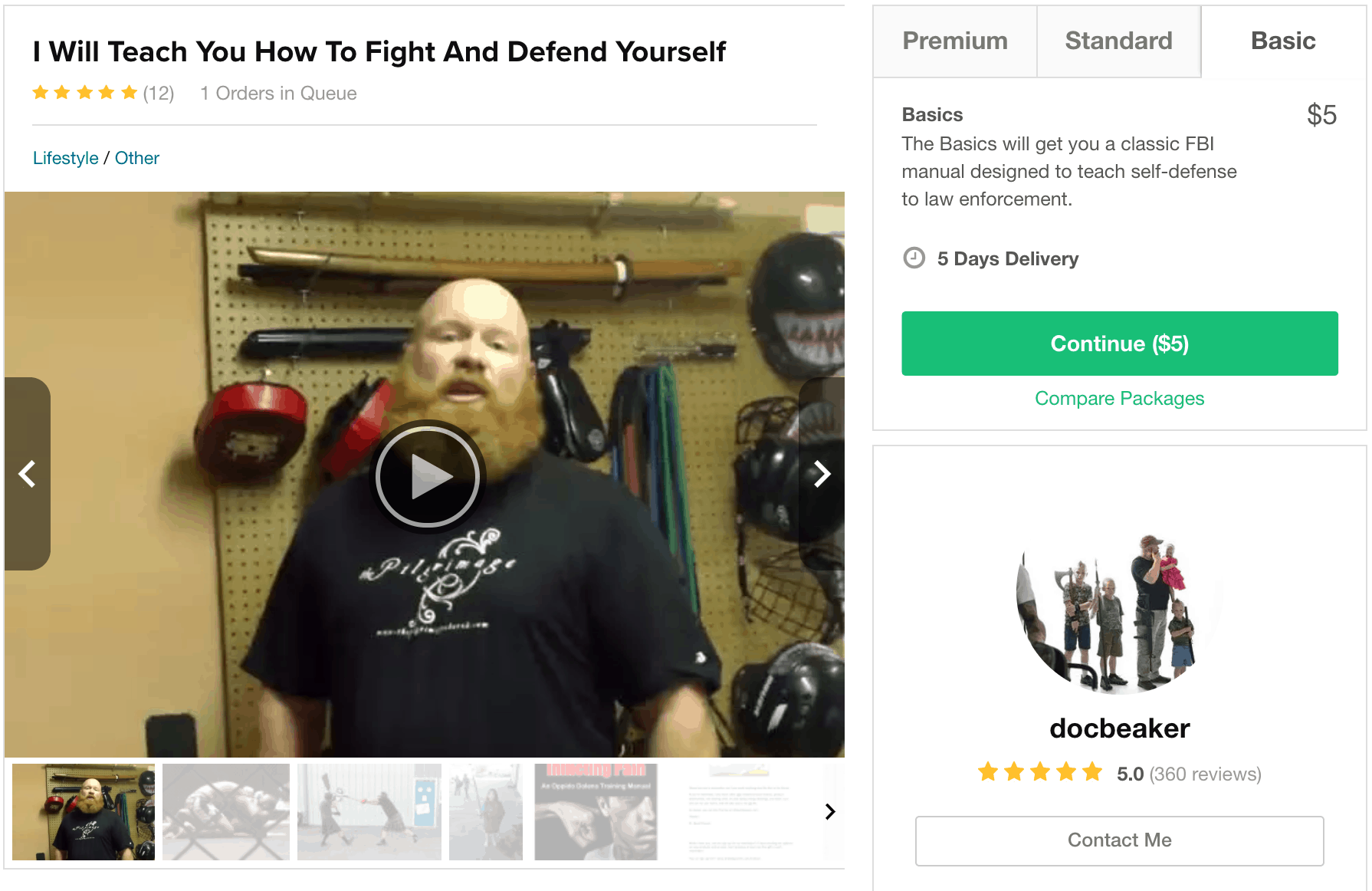 5. Creative Messaging
"I Will Scream Your Name into a Bush"
It seems so simple – and totally bizarre – and yet dozens of people have paid this seller to scream their name (or something else) into a bush. A big reason for his success?
Seller E_russett clearly showcases his personality and sense of humor in his product description
. You can tell just by reading about the gig that he will put his heart and soul into his bush-screaming. No wonder buyers have been more than satisfied.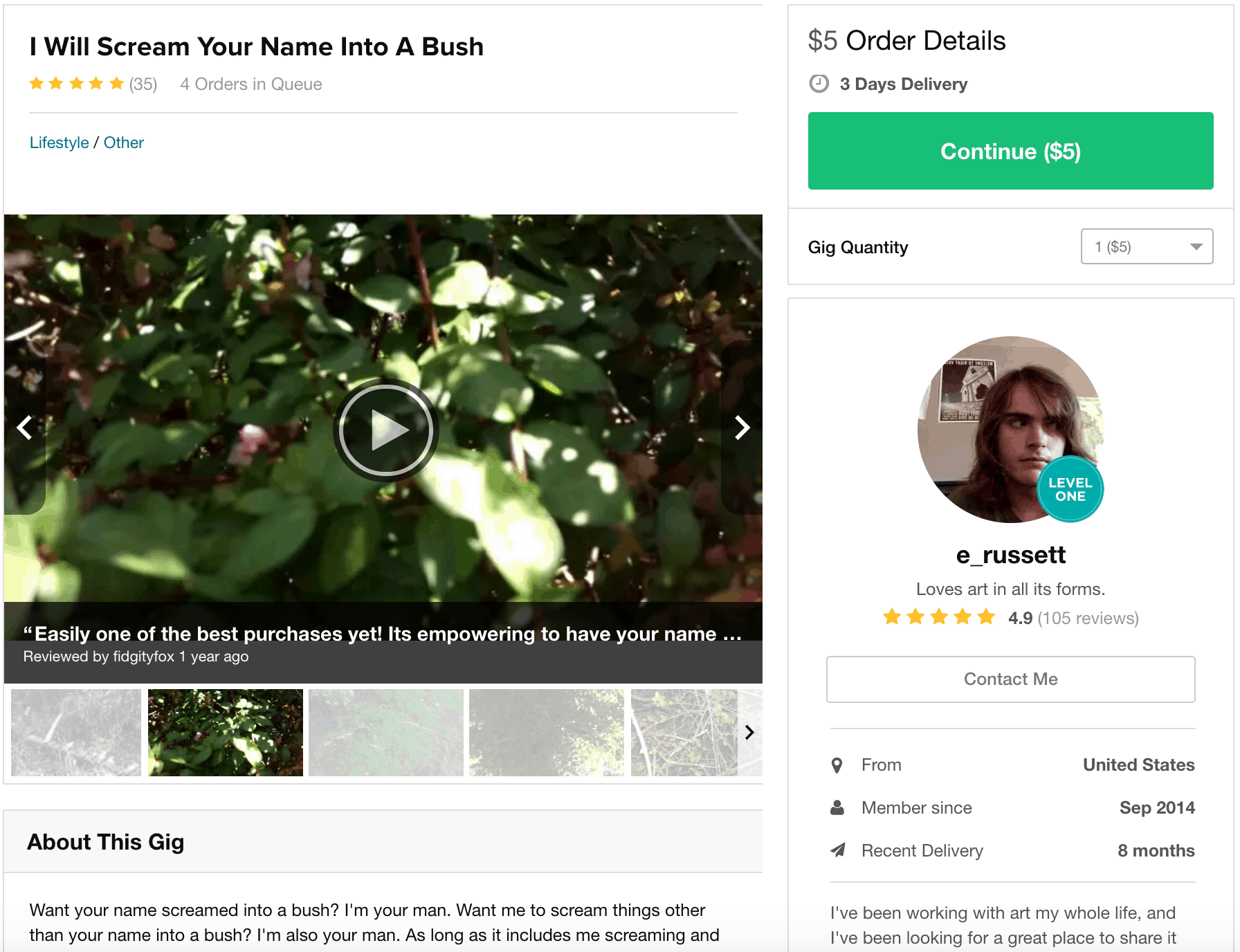 "I Will Cover a Song of Your Choice with Puppets"
Another super cute and creative offering from
Alex and Dan
 – with few materials needed.
One thing that makes some gigs more successful than others is the ability to take custom orders
. If you're a talented artist or musician, as opposed to selling your own songs or designs, let the buyers decide what they want! This is a great way to grow your experience while showcasing your personal style.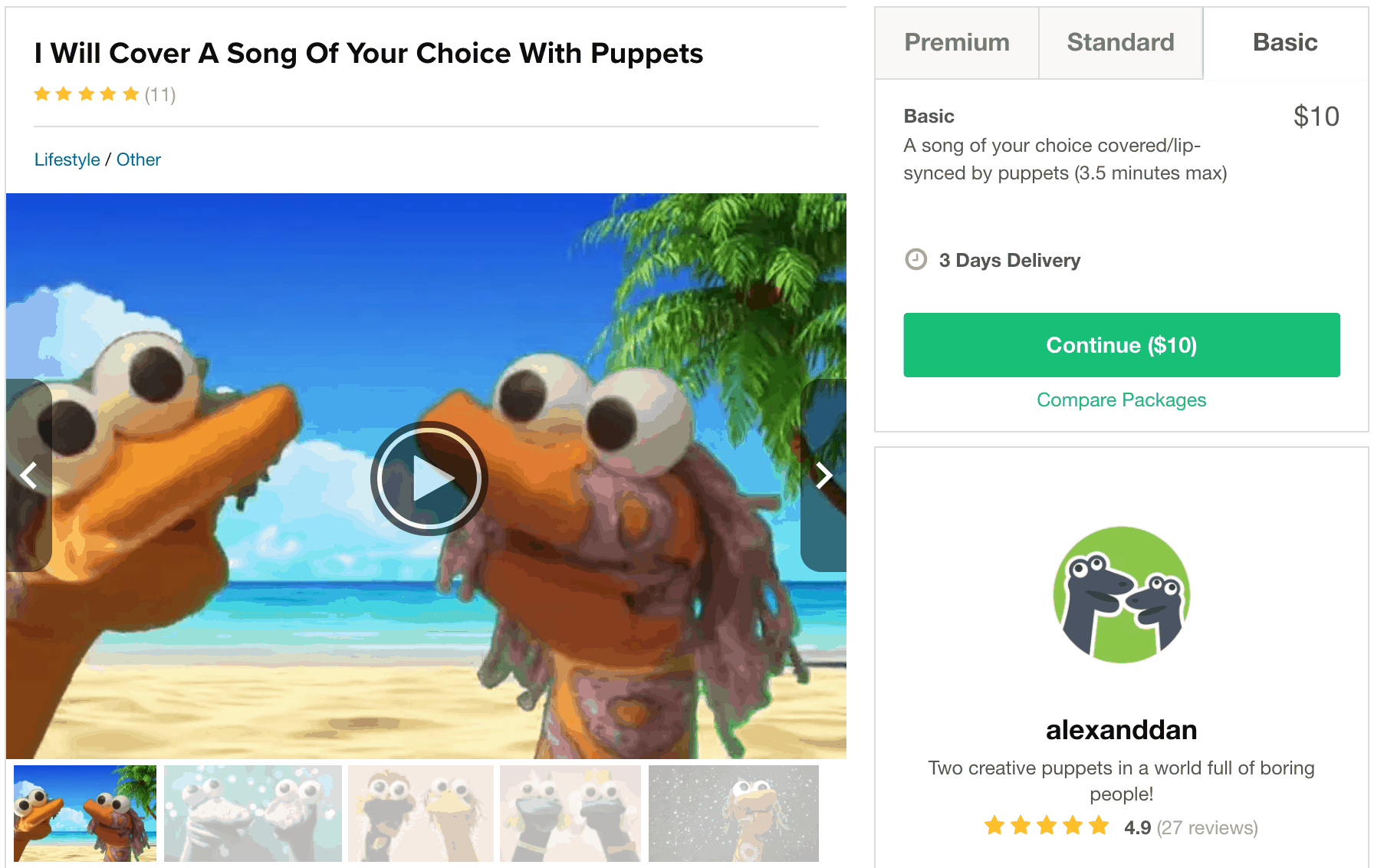 6. Relationship Help
"I Will Provide You 50 Tinder Openers"
Here's another excellent example of a seller who
took a look at popular culture, and identified a need
that many people are more than willing to pay for.
Rishabh Sharma
 is definitely doing something right. Online apps are pretty much the way that most relationships start nowadays, so it's no wonder that there are so many popular offerings promising to help you create the perfect dating profile or even learn how to flirt through text.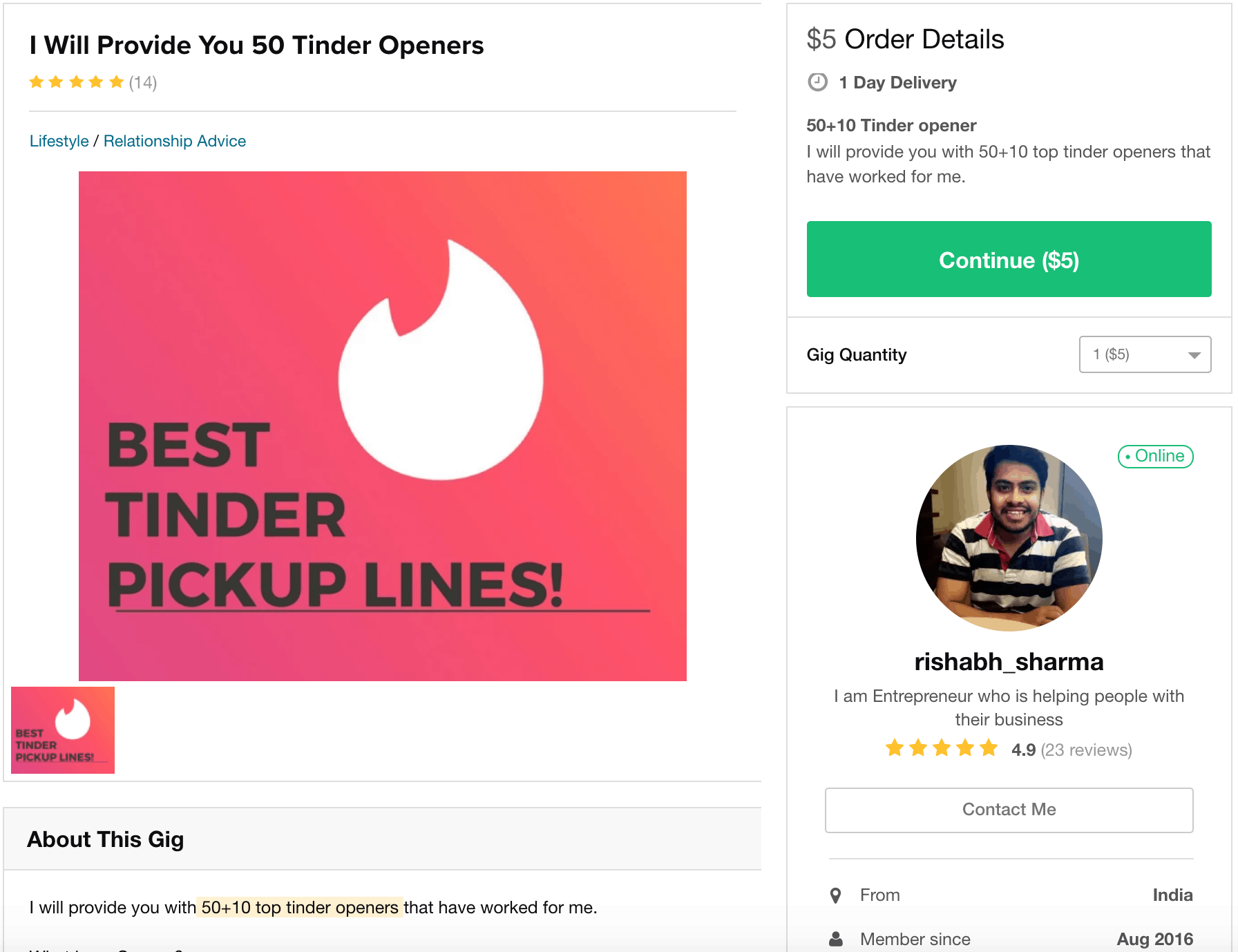 "I Will Break Up with Your BF or GF Creatively"
Want another tip for creating a successful Fiverr gig?
Offer a service that the buyer is looking to outsource – basically, think of a task that no one wants to do themselves
. Ending a relationship is definitely at the top of this list, and seller
DyamondGee
 knows it. There are also more "standard" tasks, like placing calls with service companies or writing thank you cards for wedding gifts.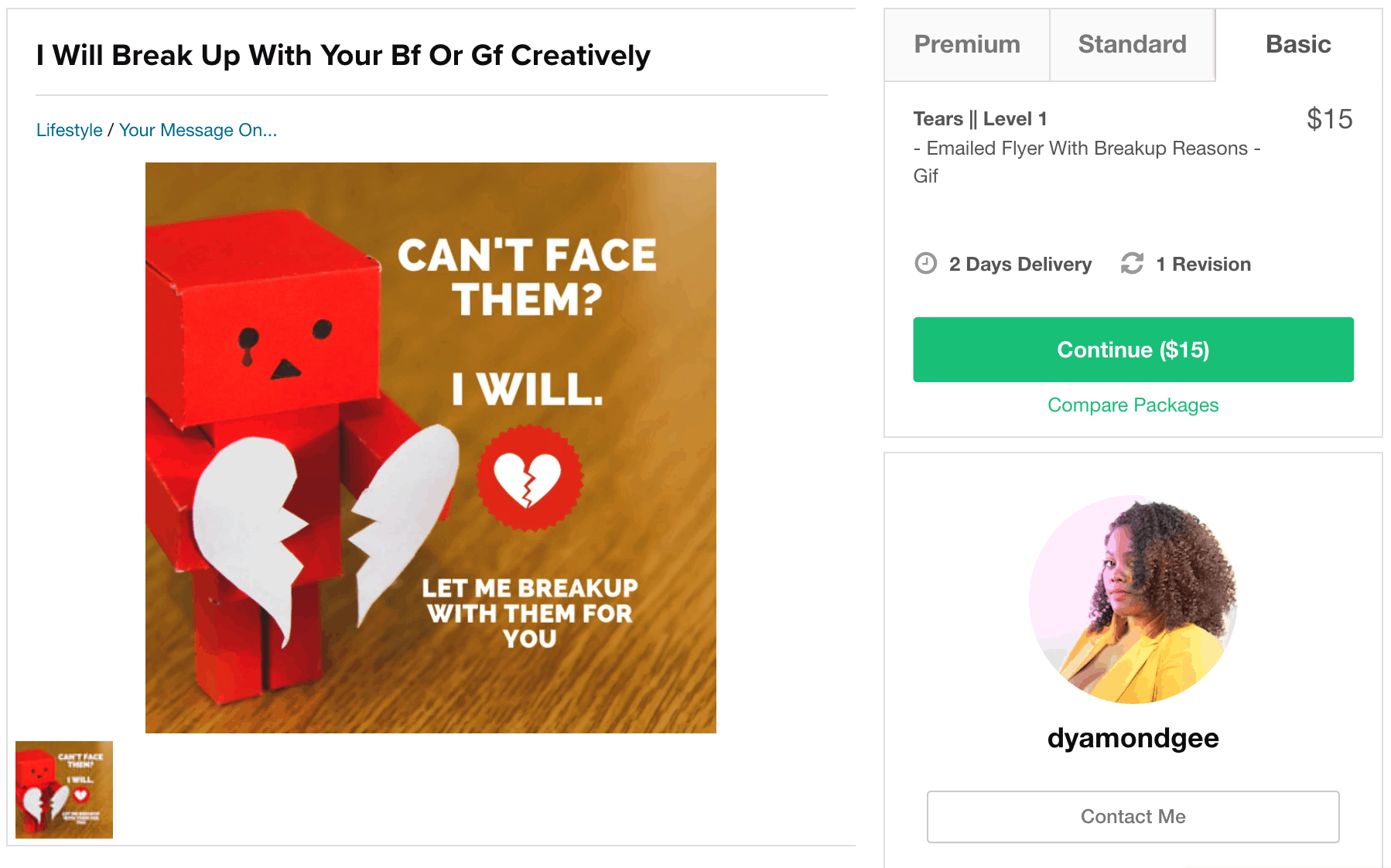 "I Will Describe Your Future Love"
We are going full circle – since we started with love, this seems like a good category to end on. I'm not sure exactly how
LifeSolutions7 
gets his information – it seems a little suspicious if you ask me – but already a dozen hopeful romantics have been more than willing to pay a few dollars for any sort of insight into their future love life. It's all about connecting with what matters most to people. And hey, if it can provide a bit of comfort or joy, why not?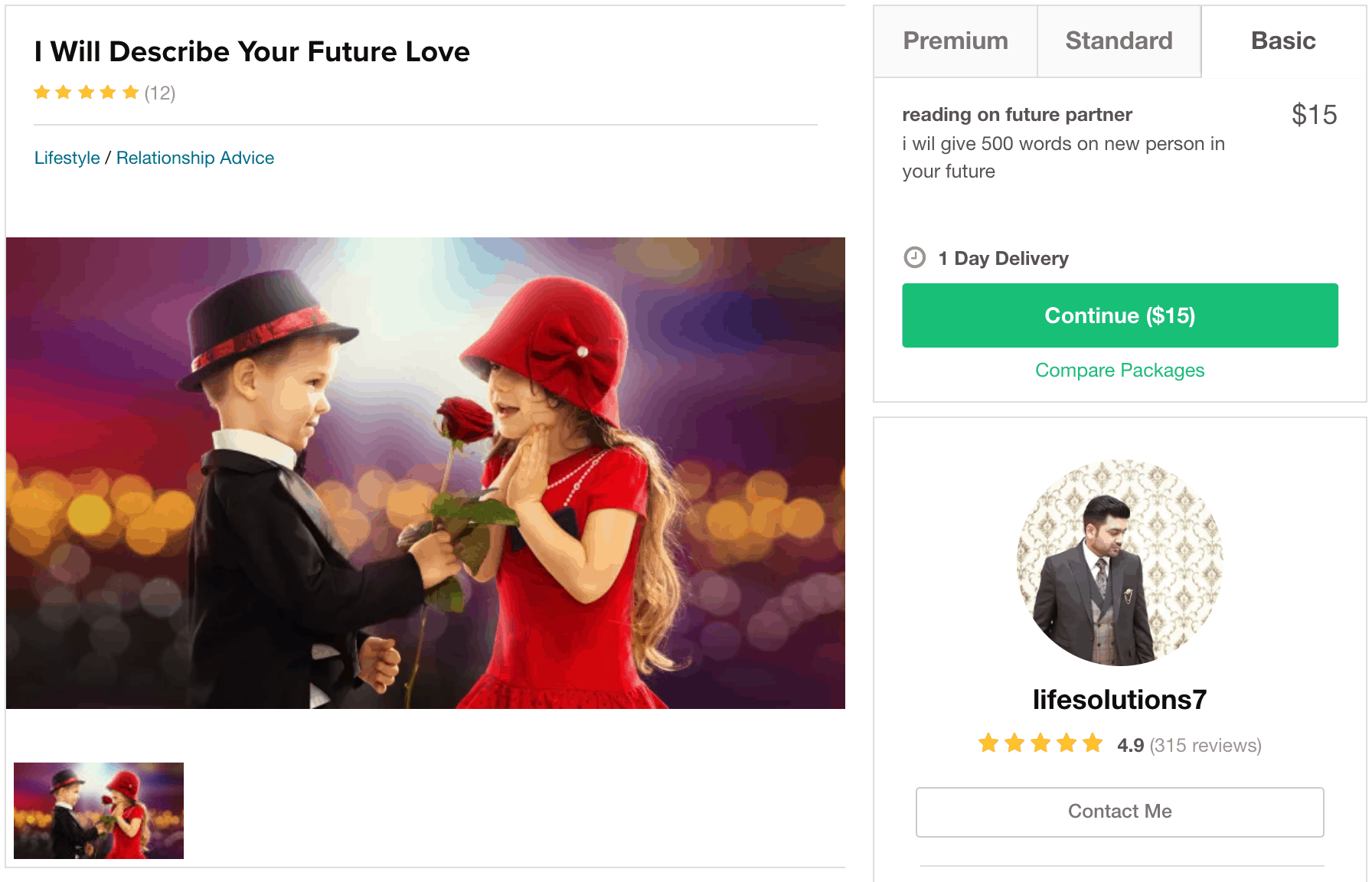 Now It's Your Turn 
Bottom line? There's a market for just about anything out there. Here's our advice: Spend some time thinking about
what you can do
, but also to try and find something that is
not yet widely available
. The less competition, the more likely you are to succeed. Just make sure it doesn't go against the rules of Fiverr, which could get you kicked off the platform. Fiverr has a quite permissive policy. In all honesty, there isn't much that Fiverr doesn't allow. The only services you are prohibited from offering are those of an adult nature or involving anything violent or deceptive. Additionally, copying another person's gig outright is against the rules, so your approach needs to be original and innovative. Once you have your idea, the next step is to make sure that your gigs really stand out – especially when you are just getting started and need to get a few positive reviews under your belt. Luckily,
we've got you covered
with that, too. If you'd like to learn more about Fiverr, don't miss
our expert review
. Good luck!