With its high prices and complicated user interface, it's really no surprise that ClickFunnels has so many competitors. But just because ClickFunnels didn't do it for you, it doesn't mean you should blindly jump into the first alternative you find.
Luckily, you've come to the right place. Why? I've done all the research for you, testing tons of different services to come up with a list of the six top ClickFunnels competitors.
Perhaps you're looking for a marketing tool that has more beautiful, less salesy landing page templates. Maybe ClickFunnels' plans are way too expensive for your budget. Or maybe you always get a headache trying to navigate its menus.
Whatever the reason behind your decision to look for a better alternative to ClickFunnels, you've come to the right place.
Short on Time? These are the Best Alternatives to ClickFunnels in October 2022
ActiveCampaign – The best choice if you're looking to create effective landing pages and complement your efforts with advanced email automation.
GetResponse – A great choice if you've just left ClickFunnels and are looking for a similar platform for a lower price.
AWeber – A stand-out solution if you're a small business t but still want to create beautiful landing pages and effective email campaigns.
What We Look For in the Best Alternatives to ClickFunnels
Value for money: There's no denying that ClickFunnels' plans are ridiculously expensive. And the basic plan – which comes in at

$

97.00

/month – comes with some serious limitations. All competitors on this list offer more/similar features to ClickFunnels for a much lower price.
Landing page templates: Although ClickFunnels offers plenty of templates, most choices are inspired by aggressive, in-your-face marketing that pushes prospects away. I searched for tools and platforms that can help you create beautiful landing pages that tell a story.
Page editor: ClickFunnels' page editor can be hard to use, and it's not as functional as I'd like it to be. I looked at alternatives that help you create great-looking pages with minimal effort and zero coding experience.
User-friendliness: I'm not a fan of the ClickFunnels user interface. The tool wants you to track too much at once, and navigating the menu can be challenging. The tools I've recommended will help you get things done quickly and efficiently by improving the user experience and limiting distractions.
Integrated email capabilities: ClickFunnels integrates with popular email marketing services (EMS), but you can't really use it as a standalone tool to send emails and connect (or reconnect) with users who have left/escaped your funnel. Here, I list sites like ClickFunnels that also offer a more advanced marketing experience with a dedicated EMS.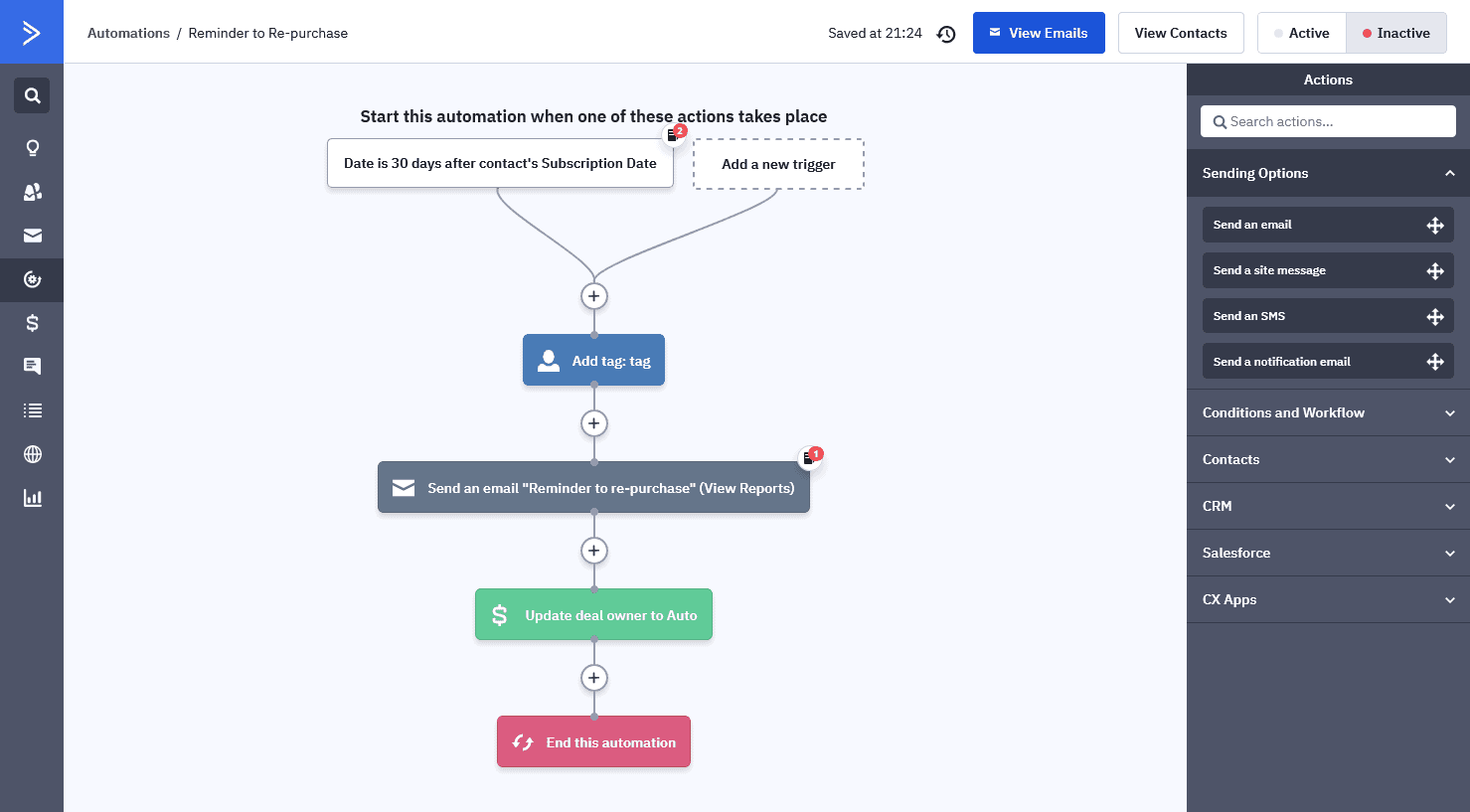 ActiveCampaign offers one of the most robust marketing tools on the market. Although it's a bit more expensive than other options on this list, it's still a lot cheaper than ClickFunnels.
You can unlock page-building tools by opting for ActiveCampaign's Plus plan, which starts at $49.00/month. Compared to ClickFunnels, there are fewer templates to choose from – but you won't be relying on templates that overwhelm users with big buttons and bold promises.
ClickFunnels' email capabilities are extremely limited, and you can't nurture your leads by sending them emails unless you spend $297.00 on the Platinum plan. By comparison, ActiveCampaign truly shines when it comes to email marketing and automation. The email builder is also more flexible, allowing you to move elements around with ease.
With ActiveCampaign's automation tool, you can keep in touch with contacts before and after they complete a purchase. By using advanced automation, you'll find it easy to set up email campaigns that complement the work you put into your landing pages.
Features
Beautiful landing pages: ActiveCampaign may only offer about 50 landing page templates, but they're all modern, minimalistic, and customizable. They're also mobile-responsive, and you can create as many as you want without being charged extra.
Easy-to-use landing page builder: If you've used a website builder before, you're going to love ActiveCampaign's approach to landing pages. Adding elements is super easy, and you can customize everything with just a few clicks.
Email marketing: ActiveCampaign can help you create converting landing pages, but it's an email marketing platform first and foremost. This means you can take advantage of its email templates and email builder to keep your contacts engaged with personalized messages and special offers.
Advanced marketing automation: You can use ActiveCampaign's advanced automation tool to gather leads and build complicated sales funnels. Once set up, the system will automatically update lists and tags – and even kick off email series and campaigns.
Great deliverability rates: Once you've built your pages and sent your emails, you can count on ActiveCampaign to keep its promises. As a top marketing platform, it consistently outperforms competitors with its high deliverability rate.#
Read our expert ActiveCampaign review for more details.
Free plan available?
No – 14-day free trial
Plan options
4. The Plus plan, which includes landing pages, starts at

$

49.00

 per month

Landing Pages
50+
Pre-made conversion funnels
No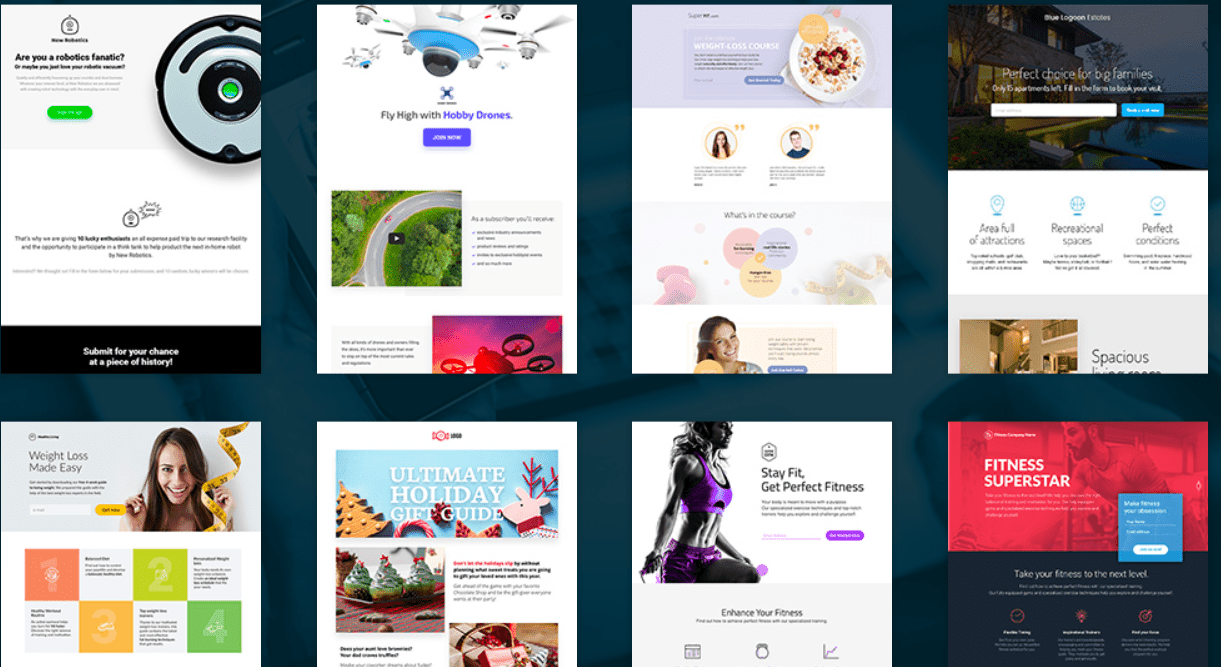 GetResponse is a very capable piece of marketing software that outshines ClickFunnels almost every step of the way. Its plans are relatively cheap, and its newly updated conversion funnel tool helps you create landing pages, promote your products, build lists, and send emails.
With GetResponse's Basic plan, which starts at just $19.00/month, you can build as many landing pages as you like. The downside is that you'll only be able to create one sales funnel. The Plus plan, which starts at $59.00/month, unlocks webinar funnels and allows you to build up to 5 sales funnels. You can also create and test landing pages for free – but note there's a limit of 1,000 unique visits for all pages as a free user.
If you want complete freedom to create unlimited sales funnels, you may want to look into the Professional plan, which starts at $59.00. It might sound pricey, but it's only a couple of dollars more expensive than ClickFunnels' basic plan – which only comes with 20 sales funnels.
GetResponse's list of features is extensive, and you can do a lot without having to spend a small fortune every month. That said, keep in mind that GetResponse's analytics suite is pretty basic when compared to reporting tools offered by the competition.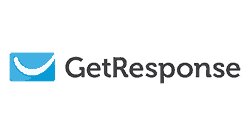 Save up to 30 % on your GetResponse plan!
Limited-time offer - Don't miss it!
157 users used this coupon!
Features
Marketing funnel templates: Quickly design pages and set up automations by taking advantage of GetResponse's marketing funnel templates. There are currently more than 30 conversion-optimized funnels to choose from.
Wide selection of landing page templates: GetResponse offers 100+ landing page templates that look good and are designed to convert visitors – you won't find any of the tacky stuff you get with ClickFunnels.
Drag-and-drop editor: GetResponse's drag-and-drop editor feels good to use, whether you're using it to build captivating pages or create enticing emails. Unlike ClickFunnels, it also supports RTL languages, so it's an excellent choice if you're looking to create pages and emails in Hebrew or Arabic.
Stock image library: ClickFunnels doesn't offer a stock image library. GetResponse helps users bring their designs to life with a massive library of almost 2,000,000 royalty-free photos.
Webinars: If you've used ClickFunnels' webinar creation tool before, you'll be happy to know that GetResponse offers a similar feature. Not only are webinars simple to create with GetResponse, but you can also easily integrate them into your workflows for maximum engagement.
Customer support: ClickFunnels isn't known for its impeccable support. GetResponse, on the other hand, offers 24/7 live chat support, and representatives tend to respond very quickly to customer requests.
Read our expert GetResponse review for more details.

One of the main reasons people turn away from ClickFunnels is the awful pricing plans. You shouldn't have to pay almost a hundred dollars to create great landing pages, and you shouldn't need to pay hundreds more to add email functionality.
If you're looking for a service that'll do the same job for much less, take a look at AWeber. AWeber's free plan offers one of the best sets of email marketing tools on the market, and it also allows users to create an unlimited number of landing pages. That's right. You don't have to pay a dime to craft beautiful landing pages on AWeber.
The free plan also allows you to add up to 500 contacts to your lists and send up to 3,000 emails every month. Plus, you'll automatically gain access to AWeber's 700+ email templates, sign-up forms, AMP emails, dynamic content, sign-up forms, and more.
Features
Modern templates: AWeber offers 46 mobile-responsive, fully customizable landing page templates, plus another 600+ email templates.
Unlimited landing pages: AWeber is one of the few email marketing platforms that allows users to create an unlimited number of landing pages without requiring an upgrade to a premium plan. You can craft simple landing pages, collect information about your prospects, and launch email campaigns without spending a single dollar.
Stock image library: Use AWeber's free stock image library to bring your pages and emails to life. Currently, you can access about 6,000 high-quality, royalty-free photos.
E-commerce capabilities and low fees: Tired of paying 5% every time someone purchases something through your ClickFunnels site? AWeber charges only 1% on the free plan (down to 0.60% on the Pro plan).
Hundreds of integrations: ClickFunnels integrates with many apps, but its email marketing integration capabilities are extremely limited. If you want to do more with email marketing, you should consider AWeber's enormous library of integrations, which currently includes more than 870 applications.
Read our expert AWeber review) for more details.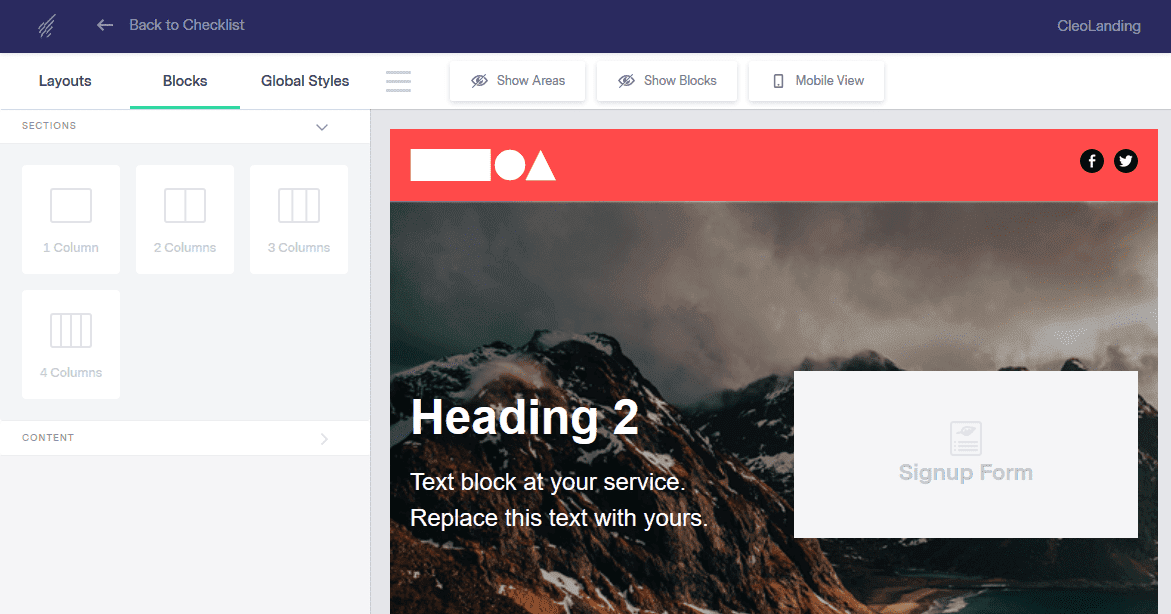 Benchmark is all about simplifying processes to help you reach your contacts as quickly and efficiently as possible. Primarily an email marketing platform, it also comes with a page builder that's much easier to use than ClickFunnels' clunky interface.
Although Benchmark's primary focus isn't sales funnels, you can create your own pages by opting for Benchmark's Pro plan, which starts at just $13.00/month. For the same price, you'll also unlock Benchmark's most advanced features, including advanced segmentation, website tracking, and pre-built customer journeys.
ClickFunnels isn't a terrible tool, but it tries to do too many things at once, and the interface always feels cluttered. Benchmark's interface is much cleaner, making it easier to focus and quickly find what you're looking for.
The downside with Benchmark is that there aren't all that many landing page templates to choose from. But it's an excellent choice for beginners who want to create simple landing pages while keeping their prospects engaged through email at the same time.
Features
Landing page builder: Benchmark's landing page builder is the real star of the show, offering everything you need to create highly customized pages that convert. You can find and move elements and content blocks with just a few clicks. The page editor is the same as the email editor, meaning you'll find it just as easy to craft beautiful emails within a few minutes.
Convenient pricing plans: If you do decide to combine funnel-building with email marketing – and you should – you'll find Benchmark's pricing plans to be very convenient. Aside from the usual plans based on the total number of subscribers, you can also have Benchmark charge you based on the number of emails you send each month.
Great analytics: Knowing whether your pages and emails are working is just as important as creating them in the first place. Where most marketing platforms fall short, Benchmark truly shines. The Pro plan comes equipped with all the tools you need to track your performance.
Read our expert Benchmark review for more details.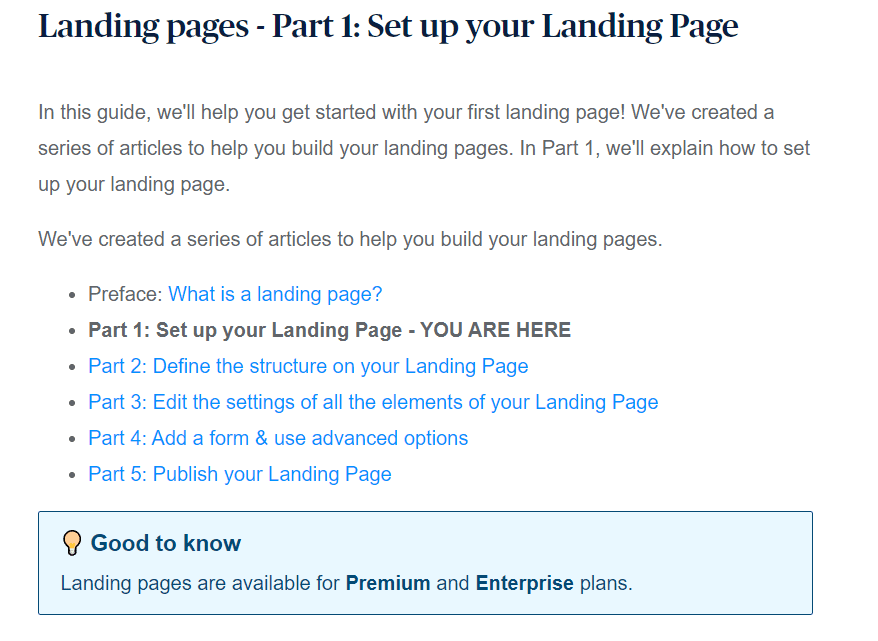 If you're concerned about ClickFunnels' lack of support, Sendinblue might be the best alternative for you – especially if you want to throw effective email marketing into the mix.
Sendinblue is an email marketing platform that also allows you to create landing pages from scratch. There are plenty of customizable templates to choose from, and you can even learn how to create the perfect page with the helpful step-by-step page-building tutorial.
If you want to create landing pages, you'll have to go for Sendinblue's Premium plan, which starts at $65.00/month. Compared to ClickFunnels, that's not bad at all. Plus, not only will you gain access to an impressive number of features, you'll also benefit from round-the-clock chat, email, and phone support. That's well over $2,000 less than ClickFunnels charges for phone support.
Although Sendinblue charges less than competitors for landing page functionality, the Premium plan will only let you create 5 landing pages a month. If you need more, you'll have to either pay extra or upgrade to the Enterprise plan.
Features
Beautiful landing page templates: With an easy-to-use editor and plenty of nice-looking templates, Sendinblue is a great alternative to ClickFunnels' rather generic selection of landing pages.
Pay by emails sent: If you only need to create a few pages every month, but plan on developing your email marketing, Sendinblue is a cost-effective option. Instead of charging you based on the number of contacts on your lists, Sendinblue's pricing plans simply calculate costs based on the number of emails sent per month.
Unlimited Contacts: Your lists can be as big as you want, as long as you don't exceed your plan's maximum limit of monthly email sends.
Easy marketing automation: ClickFunnels' marketing automation tool relies on third-party EMS integration, it's confusing to use, and it's locked behind the Platinum plan, which starts at several hundred dollars per month. With many pre-made automation workflows that simplify processes, Sendinblue offers a perfect alternative that'll save you a ton of time.
Read our expert Sendinblue review for more details.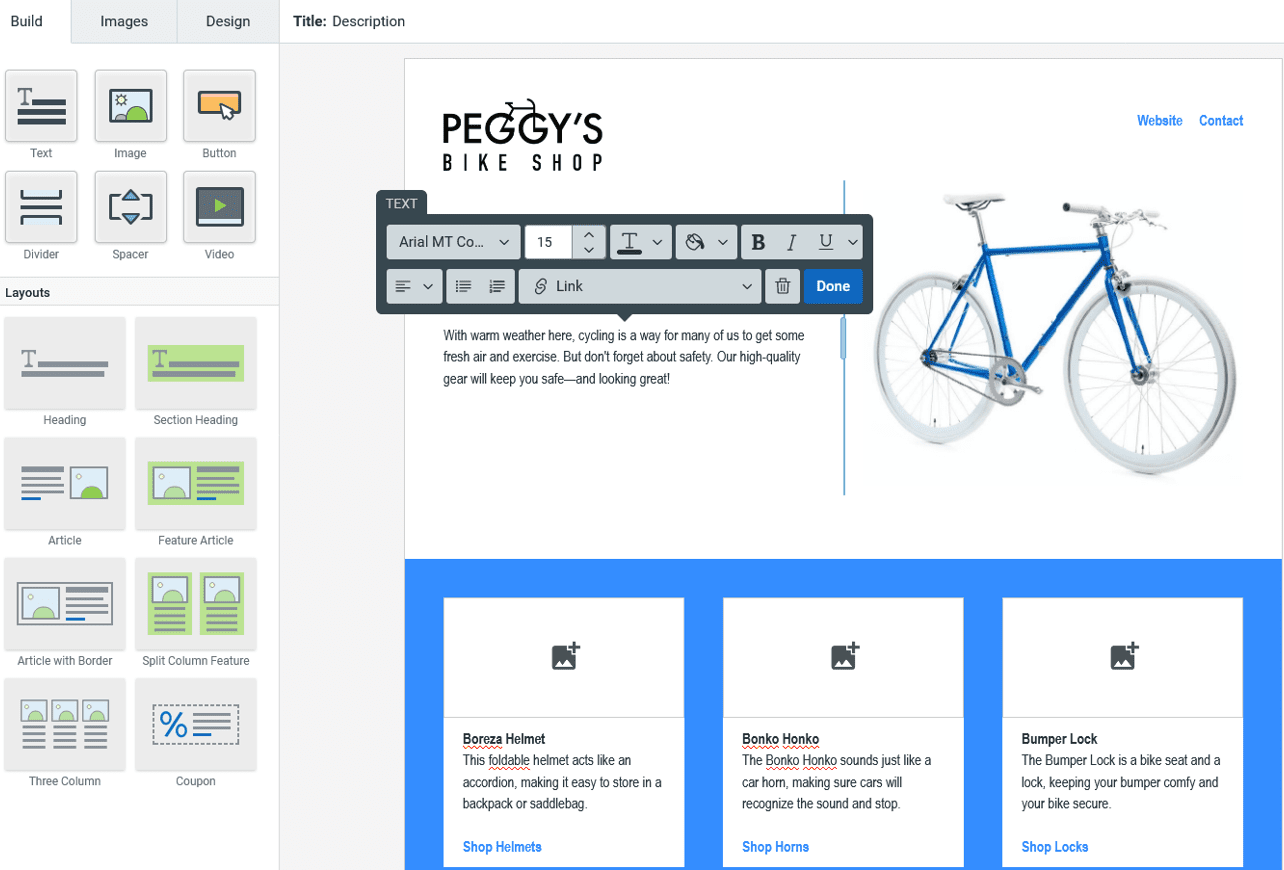 ClickFunnels places enormous focus on the funnel-building process, but it falls short when it comes to both design and product sales. As I've already mentioned, it charges users 5% every time someone buys something through your page – which is an extortionate amount.
Constant Contact is an email marketing platform that does e-commerce justice. If you're new to online marketing and want to create an online shop quickly and efficiently, Constant Contact has all the tools you need to succeed. It's also one of the easiest email marketing tools to use.
The platform's two plans are reasonably priced, with Constant Contact's basic Email plan starting at $9.99/month for 500 contacts, and the Email Plus plan (which throws advanced automation and customizable pop-up forms into the mix) costing $45.00/month for 500 contacts. The transaction fee is also set at a low 1.5%. This might not seem like a lot now, but once your sales pick up, you could end up saving hundreds of dollars.
That said, if you're just looking for an easy way to create beautiful landing pages for your online store, the Basic plan will serve you well. Constant Contact integrates seamlessly with more than 352 apps (many more than ClickFunnels), it offers a complete email marketing solution, and it's straightforward to use as well.
Features
Intuitive website builder: Constant Contact's page builder comes with plenty of useful tools, and you can use it to build whole stores (or even websites). The entire process of setting up your pages and integrating with payment gateways seemed a lot easier – and faster – than on ClickFunnels.
Real-time reporting: Although ClickFunnels seems to be all about success and big numbers, its stats don't always update automatically. Constant Contact's real-time reporting feature is more reliable – you can access detailed insights and see how your landing page is performing at any time.
Social media posting: Constant Contact makes it easy to share and promote your newly launched landing pages through popular social channels. The platform can shorten the landing page URL for you, and there's even an option to share the page with an ad (provided you have integrated with Google Ads or another advertising platform).
High deliverability: Once you've created your pages and your shop is up, email marketing can help you both attract new prospects and retain existing customers. Not only does Constant Contact offer an affordable email marketing solution, but it also enjoys some of the highest deliverability rates on the market.
Rad our expert Constant Contact reviewfor more details.
Free plan available?
No, but there is a 60-day free trial for US customers

 (30 days for everyone else)

Plan options
2. The Email plan starts at

$

9.99

Landing Pages
5
Pre-made conversion funnels
No
Which ClickFunnels Alternative Makes the Most Sense for You?
ClickFunnels might be a popular marketing tool, but there are many alternatives that can help you create beautiful landing pages and effective sales funnels for a much better price. Which is best for you depends on your specific needs and expectations for your business.
If you're a professional who's used to ClickFunnels' funnel-building methods, GetResponse's Professional plan, which starts at $59.00/month, will probably be the best choice for you. You'll get access to 30 pre-made sales funnels and a wide selection of landing page templates. You'll also be able to take advantage of GetResponse's advanced email marketing tools and excellent customer support.
If you're on a budget, AWeber's free plan will serve you well. It comes with plenty of modern landing page templates, no limit to the number of pages you can create, and advanced email marketing and automation.
If you want to set up an online store and don't want to spend hundreds on software, Constant Contact's Basic Email plan is probably the best choice. It offers a low transaction fee of 1.5%, real-time reporting, and other useful tools designed to aid your online marketing efforts.
Free plan + landing pages
Stand-out Feature
Best For
ActiveCampaign

✘

Advanced email automation

Professionals who are looking to automate processes

GetResponse

✔

 (but limited)

Pre-made conversion funnels

Users who are used to ClickFunnels' systems but looking for a better alternative

AWeber

✔

Excellent free plan

Marketers on a budget who want to combine page building with email marketing

Benchmark

✘

Clean interface

Marketers who want to get things done quickly and efficiently

Sendinblue

✘

Great support

Beginners who want some extra help to get started

Constant Contact

✘

Excellent e-commerce capabilities

Businesses and marketers who want to manage their marketing and e-commerce from one place
FAQ
What is the best alternative to ClickFunnels?If you've only just left ClickFunnels and are pretty familiar with its tools, GetResponse will suit you. Go with AWeber if you're on a budget, or choose Benchmark if you're looking for a very easy-to-use, beginner-friendly marketing platform. We've put together a list of the best email marketing platforms with great built-in landing page builders.Why is ClickFunnels so expensive?ClickFunnels is a funnel-focused website builder built by successful entrepreneur Russell Brunson. While its aggressive, in-your-face marketing approach works for many, most find its plans way too expensive. Honestly, ClickFunnels' elaborate affiliate marketing program might be to blame. They pay very high commission fees (40%+), driving the product's price up.How much does ClickFunnels cost?ClickFunnels' Basic plan starts at $97.00/month. If you want to unlock all of the platform's features, you'll have to pay $297.00 for ClickFunnels' platinum plan. To join the exclusive Two Comma X Club (which includes shoulder-to-shoulder guidance from Brunson himself), expect to pay $2497.00/month.Who invented ClickFunnels?Young entrepreneur Russell Brunson launched ClickFunnels in 2014. He built the platform with the help of co-founder Todd Dickerson. Brunson and Dickerson are co-CEOs of ClickFunnels and are still in charge of developing and scaling the business today.Why is ClickFunnels so popular?ClickFunnels came to life at a time where online marketing was picking up speed. Many young entrepreneurs have used the platform to create enticing pages and successfully sell their products. Since then, customers have grown weary of aggressive marketing methods such as those employed by ClickFunnels (e.g., FOMO, big promises, bold letters), and as such there are alternatives that are much better than ClickFunnels.