Sendinblue is known as one of the email marketing services that gives you the best value for your money, especially if you're a small business or email marketing beginner.
 But once you start growing and climbing up the pricing plans, is it still a good deal? I've used Sendinblue both personally and professionally, and I'm a big fan of its overall user experience. But in terms of pricing, it won't suit everyone. If your priority is controlling costs while growing your contact list, then Sendinblue is definitely worth the money. But if you're looking for advanced features to take your marketing efforts to the next level, you might find that Sendinblue isn't the best option after all.
Read on to find out when Sendinblue's pricing is worth the money and if you can find a better deal elsewhere.
Short on time? These are Sendinblue's main pricing plans in 2023:
Sendinblue Features & Pricing Overview
A Great Free Plan and Scalable Pricing
The two outstanding aspects of Sendinblue's pricing are
how generous the free tier is and the fact that you have an unlimited number of contacts regardless of which plan you're on.
Unlike most rival email marketing services, Sendinblue doesn't base its pricing on the number of contacts in your list. Instead, it sets its pricing by the number of emails you send – starting at 300 per day on the
Free plan
 and unlimited on the Enterprise tier. This is great for growing businesses. It gives you complete freedom to focus on increasing the number of contacts you have without worrying about the cost. Within each tier, you can significantly scale the number of emails you send without prices soaring. Overall, in terms of the caps placed on email marketing activity at each price point,
Sendinblue's pricing is a good deal
compared to many alternative services.
Plus, if you check out our
Sendinblue coupons
, you can save yourself even more money too.
Sendinblue is also one of the most user-friendly email marketing services, which makes it appealing for time-pressed small business owners and email marketing novices.
I love the drag-and-drop editor and the online support (which helped it score
4.7
in our
Sendinblue review
) in case I need help creating a campaign, designing an email or segmenting a list. Sendinblue offers
four pricing plans
: Free, Lite, Premium, and Enterprise.
 While it scores big for offering essential email marketing tools across all of its plans, it's a bit lacking if you're a seasoned marketing professional looking for a broader range of features like landing pages, marketing automation, and Facebook advertising. It's also worth noting that Sendinblue bans or restricts the promotion of a range of topics, including weight loss, currency exchange, gambling, and dating services.
Sendinblue's Free plan is one of the best zero-cost plans I've come across in email marketing services.
 The most impressive thing is that you can grow your list as much as you want. This allows you to significantly scale up your marketing activity before you even have to think about paying. The main limitation, however, is that you can only send up to 300 emails per day. For bloggers, solopreneurs, or startup owners looking for a cost-effective introduction to email marketing,
you can access
all
the email campaign features you need with Sendinblue's Free plan.
This includes
a user-friendly drag-and-drop editor, more than 60 fully customizable templates for designing your emails, list segmentation, scheduling, and reporting on things like open and click rates. You can find detailed information about all of these features in our
Sendinblue review
. In addition, you can start using automation workflows in your campaigns to reduce the workload of having to send follow-up messages. 
Sendinblue even lets you automate individual transactional emails like receipts and order confirmations on its Free plan, which is a fantastic offer for online retailers who are just starting out.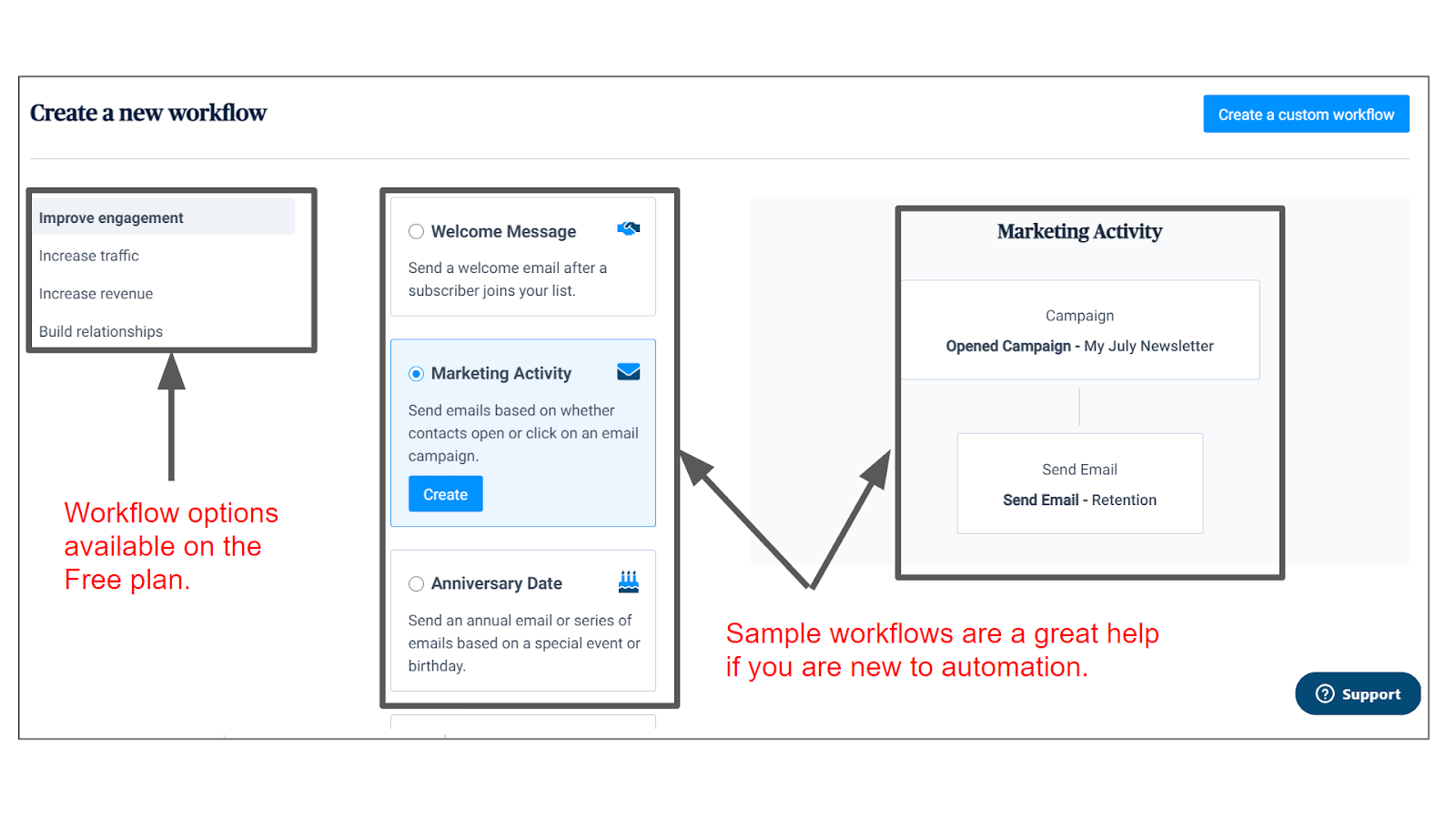 There are some restrictions on automation activity in the Free tier. For example, you can't send more than 40 automated emails an hour or include more than 2,000 contacts in your workflows. Still, it's a great way to get started with email automation at no cost, something you won't find with most rival services.
As far as core email marketing features go, the cheapest Sendinblue plan you can buy (Lite) doesn't add much to the Free plan.
 There's no added value in terms of list-building tools, the drag-and-drop editor, templates, or analytics. You even get the same automation and transactional email options (including the 2,000 contact limit per workflow), and the same level of support (email and online help via the Knowledge Base).
What you are paying for with the Lite plan is more emails.
 This tier sets a monthly limit starting at 10,000 emails, with the option to pay extra for 20,000, 40,000, 60,000 or 100,000. If you want more features, there is the option to upgrade to the Lite+ plan. 
For an extra $12 a month, this gives you access to A/B testing and more advanced reporting features
 like geographical tracking (i.e. where people open your emails) and heat map analysis (i.e. which links generate the most traffic). It also removes the Sendinblue logo from your emails.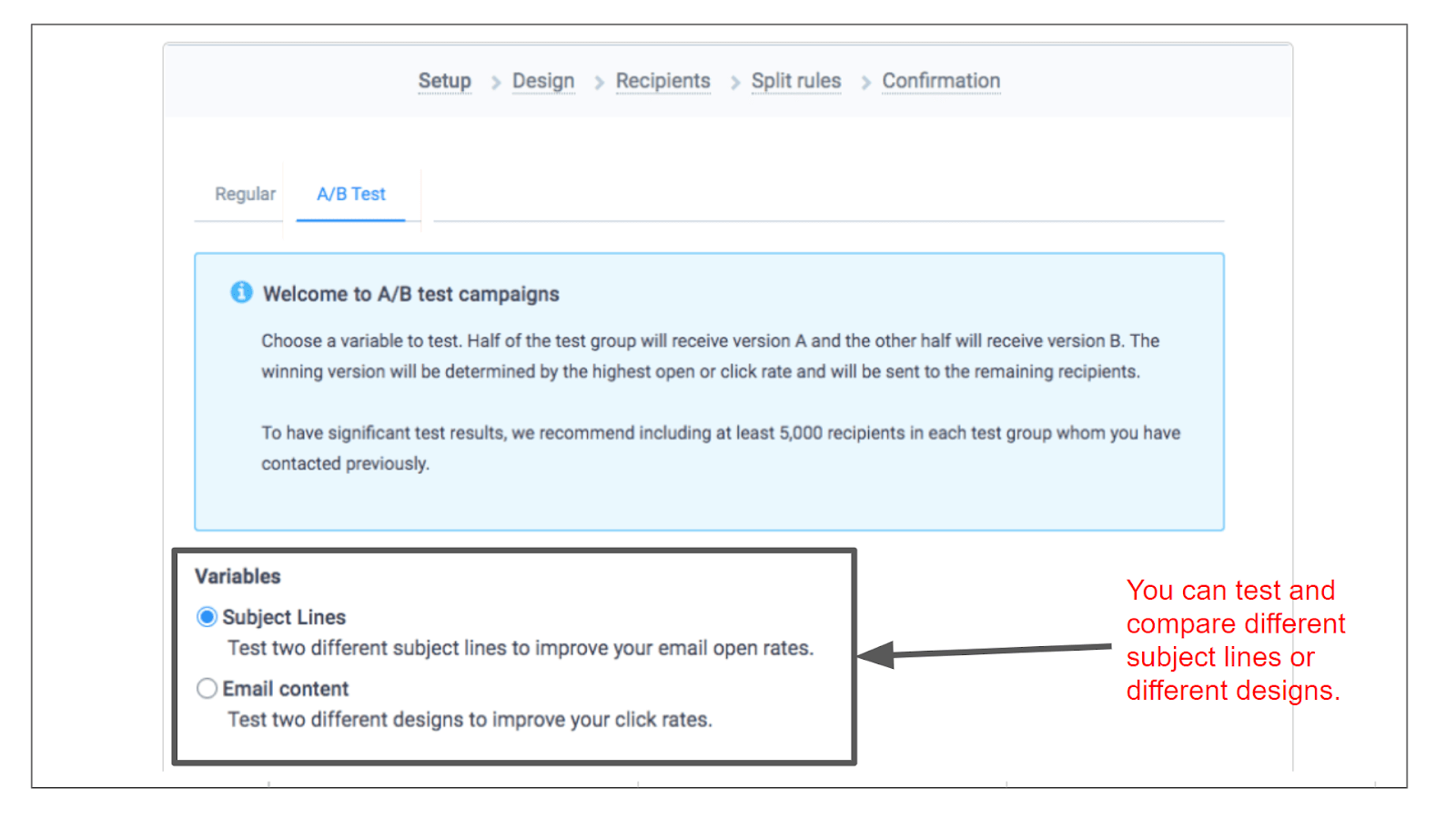 So is the Lite plan good value? Jumping from a free service to
$
25.00
a month for up to 10,000 emails seems like a big leap, especially when Sendinblue's free plan is so generous. Considering the features it unlocks, the extra $12 a month for the Lite+ plan is steep. However, if your marketing activities outgrow the Free plan's daily limit of 300 emails, then you'll simply need to upgrade. Since Sendinblue charges by the number of emails rather than contacts, it's difficult to compare to other email marketing tools' pricing systems.
But for me, what sets Sendinblue apart is its flexibility in not limiting how many contacts you can have.
Let's take a similar platform like ActiveCampaign. On
ActiveCampaign's cheapest plan
, you pay $29 for up to 1,000 contacts per month. With Sendinblue's Lite plan, which is slightly cheaper, you can send 10 emails to 1,000 contacts or send one email to 10,000 different people. This gives you more freedom to play with email reach and frequency according to your business needs.
Lite Plan Pricing
| | | | |
| --- | --- | --- | --- |
| Emails | Monthly price | Monthly price if paid annually | Price per year if paid annually |
| 10,000 | $25 | $22.50 | $270 |
| 20,000 | $39 | $35.10 | $421.20 |
| 40,000 | $54 | $48.60 | $583.20 |
| 60,000 | $69 | $62.10 | $745.20 |
| 100,000 | $99 | $89.10 | $1,069.20 |
The biggest perks of the Premium tier are being able to build landing pages to link to in your email campaigns and unlocking more advanced automation features (including a higher contact limit per workflow).
It also provides multi-user access with up to three inboxes, which is more team-friendly, and phone support (note that Sendinblue is based in France, so this is only available during their office hours). In addition, with the Premium plan, you can scale up the number of emails you send to an impressive 1 million per month, which is geared towards hefty email marketing operations.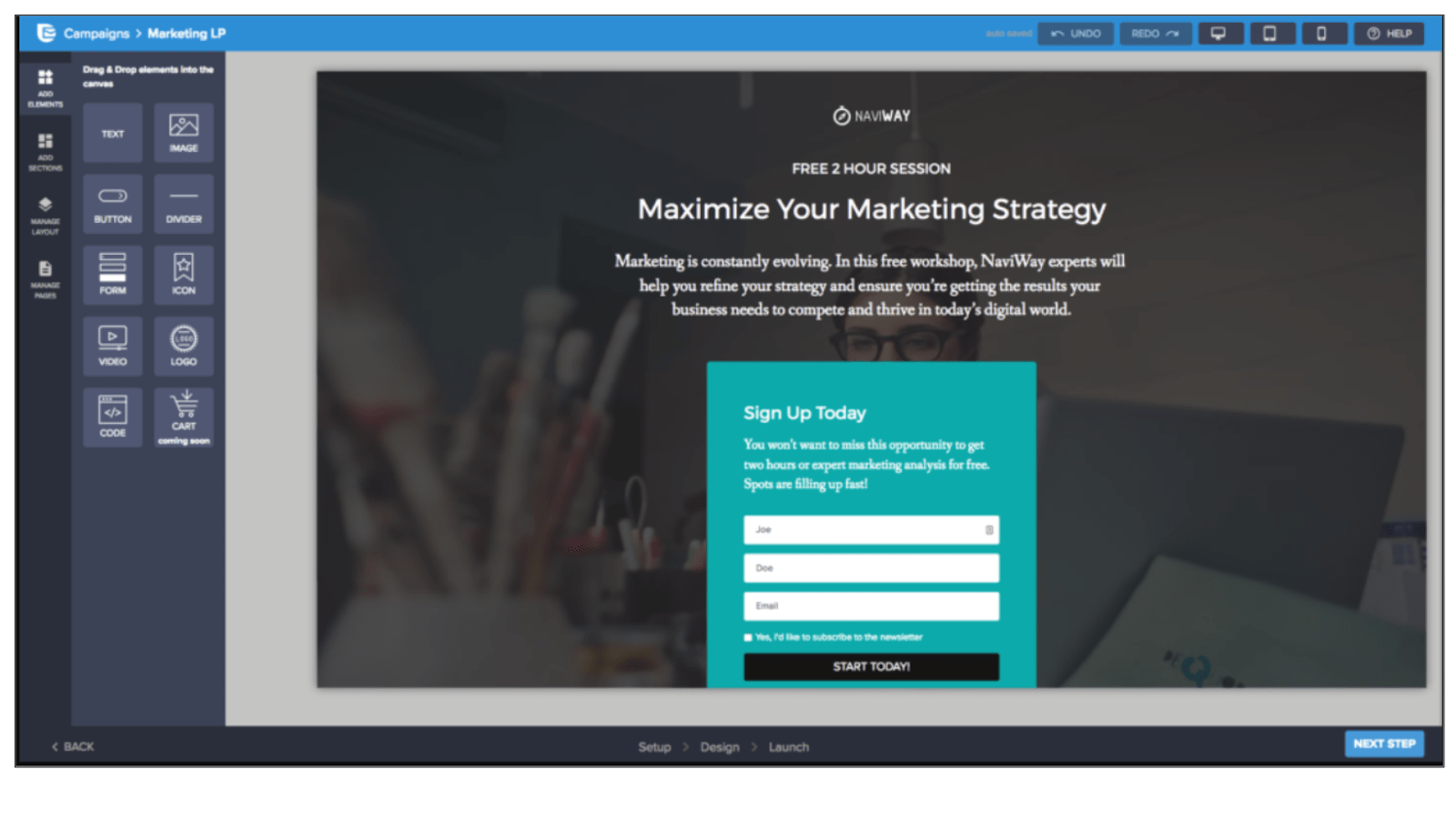 If you are mainly interested in features like landing pages and more advanced marketing automation and reporting, you can get them for much cheaper with another email marketing platform.
GetResponse, for example, offers unlimited landing pages on its
Basic plan
, which starts at
$
0
. It costs nearly three times as much to access Sendinblue's landing page builder, plus you can only create a maximum of five pages per month – unless you want to pay another $24 for an additional five pages (up to 15). You can also pay extra for more users, but these costs add up quickly.
This means that Sendinblue's Premium plan is less appropriate for a growing small- or medium-sized business looking to expand its marketing channels than it is for a big-time marketer that relies heavily on emails.
 There are attractive monthly prices for a  large volume of emails, especially if you're running a busy e-commerce business and need to send tens of thousands of receipts and shipping confirmations. But if you're a smaller company looking to develop your digital marketing operations with a broader range of tools, you can find everything Sendinblue's Premium tier offers for a better price on rival services like
GetResponse
or
ActiveCampaign
.
Premium Plan Pricing
| | | | |
| --- | --- | --- | --- |
| Emails | Monthly price | Monthly price if paid annually | Price per year if paid annually |
| 20,000 | $65 | $58.50 | $702 |
| 40,000 | $79 | $71.10 | $853.20 |
| 60,000 | $94 | $84.60 | $1,015.20 |
| 100,000 | $124 | $111.60 | $1,339.20 |
| 150,000 | $169 | $152.10 | $1,825.20 |
| 250,000 | $229 | $206.10 | $2,473.20 |
| 350,000 | $289 | $260.10 | $3,121.20 |
| 500,000 | $379 | $341.10 | $4,093.20 |
| 750,000 | $499 | $449.10 | $5,389.20 |
| 1,000,000 | $599 | $539.10 | $6,469.20 |
For anyone that needs to send out more than a million emails per month, Sendinblue offers an Enterprise plan on a custom pricing basis. In addition to setting your own email volume, the Enterprise plan comes with several other benefits,
including priority sending on the Sendinblue servers, accounts/inboxes for as many colleagues as you need, and no limits on the number of landing pages you can build.
An Enterprise plan also comes with a dedicated IP address. This means your emails are sent from your own IP address – not from Sendinblue's – which protects against any potential issues with spam filters and keeps deliverability rates high. You also get enhanced customer service, including a dedicated account manager who can give advice on campaigns, data analysis, and technical issues, plus a service-level agreement.
Sendinblue Pricing Plan Comparison Table
Plan
Minimum Price
Email limits
Automation
Advanced reporting
Best Feature
Free

$

0

300 per day

✔

✘

Unlimited contacts and access to all features on the Lite plan for free
Lite

$

25.00

10,000 – 100,000 per month

✔

✘

Scalable pricing for increasing email limits
Lite+
$37
10,000 – 100,000 per month

✔

✔

Access to A/B testing
Premium

$

65.00

20,000 – 1,000,000 per month

✔

✔

Landing pages
Enterprise
Custom
Unlimited

✔

✔

Dedicated support with your own account manager
Sendinblue Cancellation and Refund Policy
Plenty of Support for a Straightforward Cancellation Process
One of the things I like about Sendinblue is the quality of its site support.
You can click on the Help button on the bottom right-hand corner of the page and type in a query.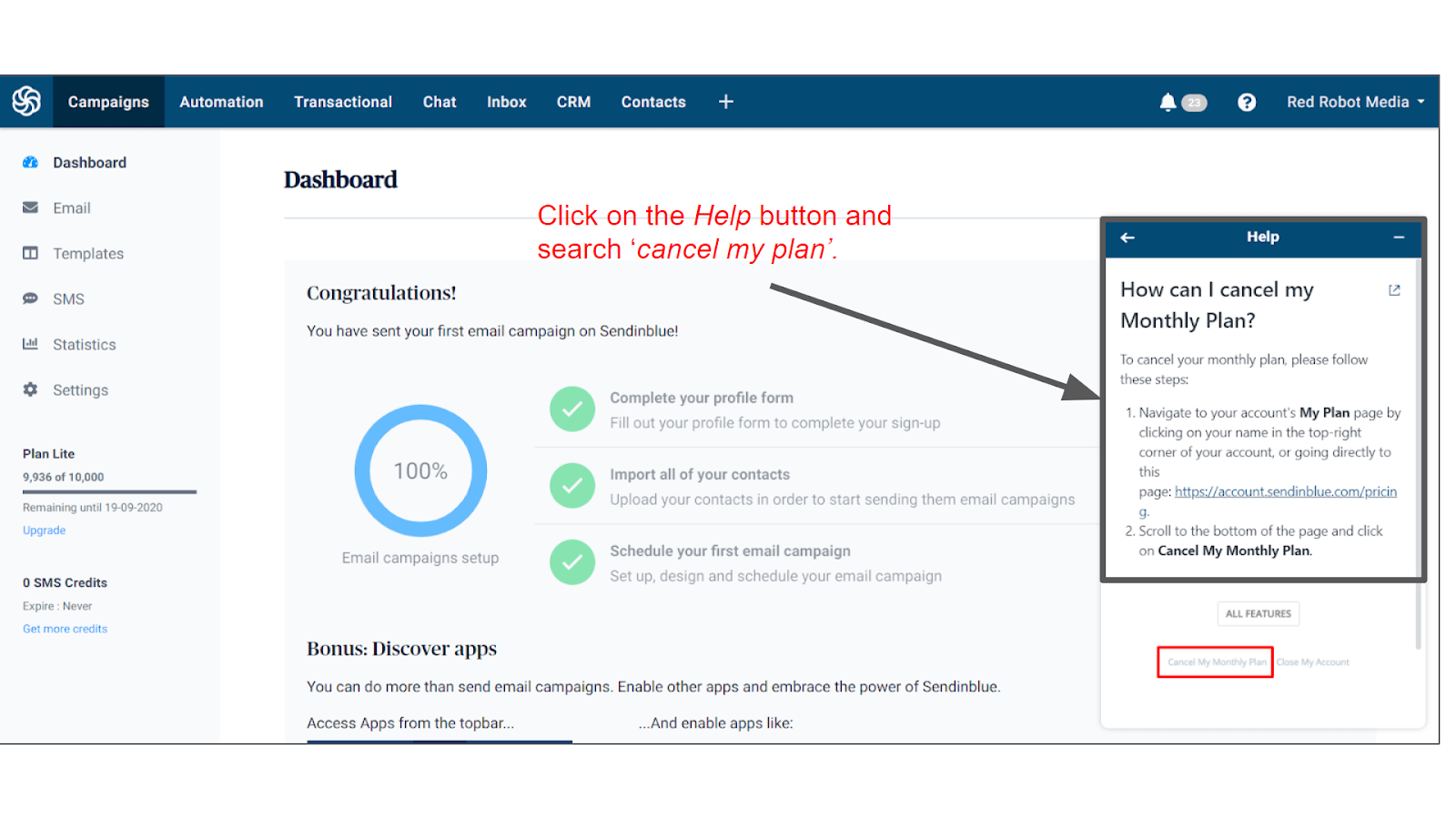 Like the support feature, modifying your account is pretty straightforward too.
Sendinblue gives you the option to pause your account rather than cancel it.
This is nice if you want to take a break from payments without deleting your campaign and contact data.
You can also choose to downgrade from a paid tier to the Free plan
, which keeps your account fully active but with the Free tier restrictions. It's also worth noting that if you don't use your account for three months, it will be archived. This is more or less the same as pausing the account, and you get one week's notice. It can be activated again at any time. Sendinblue does not offer refunds and it does not cancel your account as soon as you ask to close it or downgrade your plan.
 Instead, the cancellation or downgrade will apply at the end of the next billing cycle.
 So if you decide you want to close your account a few days after you've paid your monthly bill, your account will remain unchanged until after the next payment. The only time you may get a refund is if there is a technical error with your account or an issue sending your campaigns from Sendinblue's shared IP addresses. Sendinblue also reserves the right to cancel an account that breaches its terms of service without a refund.
Alternatives to Sendinblue
While Sendinblue is a great option for some users, it doesn't make sense for every business. Sendinblue's Lite plan doesn't offer the range of features, such as landing pages and advanced analytics, that many growing businesses need. By the time you get up to the Premium plan and these features are available, the service becomes expensive. If Sendinblue's pricing or features aren't right for you, try these alternatives:
GetResponse Plus Plan: If you're looking for a broader range of marketing tools, GetResponse is a great option. Its Plus plan can be cheaper than Sendinblue's Premium plan and includes features like automated conversion funnels, which help you focus your marketing activity on driving sales. You can also host webinars with the Plus plan, which is ideal for any business looking to promote or sell its expertise.
ActiveCampaign Plus Plan: One of Sendinblue's major limitations is that even on the Premium plan you only get three users, and you have to pay extra for up to 10. ActiveCampaign's Plus plan allows up to 25 users, so it's a more cost-effective solution for mid-sized businesses and large marketing teams.
Constant Contact Email Plus Plan: As I mentioned, Sendinblue's support for transactional emails is very handy for e-commerce businesses that need to send receipts and shipping confirmations. But if you want to take it a step up and run your entire shop from the same platform as your email marketing, I'd try Constant Contact. With support for web hosting, billing, inventory, and shipping, Constant Contact's Email Plus plan lets you build fully functioning e-commerce pages and sell products via email.
Sendinblue: Great for Novices and Email Heavy Hitters
In my opinion, Sendinblue appeals to opposite ends of the email marketing spectrum – small businesses and newcomers looking for a budget-friendly introduction, and users with huge subscriber lists.
If you're just starting out, the most attractive option is the Free plan.
Yes, the 300-emails-per-day limit means that your business may outgrow the Free tier. But the user-friendly tools for building lists and campaigns, access to automation and transactional emails, and the unlimited number of contacts make Sendinblue's Free plan a go-to option for email marketing beginners.
For businesses with huge mailing lists, Sendinblue is a good investment if you need to send hundreds of thousands of emails every month.
However,
it's not as strong in terms of advanced marketing tools compared to rival services, and what you can unlock is expensive. Sendinblue's pricing is less attractive in the middle of the market. For an SMB that has outgrown the limits of the Free plan, the Lite plan isn't very cost-effective and doesn't offer a particularly impressive range of features. Developing businesses looking for an agile range of marketing tools rather than massive email volumes and contact lists would get better value from services like
GetResponse
.
FAQ
Is Sendinblue free?
Sendinblue has a very generous Free plan which gives you access to basic email marketing features at no cost. The only catch is that you're limited to sending 300 emails a day. Apart from that, you can add as many contacts as you like and get full access to campaign management tools including list segmentation, templates, a drag-and-drop editor, analytics, automation, and transactional emails.
Is Sendinblue worth paying for?
It depends. With Sendinblue's cheapest paid plan (Lite) you don't get any features that the  Free plan doesn't have. Other top email marketing services offer a wider range of tools for a similar price. However, Sendinblue is worth paying for if your business already sends a large number of emails, either promotional or transactional (receipts, order confirmations, etc.). It is also a good option if you want to scale your email marketing very quickly. The fact that Sendinblue charges by number of emails rather than number of contacts – like most rival services – makes it much more cost-effective and flexible in terms of increasing email and contact numbers without prices spiraling out of control.
Which is better: Mailchimp or Sendinblue?
Even though Mailchimp is a well-known name in email marketing, Sendinblue is better. Mailchimp focuses on being an all-around digital marketing service, but if your primary concern is sending as many emails to as many people as possible for the lowest price, then Sendinblue is a much better value – especially if you use one of our Sendinblue coupons or try out the free plan. Mailchimp sets daily and monthly limits on email volumes as well as caps on contact numbers on all of its plans. It also has very strict Terms of Service and has been known to suspend user accounts without warning. With no limit on the number of contacts you can have on any plan, Sendinblue offers much more flexibility.