"More value than a 4-year college education!" is a pretty bold claim. ClickFunnels offers results that sound miraculous – which they'd better be, given the pricing. ClickFunnels charges just shy of $97.00/month for a comparable service to ActiveCampaign's (significantly cheaper) Plus plan. So, is ClickFunnels worth it?
You could do worse than buying into the hype around ClickFunnels. It's a solid bit of marketing kit, all things considered. It also offers a 14-day free trial (which is important when you consider how much cash you're expected to hand over).
But before I dive into the details, let's get one thing straight – ClickFunnels is not a dedicated email marketing service. It's for marketing, sure, but it's oriented toward the sales funnels and landing pages kind of marketing. Emails are there, but not to the extent you're probably hoping for.
If you want a dedicated email marketing service that'll help you target the right customers, send automated emails, and build your audience,
ActiveCampaign is my best recommendation
. Read on and you'll soon see why.
If you came here wondering "how much is ClickFunnels?", you've got your answer already – it's pretty expensive. But don't head out just yet – after extensively testing ClickFunnels, I need to explain why I think you're better off with another email marketing service.
Short on Time? These Are ClickFunnels' Pricing Plans in June 2022:
ClickFunnels Features and Pricing Overview
If All You Need is Email Marketing, Look Elsewhere
We've all been into fancy stores at the mall that scream "if you have to ask for the price, you can't afford it". They're fun to look around, the store employees are welcoming, but you know it's all to get you to purchase something. And asking for the price either gets you an eye-roll or corners you into a conversation that's hard to back out of.
Just bear that in mind when I say there's no pricing on the ClickFunnels homepage…and there isn't a link to the pricing page, either.
I had to add "/pricing" to the URL to see the pricing plans. Sure, it's not exactly hidden, but if you value honest businesses then you'll see this as a glaring red flag.
Unsurprisingly, ClickFunnels doesn't offer a free plan like these other marketing services. There is a 14-day free trial that gives you access to all of ClickFunnels' features, but you have to enter your payment details to access this. It's also not clear which features you can use during the trial until you've signed up.
In addition, the website doesn't make it clear that ClickFunnels offers a discount for paying yearly. Or, at least, it might. If you're a member who's already paying for a subscription, you might be offered a discount in your Account Billing and Subscription settings – although that "may not be available at this time or in your area".
Again, this information is technically available on the website. However, I only found this out by looking at the FAQ under the "Getting Started" tab of the documentation in the help portal. I'm not even joking. It's that well hidden.
Plus, the full cost of ClickFunnels isn't that apparent at first, because they'll try to upsell you stuff – like the ability to pause your account or access training courses – at every point along the way. It quickly becomes clear that answering "How much does ClickFunnels cost?" isn't as clear-cut as you would hope.
ClickFunnels offers three plans– ClickFunnels, ClickFunnels Platinum, and TwoCommaClubX, priced at $97.00/month, $297.00/month, and $2497.00/month respectively. It's certainly on the pricier side of marketing software, particularly when you consider that you'll need to sign up for ClickFunnels Platinum to access email marketing.
Again, ClickFunnels isn't a dedicated email marketing service. It's designed to help you build sales funnels to generate leads and increase your profits, so email marketing is treated as a nice bonus that gives you multi-channel selling capabilities. If you're just looking for an email marketing service to send out newsletters, this isn't the service for you.
Seriously – a dedicated email marketing service like ActiveCampaignoffers far better value for your money  if you're looking primarily for an email marketing service (EMS). While the sales funnel builders aren't as extensive, this EMS provider offers far more email marketing features.
Don't get me wrong, I'm not saying ClickFunnels is terrible. At all. What I am saying is that it's not the right option if you're looking for an EMS, because, at its heart, that's not what it was designed to do.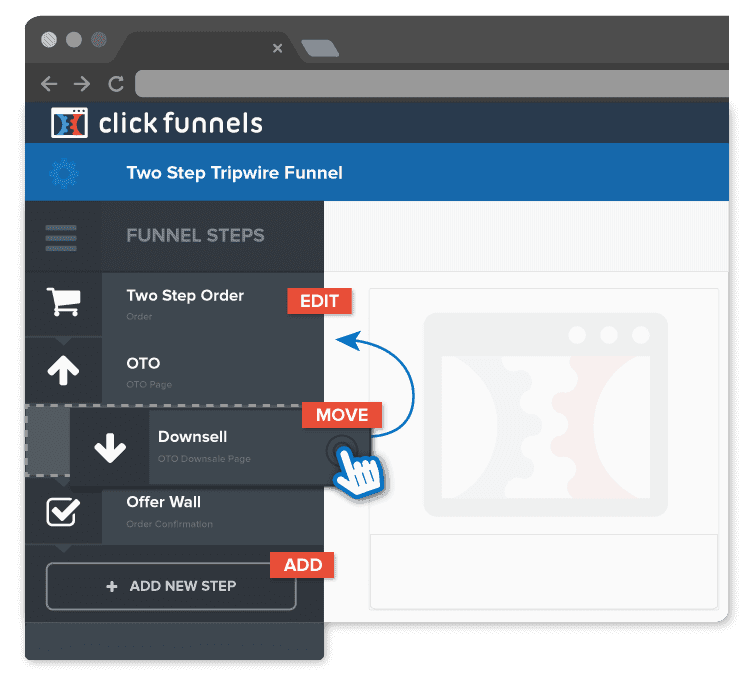 ClickFunnels' cheapest pricing plan
is pretty well suited for smaller businesses or entrepreneurs looking to build an income online.
But note that it
doesn't
come with email marketing.
First and foremost, ClickFunnels is a way to build and manage sales funnels. A sales funnel is any process that guides a customer through what's commonly referred to as the "buyer's journey" – awareness, consideration, and purchase. A sales funnel guides customers through those steps.
At each step of the sales funnel, you'll have things like ads on social media, landing pages, free content to hold customer attention, coupons, exclusive deals, and more. Email marketing can, and often does, play a role in sales funnels, but it isn't always used as the primary marketing channel.
ClickFunnels' cheapest plan costs $97.00/month. This allows you to build up to 20 sales funnels, to create 100 pages for those funnels, and to connect up to 3 payment gateways to make your funnels as seamless as possible.
It's worth noting, however, that you're limited to 20,000 unique visitors to your sales funnels each month on the basic plan. So, that's 1,000 unique visitors per funnel, assuming you're maxing out your plan.
If you go over that, you won't be charged any fees or upgraded to a more expensive plan. Instead, a ClickFunnels affiliate badge will be placed at the bottom of all of your pages, and you don't get any commission from that badge.
Sure, your funnels won't be shut down, but this doesn't give you much scope for growth. And, honestly, it feels like a sneaky way for ClickFunnels to make even more money out of you.
On the basic plan you'll also get live chat and email support, a bunch of help documents, and a help bot to make it easy to find the right support channel for you. Plus you'll get access to FunnelFlix, which has training videos, talks from sales leaders, and, of course, training from ClickFunnels' Glorious Leader himself.
Seriously, ClickFunnels' biggest sales point is that it was founded by Russel Brunson, who has a huge following in the online entrepreneurship space. He's the first person you see on the ClickFunnels website, and it's hard to ignore the cult of personality that's sprung up around him among ClickFunnels' most avid users.
Again, if you want email marketing, you'll have to look elsewhere – it's completely missing from this plan. Even if all you want is a basic auto-responder, you'll have to integrate third-party software with ClickFunnels to set up that functionality.
Thankfully, that's easy enough to do. ClickFunnels can integrate with most EMS providers.
If you're looking for an EMS that also offers the sales funnel functionality of ClickFunnels
, I recommend looking at GetResponse.
On GetResponse's Professional plan, you'll get unlimited sales funnels
and the ability to run paid webinars for up to 300 people.
Plus you'll get popular EMS features like email marketing automation, highly specific contact list segmentation, and modern, mobile-friendly email templates.
ClickFunnels Plan Pricing
Price

$

97.00

/month or $997/year

Sub-users
1
Email marketing?

Not included

Sales funnel limit

20, with up to 100 sub-pages

Learning resources

Access to FunnelFlix

Support

Live chat and email
The ClickFunnels Platinum plan costs a pretty pricey $297.00/month. It allows you to build unlimited sales funnels with an unlimited number of sub-pages, to connect up to 9 payment gateways, and to get priority customer support. It's also where this software starts to become more useful, because this tier includes email marketing.
That said, the problem with using ClickFunnels for your email marketing is that you don't get a full EMS. Because this platform is hyper-focused on helping you to build sales funnels, email marketing is simply treated as a "follow-up funnel".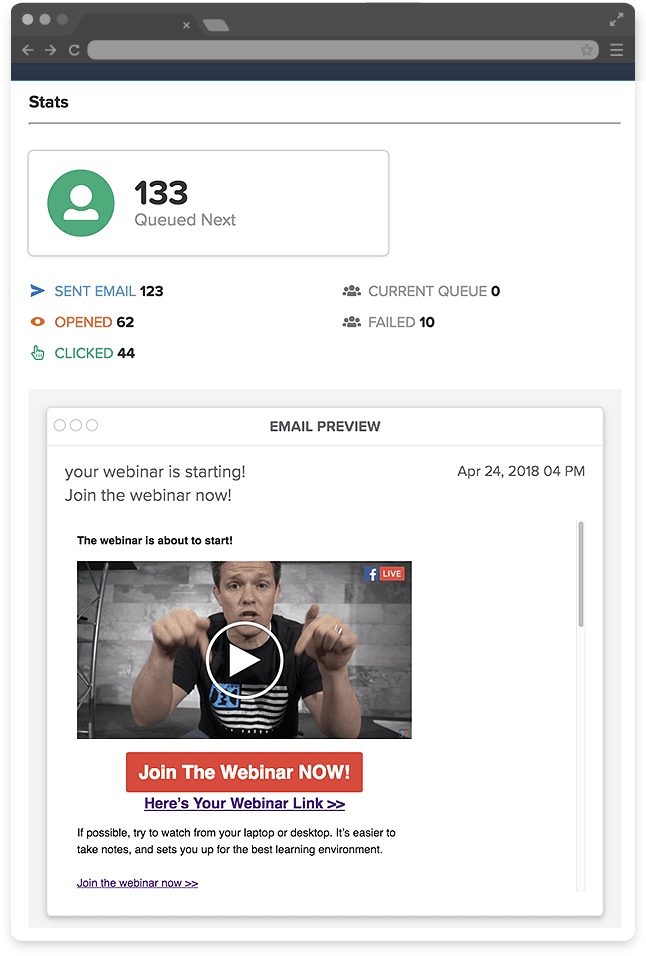 It does offer an autoresponder that you can connect to your sales funnel and pages and use to send one-time email "broadcasts". However, if you want to split test your emails, you'll have to set it up manually.
The analytics are also extremely basic. With each send – sorry, "follow-up funnel" – you can see how many emails were sent and opened and how many contacts clicked the link. That's it. Sure, if email marketing isn't a priority then this might be all the information you need, but if you're serious about building your business through email, you'll need more than that.
In short, if you want to invest in your email marketing, consider ActiveCampaign instead. Given that ClickFunnels' email marketing lacks complex automation, highly specific contact list segmentation, and even email hosting, it doesn't even hold a candle to our top EMS providers.
ActiveCampaign's Plus plan, for example, offers unlimited "customer success pipelines", or sales funnels, and you can have up to 25,000 email contacts before you get anywhere close to the cost of ClickFunnels Platinum.
ActiveCampaign's plan also offers far better analytics than ClickFunnels', with graphs showing where and when your contacts opened your emails. You can also click into individual contacts to see how many times they've opened and clicked your emails, and even the last time they did so.
It's for this reason that I recommend ActiveCampaign over ClickFunnels if you're willing to spend $297.00/month on a marketing service. Even if you've not got that much cash to spare, ActiveCampaign offers budget-friendly options you won't find with ClickFunnels.
ClickFunnels Platinum Plan Pricing
Price

$

297.00

/month or $2,997/year

Sub-users
3
Email marketing?

Included, but limited to basic email responders and transactional emails

Sales funnel limit

Unlimited, with unlimited sub-pages

Learning resources

Access to FunnelFlix plus additional courses and weekly peer reviews for your funnels

Support

Live chat and email with priority support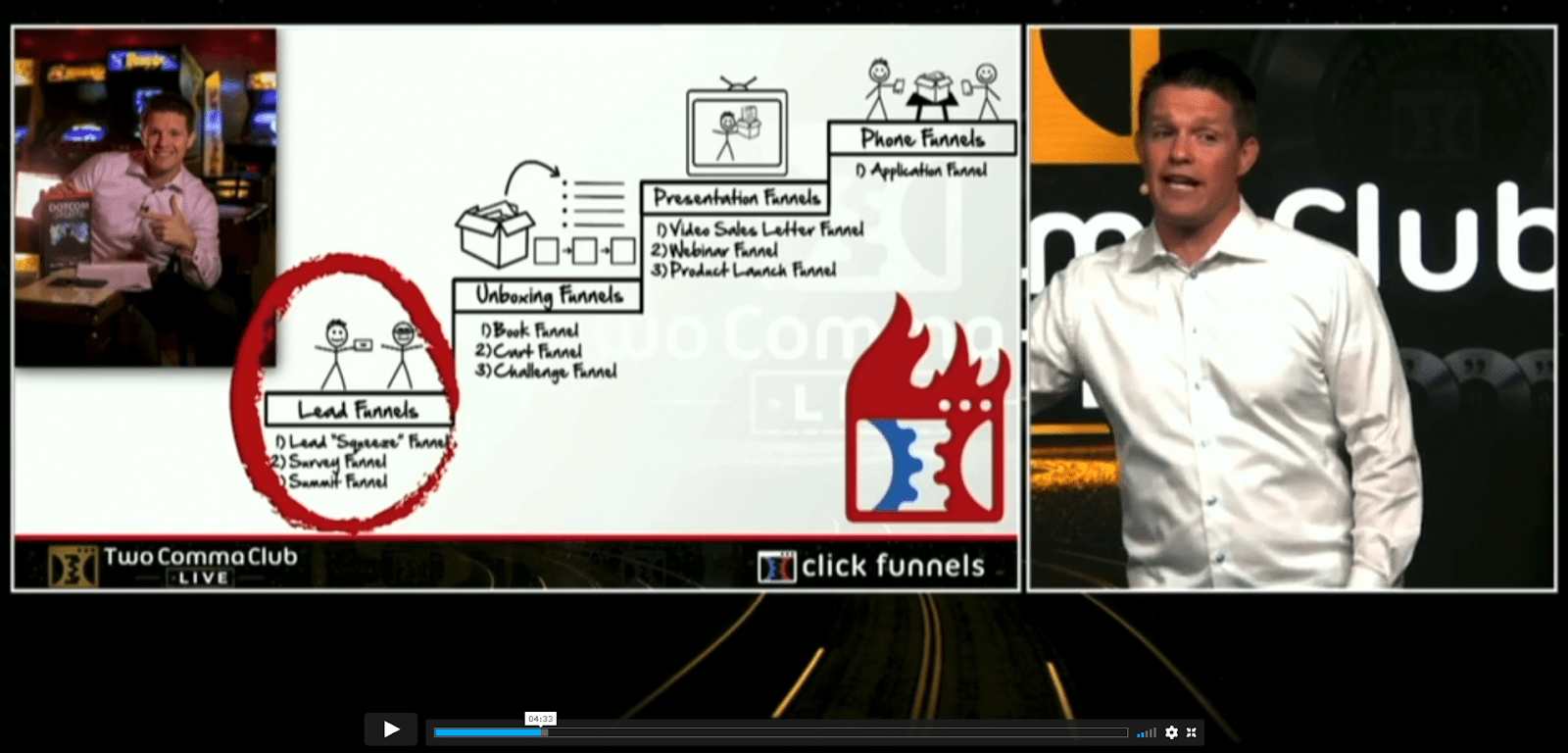 ClickFunnels' top pricing tier is eye-wateringly expensive. The TwoCommaClubX plan is an astounding $2497.00/month, and you don't get a discount for paying yearly, either.
Still, if you're willing to spend more than your rent or mortgage, TwoCommaClubX offers hundreds of hours of exclusive training and coaching. This includes weekly collective classrooms and course corrections to help you optimize your sales funnels.
You'll get the same unlimited funnels and sub-pages as the Platinum plan, and you'll additionally be able to connect up to 27 payment gateways and domains. This tier is aimed at entrepreneurs who run multiple businesses. If you're just getting started, or you're focusing your efforts on building one business, this tier is going to be too expensive and extensive for you.
That said, you won't get any more email marketing functionality – this plan is really designed for business owners who need extra coaching and want to grow their businesses. So, email marketing features are limited to basic autoresponders and transactional emails.
Again, if email marketing is a priority for you, I'd recommend you look elsewhere.
TwoCommaClubX Pricing
Price

$

2497.00

/month, or $29,964/year – no discount for paying yearly.
Sub-users
10
Email marketing?

Included, but limited to basic autoresponders and transactional emails

Sales funnel limit

Unlimited, with unlimited sub-pages

Learning resources

Access to FunnelFlix plus additional courses, weekly peer reviews, and collective classrooms

Support

Live chat and email with priority support plus phone support available during the week
ClickFunnels Pricing Comparison Table
Plan
Price
Sub-users
Sales funnels limit
Email marketing?
Best feature
ClickFunnels

$

97.00

/month or $997/year

1

20, plus 100 sub-pages

✘

Drag-and-drop funnel and landing page editors

ClickFunnels Platinum

$

297.00

/month or $2,997/year

3

Unlimited, with unlimited sub-pages

Yes, but extremely basic

Affiliate program manager

TwoCommaClubX

$

2497.00

/month or $29,964/year – no discount for paying yearly

10

Unlimited, with unlimited sub-pages

Yes, but extremely basic

Weekly collaborative classes and challenges
ClickFunnels Cancellation and Refund Policy
Canceling Your ClickFunnels Account is Surprisingly Easy
I'm always wary of trial accounts you need to use your credit card for, and it doesn't surprise me that ClickFunnels requires a credit card for its 14-day free trial. After all, it's banking on you either forgetting to cancel in time or loving the service so much you decide to hop on the ClickFunnels train.
With your free trial, your card will automatically be billed on day 15 after signup if you don't cancel. This will be your billing date each month going forward.
Thankfully, canceling your account is pretty easy. All you need to do is go to your Account Settings, select Account Billing, and click the Cancel Account tab. Click the yellow button that says Cancel My Subscription, and that'll take you to an exit survey (which, unsurprisingly, you're required to fill out).

At the end of the survey, tick the box that says you understand your sales funnels and domains will be shut down, and that you'll lose all of your customer data. Then, click the Cancel my account button. That'll take you to yet another popup asking you to confirm. Type confirm, hit Proceed with cancellation, and you're done.
You can also email ClickFunnels to request a cancellation, but, honestly, I wouldn't use this option given the lack of certainty you'll get a response in time.
Now for the small print…
ClickFunnels' terms and conditions state that you'll get an email reminder of your trial ending at least 7 days before you're charged. You also have to contact ClickFunnels at least 24 hours before the trial ends to cancel it. So, in essence, you've got 13 days – or 12, if you want to play it safe – to decide if it's worth it to you.
If you've got a paid subscription and you want to cancel, or you've accidentally been charged, you'll have to give 10 days' notice of your intention to cancel. The terms and conditions say you can send a cancellation request through your dashboard, as outlined above, but also that you have to give notice of cancellation via email. Personally, I'd do both.
When you cancel, you can access your account up to when it would have been your next billing date. So, you don't have to worry about losing customer data or your hard work. Your account data will be deleted 30 days after cancellation, and you can reactivate your account if needed up until then.
The T&Cs also state that, by taking out a trial, you authorize ClickFunnels to automatically charge your card unless you cancel. You're not entitled to a refund if your cancellation request isn't sent in or received in time, nor do you get a prorated refund for the days you don't use.
The only exception to this is if you've got an annual subscription and you cancel before the end of the year. At that point, ClickFunnels will generously give you credit towards its other subscription services.
Finally, hidden in the T&Cs is something a little sneaky. If ClickFunnels can't take payment from you, you'll be charged to put your account on pause until the bill is settled. It's not specified how much you'll be billed, but I assume it's the same $9.99 it attempts to upsell you when you try to cancel your trial account.
Long story short, if you want to cancel your account, don't wait around.
Alternatives to ClickFunnels
As I mentioned earlier, ClickFunnels isn't a dedicated EMS. The email marketing features you get, even on the plan that costs the same as renting a one-bed property in San Francisco, aren't extensive enough if email is your primary focus.
That's not to say that ClickFunnels is bad (just read our ClickFunnels review first), but rather that it might not offer the right marketing tools for your business. Plus, it's an expensive service to begin with, so it's likely going to be too expensive for freelancers or small businesses.
With that in mind, here are some alternatives:
Why ClickFunnels Isn't Worth Your Money (Unless You Want to Build Sales Funnels)
My biggest takeaway from researching ClickFunnels is that it's been designed for a specific subset of people. And that's the kind of people who talk about "10x-ing their life", or post lengthy blogs on LinkedIn about teaching their kids how to close a sale when they're barely out of diapers.
If you're that kind of person, there's a good chance ClickFunnels will work for you. I mean, ClickFunnels is actually pretty good if you want to build an online business or an additional income stream. It's easy to use, quite elegant, and makes building sales funnels and landing pages a breeze.
Saying that, email marketing is largely ignored by ClickFunnels, and it makes it difficult to recommend on that point alone. Email functionality is there, sure (on the higher-tier plans anyway), but it's considered a supplementary marketing channel. All you get is a basic autoresponder and some transactional emails, as well as a degree of automation based on where your emails fit in your sales funnel.
In short, I couldn't in good conscience recommend ClickFunnels above the leading services. It's just too limited, and too expensive, for anyone looking to market their business via email. $97.00/month for the base plan is a big ask of anyone's budget, particularly if you're just starting out.
My favorite budget-friendly EMS is ActiveCampaign as it goes far beyond ClickFunnels' basic autoresponder by offering great automation capabilities and slick email templates. You can have up to 5,000 contacts on the Lite plan without coming close to the cost of ClickFunnels' base plan, too, which will give you a lot more room to grow.
FAQ
Is there a free version of ClickFunnels?lickFunnels offers a 14-day free trial, but there is no free plan. AWeber offers a free email marketing plan to get you started, and it's on our list of the top even email marketing providers too.What is a cheaper alternative to ClickFunnels?With email marketing only available on the $297.00/month ClickFunnels plan, almost every EMS will offer a cheaper plan to get you started. GetResponse in particular offers a good alternative because, with the Professional plan, you can build unlimited sales funnels or run paid webinars. You can have up to 25,000 contacts – and unlimited email sends – for far less than you'd pay with the Clickfunnels Premium plan.What companies use ClickFunnels?On its homepage, ClickFunnels lists success stories from business owners and freelancers who work in e-commerce, coaching, network marketing, and blogging. The majority of ClickFunnels customers are small businesses with under 200 employees, working primarily in marketing, advertising, healthcare, or health and wellness.Who needs ClickFunnels?Given the high level of automation it offers with sales funnels and landing pages, ClickFunnels is ideal for entrepreneurs who want to build passive income streams. However, its pricing can be prohibitive for newer entrepreneurs and small businesses, and if you're looking for email marketing, you'll only get (basic) features on the higher-tier plans. If you need more advanced automation, contact list segmentation, or even just better analytics, you'll have to factor in the cost of an additional service.