At first glance, Benchmark appears to be one of the most reasonably priced email marketing services out there.
But when you look beyond the
free plan
 to start adding more subscribers or extra features, it gets much harder to assess the overall value that the platform delivers. When I recommend an email marketing plan to my clients, it has to have the right balance of features and cost. I have clients who range from single freelancers through small businesses to larger corporations, and I was curious to see how Benchmark Email pricing might suit each. Find out which plan offers the best value, which plan I'd avoid, and discover how much Benchmark Email really costs. And don't forget to check out our
Benchmark coupons
before you sign up to save yourself some money.
Short on time? These are Benchmark's three pricing plans in 2023:
Free – All the basic features small businesses need for email marketing but with only 250 email sends per month. Read more below.
Pro – This plan includes all the features on the free plan but with far more email sends, for up to 125,000 contacts. Read more below.
Enterprise – Designed for larger organizations with high-level features like inbox checkers and a dedicated IP. Read more below.
Benchmark Features & Pricing Overview
Tons of Value for the Money – as Long as You Choose Wisely
When it comes to cost, Benchmark plans are lower than average compared to services like
Constant Contact
and
GetResponse
, which don't offer a free plan.
Benchmark's free plan
includes most of the platform's available features, which means you can get started with email marketing at no cost. Benchmark's paid plans cost as little as
$
8.00
per month, or just $13 if you take advantage of the discount by paying for the year upfront.
However, while its prices are more affordable, Benchmark has fewer built-in features than some other email marketing services.
 Because you'll be putting time and energy into setting up your mailing platform, it's important to ensure the plan you choose has everything you need before you make the investment. To get maximum value, it's also essential to choose the right Benchmark pricing model.
The platform offers both subscriber-based and send-based pricing so you can pay for the factor that matters most to your business.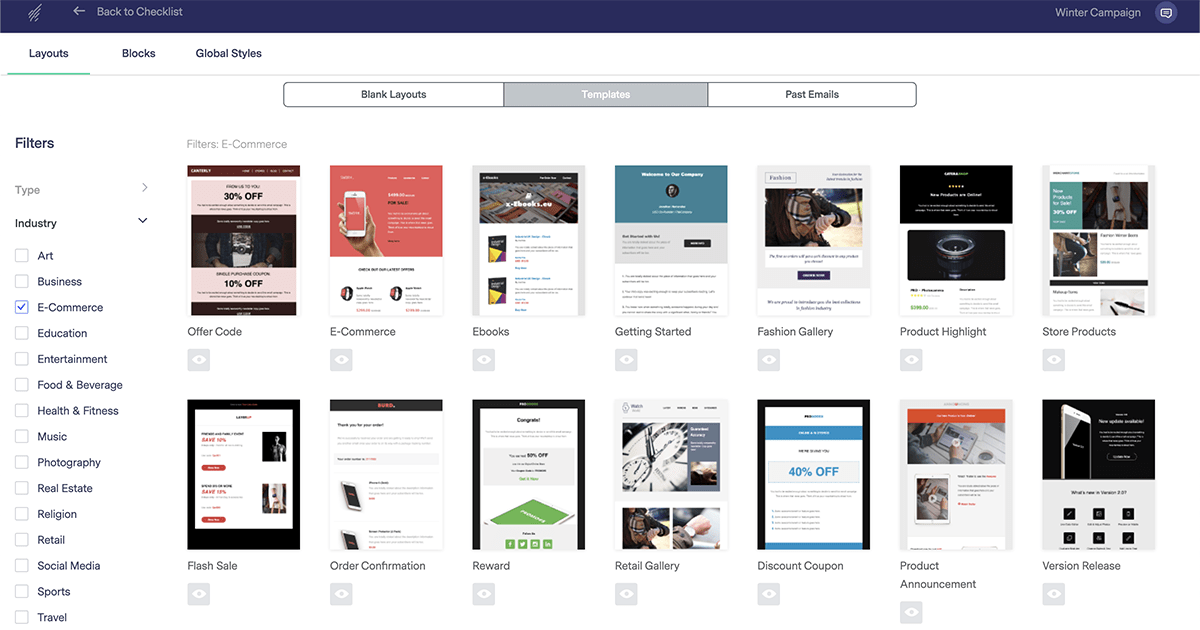 Benchmark's Free plan includes all the basic features that freelancers and small businesses need for email marketing
(see our
in-depth Benchmark review
for a full list). It comes with 220 responsive email templates and a user-friendly drag-and-drop editor that lets you customize your emails with images, videos, social media icons, and more.
With the Free plan, you can set up basic automations
, such as welcome emails and birthday or anniversary messages. This plan also includes customizable signup forms to help you grow your list and basic segmentation so you can divide your contacts into groups with shared characteristics. Benchmark's Free plan even allows you to set up surveys and polls so you can test ideas and learn more about your audience. Although this plan offers plenty of email marketing functionality, its capacity is limited.
You can add unlimited subscribers – but you can send only 250 emails per month, which is far fewer than some competing services' free accounts.
For instance,
Sendinblue's free plan
 lets you send 300 emails per
day
 (that's 9000 per month!). If you need more sending power or want access to priority phone support, I'd recommend upgrading to Benchmark's paid Pro plan instead.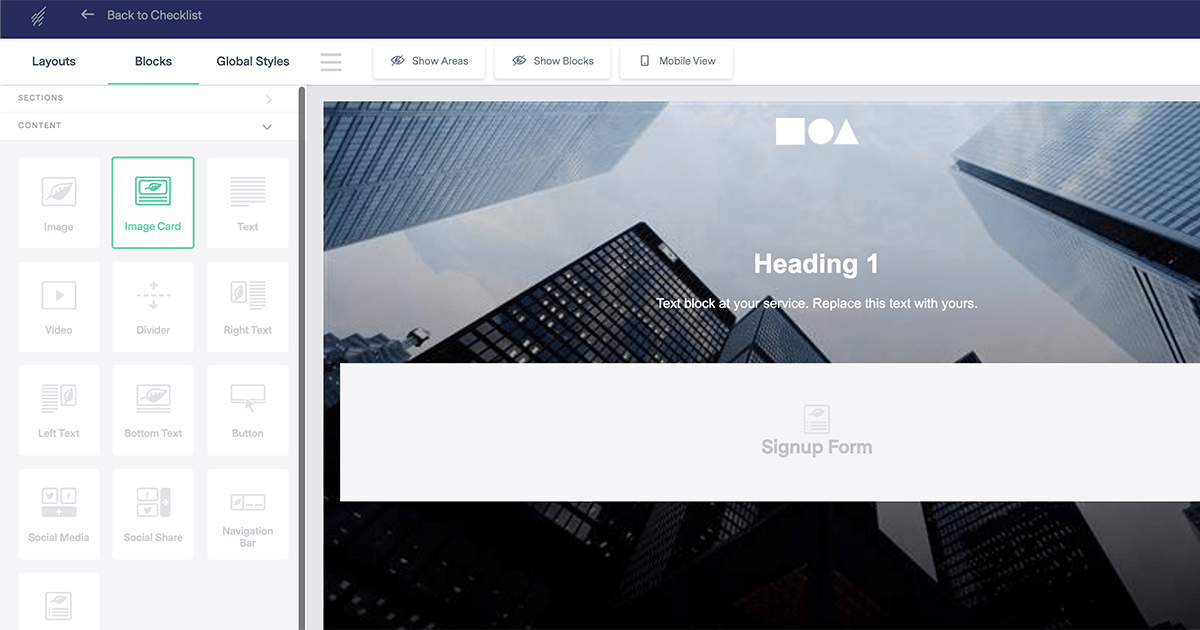 The Pro plan includes all the features of the Free account, but with far more email sends and access to phone support.
You have two basic choices on how to structure your pricing: by number of subscribers or number of emails you want to send per month.
If you only have a few hundred subscribers but you intend to email them frequently, the subscriber-based plan probably offers better value. On the other hand, if you have thousands of subscribers and you plan to email them only once a month, you'd be better off with the send-based plan. Fortunately,
you can switch between send-based and subscriber-based pricing if your list size or marketing needs change
. In addition to sending newsletters, announcements, and basic drip campaigns, the
Pro plan
 lets you create more complex automations, including
e-commerce automations like abandoned cart emails and follow-up series
that let you send highly targeted content. Along with the simple signup forms that the Free plan offers, the Pro plan lets you design landing pages with Benchmark's intuitive drag-and-drop editor. These landing pages are great for generating leads, providing downloadable content, and building automation sequences. With the Pro plan, you can also purchase select add-ons. Although these features add more functionality, they could double or quadruple the price of your plan. You can pay to add:
List verification: Automatically confirm that your subscribers' emails are valid to decrease bounce rates, save money, and get more accurate campaign results. Prices start at $3 per 1,000 subscribers.
Unlimited image storage: Upgrade from the standard 10 GB of image hosting to store unlimited photos and graphics. The flat rate is $5 per month.
Inbox checkers: Preview how your campaigns will look on any device so you can optimize your email design. Prices start at $14 per 100 tests.
Dedicated IP: Upgrade from the standard shared server to gain more control over deliverability rates and avoid the effects of other customers' potentially spammy practices. The flat rate is $28.95 per month.
If you're an entrepreneur or business owner who needs to automate email marketing campaigns for your growing subscriber list, the Pro plan is ideal.
  However, if you have more than 125,000 subscribers or if you need to send millions of emails each month, take a look at
Benchmark's Enterprise plan
 instead.
Pro Plan Subscriber-Based Pricing
| | | | |
| --- | --- | --- | --- |
| Contacts | Monthly price | Price per year if paid monthly | Price per year if paid annually |
| 500 | $15 | $180 | $156 |
| 1,000 | $23 | $276 | $240 |
| 2,500 | $35 | $420 | $360 |
| 5,000 | $58 | $696 | $588 |
| 10,000 | $89 | $1,068 | $912 |
| 15,000 | $118 | $1,416 | $1,200 |
| 20,000 | $138 | $1,656 | $1,404 |
| 25,000 | $169 | $2,028 | $1,728 |
| 30,000 | $218 | $2,616 | $2,220 |
| 40,000 | $258 | $3,096 | $2,628 |
| 50,000 | $279 | $3,348 | $2,844 |
| 75,000 | $389 | $4,688 | $3,972 |
| 100,000 | $499 | $5,988 | $5,088 |
Pro Plan Send-Based Pricing
| | | | |
| --- | --- | --- | --- |
| Email sends | Monthly price | Price per year | Overage price per email* |
| 10,000 | $40 | $480 | $0.0040 |
| 50,000 | $150 | $1,800 | $0.0030 |
| 100,000 | $250 | $3,000 | $0.0025 |
| 250,000 | $450 | $5,400 | $0.0018 |
| 500,000 | $799 | $9,588 | $0.0016 |
| 1,000,000 | $1,299 | $15,588 | $0.0013 |
| 2,500,000 | $2,499 | $29,988 | $0.0010 |
| 10,000,000 | $4,449 | $52,988 | $0.0009 |
| 15,000,000 | $7,999 | $95,988 | $0.0008 |
*If you send more emails than your plan limit allows, Benchmark charges an overage fee for each email. You can upgrade to the next plan level, but the overage fees you incurred still apply.
The Enterprise plan is Benchmark's most expensive option. In addition to the advanced automations and unlimited landing pages that the Pro plan offers,
 this plan features a dedicated IP and domain white-labeling to improve email deliverability.
You'll also be able to take advantage of some free list verification and inbox checking.
This plan also comes with priority support, which includes managed account setup and deliverability monitoring
 to ensure your emails land in subscribers' inboxes. Additionally, Benchmark can lead your team through semi-annual account checkups to optimize your marketing efforts.
Benchmark's Enterprise plan is designed for organizations with audiences of 125,000 and up, making it ideal for businesses with large lists.
The plan incorporates several high-level features, including inbox checkers, a dedicated IP, and white labeling. However, it may lack the native marketing tools required by certain businesses. If you require built-in tools such as chatbots, SMS marketing, webinars, or conversion funnels, you might consider exploring alternative email marketing services like GetResponse or ActiveCampaign.
Enterprise Plan Pricing
| | | | |
| --- | --- | --- | --- |
| Contacts | Monthly price | Price per year if paid monthly | Price per year if paid annually |
| 125,000 | $719 | $8,628 | $7,332 |
| 150,000 | $829 | $9,948 | $8,460 |
| 175,000 | $939 | $11,268 | $9,576 |
| 200,000 | $1,049 | $12,588 | $10,704 |
Benchmark Pricing Plan Comparison Table
Plan
Starting Price
Subscribers
Monthly Email Sends
Landing Pages
Free

$

0

Unlimited
250

✘

Pro (Subscriber-Based)

$

8.00

500
Unlimited

✔

Pro (Send-Based)
$40
Unlimited
10,000

✔

Enterprise
$719
125,000
Unlimited

✔
Benchmark Cancellation & Refund Policy
You Can't Get a Refund – but You Can Cancel Any Time
Similar to many other email marketing platforms, Benchmark has a no-refund policy.
 To access the features available with the paid plans, you have to purchase a subscription. Once you've paid for the upcoming month or year, you can't get your money back. If you're new to Benchmark and want to try out all the features, I'd recommend starting out with the
free plan
. From there, you can upgrade to a monthly subscription. I would avoid committing to a year upfront with the risk of losing money if you decide to cancel. If you do end up canceling your plan, I found the process to be quick and easy, once I found where to do it. On the
Account Settings
page, go to the
Plan Information
 tab and you'll find the cancellation link at the bottom of the page. Once I clicked this, I was transferred to Benchmark's live chat support. There,
a representative completed the cancellation process within a couple of minutes.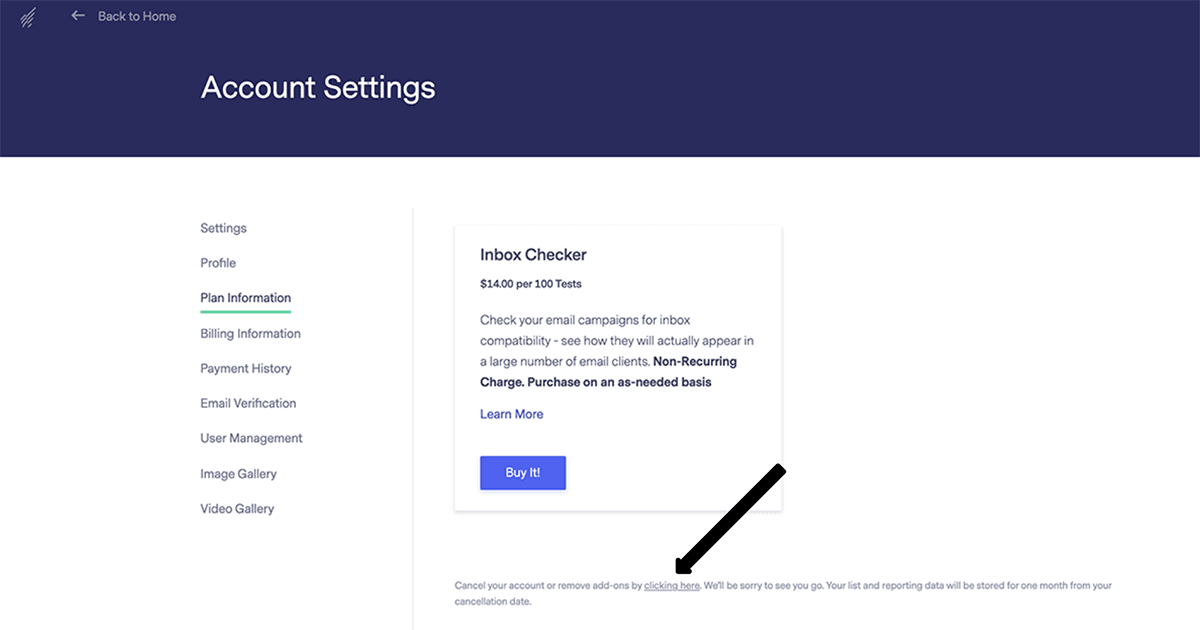 Note that when you cancel your account, you don't lose access to your data immediately.
Benchmark retains your contact list and reporting data for up to 30 days after cancellation. Until your next renewal date (or 30 days, whichever happens sooner), you can log in to reference or download your account information.
 That means you can download both your current subscribers and your unsubscriber list to avoid emailing people who have opted out of your messages.
Alternatives to Benchmark Email
While Benchmark email pricing fits many marketers' needs, the platform doesn't hit the mark for every type of business.
If you need more built-in tools and automations or a free plan with greater sending capacity, consider another email marketing platform instead.
 I recommend these alternative options:
AWeber's Free plan: Opt for this alternative if you want a free email marketing account that includes more tools and more email sends than Benchmark's. With this plan, you can send 12 times more emails than you can with Benchmark's free plan, and you can build as many landing pages as you want. I recommend AWeber's Free plan for businesses that are just starting out with email marketing and don't want to restrict their growth.
GetResponse's Professional plan: If you need to automate your marketing efforts with complex sales, lead, and conversion funnels, consider the Professional plan from GetResponse. This plan lets you host live, on-demand, and paid webinars and build unlimited marketing automations. I think GetResponse's Professional plan would be ideal for organizations that want to accelerate their lead generation and sales efforts.
ActiveCampaign's Plus plan: If you're looking for a powerful sales and marketing automation platform, take a look at the Plus plan from ActiveCampaign. This plan has 500 premade sales and marketing automations, contact scoring, SMS marketing, and advanced desktop and mobile reporting for marketing and sales tasks. I would suggest this plan for larger companies that are ready to streamline their sales and marketing efforts.
Benchmark Email Is a Smart Investment for Small Businesses
If you're a freelancer, entrepreneur, or small business owner looking for a user-friendly email marketing platform, Benchmark is a great option.
 The Pro plan has all the email automations and lead generation tools that most marketers need, and the send- and subscriber-based pricing options let you maximize the platform's value.
But for organizations with large lists or more complex automation needs, Benchmark doesn't offer enough to justify the investment.
If you want to run email marketing, sales automation, SMS marketing, and social media ads from one platform, I'd recommend choosing an automation platform like
GetResponse
, or checking out
our list of the top email marketing services in 2023
.
FAQ
Is Benchmark Email free?
Benchmark has a free plan. With a free account, you can add unlimited subscribers and send up to 250 emails per month. This plan includes email newsletters, basic automations, signup forms, reporting, and over 1,500 app integrations.
How much does Benchmark email cost?
Benchmark's subscriber-based plans start at

$

8.00

 per month for 500 contacts. Send-based plans start at $40 per month for 10,000 email sends. If you're thinking about signing up for a paid plan, make sure you look at our Benchmark coupons first.
What is the cheapest email marketing service?
For me, the cheapest and best value email marketing service is AWeber, which has one of the most generous free plans available. With a free AWeber account, you can add up to 500 subscribers and send up to 3,000 emails per month. You can also create unlimited landing pages, set up advanced automations, and add as many users as you need. If you're still undecided, make sure you look at our list of the best email marketing services in 2023.
Which is better: Mailchimp or Sendinblue?
Whether you choose a free or a paid plan, Sendinblue is better than Mailchimp. With Sendinblue's free plan, you can add unlimited subscribers and send up to 300 emails per day. With a paid Sendinblue account, you get multi-user access, advanced reporting, and no daily sending limits. In addition, Mailchimp has strict rules – such as banning affiliate marketing – and has been known to block users and delete their data with no advance warning.