This comparison was never going to be easy. After all, ActiveCampaign and GetResponse are two of the biggest names in the email marketing space.
However, after spending the past few weeks testing ActiveCampaign vs GetResponse, Active Campaign came ahead – but just barely.
Both platforms offer all the tools required to set up successful email marketing campaigns. But
ActiveCampaign secured small wins with its advanced analytics suite and unmatched automation tools
, offering marginally more than GetResponse when it mattered the most. That said, both ActiveCampaign and GetResponse have strengths and weaknesses. This comparison will help you choose the platform that's best suited to your specific needs. It's also worth noting that
ActiveCampaign and GetResponse both offer free trials
– so that's always an option for marketers who prefer a more hands-on approach.
Features
GetResponse Offers a Lot, but ActiveCampaign Makes a Stronger Impression
When it comes to general features, GetResponse and ActiveCampaign are pretty comparable.
With both services offering a wide range of tools, I managed to set up several email campaigns using each of them in a matter of hours
.
Email Templates
I'll touch on templates first, as they're likely the first thing you'll notice when setting up your emails. GetResponse's template selection is quite extensive. Early during the setup process, I was greeted by
more than a hundred high-quality, mobile-responsive templates.
However, that's almost 400 fewer than promised
– GetResponse's website says their database contains 500 templates!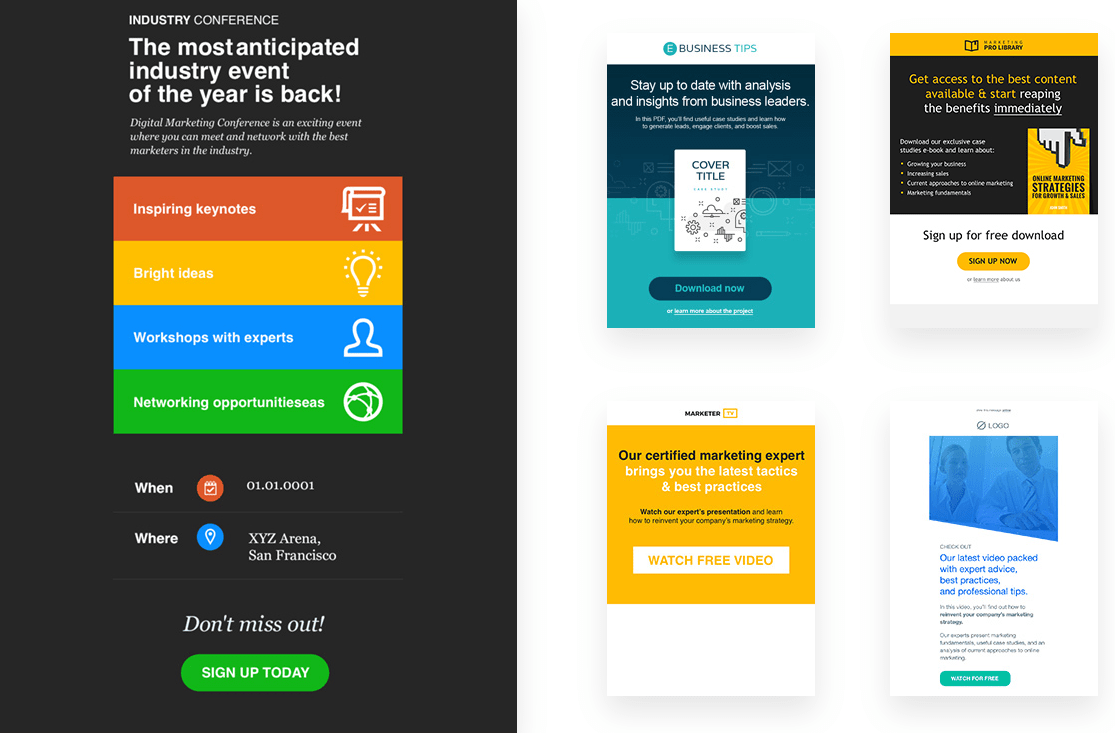 ActiveCampaign offers slightly more options (125+ vs. 116+), and I noticed a clear preference for modern, minimalistic designs
, which is definitely a good thing. Both libraries contain enough templates to cover most – if not all – of your email marketing needs. You'll find plenty of newsletters, e-commerce, and holiday templates, as well as templates designed for specific industries such as travel, fitness, retail, health, and so on. However,
GetResponse does a slightly better job organizing all these templates by splitting its library into sections.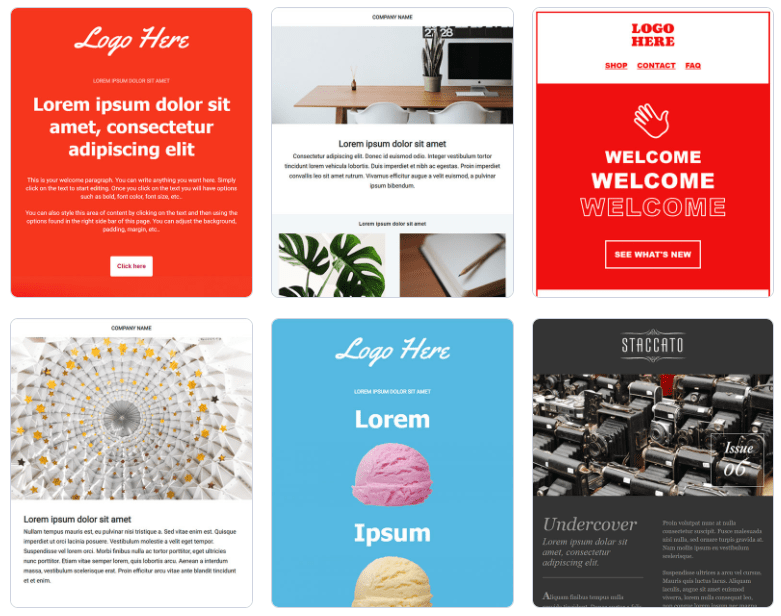 Automation
Being able to send super-specialized automated emails can make your marketing really stand out, and this is where both ActiveCampaign and GetResponse truly shine. Let's say you've set up an automated welcome email when someone signs up for your newsletter, and you want to automatically send them a promotional email a week later. You'll find that
both platforms can help you automate mailouts based on your selected segment's location, their past email behavior, page visits, links, purchases
…and the list goes on. That said, it's worth noting that
automation is relatively limited on both budget plans
. ActiveCampaign's automations map is only available with the
$
49.00
/month Plus plan. Similarly, to access GetResponse's advanced marketing automation tools (besides basic autoresponders), you'd have to opt for the
$
15.58
/month Plus plan.
Integrations
Now, let's talk about integrations. While both platforms integrate with Zapier (a third-party tool that helps you easily automate tasks between apps),
ActiveCampaign is one of the few email marketing services (EMS) with a built-in SMS marketing automation system.
At first glance, it seemed like both services offered similar integrations. All the usual suspects were there – CRMs, CMSs, and social and e-commerce platforms. However,
ActiveCampaign offers significantly more integrations than GetResponse (870+ vs. 150+).
Landing Pages
Both services provide easy-to-use and responsive drag-and-drop landing page builders. However,
GetResponse snags an easy win as its builder isn't locked behind a more expensive plan
– you have to
sign up for ActiveCampaign's Plus plan
 to use its builder.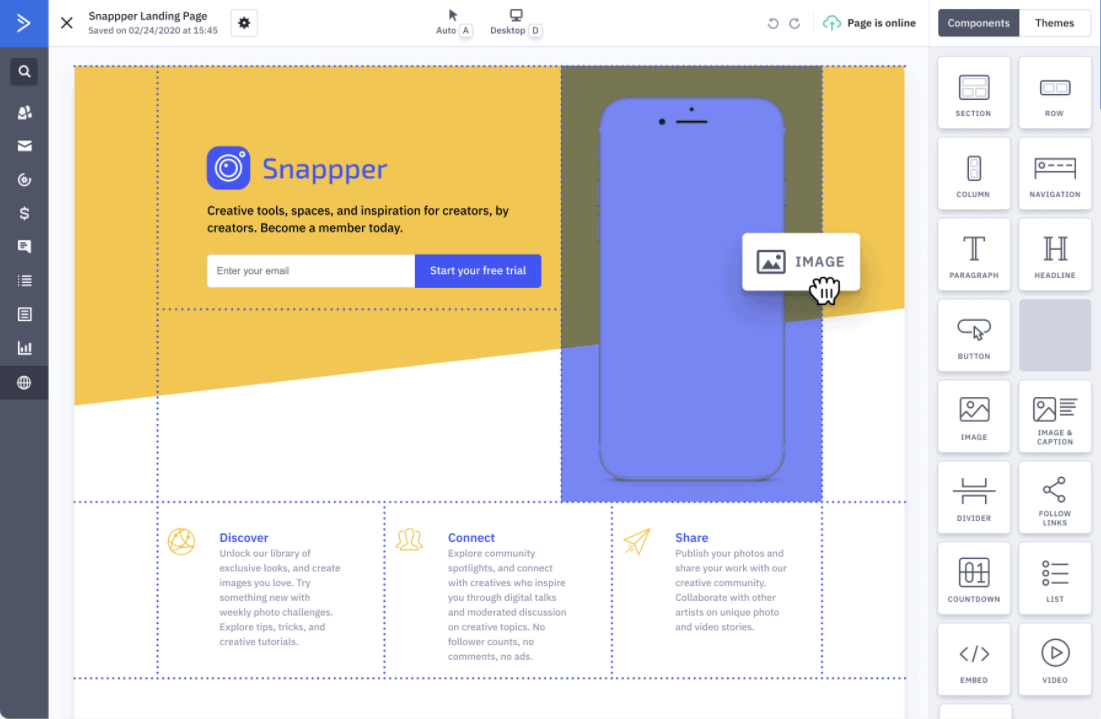 A/B Testing & RTL Languages
While both platforms offer A/B testing tools, ActiveCampaign allows users to split test entire automated workflows.
Unfortunately, that feature is only available on the Professional and Enterprise plans. Another inconvenience that can prove a deal-breaker for some is ActiveCampaign's limited support for right-to-left (RTL) languages like Hebrew and Arabic. With ActiveCampaign, RTL languages only work in raw HTML blocks or custom HTML templates.
GetResponse, on the other hand, offers full support for RTL languages.
ActiveCampaign just wins this round. It's got more templates, offers more integrations, and comes with a slightly more advanced automation system
. Let's be honest, there's a reason it gets a 4.8 out of 5 in our ActiveCampaign review.
GetResponse offers better support for RTL languages and provides a landing page builder on the
cheapest plan
.
Ease of Use
Both ActiveCampaign and GetResponse Make Email Automation Easy
I very quickly discovered that
both ActiveCampaign and GetResponse were designed with ease of use in mind
. Whether you're a seasoned email marketing pro or someone with zero experience, you won't have any trouble navigating either platform.
In each case, it took me just over an hour to set up a simple test campaign.
However, I have to mention that
ActiveCampaign's user interface did seem cleaner, allowing me to finish tasks just a little bit faster
. ActiveCampaign and GetResponse both provide intuitive drag-and-drop email builders, letting you design your own unique emails without much hassle.
It's as simple as picking a template that looks good, then adding additional elements and text
. The same is true for the landing page builders, although remember that ActiveCampaign locks its landing page builder behind the Plus plan.
Segmentation was also relatively straightforward, even within both platforms' highly advanced automation systems
. My segments were simple, limited to gender and location, but both ActiveCampaign and GetResponse offer the option for precise segmentation, too. There's no clear winner when it comes to opt-in forms, either. It all depends on your individual needs
.
For example,
ActiveCampaign has inline forms and plenty of floating forms and boxes
. At the same time,
GetResponse offers a more aggressive approach with fixed bar forms, modal exit pop-ups, and pop-ups that shake
to get the user's attention. Personally, I'm not a fan of super-aggressive marketing, so I'd opt for ActiveCampaign.
Deliverability
Percentages Don't Really Mean Anything
No one wants to spend hours setting up campaigns only to have their emails end up in their subscribers' promotions inbox – or, heaven forbid, their spam/junk folder. We often see people running tests and trying to quantify deliverability results with some random percentage rate.
Here at Website Planet, we know that these numbers don't say much about the EMS in question.
On the contrary, low deliverability rates often indicate there's something wrong on the user's end. Email marketing platforms are designed to send your emails to your recipient's primary inboxes – the rest is on you. So, instead of trusting arbitrary figures,
I suggest focusing on what you can do to boost your deliverability rate.
The first thing you need to check for is DKIM authentication. Long story short, it helps email service providers verify that the emails you send are actually sent from you.
Both ActiveCampaign and GetResponse have DKIM authentication,
and activating it will increase your chances of your emails getting through. You then need to check each service's anti-spam policy – the stricter the rules, the better for honorable marketers like you. Sending spam will always result in account termination, but it's even better when platforms use safeguards that make it hard for spam to be sent in the first place.
Unlike GetResponse, ActiveCampaign didn't pass my filter test, as I was allowed to import several spam emails without issues.
This might seem like a small thing, and I'm sure ActiveCampaign blocks suspicious emails before harm is done. However,
GetResponse's zero tolerance for spammy practices and efforts to maintain its (and consequently its users') reputation mean that it wins out here.
The most reliable way to get emails delivered and significantly increase your deliverability rate is by using a dedicated IP address.
Both ActiveCampaign and GetResponse offer dedicated IPs, but unfortunately, those are only available with the most expensive plans.
That would be a minimum of $279/month for ActiveCampaign's Enterprise plan (500 contacts) and a minimum of approximately $200/month for GetResponse's Max plan (1,000 contacts).
If a dedicated IP address is a requirement, GetResponse is the more affordable choice
.
Reporting and Analytics
ActiveCampaign Is All About the Stats… GetResponse Has Given up the Fight
Stats make a marketer's world go round. There's so much you can tell just by looking at a well-laid-out graph: What's working? What needs adjusting? This is the kind of information that every EMS should make available. And while both services offer statistical analyses,
ActiveCampaign's advanced analytics suite can't be compared to GetResponse's basic stats reports.
ActiveCampaign can generate numerous reports based on email campaigns, automation workflows, contacts, and even self-defined goals.
Aside from email opens and link clicks, the email campaign report comes with more useful information. For example, it can tell you who opened your emails and from where, and who unsubscribed. You can also check out hourly engagement trends to find out more about the exact times people open your emails and engage with your links – pretty neat. So, how does GetResponse respond to ActiveCampaign's detailed analytics tools? Well, let's just say they're still trying to figure that out themselves.
GetResponse is a great email marketing platform – just take one look at our GetResponse review – but it doesn't seem to value stats, which really is a shame.
Its analytics tab shows how many contacts opened, clicked, bounced, or unsubscribed – and that's pretty much it.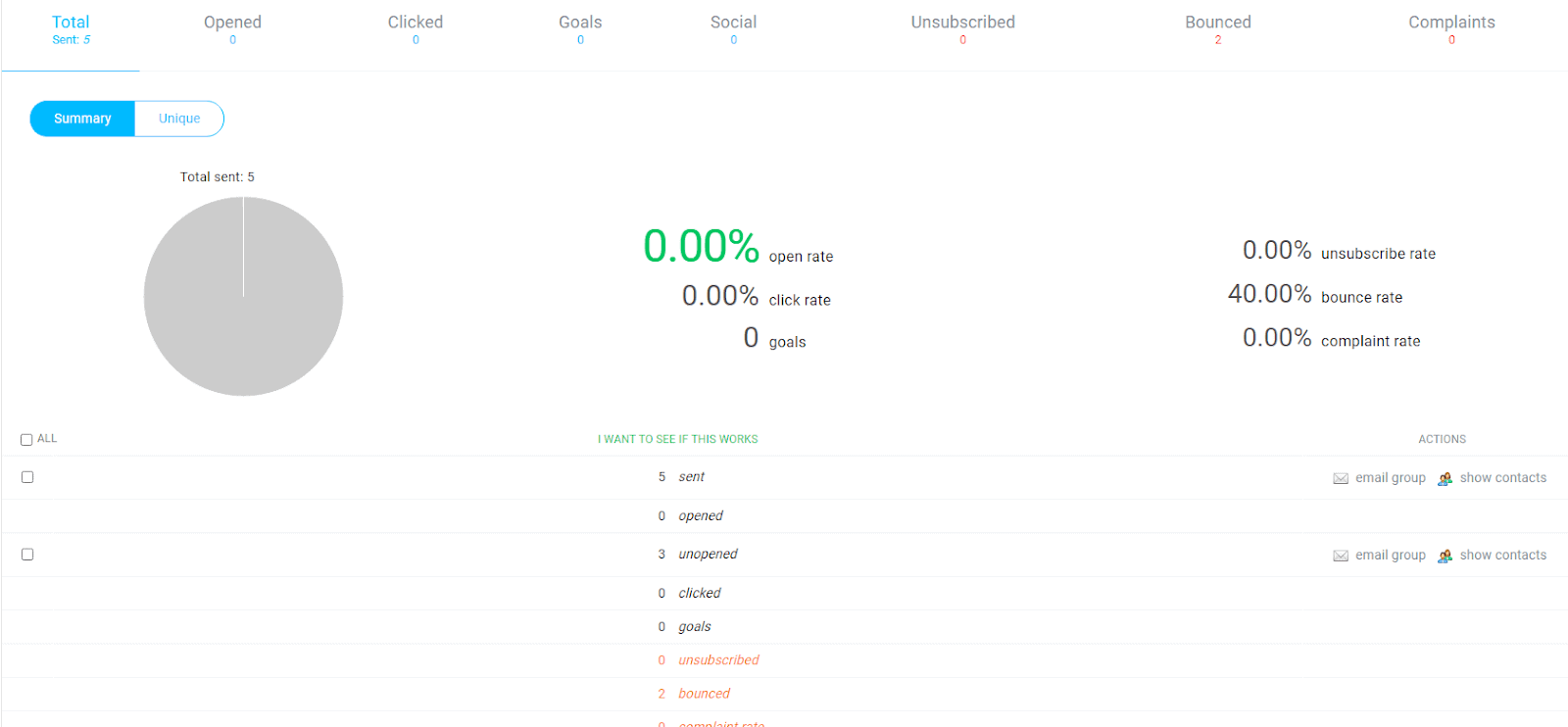 You don't
need
detailed analytics to run successful email marketing campaigns, especially if you're new to all this. But, as you experiment further and refine your marketing strategies, you'll find that tracking your stats can make a huge difference.
Pricing
ActiveCampaign's Basic Plan Is Cheaper, but GetResponse Offers More Competitively-Priced Mid- and Top-Tier Plans
Both ActiveCampaign and GetResponse have fairly affordable basic plans, but prices quickly rack up as your contact lists grow. The differences in pricing aren't huge, but they're not insignificant either. And
GetResponse's mid- and top-tier plans are cheaper
. If you still don't know which platform is the best for you, this section might help you decide. There's a lot to go through here, so let's dive right into it.
Here's What You Get for Free
ActiveCampaign doesn't offer a free plan, but you can benefit from its
14-day free trial
.
The trial allows you to experiment with most of the features offered with the Professional plan (although you're limited to 100 contacts and 100 emails sent)
, and you don't even need a credit card to get started. Mind you, two weeks is quite a short testing period, especially when you compare it to the likes of
GetResponse, which comes with an unrestricted 30-day trial
, and
Constant Contact, which offers US users a 60-day free trial
. While Get Response doesn't offer a free plan, with such feature-heavy platforms, you'll be grateful for the longer trial period.
You can take advantage of this extra time to make full use of the platform, but note that you can only have a maximum of 1,000 contacts and 1,000 unique visits on your landing pages.
Here's What You Get If You Pay
ActiveCampaign's plans scale based on the number of contacts on your lists. Starting at just
$
29.00
 per month, the cheapest plan is limited to 500 subscribers. It will allow you to send an unlimited number of emails and gives you access to most of the platform's features.
For a list of 2,500 contacts, ActiveCampaign's Lite plan will set you back $55/month.
For the same number of contacts, the Plus plan starts at $125, the Professional Plan at $159, and the Enterprise plan at $279. Custom pricing is available for large (25,000+) contact lists. You can save on these figures by purchasing an annual plan, and don't forget you can find ActiveCampaign discounts on our
coupon page
. Like ActiveCampaign, GetResponse offers four different plans that scale in price based on the total number of your contacts. The Basic plan starts at
$
0
 per month, unlocking most features and allowing you to send unlimited emails to 1,000 subscribers.
For a list of 2,500, GetResponse's Basic plan is set at $25, the Plus plan is set at $59, and the Professional plan is set at $119.
Custom pricing is also available with the Max plan, and you can save up to 18% or 30% with the annual and biennial plans, respectively. Note how
GetResponse's Plus plan
 is almost the same price as ActiveCampaign's entry Lite plan
. If price is an important factor for you, that might make your decision. That's the short answer. If you want the longer, more detailed answer, we've put together a detailed breakdown of
Getresponse's pricing plans
and
ActiveCampaign pricing plans
too. At this point, I should also mention that neither provider offers a money-back guarantee. So, if you sign up for an annual plan to save money and then realize it's not for you, you won't get your money back. For that reason, I'd suggest you start with a monthly plan and upgrade to an annual/biennial plan when you're ready to commit.
ActiveCampaign vs. GetResponse Pricing Comparison Table
ActiveCampaign Lite
GetResponse Basic
ActiveCampaign Plus
GetResponse Plus
Price

$

29.00

/month

$

0

/month

$125/month

$59/month

Number of contacts
500
1,000
2,500
2,500
Number of emails
Unlimited
Unlimited
Unlimited
Unlimited
Number of users
3
1
25
3
Integrations
870+
150+
870+
150+
Discount for annual plans
40% ($9)
18% ($12.30)
20.8% ($99)
18% ($48.38)
Discount for biennial plans
N/A ($9)
30% ($10.50)
N/A ($99)
30% ($41.30)
Money-back guarantee
No
No
No
No
Support
Yes, Another Draw!
ActiveCampaign and GetResponse are known for their incredible customer support.
Both platforms answer queries via email and live chat. Unfortunately, phone support is only available with their most expensive plans – that's Enterprise for ActiveCampaign and Max for GetResponse. Oblivious to the time difference between Europe and the USA, I sent my question through email at around 5 am EST – oops! This didn't faze ActiveCampaign;
they replied to my email within a few minutes.
Okay, they didn't answer my question in detail, but it was quite a general question to begin with.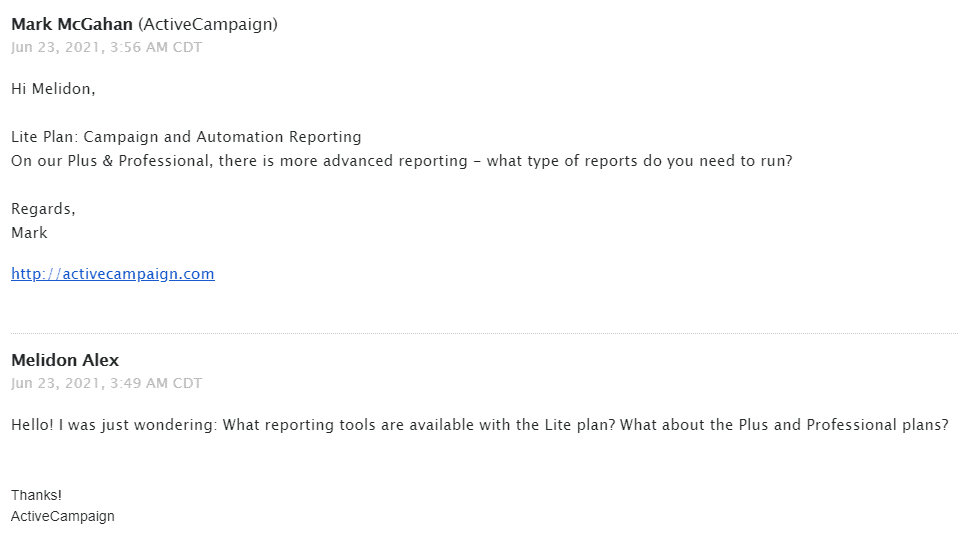 GetResponse replied after an hour or so. And
while it might have taken a bit longer for them to get back to me,
it was definitely worth the wait.
Their answer was clear and complete.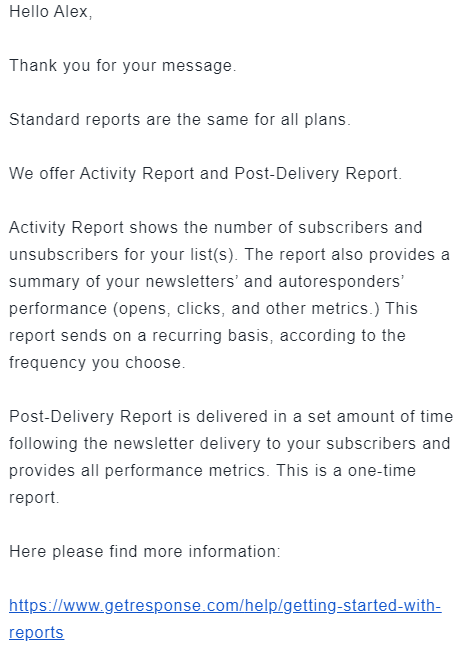 ActiveCampaign allows you to submit a support request in six languages: English, Spanish, German, Italian, French, and Portuguese. GetResponse provides email support in eight languages: English, Spanish, German, Italian, French, Portuguese, Polish, and Russian.
ActiveCampaign vs GetResponse – The Verdict
The GetResponse vs ActiveCampaign battle was fought long and hard by both challengers. But there can only be one EMS champion.
ActiveCampaign narrowly wins.
It offers SMS automation, considerably more integrations, and more email templates, as well as better and more advanced analytics tools.
GetResponse doesn't trail that far behind.
It offers native support for RTL languages,
its mid- and top-tier plans are cheaper
, and its landing page builder is available on all plans. Sadly, that's just not enough to turn the tide.
ActiveCampaign reigns supreme
, at least for the time being…
ActiveCampaign vs GetResponse Comparison Table
Native SMS automation
Yes
No
Apps and integrations
870+
150+
Landing Page Builder
Need to purchase the Professional plan to access the landing page builder
Available with all plans
A/B testing
Split testing + automated workflow split tests with the Pro plan
Split testing, no automated workflow split tests
Native RTL language support
No
Yes
Reporting and analytics
Excellent analytics suite
Limited stats and reports available
Pricing
Plans are on the expensive side (except for the budget Lite plan)
Plans are relatively cheap
FAQ
Is ActiveCampaign better than MailChimp?
MailChimp may be more popular, but ActiveCampaign is the better email marketing platform. It comes with more features, better marketing automation, and an unlimited number of emails to send every month.
Can I use ActiveCampaign for free?
ActiveCampaign isn't free, but it does offer a risk-free 14-day trial. Our coupon page is filled with deals and coupons on ActiveCampaign, GetResponse, and many other email marketing platforms. If you're looking for a service that is completely free, we've broken down five of the best really free email marketing services.
Why is ActiveCampaign the best?
ActiveCampaign consistently outperforms other platforms, ranking first in areas such as automation, segmentation, and sign-up form flexibility – just take a look at our ActiveCampaign review. Its Lite plan is packed with many useful features, and its advanced automation system is one of the best on the market.
Which is better, GetResponse vs AWeber?
It's a very close one. Having said that, GetResponse has to win as it offers better templates, a more advanced automation system, and a slightly cleaner interface. AWeber does win the analytics battle, though, so keep that in mind. Check out our detailed GetResponse vs AWeber comparison here.
Can I build landing pages with GetResponse?
You can! What's more, GetResponse's landing page builder is one of the best out there. It comes with over 200 templates, it's super-easy to use, and you can create an unlimited number of pages at no extra cost. The best part – all this is available with GetResponse's cheapest plan! Learn more about how popular EMS stack up against each other by visiting our comprehensive email marketing category page.