WordPress.com and its brother, self-hosted WordPress.org, are by far the biggest names in site building, powering a significant portion of all websites — over 30%
. Unlike open-source WordPress.org,
WordPress.com
is a proprietary software platform
 you'll need to pay to use
. In order to decide whether WordPress.com is worth the money for your needs and budget, you need to individually look at each pricing plan, compare the platform with some viable alternatives, and weigh all of this against certain general, yet important considerations. Also keep in mind that there are "too good to be true" website builders out there, and even WordPress.com comes with its own catches you should be aware of.
Free WordPress — Worth Your Time?
WordPress offers a free plan you can use indefinitely to host your website and test out the platform before committing to it
. The free plan is pretty standard and comes with all the usual limitations, such as the fact that your website needs to be hosted on a wordpress.com subdomain, and that WordPress banners and ads will be displayed. Further restrictions are that
you don't have access to plugins; you need to pay for premium templates; customizations tools are only basic; you're limited to community support; and you get only the most standard Jetpack features
, such as website activity statistics and some marketing tools. By contrast, the free plans of other platforms like
Wix
and
Jimdo
provide you with full access to the drag-and-drop website builder. Furthermore, on Wix, you can even install apps from the marketplace. To learn more about these alternatives, feel free to read our
Wix review
or our
Jimdo review
.
One huge upside is that WordPress offers unlimited bandwidth as well as a relatively generous 3 GB of storage space
. Jimdo and Wix offer only 500 MB of storage as well as 2 GB and 1 GB of bandwidth, respectively. WordPress' free 3 GB of storage leaves plenty of room to include many webpages, as well as quite a bit of media on your website. In short, the free plan is great for running a basic website without your having to worry about storage limits. However, you won't be able to customize your website too much or add very many features.
WordPress Personal — A Beginner's Dream?
WordPress' first priced plan gets rid of banners and ads. It also provides a custom domain name, email and live chat support, and an upgraded 6 GB of storage space
. Another upside is that you unlock a higher tier of Jetpack features which include backups, website archives, and better website analytics. If you compare WordPress with the competition, Wix's first pricing plan actually costs a bit more and doesn't really improve much on its free plan. You still have very limited storage and bandwidth, and Wix branding ads are still displayed. Jimdo doesn't offer a similarly priced plan at all, and for similar features, you'll need to pay almost double the price on both those platforms.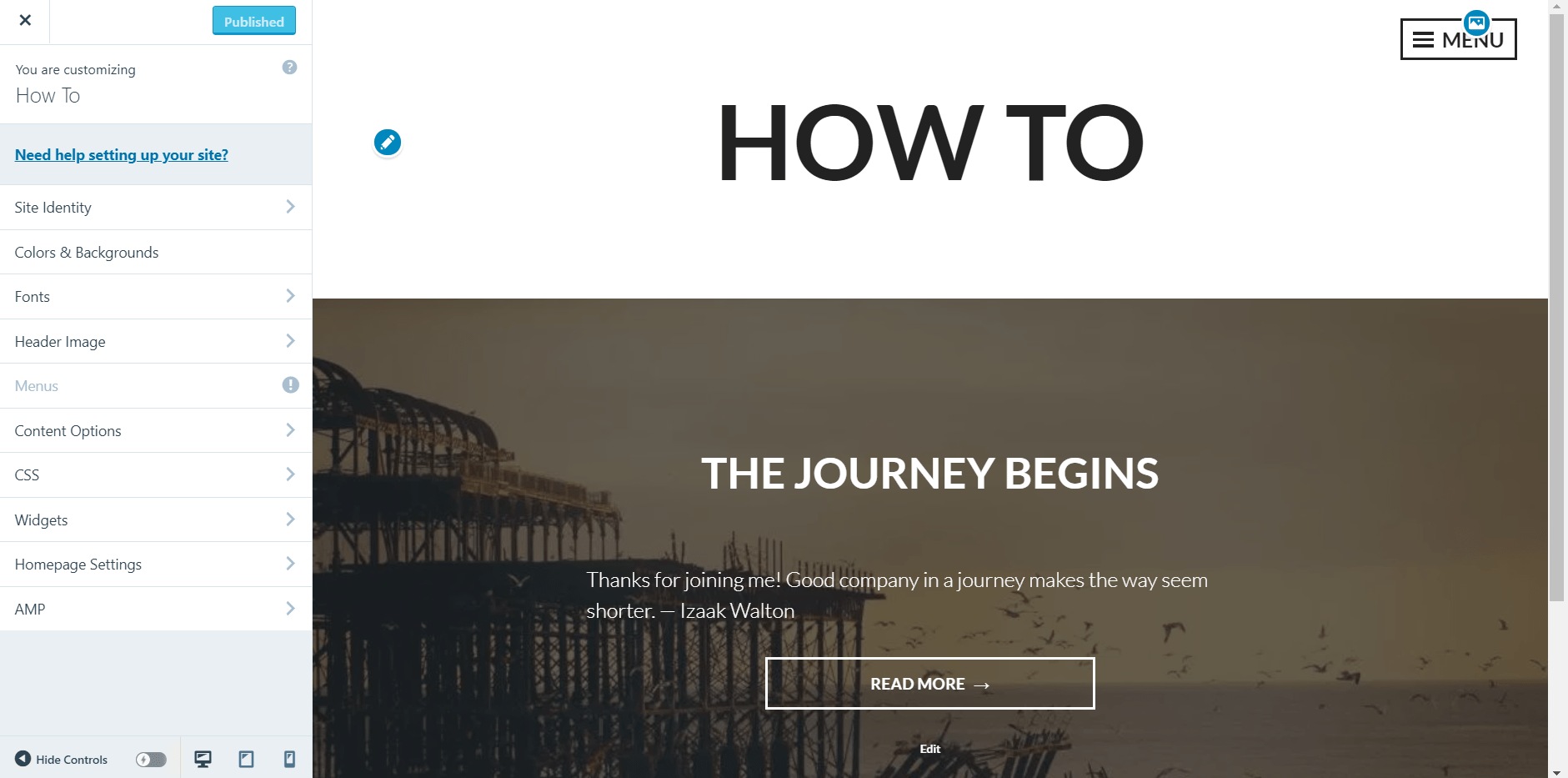 However, the one big downside is the fact that you're still severely limited in how much you can customize your website
, as shown above. If this isn't a huge concern for you, then WordPress Personal is probably one of the best value-for-money plans in its price class. The fact that you can have your own domain without WordPress branding means you can take total ownership of your website.
WordPress Premium — Truly "Premium" or Only Semi-Amateur?
Now, onto the big boys. If you've gotten this far, you're starting to look for more exceptional features that can really take your website to the next level. With the
WordPress' Premium plan
, you finally unlock the following blockbuster features:
Advanced customization. You unlock an extended variety of color schemes, background styles, and a list of styling options based on which theme you use. You can also finally customize your website more extensively using custom CSS styling.
Unlimited premium themes. WordPress has hundreds of premium templates you need to pay to use if you're subscribed to the Free or Personal plan. However, you get access to all of them with the Premium plan. There are almost 200 premium themes, which is only second to Wix in terms of quantity.
Simple payments and monetization. You can also finally start making money off your website by accepting simple PayPal payments as well as displaying your own pay-per-click ads.
Your Jetpack tools also get a decent upgrade.
You'll enjoy much more advanced WordPress.com SEO tools, as well as Google Analytics Integration, enhanced security, and a concierge setup service
if you don't have experience using any of these features. Your storage is also bumped up to 13 GB.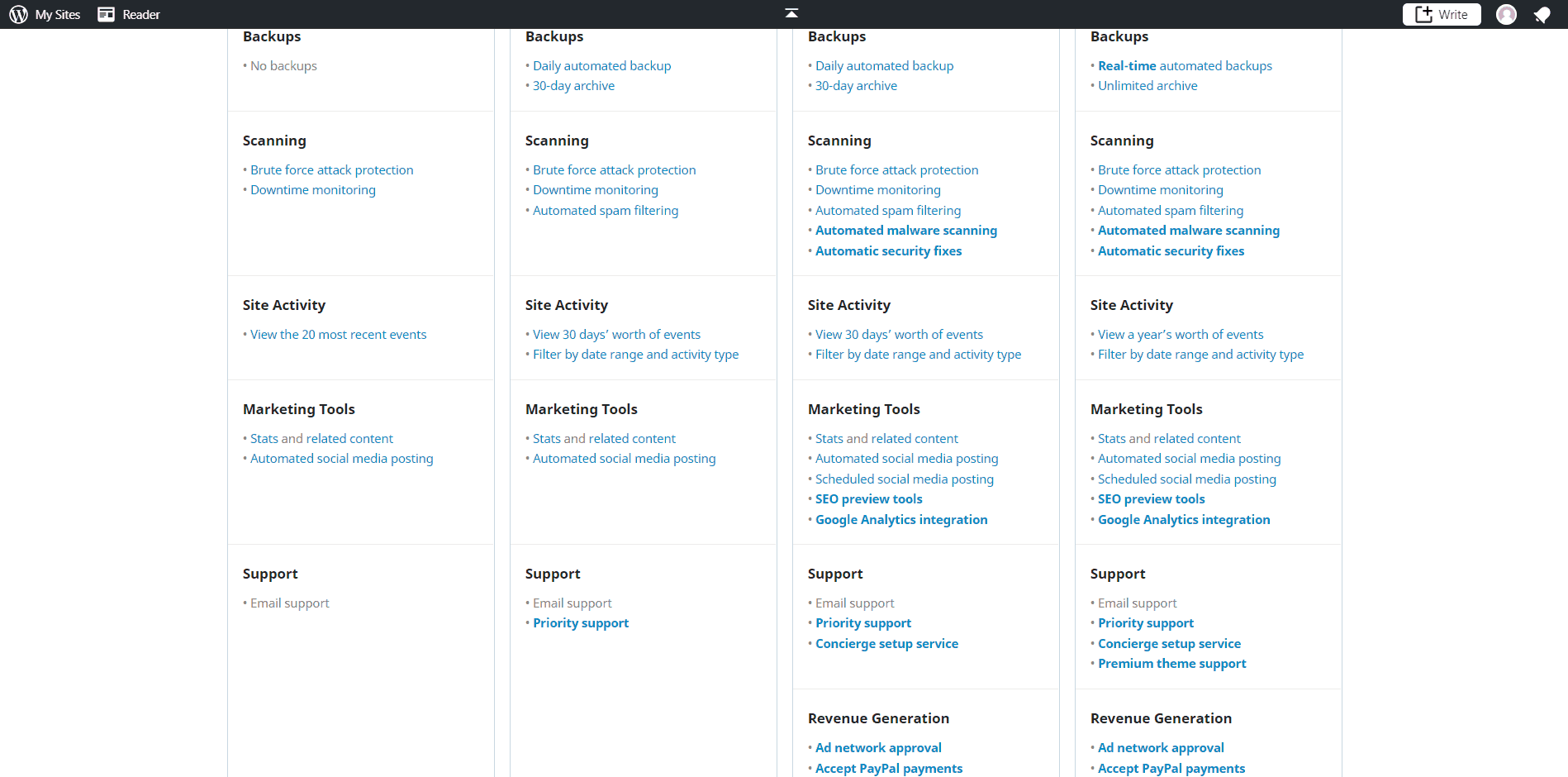 By contrast, the closest Wix and Jimdo plans provide only 3 GB and 5 GB of storage, respectively. You also have to pay more than double on both to unlock any kind of online store features. Once again, WordPress seems to be slightly ahead of the curve.
The customizability still isn't close to that of Wix or Jimdo, but at least you get premium themes for free
.
WordPress Business — Can It Handle Enterprise Needs?
The first thing you'll notice is that the WordPress Business plan is much more expensive than the Premium plan. With all the top features seemingly already covered, you're probably wondering what can justify the leap in the price. The short answer is that
with the Business plan, you unlock the ability to install third-party plugins and templates
. This means that not only do you finally get access to the repository of plugins on the WordPress platform, but you can also upload and install plugins and templates bought from other websites or marketplaces. This opens a whole new world of design possibilities and features. These will make your website truly unique and allow you to include all the functionality you need. Your new level of Jetpack features also includes real-time backups and website-wide search.
And as another huge bonus, you get access to premium support and unlimited storage
.
Compared with Jimdo and Wix, WordPress has the most expensive top-tier plan, albeit by just a little bit
. Both Jimdo and Wix also offer premium support with their top-tier plans, and these plans give you access to online stores that are much more advanced than anything on WordPress. However, Wix still caps your storage at 20 GB.
Overall Impression of WordPress Pricing
There are a few more general, yet important considerations you have to make when evaluating WordPress' pricing. First,
WordPress has an extremely generous 30-day money back guarantee
. This gives you ample time to play around with the platform and decide whether it's for you before committing your hard-earned money. Among WordPress' direct competitors, this offer is matched only by Weebly. Wix, Jimdo, Site123, and SimpleSite, however, all offer a 14-day money back guarantee, which is still generous. Second,
WordPress has a decent spread of four pricing plans
. The only similar services that offer more plans are
Wix
, with six; and
Weebly
and
Site123
, with five.
Jimdo
and
SimpleSite
have only three.
WordPress probably has the best balance between the number of options and the features you unlock with each plan
. For example, Wix's Connect Domain plan feels superfluous, and even the Unlimited and Combo plan could probably be merged. Third, WordPress.com's inclusive pricing means you have the minimal number of hidden costs to worry about, as their pricing already includes domain and WHOIS privacy for as long as your subscription is active.
The biggest catch is that WordPress.com doesn't offer any email hosting
, and you'll either need to set up email forwarding to another email address or purchase their G-Suite integration. This provides you with all the G-Suite apps as well as 30 GB of storage. This is the same price as the cheapest Wix ShoutOut plan. The difference is that this Basic plan doesn't limit you by storage but by the number of emails and shoutouts you can send per month. You can pay for more expensive plans with higher limits. Last,
WordPress generally provides better value than the other platforms, but only up until its Business plan
. The Business plan is slightly disappointing because, for that price, you definitely expect full online store functionality. But otherwise, compared with most competitors, WordPress' lower plans are cheaper, provide more bandwidth and storage, and come with decent features. The only exception is the much better customization options and drag-and-drop functionality available on other builders.