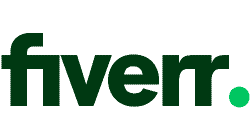 Save up to 20 % on your Fiverr Logo Design plan!
Limited-time offer - Don't miss it!
656 users used this coupon!
No design service or tool is right for everyone.
It's super frustrating to invest hours designing your logo and then discover that you can't use it freely,
or that the price you paid doesn't include the file formats you need. So before you spend precious time working your way through Wix Logo Maker's artificial intelligence (AI) wizard and editing your logo, check out my detailed Wix pricing guide below. I'll explain what's included in the available plans, and any hidden costs you need to be aware of. I'll also give you tips on who each Wix Logo Maker plan works best for, and who might need a different plan or different logo design service. Money matters to your business, so I'll do everything I can to make sure you get the logo you need without spending more than you have to. Before we get started, if you'd like to learn more about the features this tool has to offer, read our
in-depth Wix Logo Maker review
, or head over to our
expert comparison of the best logo design services
out there to see if there's a better alternative for you.
Which Pricing Plan Is Right for You?
Compared to some other DIY logo makers, Wix Logo Maker keeps its pricing fairly simple and straightforward. Technically, there are just two pricing plans:
Just Logo
Logo + Website
However, each of these plans is further subdivided into "tiers," so there are really more like six plans in all. Of course, the more you pay, the more you get. But the real question is this: How much do you really need?
Are all the super-premium bells and whistles actually going to help your business, or would you get more value from the cheapest option?
Keep reading to find out.
The Free Plan
Okay, this isn't exactly a plan – it's more a summary of how much Wix Logo Maker allows you to do before making you pay for something. But since the logo maker offers a few nice freebies to get you started, they are definitely worth pointing out. First of all,
Wix Logo Maker is 100% free to use.
You will have to sign up for a free Wix account to get started, but you don't need a paid Wix subscription of any kind to create your logo. All you have to do is
go to the Wix Logo Maker homepage
 and create your account. You'll unlock the entire logo maker without any limitations, and you can design your logo without paying a penny.
You can even download a sample file of your logo for non-commercial use
. Simply save your logo, scroll to the bottom of the checkout page, and click
Download the free version
for instant download.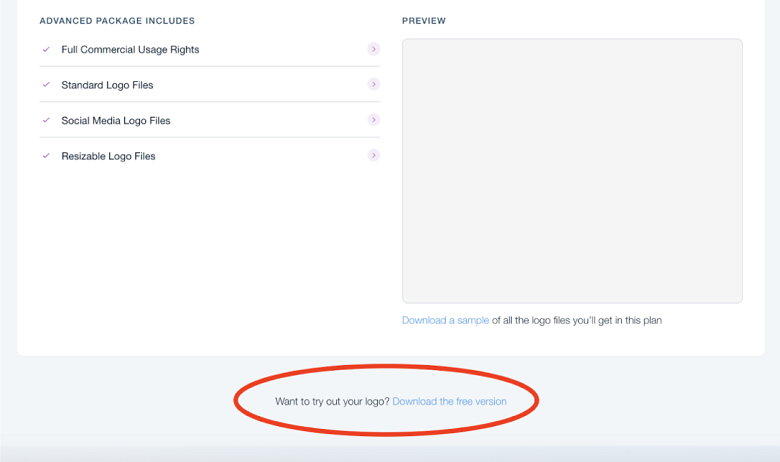 The free sample is a low-resolution image, and you can't use it to brand your business until you pay for the higher-res files. But it's great for sharing with colleagues for feedback, or for getting an idea of how your new logo might look on your website. And if you just want a cute logo for a non-business site, such as a personal blog, the free download might actually be all you need. If you want free (and I mean
really
free), here's another fantastic option for you:
DesignEvo
. With DesignEvo,
you can design a snazzy new logo, download it, and even use it for commercial purposes – all for free.
The only catch is you have to credit DesignEvo wherever you use it.
Click here to find out how to use Wix Logo Maker to create a logo for your personal YouTube channel.
The Cheapest Plans: Just Logo Options
Okay, now that the freebies are out of the way, let's move onto the paid (real) plans. The cheapest plan type, Just Logo, offers two pricing tiers: Basic and Advanced.
Both Just Logo plans involve a one-time payment.
There are no ongoing fees.
Just Logo (Basic) – Best for Online Use Only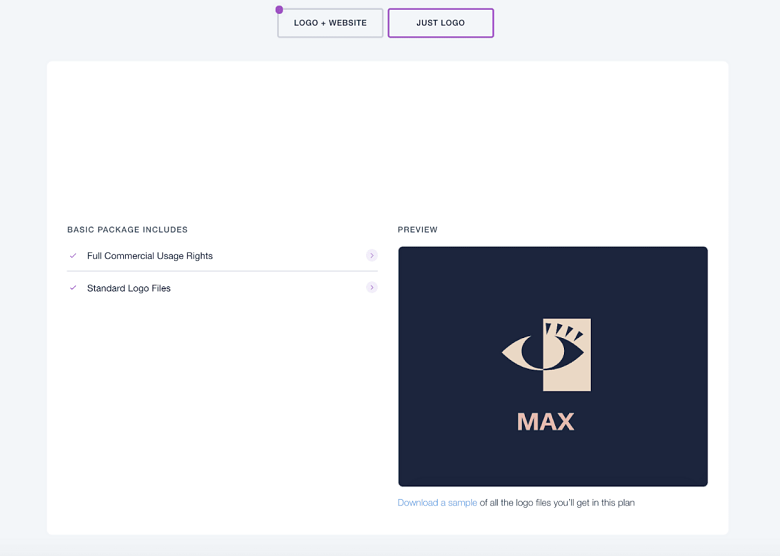 What's Included?
The cheapest option, Just Logo – Basic, gives you full commercial usage rights for your logo, along with so-called "standard logo files":
2 PNGs in your original logo colors
2 PNGs in black
2 PNGs in white
1 PNG in grayscale
1 PNG in monochrome
One thing I like a lot is that
five of these eight PNGs have transparent backgrounds
(shown as gray checkerboards in the screenshot below).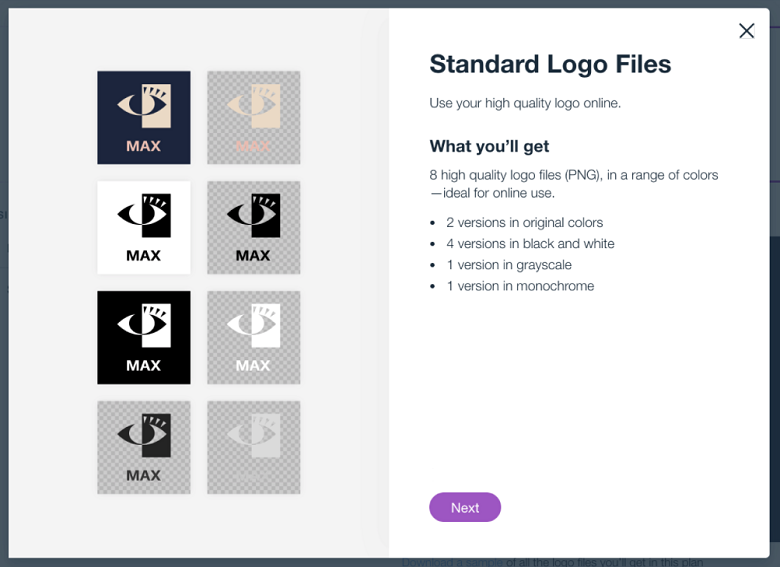 Why do transparent logo files matter? Transparency will allow you to place your logo over any background, including an image, without a weird or distracting shape surrounding it.
Who Is This Plan Good For?
At a one-time payment of just $20, the Basic plan is very affordable for small businesses, budget-conscious start-ups, or anyone exploring a new side gig. But really, if that's your situation, there's a good chance you'd be better off
heading over to Fiverr, where you can hire a designer to create your logo for you for as little as $5.
The low Basic price does come with some disadvantages. PNG files cannot be easily edited, and they cannot be scaled any larger (at least, not without losing quality and looking pixelated, which you definitely don't want for your brand).
This plan is fine if you will only display your logo online
– say, as a Facebook profile picture, in a website header, or as an email signature. So if you're just looking for a cheap logo for a personal blog or a small, web-only storefront, this plan would likely be good enough. However, if you ever want to print your logo at large sizes, or if you want to be able to edit it with vector graphics software like Adobe Illustrator, this plan is
not
the right choice for you. Serious businesses will need the versatility of the next-higher plan: Just Logo – Advanced
.
Just Logo (Advanced) – Best Logo-Only Plan for Printing and Editing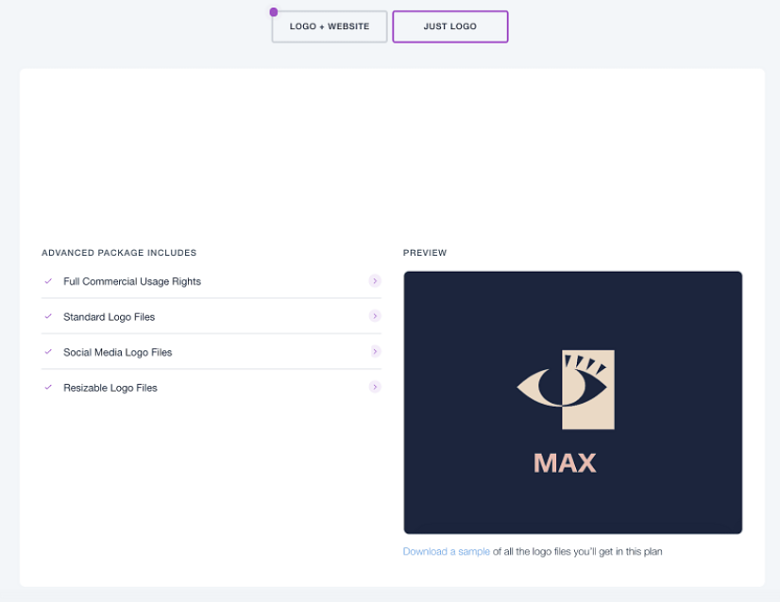 What's Included?
For a one-time payment of $50, the Advanced Just Logo plan includes some extra-useful files for printing, editing, and social media display. And of course, it also includes the same commercial rights and "standard logo files" as the Basic plan.
You'll get 40+ logo versions
that have been pre-sized for various social media platforms:
Facebook
Instagram
Twitter
YouTube
LinkedIn
Etsy
You'll also receive
five vector files:
Color
Black
White
Grayscale
Monochrome
So what's the big deal with vector files? Logos saved as scalable vector graphics (SVG) files can be infinitely scaled without losing quality. So SVGs are ideal for printing your logo on merchandise, advertisements, and promo items. Vector files can also be edited in design software like Adobe Illustrator.
Who Is This Plan Good For?
The Advanced Just Logo plan is basically a must if you ever want to print your logo
. As long as you can afford the price difference, the added versatility compared to the Basic plan is definitely worth it for most businesses. Plus, if you have access to vector graphics software and the know-how to use it, SVG files will allow you to edit your logo for free later. That's super valuable, since
Wix Logo Maker plans offer no free edits after purchase.
(To be clear, you can use the logo maker to edit your logo after you buy it, but you'll have to pay again to download the revised files.) Wix Logo Maker's Advanced plan may sound expensive, but it's more or less equivalent to other high-quality logo makers. It's significantly cheaper than Looka's comparable plan and almost exactly equal to DesignEvo's. One notable difference with both of these alternatives, though, is free post-purchase edits; on
Looka
, you can make free edits within 72 hours of purchasing your logo, and on
DesignEvo
, you can make unlimited free edits forever.
The Premium Plans: Logo + Website
If all you need is a logo and absolutely nothing more, then we're done! You can stop reading right here, because the three plans I'm going to cover now come with much more than logo files. On the other hand, if you're in need of both a logo and a website, read on!
Logo + Website plans are subscription only
, with three pricing tiers available: Value, Professional, and Deluxe.
Logo + Website (Value) – Best for Smaller/Personal Websites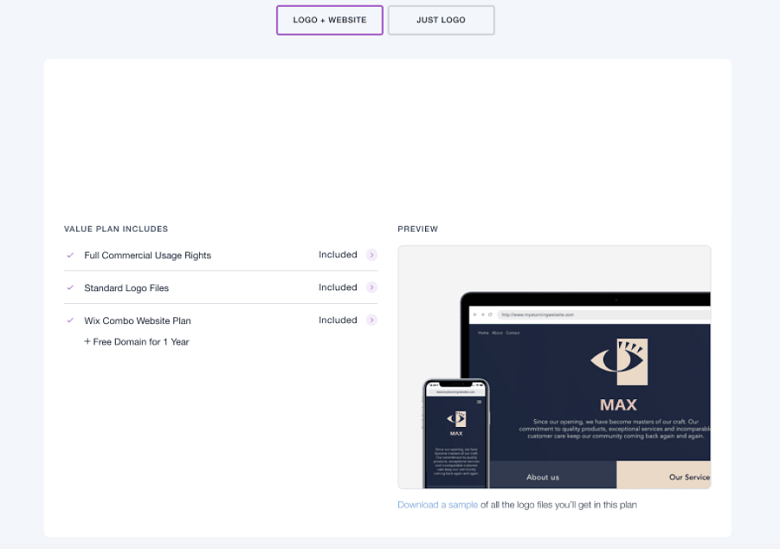 What's Included?
This plan gives you the "standard logo files" (eight PNGs, same as Just Logo Basic plan), plus a Wix Combo Website Plan
. Your site will be designed to match your logo, and you can make further customizations with Wix's drag-and-drop website builder. The Wix Combo Website Plan comes with:
Up to 3 GB of storage
Up to 2 GB of bandwidth
A free custom domain for one year
Not sure if the Wix website builder is the right choice for you? Learn more in our
expert Wix review.
Who Is This Plan Good For?
If you don't have a website already, the Value plan is a good way to start building a branded online presence. The limited storage and bandwidth are sufficient for a personal or basic business website – but not for anything too snazzy, like e-commerce functionality or a lot of videos. Also keep in mind that
this plan does not include scalable vector files of your logo.
I assumed that it would, since subscriptions always seem "fancier" than plans with one-time payments. But I was wrong…so don't make the same mistake I did! If you need a website plus scalable vector files of your logo, you'll have to pay for the next-higher plan: Professional. If you're looking for the absolute lowest-cost package for your logo and website,
Tailor Brands
 offers a similar plan (called Standard) for about half the price. You'll actually get e-commerce functionality with the Tailor Brands option, too, so you can sell your products online. Unfortunately, you still won't get scalable SVG files of your logo. I should mention that at this point, we're getting into some scenarios where
Wix Logo Maker might not be your best choice.
For example, you could sign up for just a Wix website plan, then
go over to Fiverr
and get your logo designed by a professional for as little as $5. You might end up saving money
and
liking your logo better, while still getting all the website features you need. As part of his quest to find
the best new logo for Website Planet
, my teammate hired three different logo designers on Fiverr for three
very
different prices. Read all about his experience and see if you can actually get a quality logo for $5 in our
in-depth Fiverr review
. If you're interested in going the Fiverr route for logo design and then using Wix just for site building,
click here to read more about Wix pricing plans
. (Trust me, you can save a lot of time and money by choosing the right one!)
Logo + Website (Professional) – The Best Option for Most Businesses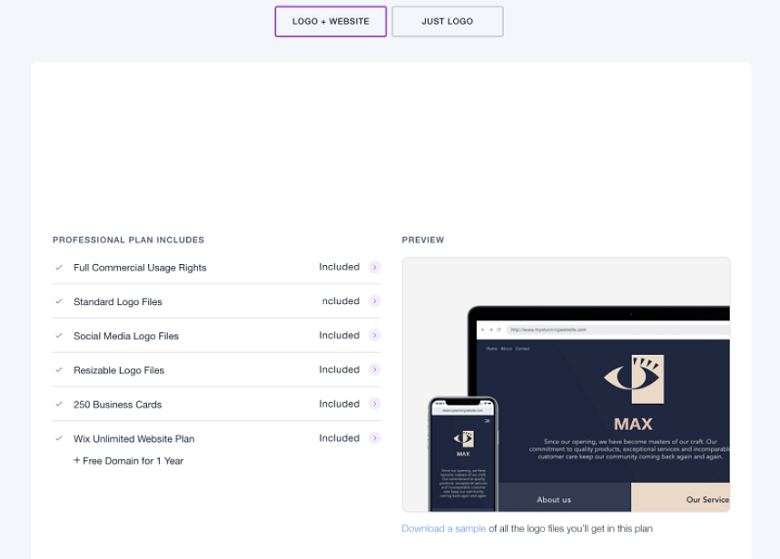 What's Included?
Along with "standard logo files," social media logo files, and scalable vector files, the
Professional plan offers two other nice add-ons
:
250 business cards, printed and delivered to you
A Wix Unlimited Website Plan
The Wix Unlimited Website Plan gives you 10GB of storage, unlimited bandwidth, and free vouchers for ads on Google, Microsoft, and more.
Who Is This Plan Good For?
This plan is a great middle ground for most small businesses, entrepreneurs, and freelancers.
The scalable vector logo files are much more versatile than PNGs alone, and the added website storage and bandwidth will give you room to grow your website (and your brand). However, if you plan to keep your business very small or use your website and logo for personal purposes only, the added monthly cost may not be worth it. Before you waste time looking for a comparable plan elsewhere…I'll tell you that there really isn't one. Wix is the only logo maker I've found that bundles SVG files with an ongoing website plan.
Tailor Brands
 offers a Premium plan that's slightly cheaper than this one, but you won't get SVG files and of course won't get to use Wix's feature-rich website builder. If you
really
want to bundle your logo and website, Wix will likely be the most seamless way to do it.
Logo + Website (Deluxe) – Best for VIP Customer Service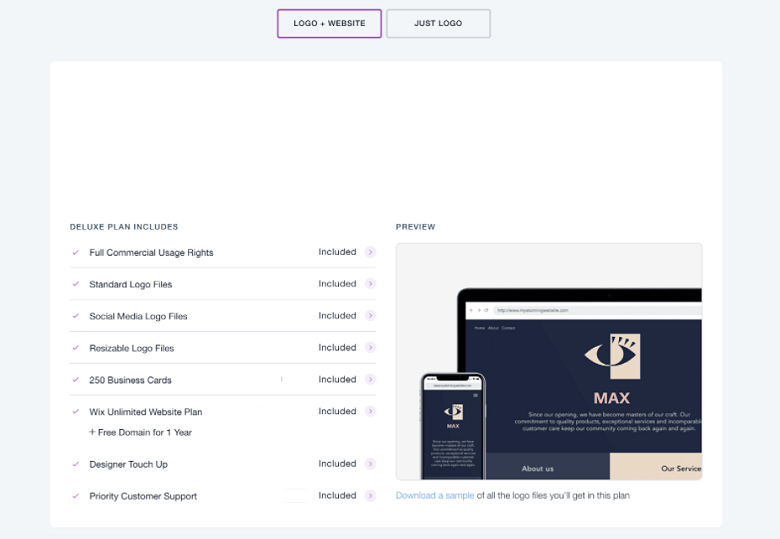 What's Included?
Along with all of the logo, website, and business card features offered in the Professional plan, the Deluxe plan includes:
Free logo touch-up from a professional designer
Priority customer support
Although it's billed as "complete branding,"
this plan doesn't actually offer much more than the Professional plan.
For the price, I would have expected e-commerce functionality, substantially more website storage space, and some other unique branding services. The logo touch-up can also take up to 14 days, a turnaround time that definitely doesn't wow me. Okay, so what is priority support all about, you ask? Your online support tickets will be pushed to the front of the line, so you shouldn't have to wait long for a response from Wix staff. There's no guaranteed response time, though, so the key word here is
shouldn't.
Who Is This Plan Good For?
If you want step-by-step guidance while building your site and are willing to pay for it, this plan could be worthwhile. It might also be worth a look if website uptime is critical to your business, so you need to get any problems solved ASAP. Otherwise,
you'll probably be just as satisfied with a Professional plan subscription,
which means saving around $100 per year. Like the lower-cost Professional plan, there's not really a comparable plan from any other logo maker. Then again, this is a scenario where I personally would look for an alternative because the added value just doesn't seem that great. I'd probably use Wix for my website but have my logo designed elsewhere. You could pay a comparable price for your logo on
DesignEvo
 or
LogoMaker
, or you could even save money with a logo as cheap as $5 on
Fiverr
. To me, all of these alternatives would be preferable to this fairly expensive Deluxe plan.
Wix Logo Maker Pricing at a Glance
Here's a quick summary of these five plans.
(Remember that the platform is always free to use, and that low-res logo samples are free for non-commercial use.)
Plan
Payment
Features
Choose This Plan If You:
Just Logo  – Basic
One-time payment
Only need to display your logo online
Just Logo  – Advanced
One-time payment

8 PNG files
Social media files
Editable/scalable SVG files

Want to use your logo online and in print (e.g., ads, promo items, merchandise)
Logo + Website  – Value
Subscription

8 PNG files
Wix Combo Website Plan

Want a basic website and only need to display your logo online
Logo + Website  – Professional
Subscription

8 PNG files
Social media files
Editable/scalable SVG files
250 business cards
Wix Unlimited Website Plan

Want bandwidth and storage to grow your business and want to use your logo online and in print
Logo + Website  – Deluxe
Subscription

8 PNG files
Social media files
Editable/scalable vector files
250 business cards
Wix Unlimited Website Plan
Designer logo touch-up
VIP customer support

Want a full-featured website plan and the most versatile logo files, along with VIP customer service
Are There Any Hidden Costs?
Although Wix Logo Maker pricing plans are laid out pretty clearly overall, there are a few pitfalls where you could unexpectedly lose some cash.
Avoid hidden costs by keeping the following points in mind.
#1 Logo Edits Are Not Free
Once you purchase your logo, you cannot make any free edits to it.
Although you can technically use the platform to edit your logo at any time, you'll have to pay to download the revised files.
#2 The Money-Back Guarantee Is Only for Websites
Wix offers a 14-day money-back guarantee for all website subscriptions. However,
the money-back guarantee does not cover logo purchases,
which are not refundable under any circumstances.
#3 Subscription Pricing "Per Month" Is a Little Deceptive
If you buy a Just Logo plan, you'll pay a clear, one-time fee. Easy peasy. The Logo + Website plans, however, require a subscription – and the true price of your subscription could definitely be shown more clearly than Wix currently does. The trick is that Wix advertises the various Logo + Website tiers as monthly costs, but you'll find that there is no way to actually pay monthly. This policy was so unclear to me that I opened a support ticket to ask about it. The answer I got from customer support:
Subscriptions are available for a full year only.
That means you can only get the Professional plan by paying $192 upfront, which feels a lot different than paying $16 on a monthly basis.
#4 Some Plans Auto-Renew
With some Wix plans, if you don't pay close attention to recurring payments, then you might end up paying more than you planned on.
The Professional and Deluxe plans auto-renew each year.
If you decide to cancel after the renewal of your subscription, unfortunately, you won't be eligible for a refund. You'll need to patiently wait for the plan to reach its expiration. However, do note that your plan will stay active until the subscription period concludes. This means you can still make use of the service that you're currently obligated to pay for.
#5 Domains Are Only Free for the First Year
If you sign up for a Logo + Website plan, you'll get a free custom domain – but only for
one year
. After the first year is up, you have to
pay a yearly fee to continue using your domain.
So Bottom Line, How Much Will It Cost You?
I've covered a whole lot of information, so here's a quick review of how to choose the Wix Logo Maker plan that's best for you. The total price you'll pay depends on what you want from the tool, but I think for most people, it really comes down to two options. Here's what I recommend:
If you only want a logo, then I recommend the Advanced Just Logo plan. It does cost $30 more than the Basic plan, but it includes far more useful file formats, which will add a lot of value for your business in the long run. By paying a one-time fee of $50, you'll be able to use your logo on the web and print it at any size, any time.
Keep in mind that the Basic plan cannot be upgraded once you've received your logo files, so if you think you may need the Advanced plan at some point in the future, it's better to purchase it in advance.
If you need a website and a logo, then my top choice is the Professional Logo + Website plan. This middle-of-the-road option gives you web- and print-ready logo files, along with enough storage (10GB) to expand your business website over time. Free business cards are never a bad thing, either!
Remember, too, that you don't
have
to choose a Logo + Website plan in order to get a Wix website. You can always just subscribe to a regular Wix website plan, and then use a platform like
Fiverr
or
Tailor Brands
 to design your logo instead.
Since Wix Logo Maker is free to use, why not start by giving the platform a try without committing to a plan?
If you like the logo you create, then you can worry about choosing the perfect plan for you. And if you don't like what you've created, there's no obligation to buy. Read our
in-depth Wix Logo Maker review
 for more expert tips on designing your logo with this tool.
FAQ
Is Wix logo maker free?
Sort of. You can design a logo for free, which you can even download for non-commercial use. Unfortunately, you won't be able to use it for your business until you pay for the high-res files. However, if all you're looking for is something to use on your personal blog (or any non-business entity), this might be all you need. If you do decide that you need all of the options that come with a paid plan, make sure you check out our coupons for Wix Logo Maker. 
How much does it cost to hire someone to create a logo?
The cost of hiring someone to create your logo or brand identity ranges significantly. Depending on the agreement that you make with a designer (e.g., number of iterations, revisions, etc.), your total costs can rack up quickly. But hiring a designer (as opposed to using a program like Wix Logo Maker) doesn't have to be really expensive. If you are price sensitive, check out Fiverr Logo Design, where you can get a custom, quality logo for as little as $5. Our Fiverr coupons can save you even more money. For more information about Fiverr Logo Design, check out our expert review. 
What is the best logo maker?
There are a bunch of logo makers on the market. The best will really depend on the features that are important to you (e.g., the editing tool, file types, ability to customize, etc.). In order to make your decision as easy as possible, we've compiled – and compared – the best logo design services on the market in 2023. Take a look – but before you get started, be sure to check out our coupon page, so you don't pay more than you have to!