much simpler structure, with zero transaction fees and unlimited bandwidth
included in all plans. Of course, they increased prices at the same time, but only to bring them broadly in line with competitors like
Shopify
and
BigCommerce
. You'd therefore be forgiven for thinking that any of these three vendors would do the job equally well. But having taken a detailed look at what each one is offering, I can tell you this:
compared to its competitors, Volusion still doesn't offer the most value
. Its prices may be roughly the same, but you get a lot less.
Volusion's seemingly simple pricing structure actually masks some pretty major hidden costs
 – things that competitors include for free. Read on to discover exactly what is and isn't included in each Volusion plan, and why you might be better off opting for
one of its competitors
.
Volusion's Four Pricing Plans & Options
Volusion has a range of pricing plans to suit all kinds of sellers,
 from newbie online stores right through to high-volume heavy-hitters. There are three set plans (Personal, Professional, and Business) and a custom plan (Prime) that you can tailor to your needs.

Since the price jump from Professional to Business is pretty extreme (at $299 per month, the Business plan costs
ten times as much
as the lowest-priced plan), it should be fairly clear which one is best suited to your budget. If you want to find out about the hidden costs you have to factor in on top of these prices,
jump down now
. All four plans come with:
Unlimited bandwidth
Secure checkout
0% transaction fees
Free themes
Secure payments
Built-in SEO tools
Social media integrations
I'll come back to it later, but I want to mention my major gripe with Volusion's pricing structure at this point. Like its main competitor BigCommerce,
Volusion forces you to upgrade your plan if your sales revenues exceed a certain limit in any given year
. So, it may very well be that you don't have any power to
choose
 your plan – instead, you'll get assigned one based on your revenue. As with BigCommerce, the logic behind this is that Volusion gives you unlimited disk space and bandwidth. And, if you're getting lots of sales, that means you're getting a lot of traffic, so Volusion is using more resources for your site.
But the
difference in price between your plan and the automatic upgrade could be huge
. Here's an overview of what's included in each plan:
Plan
Personal
Professional
Business
Prime
Cost

$

35.00

$

79.00

$

299.00

Based on online sales
Number of products
100
5,000
Unlimited
Unlimited
Sales per year
Up to $50,000
Up to $100,000
Up to $500,000
More than $500,000
Staff accounts
1
5
15
Unlimited
Ratings & Reviews

✘

✔

✔

✔

Newsletters

✘

✔

✔

✔

Abandoned cart reports

✘

✔

✔

✔

Amazon & eBay integrations

✘

✘

✔

✔

Customer loyalty plan

✘

✘

✔

✔

Volusion support level
Online
Online & phone
Priority
VIP
Best for
New or small online stores with limited revenue
Growing e-commerce businesses
Online stores with a large selection of stock and a high turnover
Large online stores that need custom pricing, shipping or support
As is common in the world of website builders, the prices differ based on whether you take out an annual or a monthly subscription. 
If you choose to pay annually, you save 10%,
so it's definitely worth considering. There's also
a 14-day free trial
, so you can try before you buy.
The Personal Plan
Cost
:
$
35.00
per month ($26.10 per month if paid annually)
Threshold for automatic upgrade
: $50,000 in online sales per year The cheapest of Volusion's plans, the Personal plan comes with everything you need to run a small online store, including up to 100 products, secure payments, and inventory management tools. You also get online customer support – which means you can use the Volusion Help Center and live chat feature, but you don't get access to phone support or priority help tickets.

Basically,
 the Personal plan is the ideal Volusion plan for small businesses
, or anyone who's just started selling online. If you exceed the threshold of $50,000 in annual sales, you'll get automatically upgraded to the Professional plan. But you might choose to upgrade even earlier if you want to get your hands on abandoned cart reports, newsletter tools, or product ratings and reviews.
The Professional Plan
Cost
:
$
79.00
($71.10 if paid annually)
Threshold for automatic upgrade to next plan
: $100,000 in online sales per year The Professional plan is a big step up in terms of features: for an extra $50 per month you unlock up to 5,000 store products, up to 5 extra staff accounts, product ratings and reviews, newsletter tools, and phone orders. You also get:
Abandoned cart reports: This feature lets you view what customers had in their carts, learn why they didn't complete their order, and reach out to them to drive sales.
Phone orders and customer relationship management (CRM) software: Essential for keeping communication between store reps and customers running smoothly.
Volusion phone support: This gives you an extra help channel on top of Volusion's online resources.
These tools are great if you want to boost sales and minimize your admin, making this plan
ideal for well-established online stores with a decent amount of revenue
 that are looking to take things up a gear.
The Business Plan
Cost
:
$
299.00
per month ($269.10 per month if paid annually)
Threshold for automatic upgrade
: $500,000 in online sales per year It's clear from the price tag (and the name) that
the Business plan is designed for large stores with a big turnover
. This is the cheapest Volusion plan that lets you list an unlimited number of products. It also gives you up to 15 staff accounts, Amazon and eBay selling integrations, and advanced reporting, plus:
Customer loyalty plans: A way of rewarding your dedicated customers with points, to keep them coming back again and again.
Batch order processing: Processing orders in bulk can save you time and energy.
Dedicated success team: More than just customer support, the Volusion success team delivers personalized advice to help make your business even more successful.
Third-party calculated shipping rates: Pull in live rates directly from USPS, UPS and FedEx to help set your shipping rates.
Third-party payment gateways: Choose from 30 different payment gateways, including PayPal and Amazon Payments.
From the features on offer, it's clear that
the Business plan is for big stores that need powerful tools to help them keep on top of orders.
The Prime Plan
Cost
: Based on online sales Volusion's top plan is the Prime plan. This is a custom plan, so the price tag will depend on your business and its requirements. As well as VIP support, you also get unlimited staff accounts –
actually, Prime offers "unlimited" pretty much everything!
It's got everything included in the Business plan, plus:
Private Slack channel: The highest level of support on offer, this is a private channel set up between you and top experts in Volusion, covering marketing, design, account management, technical support, and more.
Prime account manager: You also get a dedicated Volusion Account Manager, who acts as your primary point of contact.
Free SSL certificate: This costs extra with the other Volusion plans (I'll come back to this later), but with Prime, the SSL certificate is thrown in.
Store quarantines: If you're expecting higher-than-normal traffic due to a sale or marketing campaign, Volusion can temporarily move your store to a server that can handle the increased volume.
Sandbox: Change your website's template, design, or functionality without impacting your live site by using a sandbox.
Volusion suggests that your annual turnover should be somewhere between $250,000 and $5 million to take out a Prime plan –
so it's clearly designed for the heavy hitters
.
Volusion vs. the Competition: There's No Real Comparison
So let's get down to the meat of the matter. How do Volusion's prices compare with its competition – namely,
BigCommerce
and
Shopify
? Well, this is where Volusion's pricing structure, modeled so carefully after its competitors, actually proves to be its downfall. Since the prices are almost exactly the same, the plans are very easy to compare. It's therefore glaringly obvious that
you get more for your money with Volusion's competitors
. For the sake of comparison, I made a chart of how these vendors' lowest-tier plans stack up against each other:
Vendor
Volusion
BigCommerce
Shopify
Plan (cost)

$

35.00

$

29.00

$

29.00

Sales per year
Up to $50,000 per year
Up to $50,000 per year
No revenue threshold
Products
100
Unlimited
Unlimited
Transaction fees
0%
0%
2.2% + 30¢ per transaction
Staff accounts
1
Unlimited
2
Coupons, discount codes & gift cards

✔

✔

✔

Ratings & Reviews

✘

✔

✔

Abandoned cart reports

✘

✘

✔

Third-party sales integrations (e.g. Amazon & eBay)

✘

✔

✔

Third-party shipping rates

✘

✔

✘

Customer support
Online support
24/7 support
24/7 support
Here's the takeaway, in case the table didn't make it clear:
Volusion makes you upgrade to its second-tier plan to access features that Shopify and BigCommerce include in their cheapest plan
. Want an example? Here's five: BigCommerce gives you unlimited products and staff accounts, ratings and reviews, third-party sales integrations, and 24/7 support on its cheapest plan. The same goes for Shopify, except it limits you to two staff accounts and charges a transaction fee (on the plus side, it gives you abandoned cart reports). Volusion's Personal plan gives you none of those features.
Bottom line: With Volusion, you're paying the same money for way less functionality
. But those are just the cheapest plans. What if we go higher up? Well, this chart shows how the mid-tier plans compare:
Vendor
Volusion
BigCommerce
Shopify
Plan (cost)
Pro (

$

79.00

per month)
Plus (

$

79.00

per month)
Shopify (

$

79.00

per month)
Sales per year
Up to $100,000 per year
Up to $180,000 per year
No revenue threshold
Products
5,000
Unlimited
Unlimited
Transaction fees
0%
0%
1.9% + 30¢ per transaction
Staff accounts
5
Unlimited
5
Coupons, discount codes & gift cards

✔

✔

✔

Ratings & Reviews

✔

✔

✔

Abandoned cart reports

✔

✔

✔

Persistent cart

✘

✔

✘

Third-party sales integrations (e.g. Amazon & eBay)

✔

✔

✔

Third-party shipping rates

✘

✔

✘

Third-party payment gateways

✘

✔

✔

Fraud analysis

✘

✘

✔

Customer support
Online & phone
24/7 support
24/7 support
Again, Volusion's mid-tier plan gives you less for your money
. It limits the number of products you can have, and doesn't give you access to third-party payment gateways and 24/7 customer support. Added to which, the per-year revenue threshold on Volusion's plan is $80,000 lower than on BigCommerce's plan (and Shopify doesn't have a threshold at all). This means that
even medium-sized businesses would be better off opting for BigCommerce or Shopify 
– and if
$
79.00
per month seems steep to you, you could consider looking at another e-commerce builder like
WooCommerce
or
Wix
.
These shortcomings are only really phased out by the time you get to the top-tier plans,
where BigCommerce and Volusion both offer similar value for money. At this point, Shopify is pretty much out of the running because of its transaction fees, which the other two vendors don't charge. Volusion's pricing structure seems like a mistake to me: by the time you're pulling in more than $200,000 in revenue each year, you're probably pretty tied to your platform and unlikely to want to go through the hassle of switching. It's the people who are just starting out that Volusion should be trying to reel in. But since Volusion offers less for the same amount of money at that level, nobody could blame you if you decide to take your online store elsewhere.
And if charging the same amount for fewer features wasn't enough,
Volusion also sneaks in a few hidden costs
. Here's what you need to factor in on top of the prices quoted above.
Automatic Plan Upgrades
We've already covered this, but just to be super clear:
once you exceed your plan's sales threshold, you'll be automatically upgraded to the next plan
. Considering that the price jumps between plans are pretty massive, you could be in for a shock if you unexpectedly go over your plan's threshold. Voluntarily upgrading to a higher, more expensive plan on Volusion couldn't be easier – you simply click a button in your account settings and the upgrade goes through.
 Downgrading, on the other hand, isn't quite so simple
 (it never is). You need to get in touch with Volusion's Help Center and process the downgrade via one of their representatives. Not impossible, but definitely a bit of a hassle.
SSL Certificates
SSL security is essential for any website
 – especially e-commerce sites, where visitors are entering sensitive data like their credit card details. By having an SSL certificate, you show customers that your site is secure and their data is being kept private. Most e-commerce platforms chuck in an SSL certificate as a standard feature of all of their plans (Shopify and BigCommerce do this, as well as Wix and Squarespace and almost any other builder you can think of).
For some reason, though, Volusion makes you pay for it
 – unless you sign up for their super-expensive Prime plan. And since you can't accept credit card payments without an SSL certificate, this is pretty much a guaranteed extra cost for an online store. The one-off expense isn't huge: SSL certificates cost anywhere from $90 to $1000+, depending on type and brand. But it's an extra hassle, and particularly frustrating considering it's such an essential feature.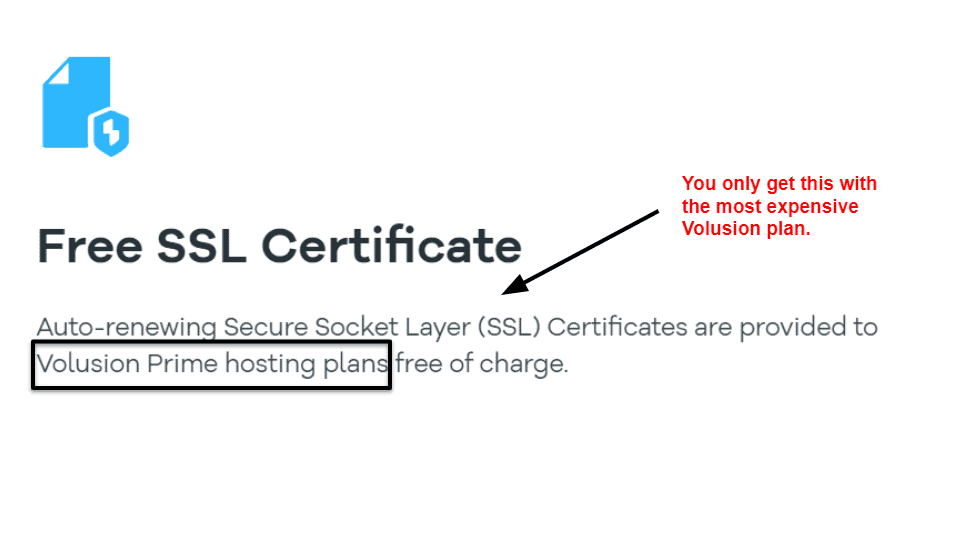 Domain Name Registration
You may have noticed that
domain names aren't included in any of Volusion's plans
. But there's no way of buying one through the Volusion platform, either (something that other e-commerce builders like Wix and GoDaddy make super simple). You'll have to purchase it elsewhere and connect it to your account before you can go live.
Credit Card Processing Fees
Volusion itself doesn't charge transaction fees, but
payment gateways will still charge you credit card processing fees.
This is a fairly standard practice across e-commerce builders, so it's not really a reason to look elsewhere. But you should still know what these fees are so you can calculate how they'll affect your bottom line. Volusion also offers its own in-house payment gateway, called Volusion Payments, which offers some of the industry's lowest rates (starting at 2.15% + 30¢). Or, if you'd rather have more control over the processing fees you pay, you can integrate one of these
best credit card processing services
with your Volusion site.
Apps
Apps are a great way to add extra functionality to your site. If you want features like live chat or PayPal Express Checkout, you'll need to head over to the Volusion App Marketplace. But here's where the extra costs sneak in: there are currently
only nine free apps in the Volusion App Marketplace
. The others range in price from $0.88 to $199 per month. By the way, Volusion fares unfavorably in this aspect when compared to its competitors. The Volusion App Marketplace currently features approximately 100 apps, comprising both free and paid options. In contrast, BigCommerce offers hundreds of apps, and the Shopify store boasts thousands of them.
Is Volusion Really Worth It?
Volusion just doesn't have enough features to compete with other mid-range vendors like BigCommerce on its lower-price plans
. So if you're a newer e-commerce player, you'll get more for your money with one of Volusion's competitors. As you progress to the higher-tier plans, however, those differences become less clear-cut.
Volusion's top price plan matches the competition in terms of cost and features
 – and even throws in a few extras like quick page loading times and a dedicated advice team for your online store. For a well-established business that already has a good turnover but is looking to take things to the next level, these additional features would certainly be tempting – and it's because of the special attention it gives to each store that Volusion scores so highly in our
expert Volusion review
.
FAQ
How much does Volusion cost?
Volusion offers three set plans that cost between

$

35.00

and

$

299.00

per month. Which one you'll need will depend largely on your store's annual turnover and the features you need. Volusion also offers a personalized plan with custom pricing that you can create around your business's needs. Before you commit to a plan, make sure you check out our coupons page to take advantage of the best deals.
How does Volusion work?
Volusion is an easy-to-use dedicated e-commerce builder that lets you build an online store without any code. It offers a free trial, so you can try it out before committing. You'll just have to enter a few personal details to access the Volusion editor. Once you're in, you can customize your storefront, add products, and purchase your site domain.
Is Volusion better than Shopify?
It depends. Shopify's cheapest and mid-level plans offer more features than the equivalent Volusion plans. However, Shopify charges up to 2.2% in transaction fees, which may end up eating into your profits. Your choice will depend largely on your annual turnover, your margins, and what features you need. To better compare your options, read our expert Shopify and Volusion reviews.
What's the best e-commerce platform?
Choosing the right e-commerce platform for you involves juggling a number of different factors, including cost, features, ease of use, and support. Ultimately, which platform is right for you will depend on your online store's turnover, the number of products you sell, what features you require, and the level of technical support you need. Read about our comparison of the best website builders for e-commerce and online stores in 2023.