but you don't want a site that looks cheap
. If you have to hire writers to create content, graphic designers to build a template, and web developers to put it all together, your costs can quickly add up. And that doesn't even take into account the expense of hosting your site or driving traffic to it. But I'm here to tell you that creating a beautiful site doesn't have to break the bank.
With free tools, low-priced help, and a secret trick or two, it's totally possible to create a professional site for very little money. Or, depending on your needs, even for free.
As website building specialists, our team looked far and wide to find the best methods for creating a site for less. So, if high costs have prevented you from getting your message online, then kiss your worries goodbye!
You can use the following methods to create the website you've been dreaming of, regardless of your budget
.
Tip #1: Take Advantage of Free Resources
It's actually pretty shocking just how many free design tools are out there. You just need to know where to look. With all of these resources available,
you can design a gorgeous website—or other marketing materials—for literally nothing
.
Free Stock Photos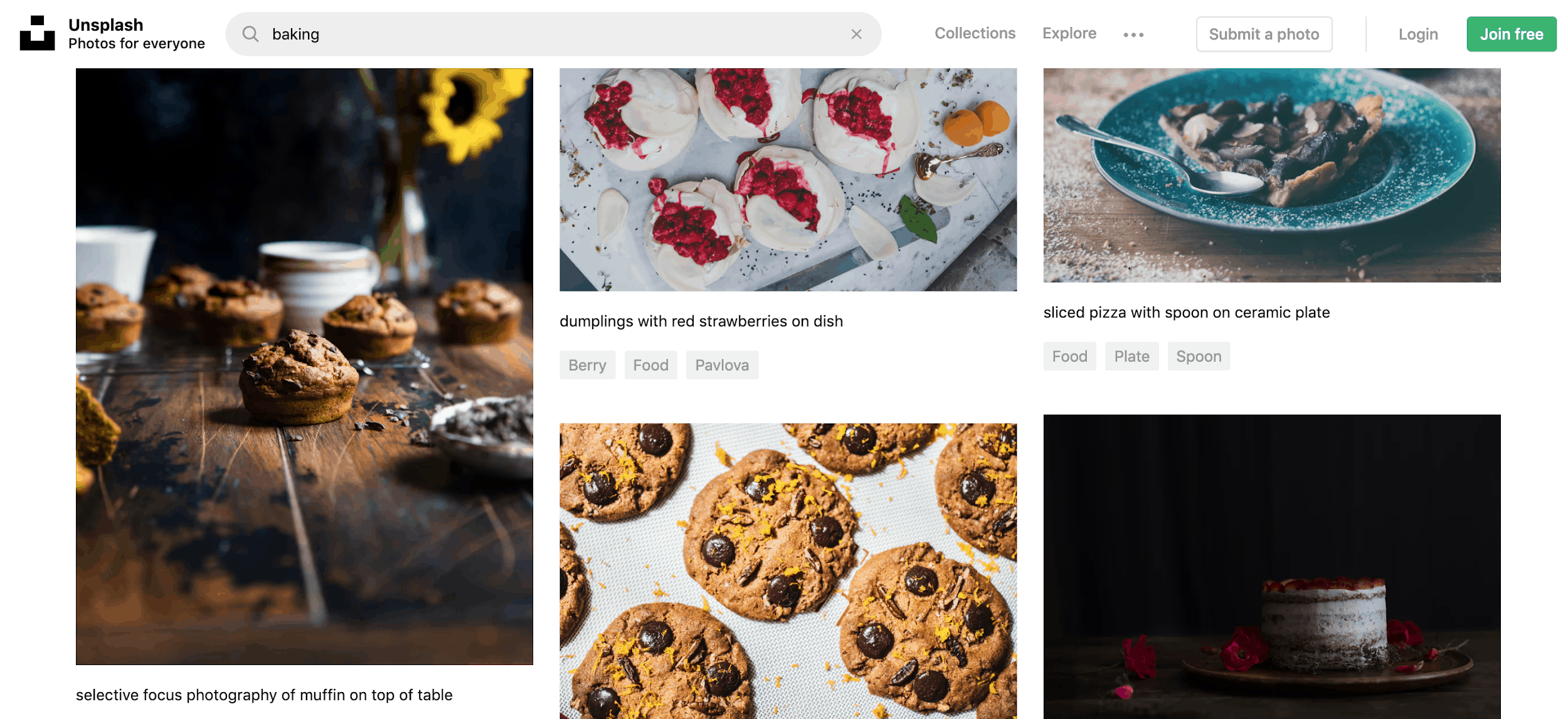 Free stock photo websites have come a long way in the past few years. So, if you're thinking you'll only be able to find awkwardly posed pictures of attractive people having a "meeting" in a bright white room, think again. The best free stock photo sites are beautifully curated and include thousands of images that can match any style or mood you are trying to convey. Here are a few of my favorites:
Unsplash has more than 810,000 professionally shot stock photos that are free to use and alter as you please
Pexels is a huge name in the world of free stock photography, and also includes stock videos
Pixabay is another great option with more than 1.6 million stock photos available, as well as illustrations and vector graphics
Free Photo Editing Tools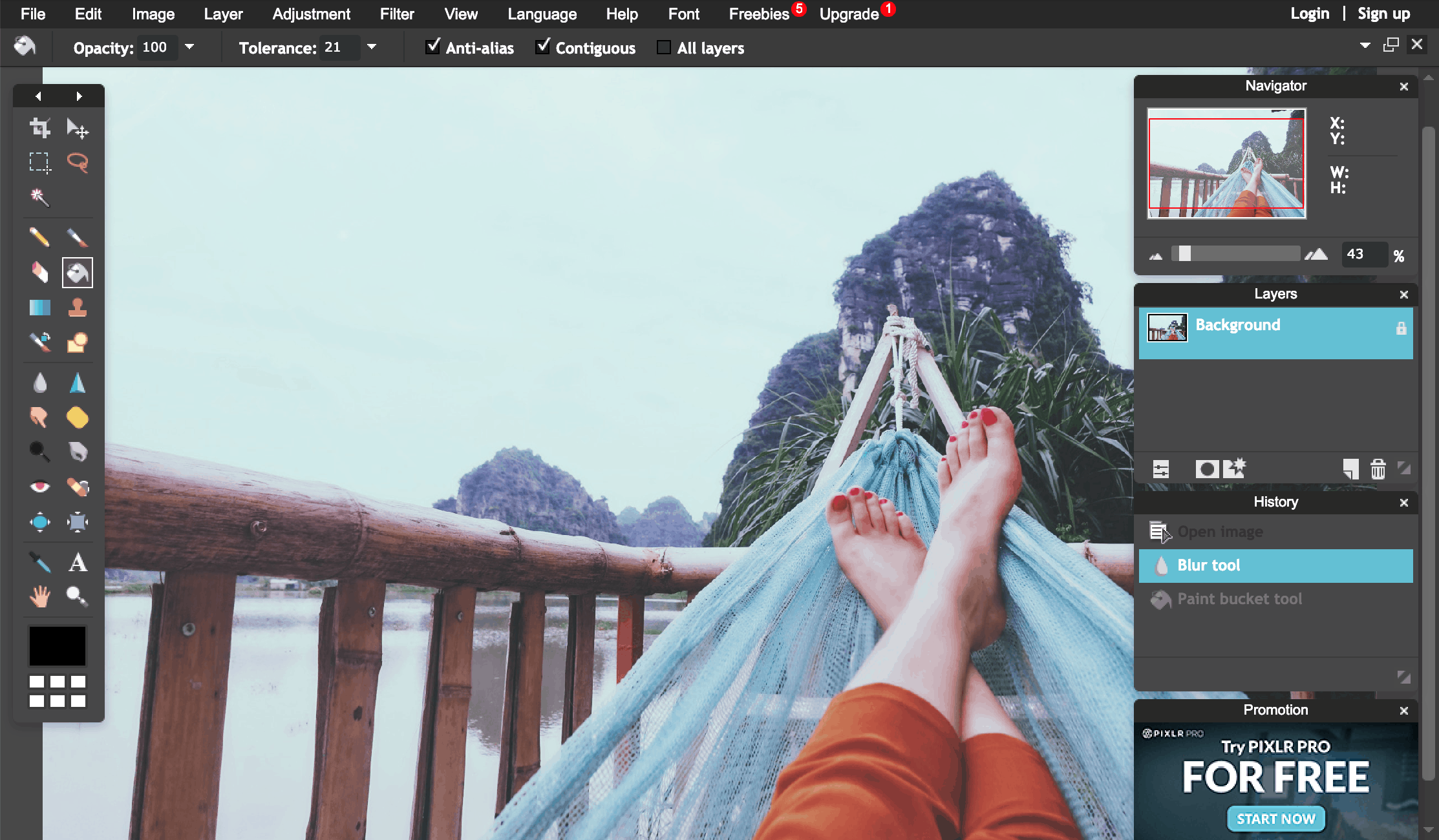 Most of these stock photo websites allow you to alter the images however you want. With some simple adjustments, you can truly make the images your own—which is important, as there's a chance that other people are using the same ones.
Free photo editing programs
are also an easy way to make sure there is a standard look and feel across your website.
Adobe's Photoshop Express Editor might lack many of the functions of the paid software, but for a simple editing job, it should be more than enough
Pixlr Editor is one of the most popular browser-based options currently on the market
Fotor allows you to edit photos in multiple interfaces, including a simple photo editor, a tool for making collages, and the ability to design marketing materials
Free Infographic Tools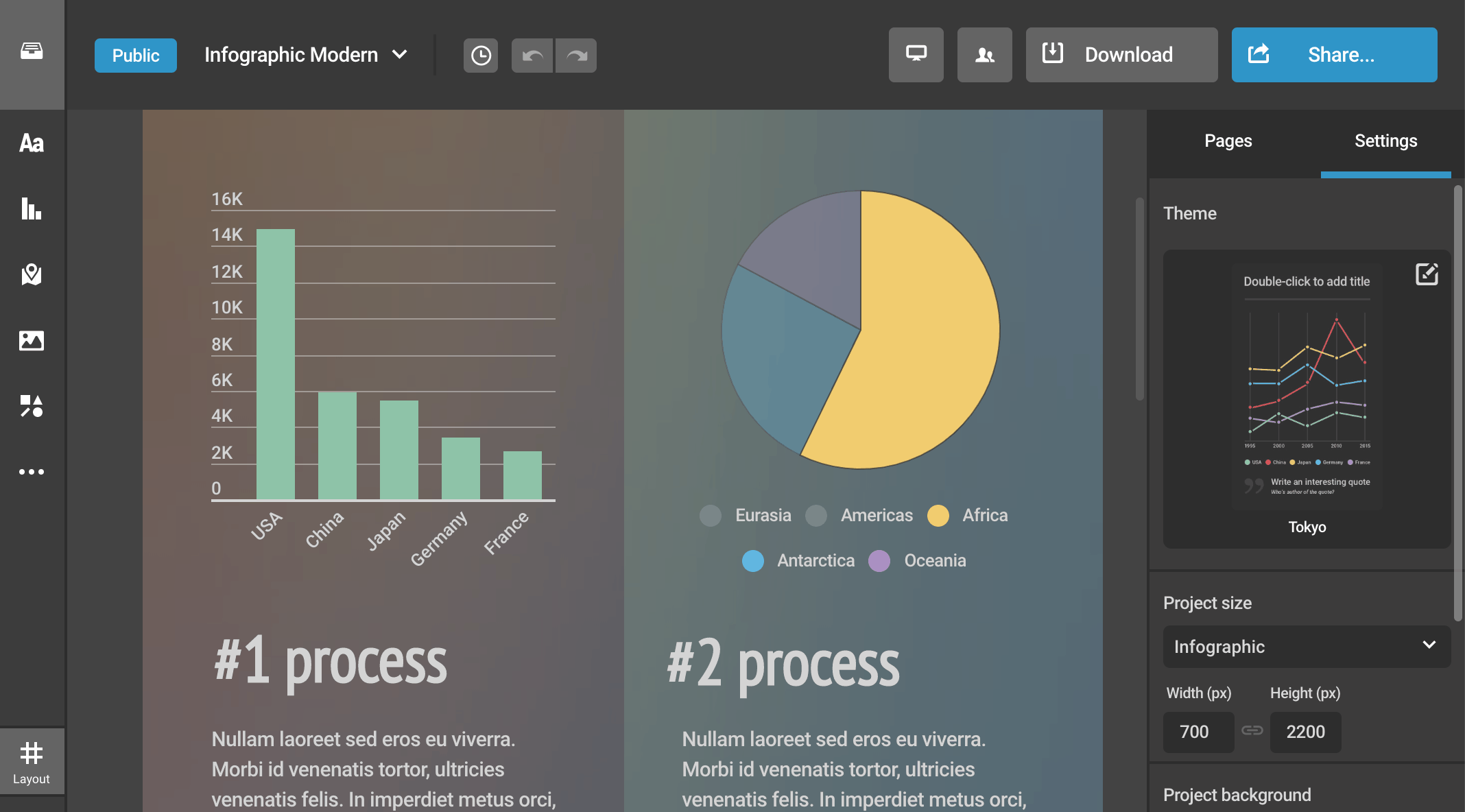 The best websites keep visitors visually engaged and interested, even when presenting a lot of information. If you want to bring some data to life or explain a complicated process, infographics can be a great way to do so. In my opinion, these are some of the
best free infographic tools
available:
Infogram offers you plenty of free templates to design professional looking infographics
Google Charts also allows you to create unique infographics, although it may take a bit of HTML knowledge and technical skills to make a chart that fits your needs
Piktochart uses themed templates that anyone—regardless of experience level—can easily use
Free Website Templates and Builders
With free website builders, such as
Wix
,
Weebly
, or
WordPress
, you can create and host a professional-looking website without spending a dime. Each of these options will give you access to hundreds of free templates, all of which are highly customizable and generally pretty user-friendly. This means that—regardless of your industry or audience—you'll be able to find a design that suits your needs.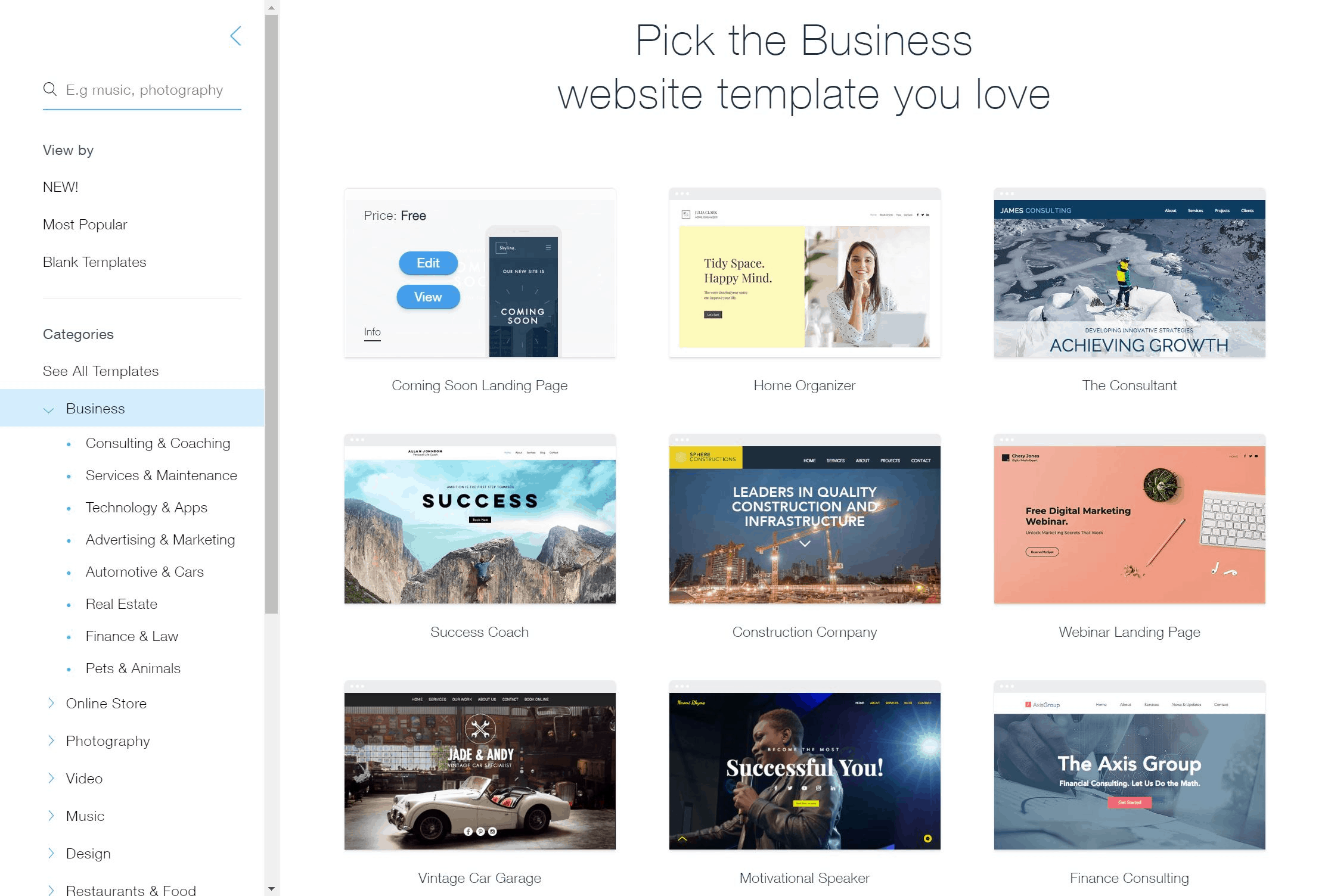 Trying to design a website yourself can be difficult and frustrating. And hiring someone with the right experience isn't cheap.
To find out just how easy this process actually is, I—someone with zero design skills—tested it out for myself.
The below site took me less than ten minutes to put together using a custom Wix template (no, that's not me in the picture). While it would cost money to have the Wix logos removed and to host a branded domain, I'd say that it still looks pretty darn good for a free site.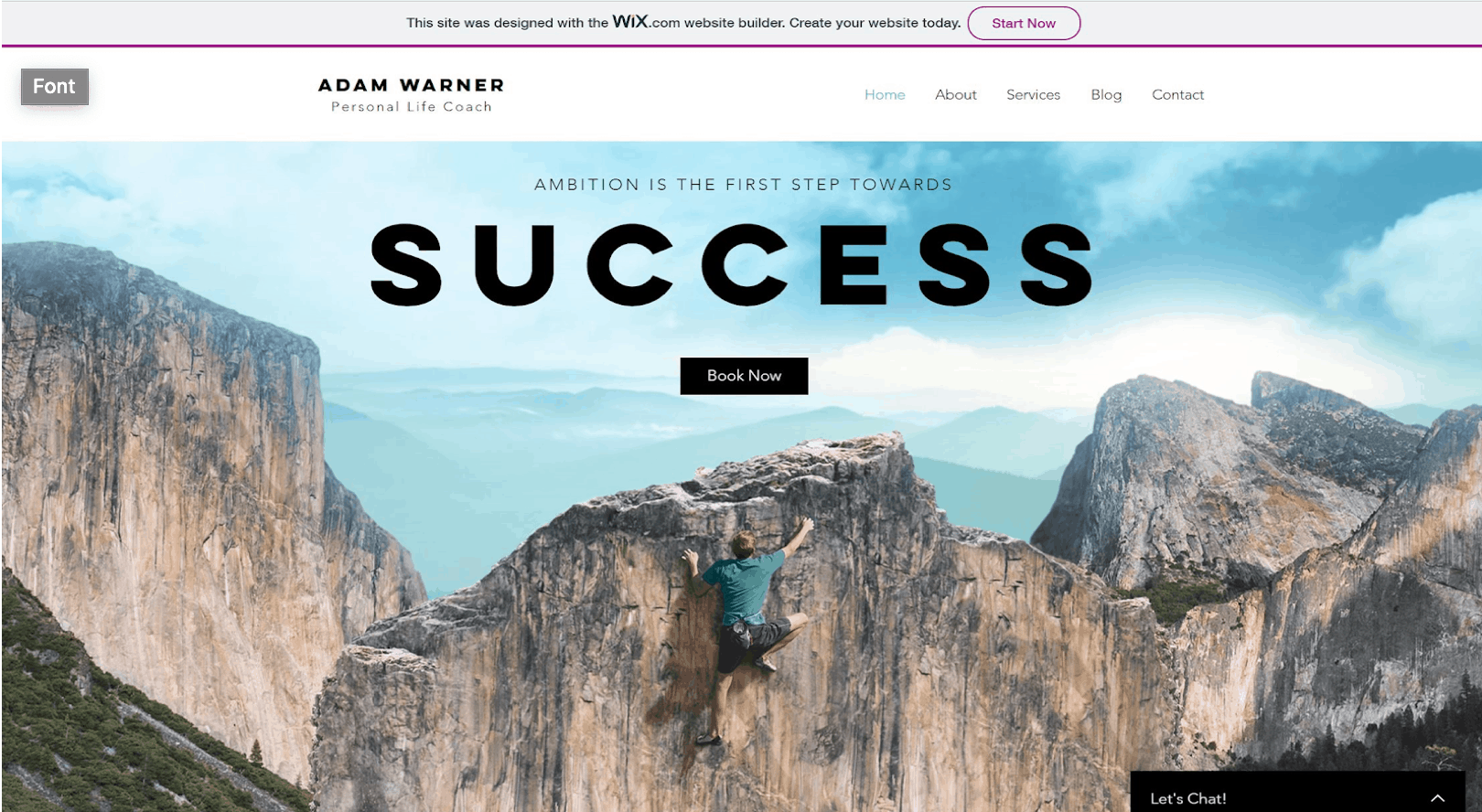 Tip #2: Use Low-Priced (But High-Quality) Freelancers
If you'd rather not spend your time fussing around with free web design and development tools, and you want something that looks a bit more professional, you may want to turn to a freelancer.
Fortunately, many qualified freelancers can be found at amazingly low rate
s.
Upwork
,
Freelancer.com
, and
Fiverr
are all great resources when it comes to finding qualified help for cheap. From
graphic designers
to
web developers
, editors, and
content writers
, with a bit of searching you can easily find experts at much lower rates than you probably thought possible.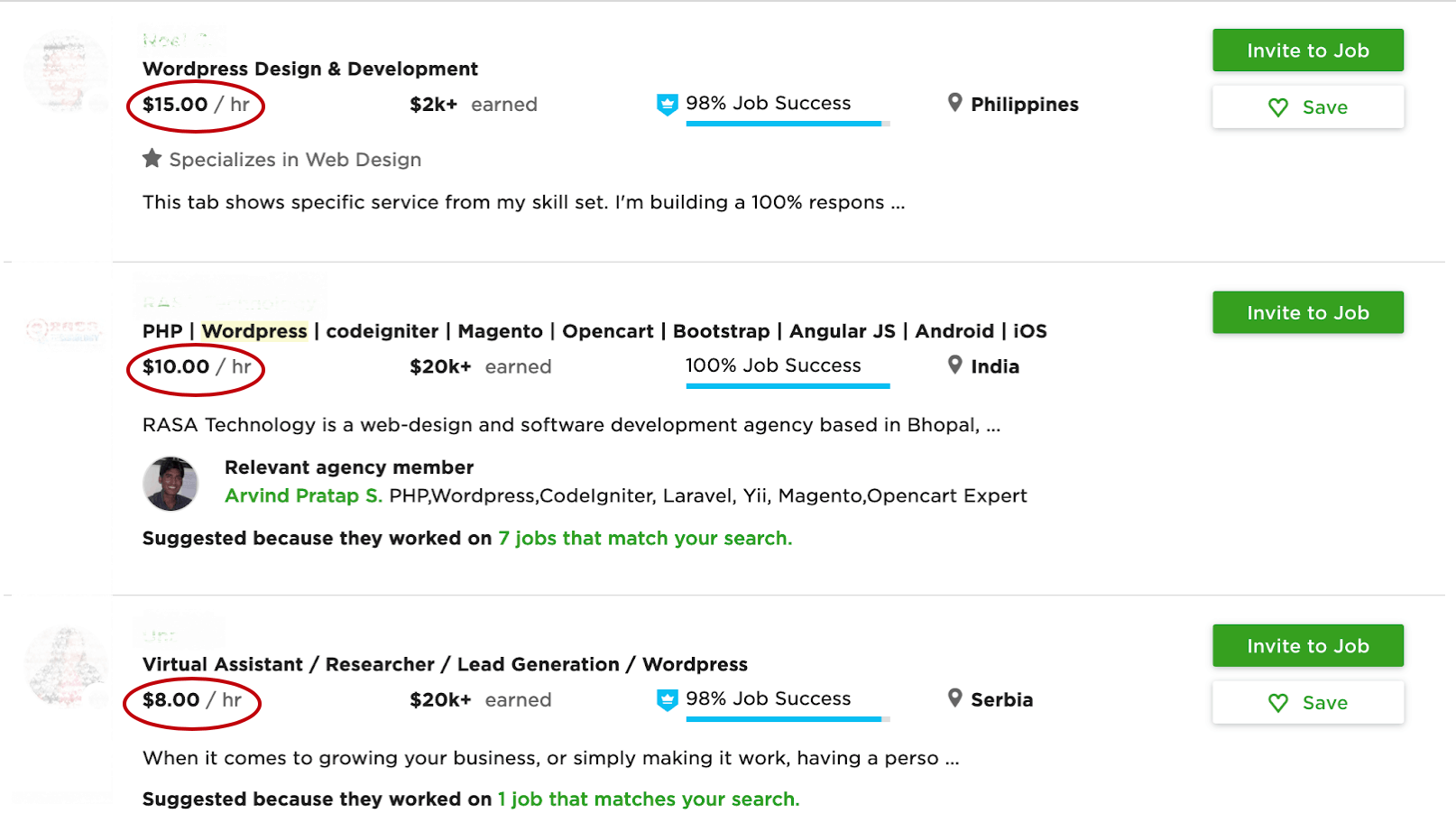 And I mean seriously low rates—like $5-$15 an hour!—from freelancers who have hundreds or even thousands of positive reviews.
The fact that someone's prices are low doesn't mean their work quality will be as well
. That said, it's always a good idea to read through past reviews and take a look at work samples before sending an offer.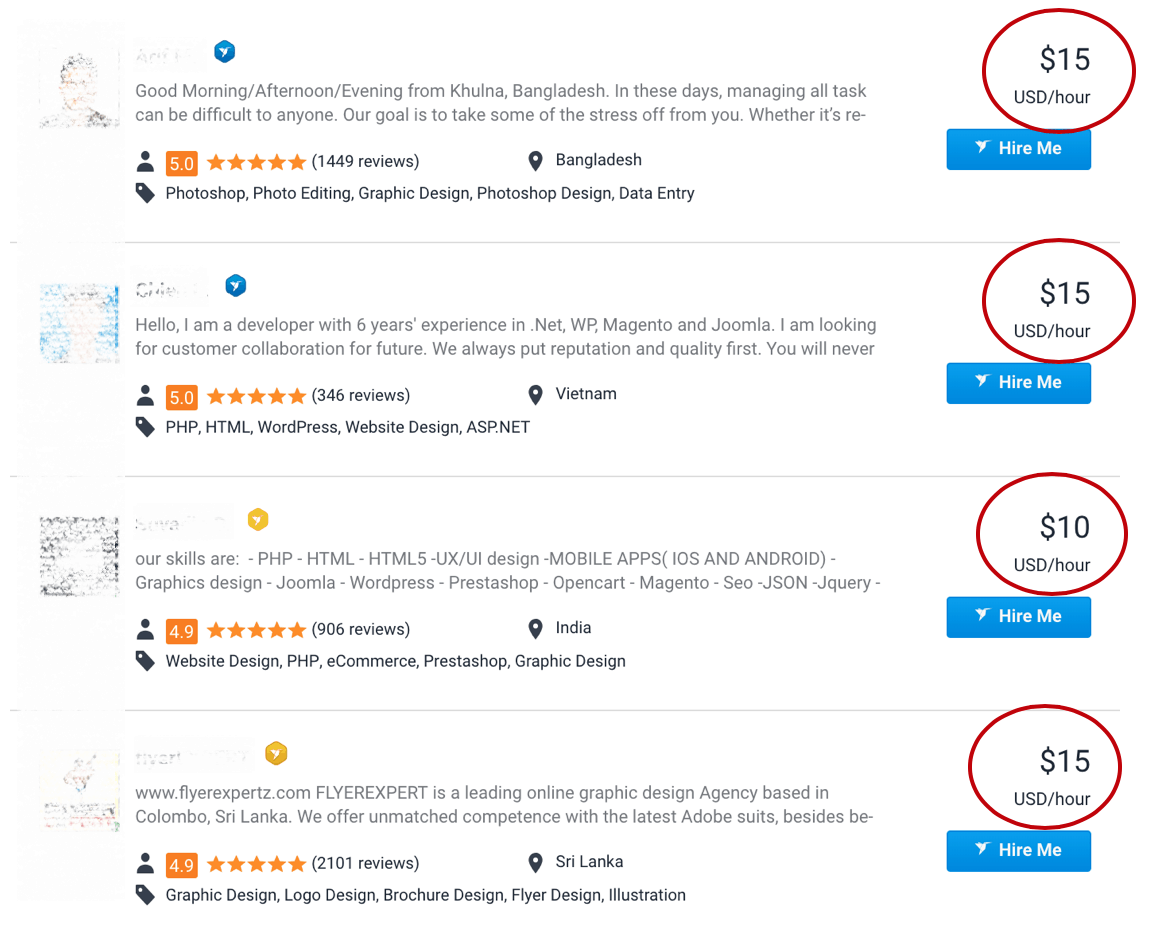 Fiverr
,
Freelancer.com
and
Upwork
have excellent filtering systems, which help make sure that you only see potential candidates that meet your qualifications (e.g., location/time zone, fluency in your language, experience with a particular application, etc.)
One useful trick for finding low-cost help is to limit your search to countries where the living wage is low
.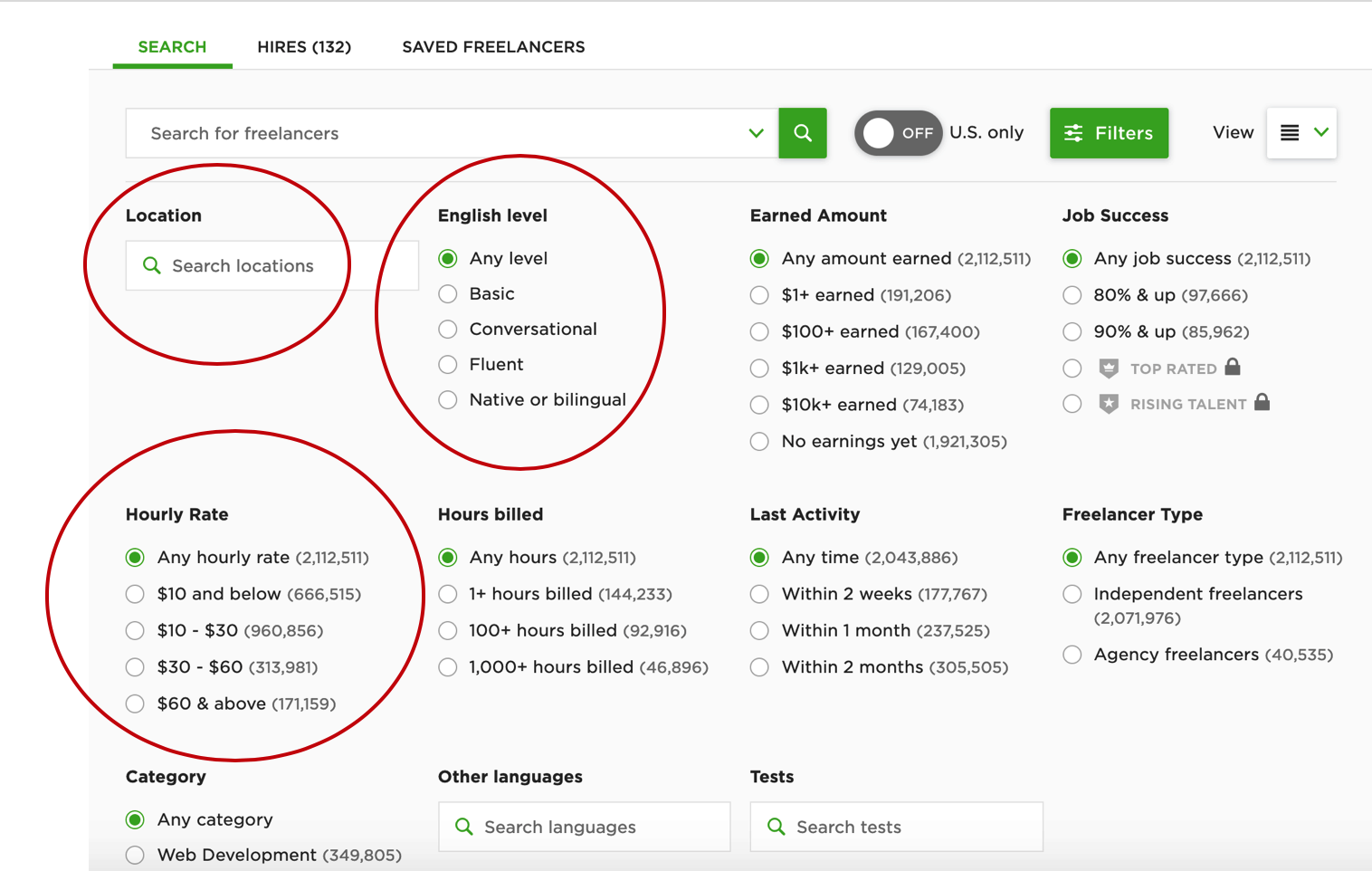 In case you decide you need a freelancer to help get a job done, here are some tips for
creating a strong ad
that will attract qualified candidates. And if you need some guidance determining how much to pay your freelancer,
we've got you covered
there as well. Sometimes finding the right person for the job can be a challenge, but with a bit of legwork, you can find a great
writer
or
designer
on Fiverr.
Tip #3: Change Your Virtual Location Using a VPN
VPNs can be used for more than just accessing the best Netflix shows from other countries or keeping your connection secure. They can also be great tools for getting the best deals and saving money. What do I mean? Well, there are a lot of websites that
offer products and services at different prices, depending on the customer's location
. We'll focus on two of the best services for website building and email marketing:
Wix
and
Constant Contact
. Many
VPN services are free
as well. Just keep in mind that most free VPNs come with slower speeds, advertising, and other limitations. For the purpose of accessing location-based offers, be sure to find a VPN with a large network of servers in many different countries, so you can find the best prices in the world.
Case Study: Wix
We already discussed how you can use Wix to design and host your site for free. However, free Wix sites come with ugly Wix banners across the top of them. Not to mention, the free URLs can look pretty unprofessional (username.wixsite.com/siteaddress). Luckily, you can save big when upgrading to one of Wix's
premium plans
, just by using a VPN.
Depending on the country you're subscribing from, the prices can vary dramatically
. For example, below you'll see that the cost a Wix Unlimited Plan goes for $14/month in the United States. This same plan (Unlimited) goes down to R$28.90 in Brazil, which equals $7.65. And that's not even close to the cheapest option! In India, this plan goes for only ₹70, or $0.99. This is a savings of more than $13 per month when compared to the United States.
The price of Wix services in the U.S.: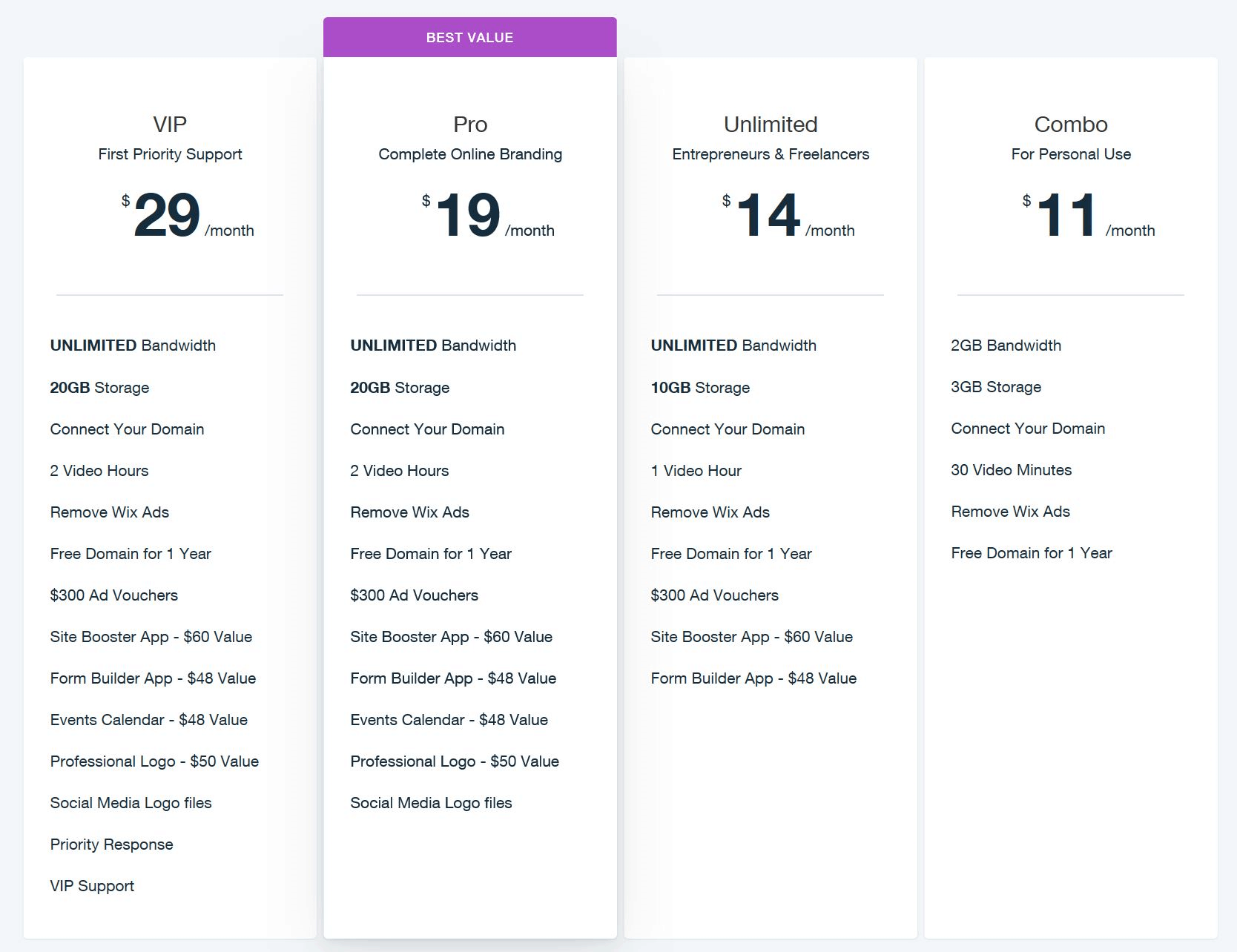 The price of Wix services in Brazil: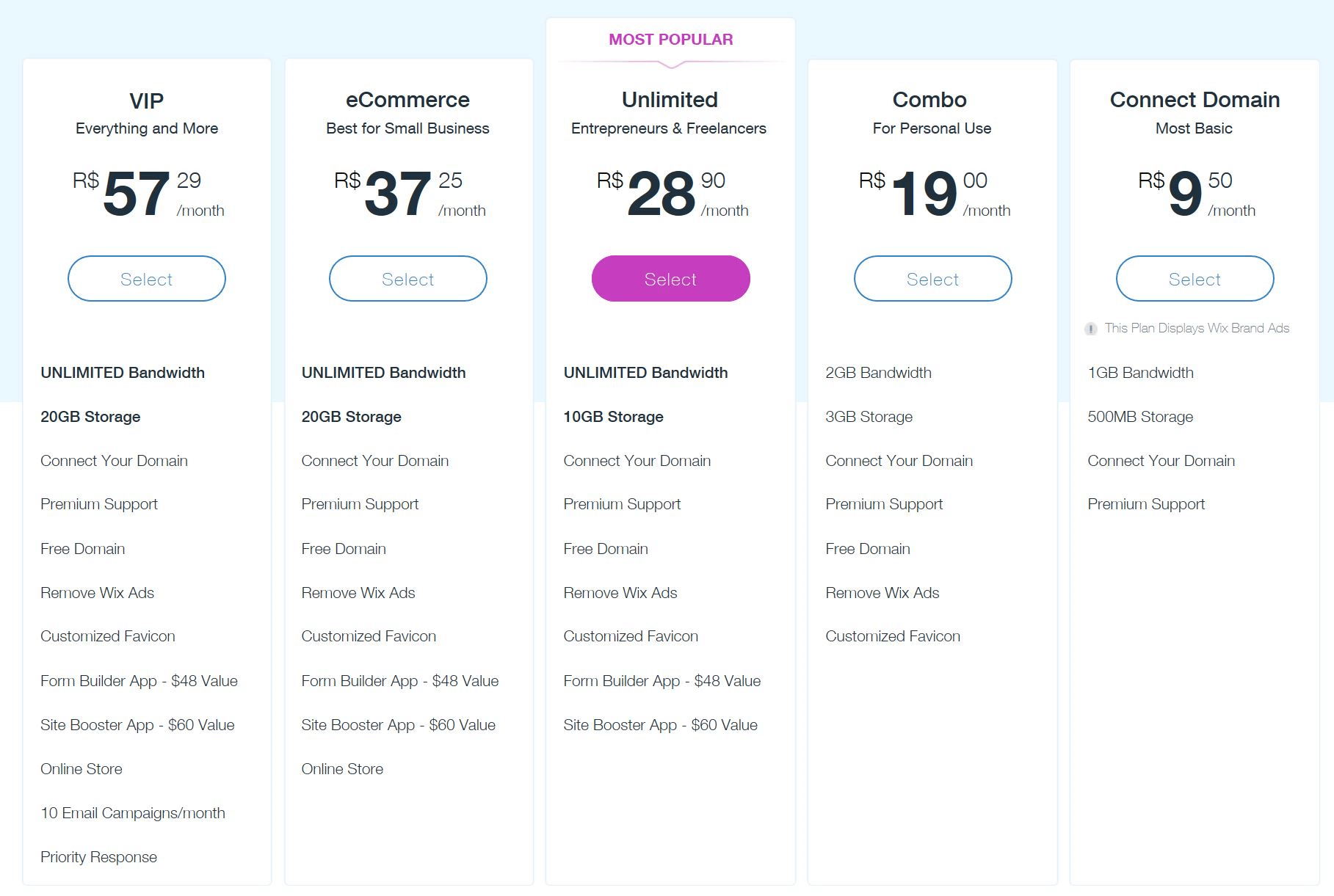 The price of Wix services in India:
*Note that India only has one plan option, although it's essentially the same offer as the Unlimited Plan that's available in other countries. For some reason it's just called "Premium" in this location.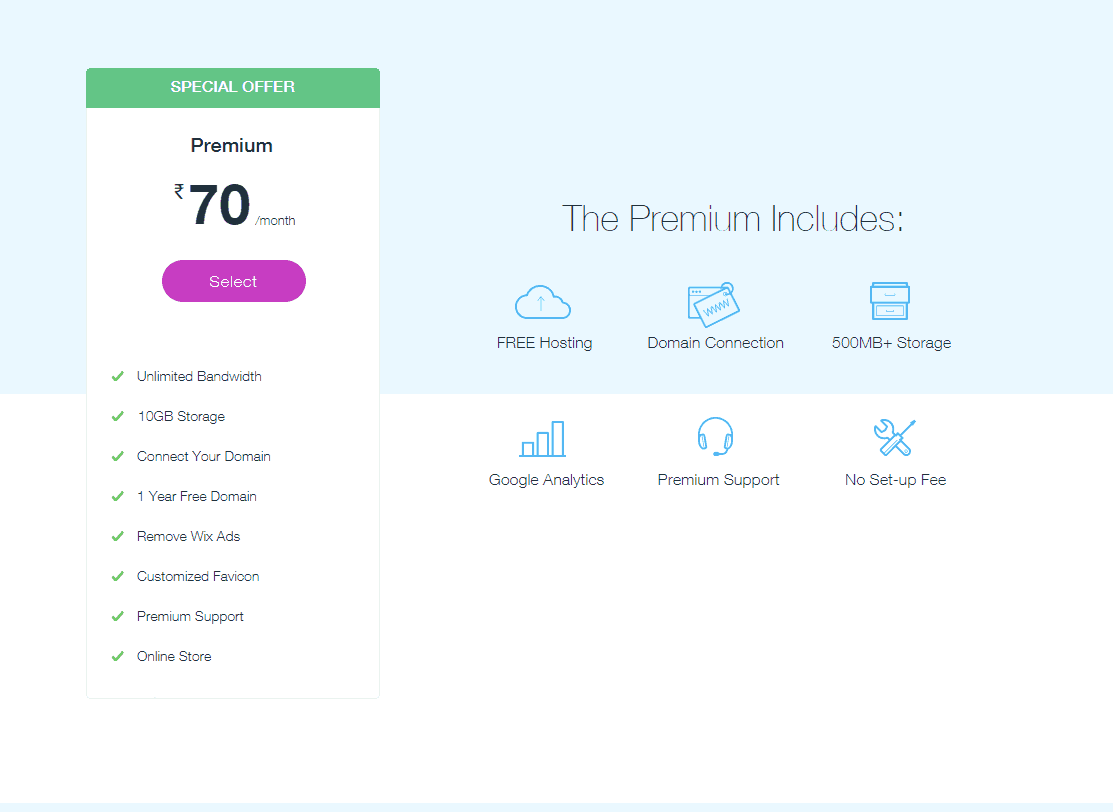 I compared the costs of premium plans in nearly a dozen locations. The prices all changed just as a result of my VPN settin
g. I've included a table below for easy comparison. All prices have been converted to U.S. dollars, using the most recent conversion rates at the time of writing.
As you can clearly see, the differences are pretty dramatic
. And while these aren't huge numbers, the savings will add up quickly, especially if you plan to have your website for years to come.
One thing to keep in mind is that some plans aren't available in certain countries, or go by different names. That said, the offers being compared are more or less the same.
| | | | | | |
| --- | --- | --- | --- | --- | --- |
| Country | VIP | eCommerce | Unlimited | Combo | Connect Domain |
| U.S. | $29.00 | $19.00 | $14.00 | $11.00 | |
| Israel | $24.50 | $16.50 | $12.50 | $8.50 | $4.50 |
| France | $27.86 | $28.43 | $14.22 | $9.67 | $5.12 |
| Canada | $29.00 | $25.00 | $14.00 | $10.00 | $5.00 |
| U.K. | $23.77 | $21.13 | $11.23 | $7.92 | $3.96 |
| India | | | $0.99 | | |
| Mexico | $17.07 | $11.11 | $8.51 | $5.66 | $2.80 |
| Brazil | $15.17 | $9.86 | $7.65 | $5.03 | $2.53 |
| Turkey | $9.74 | $6.33 | $4.86 | $3.26 | $1.68 |
| Russia | $11.40 | $7.40 | $5.69 | $3.78 | $1.87 |
| Poland | $27.10 | $27.65 | $13.73 | $9.13 | $4.98 |
| Best Deal: | Turkey ($9.74) | Turkey ($6.33) | India ($0.99) | Turkey ($3.26) | Turkey ($1.68) |
Case Study: Constant Contact
Once you have your website designed, built, and hosted, you're going to want to start driving traffic to it. With decades of experience,
Constant Contact
is one of the top names in the world of email marketing.
And it's another opportunity to take advantage of location-specific deals with a VPN
.
Take a look at the two screenshots below. If your VPN says that you're in the U.S., Constant Contact will give you a 60-day free trial
. You don't even need to provide a credit card. The trial, however, is limited, which means that you'll only be able to connect up to 100 contacts during this time.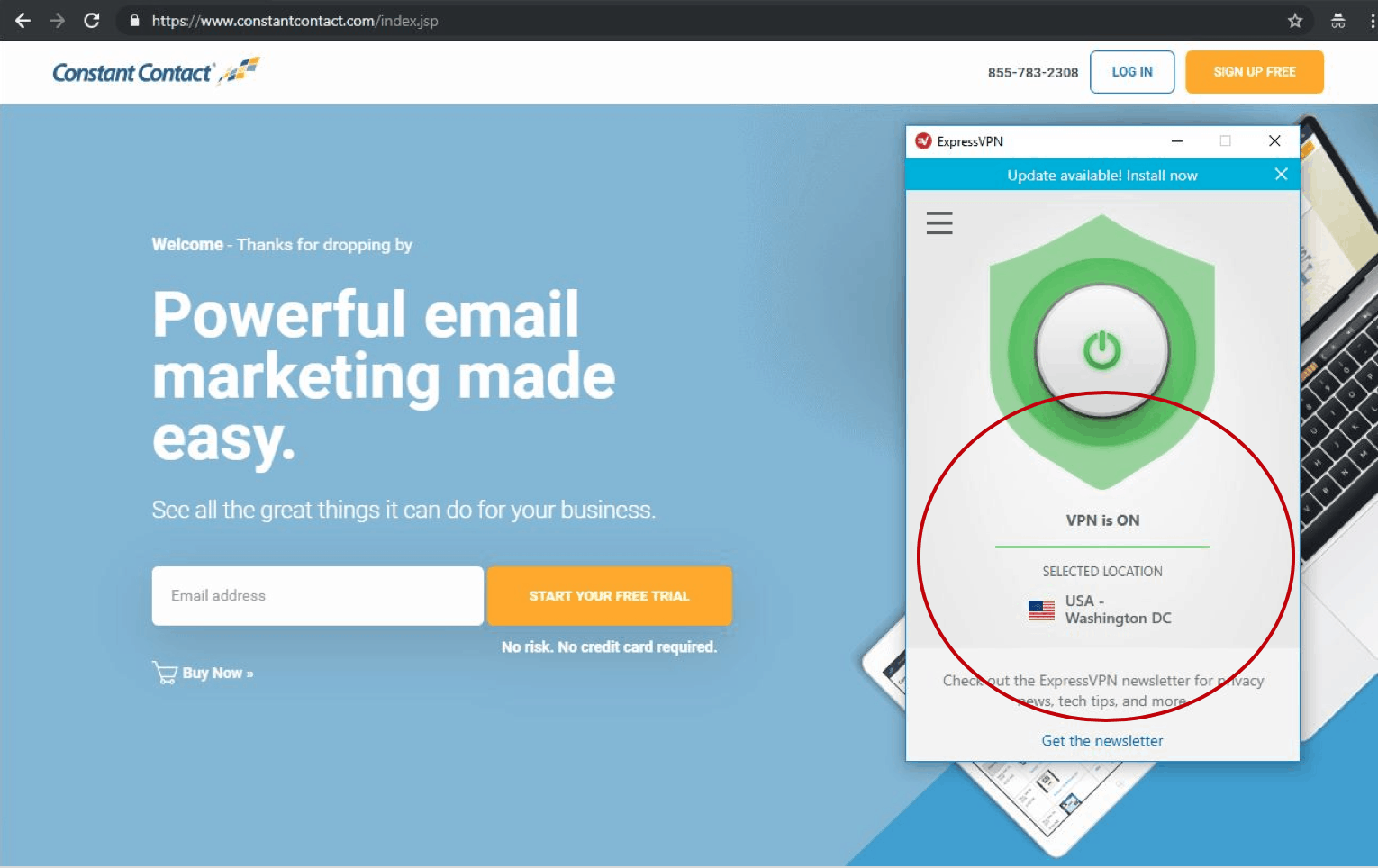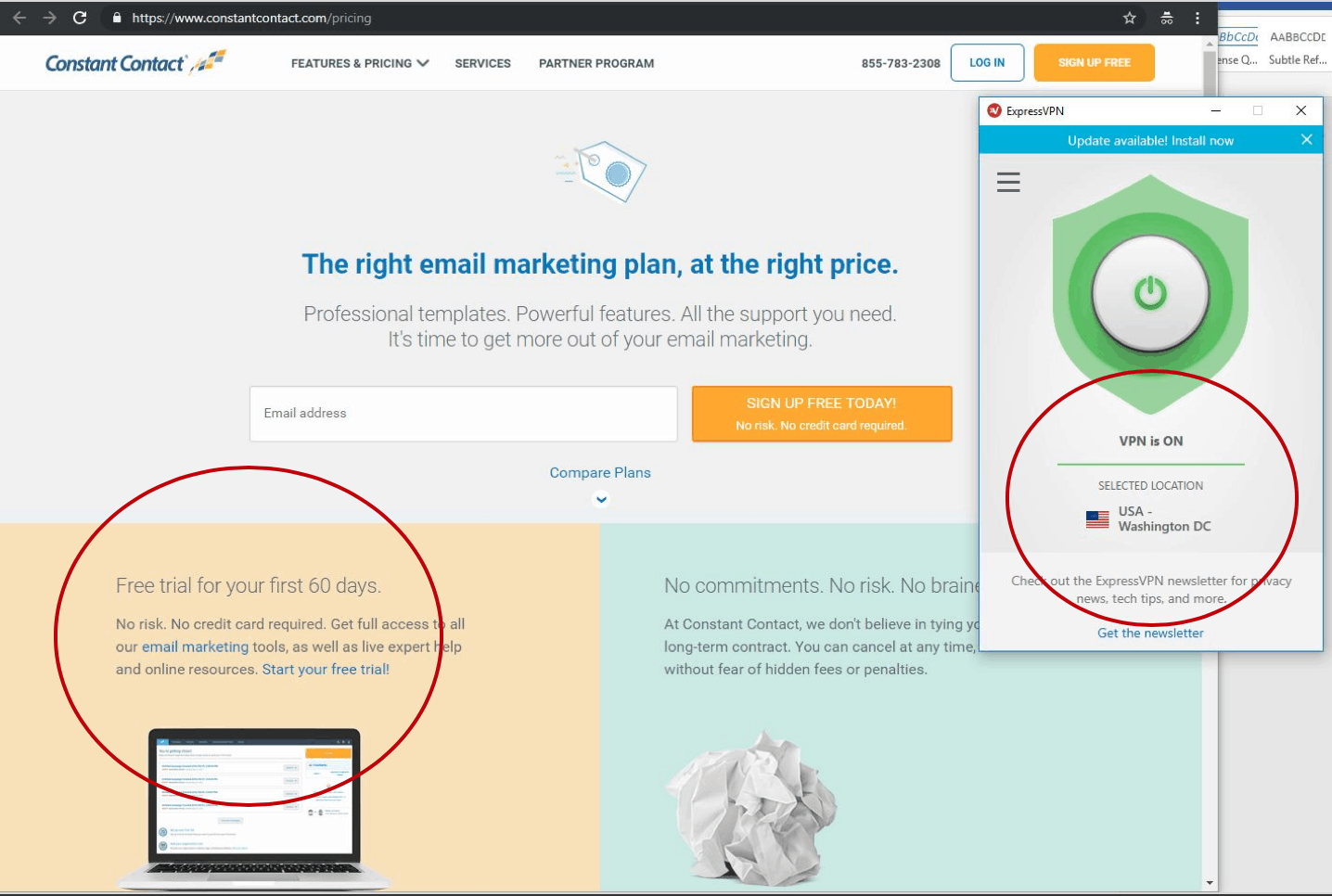 If you're outside of the United States, Constant Contact offers you the first month for free. Basically, you are signing up for a paid plan (unless you cancel), so you are required to provide your credit card information.
The main difference is that this trial is not limited and gives you the same access that a paying customer would receive during your first month, free of charge.
This is what you would see if your VPN was connected to a server in the U.K.: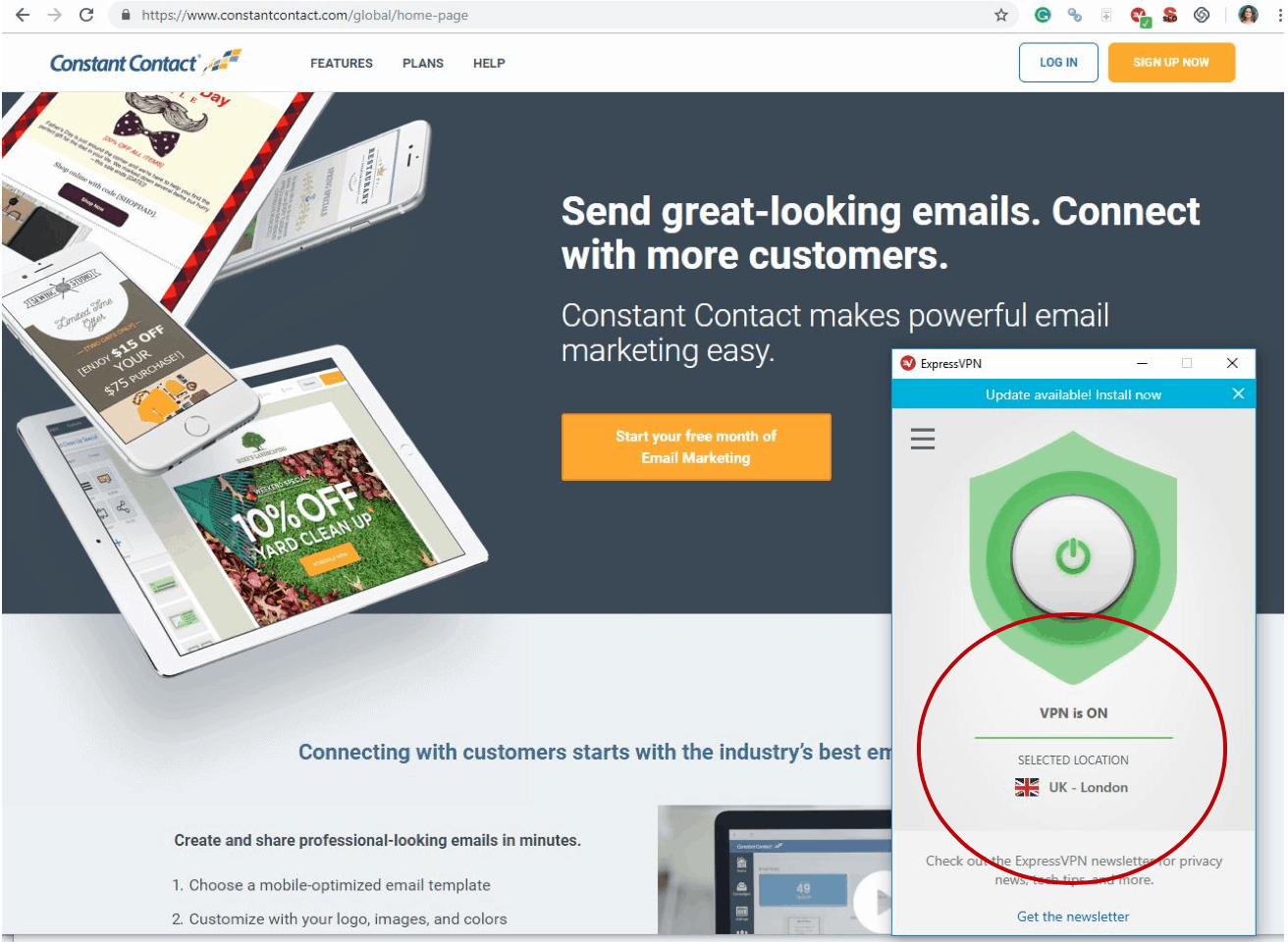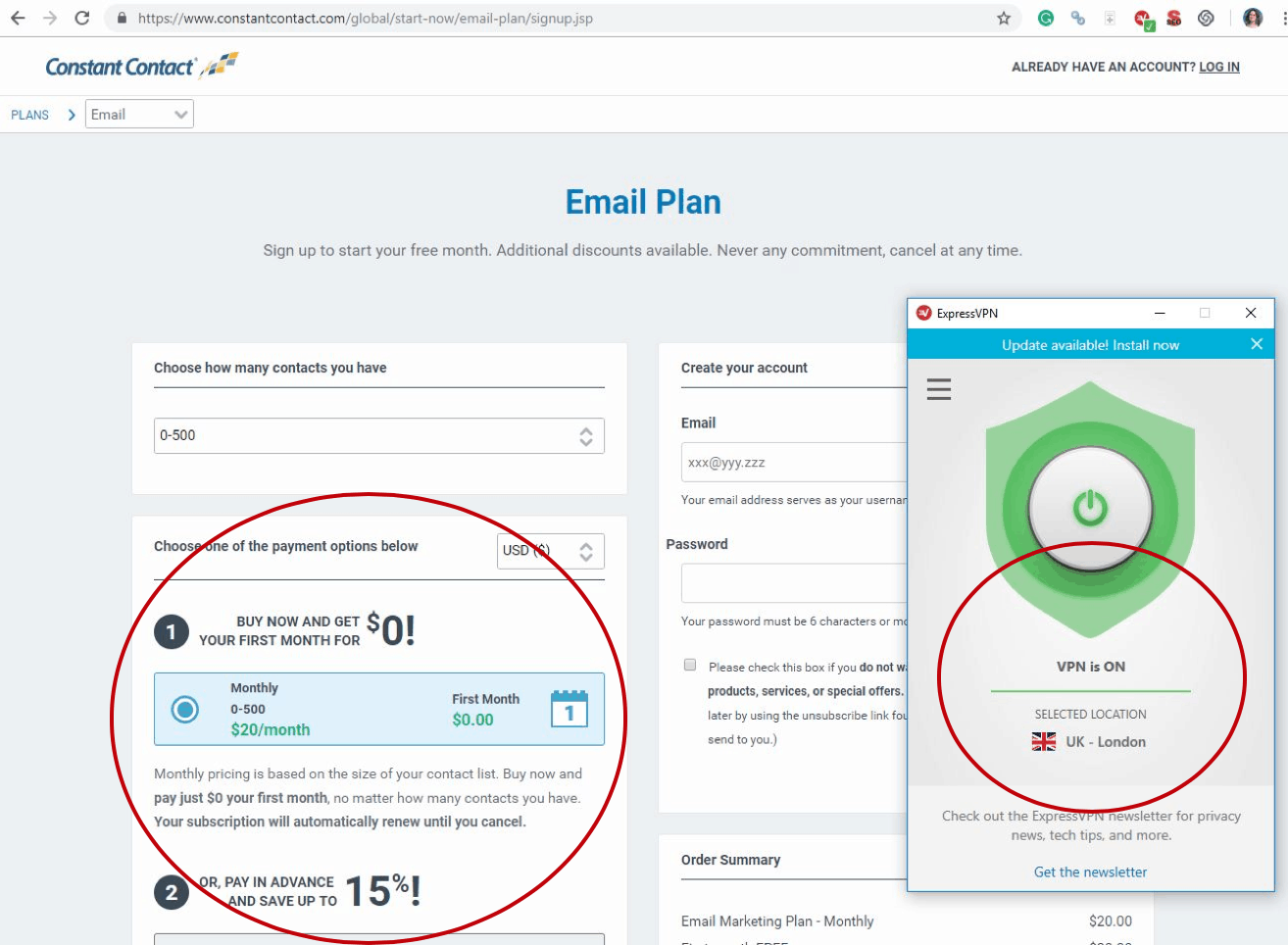 The post-trial prices are the same regardless of location, and are dependent on your number of contacts. If you live in the U.S., have more than 100 contacts, and want full access to Constant Contact's features for a month, you can use your VPN to "trick" the system and get this other offer free of charge.
The point is, you have options
.
Making an Amazing Website for as Little as Possible
All these tips offer simple methods for reducing your expenses during website construction. You can save money by utilizing free design and web development tools or by employing affordable professional assistance. There are numerous opportunities available to help you minimize costs.
Using a VPN to lower the costs of hosting a premium site is a great way to create a site that not only looks professional but helps you stay within your budget.
So, if you still don't have a website in today's day and age, it's time to stop making excuses and get it done.
With the above tricks, there's nothing holding you back from having a beautiful website, regardless of how limited your budget may be
.
---
Source
https://knowledgebase.constantcontact.com/articles/KnowledgeBase/5549-constant-contact-free-trial?q=free%20trial*&lang=en_US