Setting up WordPress for the first time can be somewhat of a daunting task, not only are you faced with a platform that has several sections running down the left hand-side, but it also has many more features that can be turned off and on. So, where do you start?
I can tell you where to start, and that is right here, as we have listed the must have plugins that you will need for your WordPress installation. Whether you are using WordPress as your complete site or just as the blog system, it is important that you have the right plugins to maximise not only its potential in the search engine results, but for the user as well.
Obviously, there are so many good plugins out there at the moment, therefore, coming up with a top 5 list wasn't an easy task, so without any further-ado here are the plugins we have chosen, and why we have chosen them.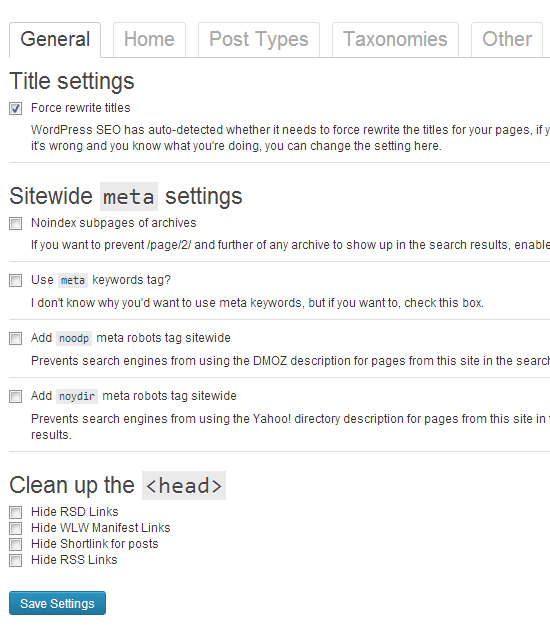 Why Did WordPress SEO Make Our Top 5?
The first plugin you should get is Yoast's WordPress SEO package, it's free of charge, and will maximise the SEO on your blog or site. The plugin allows you to write your own customised page titles and meta descriptions, and add author metadata.
Highlights:
There is the option to use the snippet preview tool, which allows you to see what your post will look like in the search results, so you can edit the length of your page title and meta description.
The plugin also feature page analysis, Open Graph implementation, RSS optimisation and built in file editors.
Who Is WordPress SEO For:
In terms of negatives there aren't many to pick out. The administration area isn't user-friendly so this could cause problems with users who don't have much experience with the plugin.
There is a lot of self-promotion.
The plugin is free though, so no complaints from me.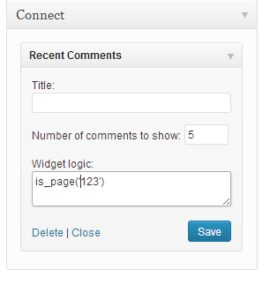 Why Did Widget Logic Make Our Top 5?
If you use a lot of sidebars, and want certain widgets to appear on certain pages or posts then this plugin makes that so easy. You simply add some code to the bottom of your widget to tell the plugin what page(s)/post(s) you want that widget to show on.
Highlights:
It works right out of the box, and as it uses WordPress conditional logic you can set up rules for where you want your widget to appear (or hidden). This is good if you want to add contact details to several pages, but hide it from other pages on the site.
Who Is Widget Logic For:
This plugin can be used on any site that makes use of sidebars.
The only issue I can see with this plugin, is that it can get a bit confusing for some people.
So, always read the documentation.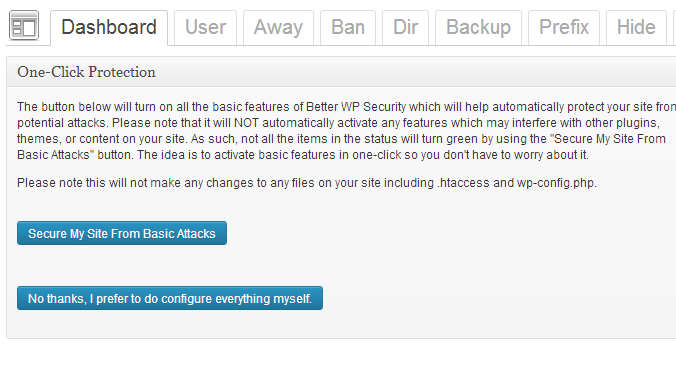 Why Did Better WP Security Make Our Top 5?
If you need security for your blog, which I suggest you do, then this is by far the most comprehensive  plugin. It tell you what you need to do in order to protect your installation and offers an easy dashboard where you can implement changes with a click of a button.
Highlights:
Not only does it tell you what you can change but it detects and recovers for you.
The plugin can scan your site for security flaws, help you change passwords, ban bots and hosts,  hides the login page during certain hours, and even turn off file editing from within the WordPress admin area.
Who Is Better WP Security For:
The Better WP Security plugin can be used by anyone that wants to put security measures in place on their site.
If you don't know what you are doing you can easily lock yourself out of your own WordPress installation, so take precaution and only changes what you are comfortable with.

Why Did Floating Social Media Icons Make Our Top 5?
In 2013 social media is fast becoming an important role in SEO and in general website marketing.  So, you can see why this plugin is important straight away. The plugin simply links out to all your associated social media networks, using the appropriate icons.
Highlights :
There are over 20 icon styles to chose from, so you can select a style set that matches your site.
You can also use shortcodes to place the icons wherever you want to on your site, and its all easy to configure.
Who is Floating Social Media Icons For:
This plugin is ideally targeted at those that have social media accounts setup, and want to increase awareness to them on their own site.
The only negative aspect about this plugin is that in some resolutions, the plugin can sit over the main content of your site when floating.
Why Did nRelate Make Our Top 5?
nRelate do a number of plugins but the related content one is their most popular downloaded plugin.
The plugin scans through your posts and see which posts match each other using a variety of keyword based techniques. It will then present "Other Recommended Posts" at the bottom of each article you publish, giving readers a chance to visit other related topics, which not only helps internal linking, but also keeps the visitor on your site.
Highlights:
You can customise the look of the recommended posts section using a mixture of set styles or by designing your own.
There is also the function to set how many related stories appear. It's simple to setup, and all the hard work is done by the plugin.
Who Is nRelate For:
You need a fair few blog posts on your site already to really get the most from this plugin. If you don't have a big site then the results won't be as you expect.
By installing the plugins that we have discussed and reviewed in the post, you will be able to kick-start your new WordPress blog by adding SEO, usability, and added security measures.
Of course, there are plenty more plugins out there (close to 500,000 if you take a look at the WordPress Plugins site). So, while we are on the subject of the WordPress Plugins site, my last piece of advice to you, is to head over there now and see if there are any other plugins that fit in well with the structure and theme of your blog.
Do you have any WordPress plugins that you feel we have missed out here, and are worthy for a top 5 placement? Let us know in the comments.