right tools
, the process is much simpler than you might think. And your efforts will be worth it. If your blog will be mostly for personal use (e.g., journaling), you'll certainly gain satisfaction from expressing yourself creatively.
But if you have ambitions to monetize, then your prospects for growing your business will certainly be better with a blog than without one
. Here's what some research shows, for example:
Small-business blogs generate over 125% more leads
In the U.S., around four out of every five consumers trust advice on blogs
Blogging-focused marketers are typically 13x more likely to see a positive return on their investment
So whatever your motivations are for making a blog, the first step is simply to start. All it takes is four steps. And once your blog is finally up and running, you'll be primed to promote it, attract readers, and grow your brand.
Step 1: Choose a Website Builder
There are dozens of popular website builders available online, and each has its own strengths. Therefore, when choosing a website builder for your blog, it pays to do some research. By all means, don't make a choice hastily. Someone who's building a blog, for example, will have different needs than someone building an e-commerce website. What are some features that blog owners should look for in a website builder? For starters, it should boast add-ons that can powerfully expand the functionality of your blog.
Make sure the platform you choose has a variety of useful apps specifically designed for blogs
. Some examples include:
Social media integration apps
Analytics apps
Comment-focused apps
Apps for embedding media
Next,
your website builder should also offer mobile-friendly templates
. These days, most people surf the web and read content on mobile devices rather than on desktops. In fact, according to a recent study,
the amount of internet traffic that came from mobile devices went up from 57% in 2016 to 63% in 2017
. And finally, also important is an
intuitive and user-friendly content management system (CMS)
. Make sure you can easily write, add media, and organize and schedule posts using the system you choose.
For Beginner Bloggers, We Recommend Wix
Wix is a giant in the website-building industry. The platform is well known for its
beautiful, customizable, and mobile-responsive templates; easy-to-use editor; and an extensive range of powerful add-ons
. And you'll be happy to know
Wix is ideal for bloggers
. Here are some Wix features that explain why:
Drag-and-drop Interface
As a blogger, you should be focused on creating content and getting it out to your audience. You shouldn't have to waste countless hours learning complicated features on your website builder, or even worse, learning coding languages like HTML. It's just not necessary anymore. Drag-and-drop functionality means that
all you need to know to design and maintain a website is how to drag, drop, and click
. Furthermore, as you reposition your content elements, Wix provides useful rulers to ensure you get those elements aligned exactly as you want. Editing your blog couldn't be faster.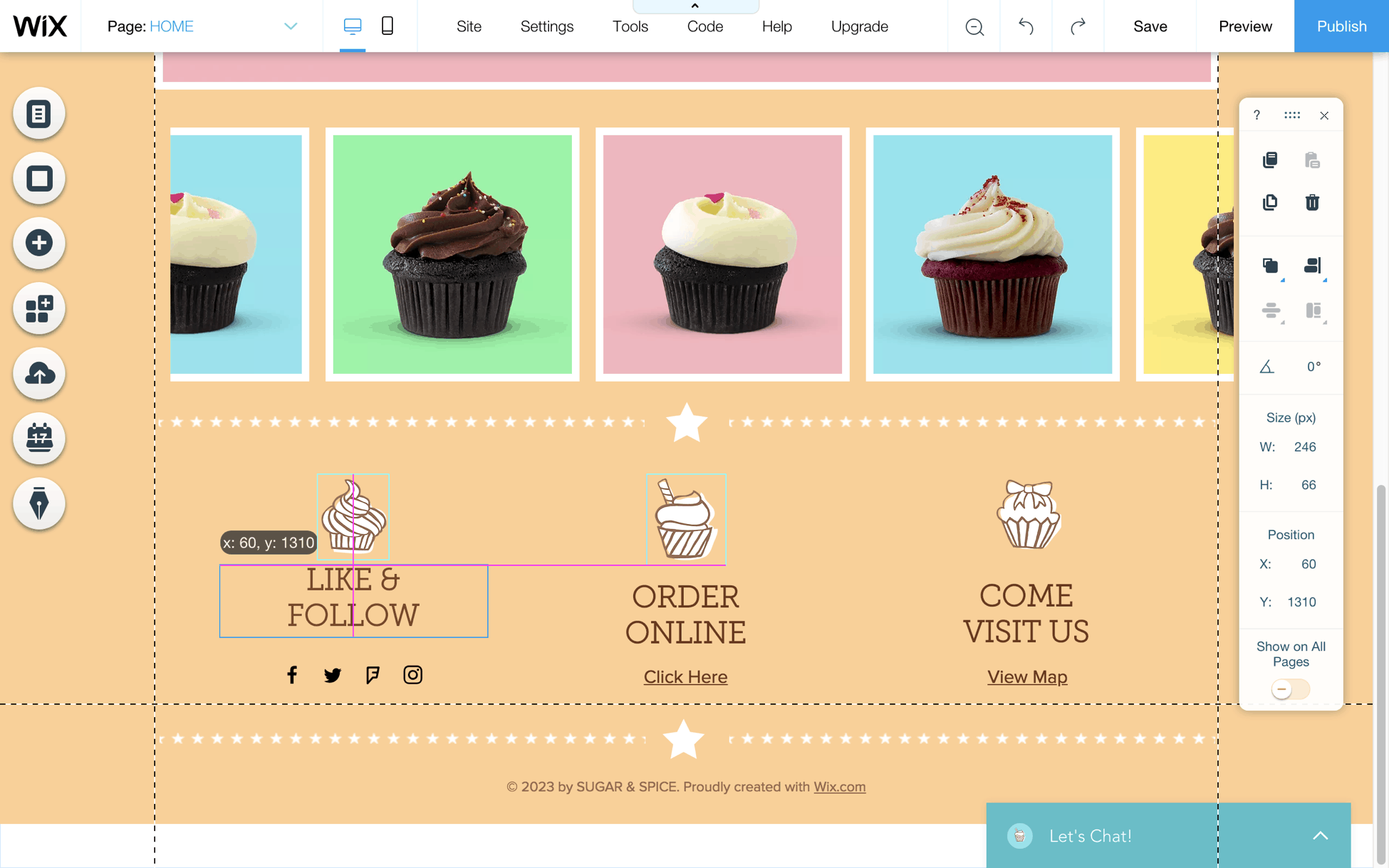 Other platforms like WordPress only provide a container for your content. You need some knowledge of HTML to expand the functionality of your blog.
Blog-Focused Apps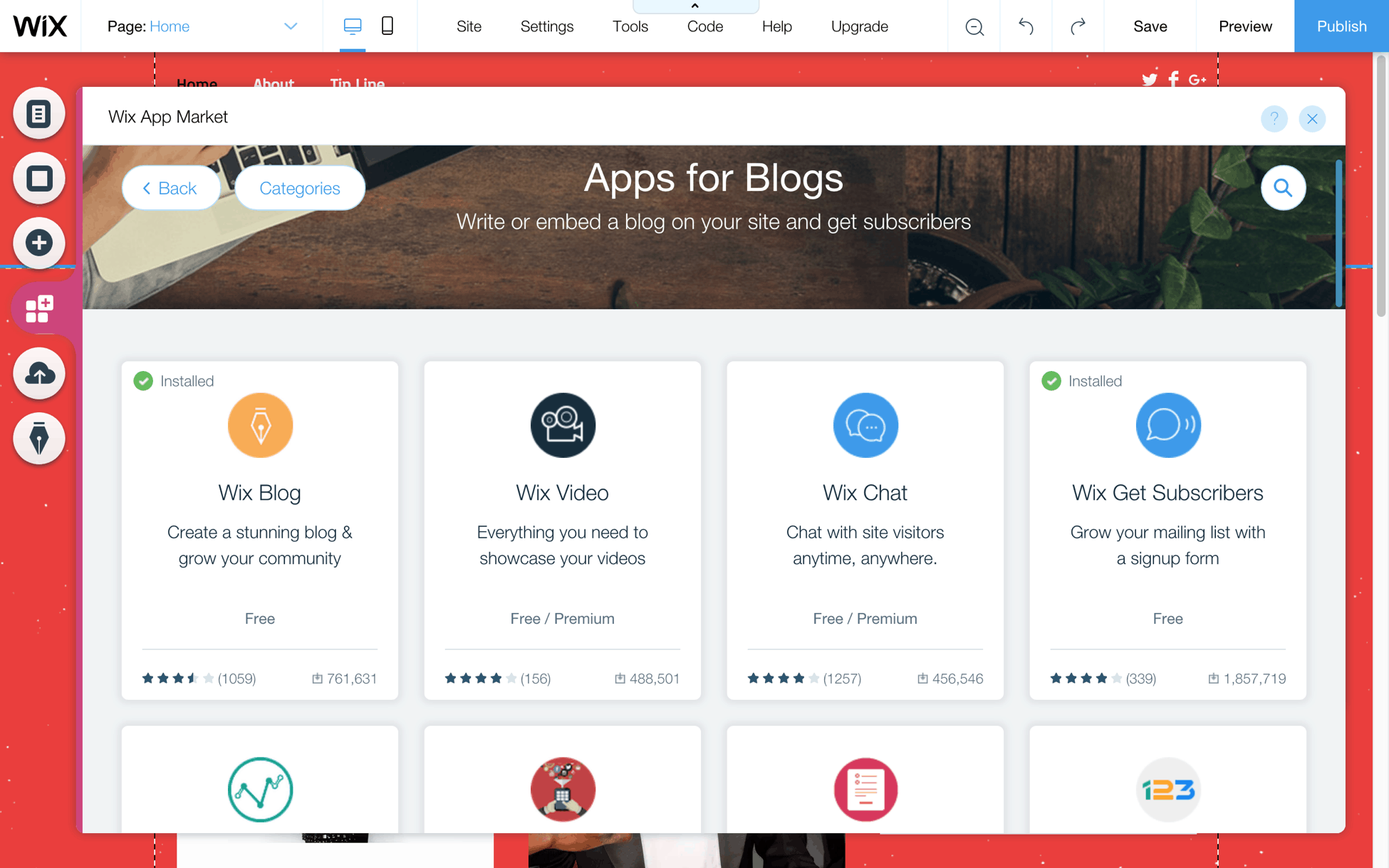 Apps are an easy way to improve a website's functionality. When choosing your website builder, don't just look at the number of apps offered — make sure there are
apps that can actually enhance your blog
. Wix boasts 30 blog-focused apps. Here are my favorites:
Wix Video
Visitor Analytics
Wix Forms
Contact Collection
Site Search
Other functionality you can add includes
social media integration, a podcast player, a news stream
, and more. Wix apps are curated and developed specifically with customers in mind. You can be sure that any app you add to your blog will work. This is in contrast to open-source platforms like WordPress. Anyone can add an app to that market. So while the quantity is hypothetically endless, that means quality is more of a gamble. No one from the company is testing the app to be sure it's reliable for customers.
SEO Capabilities
You might produce the best content that outshines your competitors, but you actually need eyes on it first for your blog to succeed. That's where SEO steps in, and fortunately, Wix can improve your blog's rankings on search engines. For example, Wix can directly
optimize your webpage titles, meta descriptions, headings, image alt attributes, and URLs for SEO
. By contrast, platforms like WordPress offer some of these features only through outside plugins. And that's not all. Wix boosts its SEO capabilities with its
SEO Wizard
. Just answer a few questions about your business, including what five keywords describe it best. If you need help along the way, there are
video tutorials to guide you
. For example, the screenshot below is of a video about how to pick the keywords that will get your website found: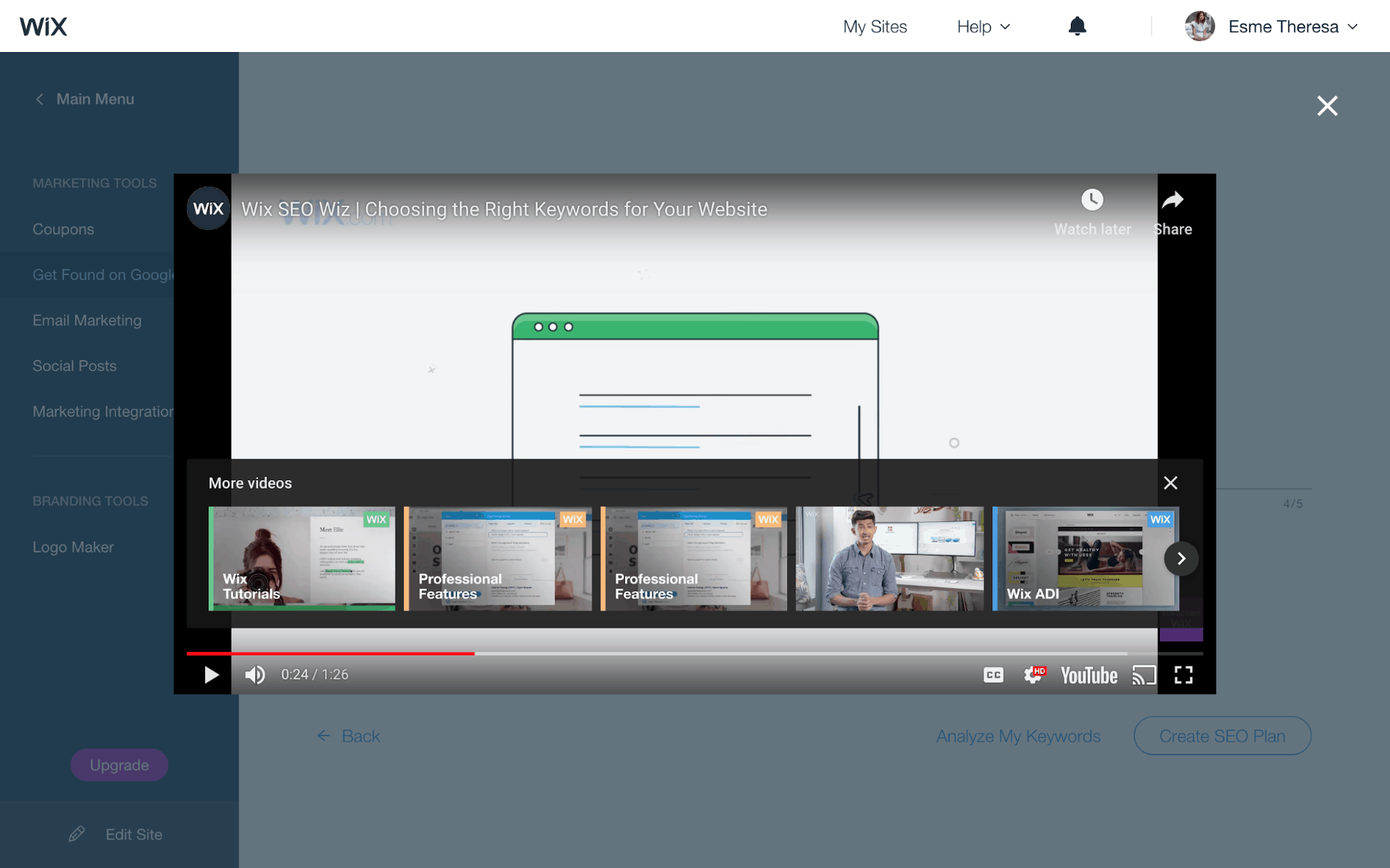 In minutes, you'll have a customized SEO plan, complete with a checklist giving you step-by-step instructions on how to get your website found on the internet.
Mobile-Optimized Layouts
Wix layouts are optimized for mobile.
A mobile-friendly website is automatically created for you based on your desktop version
. You can view and edit this right in the Wix editor. Tweak your mobile layout exactly to your liking quickly and easily. This is essential, because again, a huge segment of your blog visitors will read your content from their mobile device. You need to make sure your readers' experience will be as smooth on mobile as it is on a desktop.
Not Sold on Wix? Here are a Few More Website Builders to Consider for Your Blog
Wix is our choice for the best website builder for bloggers, but that doesn't mean it's yours. There are some other good options on the market for beginner bloggers. You should take the time to research multiple platforms before making a final decision.
Site123
Site123 showcases its standout feature right in its name:
speed
.
Site123 wants to make designing your blog as easy as one, two, three.
 They do this a few different ways:
A website builder that only requires you to input your content — no coding or even dragging and dropping required
Ready-made layouts you can use in minutes
Mobile optimization
Free hosting
Affiliate link program so you can make money while blogging
SimpleSite
SimpleSite is all about keeping up with its name – 
building a simple website
.
SimpleSite doesn't require any technical know-how
and lets you publish a beautiful website in mere minutes. Here's what they offer you:
Absolutely no HTML/CSS knowledge necessary to build a fully functioning website
Straightforward themes that can be easily modified to fit your needs
Unlimited video and image storage
Free domain
A wide array of e-commerce tools
Weebly
Bloggers may also want to consider Weebly.
Weebly prides itself on providing a blogging service that helps customers create and publish content quickly
. Here's how they do it:
A simpler and more restricted drag-and-drop system than that offered by competitors
Access to layout HTML codes so you can easily add more customization if you know the language
Premium, higher-quality templates available for purchase
Easy third-party media integration
Sharing and scheduling features
Jimdo
One last stop on our list of website builders is Jimdo.
Jimdo claims you can build a website in 3 minutes
with absolutely no coding experience required. It provides the tools to help you build your blog and drive traffic to it. How do they help you? Here are a few ways:
All templates are fully customizable and mobile responsive
Simple drag-and-drop builder
An AI tool (Jimdo Dolphin) that will build an entire website for you
Personalized SEO help
Free domain
Step 2: Get a Domain and Find the Right Web Hosting
To get a website up and running, you need two important elements:
A domain name (YourWebsiteName.com)
A host to connect your website content to the internet
When you build your website with Wix, Wix is your host. If you pay a monthly fee, that will ensure your content will load more quickly and reliably. Another reason you should pay for your domain name is so
your website will look more professional
. YourBusinessName.com seems a lot more trustworthy than YourBusinessName.Wix.com, which is the domain name you'll get if you don't pay. When choosing your domain name, keep in mind that
.com, .net,
and
.org
are generally considered to be the most professional-looking extensions. If you choose a service other than Wix and need a host, make sure you find an affordable option you trust. Sometimes, a domain name is offered for free with a hosting package.
Step 3: Set Up and Design Your Blog
Now, it's time to design a blog. On Wix, log in and click
Build Your Site
. Then choose your website type: Blog.
Choose a Layout/Theme
Wix has blog layouts separated by category. You can start a blog about anything you like, but there are blog layouts specifically designed for topics like Lifestyle, Fashion and Beauty, Entertainment, and Food. There are around 50 to choose from.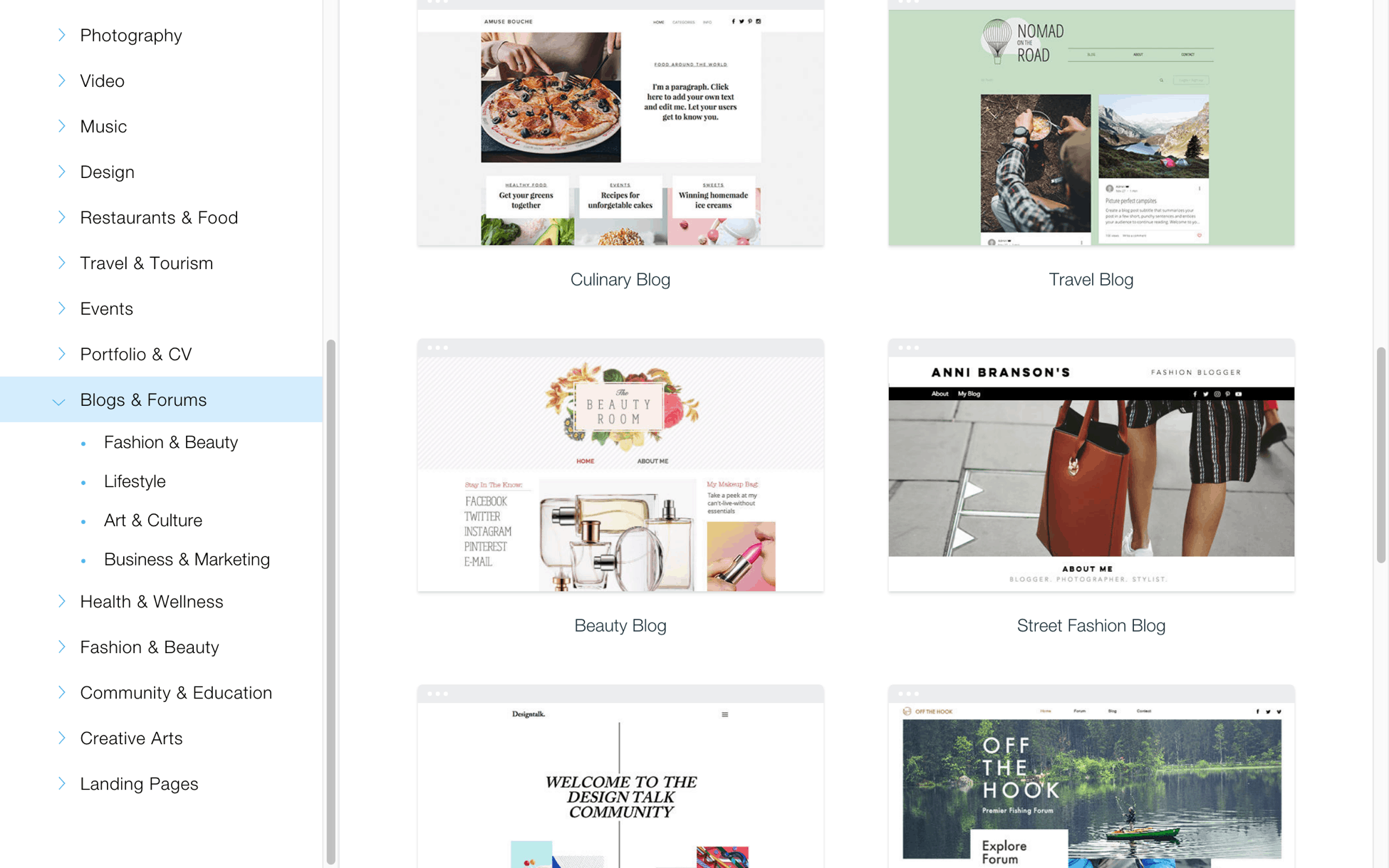 I used a basic Lifestyle blog template: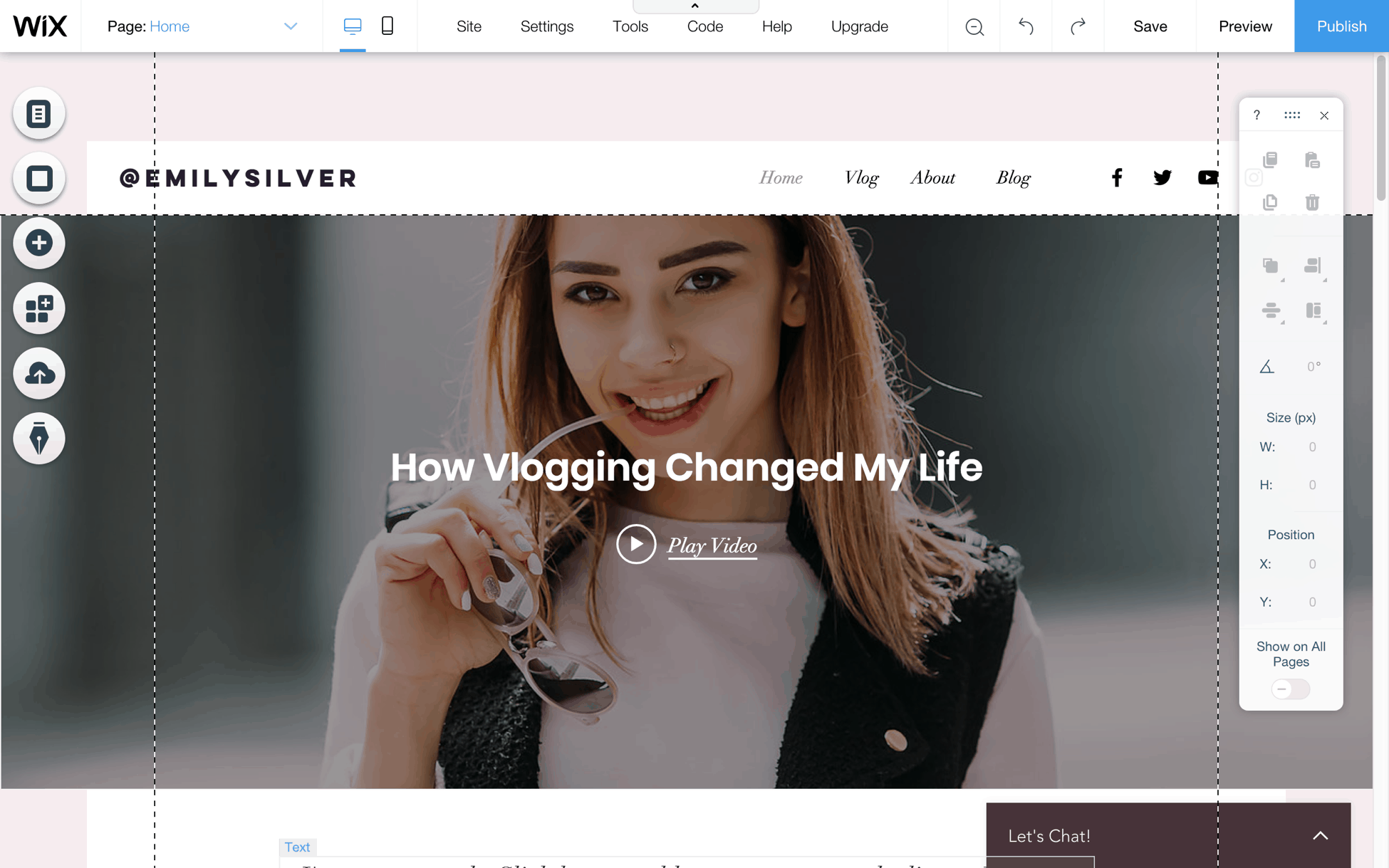 Create a Blog Post
On the left-side menu, click
My Blog
and then
Create a Post
.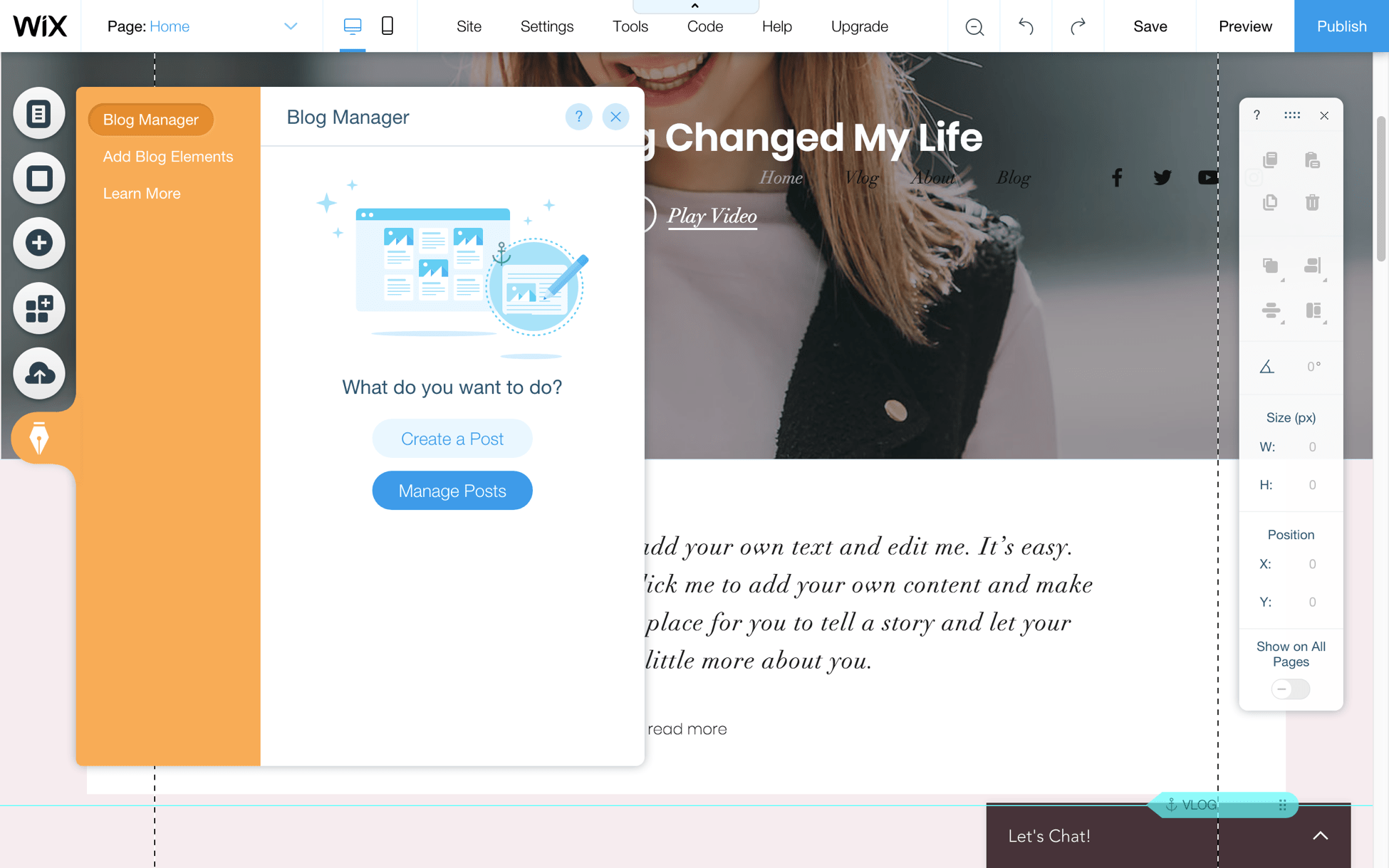 This is what the blog editing screen looks like. I simply clicked on an image icon at the bottom of the screen to add an image: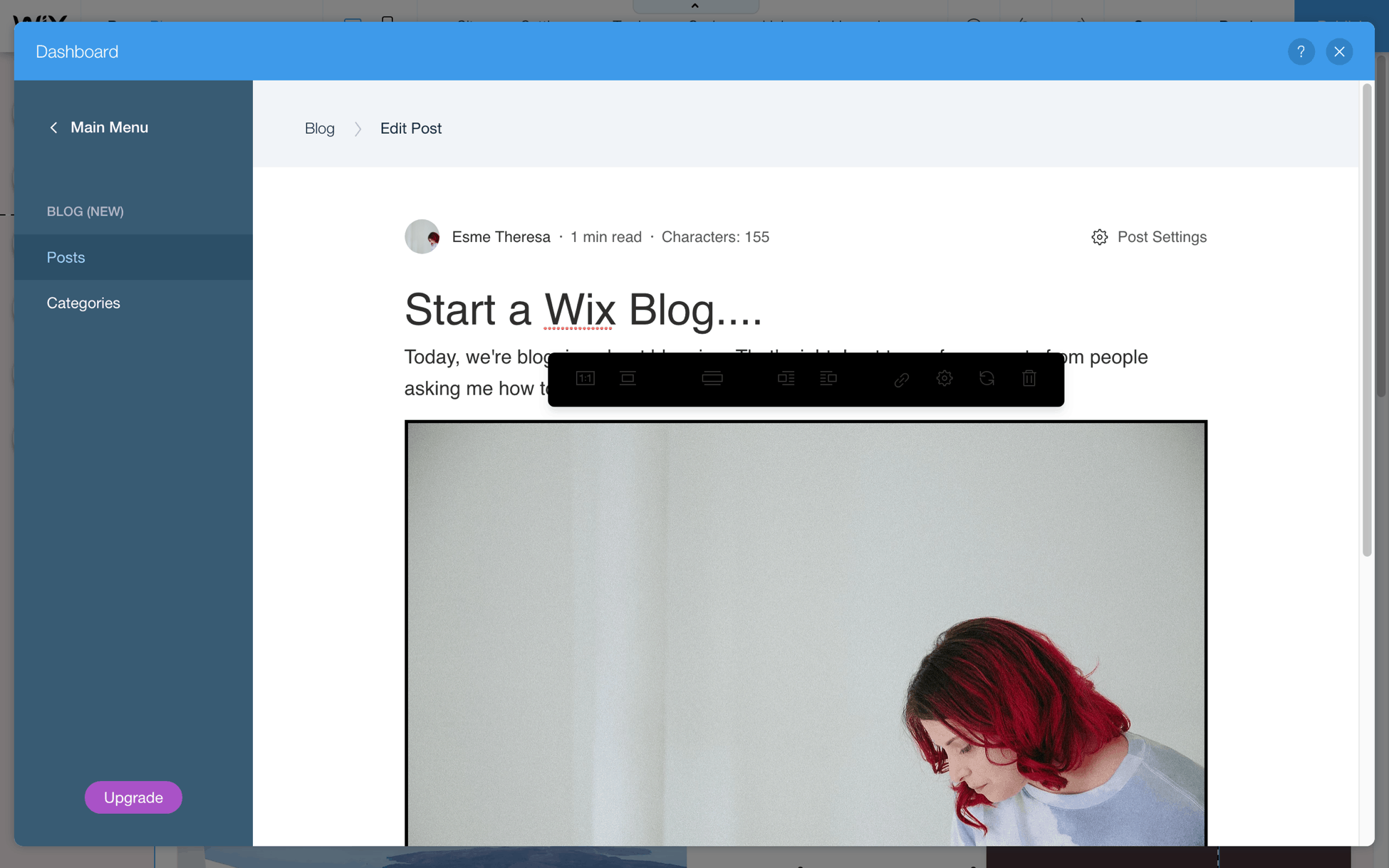 Along with images, you can add video, dividers and HTML code to your posts if you want to. Click
Publish
and exit the blog editor. This is how the post looks on the website: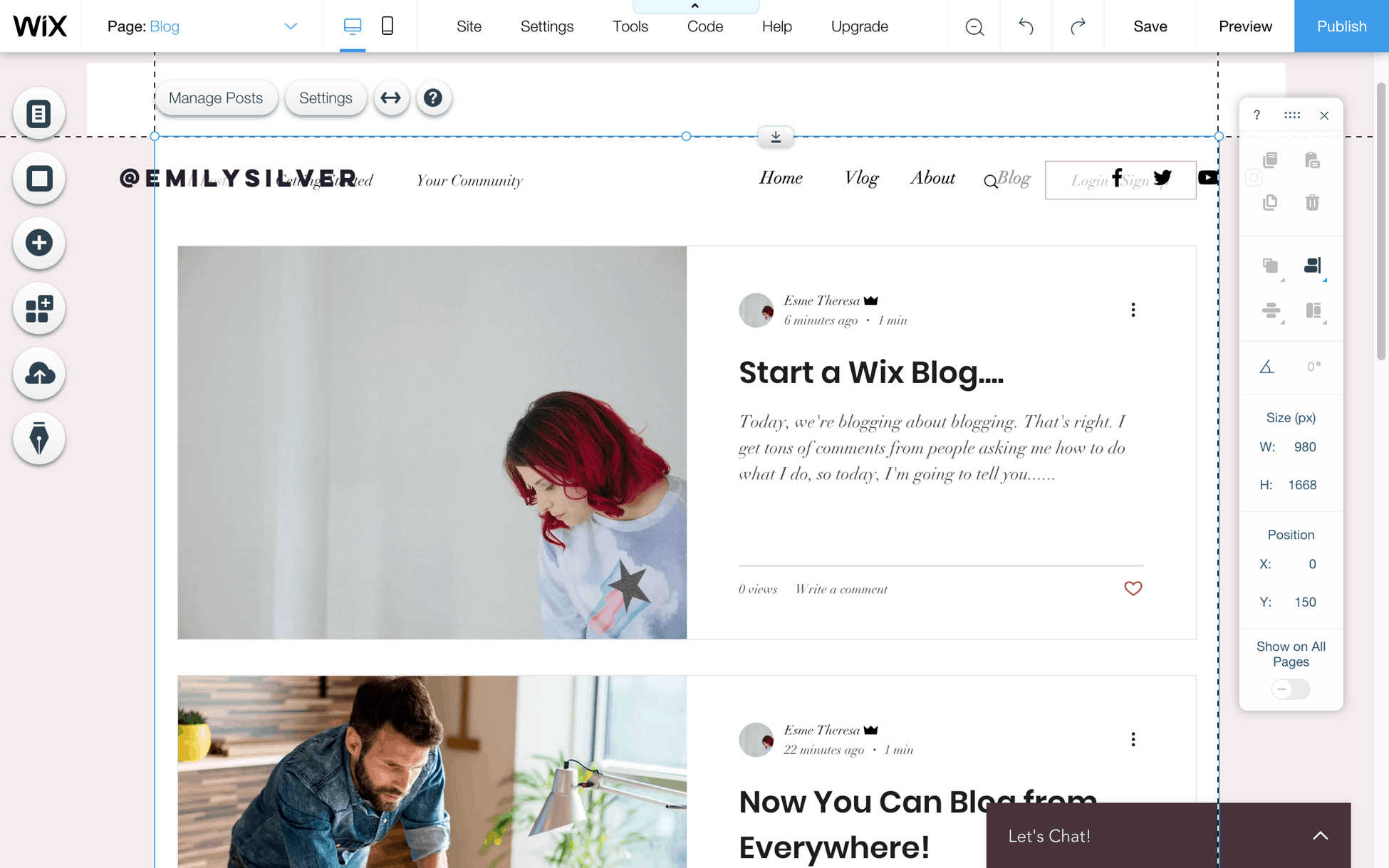 Add Apps
Add apps from the menu on the left side of the screen. I recommend concentrating on
social elements and commenting apps. Analytics apps
will also provide concrete data to tell you how your blog is doing.
Wix
offers forum, music, and quiz apps. As fun as those might be, if you don't need them, don't add them. There's no need to overwhelm readers. Similarly, don't add apps to your website that you plan to use later but aren't using now. Even if you might start adding videos to your blog, don't overwhelm yourself with the app until you absolutely need it.
Start Designing
Apps help with functionality, but design elements are important, too. I changed the background color of my blog just by clicking on it: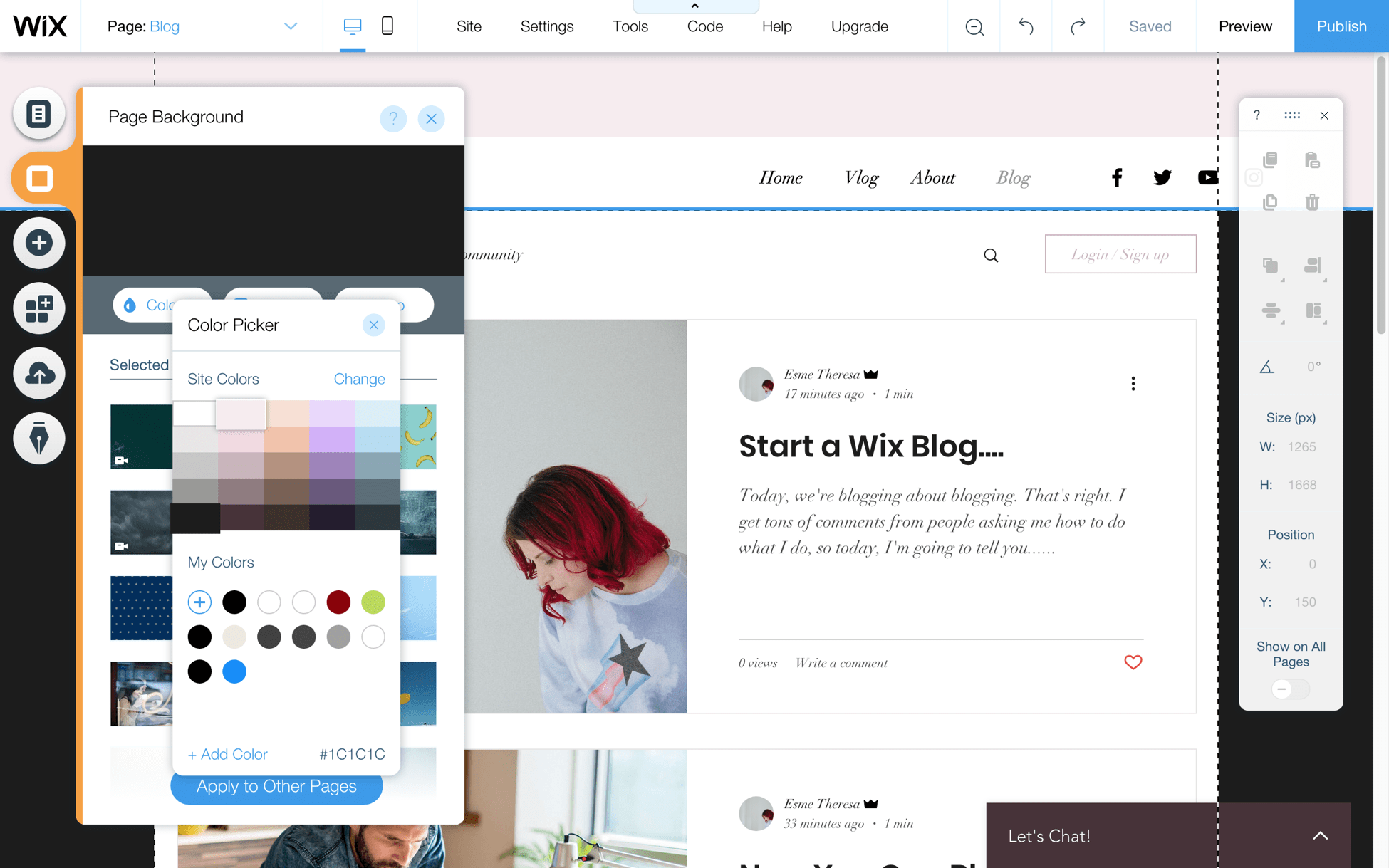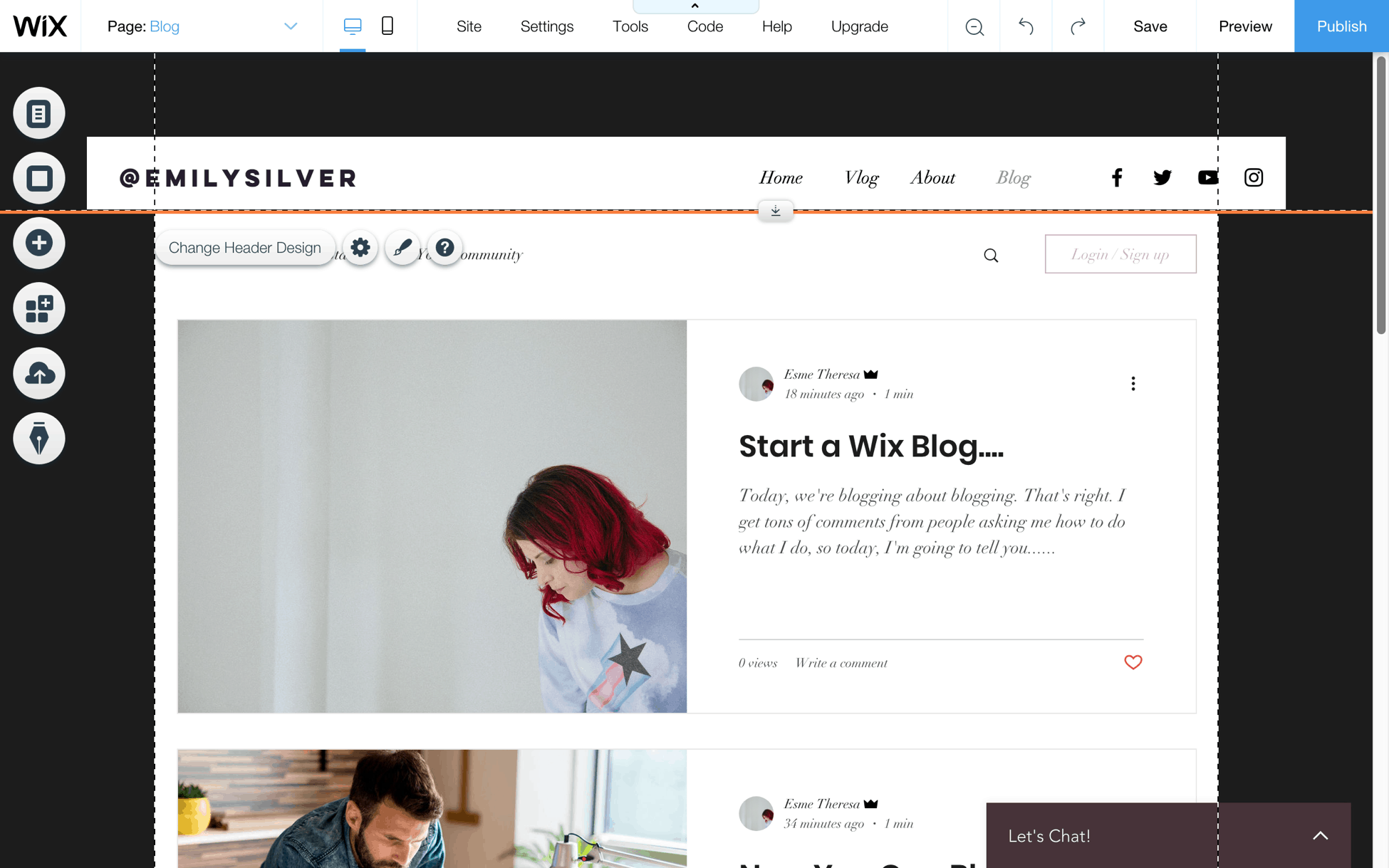 Wix's rule of designing is simple: Just click, and you'll find all the menus you'll need.
Optimize for Mobile
Remember,
Wix
makes it easy to optimize your website for mobile. Just click the icon at the top to enter that editor: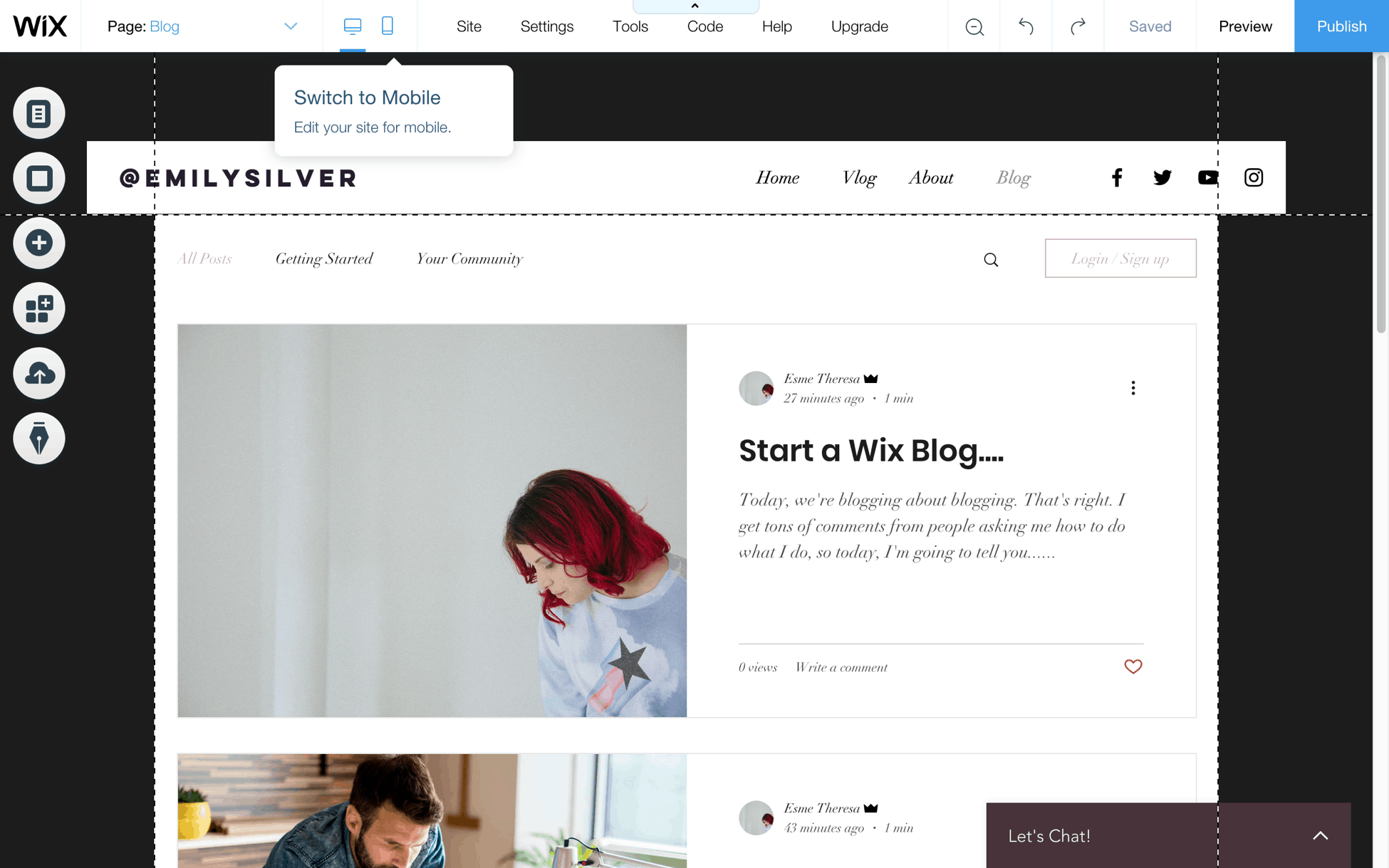 Wix will ask you some style questions before you enter the mobile editor: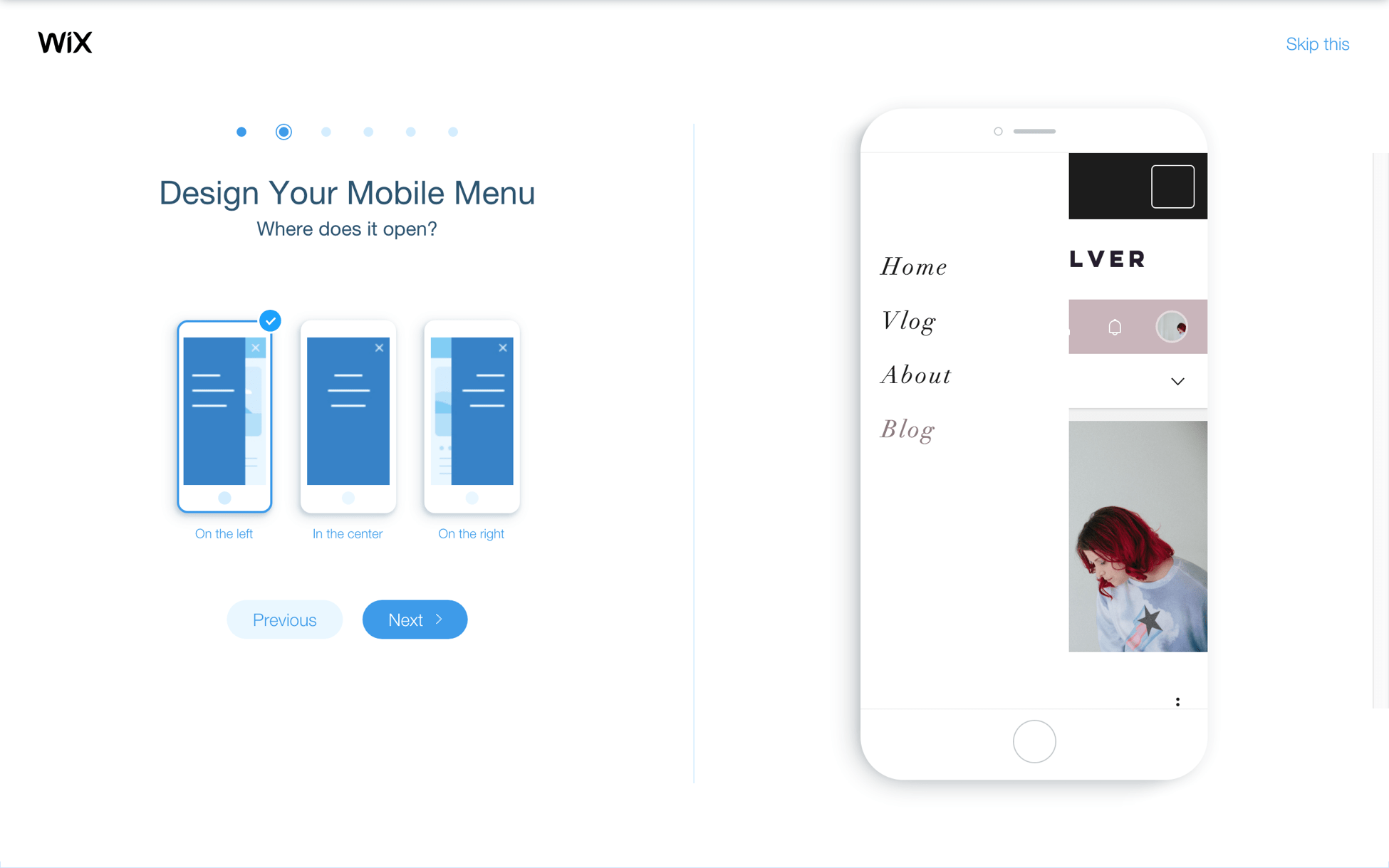 Otherwise, just drag and drop the content elements as you would on the desktop editor. I moved the Twitter handle to illustrate this point: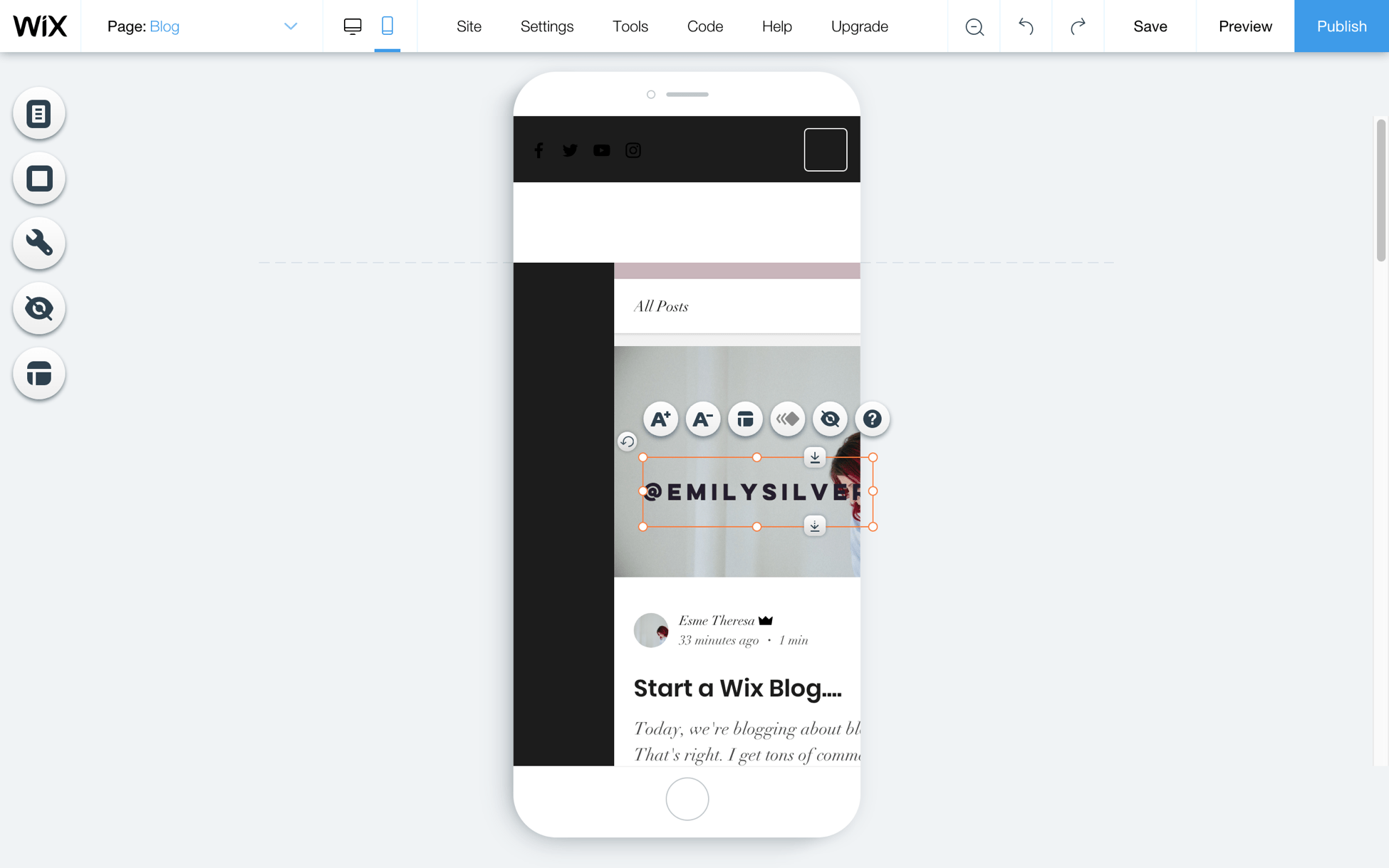 Learning Wix doesn't take long, but as with learning any system, you'll have to experiment for yourself to become an expert.
Step 4: Grow Your Audience
Of course, people need a reason to come to your blog, so give them one as often as you can.
Update your blog consistently
. Set aside time in your schedule to blog — the more, the better. Growing your readership can lead you to opportunities you've never dreamed of, but you aren't going to achieve much if you don't post valuable content often. No matter what new content you provide, social media is a fast way to promote it. Make sure your blog has
social media buttons that are easy to find
on your website. Cross-promote your content on all of your social media platforms, and use scheduling features to help make this easier. And use
hashtags
! If you don't, it's harder to grow your audience because only people you follow will see your posts. Hashtags automatically make your content available to people who will be interested in it. But on social media, don't just promote your content and do nothing else. That would make you seem more like a robot instead of a human. Especially for blogs, people want to know that they're connecting with a real person.
So on your social media posts, actually talk with potential and current readers
. Tell them about yourself and why you're an expert on your topic. You can also tell them why your business is the place to go for certain products. Showing readers that you're relatable and reliable will get them to trust you and follow your blog for years to come. According to 2017 statistics, about
409 million people read more than 23.7 billion pages every month
. That's a lot of readers you don't want to miss out on! Helping your blog achieve its highest readership requires a delicate balance between interesting content, social media marketing, and dedication.