Squarespace
is a popular tool for building websites, but it's not always clear how to get your Squarespace website to rank high on Google. However, the platform does include a lot of SEO features. If you know where they are and how to use them, you can do a lot to increase your website rank.
Below are five tips you can use to get the most out of these features, improve your website's SEO, and increase your Google ranking:
Tip #1: Choose a Template Based on Function, NOT Design
Templates create your website's structure, layout, and format. Squarespace offers a large selection of them to choose from, and
it's very tempting to pick one based solely on the look and feel of the design. However, this is a mistake.
Because the template you choose establishes how content is organized on your website, it plays a big role in SEO. How easily Google's algorithms can understand the information presented to your visitors directly impacts your website's ranking. In other words,
if your website doesn't function as an easy-to-use, valuable resource, Google will downgrade it in search — even if it looks amazing.
Squarespace helps make your website intuitive to users by organizing the templates into pre-determined categories such as "Fashion & Beauty," "Music," and "Photography." Make no mistake — these categories are about more than what "looks good" for certain types of content.
The templates within them are designed to clearly present their genre-specific content to Google.
For example, if you're creating a blog, it might be tempting to use an image-heavy template on the homepage because it looks great for readers. But if those images dwarf the titles of your blog posts, Google may think the images themselves are more important, which in turn can make it hard for you to rank for the subjects you're blogging about in text-based format.
Compared with competitors like
Wix
and
WordPress
, Squarespace's templates are widely considered to be some of the most beautiful and easy to use. But don't let that selection hamper your SEO efforts. You don't have to limit your choices to the templates within the category that best describes your website. However,
if you do choose a template outside of your category, be sure that its organizational structure makes sense for the type of content you create.
Tip #2: Add Keywords, Tags, and Descriptions to EVERYTHING
Once you've got the template nailed down, the next step is to be as clear as possible in telling Google what your website is about. The more information you feed to Google's algorithm, the higher you will rank in search. To do this, as much as possible you should
label your content to indicate its subject matter relevancy
.
This is an area where Squarespace often lags behind other website builders.
The functionality of adding metadata has been problematic for many users
, with some reporting that they needed to edit the theme's code in order to add metadata in an SEO-friendly manner.
That said, Squarespace has many features you can use to optimize keywords, tags, and descriptions: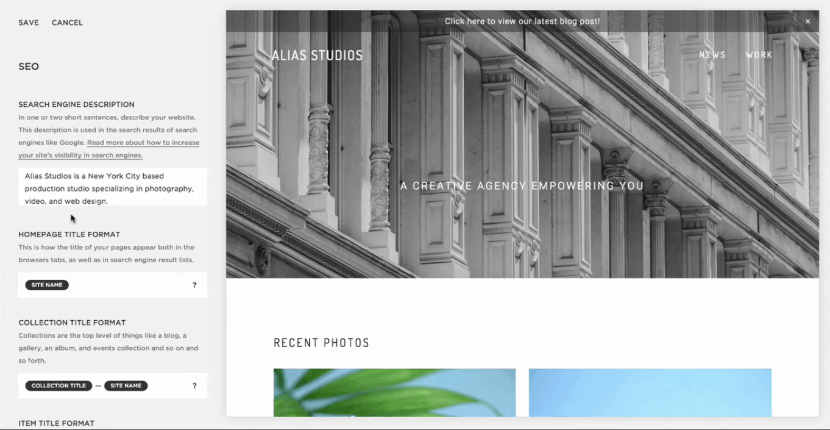 First, the "

Page Configuration

" option within the Settings gives you the ability to

create titles and descriptions for every single webpage on your website

. This allows you to tell Google exactly what you want it to know about what keywords and topics the webpage is relevant for.

Second, there are

SEO headings

within text content. When you create a blog post, white paper, landing page, etc., it's not enough to structure it properly with logical headings and subheadings; you need to properly indicate that internal structure to Google. Humans will understand that capitalized, larger-sized text is a heading, but Google will not. Proper use of tags like <H1> are required, and Squarespace provides this to you in its text editor.

Third, Squarespace helps you properly

label image content

as well. Just as with text-based content, Google won't know that you've put up a useful infographic or beautiful photo if you don't tell it that you have. Squarespace helps by giving every image a name.

Make sure to choose image names that include the keywords and topics you're targeting.
Tip #3: Make Your URLs Tell a Story
Your website's webpages and content are not the only places where you can put descriptive information about your website. Its URLs make up another data point that Google uses when determining relevancy, and by extension, search rank. However, auto-generated URLs often don't really indicate the keywords or topics they cover in a simple, clear way that Google can understand.
For example, if you run a blog, the title of your post will become part of its URL. But a post's title may have a lot of unnecessary words, or it may not even directly mention all the keywords and subjects the post discusses.
Fortunately, Squarespace has a feature that allows you to completely customize the URLs of your website's webpages.
This allows you to target your keywords and indicate the subject of your webpages directly in the URL itself.
Tip #4: Use Data to Make SEO Adjustments
SEO is an ongoing process. Once your website is up and running with the proper layout, keywords, and URLs, you can use Squarespace's analytics tools to monitor your progress and make continual improvements.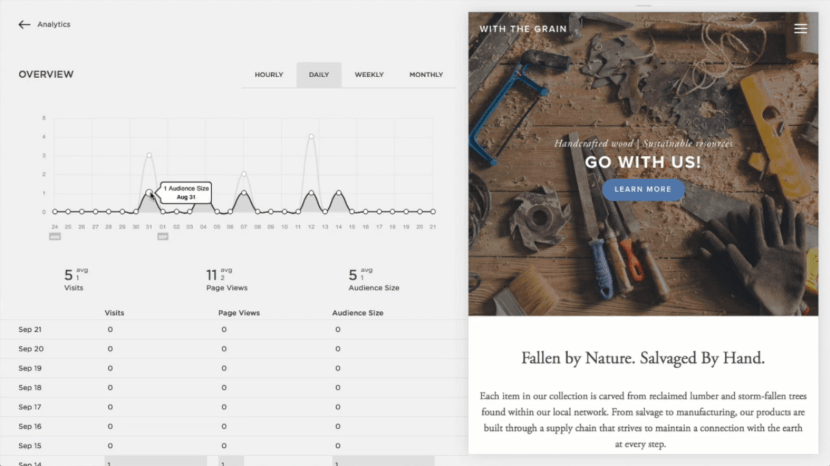 One example of this is Squarespace's "
Referrals
"
data, which tell you where visitors to your website came from,
breaking down traffic by channel
.
Google will take the volume of your website's traffic into account for ranking purposes. Therefore, if you notice that you're getting a lot of traffic from a particular social media channel, part of your SEO strategy can be to increase the amount of content you put out to that channel. That way, you can increase traffic and your webpage ranking even more.
Tip #5: Make Nice With Google's Search Bots
In order to attain a higher website ranking, you should direct Google's algorithm bots to give priority to indexing it. Just like nurturing successful relationships, creating a positive rapport with your Google partner entails promptly supplying requested information and conforming to its preferences.
Squarespace has some native SEO functionality built in, and one prominent example of this is its auto-generated sitemaps.
Sitemaps are a repository of everything found on your website, and they allow Google's algorithm to look at all the webpages on your website without having to find each one individually.
Although Squarespace will generate the sitemap, one feature missing is the ability to tell Google to look at it.
You must do this yourself manually by viewing your website in Google's Webmaster Tools, clicking on
Add Sitemap
in the "Sitemap" section, and then adding "sitemap.xml".
In addition,
Squarespace has a reputation for giving some users problems with getting Google to recognize and index their website at all, even after submitting a sitemap
. While the exact reason for this is unknown, this is obviously a very serious flaw, and also one that competing websites like Wix and WordPress do not have.
Squarespace SEO: Good, but not the Best
If you're looking to create a beautiful website using a highly intuitive template interface, you'll find everything you need here. But if you're specifically looking to maximize your SEO, you should look elsewhere.
Squarespace simply lacks the polished SEO finish of many competing website builders. Squarespace's metadata issues, as well as the problems that some users report with getting their website listed at all are unacceptable. While there certainly are a lot of SEO features within individual webpages, the platform is nevertheless missing an overall SEO focus.
For example, Squarespace offers no features comparable to WordPress' sophisticated and well-known Yoast SEO plug-in. The ability to put SEO information on webpages does not compare. And
in a world where achieving high Google rankings is already very difficult, there is no reason to handicap yourself by using less sophisticated tools than the competition.
Squarespace is still a good website builder that is used by millions, and it does have a lot of basic SEO features. It's well known for being extremely easy to use and creating visually stunning websites. For these reasons,
it's definitely worth using to build your website if SEO isn't your primary focus.
e.