SimpleSite
 might be one that immediately captures your attention. Indeed, it's one of the simplest and quickest ways to put a website together — typically in only a few minutes. And looking at its prices,
SimpleSite may also seem like one of the cheapest.
However, you might be concerned that it seems too good to be true, or that there might be hidden costs you'll be forced to pay later on. That's understandable, and your efforts to be an informed consumer will serve you well. When evaluating any builder, always remember that just because something is cheap doesn't necessarily mean it's worth the money, time, and effort to use it for your website. Research is vital. So if you're considering SimpleSite, keep the following considerations in mind.
SimpleSite Gives You Every Opportunity to Test Out the Platform for Free
If you're considering using SimpleSite but you're not quite ready to sign up, you'll be happy to learn that there's
a completely free plan
 with an unlimited period of use
. You can use this free plan to host your website and play around with the builder to see whether the experience suits you.
Your features will be slightly limited, as you'll be allowed to create only up to 15 webpages. There are limited design options, and you can create only five products for your store
. The free Basic plan is also subject to other typical restrictions on free plans, such as the fact that ads will be displayed on your website, and you'll need to host on a SimpleSite subdomain.
However, if you truly want to get a taste of what the full SimpleSite website-building experience is like, you can avail of a 14-day money-back guarantee
. This is a no-questions-asked policy, so you can rest assured that you'll get your refund. Only
WordPress.com
bests SimpleSite, with a 30-day money back guarantee, whereas
Jimdo
,
Wix
, and
Site123
match their offer.
You Can Sell for Free With a Basic Plan!
If you're unsure sure why I sound so excited about this, it's because there's nothing else out there like it.
SimpleSite is unique in the fact that it offers a free plan where you can actually create a store and start selling products
. With most other website builders, this is only a premium feature unlocked on one of their more expensive plans. Yes, the online store is very limited on SimpleSite's Basic plan, as you can create only up to five products. However, at least you have the option to fully explore the e-commerce experience if you want to use SimpleSite. As there are very limited customization options and templates with the free plan, you also won't be able to create as tailored a shop experience as you would be on other builders. But looking at other builders, you can unlock e-commerce capabilities only on Wix's and WordPress' second most expensive plans, and on Jimdo's most expensive plan. And just like all these other builders,
SimpleSite doesn't charge its own transaction fees on sales
. Clearly, if you're unsure of selling online, then SimpleSite provides the best way forward because it's completely risk-free.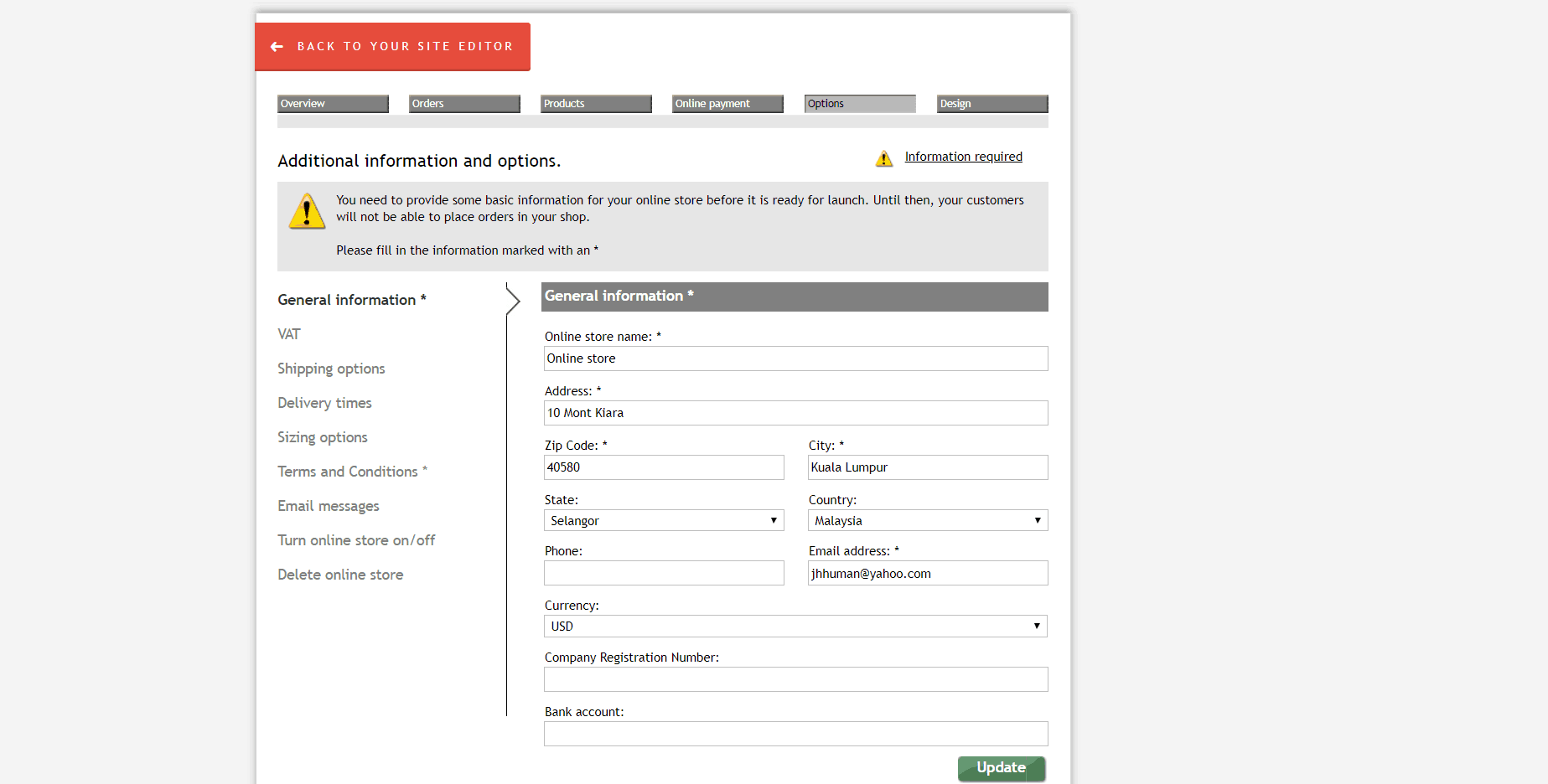 However, if you're serious about your online business, you'll need to upgrade in order to create more than five products
. Also, bear in mind thatSimpleSite's e-commerce is very basic, with only PayPal as a payment gateway, minimal product options, and no shipping integration.
SimpleSite's Billing is Confusing, But it Can Help You Save
SimpleSite used to offer only monthly and quarterly billing options. However, now they offer annual billing to be more in line with other website builders. The pricing page shows only monthly and annual billing options, which makes it confusing that the quarterly billing option still
sometimes
shows up on the "order" webpage.
You save a quite significant 30% of your monthly fees by choosing annual billing instead of monthly billing
. If you go with quarterly billing, you'll save about 16%. The fact that you can start off with a $1 fee for your first month and enjoy a 14-day money-back guarantee makes paying for the entire year up front a much less scary prospect. The only way to upgrade is by going through the website-creation process first and then clicking on one of the upgrade options in your dashboard. These will take you to an order webpage with the $1 offer.
How Do the Features Compare with Other Builders?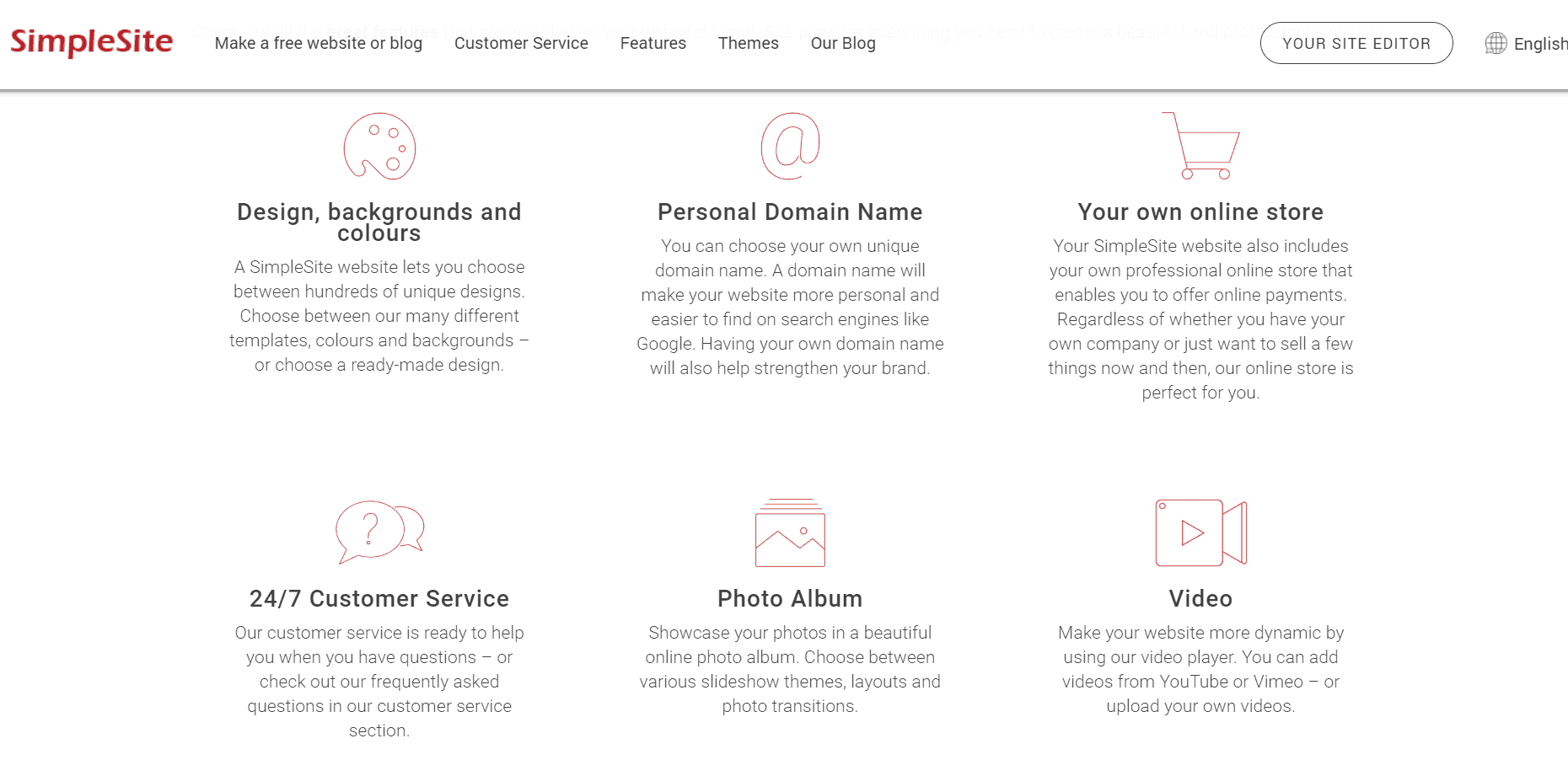 As you might've guessed from the name, SimpleSite is a very straightforward website builder.
From the start, I can tell you that you're unlikely to find features more advanced than those on any other website builder
. Yes, it covers all the basics, such as an online store, blogging, and a builder, and these are all in the simplest forms possible. For example, SimpleSite supports only a small list of templates and layouts, with very basic designs even on a premium plan.
By contrast, with many other builders, you'll get access to hundreds of free themes, even with only a free plan
.
Wix
, for example, offers more than 500 templates for free. If this intrigues you, you're welcome to learn more in our
Wix expert review
. And most other builders, like
Weebly
and
Jimdo
, also provide access to much better templates on cheaper plans. When it comes to SEO, other platforms provide some level of SEO tools from a very early stage.
However, on SimpleSite, you never have any control over your SEO, even when it comes to essentials like editing your metadata or URLs
. It's the same when it comes to most other features. For example,
SimpleSite doesn't offer plugins, apps, or advanced customization
. However, SimpleSite's one advantage over other platforms is that you can create a basic e-commerce store at any level, although you'll need to sign up for the most expensive plan to really take advantage of its full e-commerce capabilities. This article on
four things to know before building your SimpleSite website
will tell you more about the various omitted and included features you should be aware of.
All-Inclusive Pricing Means You Won't Have to Worry about Hidden Costs
SimpleSite's simplicity stands out as both a major drawback and a key attraction. The pricing package incorporates essential features like blogging and online store tools, SSL, domain registration, and email accounts. The absence of an app marketplace ensures you won't unexpectedly exceed your budget.
What this means for those who want to sign up with SimpleSite is that they know exactly what their bottom line will be, regardless of the builder's limitations.
Luckily, if you're worried that SimpleSite may be inadequate for your needs, you have more than enough opportunity to use it for next to nothing in order to come to a conclusion.
When it comes to SimpleSite, the hidden costs might have more to do with what you miss out on in terms of features and possibilities than the actual price
. That said, no other builder lets you operate a store (however limited) completely for free. And, SimpleSite is still one of the quickest and easiest ways to get your website up and running, with few other concerns to bug you.