it took me forever
. I was so overwhelmed by all the different steps and important choices,
I didn't know where to start
. I had no direction. I fumbled around for days, agonizing over my business name and logo design, but feeling too intimidated to actually get on with building my site. Looking back, I wish I had had a simple, step-by-step guide to get me started. As I quickly learned, you pick up a lot of technical know-how as you go along. Rather than aiming for perfection from the start,
you can save yourself a lot of time and stress by just methodically creating a basic draft of your boutique,
 and then coming back to fill in the details. That's why
this super simple guide focuses on the nuts and bolts of site building
 – although I'll also look at some other key aspects of starting an online boutique. Once you complete the basics (you can skip to step #3 if you've already got a name and brand for your boutique),
you can jump right into building your site – then perfect the details later.
 Think of it like baking the cake before you add the icing. Ready?
Step #1 – Pick a Great Name (and Domain) for Your Online Boutique
First things first: you'll need a name for your business. It might feel overwhelming to come up with a name now, but
it will influence a lot of choices you make down the line,
 so it's good to get this sorted. If you're having trouble getting started, you could use a business name generator. For example,
Wix
 has a free tool that suggests business names based on your niche and a single word.
 There's even one specifically designed for boutiques.
Admittedly, it's not perfect – when I tested it out, the word "mystical" came up too many times for my liking ("Mystical Soaps," anyone?) – but at the very least, it will give you a starting point.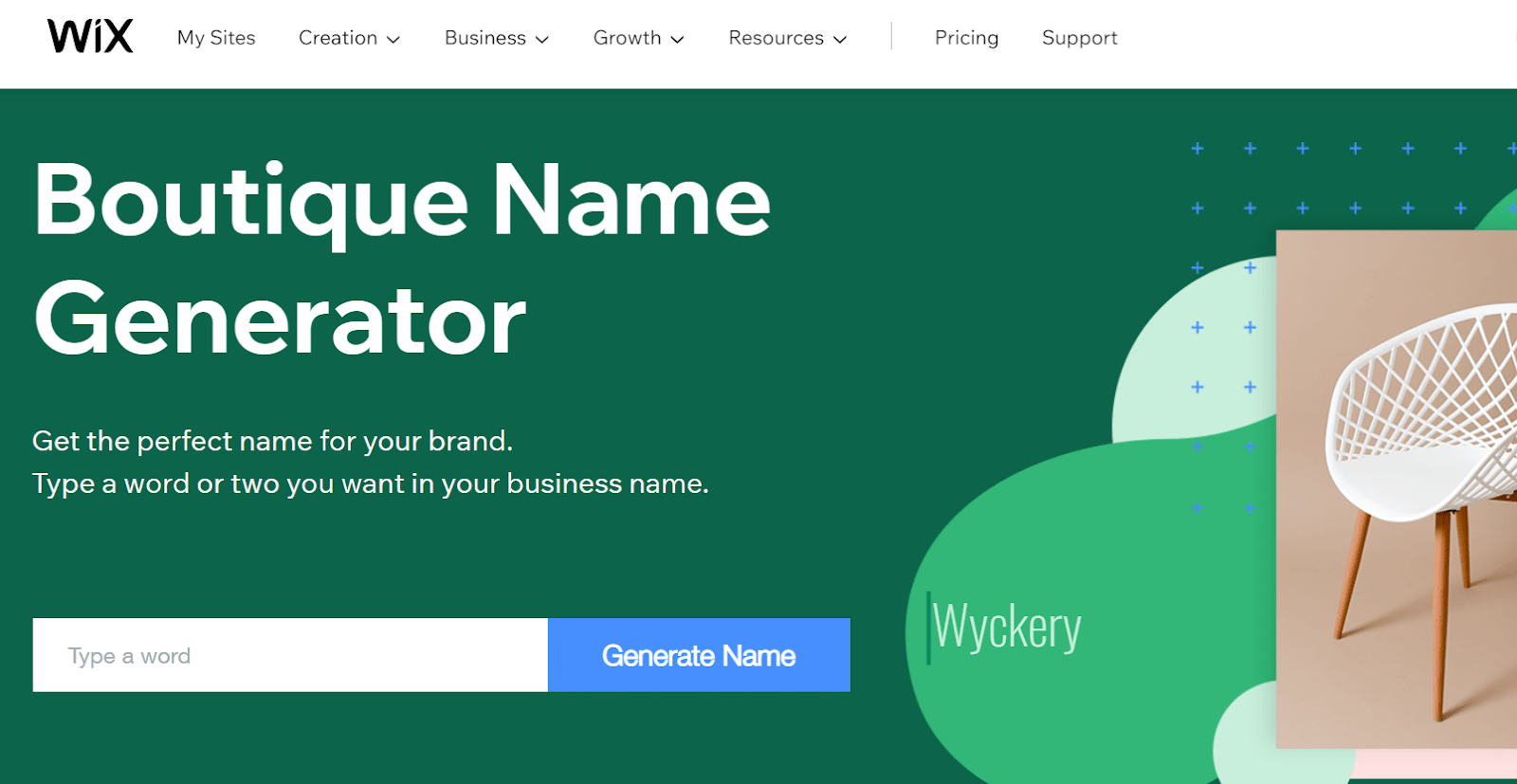 Ultimately, only you can be sure whether a particular name is right or not for your boutique. But as a spot check, make sure it's:
Original: Don't knock off the name of your favorite boutique; come up with something unique!
Memorable: Is it easy to say and spell?
Evocative: Does it reflect your brand's personality?
Available: Is it already taken?
This last point is perhaps the most important one of all –
you don't want to choose a business name only to find that it's trademarked,
 or that the Instagram handle you want is taken, or that the domain name is unavailable. Once you've got your business name sorted, you need to move on to the
equally crucial step of selecting a domain name.
It needs to be brandable, easy to spell, memorable, and as short as possible. If that sounds like a lot to think about, you're right. But a little pondering now will pay off in the long-run.
You don't want to be changing your business name and domain a year down the line.
 So take some time to mull it over. For more advice, you can check out our
guide to choosing a good domain name in 2023
. And if you get stuck, we also have a handy
domain name generator
. My business makes soaps (it doesn't really, but let's pretend it does while we make this online boutique together), and I quite like the name Wix has suggested – Soap & Co. As luck would have it, the domain soapandco.com is available. Sorted.
Once you've chosen your boutique name, you should get registered as a business in your country and sign up to pay taxes – yes, even online businesses have to register with the authorities! This process will vary depending on where you are in the world, so it's best to check with your local government.
Step #2 – Design Your Logo and Develop a Brand for Your Boutique
Next up, you'll need a logo.
Your logo should represent your business accurately – but don't agonize over it too much.
 Since you're just getting started, it's absolutely fine to draft a basic logo and "fill in the blanks" as you get on with building your website. You can always come back to finetune it later. If you've already got a clear idea of what you want your logo to look like, great. If not, check out our
dedicated guide to creating a boutique logo
. Again, website builders like Wix offer
AI-powered logo makers
 that you can use to create your own.
Or, you can get a professional designer to create a logo for you for as little as $5 via Fiverr.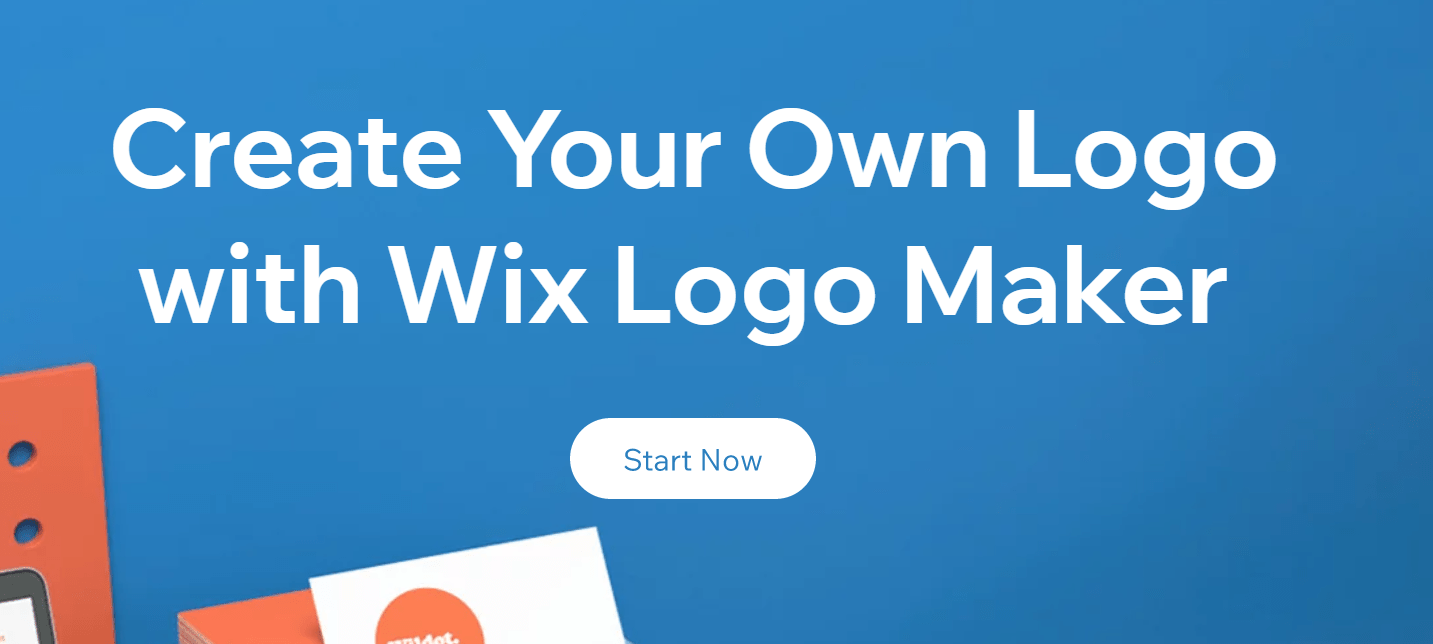 Your logo will become a big part of your boutique's overall brand.
 Your brand is a combination of not only your website's look and feel, but everything from your product selection and business name down to your target customer and the way you represent yourself on social media.
But the aim of the game is cohesion – you want it all to work together.
Your brand will build organically over time
, so if you don't have a clear vision yet, don't panic; you can iron out the finer details later.  As a starting point, jot down a few words to guide you as you get building:
Is your vibe fun and colorful or laid-back and minimalist?
Is it modern or classic?
Is it kooky or professional?
Keep these questions in mind as you move on to the next steps.
Step #3 – Choose the Right Website Builder and Plan
With the basics of your business worked out, you're ready to start building your store. Of course, you could start from scratch with a self-hosted website, but
if you're a beginner, the easiest option is to use a site builder
. The what-you-see-is-what-you-get (WYSIWYG) editors make building a good-looking website a breeze without you needing to know a scrap of code! While most builders offer affordable prices – some are even free –
you'll likely need to upgrade to an e-commerce plan before selling products online.
 So it's a good idea to start with the most basic e-commerce plan and then upgrade if you want more features. Almost all website builders on the market offer e-commerce functionality in some shape or form. But the features vary, and even the
best website builders for e-commerce
 aren't necessarily the best for online boutiques. Rather than tons of advanced e-commerce features, you're probably looking for
something that's super customizable and creates beautiful websites, all while still being beginner-friendly.
With that in mind, I would suggest the following website builders for creating your online boutique.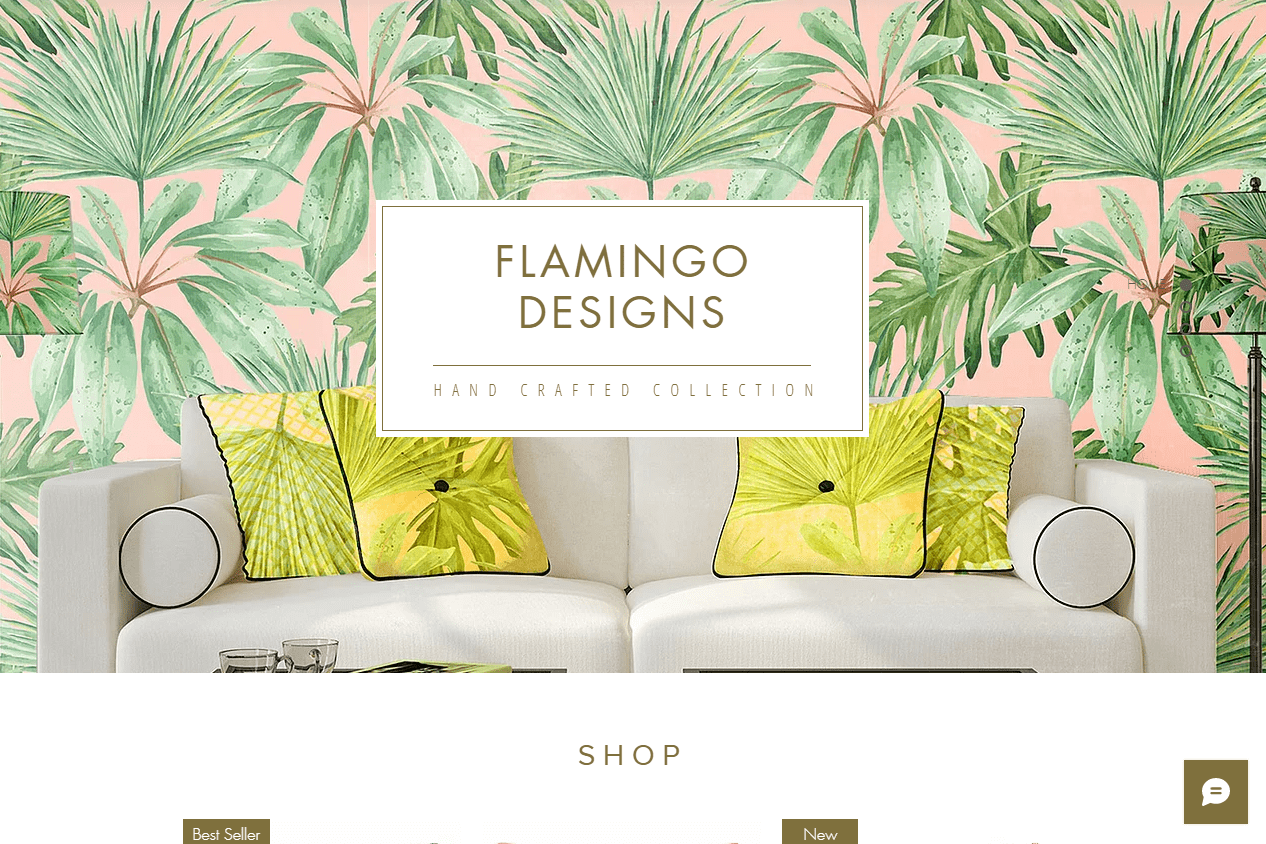 Wix is at the top of my list because it combines a
superb set of powerful features with good-looking, ultra-customizable templates
 while still being one of the easiest-to-use website builders on the market. Even if you're a beginner, you'll have no trouble getting used to its drag-and-drop editing tools. Here are some of Wix's best features:
Huge template library: You're sure to find a design you like from Wix's selection of more than 800 templates.
App Market: You can customize your website with more than 300+ apps on offer. Many of these are built specifically for boutiques.
Powerful e-commerce tools: Wix has more than enough e-commerce features to keep up with your growing boutique, including an automatic sales tax calculator, dropshipping options, as well as eBay, Amazon, and social media sales integrations.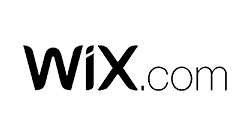 Save up to 33 % on your Wix plan!
Limited-time offer - Don't miss it!
Your Wix with your first % on 30/06/2023!
3901 users used this coupon!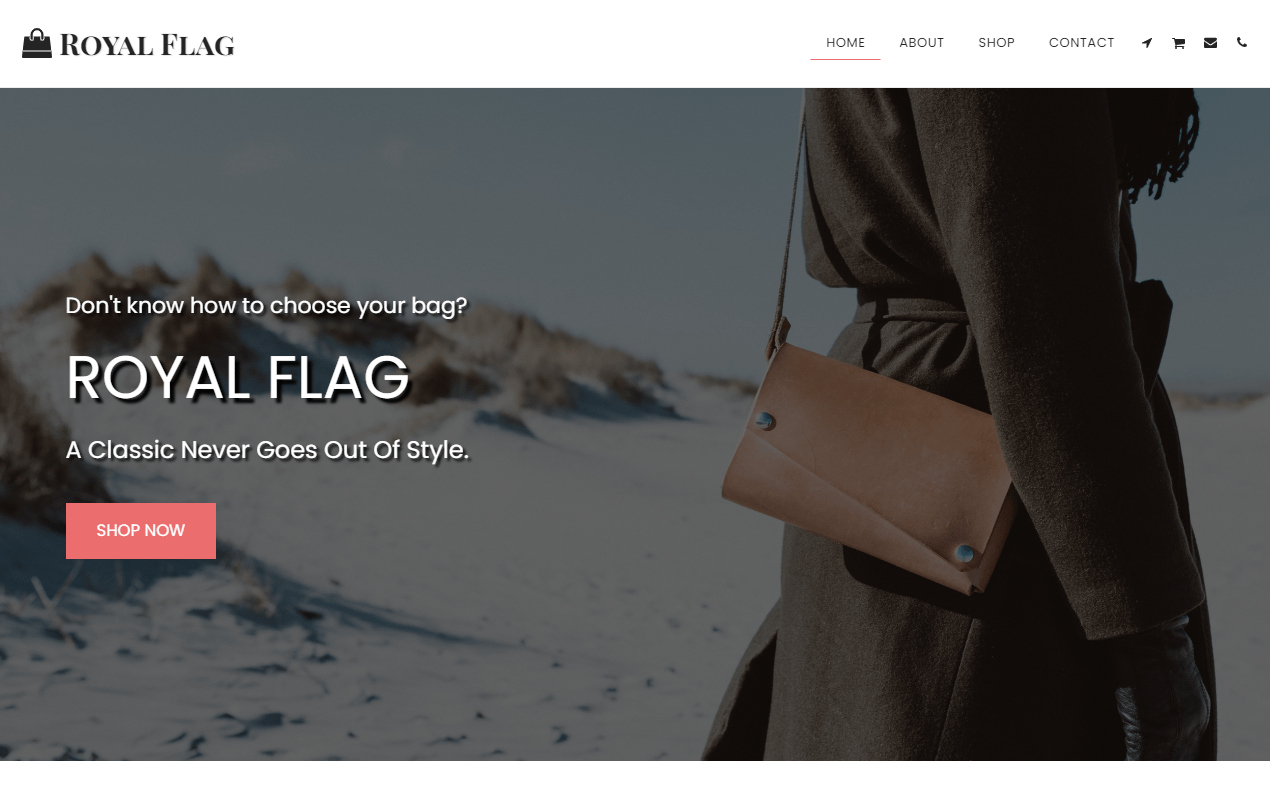 If you want to keep life simple (and all of those Wix tools sound like overkill), SITE123 is a great choice.
This no-frills, affordable website builder emphasizes quick building over tons of personalization options.
 Rather than trying to constantly reinvent the wheel, it just focuses on the features you really need:
Super easy-to-use editor: SITE123's point-and-click editor makes it easy to create a beautiful website.
ADI (Artificial Design Intelligence) setup: Rather than starting from scratch, SITE123's AI tool creates a bespoke template for your online boutique, with the features you need built-in.
Mobile-responsive templates: All of SITE123's templates automatically adjust to fit different screen sizes.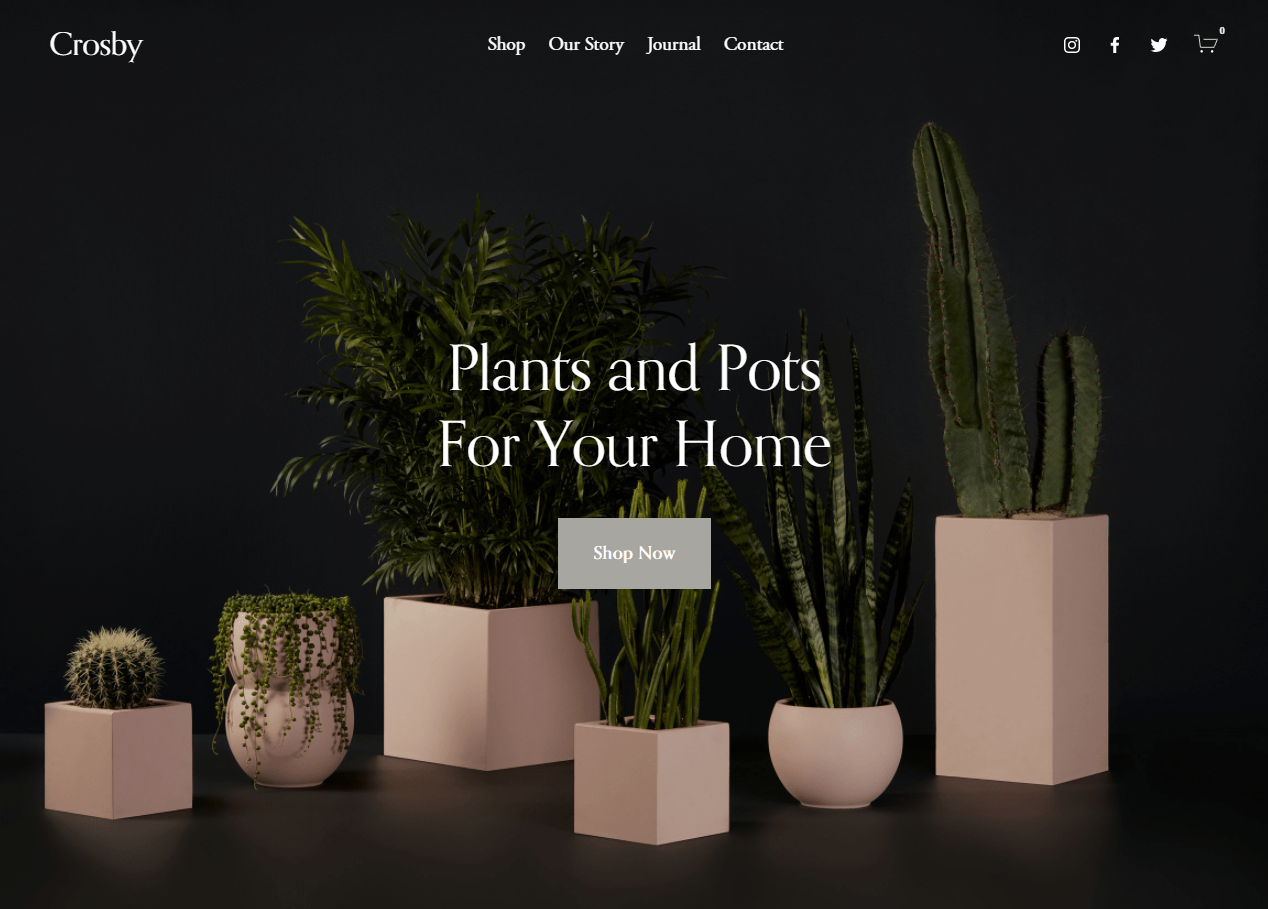 Squarespace is another great builder for online boutiques since it's
famed for its gorgeous templates that put images front and center
. When you're selling online, and customers can't hold your products in their hands, having
top-notch visuals on your website
 is vital. But Squarespace is more than just a pretty face; it also offers a wide range of powerful features to help your website sell products:
In-house developed integrations: Squarespace has a smaller range of add-ons than Wix, but they're all developed in-house, giving you unparalleled quality, security, and support, should anything go wrong.
Gorgeous designs: All of Squarespace's sleek and professional templates are super-customizable. Not that you'd want to change anything. Because, damn, they know how to make sites look good.
Advanced e-commerce tools: You get access to more e-commerce tools than you can shake a stick at, including related product banners, flexible product variants, customizable checkout experiences, customer accounts, shipping estimates, and sales analytics.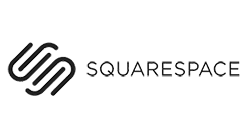 Save up to 30 % on your Squarespace plan today!
Plus get a free domain for one year!
1031 users used this coupon!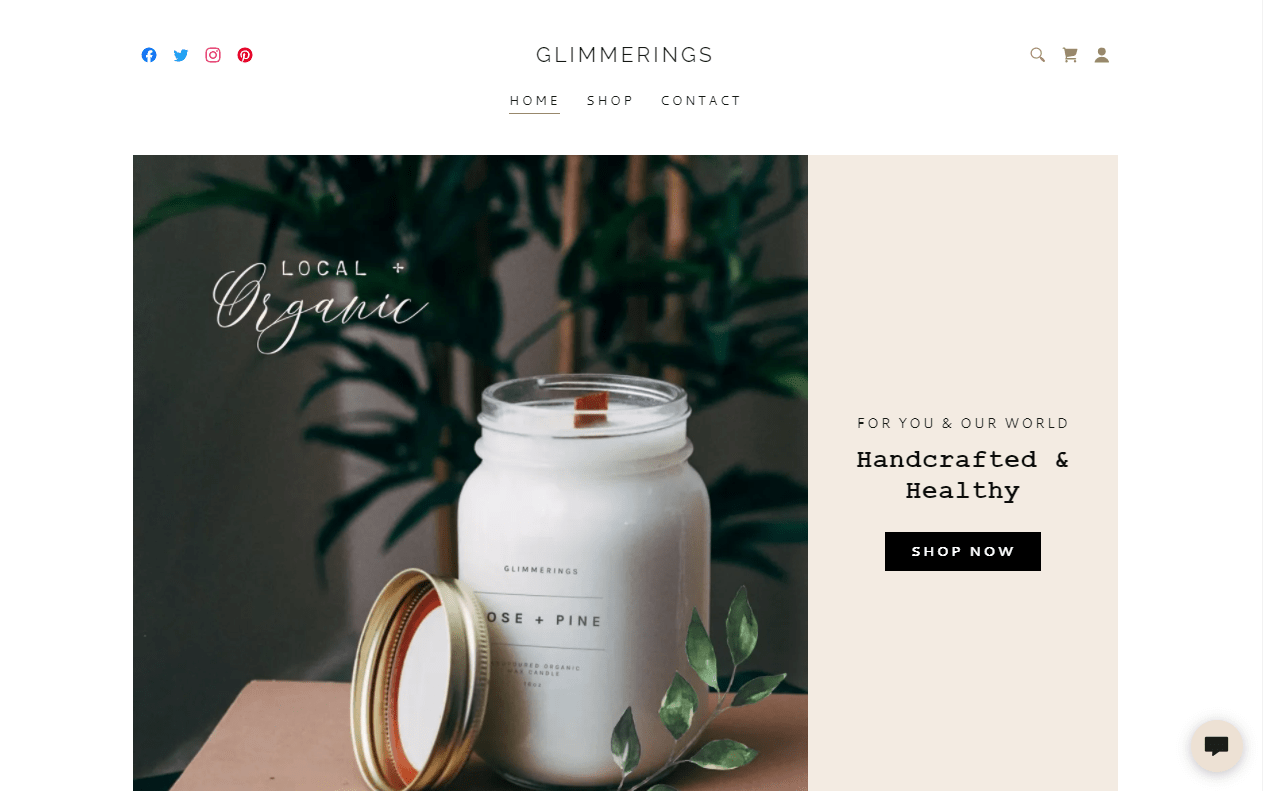 Like SITE123, GoDaddy's builder emphasizes quick and easy building over unlimited power or flexibility. That said,
GoDaddy provides more marketing tools to help you spread the word about your awesome online boutique.
GoDaddy uses ADI to create a personalized template for you to get started.
 All you have to do is make a few tweaks, and you're ready to go! And there are other notable features too:
Good-looking templates: The selection isn't huge, but GoDaddy offers some well-designed templates for a basic website builder. Some of them work really well for online boutiques.
Mobile-friendly: GoDaddy provides both automatically responsive templates and a mobile app that lets you edit your website on the go.
Powerful SEO tools: These guide you through the tricky process of getting your website found on search engines.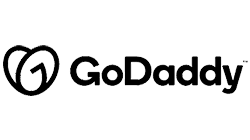 Save up to 30 % on ANY GoDaddy Website Builder plan!
Limited-time offer - Don't miss it!
277 users used this coupon!
Overall,
my favorite website builder for online boutiques has to be Wix.
 It offers the best balance between power, flexibility, affordability, and ease of use. However, any of the options on this list will see you right. Moving forward, I'll show you how I've set up my online boutique with Wix, but even if you're using a different builder, the process will be virtually the same.
Step #4 – Pick a Template That Fits
Once you've chosen your preferred builder,
you will also need to pick a theme or template for your website
. You can narrow down your options by filtering for certain types of businesses – in this instance, you might look for online store templates.
But don't feel too constrained by the categories
. If you're selling plants, you don't have to pick the one plant template your builder offers. Chances are, your competitors might do the same thing – and you can always customize your template later on (more on that below). It's also worth considering what the template can
do
. You can, of course, add functionality down the road. But
it'll save you a lot of time if your template is kitted out with most of the features you need
 – like an online store, for instance, or a section for displaying customer testimonials, a mailing list sign-up form, or a blog. With most site builders, you can see what a template looks like in real-time by previewing it. I chose the
Wellness Store template from Wix
: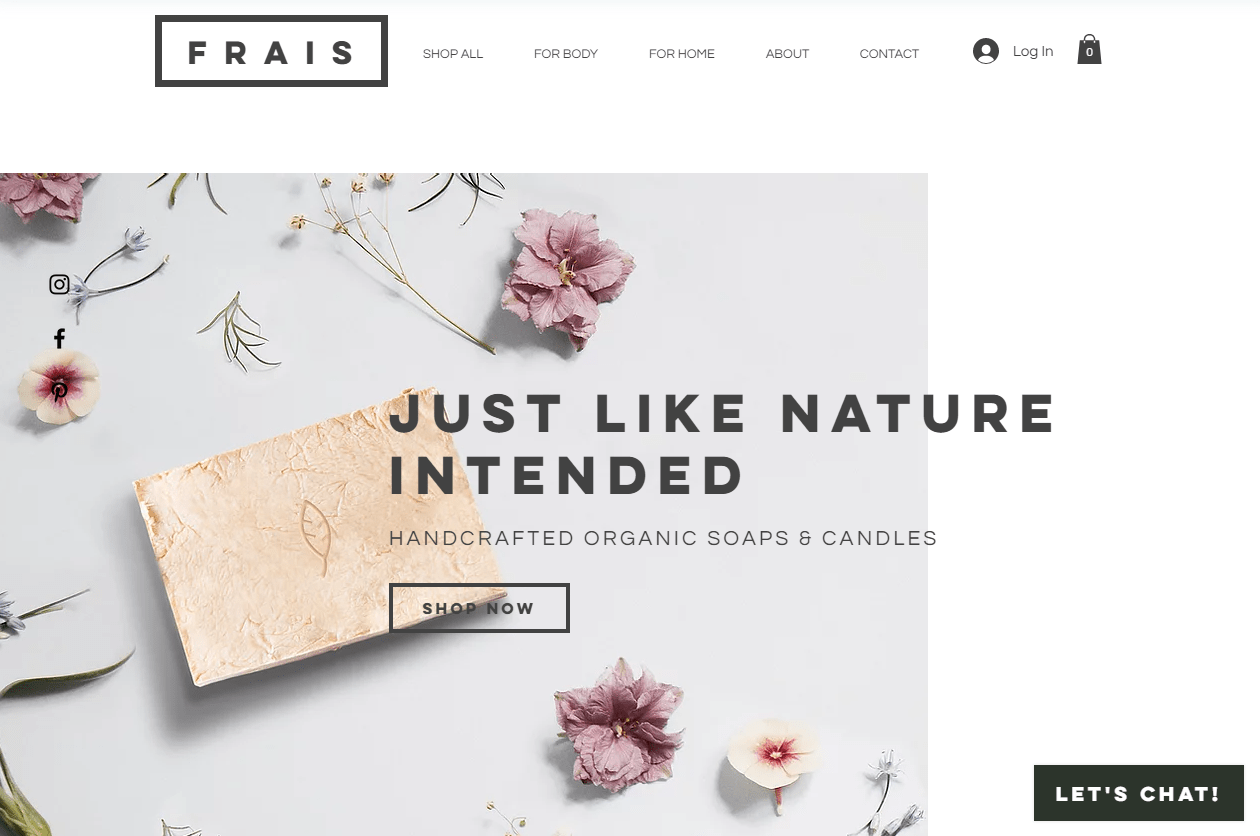 Narrowing down was pretty tricky since there's a bunch of options that would work great for boutiques in the Wix template library: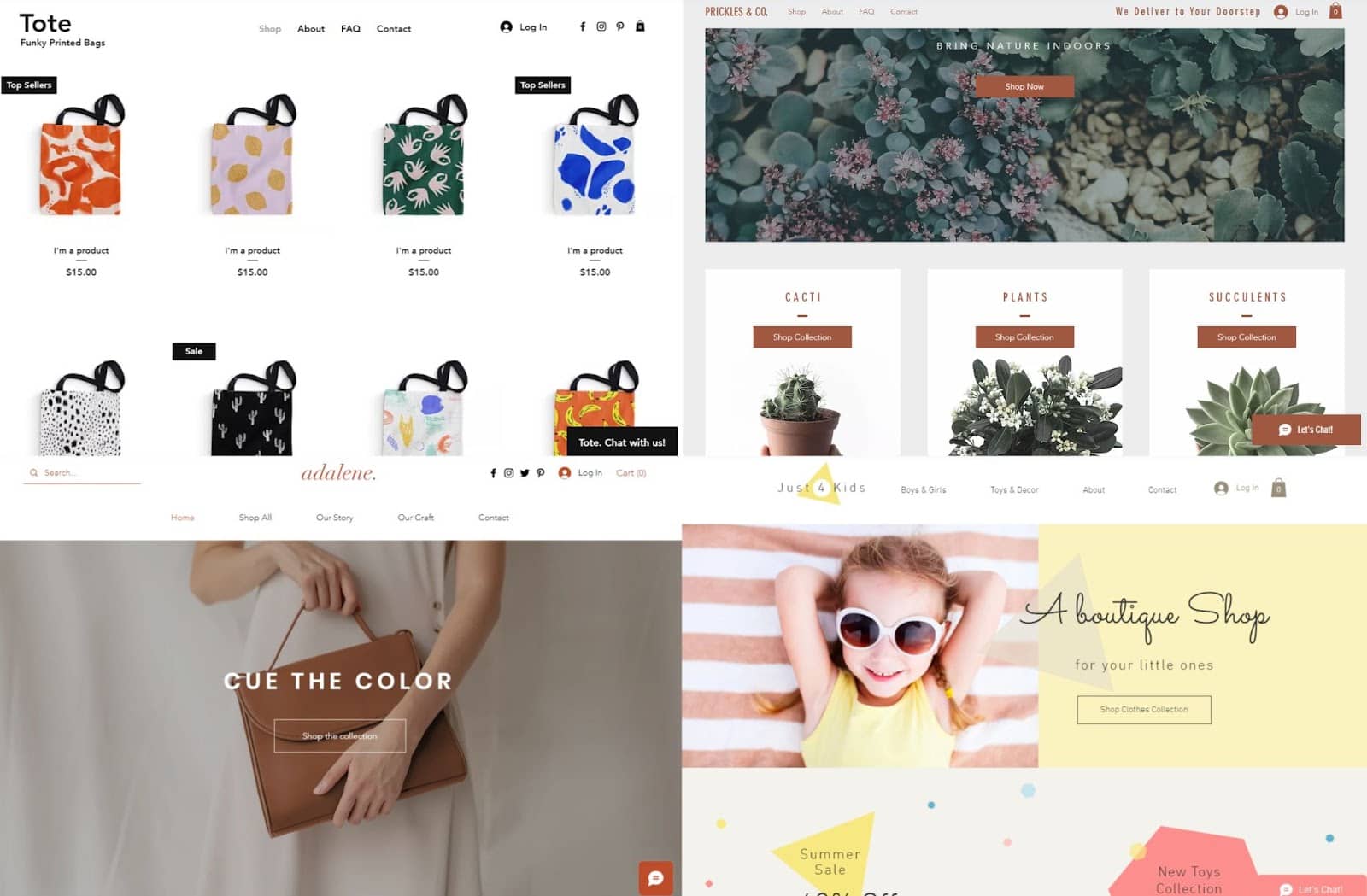 Step #5 – Customize Your Online Boutique
Customizing your chosen template to match your boutique's brand is definitely where you can have the most fun. But
some builders let you make more edits than others
. Wix, for instance, is one of the most flexible – letting you edit colors, fonts, layouts, buttons, and much more. That said, its templates are not automatically mobile-responsive, so
you will have to edit the mobile version of your site separately.
Customizing also means
adding extra functionality to your website
. And with Wix, you can browse the Wix Market to search for useful add-ons and easily integrate them into your boutique. I chose to add a live chat function so that my customers can reach out to ask questions, a maps widget to show my physical store's location, and a site search bar so visitors can search for precisely what they're looking for. I also made a couple of other changes before my homepage was ready. I:
Added my logo
Updated the main image to feature my product range
Changed the color scheme and fonts
Edited the menu
Moved some of the important page elements around
I'm pretty happy with the way my homepage turned out: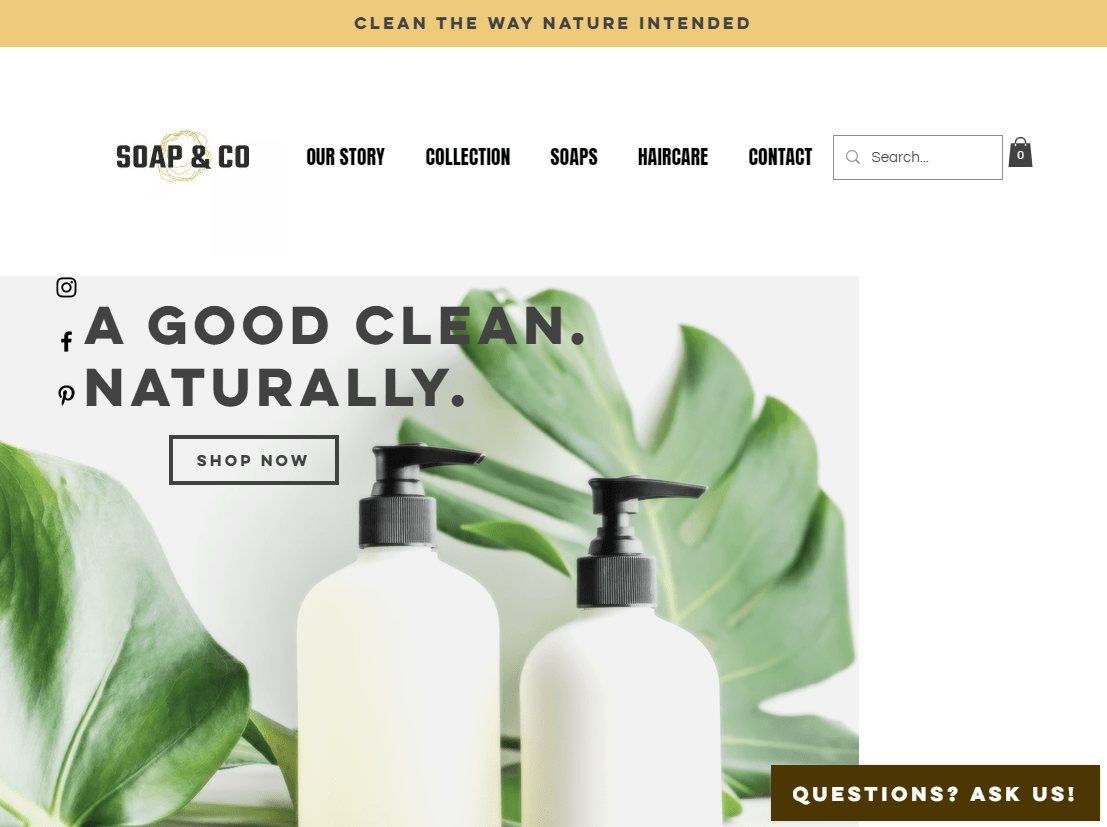 Some other things you might want to edit or add include:
A gallery
Menu layout
Customer testimonials
How products display on the homepage
A "Related products" section
Your Instagram feed
A map block to show your store's physical location
You can easily set up any of these features by clicking the "+" button in Wix's toolbar.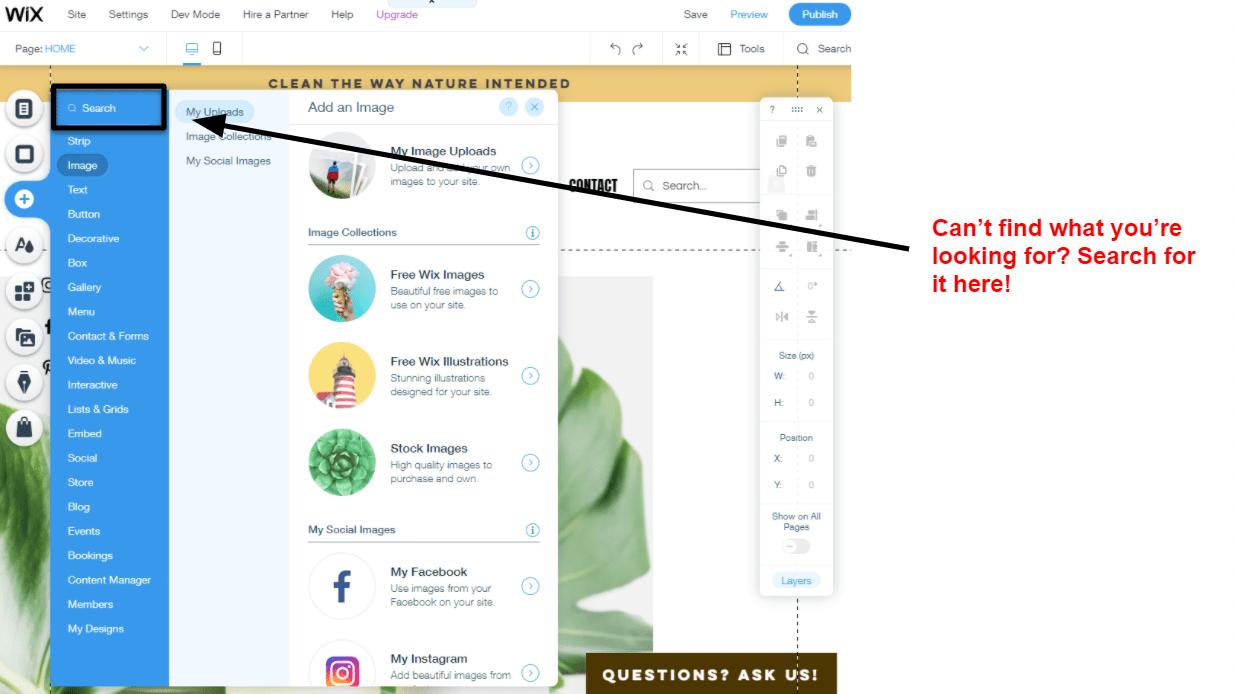 You might also want to add a couple of extra pages to your website.
 Your template will include many of the pages your shoppers expect, but just in case, you should include the following pages:
About us: This is a great way of introducing yourself – the brain behind the brand. Connect with potential customers by sharing your story and what drives you.
Contact us: If your visitors have questions, they'll want a way to reach out. You could even have an FAQ page if you deal with the same queries a lot.
Shipping information: It's a good idea to give an overview of your shipping policies and rates. Also, explain where you ship to and how long customers can expect to wait for their parcels.
Policy pages: You'll also want to protect yourself against legal disputes by outlining your returns policy and privacy policy.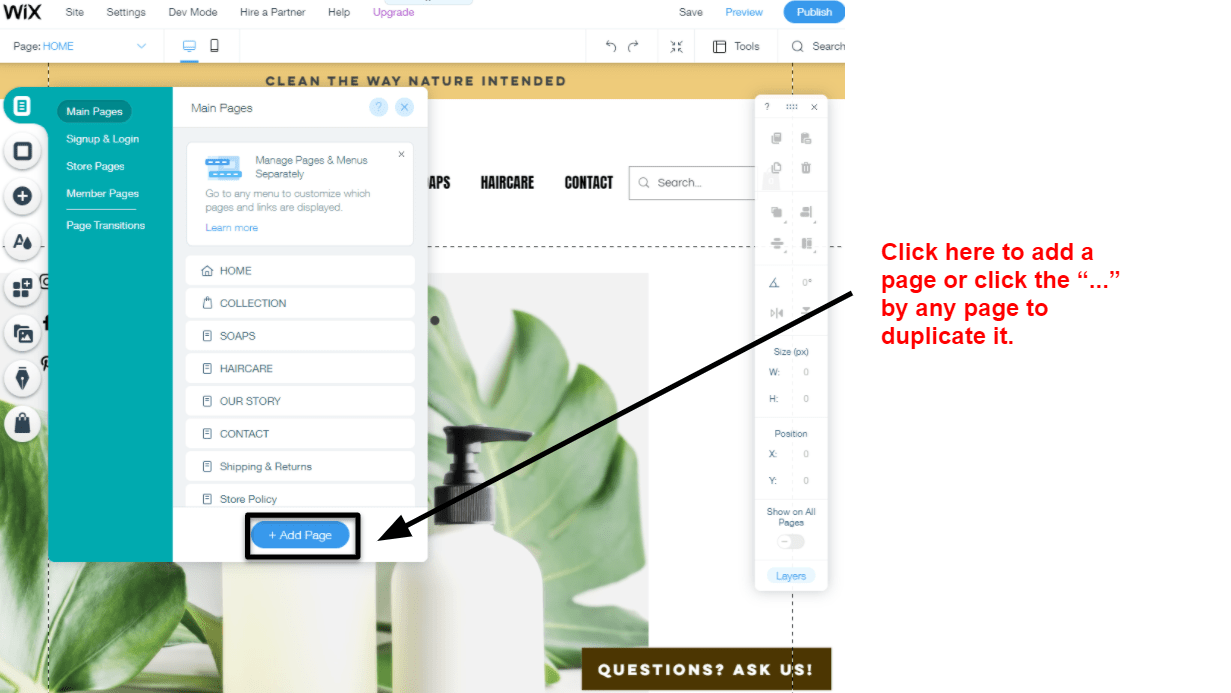 So – with a few simple clicks, you can make your template match your boutique's brand.
If design isn't your strong point, don't be afraid to keep it simple.
 Wix's templates are all attractive, and a darn sight better than what most of us could do from scratch.
Step #6 – Add Items to Your Boutique
It's finally time to get down to the nuts and bolts of your boutique: your products!
 If your chosen template was an online store, you will already have a store installed. If not, make sure you add one to your site. Once that's done, navigate to your dashboard. It's possible to import multiple products using a CSV file, but I'll walk you through the process of adding them manually.
To add a product to your store, click "Add a product."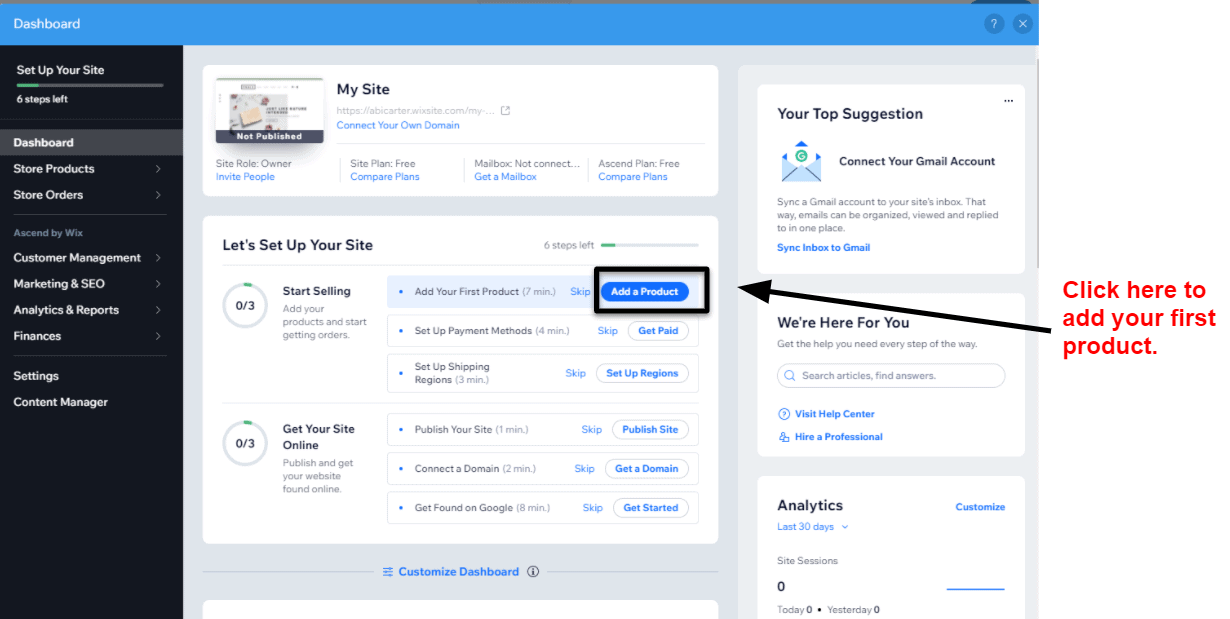 You'll land on your "Products" page, which gives you an overview of all the items listed in your store.
Select "New Product" and choose whether it's a digital item (like a PDF download) or a physical product.
 I'm selling soap, so I'll click "Physical."

The next page lets you add
all of the details customers need to know about your product
. Give it a name, a price, and a description. You can also add additional information (like special return policies for specific products), product variants (like sizes and colors), and customer customization options. If you want to track your product inventory, add this information here. And if you really want to go the extra mile, edit the SEO settings for individual products.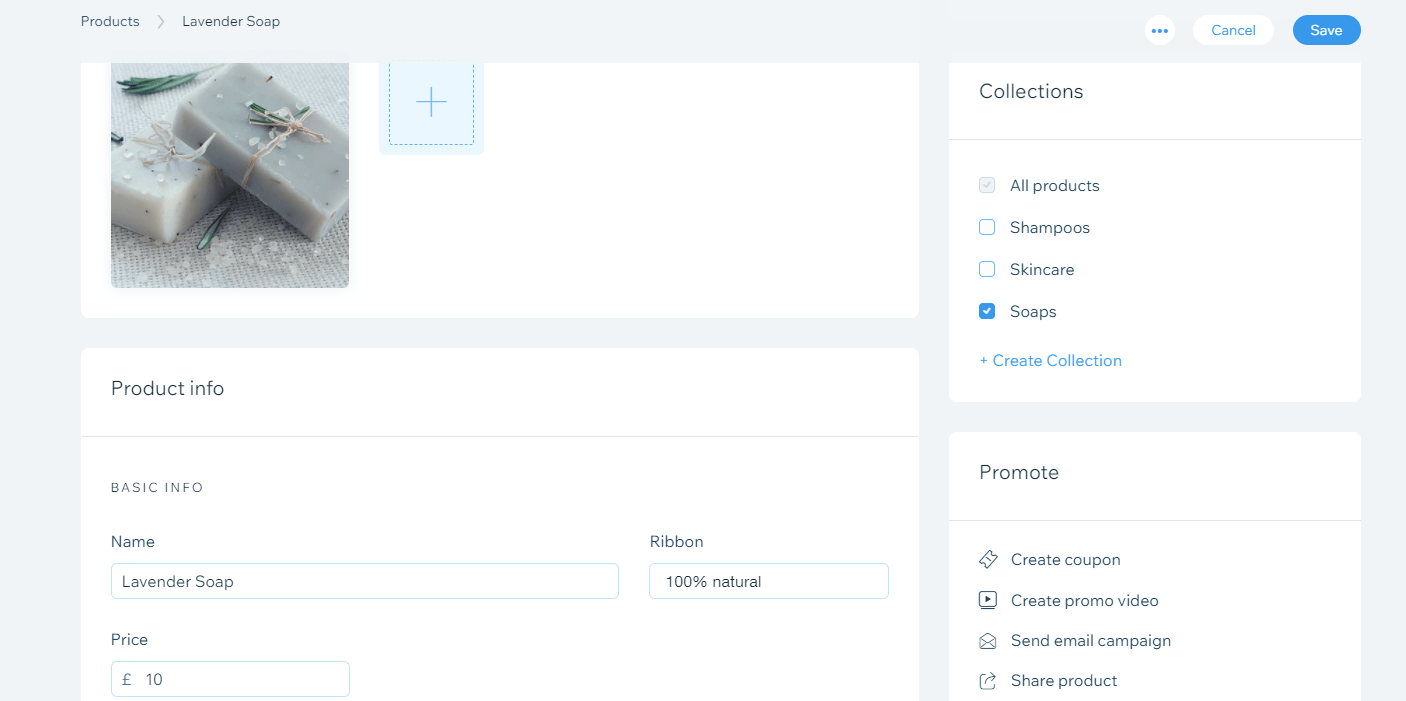 Finally,
specify which collections your product should appear in
 – this is especially relevant if you're selling lots of different items, as it helps customers find what they're looking for quickly. For instance, I want my Lavender Soap Bar to appear in my "Soaps" collection, but not in "Shampoos" or "Skincare," so I only leave the "Soaps" box ticked.
You can edit your collections in the "Collections" tab on the left-hand side of your screen.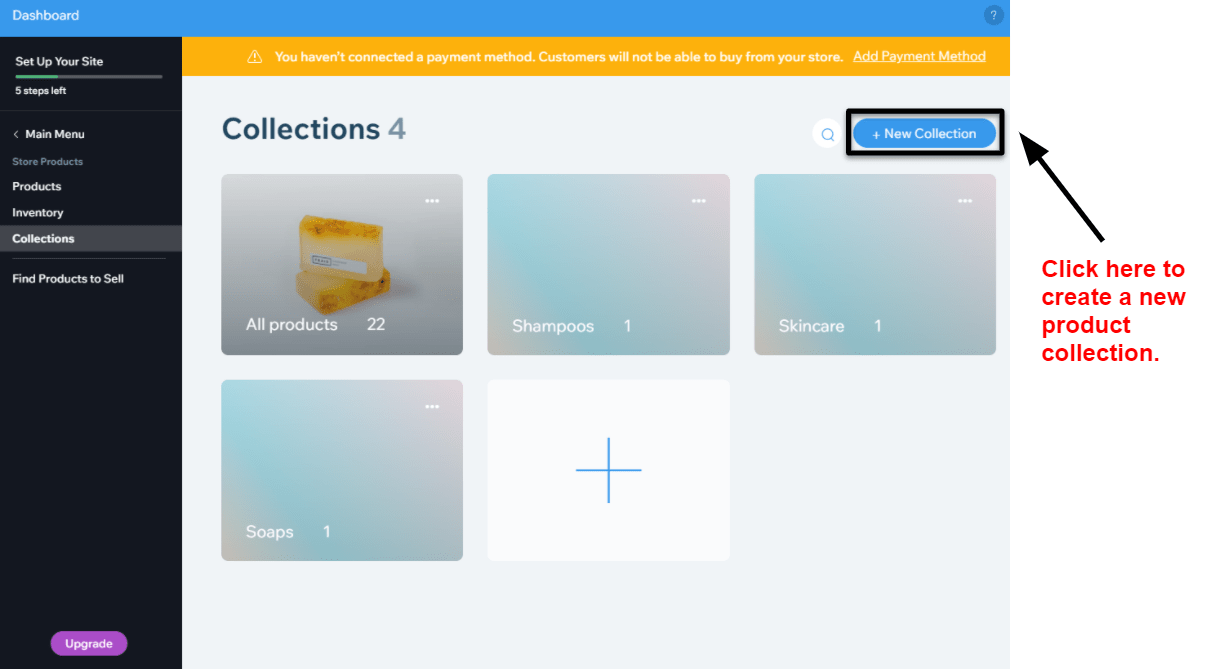 You also need to add product photos. It might go without saying, but still, I'll say it: you want to display your products in a good light.
Product photos can make or break a store
. If you don't want the expense of hiring a professional photographer, invest in some good backdrops, lighting, and dig out that old digital camera.
Add multiple pictures to help your customers get an idea of the product's size and other qualities.
Once you've added all the information, click save. Then rinse and repeat! If you want to go back and change anything, click on the product in your dashboard to make edits.
Step #7 – Update Your Store Settings
The next step is to update your store's settings, including
basic options for inventory, checkout policies, and product price settings
. To start, navigate to Settings > eCommerce Settings in your Wix dashboard.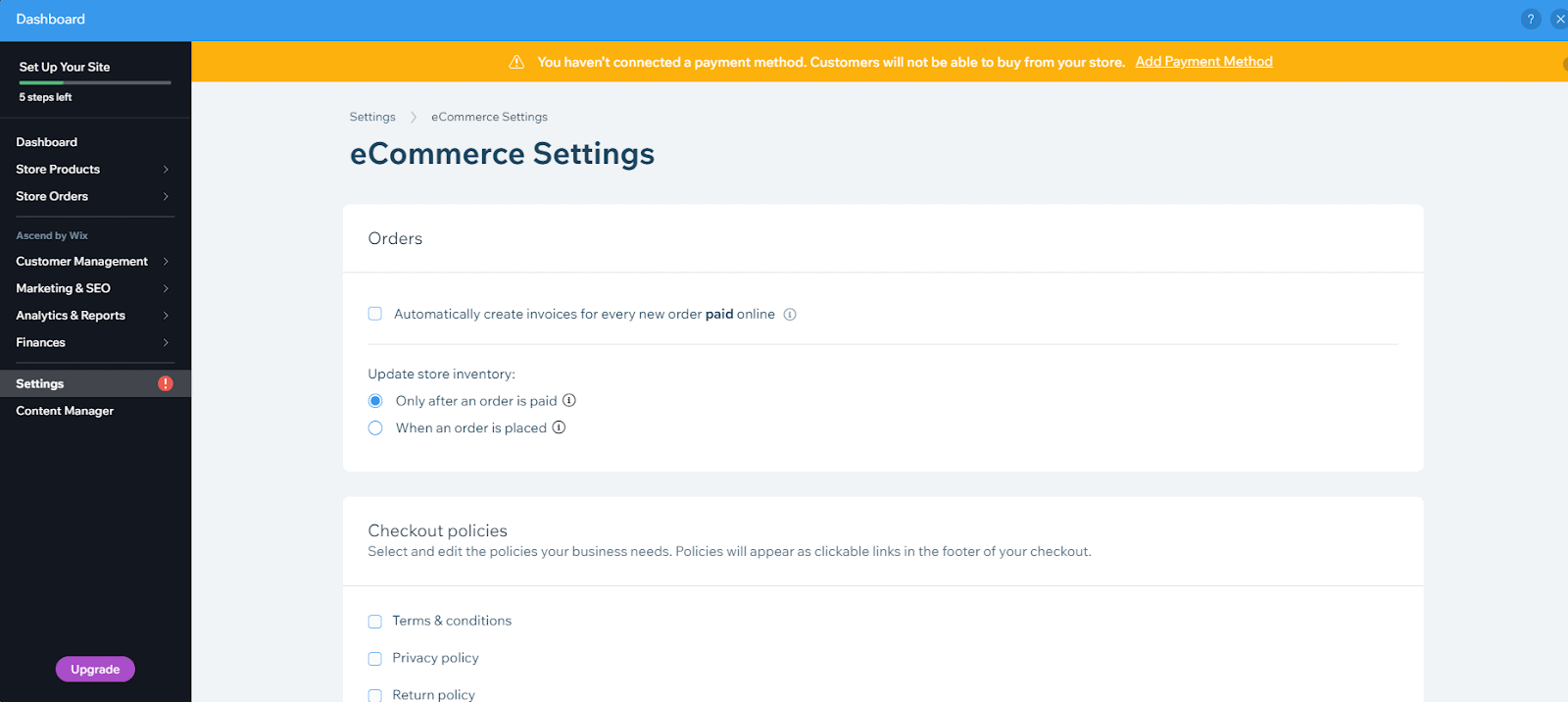 You'll need to select from a list of options:
Do you want the inventory to be updated after someone places an order or once they pay for it?
Which store policies like Terms & Conditions and Returns do you want to display on your checkout page?
Do you want your store's prices to include tax and shipping information?
Do you want to send automatic confirmations when a customer places an order and when it's shipped?
You can also customize your checkout page
 by specifying which details you want to collect from your customers, such as name and address, phone number, and email address.
Step #8 – Connect a Payment Method
You wouldn't have a very successful online store if you couldn't get paid, right? So let's connect a payment method.
From your Wix dashboard, navigate to Settings > Accept Payments.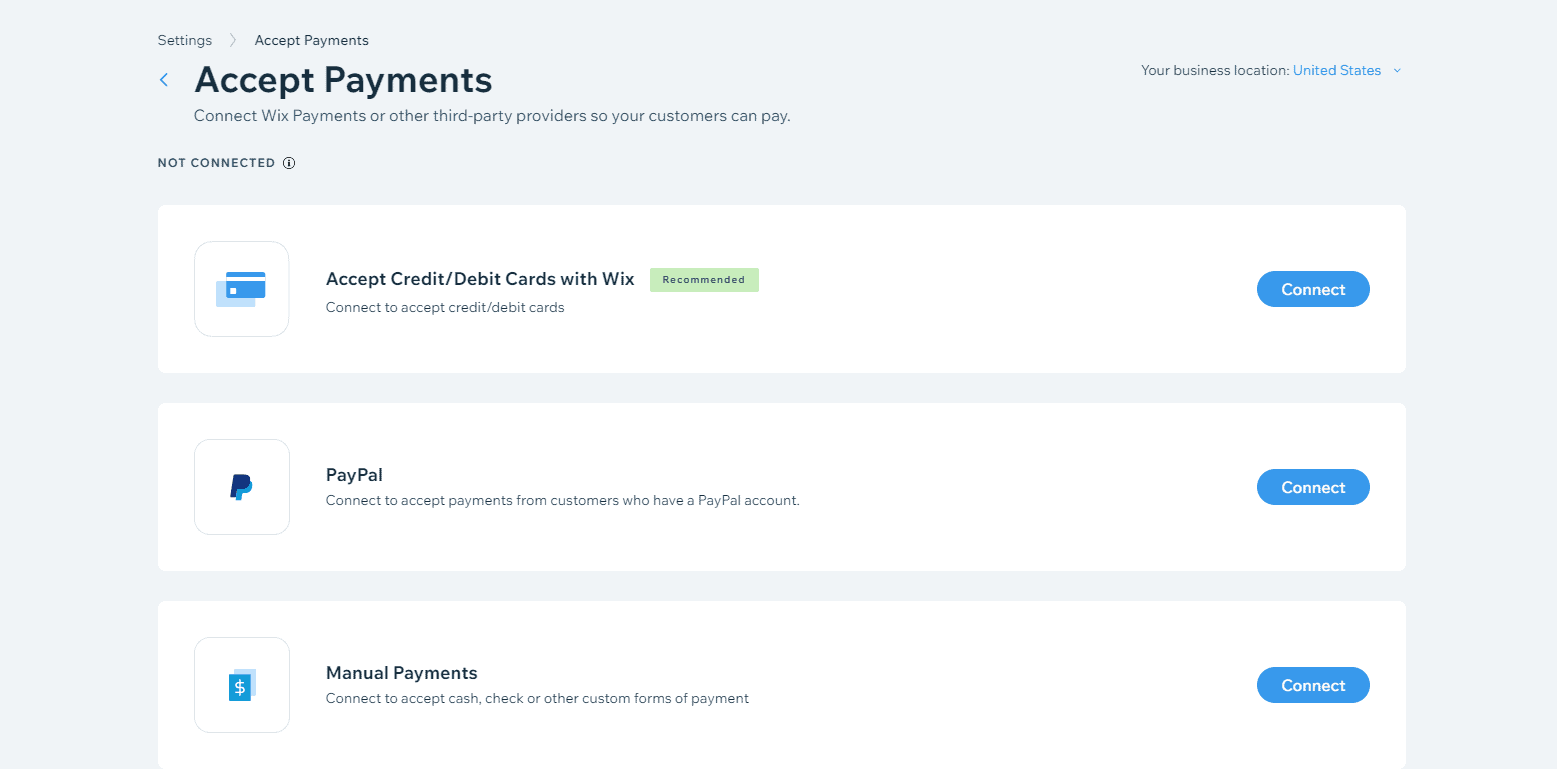 Wix Payments is super convenient, because it allows customers to pay via credit or debit card and PayPal.
 That said, you
can
 choose manual payments to accept cash or other custom forms of payment. Simply click the "Connect" button for your chosen method and follow the onscreen instructions.
It's worth noting that Wix Payments doesn't support
all
types of e-commerce businesses. If your business isn't supported, or if you're just looking for better rates, it might be worth checking out our list of the
best credit card processing services in 2023
, where you'll find some excellent alternatives.
Step #9 – Update the Shipping and Tax Rules
This step gets you prepared for shipping out products once you've made a sale.
It's more important than you might think
, and requires some careful thought. If your shipping rates are too low,
you risk cutting into your profit margins.
 If they're too high, or your shipping times are too slow,
you might lose customers.
Navigate to Settings > Shipping from your Wix dashboard and set up your shipping regions.
 You can add different rates (rules) for different regions. You can also change rates according to an order's weight, value, or other metrics. If you're using a fulfillment service, add it here. For instance, I might want to offer free pickup or shipping to local customers, set rates for those in neighboring states, and vary rates based on destination and parcel weight for shipments heading further afield.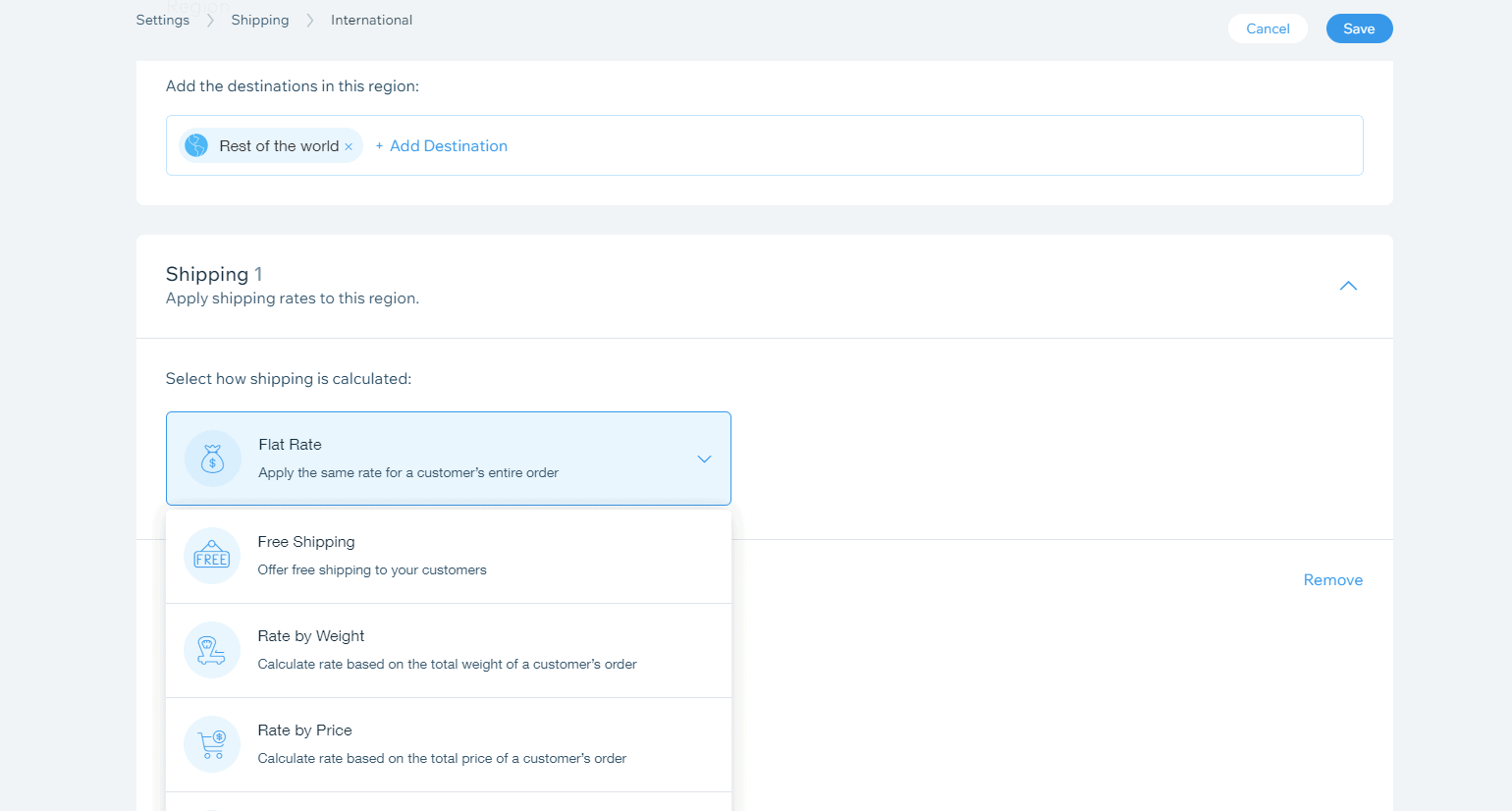 Step #10 – Connect a Domain to Your Online Boutique
If you want to look professional and trustworthy,
 you really need a custom domain
. Let's face it; no one wants to part with money on a website with a URL like
www.20392039002.mysite.com
.
Luckily, most website builders chuck in a free custom domain name with e-commerce plans for the first year.
 After that, you'll have to start paying. If you've already purchased a domain name elsewhere, you should be able to connect it to your site (as long as you have a paid plan). From your Wix dashboard, navigate to Settings and click "Connect Domain" at the top of your screen. Then follow the instructions.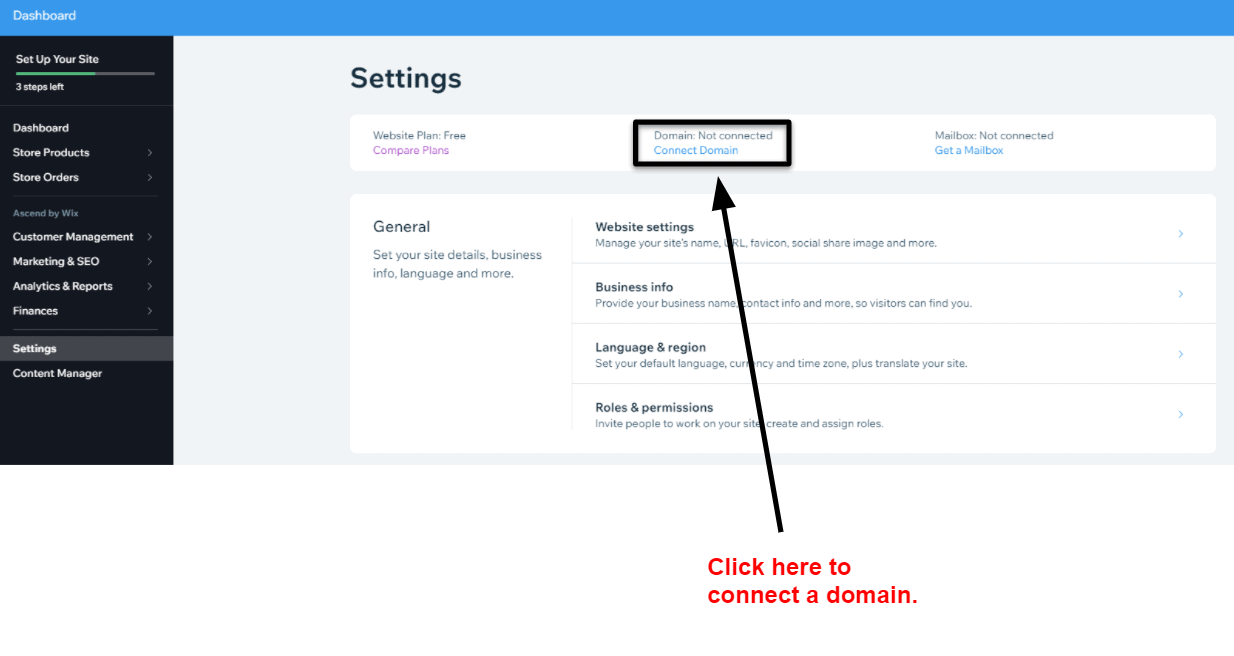 Or, if you don't already have a domain, you can buy one via Wix.
Choosing this option will take you to Wix's pricing page, where you'll be able to pick a plan for your store and grab a free domain for one year.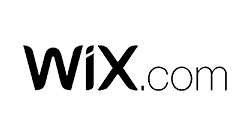 Save up to 33 % on your Wix plan!
Limited-time offer - Don't miss it!
Your Wix with your first % on 30/06/2023!
3901 users used this coupon!
Step #11 – Preview Your Online Boutique
That's it – you're all set! Before you take the plunge and go live,
make sure you preview your website to check you're happy with it
. Navigate through the whole website on both the desktop and mobile previews, checking for formatting issues, spelling errors, or anything else that doesn't look quite right. It's also a good idea to ask a few trusted friends or family members to do the same – two or three pairs of eyes are better than one!
When you're ready, hit the publish button and watch those sales roll in!
Step #12 – Promote Your Awesome Products
Well, if only it were that easy! The truth is – as you're probably well aware –  your work is never quite finished. Just having a website isn't going to translate into thousands of dollars of sales automatically. At least, not yet. You're going to have to sing for your supper.
Luckily, Wix (and most other website builders) have a lot of built-in tools that you can use to maximize the reach of your website
, including some easy-to-use SEO and marketing tools. If this sounds like gobbledygook, you'll be pleased to hear that Wix also offers a
personalized, step-by-step plan
 guiding you through the whole process of marketing your website.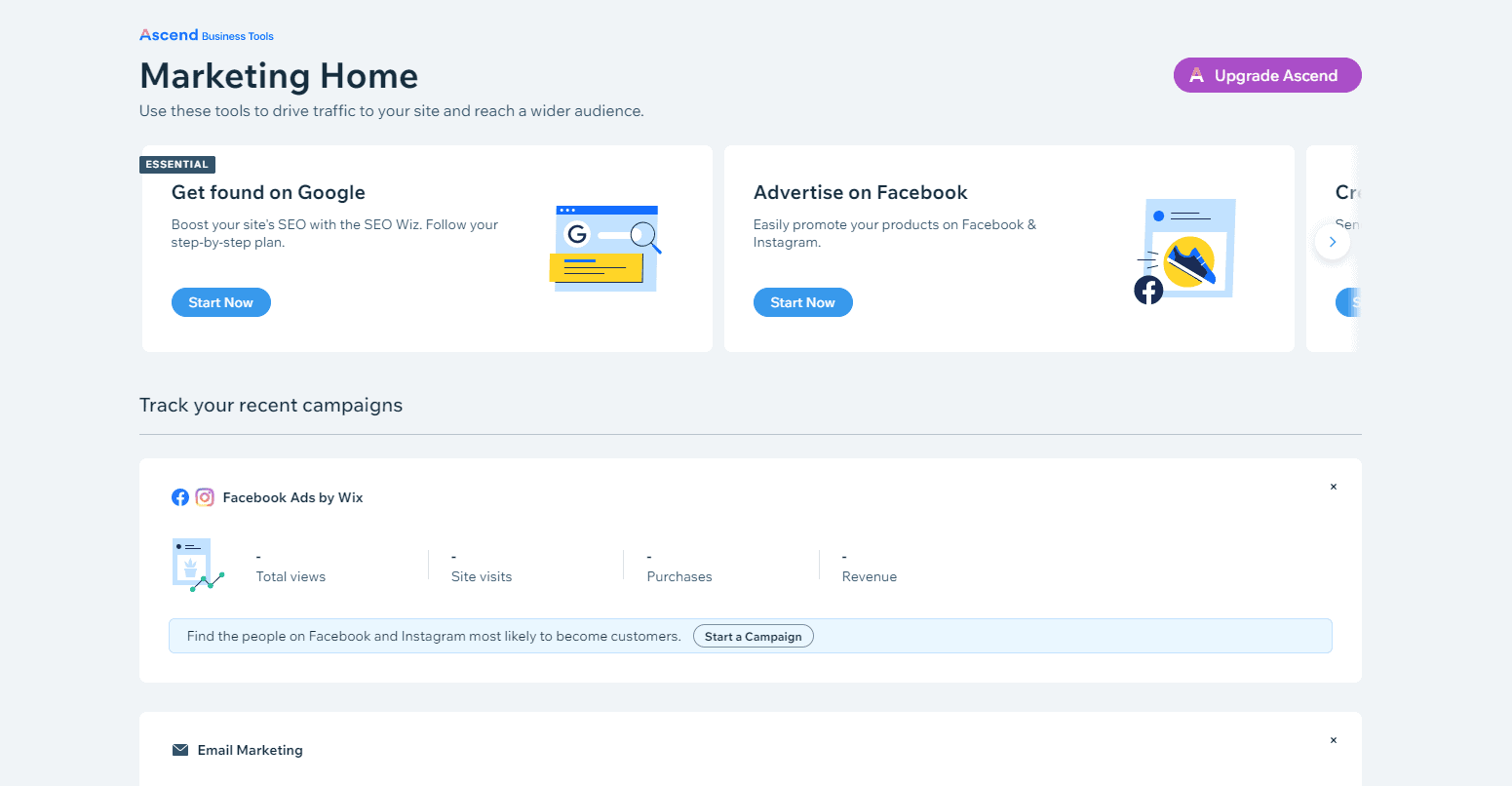 It's
worth coming to grips with any analytics tools your builder offers
, or installing Google Analytics if the builder allows it.
Digging deep into the data helps you mine valuable insights,
 like where your customers are coming from, which pages they are directed to, and where on your site they "fall off" before making a purchase. You can use these insights to tweak your website and maximize sales. One final weapon in your arsenal is
email marketing: a great way to share news and updates and re-engage past customers with deals, discount codes, and sales.
 And it's not difficult to set up either. Both
Sendinblue
and
AWeber
offer free plans and are super beginner-friendly. Or, if you know a bit about email marketing and want a few extra features, I would recommend
GetResponse
.
Learn How to Build a Better Online Boutique By Doing It Yourself
That's it! Your first online boutique is up and running – and I bet you learned a lot along the way. I believe it's
important to start with a basic site because your vision will develop along the way
. You could, for example, spend hours and hours making a logo only to wind up wanting a new one by the time you're finished! All of the site builders I recommend in this article are
easy to use, so you can learn as you go.
That said, Wix combines this ease of use with power and would be my recommendation for most online boutiques.
If you want something even simpler to get your site up and running quickly, I'd recommend
SITE123
or
GoDaddy
. Or, if you want a site that's drop-dead gorgeous, look no further than
Squarespace
. Creating an online boutique isn't rocket science – it just requires some
thoughtful planning, a pinch of design flair, and the drive to see it through. As a budding entrepreneur, I bet you already have all of those in bucketfuls.
FAQ
Is it hard to start an online boutique?
Setting up the website for an online boutique is relatively straightforward. As this walkthrough has shown, you just need to have a business idea and a few products to sell. All of the best website builders let you set up and run a boutique without technical skills. The tricky part – running your business, attracting customers, and making sales – comes later. Luckily, most website builders also have SEO and email marketing tools to help drive traffic to your website.
How much does it cost to start an online boutique?
Most website builders, including Wix, reserve e-commerce features for higher-tier plans, meaning you'll spend in the region of $20+ per month for your subscription. However, it is possible to take advantage of deals to minimize your costs. Check out our coupons page to find out more.
Do I need a business license to start an online boutique?
Yes. All companies need a business license, regardless of whether you're selling online or in a brick-and-mortar store. Licenses help the government keep track of which enterprises operate in the local area and calculate tax revenue. Rules vary from place to place, so it's best to check with the local government in your area.
Is an online boutique profitable?
Since it has fewer overhead costs than running a physical store, selling online can be a very profitable business – provided you get a few key things right. For example, you'll want to spend some time choosing the right niche (i.e., one that is just specific enough, without being too competitive), finding good-value suppliers, and doing your homework on aspects like SEO, digital marketing, and optimizing your website for conversions. These aspects make all the difference between having a profitable online boutique and a very expensive hobby.
Can I start an online boutique for free?
Yes, but there's a caveat. Square Online lets you start an online store using its free plan – but you will be charged a small percentage of your sales in transaction fees. Other website builders offer free plans, but most won't let you access e-commerce features. So, you could, in theory, start an online boutique for free, but you wouldn't have a custom domain or be able to accept online payments.