One of the biggest questions people ask when choosing a website builder is how customisable are they? Can you add your own images and really get stuck into the layout to get things looking how you want them to look? The simple answer is yes. Therefore what we wanted to do today was check out Jimdo templates and talk you through some of the options that you have when customising your brand new site. We will look at how to change the colour theme of your site, and how to add your own background image to give your site that branded and personal touch. The ease of this process stems from the fact that the site comes pre-equipped with everything you require, and you have access to all the necessary tools with just a click. Every Jimdo theme includes predefined colors and a color palette wheel, empowering you to explore a wide spectrum of shades.
Changing The Style
Firstly you will need to login to Jimdo and open up your template. For this example we are using the Evolution theme. Once you are in your editing screen click the style icon on the tool bar, located on the right hand side. You will then see a box pop up which asks you to click on a part of the site to change its style, so just click the background of the theme which will then show you another tool bar at the top of the page.

This second toolbar offers you some tools which include font style, size, colour and background colour. If you look at the Background colour option it will open up a colour selection tool in which you can specify a certain colour for the background of your site.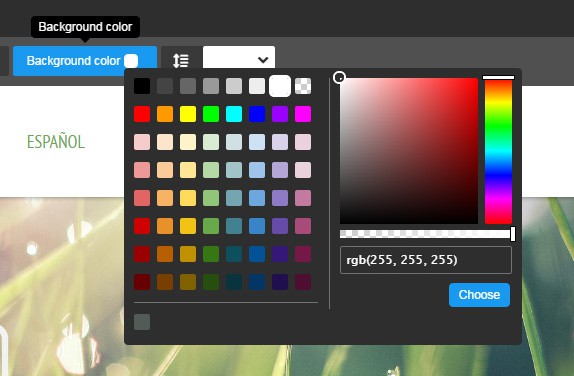 If you want to change other colours on the page you just need to revert back to the style tool and select another area of the page.
Uploading Your Own Background
If you want to use your own background image then you will need to click 'Background' from the top navigation menu.

You will now see another pop-up on screen which will allow you to create your own background image, upload a background image or create a patterned background image. If you want to upload your own image you just need to click 'single photo' and then upload your image.

Of course, you don't need to just stop at images, because Jimdo offer you the option to upload video style backgrounds which seem to becoming a popular feature to many websites these days.
Visit Jimdo