Bookmark is an
AI-assisted
 website builder that can help you build a business or personal site in just a few minutes, allowing you to customize the design later. Although Bookmark is pretty easy to use, it's not for everyone. Maybe you found a better option like Wix, which also has an AI assistant, plus a bunch more features and integrations
and
less expensive paid plans (
including a free plan
). Regardless of why you want to cancel your Bookmark account, I put together this guide so you can make sure that your sites have actually been deleted
and
you can get your money back.
Cancelling a Free Bookmark Account
Bookmark has three types of memberships: Basic, Professional, and Business. The Basic plan is completely free and it comes with features such as free hosting, 1 GB bandwidth, 500 MB storage, and the ability to use images and videos for free. I subscribed to the Basic to create a website for my imaginary bookshop, The Little Prince 🙂 Cancelling a free account is a pretty straightforward process, which you can do from your account settings.
Step 1: Account Settings
Go to the Account section at the top right corner of your dashboard, or at the left-side panel of your website editor, and click on
Account Settings
.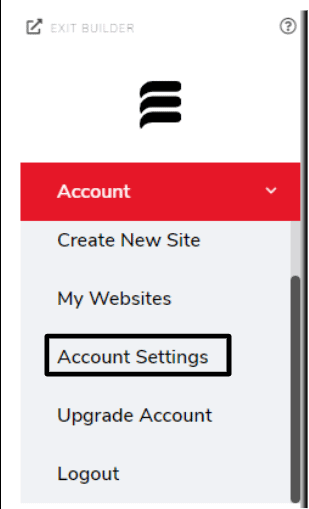 Step 2: Delete Account
In the Account Settings, scroll down to the end of the page and click on the
Delete Account
 button.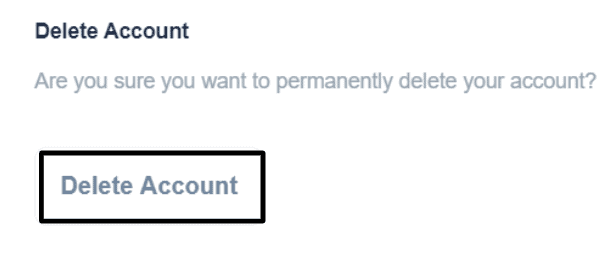 Once you delete your account, all of your websites will be automatically deleted with it. It's important to note that Bookmark doesn't store your data after you delete your account, so
you won't be able to access them again once you've closed your account
. Just to confirm that you really can't recover a site once your account is deleted, I reached out to their customer support. I was immediately connected to one of their customer agents, who was very friendly and helpful.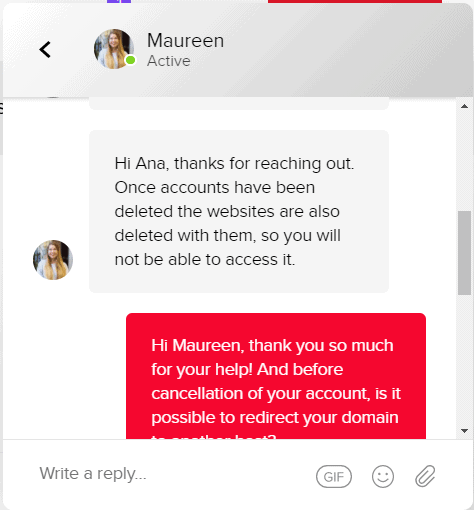 Deleting Individual Websites
If you want to delete a
particular
 website, you can do it easily by navigating to the
My Websites
 section at the top of your dashboard.

Click on the
Actions
 button, and then click
Delete Website
.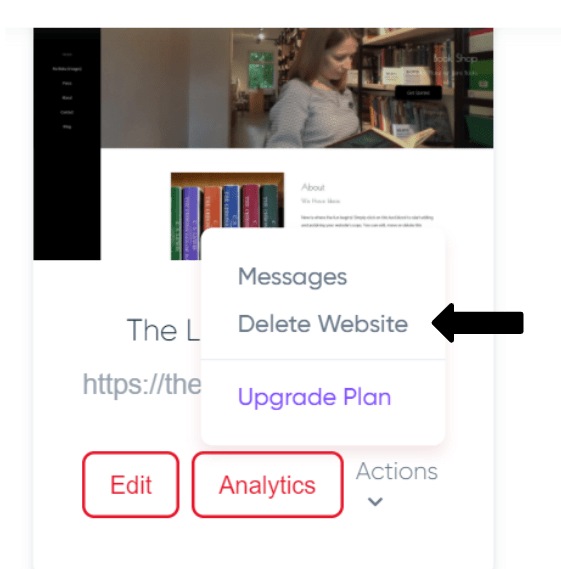 Cancelling a Paid Plan
If you have a paid Bookmark membership, the process of deleting your account is pretty much the same, with some additional matters you need to pay attention to.
1. Cancel Your Subscription
Your subscription renews automatically, so before you can delete your account, you need to cancel your plan. You can do this in the
Billing
 section of your Account Settings. Alternatively, you can send an email to the Bookmark customer support and notify them that you want to cancel your plan.
2. Transfer Your Custom Domains
Before you cancel your account, you need to redirect your custom domains to another host. If you purchased a domain from Bookmark, you can cancel it or transfer it to another host if you want. (If you were only using a Bookmark subdomain, you don't need to worry about this step.)
3. Cancel Your Agreement with Your Payment Gateway
In case you have an online store and a payment gateway, you'll need to contact them separately about cancelling your service, as this won't happen automatically when you cancel your subscription and delete your account.
4. Make Sure You Get Your Money-Back Guarantee!
Bookmark's terms of service outline that they issue refunds within the first 14 days of using their website builder. During this time, if you're not satisfied with the service, you can send an email to their customer support and ask for a refund. Take note that Bookmark doesn't issue refunds on domain names, email services, and stock photos. After you've taken care of these things, you can delete your paid account just like you would a free one.
Bookmark Alternatives
Bookmark comes with many useful features, but it's not right for everyone. Here are some alternatives that are worth checking out:
Wix
Wix is definitely one of the most versatile website builders for small businesses. It offers
a free plan
and it comes with a set of
500+ available templates
 that you can customize as much as you want. If you're a beginner or lack time for designing your site by yourself,
Wix ADI
 is a great alternative to their classic builder as it generates a site for you within minutes. Like Bookmark, Wix has a drag-and-drop editor, only it's much more flexible and it allows you to place any element of your site wherever you want. You also have access to an extensive app market with
over 250 apps
 to extend your site's functionality. The only drawback is that you can't switch between templates without losing the edits, and they aren't automatically mobile responsive, so you'll have to adjust this in a separate editor. Also, if you cancel any of its Premium plans within the first 14 days, you get a refund.
Squarespace
If you're particularly interested in the aesthetics of your site, Squarespace may be just the thing you need. It offers some of the most modern and elegant-looking templates around, with
60 preset theme
designs
 that work equally well for blogs and portfolios as they do for professional businesses. The templates are automatically mobile responsive and, while you can't exactly switch between them, they are fully customizable and you can make drastic edits. Squarespace offers numerous SEO and marketing features and third-party integrations to help you grow and promote your business. If you subscribe to its Business plan, you can build an online store and get access to numerous e-commerce tools. They also have specific plans with
personalized business support
that creates custom solutions for your business needs. Unfortunately, Squarespace doesn't have a free plan, but it does offer
a 14-day trial
, and if you cancel your subscription within 14 days, you can ask for a refund.
SITE123
Even if you have no previous experience in building websites, SITE123 can help you get your site up and running in just
three quick steps
. Its choice of templates isn't too diverse as they all have a similar layout, but they have a professional design that will suit any type of business. SITE123's editor is very easy to use, and it includes pop-ups with tips and tutorials on how to get started. Also, you can easily set up an online store, add products, and collect payments. What's particularly great about SITE123 is its
multi-language support
. The website builder is available in 21 languages, and you can display your site in up to five languages, depending on your subscription. SITE123
offers a free plan
, although advanced features require paid subscriptions. If you're not satisfied with your paid plan, you can get a refund during the 14-day period.
GoDaddy
GoDaddy is a great solution for small businesses because it comes with an effective set of SEO and marketing tools, all of which you can manage from one place. Also, this builder generates a
custom plan for you based on your business needs
 and it allows you to monitor your site's progress and how you compare to other businesses belonging to the same category. GoDaddy offers a solid selection of
business-oriented and mobile-responsive templates
. It
suggests a template for you
based on your type of business, and while customization isn't so flexible, GoDaddy's editor is very easy to use.
GoDaddy offers a free plan
, and if you want to cancel a paid subscription, you can get a refund during the first 30 days if you have an annual plan, and during the first 48 hours if you have a monthly plan.
Weebly
Weebly focuses on helping online stores attract customers, so it has a pretty
extensive set of e-commerce features
. However, you can access them only with a paid subscription, while
the free plan
 enables you to build a basic and functional website. Weebly's themes automatically adapt to mobile devices, and you have the flexibility to switch between them at any time, even after your website has been published. Weebly's editor is user-friendly, and although it provides a straightforward experience, you can unlock a broader spectrum of functionality within the apps section, offering a selection of over 300 apps to choose from. Should you opt to cancel your paid subscription, Weebly provides a 30-day money-back guarantee.
Bottom Line
Cancelling a Bookmark account is pretty easy and straightforward, and you can do it in just a few clicks, whether it's a free or a paid one. Most importantly, if you cancel a paid subscription during the first 14 days of use, you're eligible for a
full
 refund. If you're searching for a new home for your website, take a look at our list of the
best website builders in 2023
 to get inspired!
FAQ
How do I delete my Bookmark account?
You can delete a free or paid Bookmark account directly from your account in a few clicks. If you have a paid account, it's important to take care of some things before you close your account, such as cancelling your subscription and any third-party services, as well as a domain cancellation or transfer. If you're looking for more website building options, check out our list of the best website builders for 2023.
How do I get a refund from Bookmark? 
You can ask for a refund from Bookmark during the first 14 days of using the website builder. To request a refund, you should send an email to the Bookmark customer support team. Keep in mind that Bookmark doesn't issue refunds on domain names, email services, and stock photos. Also, you can always spend less money on original purchases by checking for any coupons or discounts.
Is Bookmark the best website builder for small businesses?
It all depends on your needs. Bookmark generates your site within minutes and it offers some useful features, but they aren't as robust as the ones offered by some other builders. Wix is a great option for beginners and has a ton of templates. GoDaddy would be a good choice for small businesses looking for strong online marketing management (plus, it has a free plan).
Can I get my Bookmark account back again?
After you delete your Bookmark account, you won't be able to re-access your sites anymore as Bookmark doesn't store your data, so think carefully before you choose to cancel your plan.