Incredibly, they have managed to boil down the website-building process from signup to launch to three essential steps, and you can even plug in a blog or store, all within one or two hours.
Site123 is still one of the newer services, having been around only since 2015. Since then,
the reputation and user base they've garnered are impressive, which means they must be doing something right.
However, there are still a few important things you should know before you launch your website with their platform.
Site123 Features a Quick and Easy 3-Step Web Building Process
Probably one of Site123's best features, if you're new to building a website, is its
beginner-friendly three-step sign-up and website-building process
. Site123 guides you through the essentials of creating a website and eases you into its builder. They claim that you can use this method to create and launch a website in under an hour, and that certainly seems to be the case.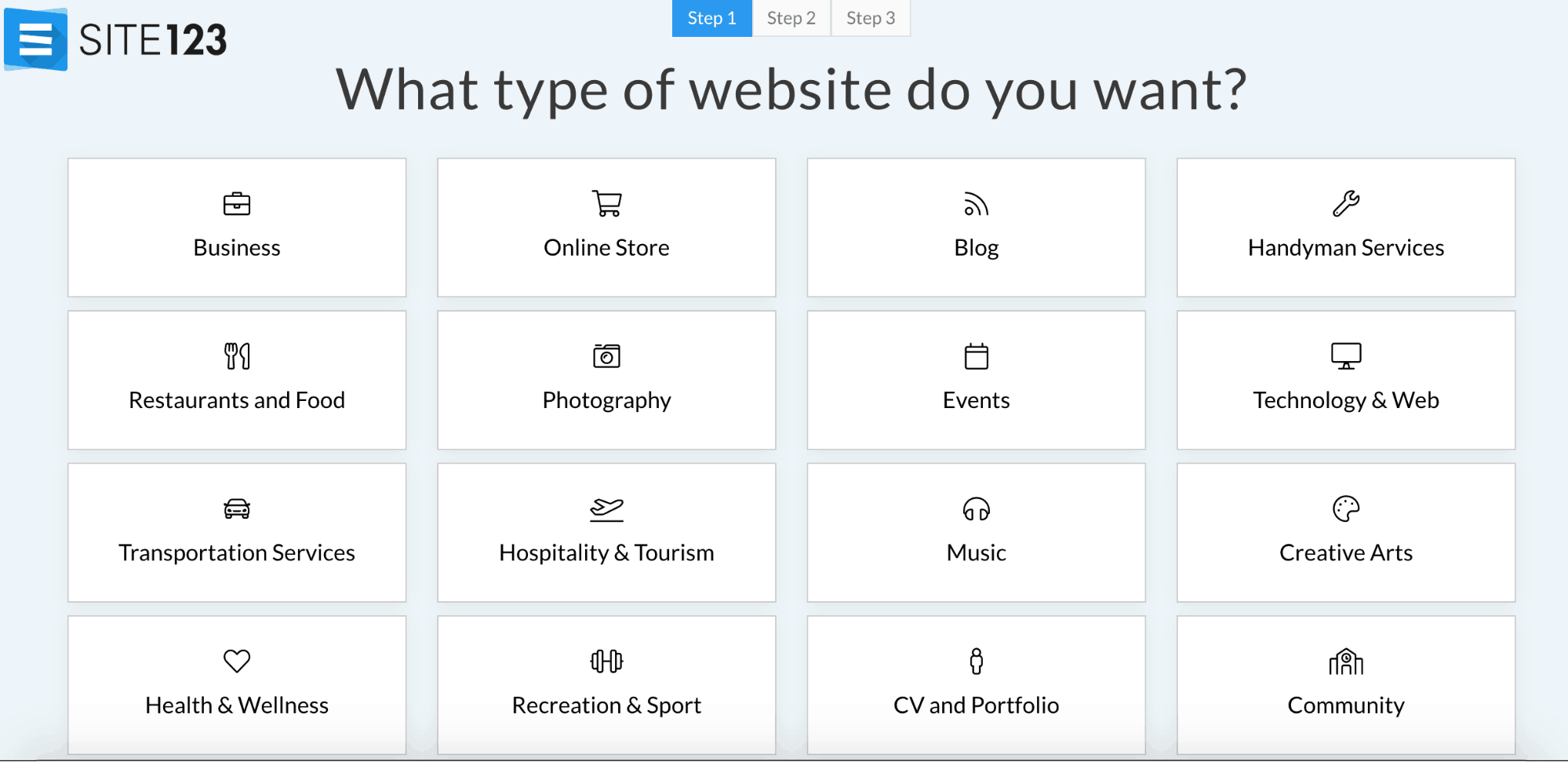 The first step is to input what kind of website you want to build. You can choose from a wide variety that includes everything from Business, to Photography, to CV and Portfolio. The next step is to enter a name and choose a language. Usually, one of the best templates within the category you chose for your website is then selected for you. The last step is to actually customize your website using a super simple website builder that's even simpler than the Weebly Builder. The interface is just as intuitive and easy to get used to if you're new to website design. You can then publish your website at any time from the sidebar.
Overall, I can confidently say that Site123 is one of the quickest and easiest ways to get your website online
. This makes them one of the top candidates for the
easiest website builders for novices
.
Don't Expect Too Much Customizing Freedom
It's a good thing that Site123 provides really attractive, modern, and relevant templates because it's one of the more restrictive of the major website-building platforms. For one,
the builder doesn't offer any drag-and-drop capabilities
, and you're more or less locked into the layout you choose. You can control mostly just the actual contents and color schemes. Whenever you select a website builder for its ease-of-use factor, you should be prepared to give up some flexibility and control. When it comes to Site123,
the biggest way you're limited from fully customizing your website or templates is that there's no custom coding allowed
. Site123 is still proud of their platform as a piece of standalone software that makes it easy for users to build and host their websites.
Their target audience consists of people who really don't have the time or technical know-how to extensively customize and build out their website
. That's why embedding HTML forms on your webpages is about as far as you're allowed to go with custom code. So, while the swiftness and ease with which you can build and launch a website is a major benefit to some, it's not for you if you have the hope of extensively customizing your website or building in new functionality.
You Can Reach Technical Support 24/7 via Live Chat


Another great thing that potential customers should know when considering Site123 as their next website builder/host is that they'll be well taken care of by Site123's support staff. It's one of the platform's core features and something they promote heavily on their website and marketing material.
Of particular interest is
Site123's 24/7 live chat support
. This isn't offered by too many other website builders, with the exception of premium ones like BigCommerce and Shopify. For example, Squarespace offers live chat, but only within office hours, while Wix doesn't offer it at all. What's fantastic about Site123 is that
it's built into every webpage so you can use it even while you're in the website builder or your dashboard
. The support staff are also exceptionally helpful, quick to respond, and really seem like they care about customers. Whenever I had a question or issue, they always responded within minutes. Unfortunately, it's not available for users on the free plan, but this is understandable. Regardless, it's a great relief for those who feel like they'll need some guidance along the way to know that help is always right there.
Don't Expect the Most In-depth or Best-in-class Features
When you construct your platform with a primary focus on ensuring simplicity and accessibility for beginners, you will inevitably encounter a tradeoff concerning the depth of your features. This phenomenon appears evident in the instance of Site123. Although they do provide certain levels of the functionality most users desire for their websites — including e-commerce, blogging, and installable apps — they do not push the boundaries as extensively as they have the potential to do so.
Although Site123's app market covers a good variety of apps, it has nowhere near the number of apps that
Wix
,
BigCommerce
,
WordPress.com
,
or
Shopify
have
. The apps also don't integrate as deeply with other platforms, and they usually offer relatively simple features compared with some apps on other builders. For example, the SEO features focus on the bare essentials, like customizing your meta tags and website analytics.
Don't get me wrong, all the basics like galleries, website analytics, and forms are available, but they miss big names like MailChimp, Oberlo, ShipperHQ, etc
. In the same way, Site123's online-store and blogging tools allow you to easily build an online store or a blog into your website, but it won't be nearly as extensive as other builders which focus on them.
Still Unsure Whether Site123 is the Right Builder For You?
True to its name, Site123 makes building a website as easy as 1, 2, 3!
Non-tech savvy or skilled people should run into no obstacles when first trying to build and host their own website
. While this does pave the way to make a website accessible and doable for just about anyone, it does, unfortunately, mean restricting the control and flexibility for more advanced users.
The most important consideration you should make to know whether Site123 is the right builder for you is whether or not you fall into their target audience
. This platform might be ideal if you:
want to be able to put together your website within a couple of hours and have most things taken care of for you
don't have or don't need any custom features or designs
don't need a massively scalable solution for a large business
If these check off for you, Site123 just might be the most efficient way for you to achieve your goals. For more info about Site123, feel free to read our
expert review
 or visit
their website
.