I've tested all of these platforms, and I'm here to make your life easier.
It goes without saying that you want your site to look good, but you also need
plenty of customization options
to make sure it matches your brand. And since you don't have time to fuss around with tutorials,
the builder you choose should be easy to use
, even for a beginner. That means all the features you need should come built-in – whether you're looking to drive customers to your brick-and-mortar store, sell products online, or let clients schedule appointments.
During my tests, I've looked specifically for the features you'll need to build a small business site.
Ready to find out which builder has the right tools for your business? Let's dive right in.
Short on Time? These are the Best Website Builders for Small Businesses in 2023
Wix – Flexible, intuitive website builder with hundreds of templates and a robust selection of built-in business tools
SITE123 – Simple and super-easy-to-use editor, ideal if you want to get your business online as quickly as possible
Squarespace – Drop-dead gorgeous designs, with a smaller selection of premium third-party integrations for small businesses
What We Look For in the Best Website Builders for Small Businesses
With so many website builders out there competing for your attention, I narrowed the list down by focusing on a few simple aspects that are crucial for small business owners:
Well-designed templates. Bad websites don't sell. The builders on my list give you a head start with good-looking, logically laid-out templates that will help reel your customers in.
Customization options. It goes without saying, but your website should accurately represent your business. That's going to be tricky to accomplish if you can't make substantial edits to things like colors and fonts – so I picked builders that give you tons of creative freedom.
Ease of use. You don't want to spend your time bogged down in tutorials (you've got a business to run!). These builders make the task of creating your website easy – and sometimes even fun.
Built-in tools. Rather than forcing you to scour the four corners of the Internet for a way to make your website work for you, these builders come with useful built-in tools for small businesses.
E-commerce tools. Plenty of small businesses have an online sales channel, whether for a physical product, a download, a subscription, a class, or something else. If you're considering selling online, these website builders have all got your back.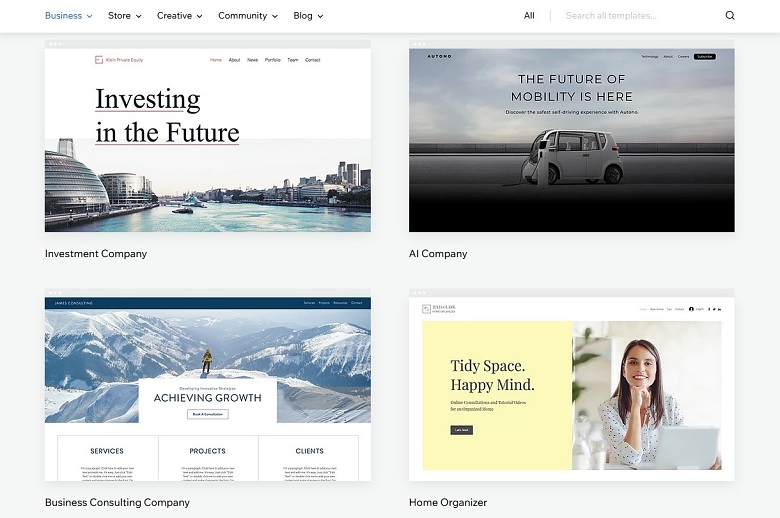 There's a reason why so many people love Wix.
This intuitive website builder makes it super easy to create a good-looking website
, while still offering plenty of powerful, useful features.
Wix has a massive template library of over 900 designs
, covering all manner of business niches – from consultancies and tech firms to vintage car garages and pet grooming parlors. That means you're 99.9% guaranteed to find a template to suit your needs. And if not, the Wix editor lets you customize almost every element of each page to make sure your website feels just as unique as your small business. In case you need a little help getting started, the Wix Artificial Design Intelligence (ADI) tool can build you a simple website in minutes based on your answers to a few questions.
Wix also offers an extensive selection of add-ons, which can extend the functionality of your website in countless ways.
For example, you can direct customers to your physical store with a map, or take bookings and payments for classes via Wix Bookings. You can dip your toe into content marketing with Wix Blogs, display image galleries with Wix Photography, create menus and accept online orders and reservations with Wix Restaurants, or schedule events, share invites, and sell tickets with Wix Events. Need I go on?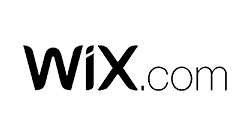 Save up to 33 % on your Wix plan!
Limited-time offer - Don't miss it!
Your Wix with your first % on 30/06/2023!
3901 users used this coupon!
Features
Mobile-only editor: You can make sure your website looks good on all kinds of devices by tweaking the mobile version with Wix's editor.
Wix chat: This integrated live chat feature gives your customers an instant line of contact.
Social tools: You can connect all your social accounts in your Wix dashboard for a seamless online presence.
Wix Stores: This app adds robust e-commerce features to your site, including multiple payment methods, coupons and discounts, inventory tracking, and worldwide shipping options – all commission-free.
Personalized SEO plan: Wix takes the mystery out of SEO with a bespoke, step-by-step SEO plan for each user.
Want to learn more about Wix? Head over to our in-depth review.
Free plan available?
Yes
Number of business templates
200+

Customization options

Virtually unlimited
Integrations / add-ons / plugins for:

Appointments
Blogs
E-commerce
Events
Menus, online orders, and table reservations

Cost of cheapest paid plan

$

16.00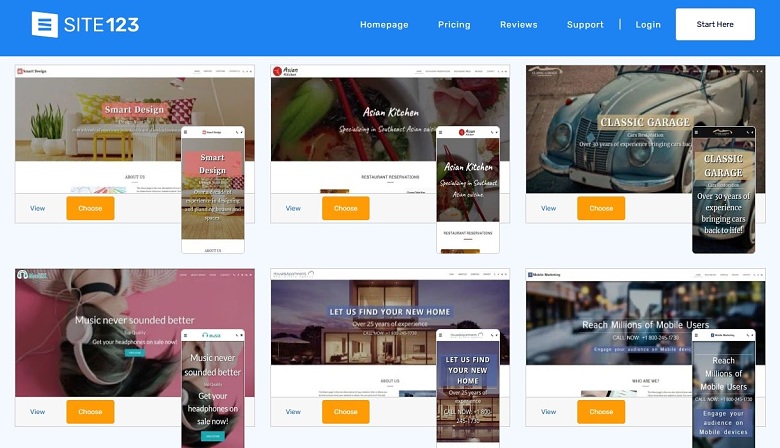 A lot of website builders try to compete with each other on features by offering more add-ons, more templates, more customization options, more SEO tools, and so on. Which is all fine, but
what if you just want to create a simple website, with only the features you need?
If that's your case, I would consider a builder like SITE123, which is
very user-friendly and comes with a nice set of features, but doesn't go overboard with extra options.
You get a choice of
180+ mobile-responsive templates
 in 10 different categories, which you can then customize using the simplified editor. Like Wix, SITE123 also offers an ADI tool that will create a website template for you within minutes. It's worth noting, however, that
SITE123 goes for quick building over total creative freedom
, so it's a little more limited in the customization department than some other options on this list – especially if you're using the
free plan
. But darn, is it easy to use – and really cheap compared to the other options. And just because it's relatively simple doesn't mean that SITE123 is lacking features. In fact,
SITE123 has pretty much everything you could want for a simple business site
, including About and Services page options, e-commerce tools, blogs, event functionality for selling tickets, an appointment booking tool, and a restaurant reservations tool.
Features 
Free image and icon library: You don't need to be an expert photographer to create a SITE123 website – just browse its thousands of royalty-free images and choose the ones that match your brand.
Multilingual websites: SITE123 makes it easy for you to create a website in different languages. You'll need this feature if your business has an international customer base or caters to various language communities.
E-commerce tools: These include multiple currency payments, PayPal and Stripe integrations, coupons, and shipping and tax options.
Third-party plugins: You can extend the functionality of your website with third-party plugins for things like live chat, analytics, and more.
Discover more features from SITE123 in our expert review.
Free plan available?
Yes
Number of business templates
89

Customization options

Limited
Integrations / add-ons / plugins for:

Appointments
Blogs
E-commerce
Events
Restaurant reservations

Cost of cheapest paid plan

$

12.80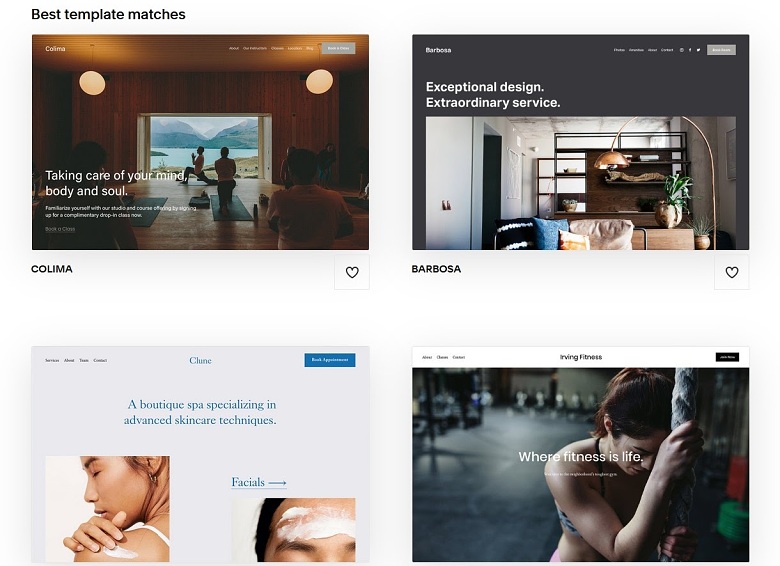 If design is your be-all and end-all, Squarespace should be your first choice.
This easy-to-use platform is widely regarded as having some of the best-designed templates around
 (Seriously, there's about 110 of them, and they all
ooze
professionalism and good taste). Unlike Wix or SITE123, the Squarespace editor uses a grid structure (as you move elements around, they "snap" into place on a grid).
This keeps pages automatically mobile-friendly and preserves the sleek, polished lines of the original templates.
It's not total creative freedom, but it's pretty, and there are more than enough customization options for you to express yourself in other ways. Plus, Squarespace is more than just a pretty face –
it also offers business owners a wide selection of robust and useful built-in features
. The range is perhaps more limited than with other website builders, but
you'll find pretty much everything you need here
, including About, Gallery and Service pages, e-commerce functionality, newsletter sign-ups, appointment and reservation booking tools, calendar and tour date content blocks, maps, social buttons, and more.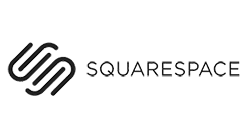 Save up to 30 % on your Squarespace plan today!
Plus get a free domain for one year!
1031 users used this coupon!
Features
Social integrations: Squarespace lets you connect all of your social profiles, so you can post simultaneously to Facebook, Twitter, and Tumblr from your dashboard, plus sell products and book appointments directly via Instagram.
E-commerce tools: One of Squarespace's strong points is its set of robust e-commerce tools, including the ability to sell subscriptions and digital content, create discounts, and easily manage inventory and orders. It also uses a mobile-optimized checkout system.
Scheduling tools: You have the option to create multiple calendars using different time zones (say, if you have an international team scattered all over the world), send automatic email and text reminders to clients, and let customers schedule multiple or recurring appointments.
Custom CSS: If your tech skills are up to it, you can customize your site even further via the built-in CSS editor.
Need more info? Check out our full Squarespace review.
Free plan available?
No
Number of business templates
58

Customization options

Plenty of creative freedom, plus extra options via the CSS editor
Integrations / add-ons / plugins for:

Appointment scheduling
Blogs
E-commerce
Events
Restaurant menus, reservations, and food orders

Cost of cheapest paid plan

$

16.00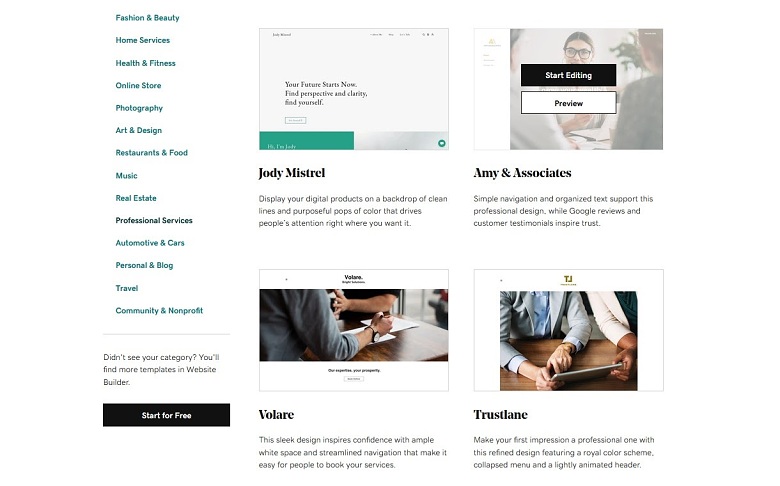 This easy-breezy website builder has long been one of my favorites simply because of how fun it makes the whole process. GoDaddy may not have the best designs or the most powerful features, but it has
more than enough tools to satisfy most business websites, with competitive prices to boot
. GoDaddy's template library offers 22 main themes in various styles, for a total of around
100 different designs
 across 13 categories.
They're all mobile-responsive and look pretty good
, taking a leaf out of Squarespace's book with that cool, laid-back minimalism. You can either select a template straightaway or let the GoDaddy ADI interface create a basic site for you based on the industry you're in. From there, personalizing your website with the simple point-and-click editor couldn't be more intuitive. As always, though,
greater ease of use means less creative freedom
, and there are some serious limitations on what you can do. For instance, rather than editing individual elements, you can only choose a primary and secondary font and an accent color for your entire site. Like Squarespace, GoDaddy doesn't offer an app market, but instead relies on
built-in integrations for pretty much anything you can think of
, from social media and online marketing to blogging tools, restaurant features, and e-commerce.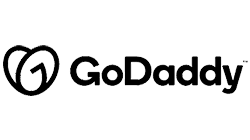 Save up to 30 % on ANY GoDaddy Website Builder plan!
Limited-time offer - Don't miss it!
277 users used this coupon!
Features
About and Services pages: GoDaddy's templates all come with the pages your visitors would expect to see, making your website tick all the right boxes.
Appointment scheduling: This feature gives you the ability to schedule multiple and repeat bookings, take payments, send text and email notifications, and charge deposits and cancellation fees.
Reviews: Displaying reviews from sites like Facebook, Google MyBusiness, Yelp, and Yotpo can help boost your credibility.
E-commerce: GoDaddy's robust set of e-commerce tools lets you sell via Amazon, Etsy, and eBay, enable text notifications for sales, send abandoned cart emails to customers, and include product reviews. Plus, GoDaddy boasts some of the lowest transaction fees in the industry.
See what else GoDaddy has to offer in our in-depth review.
Free plan available?
Yes (but not in all regions)
Number of business templates
80+

Customization options

Limited
Integrations / add-ons / plugins for:

Appointment scheduling
Blogs
E-commerce
Restaurant menus, ordering and reservations

Price of cheapest paid plan

$

6.99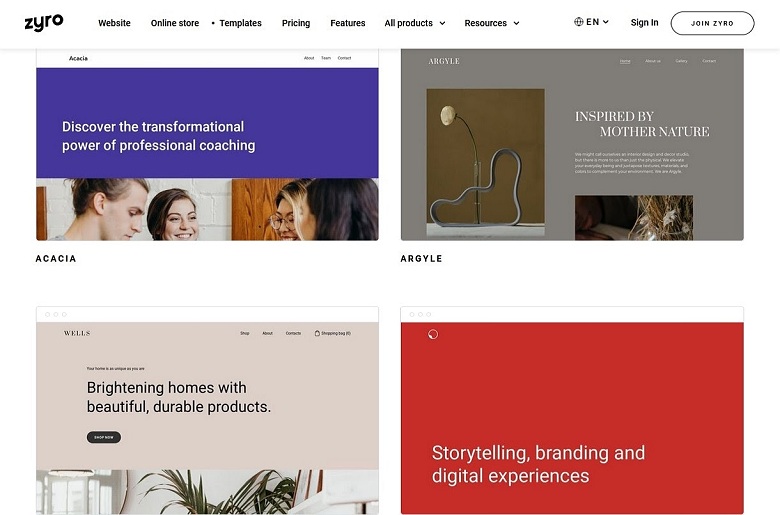 Zyro recently got an upgrade and
now boasts a more extensive set of features
, including extra customization options, blogging, and e-commerce tools. It's got almost everything you need to start, manage, and grow your business online –
and compared to some of its competitors, it's pretty cheap too
. Zyro's library of
100+ templates
 is decent, and your customization options are more extensive than you'd expect from a relatively simple site editor. All in all,
there's plenty of room for you to create a good-looking website that fits your brand
. Compared to the competition,
Zyro's features are rather minimalist
, but they cover all the bases. You'll even get access to Zyro's AI tools, including an AI writer, business name generator, slogan generator, blog title generator, and logo maker.
Features
About, services, and contact pages: These pages give your website a familiar structure and ensure your visitors have all of the information they need about your business.
E-commerce tools: From the eCommerce plan upwards, Zyro lets you add an online store to your website. The store comes with features like inventory management, customer service, order tracking, marketing campaigns, and multiple payment and shipping options.
Blogging tools: Zyro also has robust options for would-be bloggers, including the ability to schedule posts, set categories, and add multiple authors.
Integrations: The pickings are slim compared to other builders on this list, but Zyro's offering includes Google Analytics, Google Tag Manager, Hotjar, Kliken and Facebook Live Chat.
Not sure if Zyro's the right fit for you? Read our complete review.
Free plan available?

No

Number of business templates
90+

Customization options

Lots of customization options
Integrations / add-ons / plugins for:
Price of cheapest paid plan

$

2.61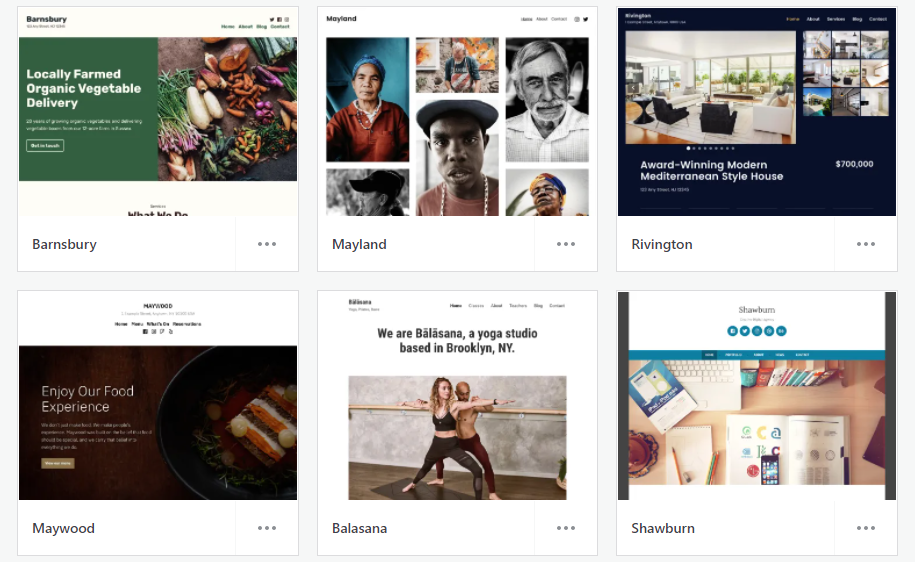 If you're a (wo)man with a more ambitious plan, you might consider WordPress.com.
It's a super-flexible and powerful solution that can do just about anything
, so no matter where your business website takes you, you'll be able to keep up. One of WordPress.com's biggest selling points is that
it offers unparalleled customizability for your site
. Although most of its
250 themes
 are blog-focused, some are great starting points for a small business website. However, fair warning:
WordPress.com does have a steeper learning curve
, so if you're put off by the thought of digging into how-to guides and user forums, this isn't the platform for you. If, on the other hand, you don't mind a bit of DIY,
WordPress.com offers endless possibilities for extending the functionality of your website
. This is especially true from the Business plan up, when you get access to WordPress's library of over 50,000 plugins.
Features
Blogging tools: WordPress.com is the gold standard in this department. What else would you expect from a platform that started out as a blogging CMS?
Store builder: Instead of asking you to install plugins manually, WordPress.com offers an all-in-one packaged solution for online stores, including features like an automatic tax calculator, payments via PayPal or Stripe, coupons, and product reviews.
Marketing & analytics tools: There are all manner of tools for SEO, branding, measuring traffic, and social media sharing to help you boost your site's reach.
Curious to learn more? Check out our full WordPress review.
Free plan available?
Yes
Number of business templates
80+

Customization options

Virtually unlimited
Integrations / add-ons / plugins for:
Almost anything you can think of
Price of cheapest paid plan

$

45.00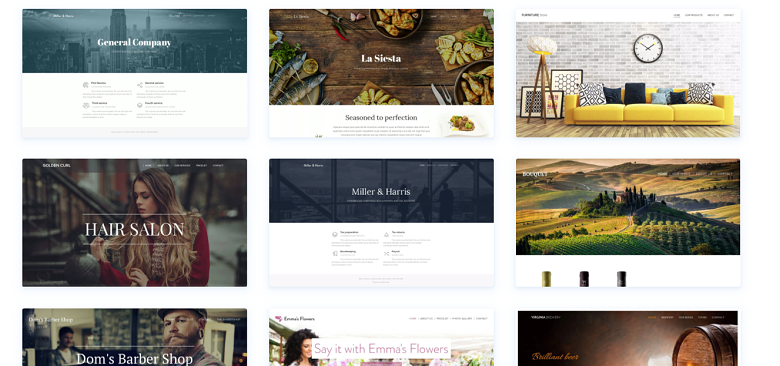 In today's globalized world,
even a small business can count on having a diverse customer base
. If you need your website to display in multiple different languages based on your visitors' browser preferences, Webnode would be my top choice. The only other builder on this list that offers multilingual site tools is SITE123, and Webnode makes the setup process a
lot easier
. But Webnode also has some other advantages, including an easy-to-use editor and top-notch SEO tools.
I especially like the designs of its 100+ fully-responsive templates.
That being said, if you don't find one you love, it's best to look elsewhere –
Webnode limits your customization options quite a bit
, especially when it comes to colors and fonts.
Features
E-commerce: These tools might not be the most advanced in the world, but Webnode has enough for smaller stores to be getting on with, including inventory tracking, promo codes, and product variants.
Blogging tools: If you're looking to start a blog, Webnode has got the tools for you to do it. You can create and schedule posts and let your readers share, tweet, and comment using the social network buttons.
Image gallery: You don't need top-notch photography skills to create a website with Webnode, thanks to the royalty-free image library.
Members-only areas: With Webnode, you can also build a loyal customer community by letting your visitors create profiles and access exclusive members-only website pages.
Find out more about Webnode in our expert review.
Free plan available?
Yes
Number of business templates
56

Customization options

Limited
Integrations / add-ons / plugins for:
Price of cheapest paid plan

$

3.90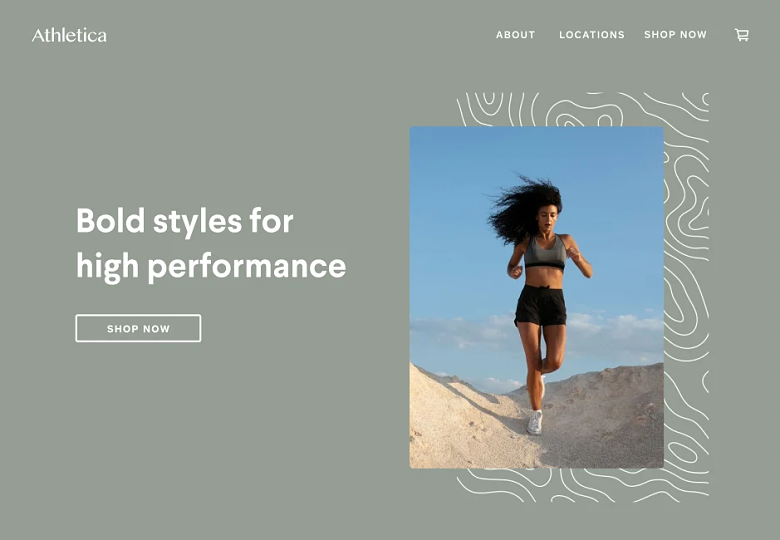 If your small business is going to be an online shop, you should opt for a builder that focuses on e-commerce. One of my favorites has got to be Square Online, a
highly-focused, easy-to-use builder made specifically for creating online stores
. In terms of customization options, you're not going to be overwhelmed:
Square Online offers just one template
, with a handful of different options for fonts, colors, buttons, and links. You can also insert text, photo galleries, forms, Google Maps, and more. However, its e-commerce features are really where Square Online shines. Why? Because
it makes selling online very easy
: it lets you track your inventory, sell digital products, arrange shipping or local pickup, sell food for pickup or delivery, collect taxes, as well as offer sales, discounts, and coupon codes.
Best of all, you'll get all these features on the free plan
– and you only pay when you make a sale (in the form of a transaction fee).
Features
Square Appointments: Square offers some strong tools for service-based businesses. With Square Appointments, your clients can book appointments online. You can also send reminders, and protect yourself against no-shows with deposits.
Email marketing: A suite of email marketing tools help you to set up email campaigns, and keep track of leads and sales generated.
Third-party integrations: If you've got any other Square products, they can all be synced up to create a comprehensive solution. You can also connect your Square website to Google Analytics, Facebook pixel, Instagram shopping, Facebook Messenger, and G Suite.
Head over to our in-depth review of Square Online to learn more.
Free plan available?
Yes (transaction fee on all sales)
Number of business templates
1

Customization options

Limited
Integrations / add-ons / plugins for:

Appointments
E-commerce
Restaurant menus and online food orders

Price of cheapest paid plan

$

12.00
Find the Website Builder That Suits Your Small Business
There's a website builder to suit every small business, but which one is right for you depends on how much time you're willing to invest, exactly which features you're looking for, and what kind of business you are.
If you want an all-rounder solution that can keep up no matter where your business goes, my overall favorite has to be Wix.
It offers a template to suit every single niche, virtually unlimited customization options, and a robust selection of tools to cover everything from appointment scheduling to table booking. On the other hand, if you don't need the kitchen sink but still want an easy-to-use builder that's going to create a good-looking website, I'd look in the direction of
SITE123
or
GoDaddy
, which both make the website-building process straightforward (and even fun). Or, if you're going to focus on e-commerce,
Square Online is my top pick
.
Builder
Stand-out feature
Wix

Intuitive, drag-and-drop editor with tons of customization options
Built-in tools for everything from appointments and bookings to events and restaurant reservations

SITE123

Super simple builder to get your site up and running in minutes
Streamlined selection of useful third-party integrations

Squarespace

Knockout template designs with plenty of customization options
Premium third-party integrations let you extend the functionality of your website in multiple ways

GoDaddy

Ultra-easy-to-use website builder
All of the standard integrations small business owners need

Zyro

Good-looking library of mobile-responsive templates
Competitively-priced plans

WordPress.com

Vast template library with virtually unlimited room for customizations
Option to extend website functionality with more than 50,000 plugins

Webnode

Multi-language site tool for businesses with international customer bases
Possibility to build a community with members-only website areas

Square Online

E-commerce-focused builder with heaps of useful tools for online stores
Sleek, professional designs
FAQ
1. What is the best website builder for small businesses?
Deciding which website builder is best for your small business depends on how much time you want to invest and what you want it to be able to do. If you're looking for an all-rounder that balances ease and power, Wix has to be my top choice (and it has a free plan!). For more ambitious websites, WordPress.com offers more flexibility and scalability, but with a steeper learning curve. And if you'd be happy with a simpler website that's easier and quicker to set up, I would go for either SITE123 or GoDaddy. For more options and advice, check out our selection of the best website builders in 2023.
2. Which website builder is easiest to use?
A lot of website-building is about intuition, so a website builder that's easy to someone might seem tricky to someone else. That said, users tend to agree that builders like Wix, GoDaddy, and SITE123 are among the simplest out there.
3. Can I build a free website for my small business?
Yes, absolutely. Many of the builders on this list offer free plans, meaning you'd never have to shell out a dime. However, bear in mind that most websites won't let you connect a custom domain on a free plan, making it harder to build a brand identity and command trust from your customers or clients. Your website would also display ads, and you may find that your functionality is limited. You can save a pretty penny on paid plans by using a discount code when you upgrade. Check out our coupon page to find the best deals.
4. Which website builder is best for selling products?
Most website builders offer e-commerce functionality to a greater or lesser extent. If you're only ever going to be selling a few products, you might be happy to stick to a "regular" website builder. Or, if you want to focus on selling online, you could opt for an e-commerce-focused solution. We rounded up some of the best in our list of the best website builders for e-commerce and online stores in 2023.
5. Is GoDaddy better than Wix?
GoDaddy has a lot to offer potential users, including a user-friendly interface, well-designed templates, and robust tools. However, overall, most users will probably find that Wix is a better option for them – it simply offers more power, options, and functionality. Read our Wix vs GoDaddy comparison for more details.