a template with a clean, professional look, as well as a set of features that will help you engage with your community and keep them informed
. You want to make it easy for visitors to learn more about your work and how they can get involved via volunteering or donations. Features such as
event calendars and blogs
can help keep your community updated on news and events, while the ability to
livestream your services
lets you reach more people. To help you get started, I've tried out dozens of church themes and templates, and put together a few great options from WordPress, as well as some of my favorite website builders. Or, if you want a truly unique design, I'll also show you how to
get a custom template for a super low price
.
WordPress Themes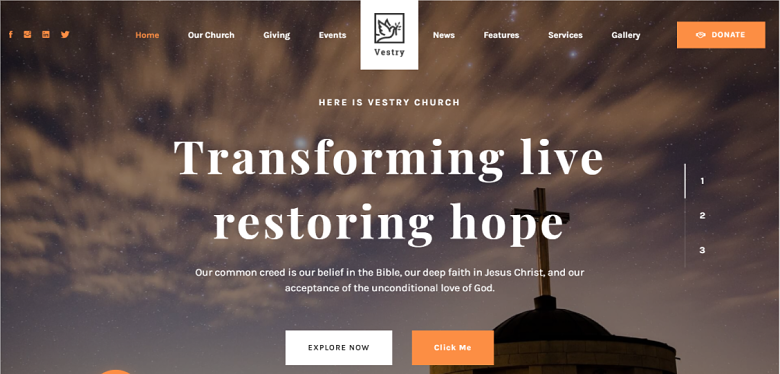 Vestry
from
ThemeForest
has a subtle but eye-catching design, and its features focus on expanding your community. The
sliding format of the homepage and full-screen images
draw visitors in, and
clearly displayed CTA (call-to-action) buttons
prompt them to action. The layout contains pages for your story, services, sermons, news, events, and donations. Plus, there's also a gallery, a blog, and built-in Twitter and Instagram feeds. However, the thing that I like most about this theme is how
you can arrange your sermons in a convenient playlist
so visitors can easily catch up on everything they missed.

My Religion
from
ThemeForest
features a contemporary design, with lots of
full-screen images and parallax effects
on the homepage that are bound to attract your visitors' attention. It's also got lots of useful features for churches – you can display an
event calendar, collect donations, set up an online shop,
and more. A nice perk is that you can also set up a
countdown clock
to generate buzz for your next event. You can
upload sermons, publish blog posts,
and invite your community members to follow you on social media.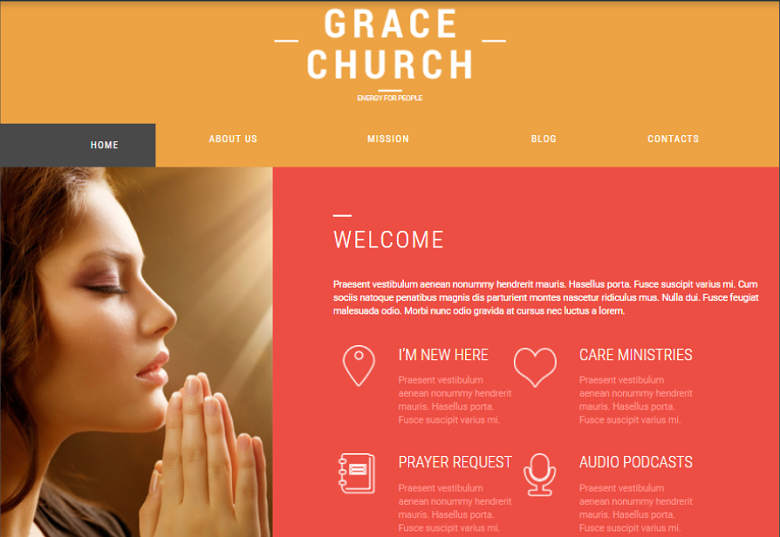 Religious Organization
from
TemplateMonster
does a great job of presenting all your important info clearly.
The homepage displays your location, ministries, prayer requests, and audio podcasts.
The last two are particularly handy for staying connected with your community. As visitors scroll down, they see info about
upcoming events and your church's latest volunteer work
. There's also a blog to share your teaching, and the About Us page has sections for
testimonials and FAQs
to help visitors find the information they need quickly.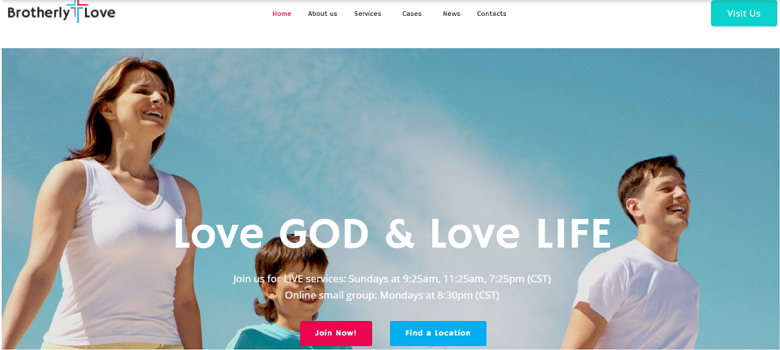 BrotherlyLove
from
TemplateMonster
will inject a dose of freshness and energy into your website.
The bright color scheme combined with full-width images
on the homepage brings a modern twist, and you get an excellent set of features that will appeal to younger audiences. For example, you have the ability to
upload your sermons and pull in your photos from Instagram
. Your visitors can
leave comments on blog posts
and connect with you via social media, including Facebook, Twitter, Instagram, and Pinterest. Another thing I really like about this theme is how much space it dedicates to photos. The upcoming events section is basically an image gallery that displays event details when you hover over individual images.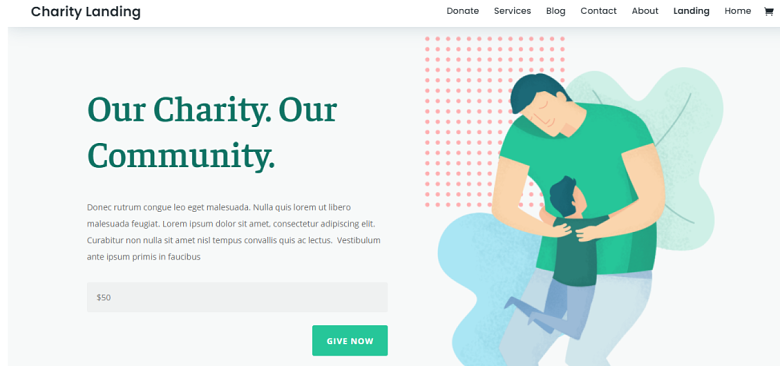 Charity
from
Divi
was designed with charity organizations in mind, so it does a great job of drawing visitors' attention to your outreach efforts and what others can do to help. The theme has pages for your story, programs, collecting donations, becoming a volunteer, and more. There's also a
blog function and a News section
to keep your community up to date with current events. The Contact page contains
FAQs in addition to contact info and social media links
, so visitors can find what they need quickly.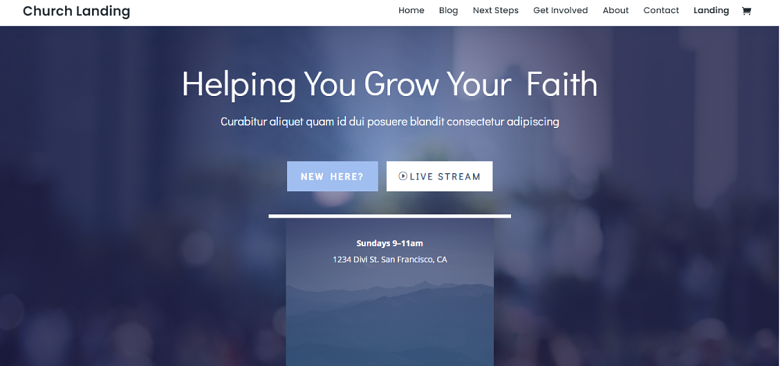 Church
from
Divi
has a clean and minimalist design, with dark colors and unobtrusive CTA buttons. A standout feature is the ability to
livestream your sermons
, but there are other perks, too. There are dedicated sections for your mission, programs, ways to get involved, plan a visit, and more. There's also
News & Updates and Blog pages, plus an event calendar
to help you stay in touch with the members of your community. Visitors can subscribe to your site and follow you on Facebook, Twitter, Instagram, and YouTube.
Website Builder Templates
If you're not already using WordPress, website builders such as Wix and Squarespace offer plenty of religion-oriented templates that you can customize as much as you like. Website builders are a great option in general because
they're very easy to use
even if you don't have technical knowledge. Plus, the templates come with great features to help you spread your message.

Traditional Church
from Wix is your go-to choice for a tried-and-true, classic design. The use of
full-width images and parallax scrolling
gives this template a polished and professional look. There are sections for describing your mission and core beliefs, and you can easily
upload sermons
as well as images and videos of your pastors, congregants, and ministries. Visitors to your site can donate, register for upcoming events, and subscribe to your newsletter, among other things.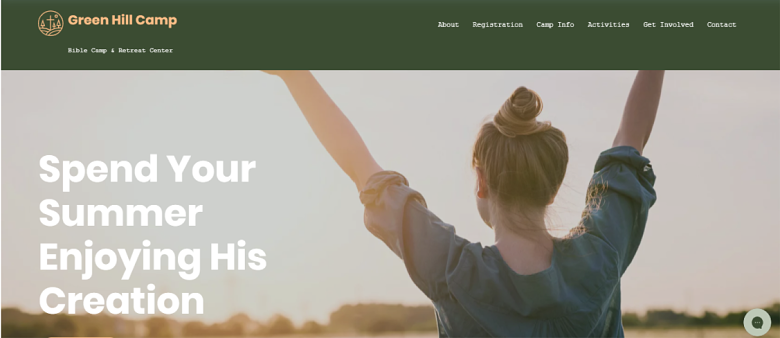 Bible Camp
from Wix is a great option if you want to
draw attention to the activities you run
for the community, in addition to your church services. The homepage displays information about your upcoming events, but you can also add info about your pastors and ministries. What I like most about this template is the ability to
pull in photos from your Instagram feed
, which gives it a nice personal touch.
I have yet to encounter a Squarespace template that doesn't deliver on expectations, and
Euclid
is no exception.
Euclid
takes a "less is more" approach to highlight the most important aspects of your story. The
long homepage
displays info about your mission and invites visitors to get involved or make a donation to your church.
Full-screen images and a simple font
shift the focus to your message, and you can easily add sections to your page to highlight your various ministries and events.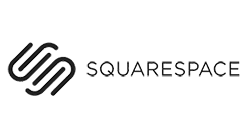 Save up to 30 % on your Squarespace plan today!
Plus get a free domain for one year!
1031 users used this coupon!

Lusaka
from Squarespace has a well-organized structure that clearly presents your mission, services, and programs. Its
long, scrollable homepage
(even longer than
Euclid
's) has different sections where you can describe your vision and projects, add testimonials, and invite visitors to join in. There's even a contact form at the bottom of the homepage so people can get in touch with you easily. Plus, you get
Our Team and Blog pages
, where you can present your church leadership and key partners.

Education Center
from SITE123 has a
classic, polished design
that's suitable for churches and other nonprofit organizations. The long, scrollable homepage displays information about your mission, services, activities, and more. You can include testimonials, a Google map, and a contact form so that visitors can reach you if they need more information. You can also take advantage of the template's
built-in email marketing features, such as its newsletter signup and email templates
to keep everyone up to date with your work.

Although
Conscience University
from SITE123 may seem more appropriate for standard education institutions, it's actually a great option for churches. You can easily display your mission, services, and programs and upload images of your pastors and community members. You can also
add a photo gallery to your site
, and since SITE123 enables
bulk image uploading
, you'll be able to fill it with a few clicks. You can sign up for our newsletter and follow us on Facebook and Twitter as a visitor. Additionally, we have conveniently placed our contact and location information at the bottom of the homepage.
How to Get a Custom Template for a Great Price
If you're short on time and would rather hire a professional designer to create a template for you,
Fiverr
is a great platform where you can find highly skilled web designers that'll
create a custom template according to your needs and preferences.
Best of all, Fiverr is quite affordable, so you'll be able to save time and money. For example,
Abdul Rehman
has been working on Fiverr for five years, and he specializes in website development and digital marketing. His websites have a clean and professional look, which is perfect for churches.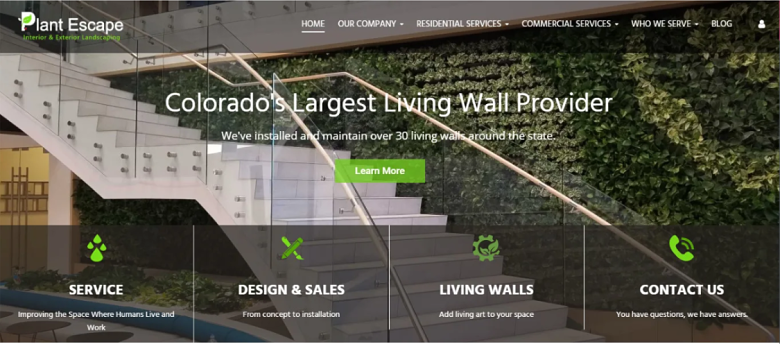 Zainsaeed100
is another experienced web developer who specializes in designing landing pages and email templates. He creates sleek and professional designs that focus on attractive color schemes.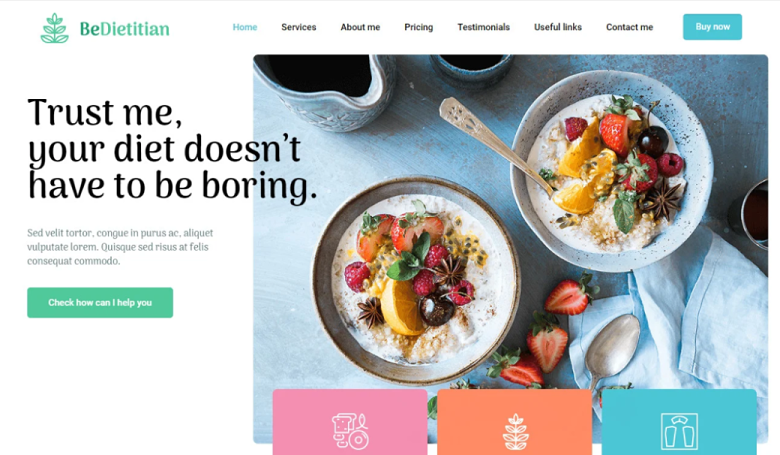 Convey Your Message with the Right Design
If you're already using WordPress, the themes on this list will give your church website an attractive look and lots of features to help you bring your community together. Or, if you're
not
so keen on WordPress, you can try one of the templates I've highlighted from website builders such as
Wix
or
Squarespace
, which are super easy to use even if you're a beginner. Alternatively, you can
hire a designer from Fiverr
 to create a custom template based on your specific needs.
FAQ
What is the most popular free WordPress theme for churches?
There are many free WordPress themes that are very popular in 2023. Some attractive choices include Hestia, Foodica Lite, and Neve – and all three can be adapted to work well with churches.
What's the easiest WordPress theme to use?
WordPress offers lots of simple and flexible themes that are great for beginners. Some of them include Astra, Ultra, and Montblanc, which come with built-in drag-and-drop editors. Most of these themes are paid – but if you want to get started for less money, you can. Check out our coupons page to find the best deals for WordPress.
Is it worth paying for a WordPress theme?
WordPress themes offer great designs and tons of functionality, so you get great value for the price. That said, you'd pay roughly the same amount to get a truly unique, custom design on Fiverr. This is a great solution if you don't like any of the WordPress themes available or if you don't have the time to customize one yourself.
Which website builder is best for churches?
Wix is a great choice for churches, as most features are available on the free plan, and there are lots of templates purpose-built for religious sites. Squarespace doesn't have a free plan, but it does have a 14-day free trial, and its templates are some of the best-looking around. If you're looking for more options, check out our list of the best website builders in 2023 to get inspired.