Looking for a comprehensive e-commerce website builder? If you're considering Shopify, then you're off to a good start. With over one million active users and 600,000 businesses powered by the platform, it's no wonder that the name has become synonymous with e-commerce. However, the relatively high prices and transaction fee might leave a bad taste in your mouth.
Even for an industry giant like Shopify, there are valid alternatives that can provide a different, and maybe even better, experience.
Wix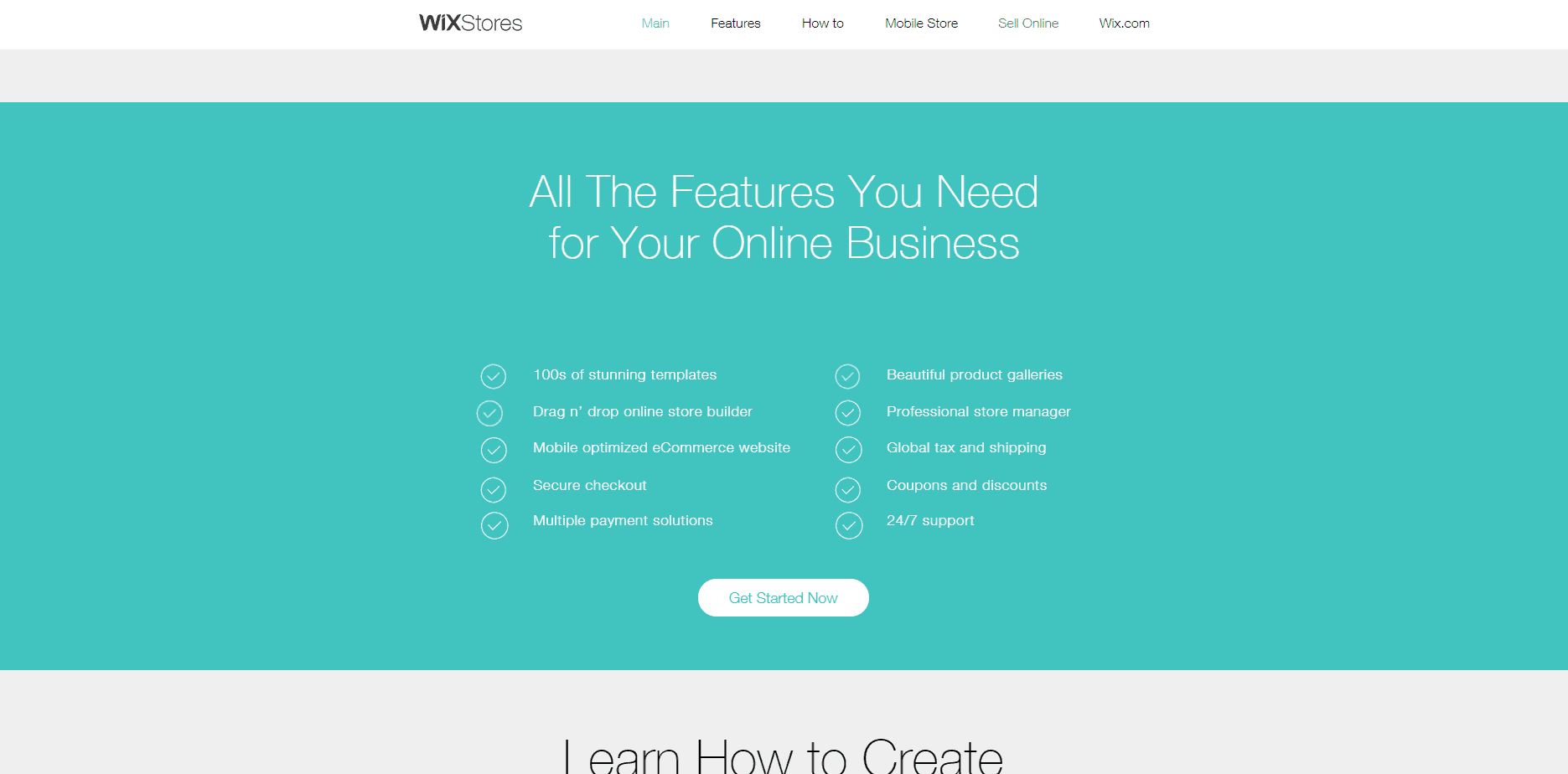 With over 110 million customers, Wix is popular among users and reviewers alike. This isn't just because of great marketing, but because Wix strikes a superb balance between powerful features and ease of use. It also provides many convenient pricing plans, with some e-commerce-ready options to suit different budgets and needs.
Pros
Wix provides 500+ free, beautiful templates, over 70 of which are for online stores
The Wix Editor is one of the most advanced website builders, with pixel-perfect drag-and-drop functionality
With an eCommerce or VIP account, you get $75 of Google Ad credits as well as two free premium apps
Wix provides advanced tools for any kind of website, meaning you can run a great website or blog alongside your store
Wix charges no extra transaction fees when it comes to selling products
Cons
Because it's not an e-commerce-only website, it might take a bit longer and be a little harder to set up your store
Wix provides no unlimited storage options, and its resource limits are generally lower than all the other builders on this list, and most builders around
Almost all of Wix's functionality is provided via apps and not out-of-the-box
Why Is Wix a Good Shopify Alternative?
The two things that make Wix a better alternative than most other website builders are its massive library of templates as well as the extensive customization without needing to code. Even though Wix doesn't focus solely on e-commerce, it provides more store templates than Shopify for free. Because of the impressive variety of templates and apps, not to mention the powerful drag-and-drop builder, you can change the look of your store without shelling out a lot of money or needing to code.
GoDaddy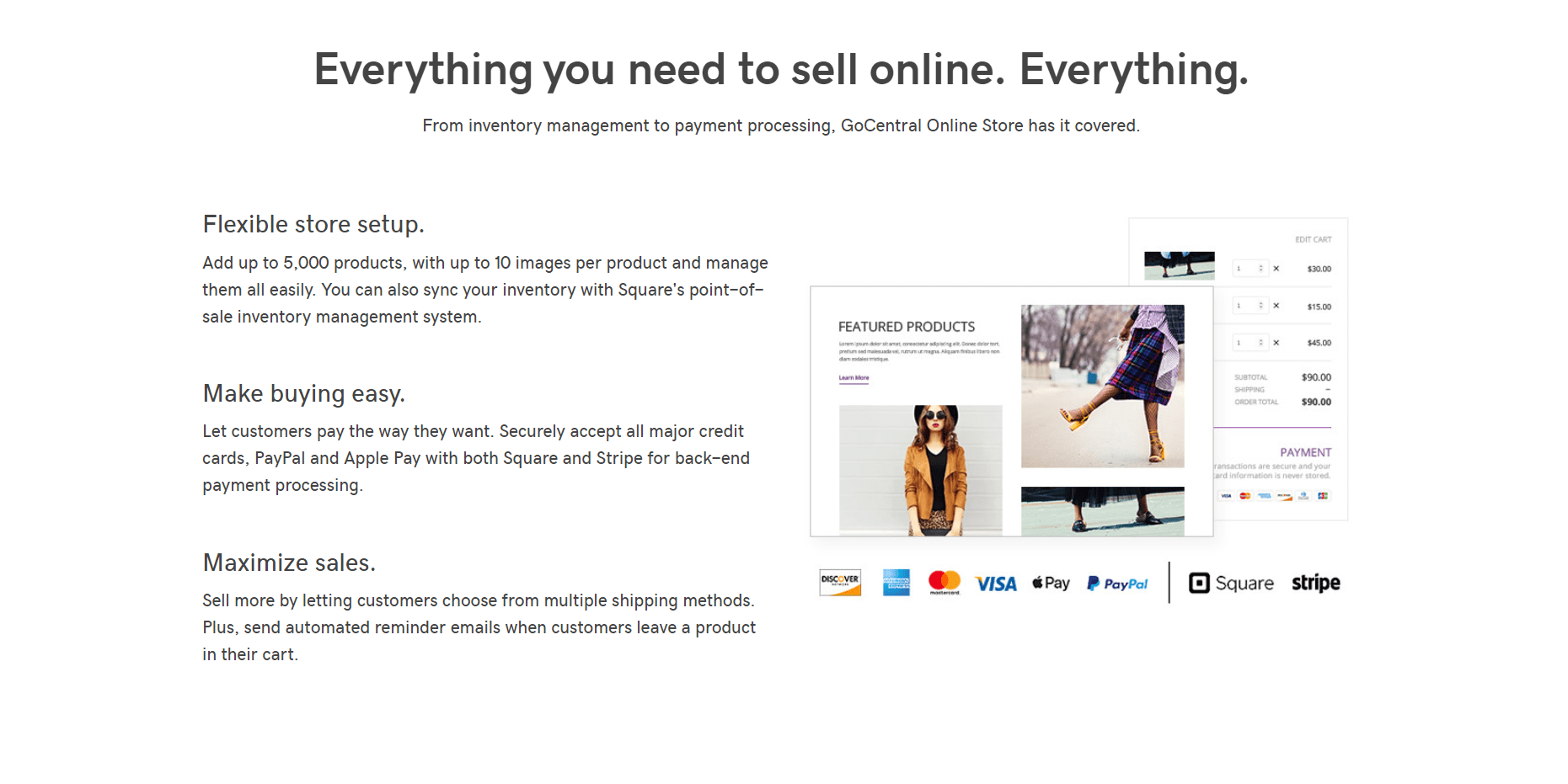 The name GoDaddy has become synonymous with domain registration and other services related to website hosting. GoCentral is its website-builder platform which promises a simple and efficient way to put together a website and host it very cheaply, and it gets generally positive reviews.
There are four pricing plans, with a single option for online stores.
Pros
There are no transaction fees charged directly by GoDaddy when using the GoCentral Online Store plan
GoCentral is one of the easiest to use and quickest ways to build your website and online store
GoDaddy provides a 30-day free trial so that you can test out all the features, host your website, and start selling before you commit
GoDaddy is one of the leading domain registrars and providers of hosting-related services, and you can manage all your products in one dashboard
GoDaddy has surprisingly good SEO and guides you through setting up the most important aspects of it
Cons
GoDaddy provides some of the least extensive e-commerce features, with no point-of-sales (POS) integration, basic product management, and basic shipping
There are only a very small collection of templates, with very limited customization
GoDaddy uses a lot of upselling and other techniques to make you buy products you may not need
Why Is GoDaddy a Good Shopify Alternative?
Unlike some of the other non-e-commerce-focused builders on this list, GoDaddy still manages to provide enough structure and guidance to make setting up your store incredibly easy. With GoDaddy, it's no exaggeration that you can have your website and store up and running within a matter of minutes. To top it off, it's one of the most affordable options, making it a great choice for those with modest needs.
BigCommerce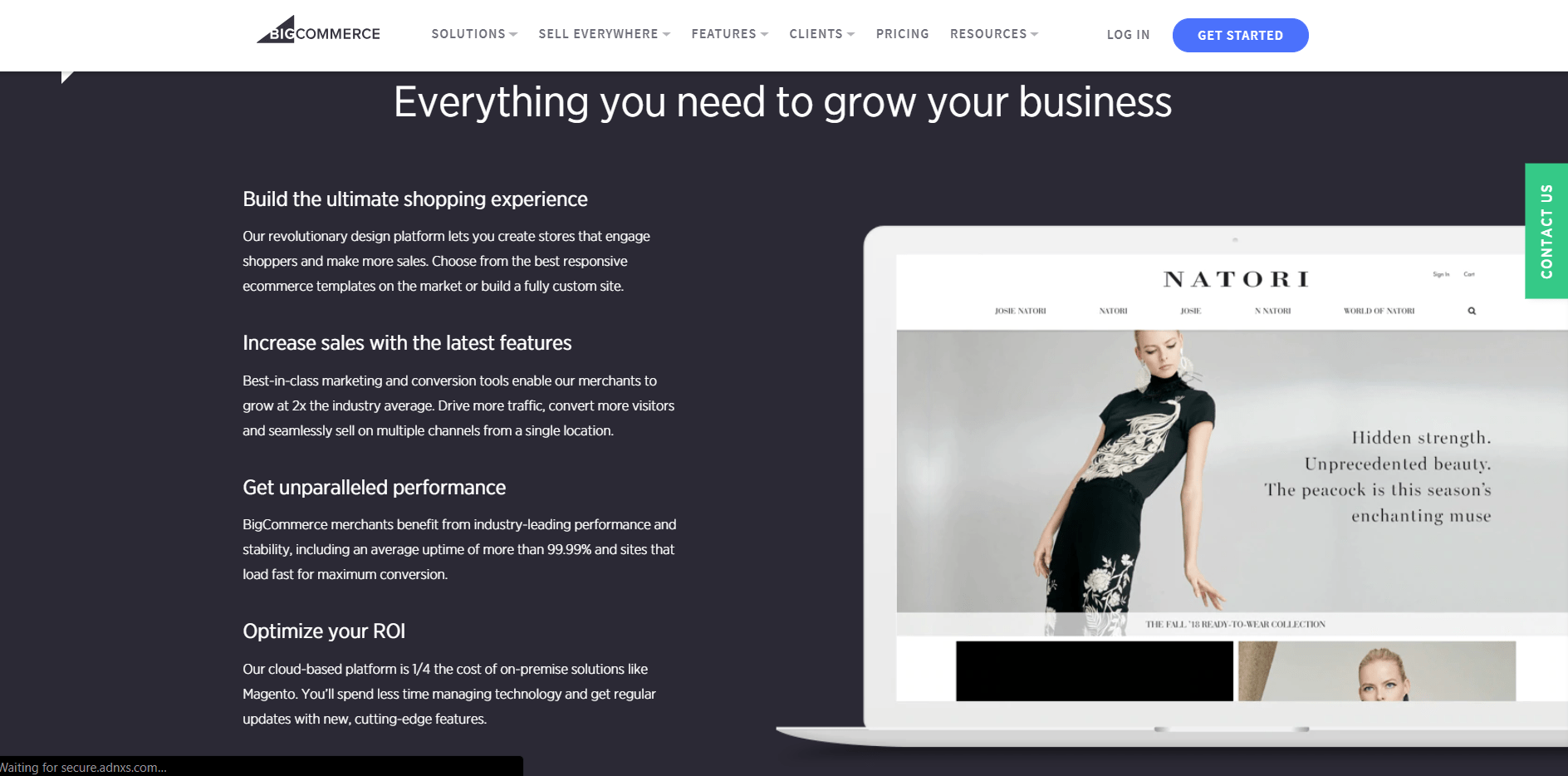 Along with Shopify, BigCommerce is one of the giants of the e-commerce industry. BigCommerce's main goal with its e-commerce platform is to provide a scalable solution, and reviewers seem to appreciate it.
On top of BigCommerce's three pricing plans, the platform can also provision custom, enterprise-grade e-commerce solutions.
Pros
BigCommerce charges no transaction fees and provides special PayPal rates
You can have up to 600 variants when creating products, with multiple controls and elements
You're free to make an unlimited number of staff accounts on every plan
BigCommerce provides unlimited products, storage, and bandwidth on all plans
More of BigCommerce's e-commerce tools are provided out-of-the-box; you don't have to rely on apps or extensions
Cons
BigCommerce caps the amount in sales you can make per year depending on your plan
BigCommerce doesn't provide a "Lite" version like Shopify
Along with Shopify, BigCommerce is one of the most expensive hosting options
Why Is BigCommerce a Good Shopify Alternative?
As two of the best and most comprehensive e-commerce platforms around, there's relatively little to differentiate BigCommerce and Shopify. However, BigCommerce's main advantage is that its platform is focused much more on its actual e-commerce offering than the adjacent services like product-sourcing integration and POS-capabilities. One way you can see this in action is through the fact that BigCommerce provides greater freedom in terms of SEO, almost double the templates, and more product variants.
WooCommerce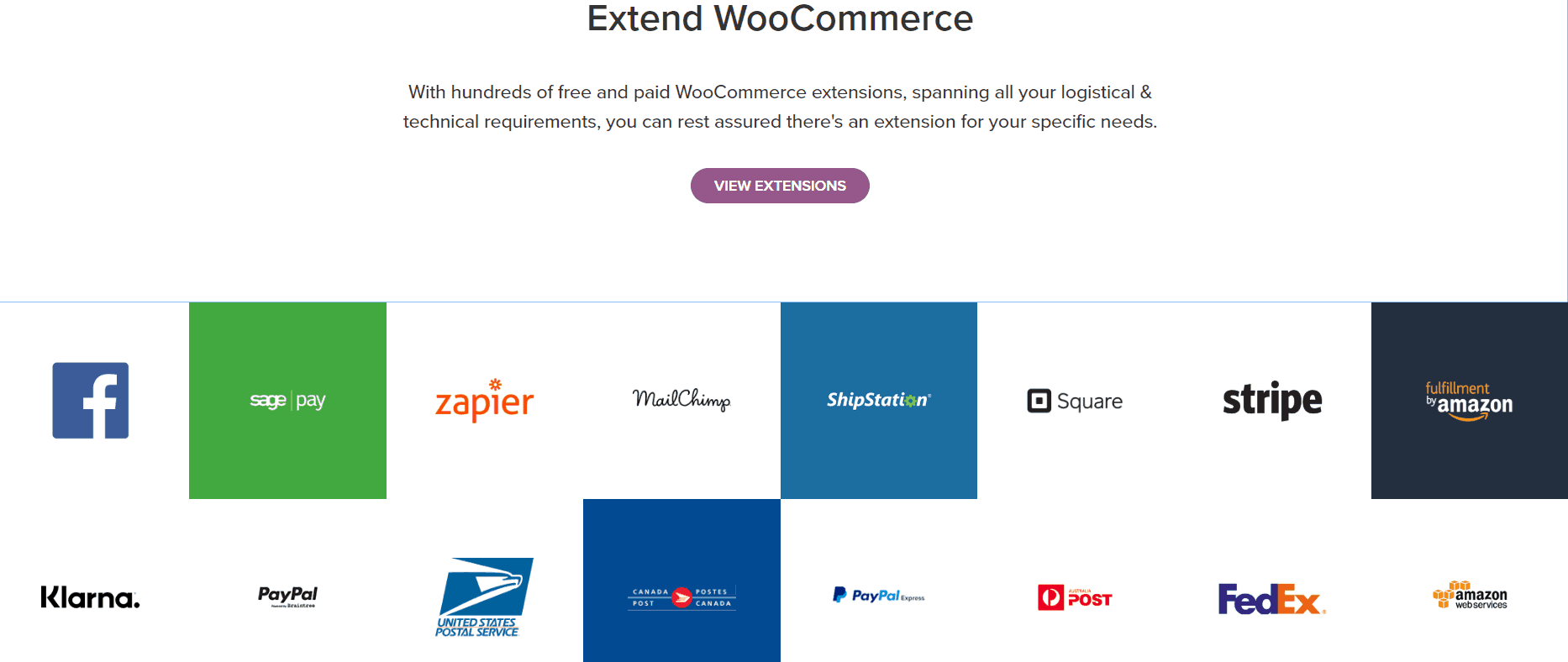 WooCommerce is an open-source e-commerce platform which was first developed by some of the same people that worked on WordPress. Like its website-builder counterpart, it's now the most used e-commerce platform, powering almost 30% of all online stores. Technically, WooCommerce is a plugin installed on either WordPress.com or self-hosted WordPress.
Pros
A huge selection of free, freemium, and premium extensions with which to enhance your store's functionality, almost without limits
Standard WooCommerce is a completely free plugin
WooCommerce can be customized and extended to your heart's content using custom code
As an extension itself, WooCommerce can be installed alongside most major WordPress.com or third-party WordPress templates
Because WooCommerce is open-source software, you can extensively customize your metadata which is great news for search engine optimization
Cons
WooCommerce itself is just a plugin that needs to be installed on a WordPress.com website, which means you'll have to be OK with using the WordPress.com website builder and subscribing to the most expensive business plan
Buying all the WooCommerce extensions you need to run a fully fledged e-commerce experience can get very expensive
WooCommerce itself comes only with 14 Storefront themes, of which only two are free
Why Is WooCommerce a Good Shopify Alternative?
Maybe WooCommerce's biggest pro is the fact that as an open-source platform, it's constantly being extended and new features are being developed. You already have a huge variety of extensions to choose from, and it should only get better. Also, the ability to pick and choose your extensions to suit your budget and needs, from a free base, is a welcome break from the rigid packages of Shopify.
Site123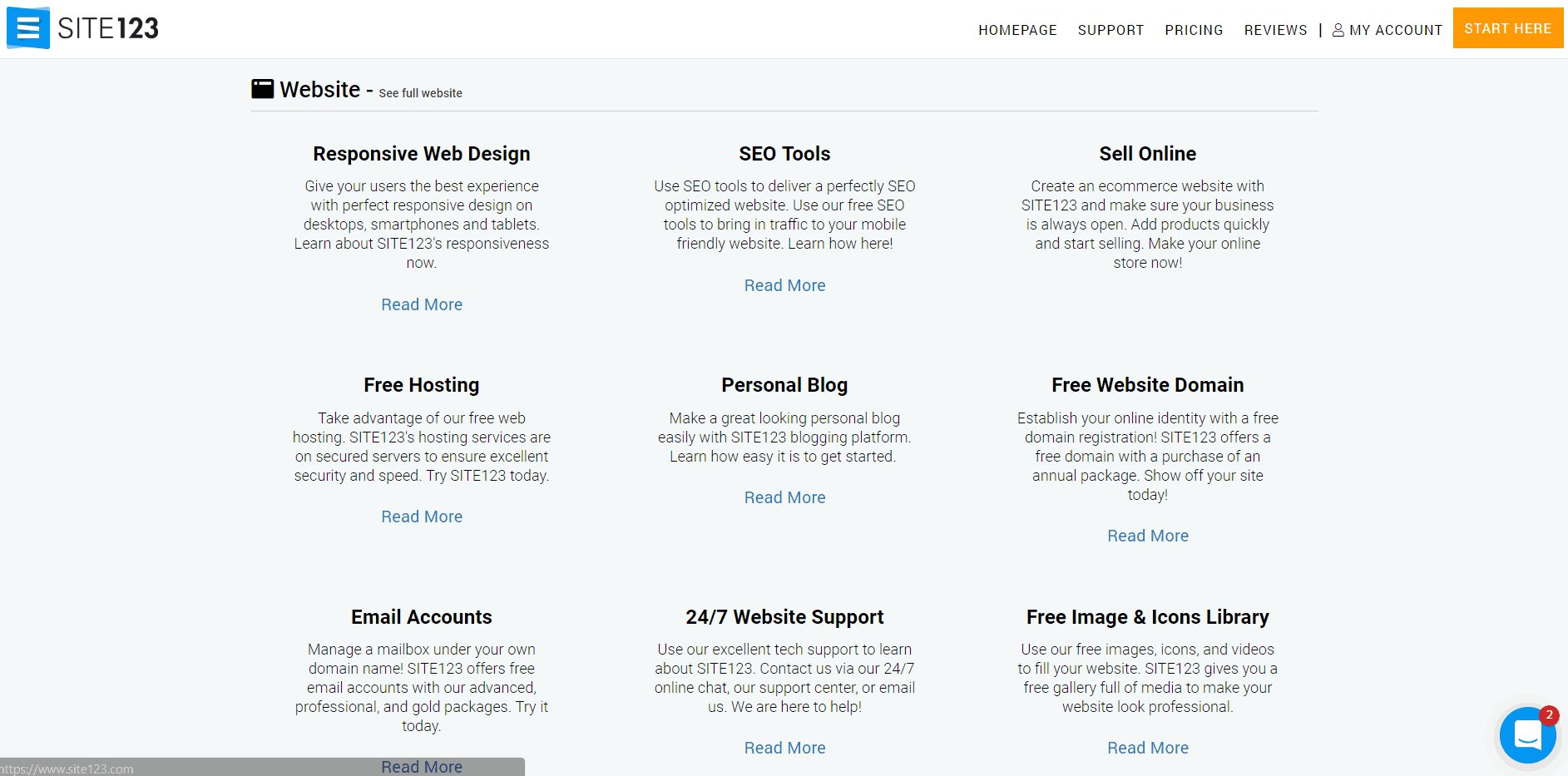 Site123 got its name from its three-step website building process. Everything about this platform is meant to be as accessible and easy to use for beginners as possible, and reviewers agree that there is little-to-no learning curve needed.
Despite its simplicity, Site123 comes with a nice range of pricing options (all of which you can see only after you've logged in) and apps. You can create a website, blog, or online store.
Pros
There are three e-commerce-ready pricing plans, and the cheapest plan is one of the most affordable e-commerce plans of all
The Site123 platform is built on SEO-friendly principles and consistently scores highly in SEO tests
Site123 provides a free email service with its Advanced, Professional, and Gold plans
One of Site123's best-kept secrets is its extensive app market, which is surprisingly big compared with similar website builders
Site123 consistently provides some of the best technical customer support, especially via live chat
Cons
Site123's webpage-builder tool is somewhat restrictive and doesn't feature any drag-and-drop capability
Although Site123 is a good all-rounder when it comes to features, its e-commerce features fall short when it comes to quality and depth
Site123 limits the numbers of orders per month to a low 50 with the Advanced plan, and only the Gold plan allows unlimited orders
Why Is Site123 a Good Shopify Alternative?
Much like GoDaddy, Site123's main advantage lies with the fact that it's such a quick and easy way to put together and host your website. However, unlike GoDaddy, it's got much more advanced customization and extendability, allowing it to compete on more equal footing with platforms like Wix and Shopify. With free templates and mostly free apps, it's also a much cheaper option.
Which Shopify Alternative Should You Choose?
Here's a quick breakdown of the most crucial differences between these platforms, and what sets them apart. Advanced e-commerce features includes things like in-depth tax calculators, advanced reporting tools, advanced shipping with real-time price calculations and complex rules, and in-depth POS integration. It also accounts for generally how deeply features like discounts and coupons, third-party integrations, and other features run.
Shopify
Wix
GoDaddy
BigCommerce
WooCommerce
Site123
Transaction Fees?
Yes
No
No
No
No
No
Sales Limits?
No
No
No
Yes
No
Yes
Advanced E-Commerce Features?
Yes
Yes (via apps)
No
Yes
Yes
No
Unlimited, Products, Bandwidth, and Storage?
Yes
Unlimited products and bandwidth only
No
Yes
Yes
No
Special Features
-Most sophisticated POS capabilities

-Lite version

-Over 500 free templates

-One of the best website builders

-The easiest and simplest builder

-Trial the online store plan for 30 days

-600 possible product variants

-Unlimited scalability with all plans

-Most comprehensive catalog of extensions

-A plugin itself for WordPress.com

-The cheapest e-commerce pricing plan

-Free email, templates, and apps
There's no denying the fact that Shopify remains the biggest name in e-commerce for good reason. The platform is basically unrivaled when it comes to its powerful product sourcing, and POS and shipping integrations. We discuss this and more in our Shopify expert review .
However, Shopify is also one of the most expensive options available, and it does have some annoyances such as a transaction fee, expensive templates and apps, and limited product customization.
There is plenty of room for one of these alternatives to offer a better and more appropriate solution to your needs. To summarize, these are the most compelling reasons to choose another platform:
If this isn't enough and you want me to tell you what I think the single-best alternative for Shopify is, then there is only one answer. For me, that'sWix. Technically, BigCommerce is the closest thing to Shopify; however, both will leave you disappointed if you want to also run an impressive website or blog alongside your online store.
It's hard to think of a website builder that comes close to Wix regarding in-depth features for nearly any kind of website. Thanks to its extensive app market and massive library of 500+ template library, Wix is one of a kind.
---
Sources
https://www.cloudways.com/blog/top-ecommerce-platforms/
https://woocommerce.com/posts/marketplace-store-builder-data/