what
you want to sell. Now, you just have to pick the best platform.
If you've narrowed your choices down to Wix and Shopify, you're already a huge step closer to getting a great store up and running.
As a dedicated e-commerce platform,
Shopify can seem like the obvious choice
, but
Wix actually has a lot to offer, too
! For example, if you want to have a blog alongside your online shop, Wix gives you much more flexibility.
There's much to consider when choosing a platform for your store,
including how much you'll have to pay up front to get the features you need, and how much you'll be able to grow your store in the future. Other things like transaction fees, design options, and payment gateways are also important to think about. In this expert comparison of Wix vs Shopify, deciding which to choose for your online store can seem like a minefield, but it doesn't have to be. I've done the hard work for you and put them head to head in eight areas: And I've got the answers for you.
Round 1: How Easy Is It to Set Up Your Store?
Shopify is designed to make it super easy to start your online store.
The process of uploading your products is very streamlined, and Shopify's interface is clear and user-friendly.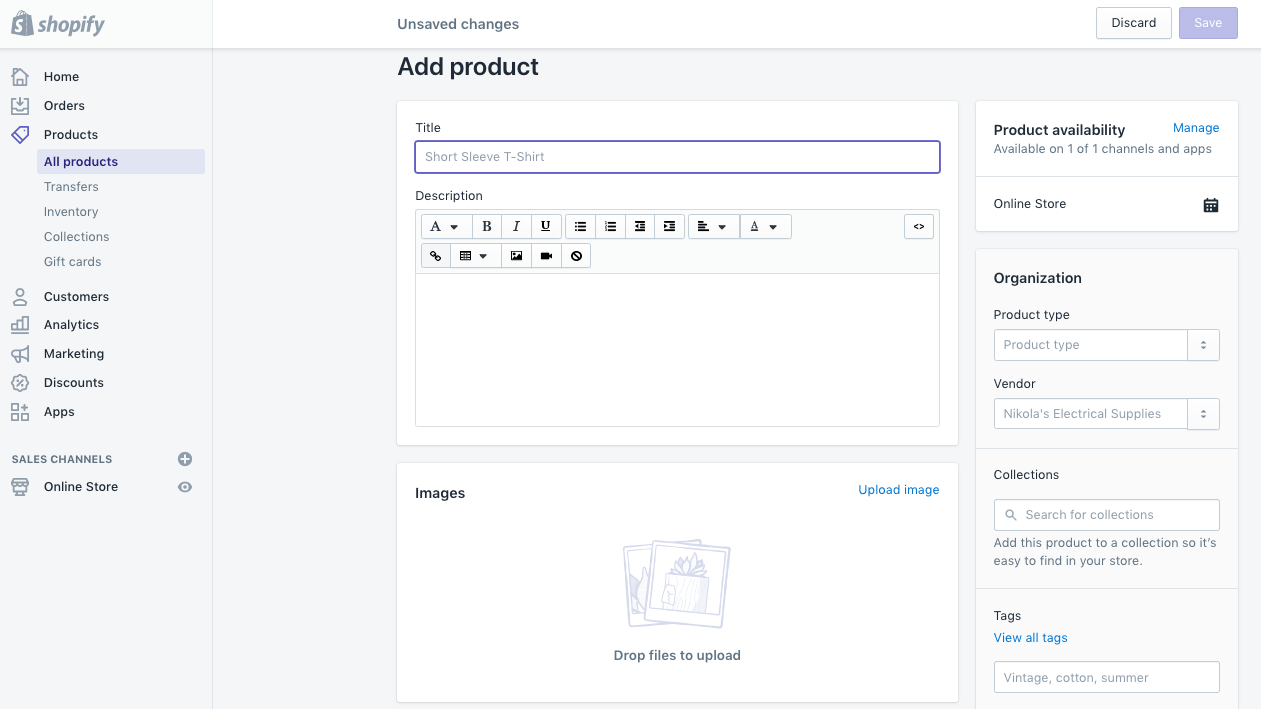 When you sign up with Shopify, you're immediately encouraged to add your first product. You should find that it's pretty intuitive to add product details and images, set your products' availability, and more. Wix focuses on making web design easy, so setting up your online store is fairly straightforward. However, Wix isn't an e-commerce-specific platform,
so even though you'll find that its drag-and-drop editor is user-friendly, there are still more steps involved to adding your products.
You have to click on the Store Manager tool, which opens a pop-up window for your Store Dashboard. Next, you have to click
Add a Product
, which opens your product list. Then you have to click on blue "New Product" button at the top right of the pop-up to finally add your product.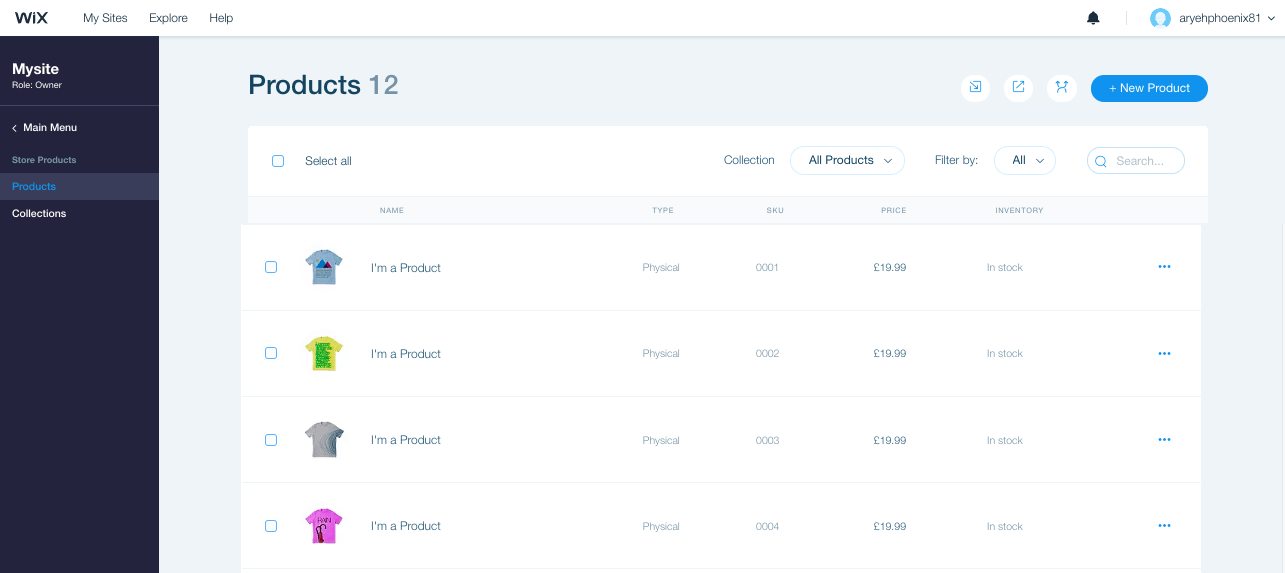 And the Winner Is…
Shopify, by a small margin.
Wix may be easier to use and learn for more general websites (e.g., business sites and personal sites), but for e-commerce websites, Shopify slips into the lead.
Adding products and setting up your online store to look great is easier with Shopify
, while with Wix it takes a bit more steps.
Round 2: Can You Create a Visually Stunning Store?
You want your store to be attractive and easy to navigate,
and
you need it to work well on mobile devices.
Wix boasts a free library of 900+ beautiful templates, and over 80 of those are designed specifically for online stores.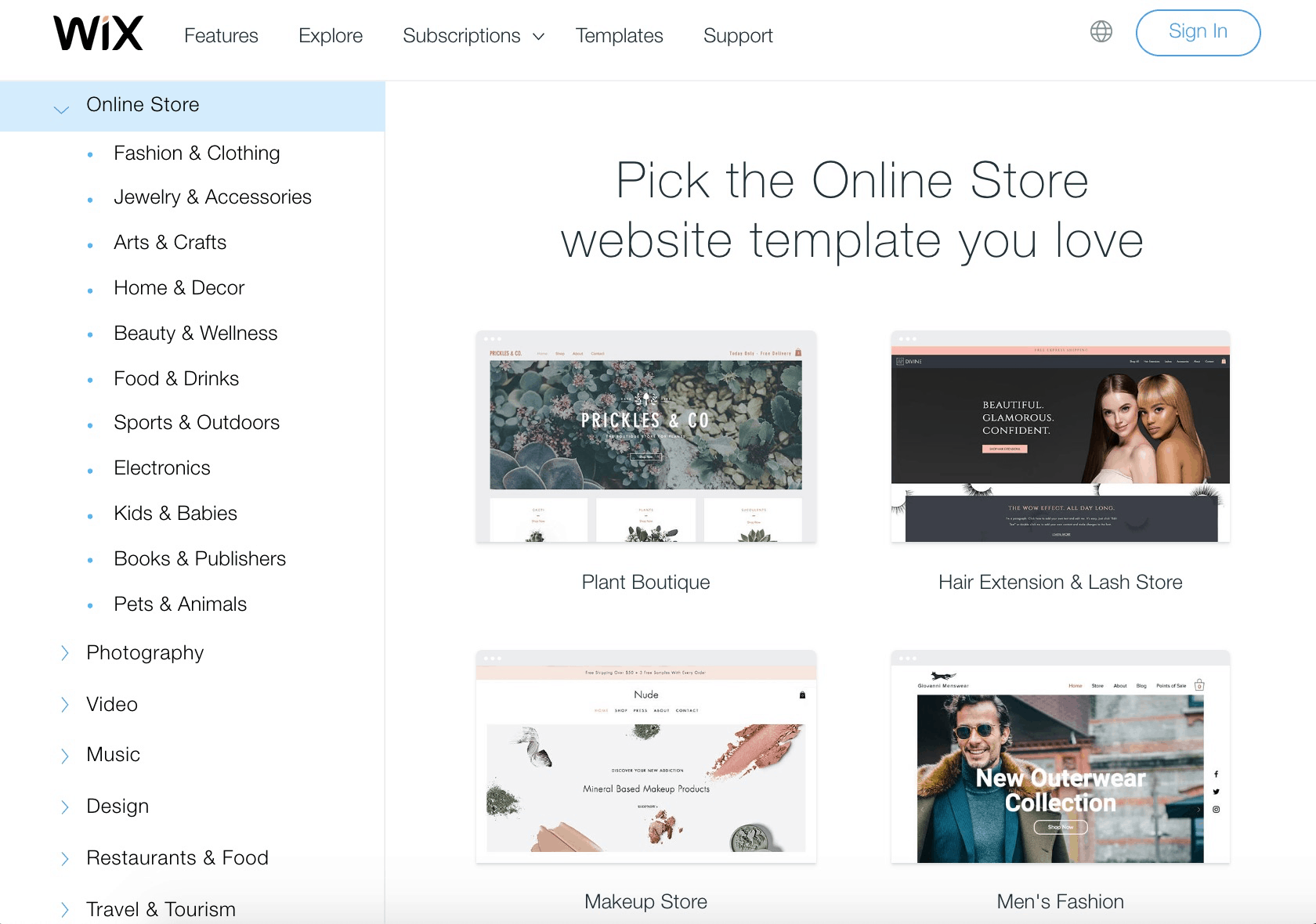 Wix provides all the tools you need to customize your e-commerce store. But keep in mind that you'll need to edit the mobile version of your website separately. The limitation with Wix is that if you end up wanting to change your template in the future, you'll have to rebuild your website entirely. Shopify also features gorgeous templates, which it calls "themes."
They're all mobile-responsive,
too, so you can be sure that your website will look great on mobile devices.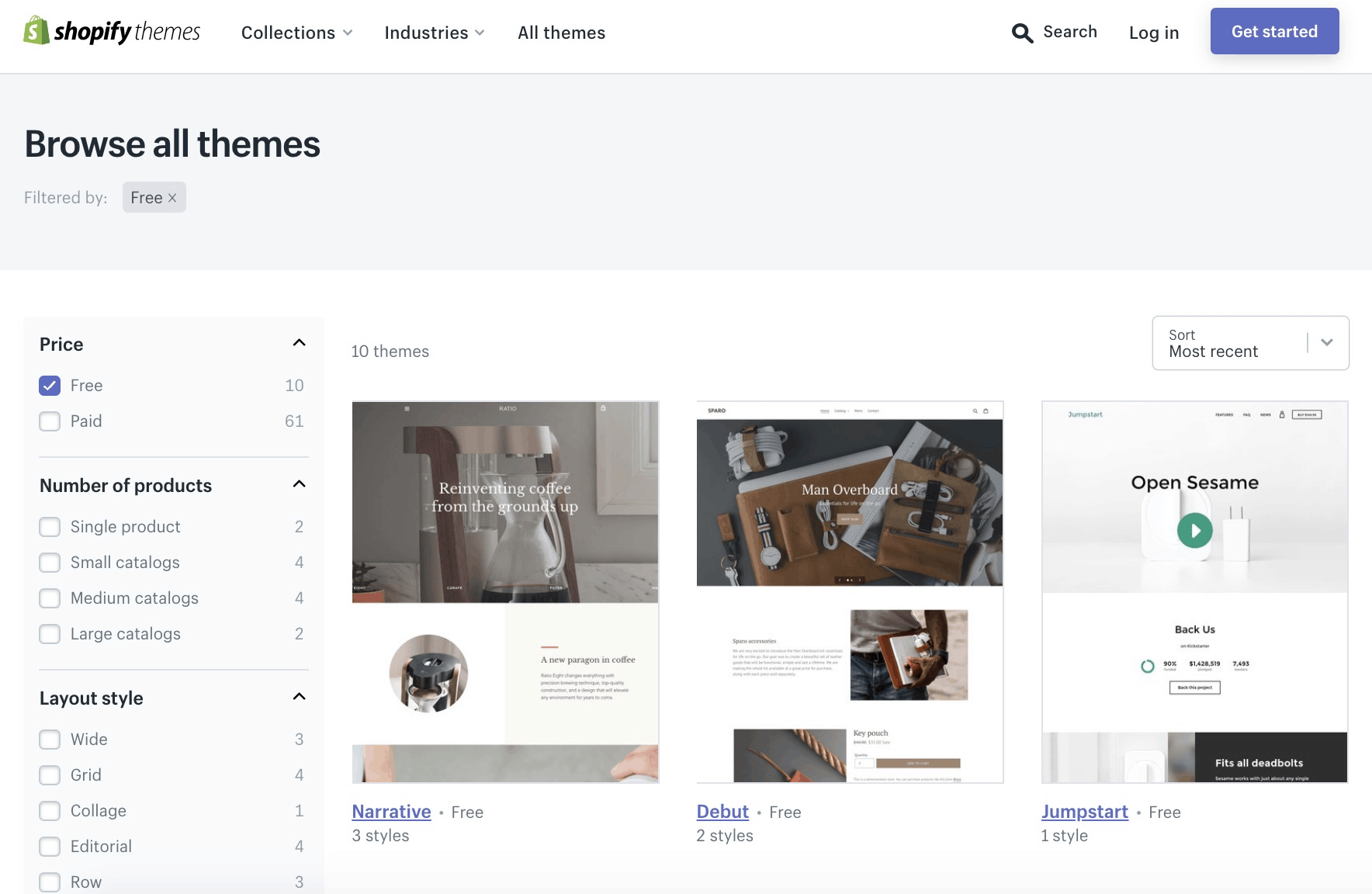 There are only a little over 70 themes to choose from. Ten are free, and the rest cost between $140 and $180. On the positive side, Shopify makes it simple to customize your theme using HTML or CSS.
And the Winner Is…
Wix.
With so many Wix templates to choose from, you can probably find a template you need. You can choose one of the e-commerce templates, or another template from a different category. What's more, all templates are
free
. Shopify offers only a few themes for free, and the premium themes are really expensive. However, Shopify's themes are all mobile-responsive, so if you want your store to look great on mobile devices without having to manually edit a mobile version of your store, Shopify would be a good choice.
Round 3: What Sales Tools Are Available?
Shopify is an e-commerce giant — so, naturally, its sales features are pretty great.
For example, when adding products to your store, you have lots of flexibility. You can easily add unlimited items, and each item can have up to 3 options (e.g., size, color, type) and 100 variants (e.g., extra small, medium, or large for size and blue, red, green or white for color). Displaying your products is also easy, and you can create a gallery of product images. If you want more advanced product display features like product zoom or product videos, however, you'll have to use an app. You'll also need to use a third-party integration if you want to sell digital products – some like Digital Downloads are free, but for more advanced features like auto-generated license keys you'll have to purchase a paid app like SendOwl. If you want to allow customers to leave reviews for your products, you can install the free Product Reviews app from Shopify's App Store. Wix doesn't offer this feature, since the platform uses comments rather than reviews. Shopify also has built-in abandoned cart recovery technology that lets you
email registered customers who left your website without purchasing the items in their cart automatically.
This is a powerful tool that can boost sales by 25%.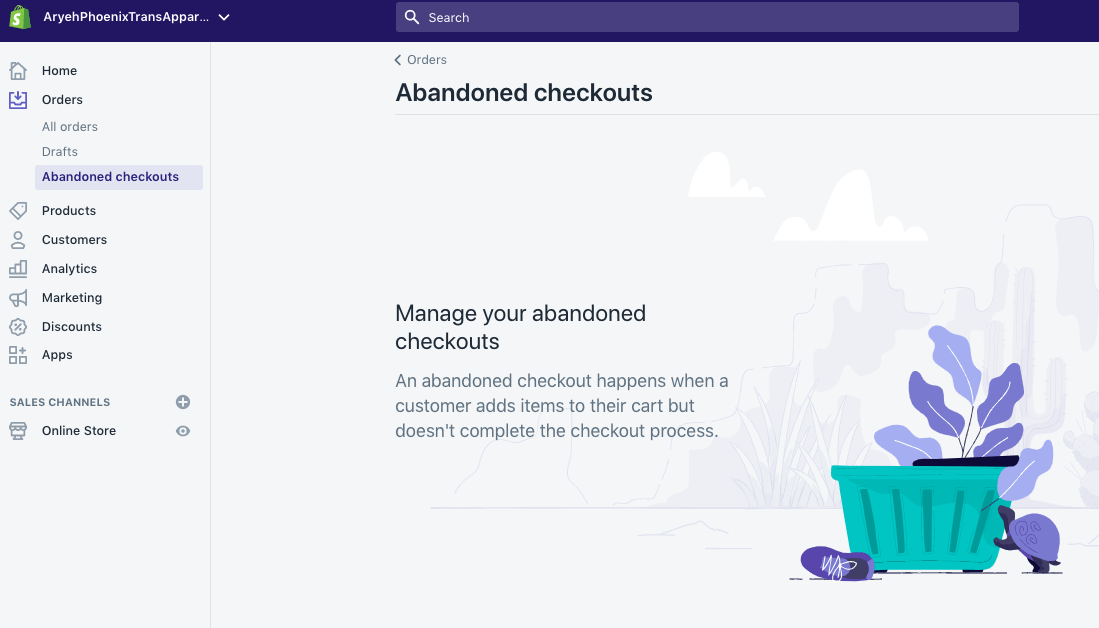 Although not a dedicated e-commerce platform, Wix offers some pretty good sales tools, too. Wix allows you to add up to 6 options and 30 variants for each product you add to your store (not too shabby!). You can get abandoned cart technology on Wix, but this works best through an app, so it's a little more complicated to activate. You can also add extra features using the App Market (which we'll discuss in
Round 6
). Both Wix and Shopify allow you to create discount codes and coupons. But Shopify stands out because it lets you integrate your website with your social media accounts on all plans (more about this in
Round 4
). When you upgrade to a more expensive plan with Shopify, you can also sell gift cards.
One of Wix's strengths is its built-in product video feature.
You won't need to install any third-party apps to make your products look amazing.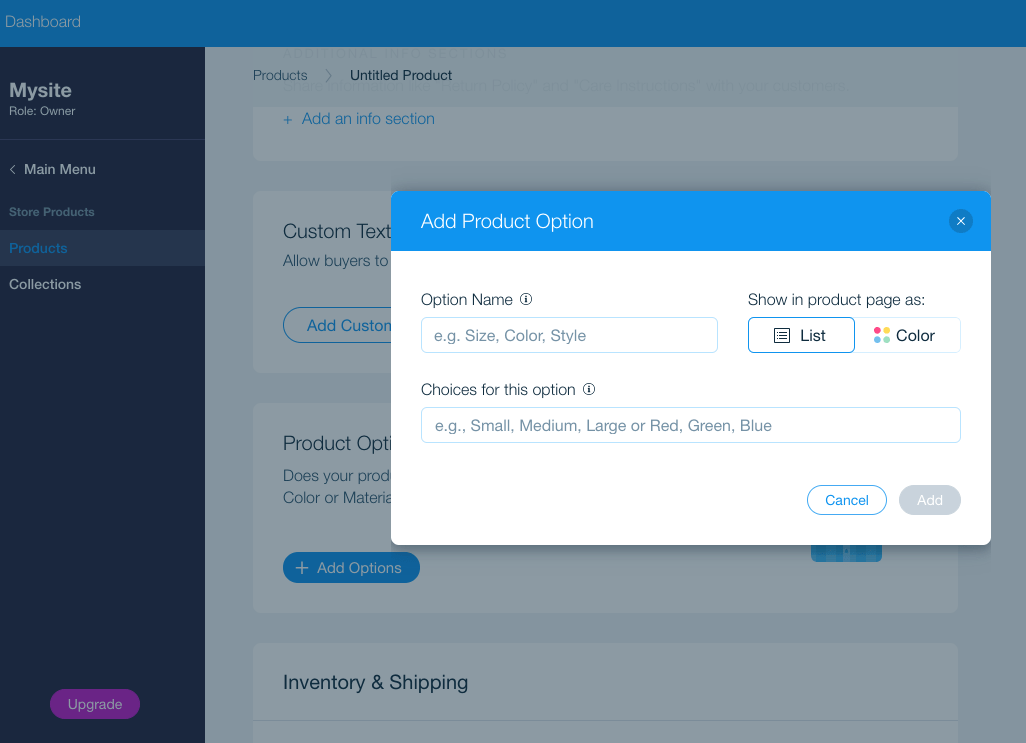 And the Winner Is…
Shopify.
As a platform focused on helping you sell online, Shopify has all the tools you need. For example, you can easily collect customer reviews, and this can boost your sales since
customer recommendations go a long way to influencing buyers.
Round 4: How Easy Is It to Market Your Products?
Wix Ascend is a marketing solution, built right into Wix, that puts all the features you need in one place.
Features include email marketing, marketing integrations, automations to make it easier to engage with your customers, and social posts to boost your social media marketing. But be aware that Ascend requires a separate subscription. There are other marketing tools on Wix. For example, If you want to use blogging as a marketing tool, Wix is perfect since the website builder has a built-in blogging function. And to help get traffic to your online store, Wix gives you a powerful SEO wizard that suggests keywords you can target. Shopify's SEO options are much more limited. Shopify's standout marketing feature is the multi-channel integration.
This means you can connect your Shopify store to your social media accounts (such as Facebook and Instagram), and sell products from them.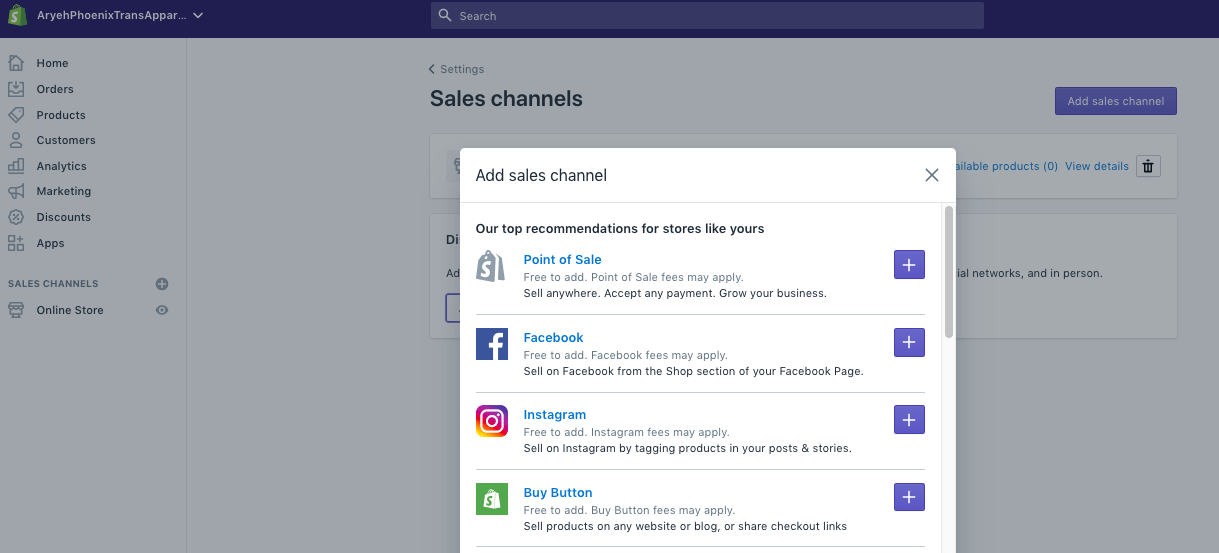 For other aspects of marketing, Shopify relies on third-party apps. You can choose from over 620 apps, so there's a marketing app for almost every need.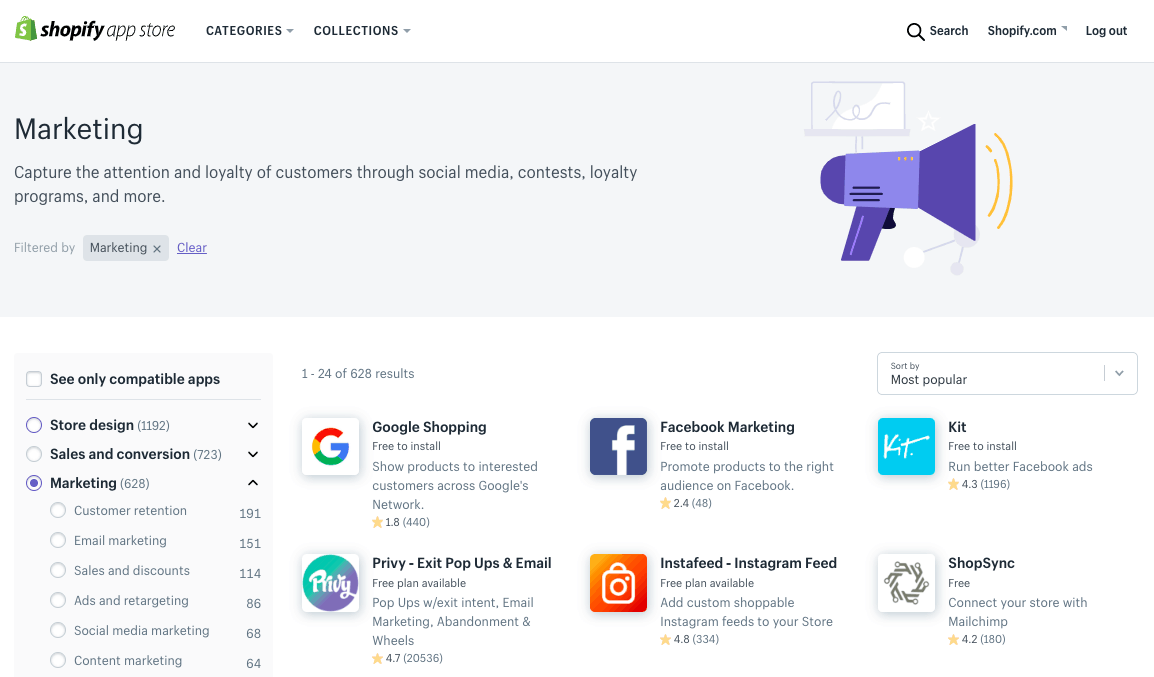 But installing multiple apps for different aspects of your marketing strategy can be more time-consuming than using an all-in-one solution like Wix Ascend.
And the Winner Is…
Wix.
This is a really close round. Yes, Shopify's multi-channel integration is a great feature, but
Wix Ascend makes marketing very simple.
You can also use content marketing or blogging alongside your online store, and SEO is much easier to handle on Wix.
Round 5: How Flexible Are the Payment Methods?
With Shopify, you can use more than 100 different payment providers.
But unless you're using "Shopify Payments" (Shopify's own payment gateway), you'll have to pay transaction fees to Shopify in addition to the fees charged by payment gateways like PayPal and Stripe.
Unfortunately, Shopify Payments is available only in select countries, such as the U.S., Canada, U.K., Ireland, Australia, New Zealand, Hong Kong, Singapore, and a few more. If Shopify Payments isn't supported where you live, you'll need to pay transaction fees on all your sales.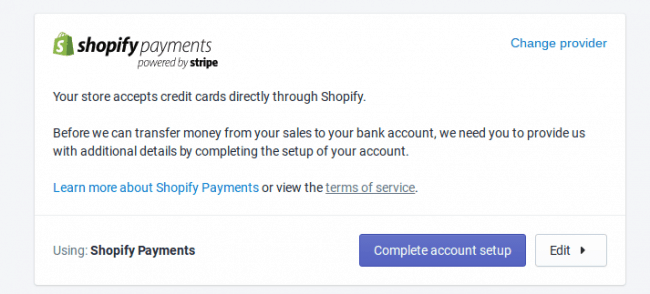 You don't have to pay transaction fees with Wix, but you're more limited in the number of payment gateways you can use.
PayPal, Stripe, and Square are all available, as well as country-specific providers like eWay (Australia) and Yandex (Russia).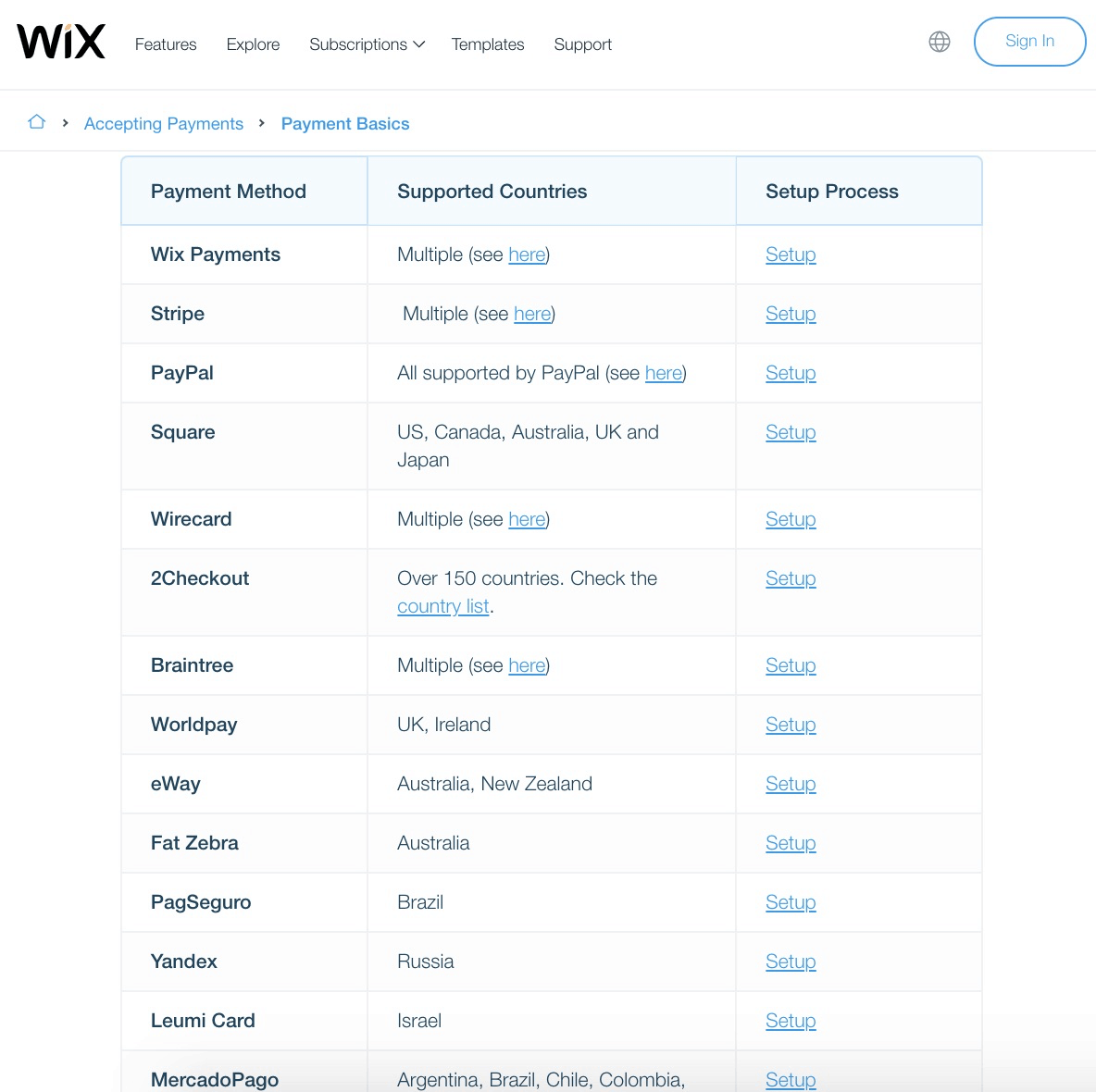 Unfortunately, Wix doesn't support the popular digital wallet payment options like Apple Pay and Amazon Pay.
And the Winner Is…
Shopify.
Despite the fact that you'll pay transaction fees unless you use Shopify Payments, the sheer amount of payment options that Shopify makes available is impressive. The transaction fees are only small, and being able to offer more payment options can make your store more appealing to customers — especially the digital wallet options such as Apple Pay. However, if you don't want to pay transaction fees and Shopify Payments isn't supported in your region, then Wix is going to be your better option.
Round 6: What Apps Can You Add to Your Store?
Shopify has over 2800 apps in its App Store.
There are apps made by third parties, and apps made by Shopify designers themselves. Some are free, and some of the premium ones come with a limited-time free trial so you can test them. For example, you can try the Bundle Products app risk-free for 21 days. Shopify's apps are e-commerce focused. You'll find them arranged in categories such as
Orders and shipping
,
Store design
,
Marketing
,
Sales and conversion
,
Finances
,
Reporting
, and
Inventory management
.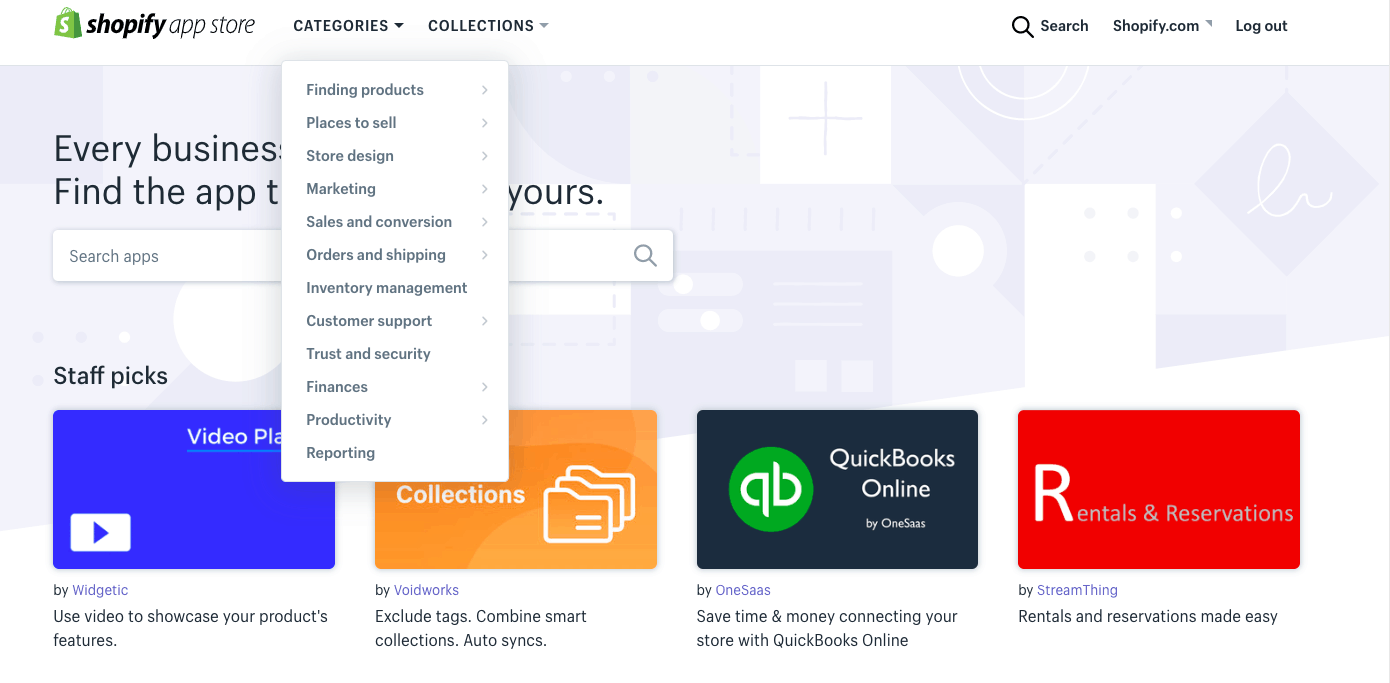 Wix's App Market has around 250 apps to boost your website's functionality,
but
only around a fifth of those are e-commerce-related.
The number pales in comparison to Shopify's massive selection of e-commerce apps. Wix's e-commerce apps are not as impressive as Shopify's, and there are fewer free apps, too. Because Wix isn't solely e-commerce focused, there's a lack of advanced sales reporting tools, for example.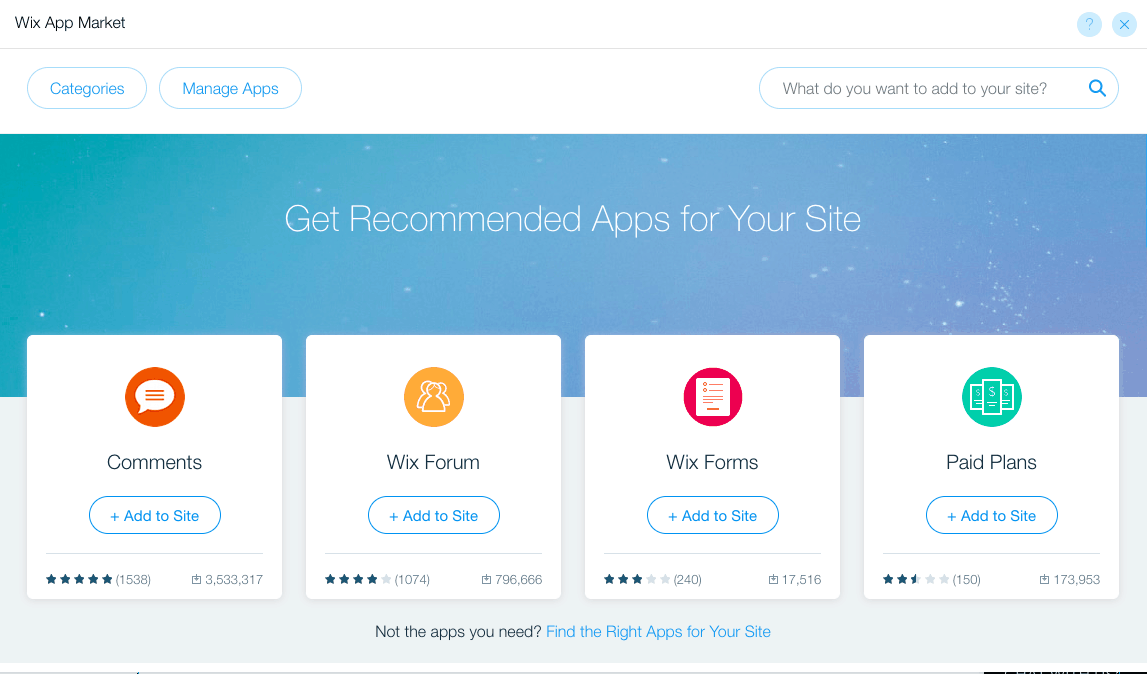 E-commerce apps available on Wix include Etsy Shop, Gift Card, eBay eCommerce, Give Coupons, Tidio Live Chat, and Wix Chat, and Online Store by Ecwid.
And the Winner Is…
Shopify.
Wix simply can't compete with the sheer number of e-commerce-focused apps that Shopify offers. Plus, Shopify's apps give you access to essential sales reporting and analytics tools that Wix simply doesn't offer. You can probably find everything you need in Shopify's App Store.
Round 7: What if Something Goes Wrong?
Shopify's specialized e-commerce support is available 24/7, and you can get support via live chat and email.
Having 24/7 support is a big bonus because if your store experiences issues, you won't want to have to wait for a helpline to open. Every minute your website is down can cost you a lot of money. Shopify has a help center with step-by-step articles, and there's also video-based help via Shopify's YouTube channel. While Wix offers phone and ticket support, there's no live chat.
Also, you can get phone support for e-commerce issues only through the "callback service,"
which is available only from Monday to Friday, 5am to 5pm U.S. Pacific Time. Wix has in-editor help that shows you how to use different features, and there's also a comprehensive help center full of videos and articles you can use to master Wix.
And the Winner Is…
Shopify.
You never want to lose sales because your website isn't working and you can't get in touch with customer support. Shopify's 24/7 support means that no matter when you have a problem, there's someone available to help. Plus, you can be sure that the customer service agents are trained to handle all kinds of e-commerce-related issues.
Round 8: Will You Get the Best Value for Money?
You can sell online with
three of Wix's plans
: Business Basic, Business Unlimited, and Business VIP. With each of these plans, you get unlimited bandwidth and a generous amount of storage (20GB, 35GB, and 50GB, respectively).
There's no getting away from the fact that Shopify is significantly more expensive than Wix.
Shopify has three plans: Basic Shopify, Shopify, and Advanced Shopify. While the top two tiers give you features like gift cards, advanced reports, and third-party calculated shipping rates, for most users, the Basic Shopify plan should be sufficient. There's a
14-day trial
if you want to test things out before you commit to Shopify. If you want to start a bigger online store, then Shopify's built-in features will give you good value for money. But bear in mind that on the Basic plan, you can't offer gift cards, whereas on Wix you can use a free app to add this function. Ultimately, Wix offers great value for money and makes opening an online store easy and affordable. Although its e-commerce features aren't as advanced as Shopify's, you can use third-party apps to increase your store's functionality. If you want to learn more about Wix's pricing plans, check out
our detailed guide
.
And the Winner Is…
Wix. Even though Shopify has more e-commerce-focused features, its pricing plans are much more expensive, which has a big impact on value for money.
With Wix, you don't have to pay huge monthly or annual sums to get advanced sales analytics, for example.
Wix E-Commerce vs Shopify: Is a Dedicated E-Commerce Platform Always the Best?
The battle of Shopify vs Wix for e-commerce might seem like an unfair fight since Shopify is 100% dedicated to giving you the tools you need to sell online.
However, as this comparison has illustrated, Wix has plenty to offer. So, the winner really depends on what you need for your online store.
If you want to build a large e-commerce store, then Shopify is definitely the better option for you.
The huge range of additional apps you can install is also a big selling point for Shopify since there's an app for pretty much everything you could want to add to your store. Want to learn more about Shopify?
Read our expert review
.
Three Situations Where Wix Works Best
Just because Shopify offers more apps and wins for larger stores doesn't mean you shouldn't give Wix some serious thought. Here are some scenarios you might actually be better off with Wix:
You don't have a big budget to pay up front, and you're looking for the cheapest way to get your store online. Wix's e-commerce-friendly plans start at a much lower price point than Shopify, and to get features like gift cards on Shopify, you have to pay more than twice as much as Wix's mid-range e-commerce plan. Wix's Gift Card app is free.
You want your website to be more than an online store and you'd like to be able to blog or add other kinds of content to your website. Wix is flexible and designed to cater to all kinds of websites, whereas Shopify's blogging features are limited because the platform's primary purpose is e-commerce.
You don't want to pay transaction fees and you do business in a country that doesn't support Shopify Payments. In this situation, Wix is your best bet since there are no transaction fees with the payment options that Wix offers, no matter where in the world you live.
For more useful info about Wix,
read our expert review
.