Wix and Shopify offer many features to a wide range of businesses
, but neither is perfect. Before you go anywhere, hear me out – I don't think this is a bad thing. You know that quote that says, "You could be the juiciest, freshest peach on the tree, but some people just don't like peaches"? Well, that applies to website builders too.
The truth is that Wix and Shopify are designed to serve different purposes.
They are both powerful and offer solid support to help you improve your business's online presence. However, the main differentiating factor is e-commerce. On that front, Shopify far exceeds Wix. Wix isn't bad, per se – its e-commerce capabilities are much better than other website builders. However,
Wix doesn't specialize in online stores to the same degree as Shopify.
Instead, it offers a lot more support for content. Wix offers many user-friendly content features like galleries, blogs, video hosting, and more, ensuring you can show off your business in the best way possible. In short,
Wix is best for showing, while Shopify is best for selling.
So, which is better for your business? It depends on
your
goals and what
you
want your website to do, hence why this comparison results in a draw. I've tested both builders extensively, so let me take you on a tour of Wix vs. Shopify and explain why I struggled to pick a winner.
Templates
Shopify Can't Beat Wix's Huge Template Library
You don't have time to be your own full-time designer when running a business. That's why you need a website builder with many pre-made designs.
Simply saying that Wix won this section would be an understatement – it has many, many more templates than Shopify.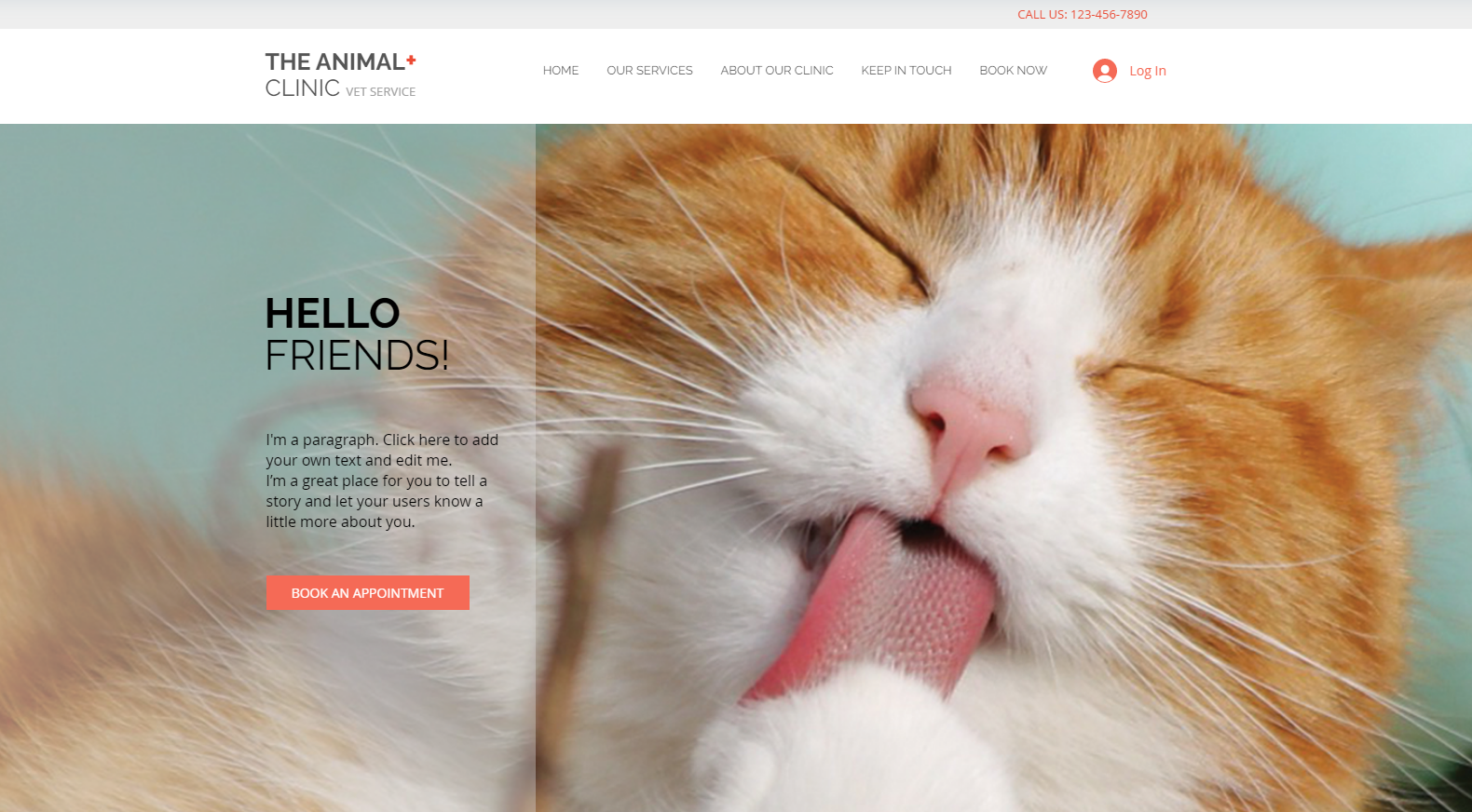 Wix offers 800+ unique templates, each offering almost unlimited customization potential.
So, you don't have to pick one that's "designated" for your business type – you can simply drag and drop almost any element to make the template work for you. Plus, every template looks as stunning on mobile as on a desktop. You'll have to adjust your mobile site if you make significant changes to your template, but that's easy to do with Wix's intuitive editor. Don't want to use a pre-made template? You don't have to.
Wix's AI design tool, Wix ADI, will build a custom template for you within minutes.
Simply answer a few questions about your business, website needs, and brand aesthetics, and you're good to go.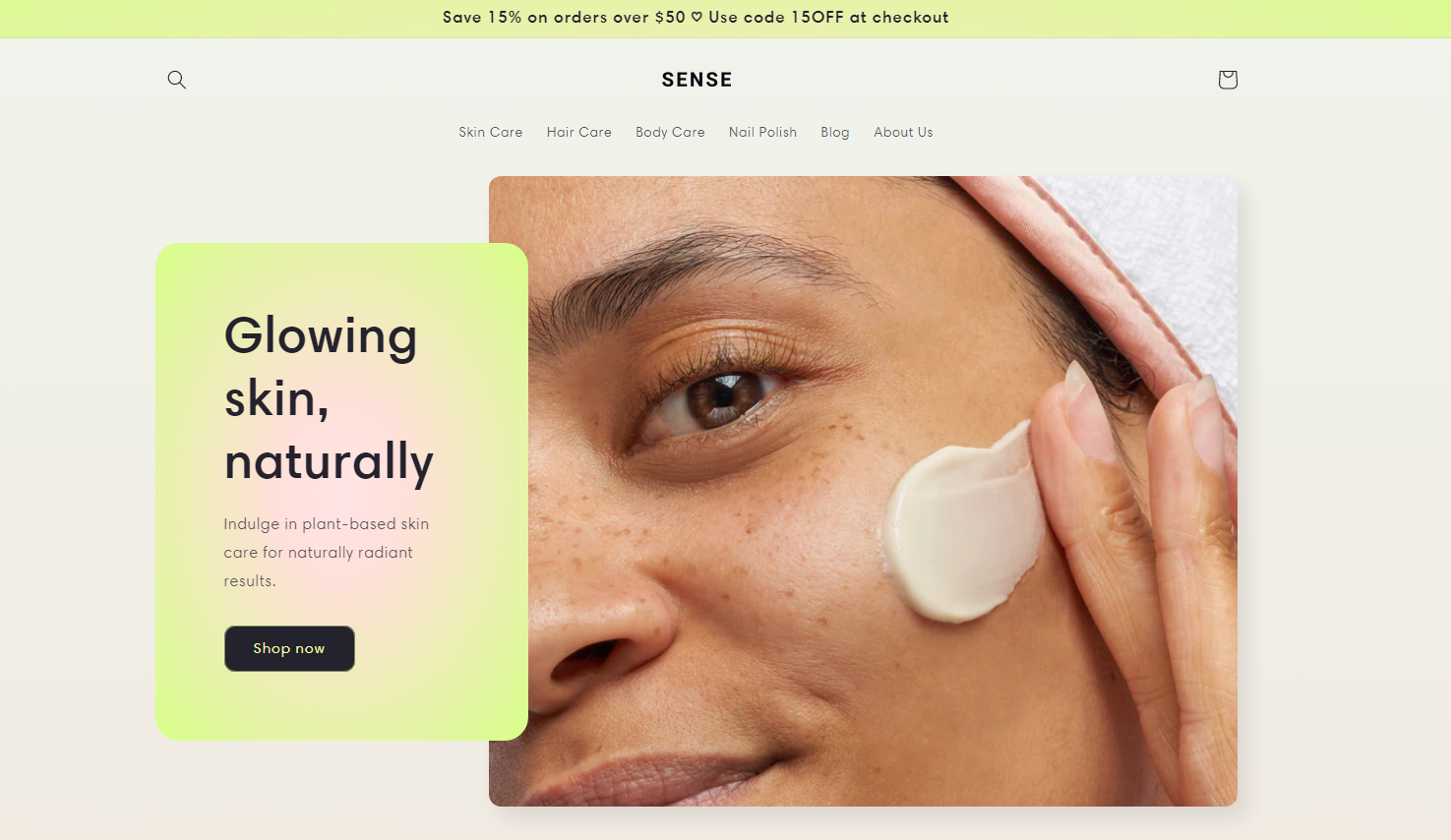 In comparison, Shopify has 100+ templates (or themes), and only 12 of them are free.
The rest cost hundreds of dollars each. They are pretty, if a little dated, and I like that the paid themes often come with different versions. However, your customization is a lot more limited. You can play with fonts, colors, and upload your own content, but you can only change the layout on your homepage. The rest is fixed by your template. Fortunately,
you can change your Shopify template whenever you want, but you won't be able to switch your Wix template.
I use Wix for my website, and this limitation doesn't affect me. I can (and have!) adjusted the layout of my website on a whim. Because Wix's templates are so flexible, it's easy to do. On the other hand, Shopify's design flexibility is pretty limited. So, if you want to do a complete rebrand or even just change the layouts of specific pages, you don't have much choice but to use a new template. With that in mind,
I recommend Wix if you have a particular vision for your website and brand,
as you'll likely feel limited by Shopify's basic customization options. Deep customization is where Wix truly shines.
Features and Ease of Use
Wix's User Experience Steals the Win – But It's a Hard-Fought Battle
I want to preface this section by saying that
I started using Wix for my website because it was so easy to use. Wix's drag-and-drop editor is intuitive
 – everything you need is exactly where you expect to find it. I particularly loved that, during the setup process, Wix pre-installed the features that I needed on my website. Because I told it I wanted a blog and contact forms, these were ready to go when I opened the editor for the first time – I didn't have to hunt these features down from the app market. That said,
Shopify is also one of the most user-friendly website builders I've tested.
The drag-and-drop editor, while not as comprehensive as Wix's, is really easy to pick up and use, even as a beginner. And because Shopify specializes in e-commerce, it offers tons of marketing and social media integrations that you can install from the app store in a single click. It's tricky to compare the feature set of two website builders designed for different purposes. I'll be honest, every time I thought I'd found a winner for this section, I'd find another useful feature in Wix or Shopify that made me reconsider everything I'd written. But, in the end,
Wix took the win simply because I couldn't think of one feature that sacrificed user experience for functionality.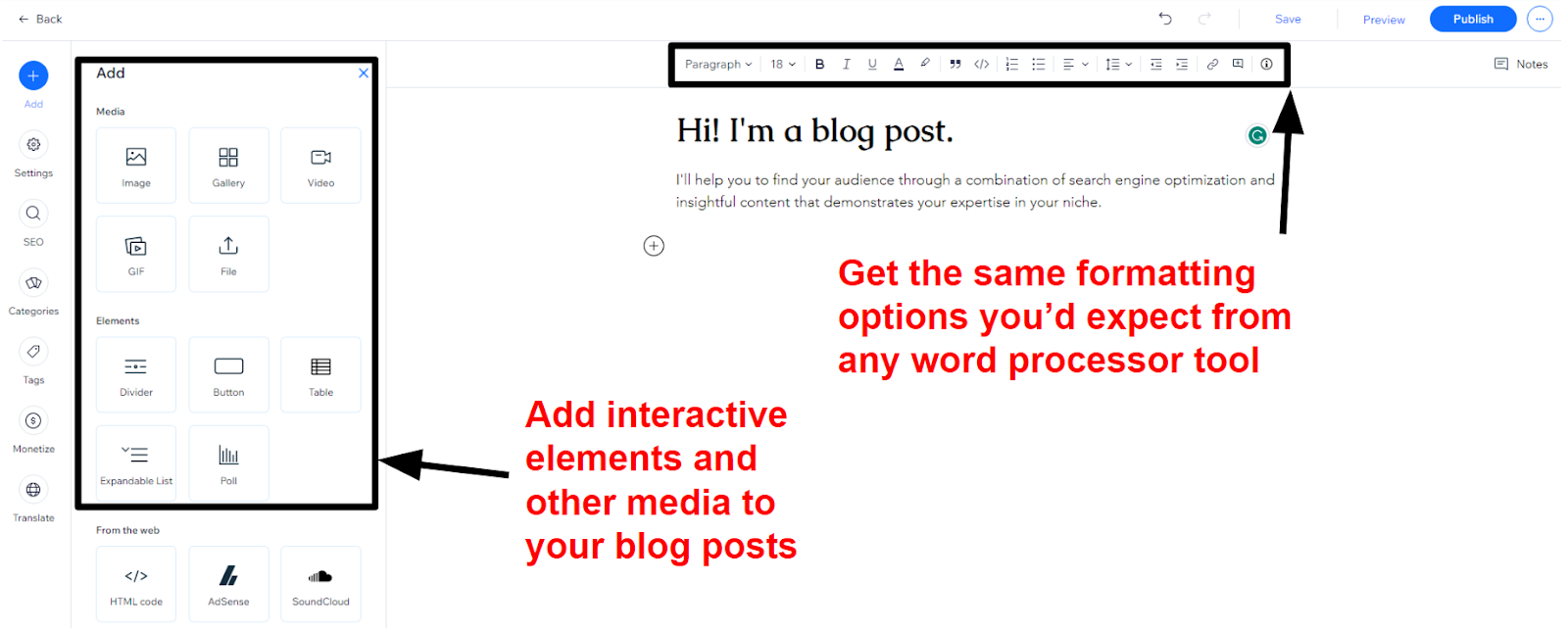 Case in point – Wix's blogging feature. And yes, I wanted an excuse to discuss the blogging feature because I'm a blogger at heart.
Wix's blog tool reminds me of Google Docs – it's clean, elegant, and makes it easy to focus on what you're writing.
It's easy to find every option you might need, including interactive elements like polls to keep your readers engaged. In comparison,
Shopify's blog editor is rudimentary.
You'll get some basic formatting options, but that's it. I'd only use Shopify's blog feature if I'd pre-written blog posts in another word processor and copy-pasted them in. Sure, it's functional, but it doesn't offer anywhere near enough features to be worth it. This feature is obviously an afterthought. But with how vital digital marketing is to e-commerce, it's a shame that this is the feature that lets Shopify down.
Apps
Shopify's App Store Has Everything You Could Ever Need to Optimize Your Website
Both Wix and Shopify offer an impressive number of apps in their respective app stores, but
Shopify's 8,000+ apps
 completely overshadow Wix's 500+.
At these numbers, quantity over quality does become a concern, so I looked at the vetting process.
Each app store reviews all new apps to ensure they're secure
, offer something of value, and don't use more customer or merchant data than is necessary. Outside of this, Wix and Shopify offer a similar app experience.
Both app stores provide a great mix of free and paid apps
across various categories, such as dropshipping, service booking, marketing, advertising, and customer communication. Perhaps unsurprisingly (given the modern software market), most apps require a subscription. That said, you can still find plenty of free apps on both stores to provide all the extra functionality and integrations you need.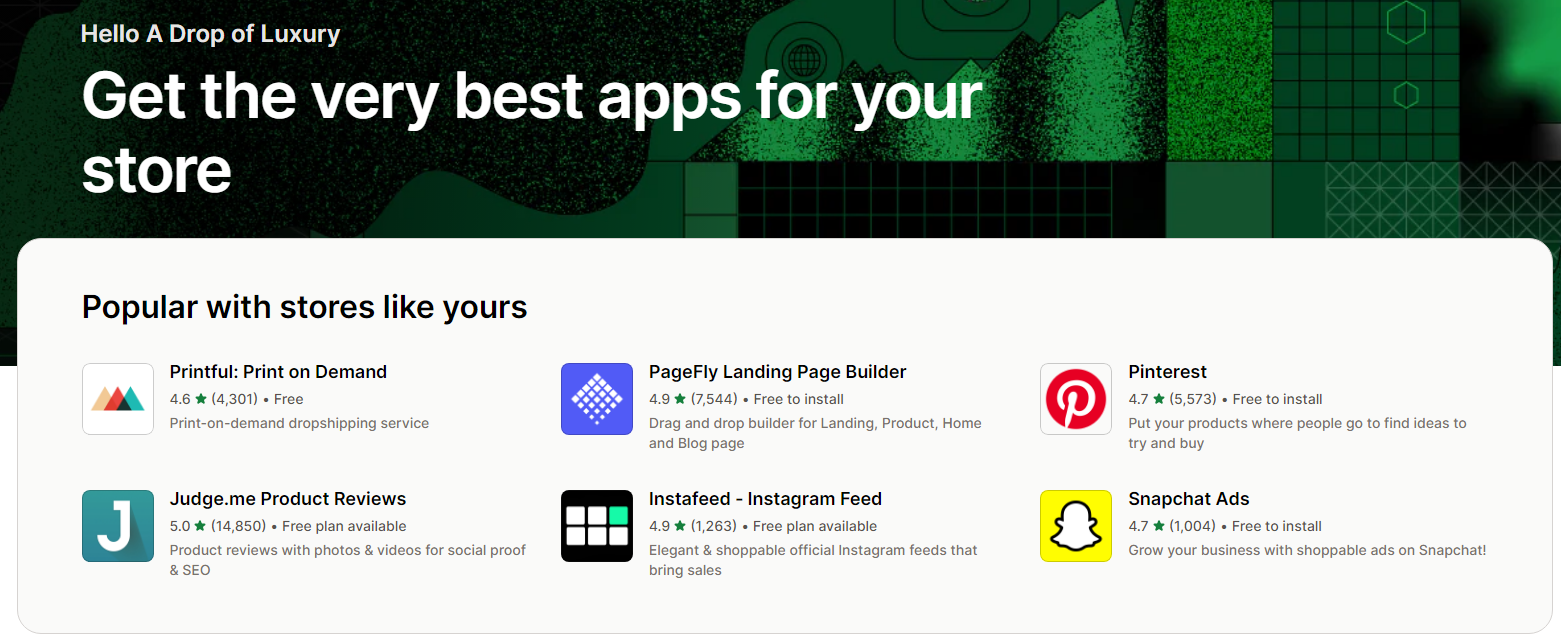 What really elevates the app experience, though, is Shopify's personalized app recommendations.
The algorithm notes how you use Shopify and how businesses with a similar size, industry, age, and income operate. From there, it recommends the apps it thinks will suit you best. If you're new to e-commerce or running your own website, it's a handy tool to help you get started quickly.
E-Commerce
You Can't Beat Shopify's Purpose-Built E-commerce Platform
No matter which platform you choose, you can set up a stunning online store
that works with dozens of payment gateways. Unlike Shopify, Wix locks e-commerce functionality behind Business plans.
Shopify's e-commerce prowess is unmatched.
It offers more e-commerce features, such as tax liability tracking and a fulfillment network, and it's more generous than Wix with its features.

For example,
Shopify includes tax automation on all plans with a $100,000/year sales cap
, while Wix's tax automation only covers 500 transactions a month on the most expensive Business VIP plan. You'll hit that cap quickly if you're a high-volume merchant, but Shopify's cap will cover you for longer before you need to start paying for tax automation.
Shopify also offers discounts and a built-in third-party shipping rates calculator on the Advanced plan.
This makes it even easier for customers to choose the shipping option that works best for them.
Marketing
It's a Tough Call, But Shopify Wins With Its Multi-Channel Selling Support
Weighing up Wix vs. Shopify based on their built-in marketing support is hard. After all,
both platforms offer intuitive automation builders, tons of marketing integrations, built-in email marketing, and more.
Similarly, they integrate with all major social media sites, like Facebook, Instagram, and Twitter. Even trying to find a winner by comparing user experience was difficult – these marketing tools and integrations are so easy for beginners and website veterans alike to use. But, once again, I found that Shopify was considerably more generous than Wix with its built-in marketing features. Wix Ascend (Wix's all-in-one tool that includes all the features I listed above) only allows you to send three email campaigns a month. If you want more than that, you must pay extra for a Wix Ascend plan.
On the other hand, Shopify lets you send up to 10,000 monthly emails and offers competitive rates for anything over that number.
SEO
Wix's SEO Tool Is Beginner-Friendly and Comprehensive
Search engine optimization (SEO) is difficult enough to learn, but keeping up with the latest updates can feel like a second job in itself (ask me how I know).
Unfortunately, Shopify offers next to no built-in SEO support.
You can edit each page's title and meta description, and Shopify has many video tutorials explaining how to optimize your website for search engines. Otherwise, you're left to identify and fix SEO issues on your own.
On the other hand, Wix's built-in SEO tools are some of the best I've ever used.
Before you hit
Publish
, run Wix's SEO Wiz tool. You'll get a step-by-step checklist of what you need to optimize, how to fix it, and how to continue improving your website as it grows. On top of that, Wix shows how to make these changes and explains why they're necessary. It's a fantastic learning resource for all business owners as much as it is a user-friendly optimization tool.
Pricing
Unless You're Purely Focused on E-commerce, Wix Gives You More
Both Wix and Shopify follow the same pricing format with three e-commerce website builder plans plus a pricier enterprise option.
On top of this, Wix offers four plans for non- e-commerce websites, plus a generous free plan. If you want to try Shopify before you commit, it offers a 14-day free trial.
Here's What You Get for Free
Wix's free trial is pretty impressive.
Instead of locking features behind a paywall like many other builders do, Wix gives full access to its drag-and-drop designer, app market, and more. Note you'll only have 500MB of storage, you won't be able to take payments, and your website will have a Wix-branded banner, footer, and domain name. However, none of these limitations are invasive, particularly if running a smaller website like a hobby blog. In comparison,
Shopify offers a 14-day free trial of all its plans
(no credit card required). You'll get full access to all the features in your chosen plan, but you won't be able to sell products until you commit. While I found this useful for trying out the store builder, being unable to sell products means you can't know how well Shopify will work for your e-commerce business. There's no money-back guarantee either, so you must be confident that Shopify is your best option before paying.
Here's What You Get If You Pay
It's tricky to compare pricing because both website builders focus on very different feature sets.
Because Shopify is an e-commerce platform, it focuses on unlimited storage and no product cap on all plans. On the other hand, Wix's storage and number of e-commerce products are capped, but this won't necessarily matter to all Wix users.
Shopify is more expensive overall but offers more value for e-commerce businesses.
The Basic plan, in particular, includes
shipping discounts
and inventory tracking for up to 1,000 locations. That said, for those not interested in selling products online, Shopify doesn't offer enough to keep them interested.
Wix is a better choice for non- e-commerce websites because its pricing plans are much more varied.
Its Combo plan costs
$
16.00
/month, which is excellent for businesses that don't need tons of advanced features. Generally, Wix plans cost at least a few dollars per month less than Shopify. Once again, I struggled to declare a winner here. But, in the end,
I gave the win to Wix because of its free plan and greater pricing flexibility.
Again, that doesn't mean that Shopify is bad – it's actually the better option for e-commerce websites. However, Wix caters to a much wider audience with its flexible pricing plans. Here's a quick summary of Wix vs. Shopify's pricing:
Wix
Shopify
Starting Price

$

27.00

$

29.00

Free domain name

✔

✘

Included templates
800+
12 – the rest cost extra
Storage
100GB
Unlimited
E-commerce product cap
50,000
Unlimited
Abandoned cart recovery

✔

✔

24/7 support

✔

✔
Support
Shopify Offers Both Customer Service and Business Support
Shopify and Wix both promise 24/7 support, but this works very differently in practice.
Both platforms offer a comprehensive knowledge base and support via email and phone (via callback requests), and Shopify offers 24/7 live chat. All three support channels were available with Shopify, while Wix's support availability was intermittent at best.
Wix tries to direct you to its knowledge base as much as possible.
The knowledge base is really helpful and offers in-depth information with video tutorials, so if you're like me and don't mind teaching yourself how things work, it's great. However, things get tricky when you need to contact an actual person.
To contact Wix through any of its support channels, you'll first have to go through its chatbot.
Although annoying, it's really not that difficult – I asked if I could speak with a human, and it immediately showed me which support channels were available.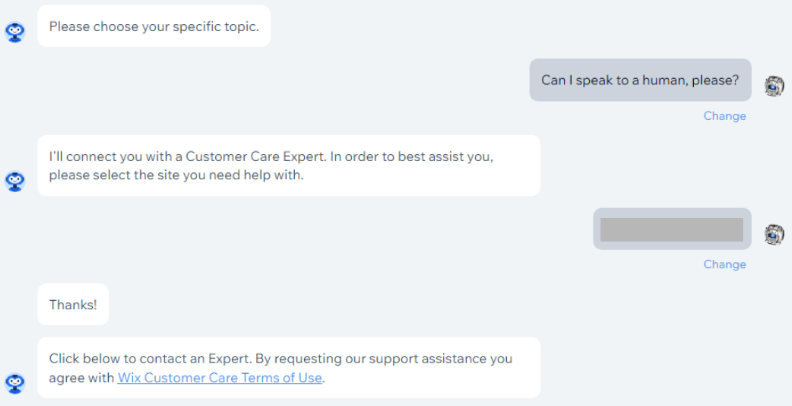 I was only given the option for a callback, which I thought was just because of my specific issue. But, when I tried different issue categories (like pricing or e-commerce), I still couldn't find the live chat or email option.
Most other website builders I've tested let me send an email ticket when live chat wasn't available,
so it's strange that Wix doesn't offer this. While I had to wait longer than the advertised time for a callback, at least the agent on the phone was friendly and walked me through the issue without trying to upsell.
Shopify provides 24/7 support.
You'll have to go through a similar process to Wix to access it – visit the support center, find the issue you're having, browse various help articles, and select one of the available support channels. The biggest difference is that all three channels are consistently available. So, I gave live chat a try. Generally,
I had a far better experience contacting Shopify.
I connected to an agent immediately (even if I had to re-type my question, which is an annoying issue with some live chat features). They were attentive and responsive and even sent me some business resources to examine while waiting for them to reply.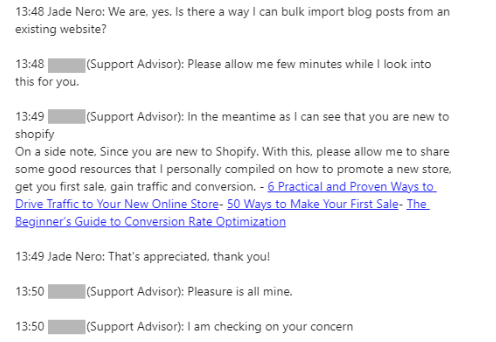 While a few responses felt like they came from a script, I didn't mind
this so much. At least they were relevant to the conversation, which isn't something I can say for many other website builders. Because of this,
Shopify takes the win for the support category.
As good as Wix's knowledge base is, it's no substitute for easily accessible human support.
Wix vs. Shopify: There's No Clear Winner
I'd love to give you a clear-cut answer, but
Wix and Shopify are both strong in their own way.
Let's consider a discussion about whether Batman could defeat Iron Man in a fight. Both characters possess their own unique appeal and would likely form a friendship due to their mutual understanding of contributing distinct strengths.
Shopify is the best choice for e-commerce.
Each plan packs many features, such as unlimited storage, tax automation, and automated cart recovery. It's definitely one of the best value website builders for online stores. It's not as easy to use as Wix and offers fewer templates, but its stellar e-commerce feature suite more than makes up for this.
I like to use Wix for everything else.
Its e-commerce capabilities are decent for small businesses. I use Wix for my portfolio website and blog, but its wide variety of flexible features makes it the ideal choice for almost any website. Here's the quick action replay of the Wix vs. Shopify battle.
Templates
800+
100+, but only 12 are free
Features & Ease of Use
A gentle learning curve with tons of flexible features
A steeper learning curve with a more limited feature set
Apps
500+ free and paid apps
8,000+ free and paid apps
E-commerce
Basic e-commerce features to support small businesses
Powerful advanced e-commerce features to suit all kinds of online stores
Marketing
Built-in marketing with Wix Ascend (limited free features)
Built-in marketing with a generous free 10,000 emails/month
SEO
Beginner-friendly SEO Wiz tool
Not enough built-in SEO support
Pricing
A generous free plan, plus 7 paid plans that make it easier to find the best deal for your business
A 14-day free trial and 3 paid plans that start at a higher price point than Wix
Support
24/7 phone and email support, live chat five days a week
24/7 live chat, phone, and email
FAQ
Is Shopify better than Wix for E-commerce?
Yes, Shopify is the best choice for e-commerce websites as it offers advanced e-commerce features (e.g., automated tax reporting) plus significant shipping discounts to help your business save money. That said, Wix isn't terrible for e-commerce, but as its features are more limited, it's better suited to small businesses.
Which is more expensive, Wix or Shopify?
Shopify is more costly but offers excellent value for e-commerce businesses. Starting at

$

29.00

/month for the Basic plan, Shopify provides everything businesses need to sell and market their products online. On the other hand, Wix's pricing plans start at only

$

16.00

/month if you don't need e-commerce functionality, which makes it a great all-around, budget-friendly option.
Is Wix or Shopify better for small businesses?
That depends on what kind of small business you have. Generally, I recommend Wix for small businesses as it's easy to use, offers near-limitless customization options, and has more than enough e-commerce features if you only sell products occasionally. That said, if your small business is entirely e-commerce-based, then Shopify is better. It costs more, but you'll have unlimited storage, more tax automation capabilities, and thousands of integrations.
Is it worth it to sell on Wix?
Yes! Wix is a great budget-friendly e-commerce alternative to Shopify. Even if it doesn't offer as many e-commerce features, its core functionalities are more than enough for small to medium-sized businesses. Plus, with over 800 free and paid apps, you can add extra features, such as a booking system, product reviews, a blog, and more.