Shopify will charge you up to 2% on top of your payment processing fees. 
But what if you don't want to use Shopify Payments, or you live in a country where it's not supported? Or what if you don't want to have to upgrade to one of the higher-priced plans to get features like gift vouchers or advanced reports? And what if you don't like Shopify's free themes, and you don't want to pay over $100 for a premium one? There are plenty of Shopify alternatives to choose from, but it's no easy decision.
You need a platform that can provide all the features you need and not hold you back as your business grows.
To save you the headache, I've done all the research for you. Let's take a look at some of the best Shopify alternatives out there, so you can make an educated decision and choose the best one for your needs.
Our Top Shopify Alternative Picks
Wix – A robust website builder with everything you need to get your store up and running in no time

Squarespace – An easy-to-use platform with professionally-designed templates and a great range of mid-level e-commerce tools
Square – A great option if you're taking your brick and mortar store online
What We Look For in the Best Alternatives to Shopify
I've personally tested all the major e-commerce platforms out there. The best ones give you the following:
Value for money. One of the biggest issues with Shopify is its price tag. All the platforms on this list have much more to offer for the price you pay.
Flexibility. You need to be able to easily customize your store and add product variants.
Robust e-commerce tools. Powerful tools to display, market, and manage your inventory are essential to your store's success.
Excellent SEO tools. Shopify is known for having some SEO issues. For example, it won't give you full control over the structure of your URLs. You want an e-commerce tool that can help you rank really well on search engines.
Wix is one of the most popular website builders around, and it offers a decent range of e-commerce features. If you're looking for a simple drag-and-drop editor for your online store, Wix is a great choice. Unlike Shopify,
Wix won't charge you additional transaction fees.
(You'll still have to pay your payment gateway's processing fees, though.) Compared with Shopify, there are fewer payment gateways to choose from, but popular options like PayPal and Stripe are available. Just keep in mind that while you can set up your shop on the
free plan
, you won't be able to sell any products unless you upgrade. While Wix can't match Shopify in terms of the number of apps available (Shopify boasts over 2,800), Wix does offer a great selection of
e-commerce-focused apps
, such as:
Wix Chat, to let customers quickly ask you questions via instant messaging
SellDownloads, to help you manage your sales of digital downloads
Wix Bookings, to allow your customers to make bookings via your website
There's also a decent collection of
marketing apps
, including:
GiveCoupons, to offer vouchers to first-time website visitors
Social Testimonials, to add social media reviews to your website
And finally, there are powerful
analytics apps
, like:
Store Metrics, to generate advanced sales reports
Visitor Analytics, to understand your web traffic without having to use Google Analytics
Unfortunately, Wix does have some downsides. For example, unlike Shopify, Wix won't let you sell on other channels, such as Instagram. There's also no native dropshipping support (although you can use the "Online Store" app by Ecwid for dropshipping by using the print-on-demand Printful integration.)
You may also find it difficult to sell a lot of digital products with large file sizes
due to Wix's storage limits (20GB-50GB, depending on your e-commerce plan).
Features
E-commerce templates. One reason Wix gets such great reviews is its huge selection of free templates. Over 80 are specially designed for e-commerce, but you can customize any template to suit an online store. The main drawback is that once you've chosen your template, you can't change it without having to rebuild your website. You also have to edit the mobile version of your website separately.

SEO. Wix's built-in SEO Wiz provides many tools that can boost your store's search engine ranking. The wizard gives you SEO recommendations and even provides you with a personalized SEO plan. If you're new to the world of SEO, you'll love this tool.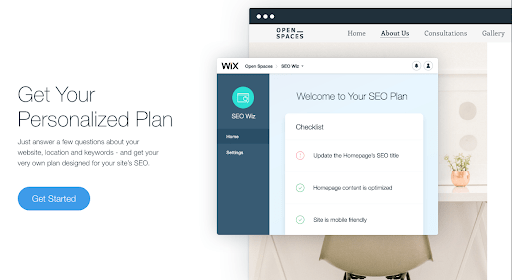 Marketing. Promoting your products is easy with Wix's marketing suite, Ascend. You do have to pay an additional fee (on top of your Wix subscription plan) to use it, but Ascend is affordable, and it's easy to upgrade your Ascend plan as your store grows. With Ascend, you can:

Use email marketing and social posts for promotion
Offer coupons and discounts to your customers
Interact with your customers with live chat
Have a personal message pop up to welcome visitors to your website
Manage invoices and quotes
Build and manage a mailing list quickly and easily
Product tools. To help your products stand out, you can show product videos and up to 15 images for each product. Wix supports up to 6 options and 30 variants, and you can have different prices for each variant. One of my favorite time-saving features is that once you've used a particular variant (like a color or size), Wix automatically makes that variant available for other products, too.
Value. Wix is one of the best value e-commerce platforms on this list. For example, the Business Unlimited plan — which comes with 35GB of storage, unlimited bandwidth, up to $300 in ad vouchers, and free professional apps (e.g., Site Booster and Visitor Analytics) — is cheaper than Shopify's cheapest plan.
| | |
| --- | --- |
| Free Trial | No, but there is a 14-day money-back guarantee. |
| Templates | 500+ free themes (80+ designed for e-commerce). |
| Transaction Fees | None. |
If you've read any
Squarespace reviews
, you've probably noticed that most users rave about its fabulous templates. But what many people might not know is that Squarespace has a solid array of e-commerce features, too. This website builder is very beginner-friendly, and you should be able to get your online store up and running pretty fast.
You can sell unlimited products on most plans, and if you sign up for one of the "Online Store" plans, you won't have to pay any transaction fees.
Squarespace offers a fully functional
14-day free trial
, so you can test out all the features before you commit to a long-term plan.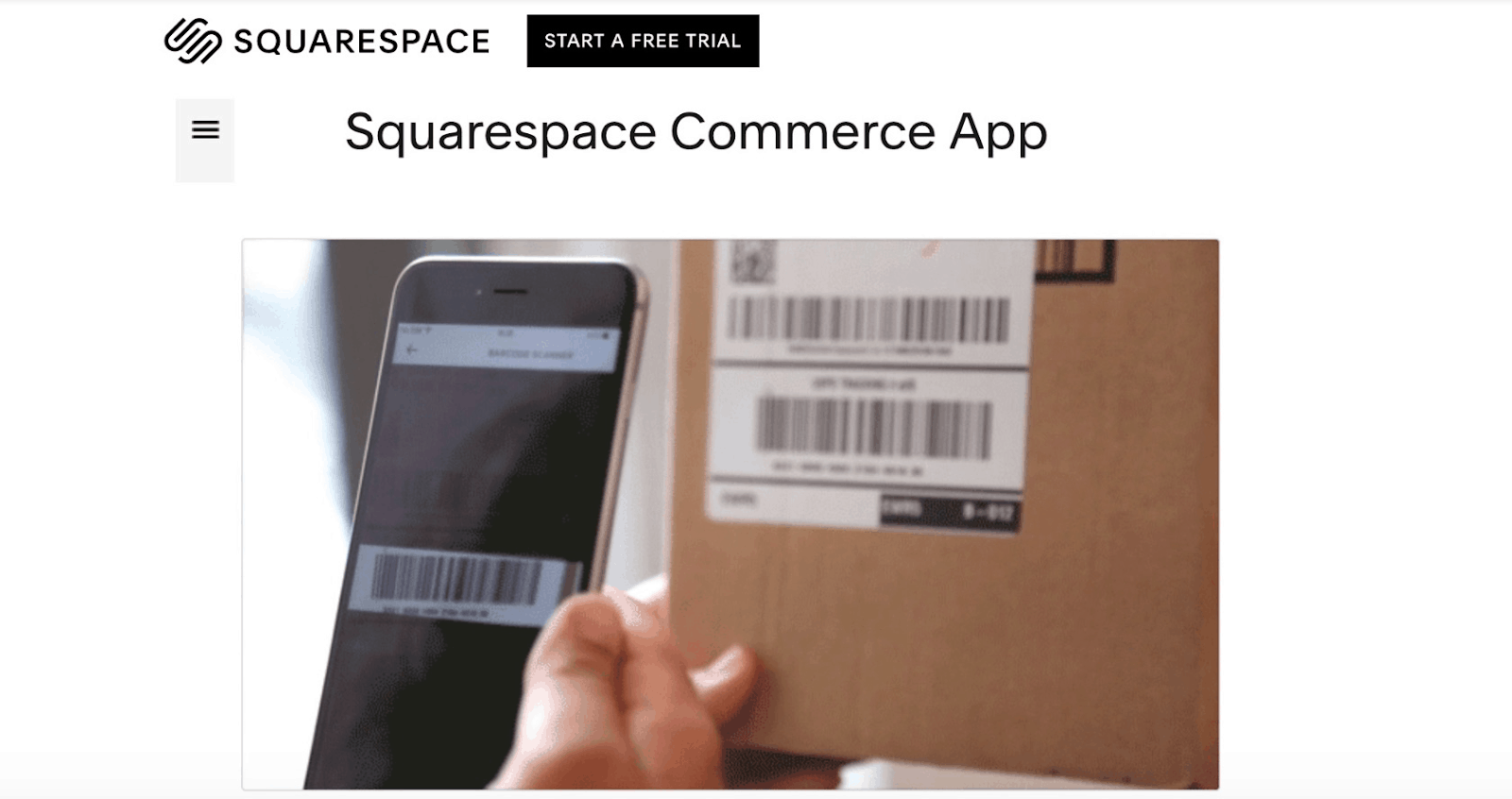 Squarespace offers an impressive range of tools. There is
Instagram integration
, so you can increase your reach and give customers the chance to buy from you directly in the Instagram app.
In addition, you can use pop-ups and banners to offer discounts to new visitors in exchange for their email address. You also have access to advanced analytics features, and you can easily manage SEO from your dashboard. One of Squarespace's downsides is that you can't have a section for user reviews. You can, however, use Disqus to let users add comments to your products, but this lacks the finesse of an actual user reviews section. Plus, you have to add Disqus using code blocks, which makes it complicated.
Features
Product display tools. You can enhance your store with product videos and image galleries. You can even enable image zoom to allow customers to get a closer look at your products.
Subscriptions. If you want to take advantage of the huge popularity of subscription boxes, Squarespace makes this easy. You can create subscription products that will automatically bill your customers every month or every other week (there's no option for weekly subscriptions yet).
Sales tools. Squarespace offers a decent range of tools that can help you sell and promote your products. You can create discount codes and gift cards, and also send abandoned cart recovery emails. Additionally, there's a time-saving "Content Manager" that allows you to manage your entire inventory all in one place.
Squarespace Commerce App. Manage your e-commerce website on the go! With this app, which is available for iOS and Android devices, you can manage your inventory, add more product images, offer flash discounts, and use the integrated barcode scanner to automatically mark orders as fulfilled when you scan the barcode on the shipping label.
| | |
| --- | --- |
| Free Trial | 14 days, no credit card required. |
| Templates | 100+ templates (2 designed for e-commerce). |
| Transaction Fees | None on the two "Online Store" plans; 3% on the Business plan. |
Square's main focus is on taking brick and mortar businesses online. From the time of its inception as a POS system, to its current offering of an online store website builder, with features like automatic inventory syncing, and in-store pick up, Square is on a
mission to help physical stores cross over into the online realm.
Unlike Shopify, Square doesn't offer you templates or themes to start from. Instead, you're offered styling options to customize and tweak a pre-designed layout, to make it your own. 
The main tasks involved in setting up a Square online store are importing the products, adding product details, and then creating shipping options for each product, or each country. Once you have finalized those details, you are basically ready to publish the site and start selling. 
Interested in learning more about Square?
Check out our expert review.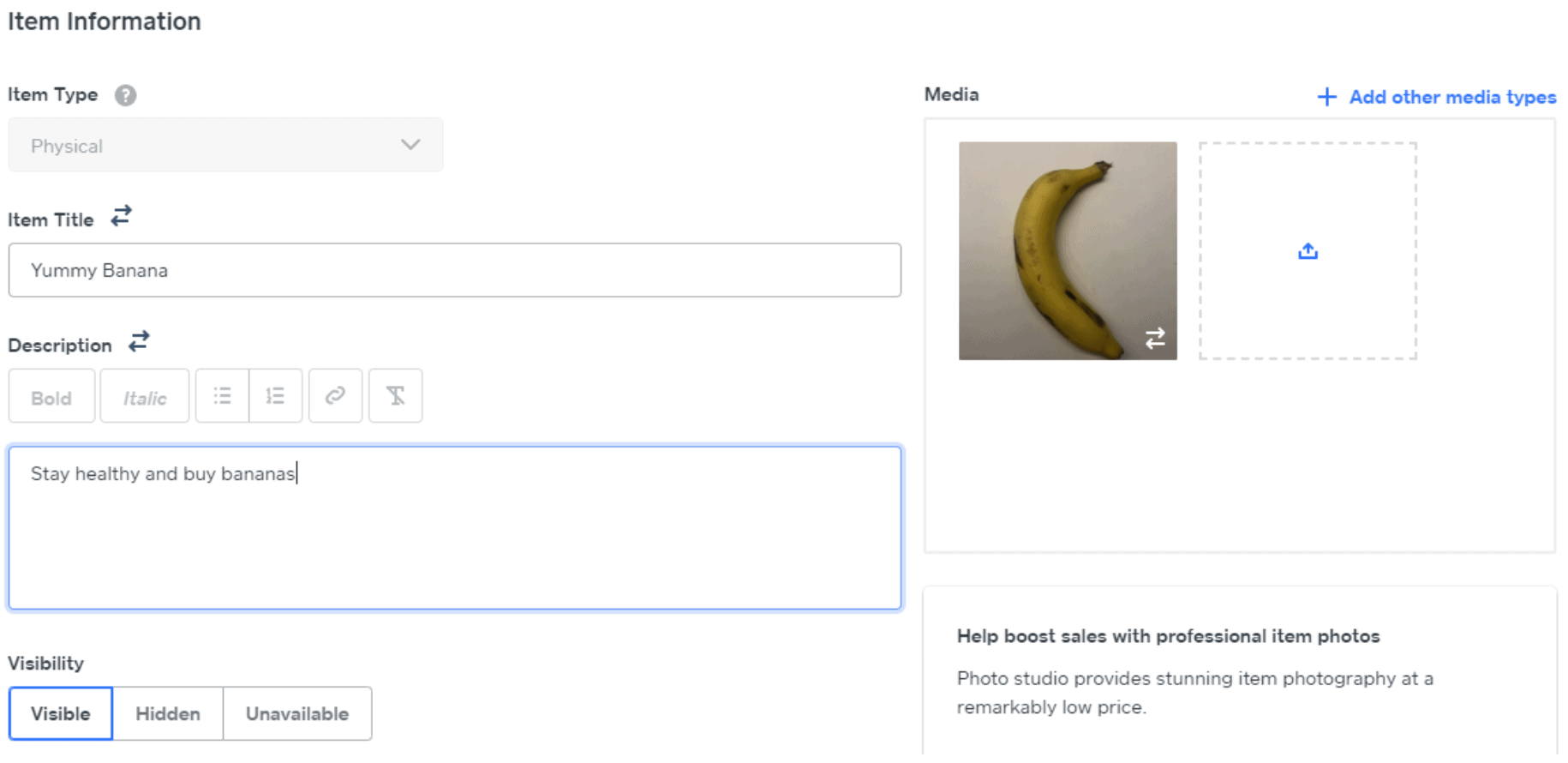 Features
Ease of Use. I found the editor really easy to navigate, well-labeled, and with a good range of customization functionalities. You choose one of the pre-built, mobile-responsive layouts, and then customize the fonts, colors, and design to fit your needs. Even for slightly more complicated tasks like importing your inventory, Square has simple detailed instructions.
Automatic tax calculation. Another great Square feature is the automatic tax calculator tool which works for products sold in both the US and Canada. You can mark non-taxable items as exempt, and the platform will show you the sales tax for every US state where you have a physical store. Similarly to Shopify, any sales made outside of the US and Canada need to have the taxes inputted manually. It's easy to set up, and you can set up shipping rules for each country so that the taxes are added to any products that are purchased, and then shipped to that country.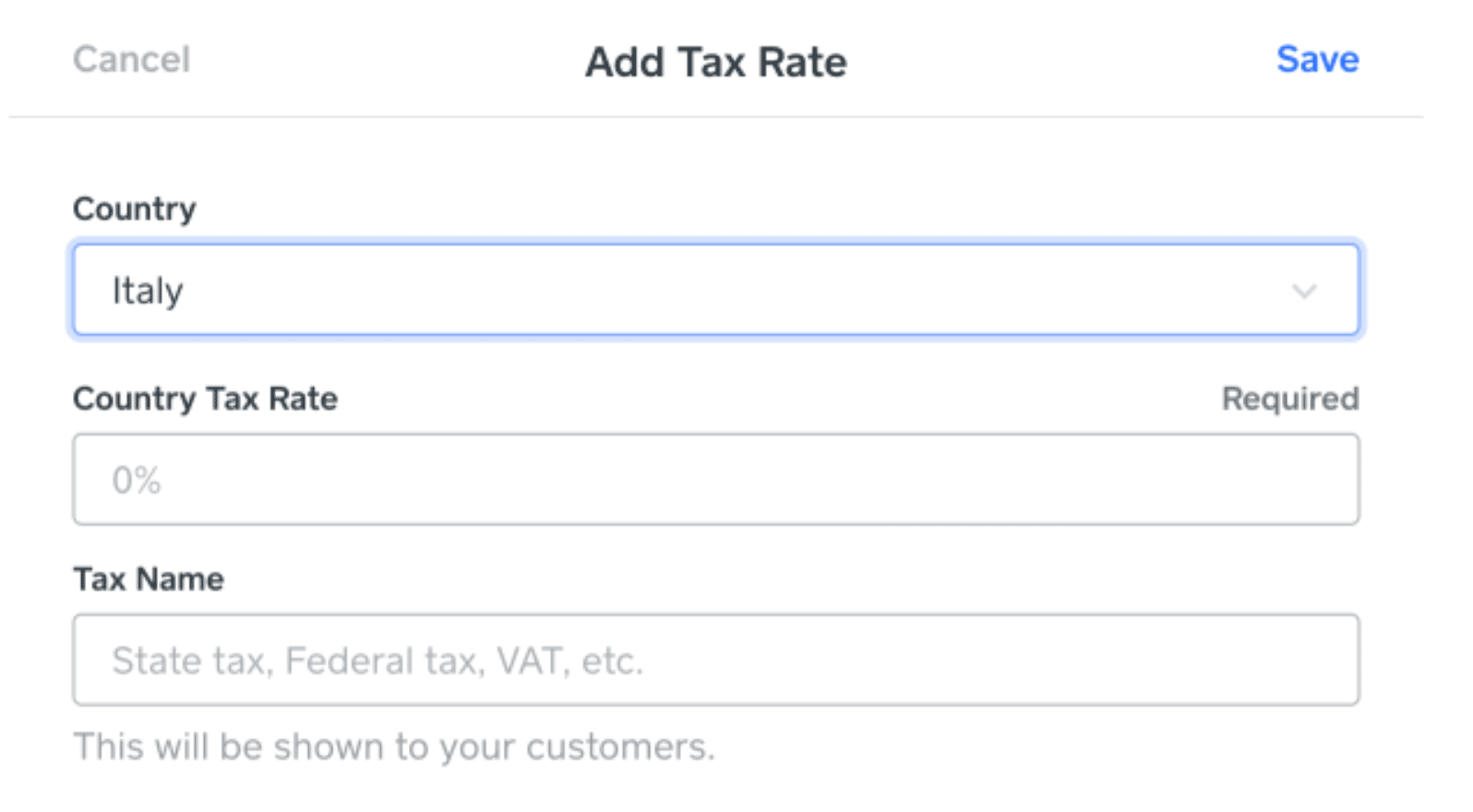 Automatic inventory syncing.

Square allows vendors to seamlessly merge their offline and online shops. As a transaction is being processed, Square's backend will automatically update your inventory for both your physical, and your online store. It will also allow you to set up email alerts for when you are running low on stock, or for if a product goes out of stock, so that you can limit the number of purchases that can be made for this item.

In-store pickup. One of the features that strengthens Square's allegiance to brick and mortar stores is its offering of In-Store Pickup. You can enable one or more locations, and set different pickup hours for each location. You can add pickup instructions for customers, and create a calendar so that shoppers can schedule a convenient time to come to the store to collect their purchases.
Pricing. A great incentive for choosing Square over Shopify is the pricing plans. To create a fully functional online store with Square, there are no upfront fees, or monthly payments. You only pay credit card transaction fees. Shopify on the other hand, requires a paid monthly, or yearly, subscription plan.
| | |
| --- | --- |
| Free Trial | Yes |
| Themes | None – just design customization options |
| Transaction Fees | Yes |
Zyro keeps things simple by having a basic but effective set of features to help you get online quickly. Online store tools are available on
the eCommerce plan
, and you can manage everything from your dashboard, including inventory, order fulfillment, marketing campaigns, and more. There's a dedicated category for e-commerce templates, but you can customize any of Zyro's 100+ designs to fit your needs. All templates are mobile-responsive, but you can edit the mobile version separately.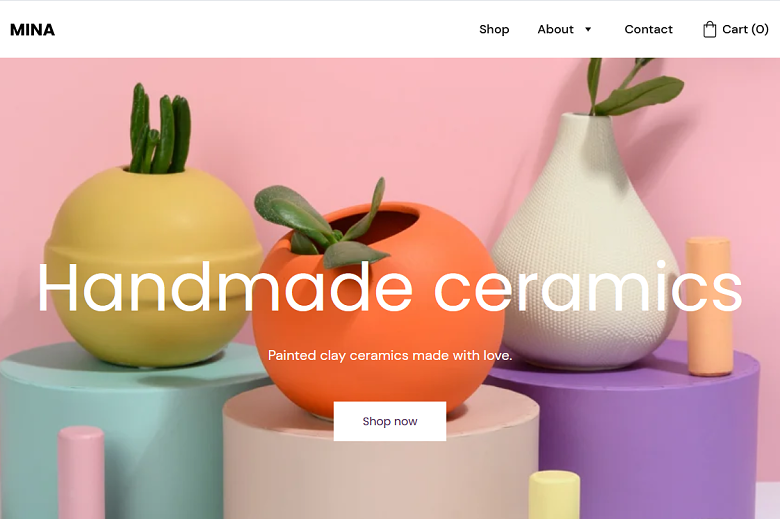 Zyro's practical AI tools speed up the design process – the AI Writer will generate keyword-rich content for your site, and you can use AI Business name and slogan generators if you lack copywriting skills. The AI Heatmap is extremely beneficial for SEO, as it predicts what your site's visitors focus on the most and suggests layout changes that will help increase conversions. There's a small number of integrations, but they're quite useful. You can integrate the Facebook Pixel, Google Analytics, Hotjar, and Google Tag Manager to measure and improve your site's performance. It also integrates with live chat apps like Facebook Messenger and WhatsApp to help you stay in touch with your customers. Although there is no free plan, Zyro offers a
30-day money-back guarantee
as a sort of a trial period for testing the platform. The lack of an app store doesn't make it the best option for scaling, but if you plan on building a simple online shop, chances are Zyro will be more than enough. To learn more about the platform's features, read our
full Zyro review
.

Caption Text: You can send automatic email reminders to customers who left your site before completing their purchase.
Features
No transaction fees. Zyro integrates with over 50 payment gateways (including PayPal and Stripe), and it doesn't charge transaction fees.
CRM tool. Thanks to the customer relationship management (CRM) tool, you can keep track of all of your customers.
You can set up your store in multiple languages, which is useful for building an international customer base.
Blogging tools. Having a blog is essential for improving search engine rankings. With Zyro, you get a basic but effective platform with all the necessary features – defining categories, creating live blog previews, setting publishing dates, and more.
| | |
| --- | --- |
| Free Trial | No, but there's a 30-day money-back guarantee. |
| Templates | 100+ in total, 20+ online store templates. |
| Transaction Fees | None. |
If you're looking for an e-commerce solution that can create sites like Shopify, you should definitely consider BigCommerce.
It's packed with a wide range of powerful, advanced tools for selling online, and it's easy to use. BigCommerce and Shopify have similar pricing structures. However, if you compare both of their cheapest plans, you'll see that BigCommerce offers more features, like the ability to create gift vouchers, for example. BigCommerce also offers a
14-day free trial
. BigCommerce can also support 600 variants per product, making Shopify's limit of 100 variants seem small by comparison. This is another factor that adds much more value to BigCommerce's plans. If you're interested in drop-shipping, you'll be glad to know
BigCommerce offers the AliExpress Dropshipping app to automate the process.
You can, of course, set up your BigCommerce store for dropshipping yourself, but that can be time-consuming. BigCommerce also supports multiple currencies, so you can cater to a wide range of customers worldwide. Your website visitors can select their local currency when they're viewing your store, and BigCommerce even provides automatic currency exchange rates.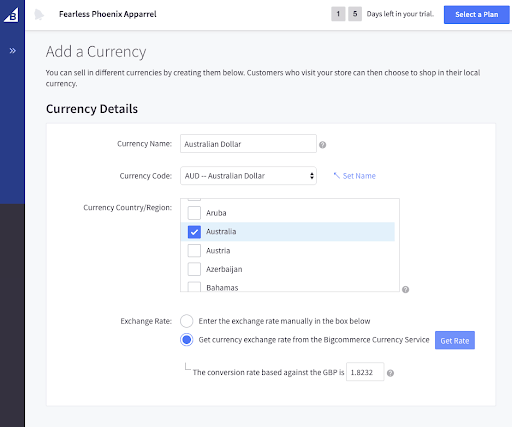 What I dislike about BigCommerce are the annual sales caps.
When your annual sales exceed your current subscription plan's limit, you're automatically upgraded to the next plan up. This will more than double your monthly fees. To find out more about BigCommerce,
check out our expert review
.
Features
Multi-channel selling. To extend your market, BigCommerce can seamlessly integrate with multiple sales channels, like eBay and Amazon. It also allows you to tag your products in your Instagram stories and posts, which means that your followers can view and purchase your products without having to leave the Instagram app.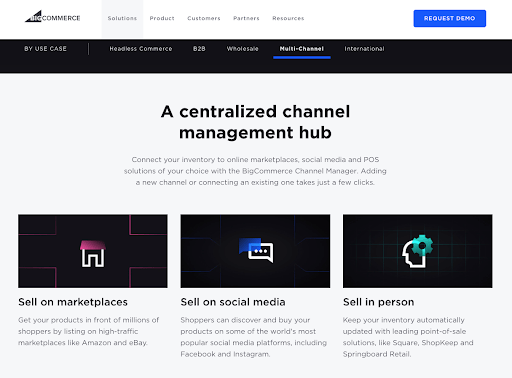 Payment processing. BigCommerce has partnered with Braintree to offer a wide range of payment processing options, including Amazon Pay, Square, Stripe, Apple Pay, and Google Pay. Payment processing fees are very competitive, and BigCommerce charges no additional transaction fees no matter which payment processor you use.
Coupons and gift cards. If you want to offer gift cards to your customers, it will cost you around $50 per month less on BigCommerce than on Shopify. BigCommerce even gives you templates to design your gift cards, too!
SEO. To help your site rank well on search engines, BigCommerce offers dozens of advanced SEO tools, including optimized page architecture, rich snippets, optimized URLs, 301 redirects, and more. BigCommerce also uses a CDN (content delivery network) to improve your website's speed, which can also boost your ranking.
| | |
| --- | --- |
| Free Trial | 14 days, no credit card required. |
| Themes | 130+ e-commerce themes, 10 of which are free. |
| Transaction Fees | None, and PayPal fees are lowered when you sell more. |
Unlike the all-in-one site builder solutions on our list,
WooCommerce is available exclusively to WordPress.
You must have the Business or eCommerce plan on WordPress.com, or a self-hosted WordPress account. While WooCommerce is easy to use, you
do
need to know a bit about how WordPress works. WooCommerce probably isn't the most beginner-friendly option on this list, but it still has plenty to offer. Best of all, you can
install it for free.
WooCommerce enables you to design pop-ups providing discounts to new visitors and showcase related products at the bottom of product pages. Furthermore, you can effortlessly enhance WooCommerce's capabilities by incorporating additional features through WordPress plugins or WooCommerce extensions.
WooCommerce is also great for dropshipping.
You can add products manually if you're selling only a small number of products. If you have a lot of products you want to be able to dropship, you can also install the WooCommerce DropShipping extension or the WooDropship plugin to automate the process. With these tools, you can automatically connect to dropshipping providers like AliExpress.

The biggest drawback of WooCommerce is that unless you opt for
managed WordPress hosting
, you have to manage things like security and backups yourself. Fortunately, there are plugins that can help you automate these processes. To learn more about WooCommerce,
check out our expert review
.
Features
Flexibility. By far, WooCommerce is the most customizable and flexible e-commerce solution out there. You have complete control over the look and feel of your website, and WooCommerce integrates seamlessly with thousands of WordPress plugins. The flexibility, of course, means that there are no limits on the products you can offer and the sales you can make. As your business grows, it's really easy to scale your WooCommerce setup.
Extensions. WooCommerce doesn't integrate only with WordPress plugins. There's also a massive number of extensions (free and premium) available directly from WooCommerce. You can take bookings, offer premium memberships, and even offer subscription boxes (which are hugely popular these days).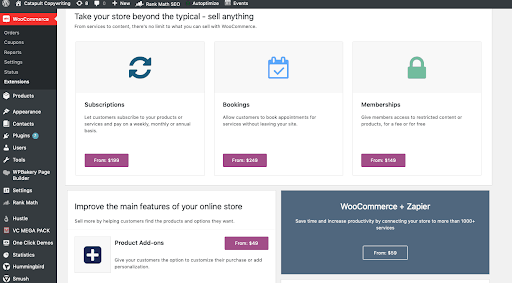 Cost savings. Avoid getting hit with expensive subscription renewal prices. The beauty of having an e-commerce system built on WordPress is that it's easy to transfer your entire setup to another web hosting provider that can give you a better deal.
Product tools. WooCommerce has an impressive array of tools to make your products stand out and increase your sales, such as image galleries and videos. There are no limits on the number of options and variants you can offer.
Sales features. One area where WooCommerce stands out is in its WordPress foundations. Content creation is easy with WordPress, plus you can use plugins to design landing pages to boost your conversion rates. You can also embed your products directly into blog posts and pages to increase your sales potential.
| | |
| --- | --- |
| Free Trial | No, but the platform itself is 100% free; you just have to pay for hosting. |
| Themes | Thousands, with 1,100+ free e-commerce themes in the WordPress repository. |
| Transaction Fees | None. |
Choosing the Best Shopify Alternative for You
So, which e-commerce platform is the right one for you? Here are my recommendations. If you're new to website building and/or selling online, and you don't expect you business to grow rapidly, then go with
Wix
,
Weebly
, or
Squarespace
. These website builders are beginner-friendly, and they'll walk you through the process of setting up your online store. If you have a technical background or are already comfortable with WordPress, then pick
WooCommerce
. It's a free, flexible, and 100%-scalable solution with practically no limits. You can set up your store exactly as you like, and you can easily transfer your hosting to another provider if you find a better deal. If you want a dedicated e-commerce platform but are put off by Shopify's prices, and you don't expect to sell more than $50K in a year, then
BigCommerce
is undoubtedly the best alternative. It's a feature-packed solution that offers better value than Shopify.
| | | | | |
| --- | --- | --- | --- | --- |
| | Price | Standout Feature | Best For | Ease of Use |
| Wix | $$ | Over 500 templates | Small and medium-sized online stores | 4/5 |
| Squarespace | $$ | Stunning responsive designs | Small stores you can manage on the go | 4/5 |
| Square | $-$$ | Automatic tax calculator and inventory syncing | Brick and mortar shops going online | 4/5 |
| Zyro | $ | Awesome AI tools | Small online store with few products | 5/5 |
| BigCommerce | $$$$ | Exceptional SEO tools | Medium-sized and large online stores | 4/5 |
| WooCommerce | 0-$$$ | Unlimited everything (e.g., products, variants, images, videos) | Large stores with landing pages to boost sales | 3/5 |
FAQ
Is Shopify only for e-commerce?
Essentially, yes. The platform has been specifically designed for selling online, and although you can have a blog and create other pages on your Shopify website, these features are less well developed compared to the e-commerce features. You wouldn't want to choose Shopify unless you're really committed to selling online. 
There are lots of website builders that have more flexibility and allow you to do much more than sell online. For more details, check out our recommendations in our
guide to the top ten website builders
. 
Is there a free alternative to Shopify?
Kind of, yes. WooCommerce, a WordPress plugin, is free to install and use and has many of the powerful features that Shopify offers. There is a catch, though – you have to have self-hosted WordPress (or the most expensive WordPress.com plan) in order to use WooCommerce, so there are costs involved. However, if you opt for hosting through Hostinger, you can choose a really
low-cost plan (or use a coupon for even better deals)
and get started with WooCommerce for a fraction of the cost of Shopify.
What's the best e-commerce platform?
Although it's not just an e-commerce platform, Wix is the best choice for running your online store. You don't get hit with additional transaction fees and there are hundreds of free templates you can choose from. What's more, Wix's pricing plans are much more affordable compared to Shopify. See how Wix and Shopify compare in our head-to-head comparison guide to Wix vs. Shopify.
Why should you not use Shopify?
There are several reasons why Shopify isn't necessarily the best choice for your e-commerce website. Firstly, its pricing is pretty high. Secondly, unless you use Shopify payments you'll be charged extra transaction fees. Third-party apps and themes can also be expensive, so if you're on a budget, Shopify isn't the one for you! If you've got your heart set on building your store with Shopify, however, there are some discounts to be found here.