so that your visitors will take action
– whether that's booking a room, locking in a travel package, or reading your travel blog. I've brought together the best WordPress themes and
a few of my favorite templates
from popular website builders for hotel and travel websites. I'm also going to share a great tip for getting
an entirely unique template at a great price
to set your site apart from your competition.
Hotel Master (Dark Style) – A Touch of Elegance
This theme is available from
ThemeForest
. Its color palette combines black and driftwood for a classy vibe that channels champagne and black-tie affairs. You might consider this template if your hotel caters to guests who have
an appreciation for the finer things
 in life. The homepage features a clear,
easy-to-use built-in reservation system
 and a slider menu showing the types of rooms you have available. This template also comes with a newsfeed and blog to keep your guests informed of upcoming events, or tourist attractions in your area.
Woods Hotel – This Template Means Business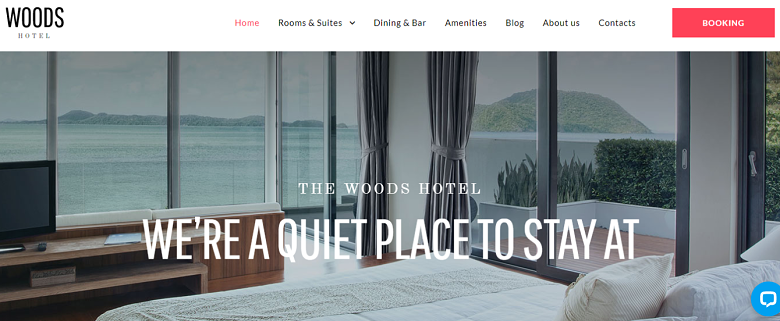 You can find this theme through
Template Monster
. It has the perfect balance of images and text that's both bold and easy on the eye, along with
parallax scrolling and a testimonials section
. The theme's dark blues and reds suggest a certain get-to-the-point attitude that suits hotels that cater to business travelers. The built-in reservations system has red buttons with a call-to-action feel and is easy to use. This theme also features a menu section on the home page, so you can showcase items from your restaurant. Last but not least, it's got a dedicated page for highlighting your amenities.
Travel Agency Layout Pack – Great for Agencies and Tour Operators
Elegant Themes
has a drag-and-drop website builder for the WordPress platform called Divi. Divi's themes are called layout packs, and there are more than 200 of them. Each layout pack has several layouts (it's helpful to think of these as pages). Divi has a layout pack that's perfect for travel agencies.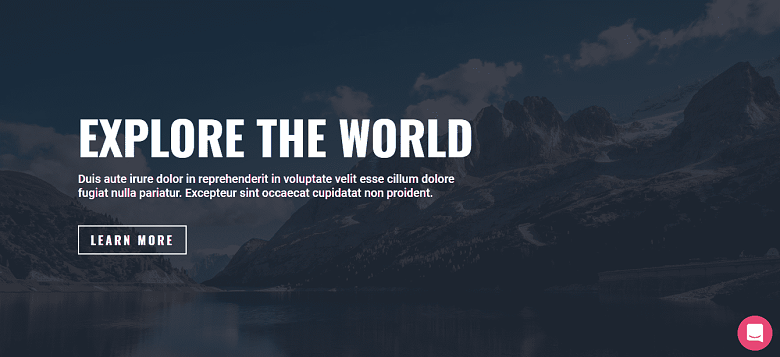 The
Travel Agency Layout Pack
 includes several layouts
 – one to show off your travel packages, another for an online shop to sell your merchandise (nothing like having multiple income streams), and a blog to keep your guests up to speed on featured attractions and destinations. It has static images in the foreground against parallax scrolling to create an attention-grabbing 3D effect. It's also got
large imagery and a gallery
 to make your travel packages pop. Its dark-grey, bold font on a white background makes this layout pack enjoyable to read and easy on the eye. The about page and landing page also feature a video section to draw your visitors in.
Website Builder Templates
If you haven't started building your site already, you might consider using a popular website builder instead. Website builders have
easy-to-use drag-and-drop editors
 so you can build your site quickly, without any tech experience… which means more time to promote your hotel, or travel business. Website builders also come with blogging, podcasting, SEO and email marketing tools, plus a bunch of apps that work seamlessly with your site. One of their biggest advantages is that
their templates are very customizable
. So, while a template may be perfectly designed for a travel agency (for example), it can easily be adapted to suit travel bloggers or tour operators as well. Here are a few of my favorite templates from some of
the best website builders in 2023
:
Travel Agency – Surf's Up!
This template from Wix is perfect for beach getaways or tropical vacations with its blue, white, and turquoise color palette. Its call-to-action buttons turn red when the cursor moves over them,
encouraging your visitors to click through
. Its asymmetrical layout draws your guests' focus to your discounts and travel packages. Clicking on a vacation package opens up a PDF that customers can download and print to share with their family and friends. And the template includes a chat feature so potential guests can ask you their questions in real time.
Suffolk – Ideal for Cabins and B&Bs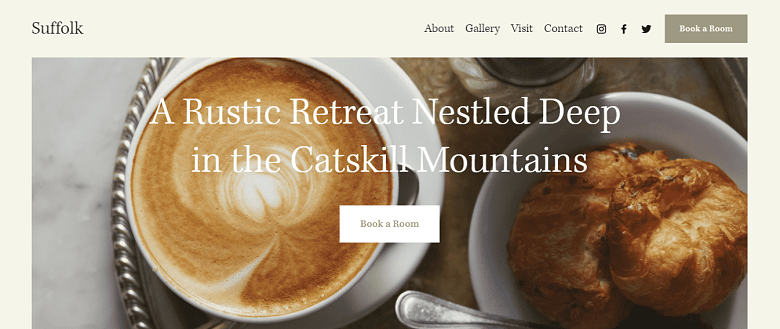 This
template from Squarespace
 has a rustic olive-green-on-ecru-white color scheme that's perfect for sites that feature cabin getaways or historic B&Bs. It has an elegant dark-grey font, but text is sparse in this template – the
generous imagery plays up your location
 and sparks your visitor's imagination. It's got pages for your amenities, rooms, and rates (of course), but it's the gallery page that steals the show, with its fade-in images and asymmetric layout.
Cruise Agency – A Beach-Ready Template

SITE123's Cruise Agency template
isn't just for cruise agencies. It would really suit any travel agency, but its turquoise and white colors make it ideal for tropical getaways or beach vacations. It's a one-page site template that's
 fast-loading and mobile-responsive
 – plus, it's easy to read because of its dark-grey font on its white background. It has parallax scrolling and features a destinations gallery where you can highlight the amazing attractions you offer.
How to Get a Custom Template for a Great Price
When I need a freelance template designer for a great price,
I go to Fiverr
. Search for freelancers who can do just about anything you can think of. Just enter "website template" into its search feature and it will show "gigs" that you can then purchase from
people who will design and create a custom template for you
. In fact, you can even
hire someone to develop your entire website
. For example,
Zykhanz
has a lot of five-star reviews and can design a Squarespace template for you at an incredibly low deal. And he promises delivery in just one day.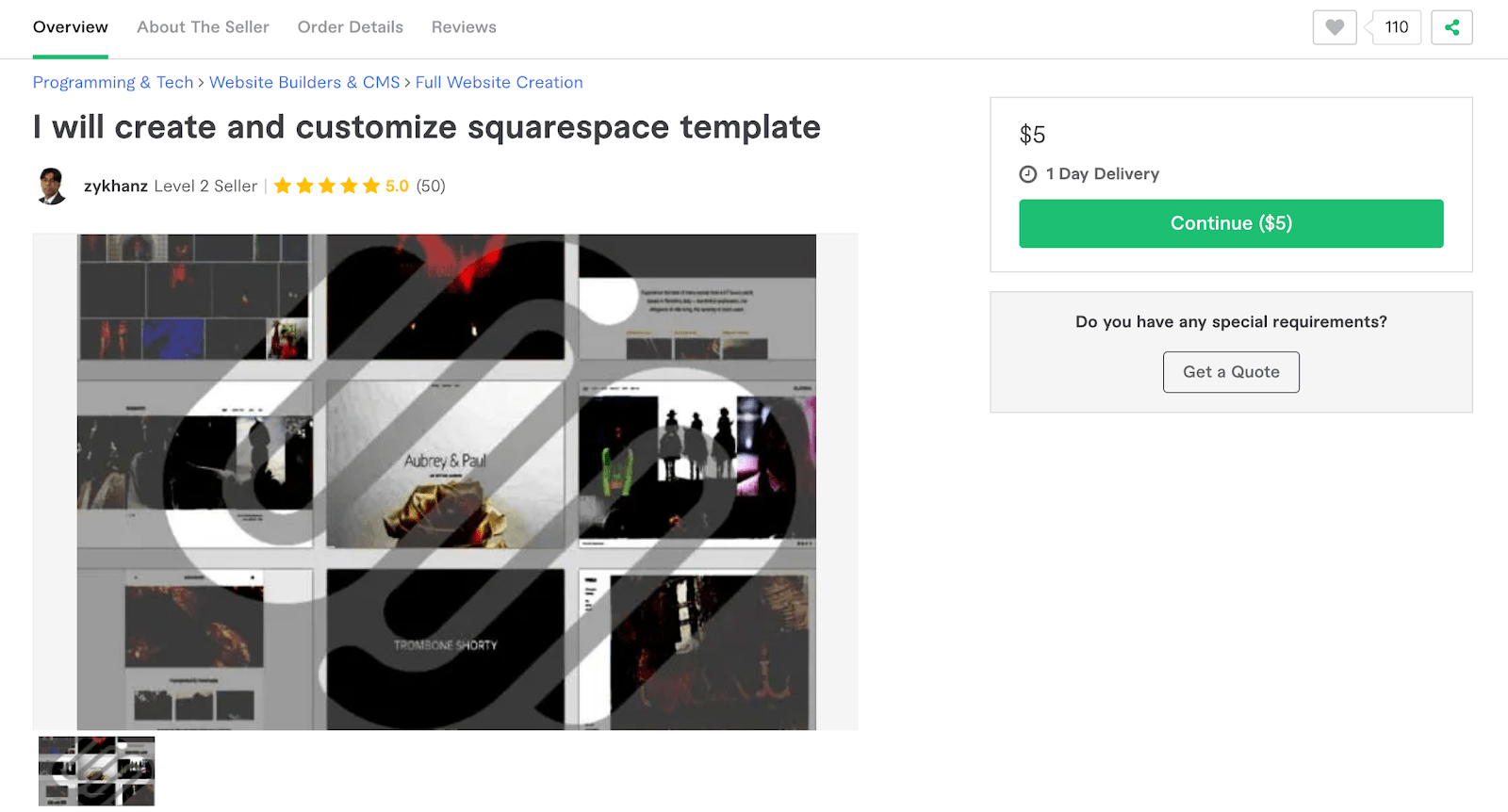 Zykhanz is a Squarespace expert and Level 2 Seller on Fiverr. To get this distinction, you have to maintain at least a 4.7 star rating over 60 days and have delivered at least 50 orders. Fiverr's seller distinctions help you determine which freelancers are the best.
Wpmegarockstar
is a WordPress theme developer with a lot of five-star reviews as well. He will create an entirely custom one-page WordPress theme for a super reasonable price. And he promises delivery within two days and unlimited revisions.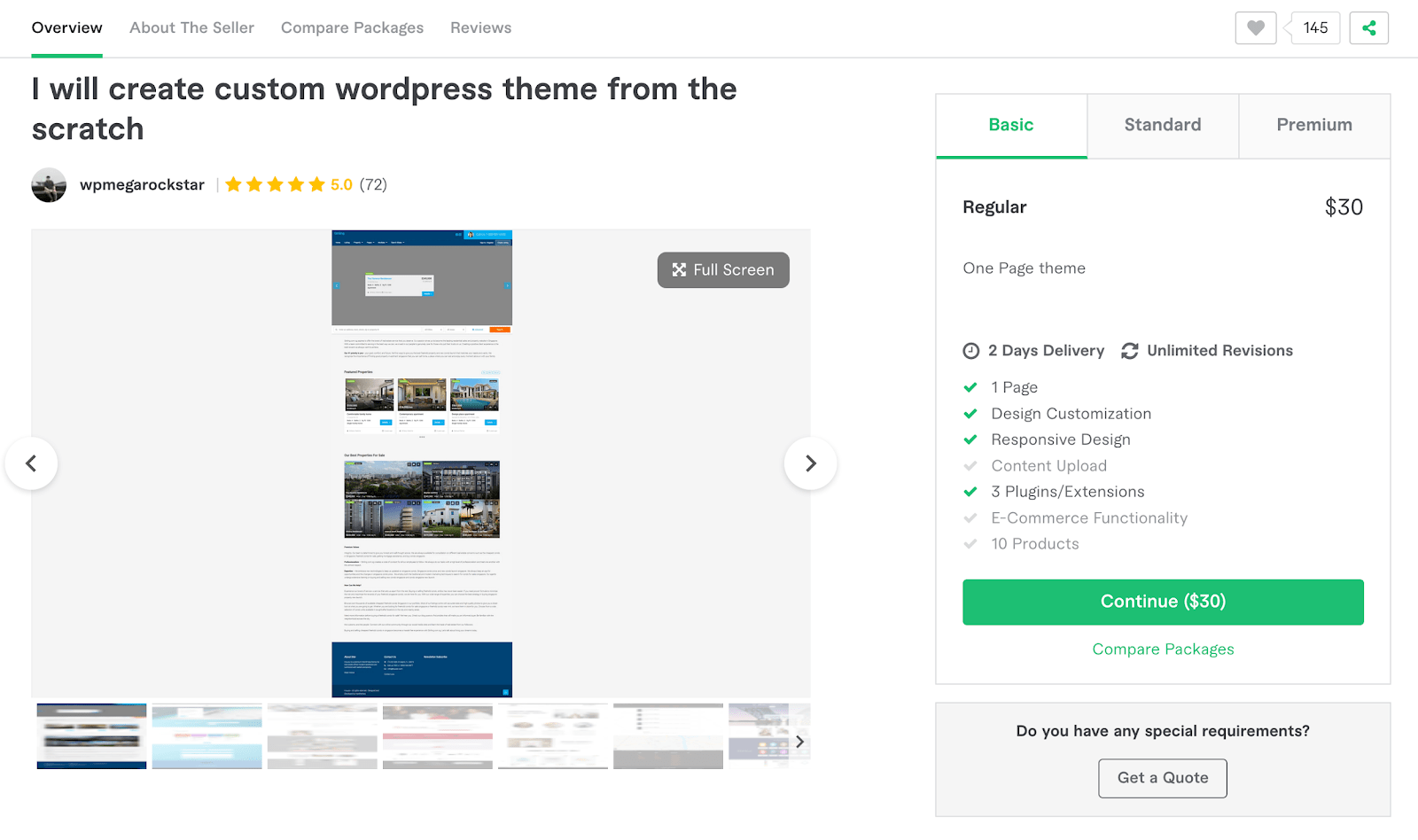 Multiple-page themes have a higher cost. Wpmegarockstar offers its Standard package at a somewhat higher price, yet it remains quite reasonable. With this package, you receive a seven-page WordPress theme within a ten-day turnaround. Wpmegarockstar's reviews also attest to their excellent post-delivery support.
The Right Template Should Entice Your Guests
Whether you go with a WordPress theme or a template from a popular website builder, your template needs to draw your customers in with inspiring visuals and keep them there with easy navigation. Images and galleries should
command your visitors' attention and encourage them to click through
 and book a room, or buy that awesome travel package you've put together. What's just as important, though, is having a template that's mobile-responsive and easy to use and customize. Ultimately,
a website template should enhance your hotel or travel business
, not distract you with its complexity. All of the templates that made my list meet these expectations. And if you want a truly unique template that will set your hotel or travel website apart, now you know how to
find a freelancer on Fiverr
 to design one for you at a great price.
FAQ
What's important for a hotel website?
Make it inviting. A hotel website should be visually engaging and give your guests a feel for what it would be like to stay at your hotel. It should clearly describe the rooms and amenities you offer and make it easy for visitors to book a stay online. For an extra touch, I recommend including information about tourist activities and events in your area. Wix and Squarespace are full site builders, so they have templates with blogs, newsfeeds, and booking systems already built in. If you're thinking about one of these options, I recommend reading our expert review of the best website builders in 2023. 
How do I create a travel website for free?
Wix and SITE123 are platforms that allow you to set up and publish a travel website for free. That said, on free plans your domain will be hosted by the vendor, and your site will have built-in advertising. If you're creating a travel blog rather than selling travel packages through your site, a free plan may work for you. Before you dive in, consider checking out our expert review of the best free website builders in 2023.
Can I use an HTML template in WordPress?
Yes, but you'll need to convert the HTML template into a WordPress theme. There are online tutorials on how to do this. But to save time, I recommend picking a WordPress theme from a third-party vendor like ThemeForest, Template Monster, or Elegant Themes.
How much does it cost to build a website?
You don't have to break the bank. Wix has a free plan and Squarespace has a free trial. However, you'll need to purchase a paid plan to sell through these platforms and remove built-in advertising on your site. Whatever option you choose, I recommend checking the latest discounts to explore paid plans that might be right for you.