Perhaps your company is young, and your budget is small. Maybe it's just time to invest in a new email marketing platform. Regardless, you want to preview your new solution before investing in the real thing. You need a free trial.
In a world saturated with freemium, how can you smartly choose between trial services without wasting time? After all, time is a valuable currency when starting and running a business.
We've put in the time for you by reviewing a variety of email marketing vendors, and we've found the very best email marketing services with free trials, so you can be confident from day one.
Short on time? Here Are the Best Email Marketing Services with Free Trials October 2020:
It's important to find the right email marketing service because your email marketing success will depend on what service you choose and how comfortable you are with that platform.
Not only will its functionality and features affect how well you can build, send, and track your emails, but the right email marketing service will ensure your emails stay out of your recipients' spam folders.
What We Look For in the Best Email Marketing Services
This highly-vetted list features email marketing platforms that deliver in key areas. Here are the main components we looked for:
Free trial features that allow you to pilot the entire software, not simply offer a limited view
Reliable deliverability that ensures your emails actually make it to your contacts' inboxes
Powerful tracking and reporting that shows you exactly what's working — and what's not
Email building and editing tools that are easy to work with even if you have no design skills
Intelligent segmentation and personalization capabilities that help you nurture and convert your contacts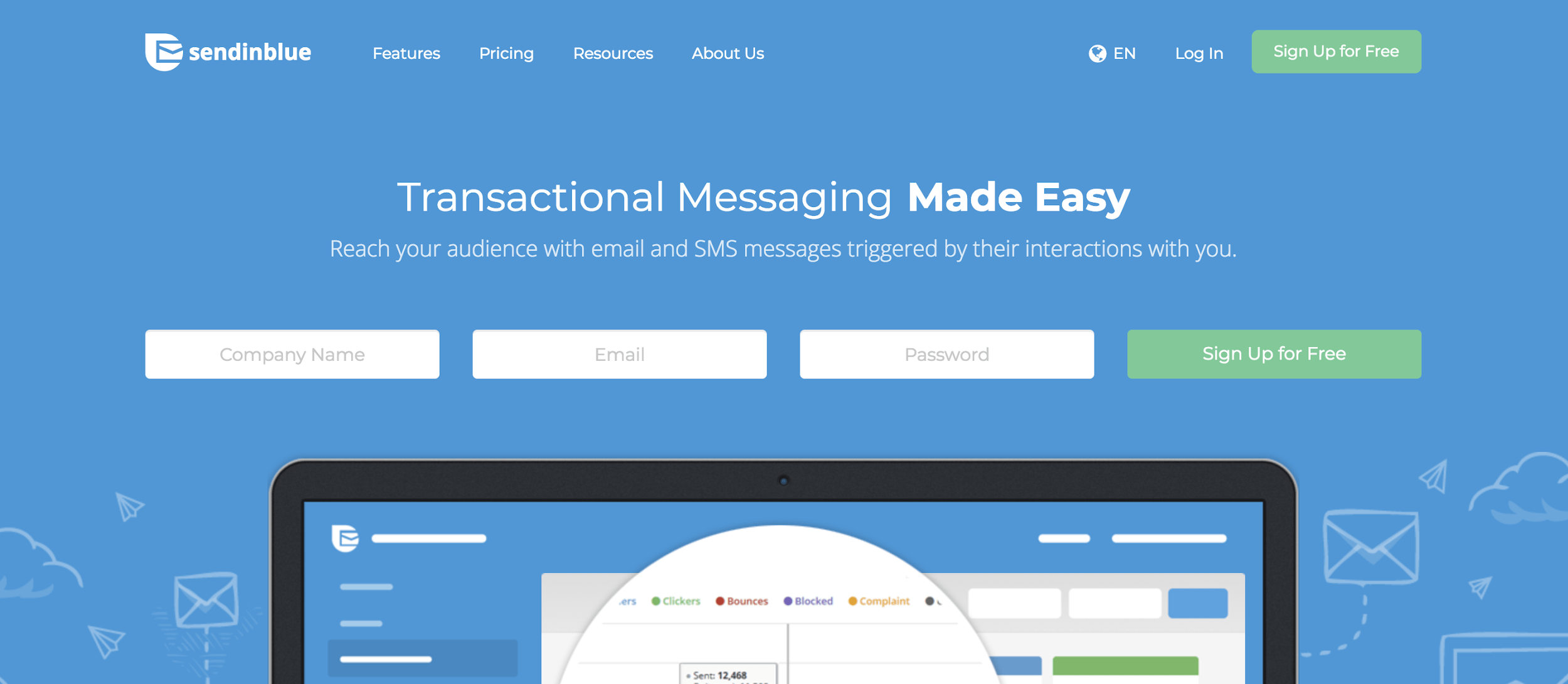 Sendinblue started as a digital agency and has since transitioned into providing cloud-based marketing services such as email campaigns, automation, and even SMS marketing. The platform is easy to use and compatible with hundreds of tools and integrations.
Key Features of a Free Trial with Sendinblue
Like Benchmark, Sendinblue offers a free plan. It doesn't limit your contacts, but it does only allow you to send 300 emails per day. As a free user, you only get access to high-level marketing, contact management, and reporting features.
For up to 2,000 subscribers, you can set up automation workflows. You also get support via phone and live chat for 60 days, and full access to all of these features and more: A/B testing, personalization, and Sendinblue's extensive template library.
Pros
The drag-and-drop email editor is easy to use to make those pre-designed templates even more beautiful
Comprehensive analytics for all emails and campaigns
Save customized templates for future use
Transactional marketing helps you meet your customers where they are and personalize those messages
Pricing is much more competitive than other platforms, starting at

$

25.00

per month.
Cons
There have been reports of poor deliverability, especially with Hotmail subscribers
The user interface is more technical than other platforms and may require specific know-how
List segmentation is clunky, and there are odd filter options when organizing contacts
Try Sendinblue If …
Your list is small but you intend to scale and are prepared to financially invest in a platform
You primarily send email newsletters and simple communications to clients but don't need RSS feed support or complex automation features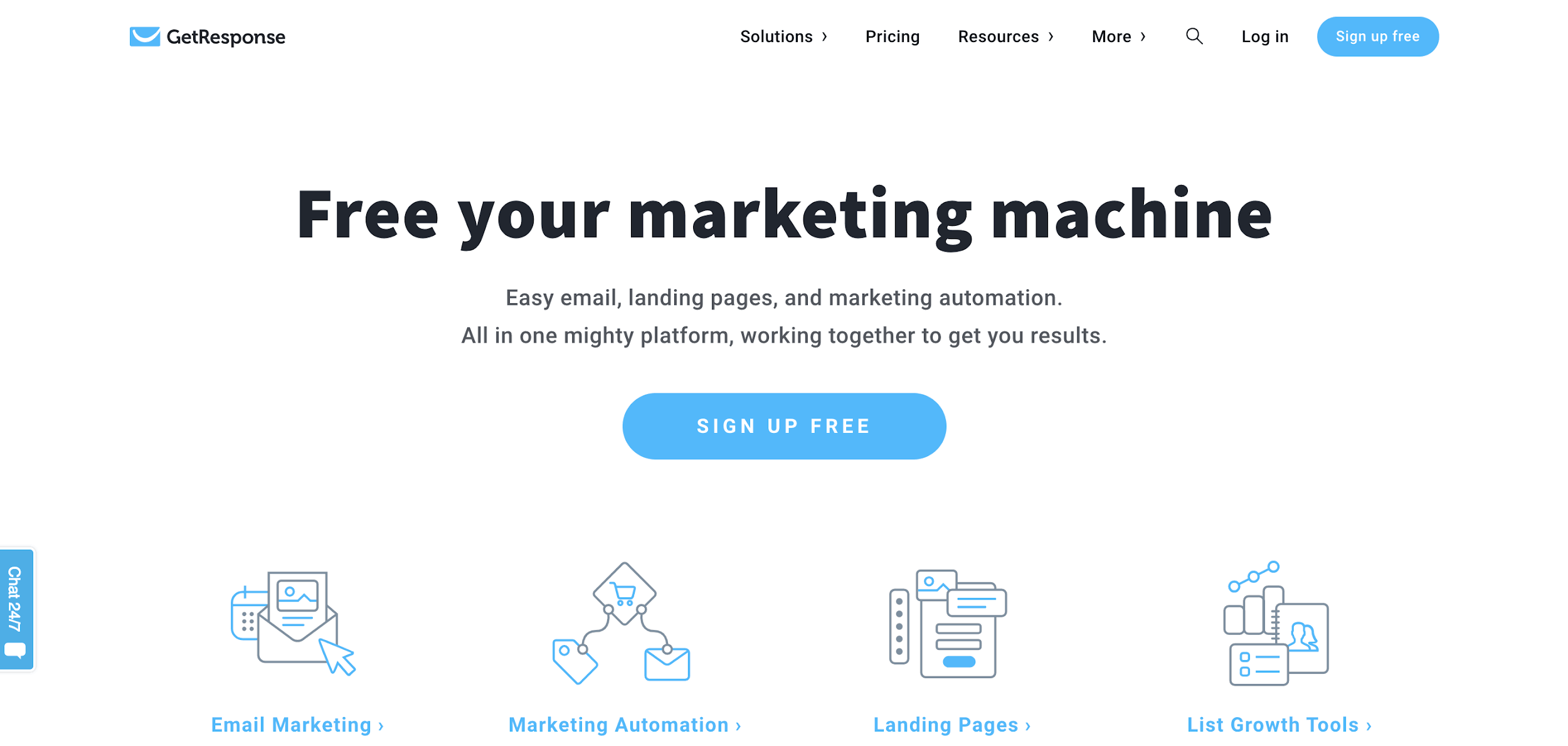 GetResponse is more than a powerful email marketing platform: it also offers marketing automation, landing pages, plenty of educational resources, and tons of other features. With a gorgeous UI and powerful deliverability, GetResponse helps you stand out with beautiful email marketing campaigns.
Key Features of a Free Trial with GetResponse
GetResponse offers 30 days of full access to all features, including unlimited sends, up to 1,000 contacts, advanced testing and reporting tools, and more.
Upon sign-up for the free trial, you're directed to an easily navigable dashboard where you can create email newsletters, manage autoresponders, and review your email intelligence data.
Pros
Over 500 customizable templates and 5,000 Shutterstock images so you don't have to outsource design or photography
Integrations with other marketing tools and software
Proven 99% email deliverability so your emails actually reach your contacts
Autoresponders, workflows, and drip campaigns to nurture and convert your contacts
Access to free educational email resources like webinars, whitepapers, and courses
Cons
You can't embed videos into your emails
You can only import 1,000 contacts, and paying for more can get expensive
It can be hard to navigate the platform's all-in-one software if you're just interested in email marketing
Try GetResponse If …
You want a highly-reliable tool and are willing to pay for it as you scale. The Basic plan starts from

$

15.00

per month.
You're an email marketing beginner and could benefit from educational resources built into your software platform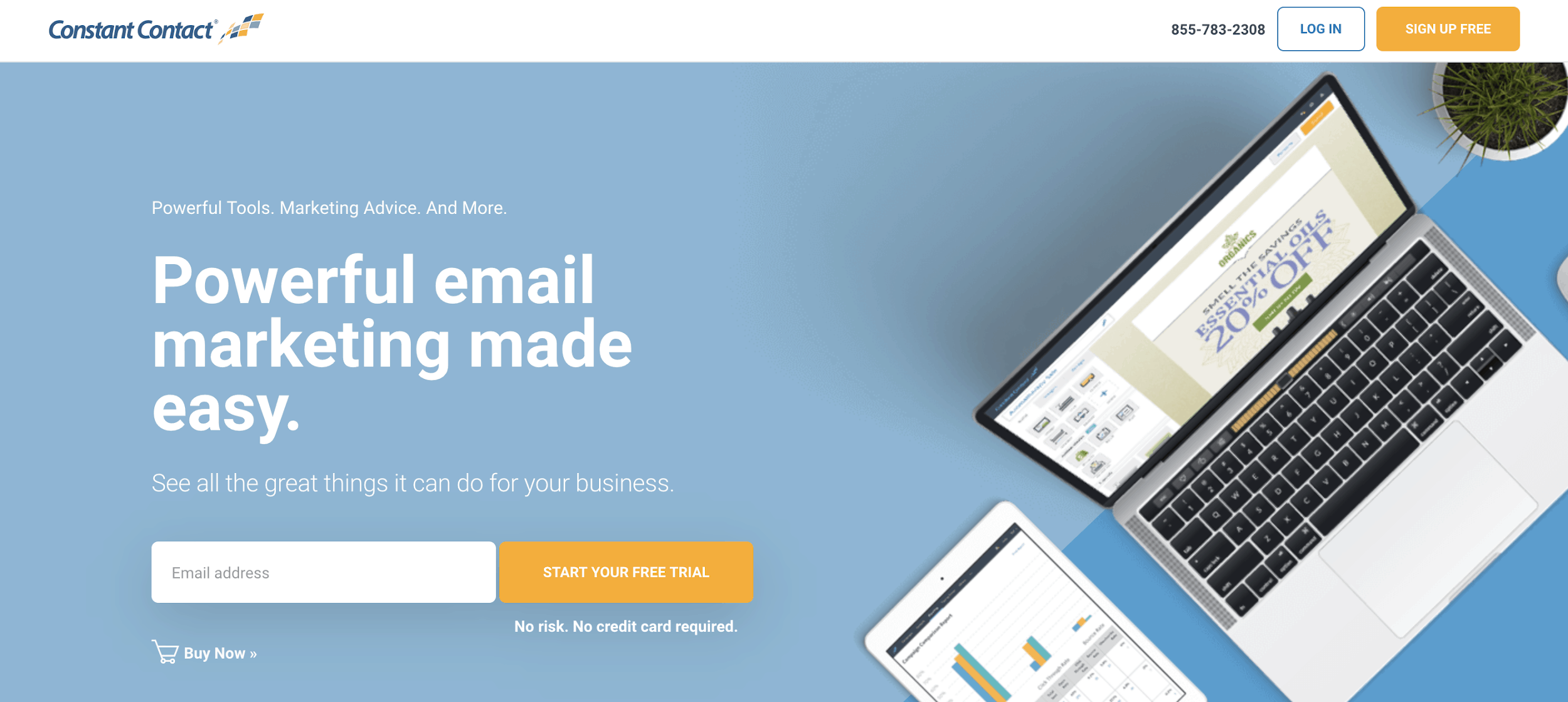 Constant Contact has been a staple in the email marketing software industry for 20 years. The platform offers a drag-and-drop email editor, hundreds of responsive email templates, and real-time analytics, among hundreds of other features.
Key Features of a Free Trial with Constant Contact
With the free trial, you can pilot every Constant Contact feature for 60 days, including intelligent contact segmentation, list-building tools, A/B testing, and unlimited emails.
Signing up for the free trial doesn't require a credit card, and when you sign up, you're guided through an intuitive onboarding survey to further personalize your experience. Once in the Constant Contact dashboard, you can access a whole range of great features including professionally-designed templates, contact management, and free email support and coaching.
Note that the 60-day trial is only available to U.S.-based users. Users in other parts of the world get their first month free when signing up for a one-year plan.
Pros
A library of email campaign ideas organized by industry to inspire your next campaign
Award-winning marketing support accessible through phone, chat, or an extensive library of resources
Email marketing specifically for e-commerce — sync customers from BigCommerce and Shopify
Easy-to-use, beginner-friendly user interface
Prepay and get a discount, cancel anytime without extra fees or penalties, and if you're not happy with the service, cancel within 30 days for a full refund
Cons
As your contact list grows, so does the price … and over time, you might have to upgrade to Email Plus to access necessary features which starts from

$

45.00

per month.
The service charges for some coaching and training, even if you're a paying customer
Some of the software functionality is dated and less flexible than other components
Try Constant Contact If …
You have limited design knowledge or resources and need gorgeous, ready-to-use templates and inspiration for new campaigns
You're a small to medium-sized business that's focused on building lists and regularly emailing customers, but may not care as much about analytics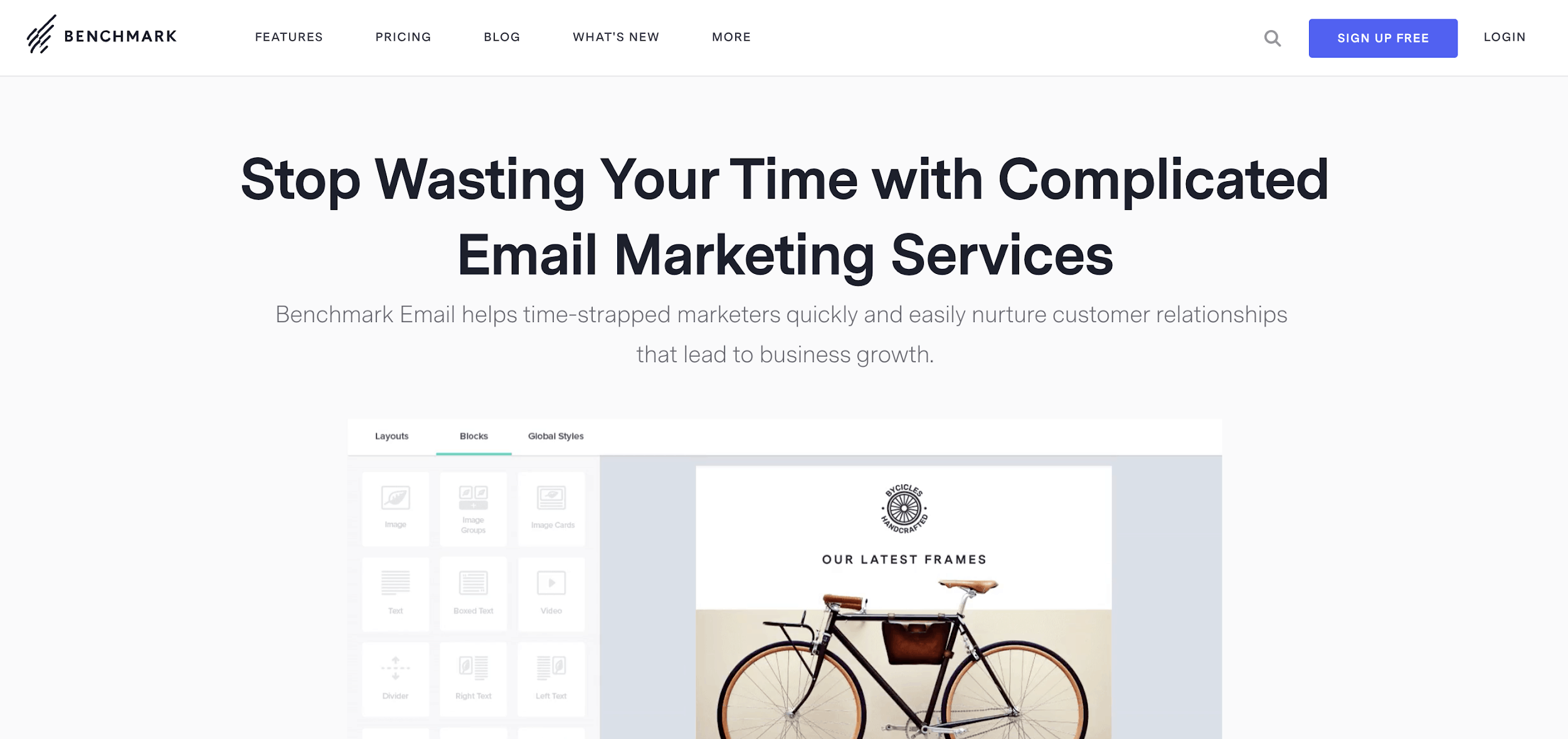 Benchmark is a gorgeous, easy-to-use email marketing platform. It offers hundreds of responsive, customizable templates to help you get started with your email marketing campaigns.
Key Features of a Free Trial with Benchmark
Benchmark offers a free plan instead of a free trial. Sign-up doesn't require a credit card, and the plan has no time limit. Instead, Benchmark has limited its features for free members. With the free plan, you can only send up to 250 emails per month but have an unlimited number of subscribers. Or, you can upgrade to the Pro plan, from per month and get unlimited emails but for up to 600 subscribers.
You also gain access to a variety of integrations, unlimited video storage, email list segmentation, and numerous tracking and reporting capabilities – read more about Benchmark's features in our in-depth review. This plan includes 24/7 customer support and insight into Benchmark's reputation health score.
Pros
Free 24/7 customer service and support with a live person — a feature typically reserved for paying customers
Plenty of tracking and reporting capabilities
User-friendly dashboard from which you can manage all your email marketing activity
List management and segmentation
Templatized signup forms so you can collect new emails from anywhere
Cons
You can only manage one email account, which can limit your ability to pilot the software if you have multiple teams or emails
The free plan doesn't offer any automation features (such as abandoned cart automation or behavior-based automation)
Any emails sent through the free plan display Benchmark's branding
Try Benchmark If …
You have a small email list and want to test the waters with campaigns, tracking, and reporting before investing in more complicated features like automation
You're a small team and don't need to manage multiple inboxes or email addresses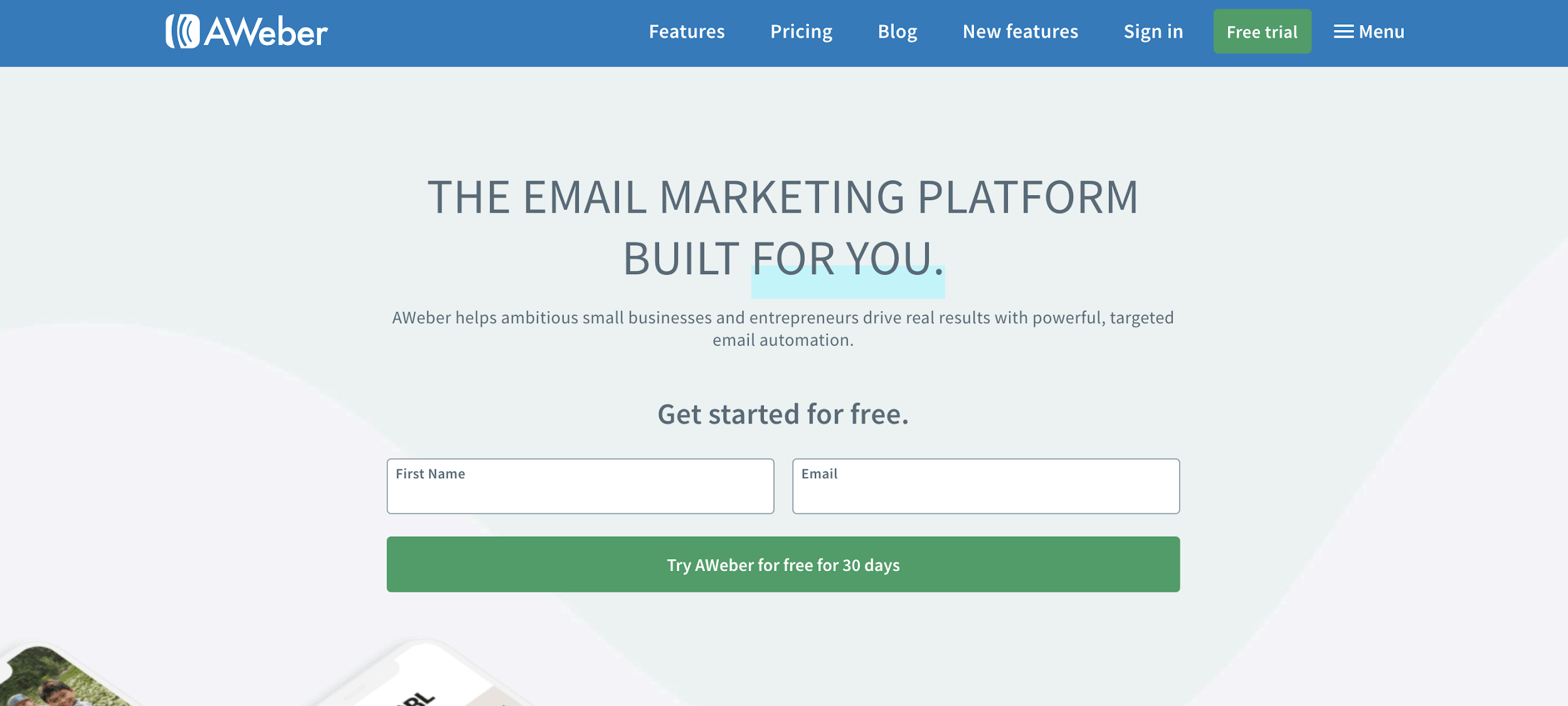 AWeber is another leading email marketing platform for small and medium-sized businesses. It boasts near-perfect deliverability, various testing and reporting capabilities, and award-winning support for all AWeber customers — including you.
Key Features of a Free Trial with AWeber
AWeber offers a free plan with access to many key features. You can send 3,000 emails to up to 500 subscribers, explore tagging features, and access over 6,000 stock images and 700 pre-designed templates.
Upon sign-up for the free trial (which requires a credit card), you gain access to AWeber's user control panel, where you can further customize your email marketing account, import subscribers, connect integrations, and view reports and statistics. AWeber also presents real-time data on subscribers and list activity.
Pros
You must adhere to a strict no-spam policy, which maintains AWeber's near-perfect deliverability
Double opt-in feature to ensure you only keep engaged customers on your list
Intelligent list segmentation is helpful for more targeted campaigns
Award-winning customer support through email, live chat, phone, or extensive knowledge base
You can create intuitive, custom sign-up and opt-in forms to grow your lists
Cons
The drag-and-drop editor doesn't always work and is less flexible with certain templates
You can't set a default font and style to make branding emails easier
After 500 subscribers, pricing gets expensive for small businesses. For more than 500 subscribers, prices start at

$

29.00

per month.
Try AWeber If …
You have a small email list (<20,000 subscribers) and don't need sophisticated automation or personalization
You require advanced list segmentation and tagging features for targeted campaigns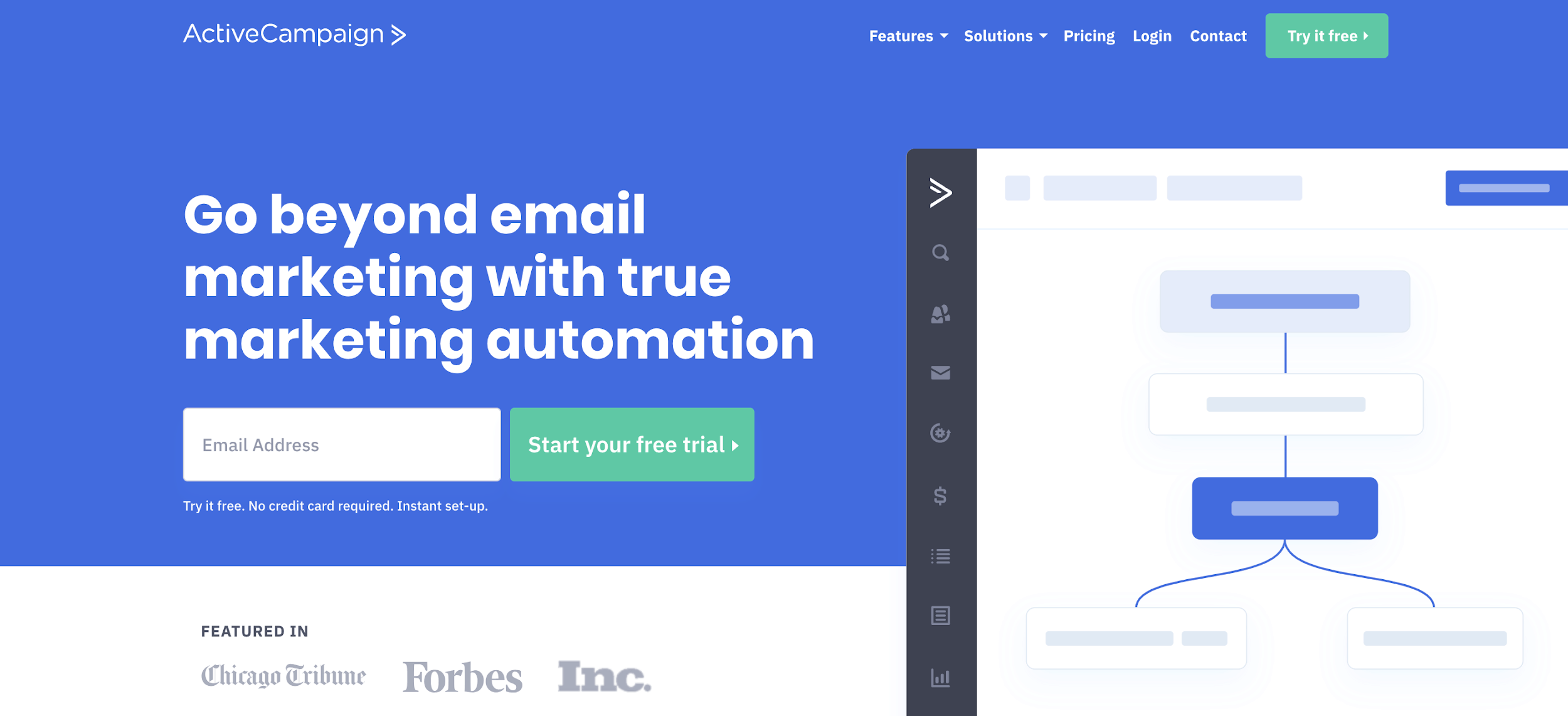 ActiveCampaign is a sleek email marketing platform that helps you nurture and convert leads with a variety of email marketing and marketing automation tools. The platform presents a birds-eye view of all sales and marketing activity, making it a great option for a variety of teams and industries.
Key Features of a Free Trial with ActiveCampaign
ActiveCampaign offers a 14-day trial with access to most features, such as campaign creation, access to templates, an in-depth library of automation, and a built-in custom form builder. You can read more about these features and more in our in-depth, expert ActiveCampaign review.
With the free trial, you're able to further customize your email marketing needs by setting goals and choosing integrations during the onboarding experience. From the ActiveCampaign dashboard, you can view your live updates of subscriber activity, top contacts and contact trends, and active pipelines.
Pros
Automation capabilities are top-notch and emails are easy to assemble and send
The drag-and-drop editor helps you customize templates or create your own emails
Email marketing is closely aligned with sales activities
Unlimited list and segmentation features for targeted campaigns
Whether or not you're paying for ActiveCampaign, it offers a handful of free tools such as a Subject Line Generator and Abandoned Cart ROI Calculator
Upgrading isn't as expensive as some services and gets you unlimited email sends, starting from

$

15.00

per month.
Cons
The reporting section is limited and could be improved in terms of performance visualization
CRM capabilities are limited, especially when compared to Salesforce or similar
No specific media organization, so images simply exist (and can get lost) on each account
Try ActiveCampaign If …
You send daily email blasts, follow-up emails, and nurturing campaigns — but you don't need the most intuitive sales tools or CRM
Email marketing and automation is your top priority, and you're seeking a simple interface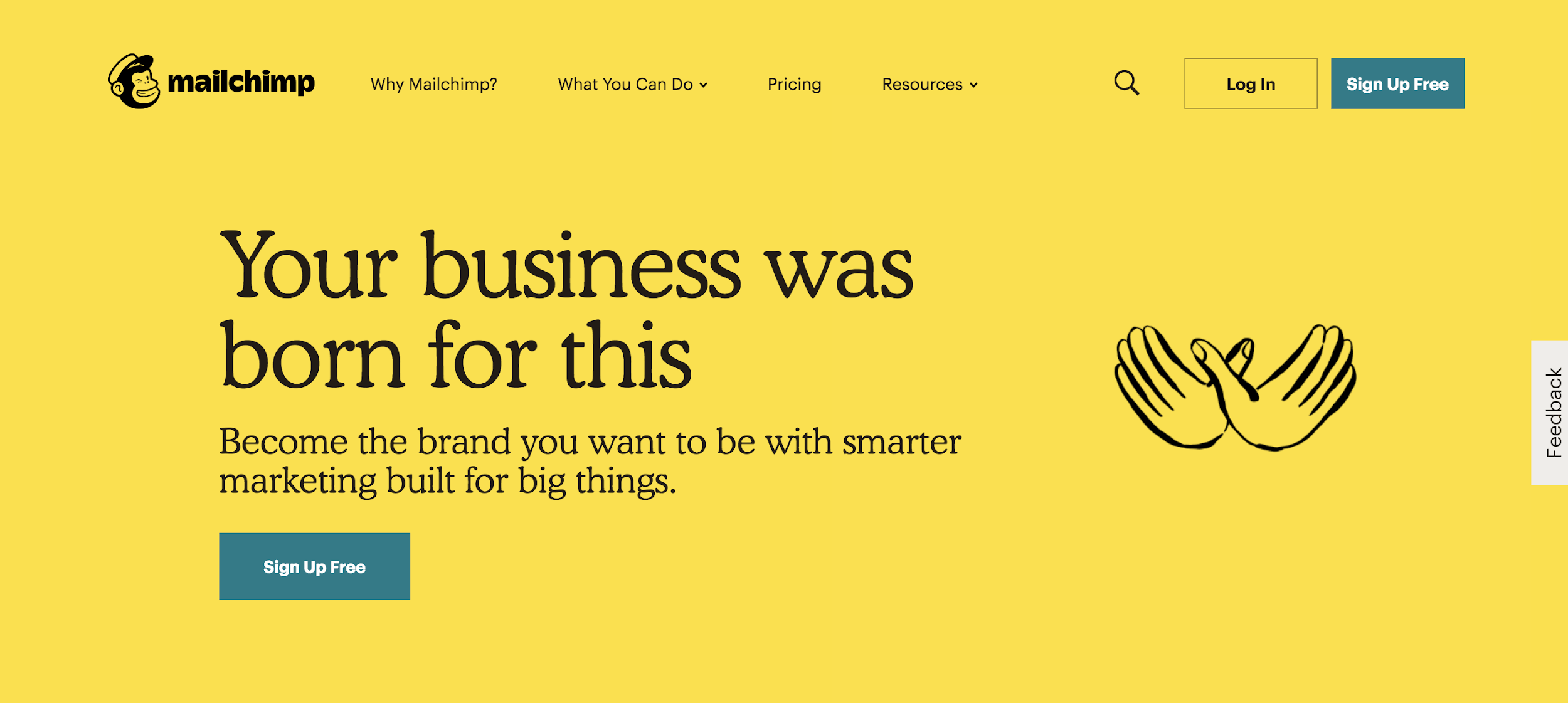 Known for its cheeky, clever branding, MailChimp is a global email marketing platform with customers in over 175 countries. With 24/7 support, extensive educational resources, and a popular free plan, it's no wonder MailChimp is well-known in this market.
Key Features of a Free Trial with MailChimp
Like Benchmark and Sendinblue, MailChimp offers a free plan for less than 2,000 subscribers. With the free plan, you can send up to 12,000 emails per month, set up multi-user accounts, and get email and chat support for your first 30 days.
You also get access to all features — except for advanced optimization, such as send time optimization, predicted demographics, and audience segmentation. If you pay, MailChimp incentivizes security by offering a discount for setting up two-factor authentication. It also offers discounts for charities and nonprofits.
Pros
Intuitive engagement tracking so you can see which (and when) emails are working
Sleek, easy-to-use platform for marketers of all levels
Pre-designed templates and simple email editor eliminate the need for coding or HTML knowledge
MailChimp email deliverability is near 100%
You can create as many lists as you'd like, and importing contacts is a breeze
Cons
You cannot segment email lists or create funnels for marketing automation
Customer support is limited after 30 days.
The email editor is said to have limited design options and clunky functionality
Try MailChimp If …
Your team and email lists are small, and you don't require complex automation or campaign features
You mainly use email for marketing and communication with customers
Additional Email Marketing Services with Free Trials
Drip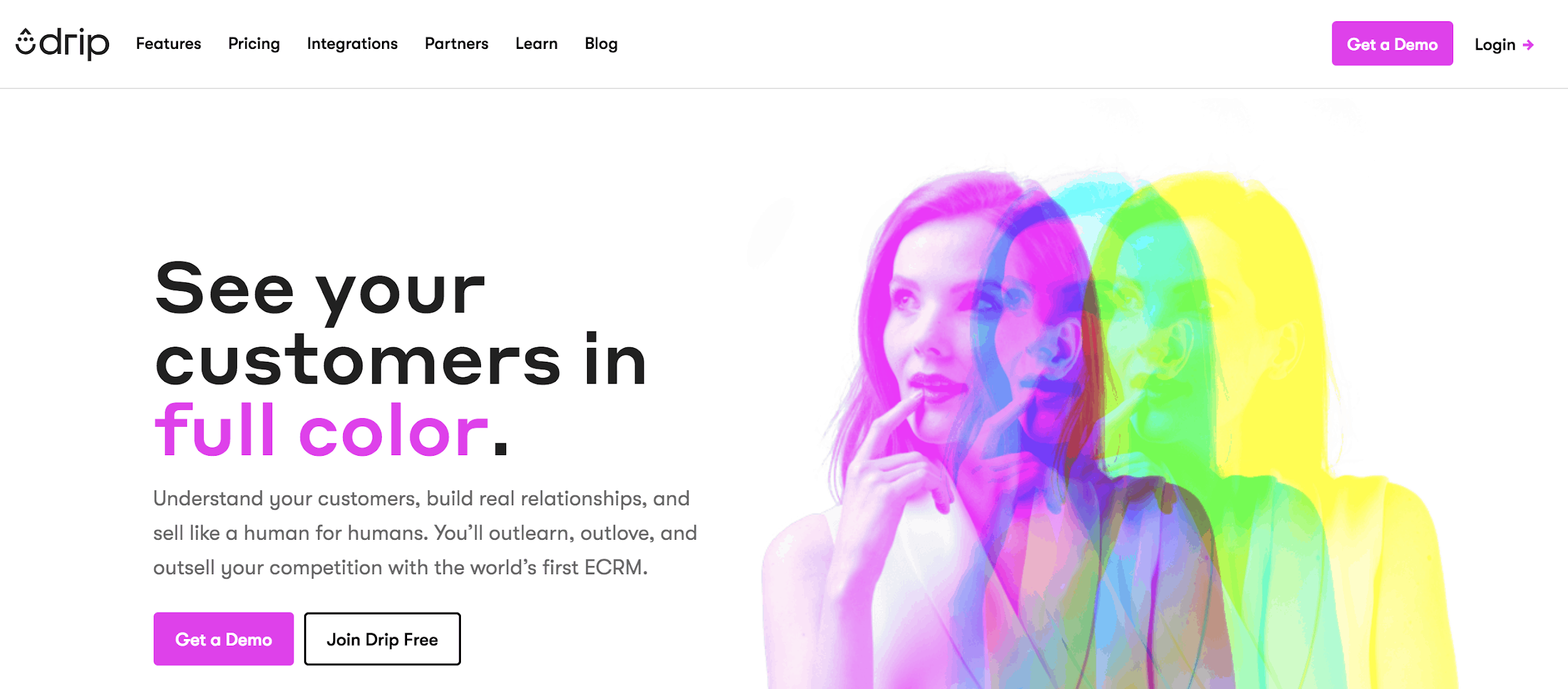 The Drip email marketing platform identifies as an ECRM — an e-commerce customer relationship management tool. In terms of email, though, Drip offers lots of integration options, personalization features, and powerful tracking, reporting, and analytics.
You can access every feature Drip has to offer free for two weeks.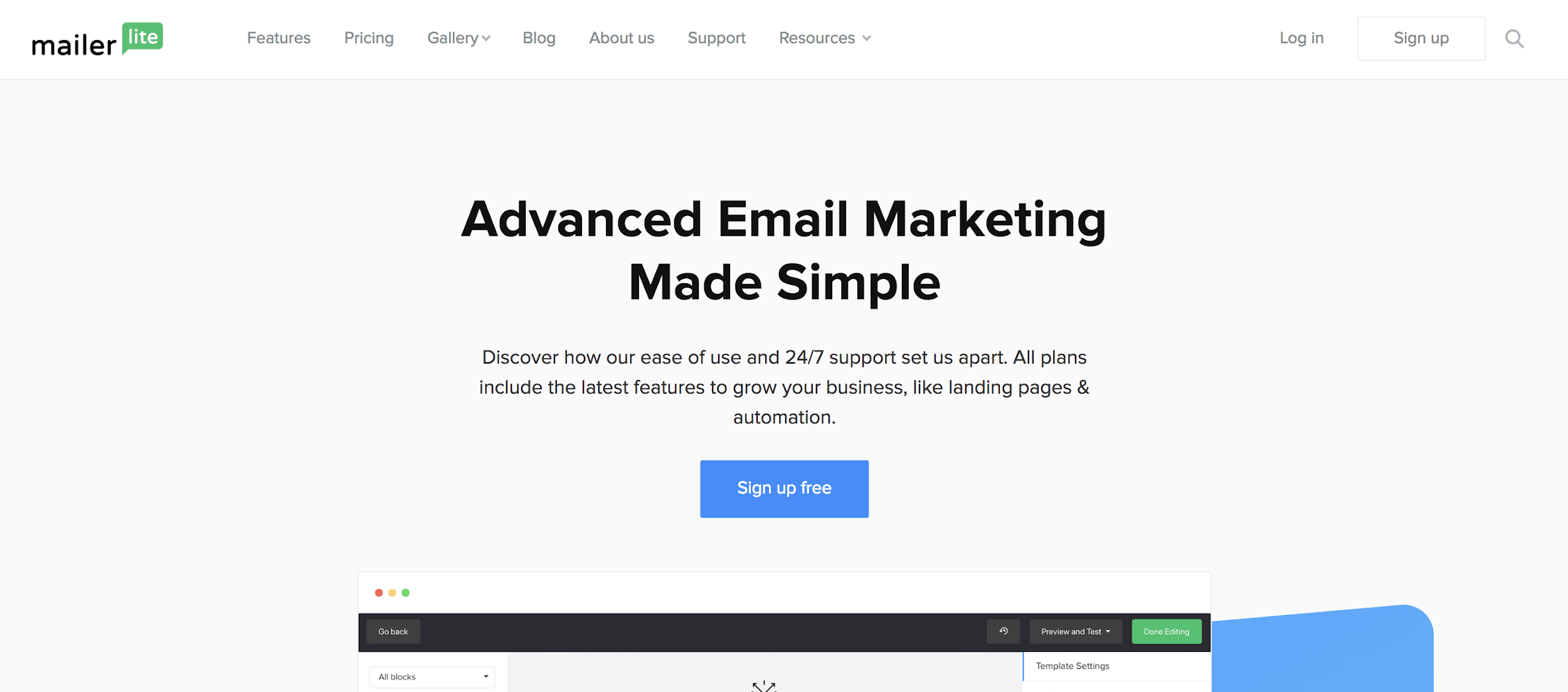 MailerLite's drag-and-drop email editor makes it easy to create gorgeous emails without HTML or design knowledge. You'll love how simple the software is to use and integrate with other tools.
Mailerlite offers a Forever Free plan for up to 1,000 contacts, 12,000 emails per month, and other limited features.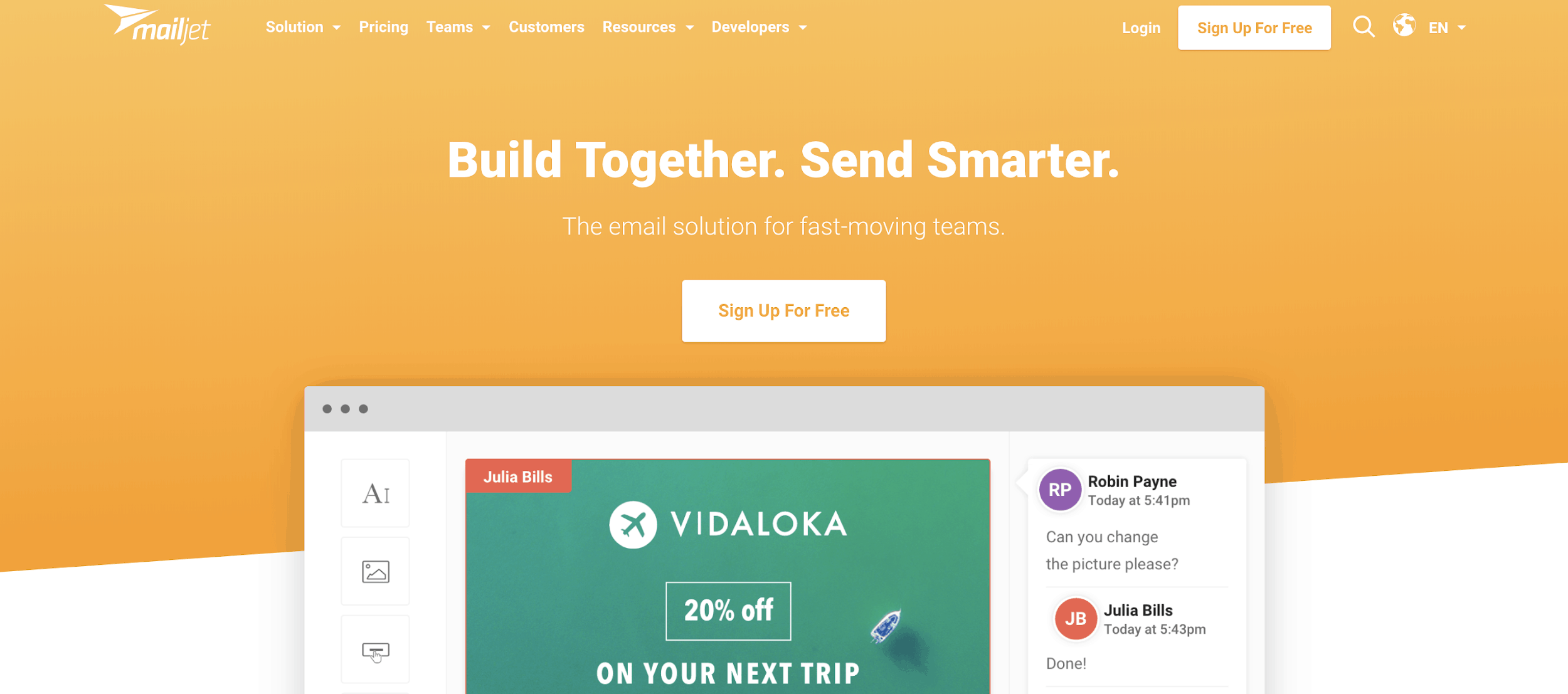 Mailjet believes in collaboration — that's why it has made it easier than ever for marketers and developers to grow their businesses together. The platform allows teams to work together in real-time to build, send, and track emails – and that's not all, there's tons of other features on offer too which we talk about in our in-depth Mailjet review.
Mailjet's Free plan offers unlimited contacts, advanced reporting, and no expiring trial — customers are just capped at 6,000 emails per month. Plans start at just $9.65 per month for more than 6,000 emails.
Final Thoughts
There are so many email marketing services targeting small businesses like yours. They all offer comparable solutions, but it's hardly humanly possible for one person to review, compare, and pilot them all. That's why we've pulled together the top seven for you to test.
Need a high-level refresher? Here's a table to which you can compare your email marketing service "wishlist".
| | | | | |
| --- | --- | --- | --- | --- |
| Email marketing service | Get it free for … | Best for … | Not so great at … | |
| Sendinblue | Forever, as long as you send < 300 emails/day | Affordable pricing | Deliverability | |
| GetResponse | 30 days | Deliverability | Importing contacts | |
| Constant Contact | 60 days | Ready-to-use templates and campaign ideas | Customization | |
| Benchmark | Forever, as long as you have < 2,000 subscribers and send < 14,000 emails/mo | Affordable pricing | Email marketing automation | |
| AWeber | Forever, as long as you have < 500 subscribers and send < 3,000 emails/month | List segmentation | Analytics and reporting | |
| ActiveCampaign | 14 days | Email marketing automation | CRM and other sales tools | |
| Mailchimp | Forever, as long as you have < 2,000 subscribers and send < 12,000 emails/mo | Simple user interface | List segmentation and tagging | |
Each one has its pros and cons, as would any business software solution. What's most important is what service is best for your needs, whether that's easy creation, intuitive tracking, simple collaboration, or list segmentation and automation.
Our advice? Choose a platform with which you're most comfortable. Your comfort level will determine how successful your email marketing efforts are — and how engaged your subscribers will be.
FAQ
What is the best email marketing free trial?
What is the best email marketing service with a free plan? 
I'd say Benchmark is the email marketing service with the best free plan. The great thing about Benchmark's free plan
is that there is no expiration date and you do not have to hand over any credit card details in order to get started. There are certain limitations on the free plan though – there's no A/B testing on offer, for example – but when you do need to upgrade to a paid plan, Benchmark makes it very easy to do so.
Does Constant Contact offer a free plan? 
No, but Constant Contact does offer a 60-day free trial
 which is only available to customers who are based in the US. Once the free trial is finished, you need to select between two different pricing plans depending on your needs. Both of these plans have a base monthly price, which increases according to the number of contacts that you email through the service.
For customers who are outside of the US, Constant Contact offers the first month free when you sign up for a one-year plan
. 
Does GoDaddy offer a free trial for email marketing?
While GoDaddy does offer an email marketing solution, it's not as well known as its domain or web hosting services. There is no free trial available, but instead, you can choose between three reasonably priced plans that are calculated based on the number of emails you intend to send out each month. Before you make any decisions though, make sure you check out
our list of the best email marketing services in 2020
– did GoDaddy even make it onto the list?
Where can I find the best free email marketing templates? 
Benchmark has the largest range with over 220 mobile-responsive email templates available on
all plans
, that can be filtered by type (e.g. newsletter, announcements), or by industry. All of the templates are simple to customize by adding your brand's colors, photos, or logo. While Sendinblue's plans
 have a smaller range of templates (around 70), they are more professionally designed with a stylish modern look.
Additionally, Sendinblue will allow you to create your own templates using its email editor
so that you can completely customize a template and add it to your library.