If you want to have more emails delivered to your subscribers' Primary inboxes, perhaps it's time to reconsider the email marketing service you currently use.
Switching to a reputable email marketing service is the easiest and quickest way to boost your deliverability rate.
How long would that take? With the three services I list below, you can set up your account and have your first email campaign up and running in less than an hour. Our experts perform rigorous tests on all major email marketing platforms, and they found that
Sendinblue
and
ActiveCampaign
come with all the features needed to deliver excellent deliverability results.
Combine your new platform's reputable IP with the 11 deliverability tips I'm about to share with you, and you're bound to succeed
. As Google changes its algorithm often, I recommend you use a combination of two, three, or several methods until you finally get your emails to where they need to be.
1. Ask For an Add
If you don't take any action, emails you send through email marketing services (EMSs) will likely show up in the Promotions tab. Why not try the direct approach? Simply
ask your subscribers to whitelist you
by adding you to their contact list.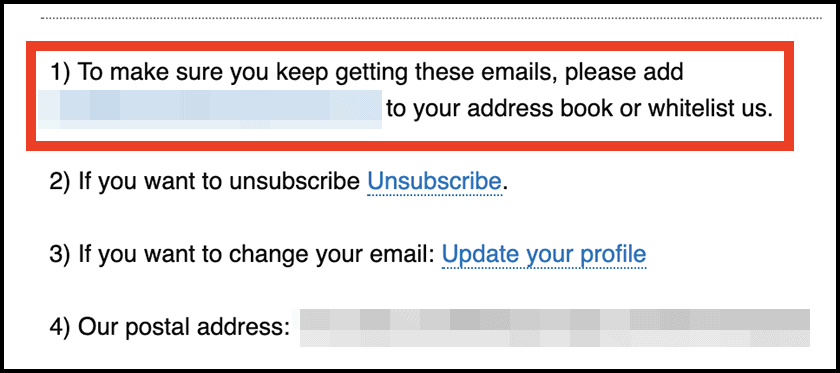 You might be wondering, how can I get whitelisted if I'm being routed to Promotions? Good question.
Ask for the add in your welcome email
— when your messages are top of mind and a subscriber will likely go looking for it after they sign up. You can also alert subscribers through your other marketing channels, such as Facebook and Instagram, that your emails may be not reaching them. To help you out, an EMS like
GetResponse offers the ability to
automatically post your email campaigns
 on your social media platforms. But it won't be enough to simply ask your readers to add you to their contact list if they don't know
how
. So, make it easy by providing instructions! From a
desktop or laptop computer
,
subscribers can drag and drop your email into their Primary tab
. Ask them to take these two steps:
Rescue this email by clicking on it and dragging it to your Primary inbox
When a dialog box asks whether you want this action performed for every message from this sender, click Yes
On a
mobile device
, subscribers can move your message from their Promotions inbox screen. Give them these four quick steps:
Rescue this email by holding your finger on it until a checkmark appears
Tap the three dots at the top right of your screen
Select "Move to"
And then select "Primary"
Now for the reality check:
While this approach is worth trying, only a small percentage of subscribers will actually follow through.
So in other words, don't stop here! Let's move on to the content of your emails themselves.
2. Watch Your Words
If your email uses a ton of promotional-sounding language, then it only makes sense that Gmail will think it's a promotion and send it to the Promotions tab. This might sound obvious, but sometimes the simplest things get overlooked.
Skip words like "Sale," "Free," "% Off," "Deals," and "Discount," especially in your subject line.
You'll also want to be cautious about using all caps, dollar or percent signs, or excessive punctuation, like a lot of exclamation points!!!!! Your EMS can alert you of phrases that might be red flags.
ActiveCampaign, for example, offers a
spam-checking tool
called SpamAssassin
that automatically scans the content of your message and lets you know whether you're at risk. While the Spam folder is a lot different — and a lot worse — than the Promotions tab, using even just a few "spammy" words might get you in trouble, so get rid of them. Of course, some of your emails will be promotional — that's why you have a list.
Save the promotional jargon for your landing page.
Ask your contacts to click through a link where they'll find the latest offers and product information.
3. Get Personal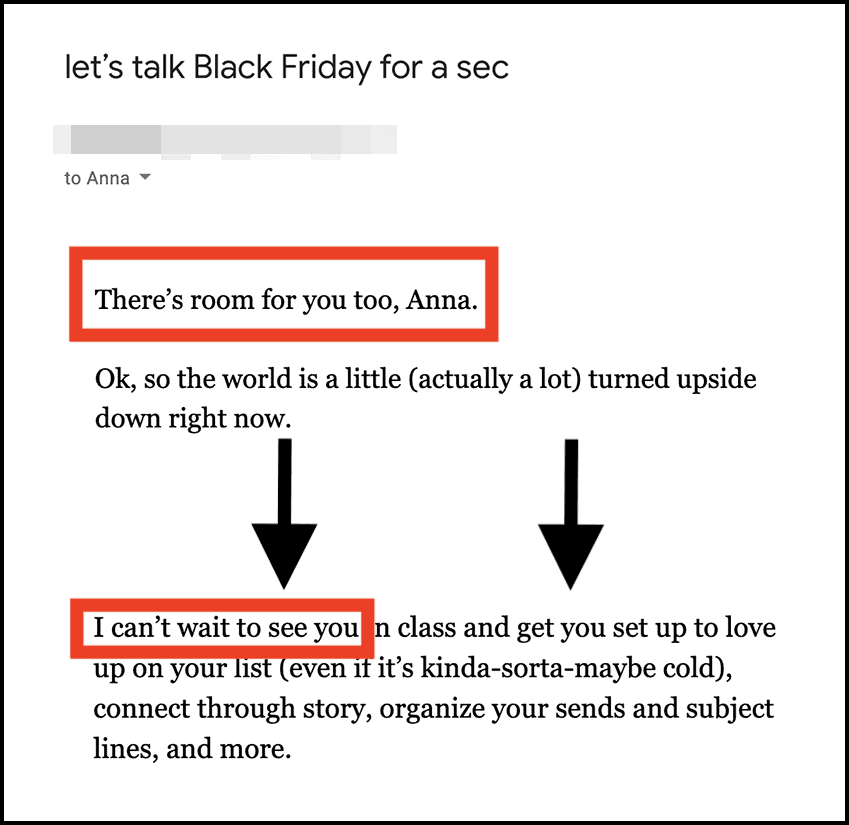 When crafting your email marketing campaign, focus more on the email and less on marketing by structuring your message as if you're writing to a friend. Use a greeting like "Hello" or "Hi," then take advantage of your EMS's mail merge tool that populates your contact's first name. Include an introduction that's similar to what you might include in personal correspondence, such as "I hope you're doing well." Then get into your main content. Again, make your message as personalized as possible, but get to the point. Short and direct is better than long and overflowing with information. Use a voice that
matches your brand
. For example, an edgy apparel company that targets Gen Z-ers would probably use different words and phrases than a financial software provider that's going after recent retirees.
With a service like GetResponse, you can turn subscriber data into personalized custom and dynamic content. 
That means you can tailor words, images, and CTAs based on what different segments of your audience are interested in. And don't forget to end it with a sign-off, such as "Thanks," or "Hope to see you soon." It helps to sign with a real name instead of the name of your company.
Remember
,
you're a person talking to another person — not a business blasting out to customers
.
4. Go Light on Images
Promotional emails often use a lot of images, including product pictures or sales graphics. While they arguably make an email look more attractive, they can also flag your email and send it to Promotions. Think of it this way: Non-promotional emails from friends usually don't contain a lot of images. If yours does, it could be a sign that your email is from a business and not from a friend.
You don't have to get rid of images completely; just stick to using one.
Also be mindful if you use your logo in your email, because that counts as an image.
5. Choose Plain Text Campaigns
Just like images, a lot of formatting can make your email more attractive. But what good is great formatting if it's never seen? HTML emails will often end up in the Promotions tab, so don't overload your email with a graphic-heavy template and fancy fonts. Keep it similar to an email you'd get from a friend or business contact. Look at the templates your EMS offers, and choose something with little-to-no HTML coding, like this: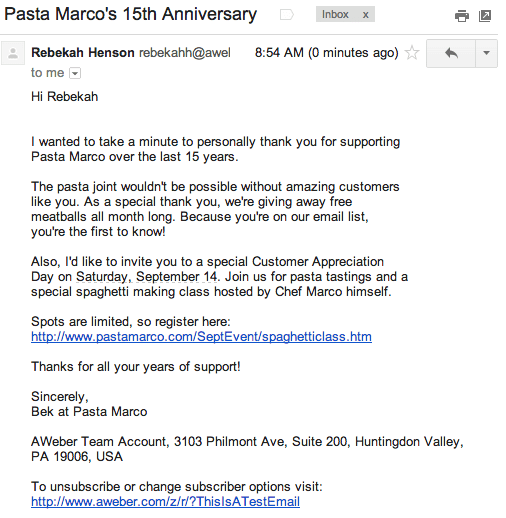 6. Reduce the Number of Links
Promotional emails often include lots of links—links to your website's homepage, links to your landing and product pages, links to your social media accounts.
Having too many links, though, can flag your email and send it to the Promotions tab
. Keep your links to just two or three, and remember that the "Unsubscribe" link counts and has to be there. If you think about it, all you really need is one link: Your call to action. Choose it wisely and be smart with your wording. Promotional phrases like "Click Here" or "Buy Now" might alert Google, while a link that says "Resources" or "Learn More" is probably safer.
7. Check Your Headers and Footers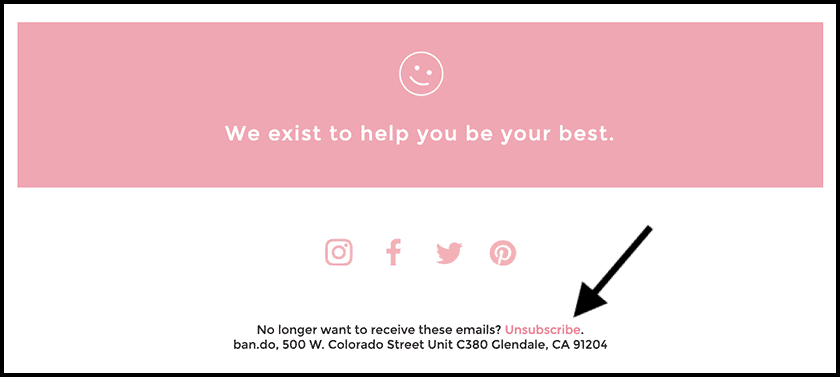 The headers and footers your EMS automatically generates include phrases like "Unsubscribe" and "View in web browser." Unfortunately, these can send your email to the Promotions tab. Getting around this can be tricky, as your email campaign must include an
Unsubscribe
link according to the 2003 CAN-SPAM law.
Constant Contact's helpful Knowledge Base has loads of information on this law and how to make sure you're sticking to the guidelines.
Be compliant and improve your chances of getting to the Primary tab by
moving these links to the bottom of your main email text, such as under your signature
.
8. Pay Attention to Your Email Address

Is your reply-to email address the same as the address in your sender field? If not, it should be. Using different addresses sends Google a clue that your email is from a business. Friends don't usually have different reply-to addresses in their emails, and they probably don't use a no-reply address. Check the settings on your EMS and make sure your reply-to and sender email addresses match. Also, send your emails from a personal email address — one that's from a person and not a business:
Gmail can tell the difference between personal and business email addresses. And the whole idea behind your email campaign is to build relationships with your subscribers.
Come out from behind the screen and put a human face and name on your business to start the bonding process.
9. Focus on Value
Google's intent behind the tabs was to help users be more productive with the emails they want to read most. If you focus on sending valuable content, your subscribers will seek out and read your emails, whether they're in the Promotions or Primary tab. You can take it one step further by segmenting your list and sending specific content to the group of your subscribers who would find it most relevant. Once again, an EMS should be able to help you.
Benchmark, for example, allows you to
segment email lists
according to your subscribers' demographics and behaviors
, such as how often they open and click through your email. So for your most loyal fans, for instance, you might consider sending an email that offers exclusive discounts or products. Another way you can use segmenting is by
allowing your subscribers to segment themselves.
For example, they can indicate the type of content they wish to receive, like information on events or subscriber-only specials. The best thing you can do is send engaging, valuable email content to a clean list of contacts who want to receive it.
10. Think About Timing
Now that you've perfected your content, you need to consider your timing. Google pays attention to how users engage with email. If your emails are opened and the link is clicked, your messages have a better chance of being routed to the Primary tab.
For this reason, you'll want to send your email at the time that's best for your industry.
For example, a B2B company would want to deliver during office hours, while a B2C might consider evenings or weekends when engagement might be higher. Use your EMS's testing feature to measure engagement during different times of day.
AWeber offers split testing, plus tons of other handy features
where you can send the same email at three different times of day to measure when you get the most engagement. Plus they have a
free trial
you can take advantage of before you commit. You can send your email during the morning, afternoon, and evening, for instance. Or you can get even more specific by testing certain times in the morning, afternoon, or evening — such as early, mid, and late.
11. Use a Tool that Checks Your Work
Now it's time to get some data on where your messages are going. Litmus and GMass are free tools that give you insight about where your Gmail email is likely to land. In Litmus, you can send a copy of your email campaign to the email address provided on the "Which Gmail tab will your email appear under?" page. Return to the page and click "I've sent it" to get the results.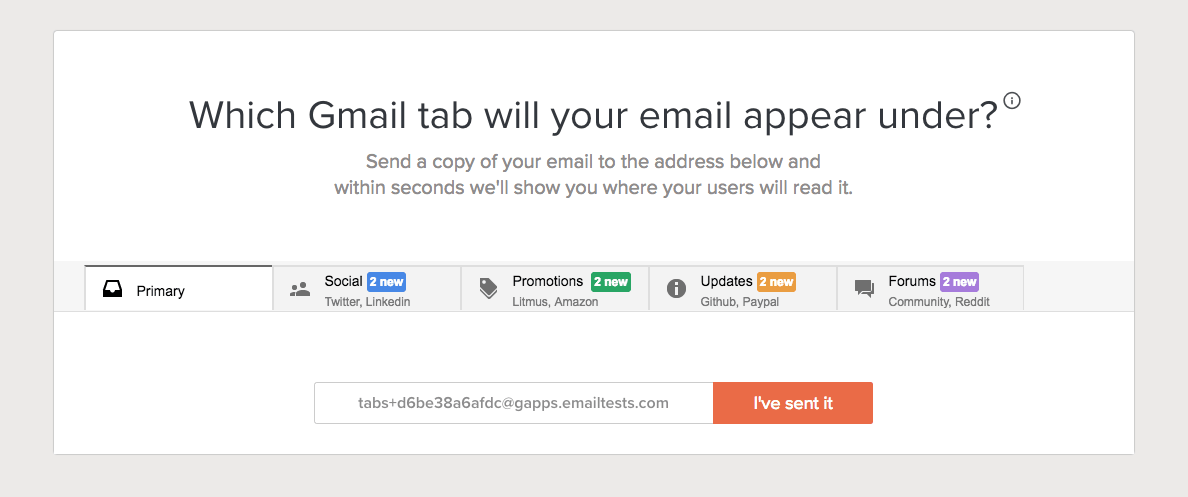 GMass's "Inbox, Spam or Promotions?" tool is a little more thorough. It gives you a list of "seed" email addresses to use within your EMS. Send a test campaign to the list, then go back to the GMass main page and wait for your email results to appear, which will indicate which Gmail tab your email was routed to. GMass will assign you a color to make it easier to spot your emails, or you can use the Search box and search for your sender address to display just your results.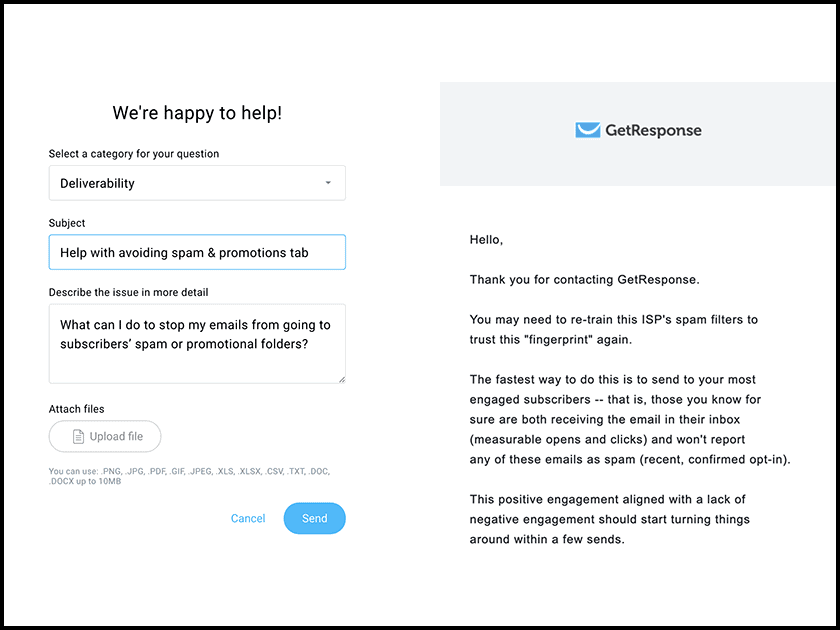 A fun feature of GMass is that
you can use the Search box to see how your competitors' emails are doing
(if they use GMass, too). You might want to know how successful they are at getting out of the Promotions tab! If your competitors seem to be doing better than you, you might consider getting yourself on their email list to review which of these steps they're doing to land in the Primary tab. Litmus and GMass can be helpful for creating your campaigns. But as with many free tools, the reliability of the results aren't guaranteed. Still, you'll likely glean more information than if you just sent a test email to your own Gmail account or to the Gmail address of a friend. Gmail may recognize your address as one that the recipient has engaged with before, and therefore send that email to the Primary tab. With these tools, you send your email to a Gmail account you've never emailed before.
Test the number of links, images, or trigger words, and see if your messages can make it through or if they go to Promotions purgatory
. If you find that you're not successful, tweak your emails and try again.
How an Email Marketing Service Can Help You Avoid the Promotions Tab
An EMS can't control where your campaigns land in a Gmail subscriber's inbox. But using a reputable EMS can ensure that your campaigns follow best practices and can increase the chance of your emails going to the primary tab.
Sendinblue actively manages its SMTP servers to keep its sender reputation as high as possible. Because Gmail and other email providers consider Sendinblue trustworthy, the campaigns you send through this EMS have impressive deliverability ratings. When you combine this feature with standard best practices like using a personal email address as the sender and keeping the unsubscribe link under your signature, Sendinblue can help you avoid the promotions tab.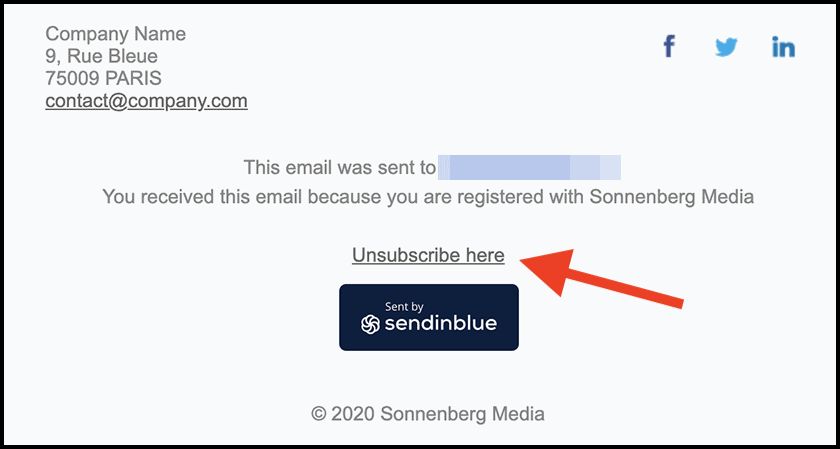 If you sign up for Sendinblue's Enterprise plan, you can also get access to a dedicated IP. This feature gives you total control over your sender reputation, making it more likely that your emails land in the inbox.
ActiveCampaign offers managed email delivery with all of its pricing options, even its lowest-tier Lite plan. That means this EMS is committed to maintaining high deliverability rates for all users – we found it particularly impressive in our ActiveCampaign review.
With ActiveCampaign's Enterprise plan, you get a custom mail server domain. Since you have complete control over the domain, you can ensure its sender reputation is as high as possible by sending engaging emails. As subscribers open and click-through from your emails, they can train Gmail to send campaigns from your domain to the primary tab.
GetResponse has a deliverability rate of 99%, which can help your emails avoid the spam folder and land in your subscribers' inboxes. If your emails land in the promotions tab rather than the primary tab, you can retrain email providers to trust your domain again. By sending targeted emails to engaged subscribers, you can rebuild trust with Gmail.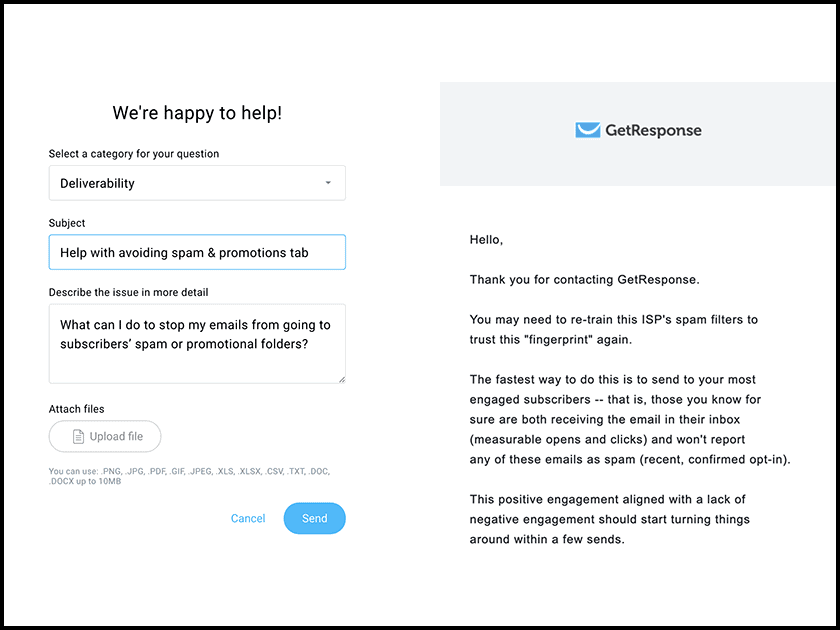 If you're facing ongoing deliverability issues with a large list, GetResponse can assist you. The enterprise-level Max plan of this EMS provides dedicated IP addresses and deliverability consulting, offering personalized advice for your specific situation.
Free Trial
Free Plan
Base Price for Paid Plan
Sendinblue
Yes (forever)
Yes

$

25.00

/month (up to 10,000 contacts)
ActiveCampaign
Yes (14 days)
No

$

29.00

/month (500 contacts)
GetResponse
Yes (30 days)
Yes

$

15.58

/month (1,000 contacts)
Whatever You Do…
Don't lose hope with Gmail. We realize it can be frustrating when you spend time on an email campaign and it doesn't get viewed, but the Promotions tab probably won't spell the end of email marketing success. Only about a third of Gmail users have enabled the tabs. And even better news:
The Promotions tab saved 93% of commercial messages from going into the spam folder
. Phew! While you definitely want to take the steps necessary to get your emails routed into the Primary tab, your email marketing efforts can still work, even if you wind up in Promotions. You just have to make sure you're sending emails that your list wants to read.
Consistent messaging and valuable content are how you develop brand loyalty and trust, and a strong email marketing campaign
. Give all of these suggestions a go, and remember that many EMSs out there have their own tricks to help you miss the spam and promotions folder.
GetResponse, for example, uses a tool called Hydra Anti-Spam
to stop it from happening. Combined with its
anti-spam policy and clever tools
this tool ensures a deliverability rate of
99%.
FAQ
How do I get out of the promotions tab?
To get out of the Gmail promotions tab, ask subscribers to whitelist your email address or send campaigns from your personal email address. I tell you exactly how to do this above. You can also use a free tool like GMass to check the chance of your email going to the promotions tab.
How do I stop MailChimp emails from going to promotions?
Like any other email service provider, MailChimp can't specify which tab your email campaigns go to. If your MailChimp campaigns regularly go to promotions, use the methods above to make your emails look and sound more personal. For example, you can place the unsubscribe link below your signature or try a tool like Litmus to check where your email will go.
How do I disable the promotions tab on Gmail?
To remove the Gmail promotions tab, click Settings. Under Inbox Type, click Customize.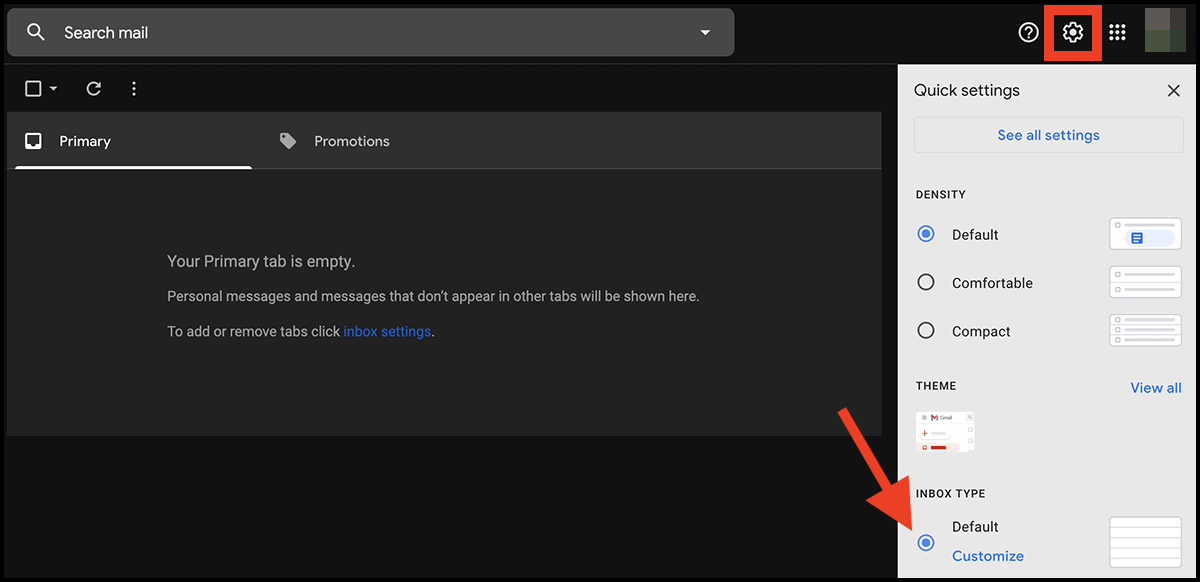 Then uncheck Promotions and any other tabs you want to remove. Click Save to apply the settings.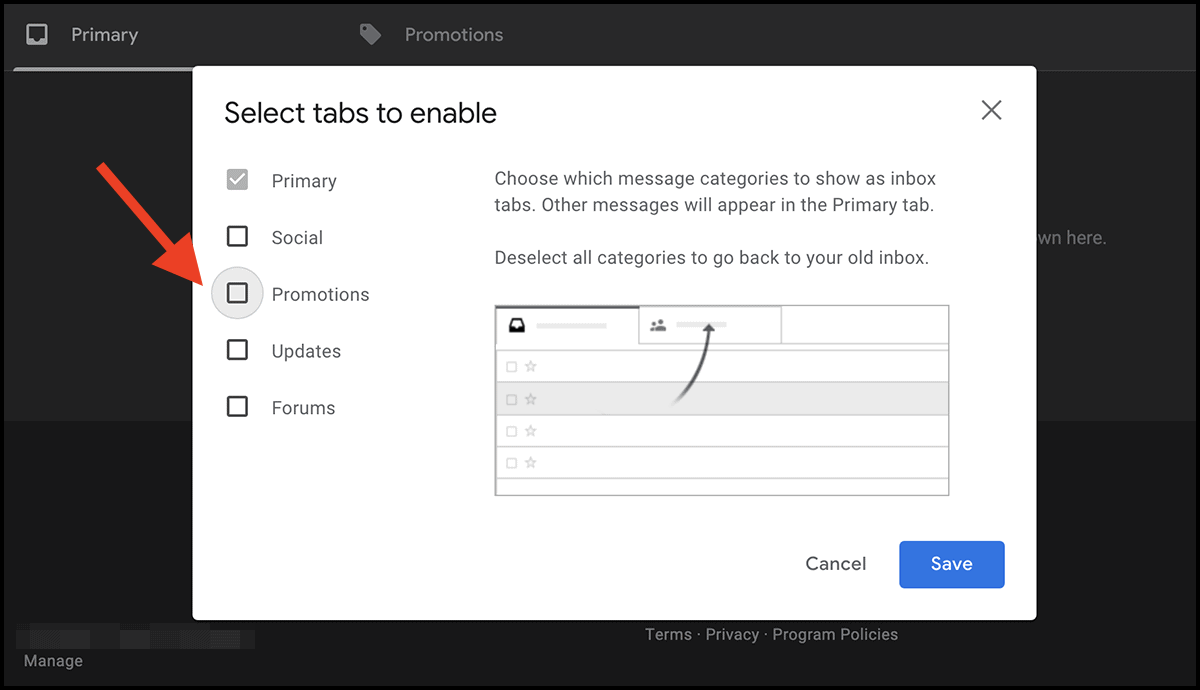 Why are my emails going to the promotions folder?
If your campaigns tend to go to the promotions tab, they may look or sound too much like marketing emails. To increase the chance of your emails going to the primary tab, use tactics like reducing the number of links, limiting image use, and writing campaigns that sound friendly rather than businesslike.
---
Sources
https://returnpath.com/wp-content/uploads/2017/01/Gmail-Tabs-Report-FINAL.pdf
https://knowledgebase.constantcontact.com/articles/KnowledgeBase/5670-segmenting-contact-lists?lang=en_US#different