one out of every four emails sent didn't get delivered — a huge loss of opportunity and ROI
. Building email subscriber lists is hard work, and SMBs looking to grow their business need to do better. But even with all the tactics available to increase email deliverability, it's not easy. Low bounce rates, double opt-in signup forms, and internet service provider (ISP) reputation scores will help, but they're not a full-proof way to prevent emails from falling through the cracks. There's only one way to make sure subscribers receive your email, and that's by getting them to proactively tell their email client that
they want to get your emails
. In other words, you need to convince your subscribers to put you on their email whitelist. How do you do that?
Just Ask
The best practice for getting subscribers to whitelist you is also the most basic and direct: Ask them to whitelist you
. Don't think they'll automatically do this on their own. Many of your subscribers will assume they'll get all your emails because they're subscribed to your list. But not everyone will know that won't always be the case, and they may not even know what a "whitelist" is. Your subscribers are busy, and they need to be informed and prompted to take action.
Follow up with a welcome email
Send an autoresponder email when your subscribers sign up for your list asking them to whitelist you. This may sound obvious, but a lot of SMBs do it wrong. The best way to do this is by not sending a "welcome" email that reads like a thinly veiled instruction manual. It's actually a two-step process. Start with the standard welcome email you're probably familiar with. Thank your new subscribers and send along content, links, coupons, or any other kind of value you offered them in exchange for signing up.
But the real best practice is to send a second email, "checking in" to make sure they received it
. See whether they have any questions and/or comments, and remind them to whitelist you to make sure they never miss out on valuable content in the future. Dressing up the request this way not only softens the "marketing" feel of your ask, but even turns it into a positive customer service experience for your subscribers. An email service provider like GetResponse can help you create autoresponders and automate sending based on subscriber behavior. For example, you can use it to automatically send the follow-up email a few hours after a subscriber opens the original one.
Place a CTA at the end of your emails
Here's another best practice:
In your emails, include a call-to-action (CTA) asking subscribers to whitelist your email address
. This can feel awkward or even spammy, but don't let that deter you. Internet users are very familiar with calls to action (CTAs). You just need to follow a few rules for how to do it in non-intrusively and tactfully.
First, always place the CTA
at the end. Internet users are conditioned to see CTAs as a call to value. You know whitelisting brings them value by guaranteeing they receive your awesome content. But because many don't realize that not all emails are delivered even to subscribers, they may see it as nothing more than a request for them to do something for you. Avoid that by triggering their CTA response only after delivering a value-heavy message.
Second, keep track of the subscribers who've whitelisted you, and make sure to remove the CTA from all future emails you send them
. If you don't, you'll be asking them to do something they've already done, which makes you look like you're paying no attention, and by extension that you don't care about them.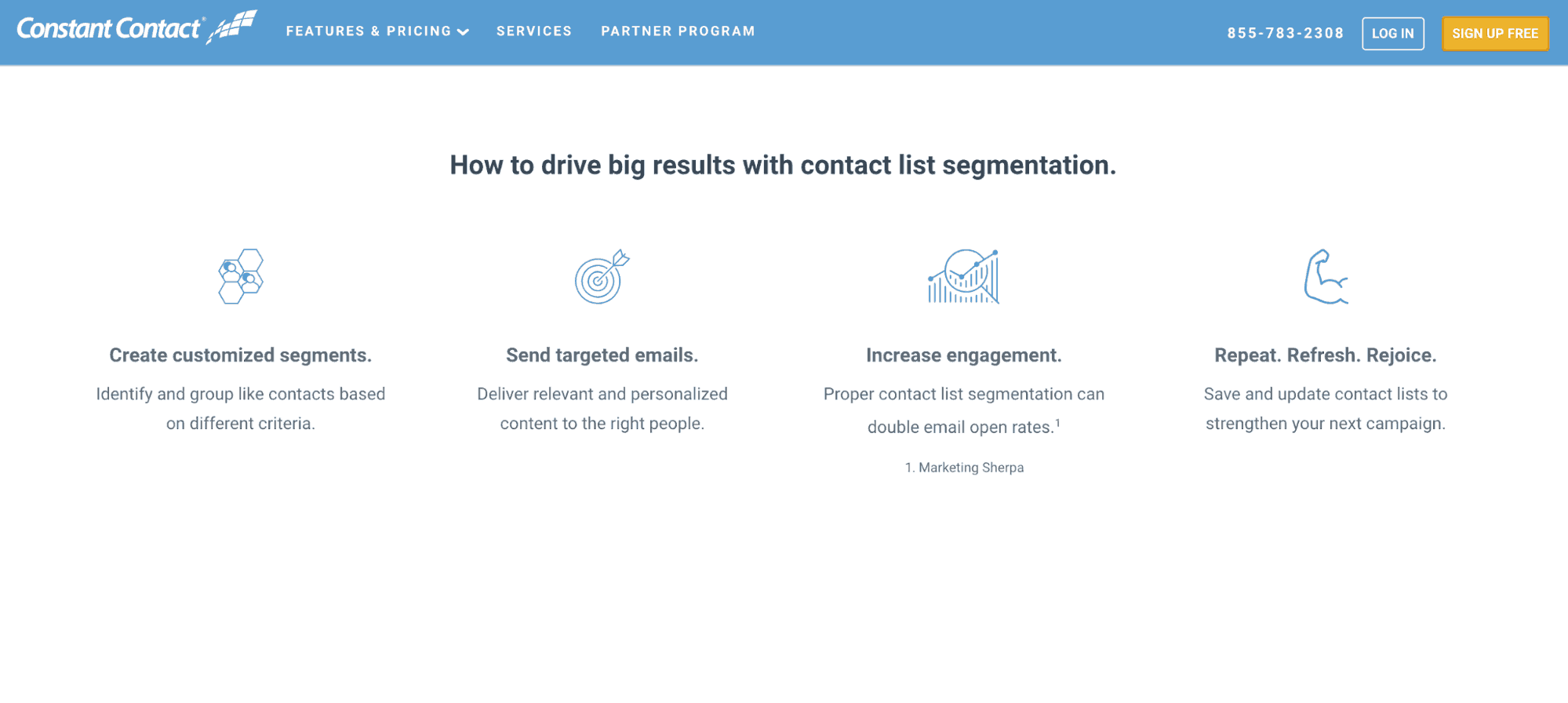 Constant Contact is an email service provider with advanced segmentation features you can use to create separate subscriber lists based on subscriber behavior. Then you can send different versions of the same email.
Send a dedicated "How to Make Sure You Keep Getting Our Emails" Email
A final idea is to send an email with detailed instructions on how to whitelist your emails with different email services. Some subscribers will view this as spam, and so it's not really so much a best practice as it is something you can use in very specific circumstances, or as a last resort. For example, if you release a piece of content that cost you a lot to produce and that you expect to get high-value leads from, you can send out this type of email to be sure subscribers get your follow-up messages. And if your ISP starts penalizing you unfairly, try to prop up your deliverability while you get things sorted out. The bottom line is that you should
use this method only if you're sure the ROI of additional delivered messages will exceed the ROI lost through unsubscribes
.
Get Your Subscribers to Reply to You
You can get on a subscriber's whitelist without them manually adding you. If subscribers respond to you, you'll get automatically whitelisted because email service providers take those responses as indications that subscribers want to get your messages. Therefore,
a best practice is to create content that offers additional value if the subscriber responds directly to your email
. The best way to do this is by asking a value-oriented question. The most common form this takes is to ask what topics subscribers care about, or what pain points they have, in very simple language like "What topics do you wish you knew more about?"
But you can take it one level deeper by following another best practice: segmenting your lists by product, pain point, or any other type of value relevant to your audience
. This lets you ask specific questions with increased relevance like, "What did you think of [X product]?" This tactic is effective because it's the most value-oriented and can be used very naturally on an existing list. Whatever you ask, frame the need to reply from the perspective of your desire to offer the subscriber better content — never on the need to reply.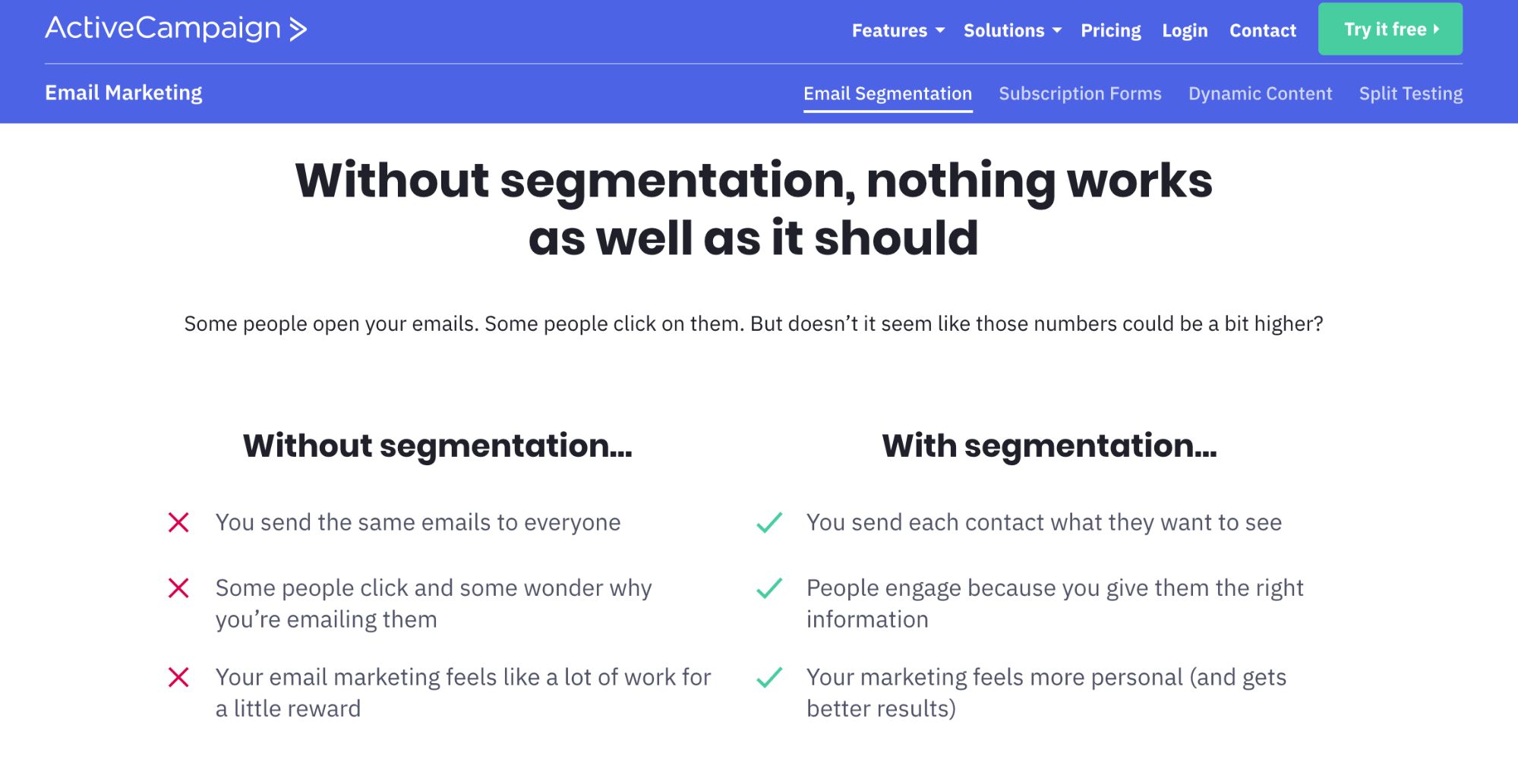 ActiveCampaign is an example of an email service provider that offers advanced lead-scoring features based on customized criteria. You can use it to identify subscribers' interests so you can ask questions about topics they'll respond to.
Make Sure Your Business Doesn't Show Up In Spam Boxes
The reason you ask subscribers to whitelist you is to stay out of the spam folder. But while whitelisting is the best way to do that, it requires subscribers to be proactive. It will always be a challenge, and you'll never get all your subscribers to do it. Nevertheless, you should still use other techniques you can perform on your own to help your messages not only get delivered, but also arrive at the top of the inbox.
Use Double Opt-in
A best practice is to enable a double opt-in subscription procedure for all of your email subscription landing pages
. This requires those who sign up to your list to click a confirmation link in an email sent to their account. Users are not actually subscribed to the list until they take action and click the link. Creating friction in the subscription process ensures that only the users interested enough to take action are placed on the list. That increases open rates, which also indicates to ISPs and email service providers that your messages are valued and should be delivered. Additionally, it forces subscribers to interact with content sent from your email address — an additional indication that they want to receive it.
Avoid using a "no-reply" address
Everyone has received an email from a "no-reply" address. If you think it makes your SMB look more professional, you're wrong.
One-way content is a big red flag for ISPs and email service providers
. They know that modern internet thrives on connectivity and interaction for consumers and businesses alike, and cutting that connection voluntarily is seen as a strong indication that an email address is not form a legitimate business. If you're worried about clogging your inbox with inquiries that don't require a response, a best practice is to create a designated email address using your regular business email domain, and then simply never check it.
Follow subject-line and other content best practices
Email subject lines are a tightrope that SMBs need to walk on carefully. On the one hand, best practices dictate that you need to use eye-catching content with strong value messaging to capture attention in a crowded inbox. On the other hand, you must avoid the temptation to write in CAPITAL LETTERS, use words like "Free" or "Giveaway," and throw in a lot of exclamation points — just because your content is AWESOME!!! The problem is that we all find this annoying when we're on the other end (be honest). ISPs and email service providers notice these tactics and will penalize you by sending your emails to the spam folder. Therefore, just avoid these tactics altogether. But something often overlooked is that the body of emails is also scanned for this kind of language. If you think you can be smart and add this kind of messaging to the body of your emails, think again.
A best practice is to never put copy you wouldn't use in a subject line anywhere in your email content
.
Pay attention to your deliverability metrics
Email deliverability and spam are closely related.
Another best practice is to pay attention to negative metrics affecting your deliverability, like bounce rate and unsubscribes, as well as positive ones like open rate
. If you notice an uptick in negative metrics or a decrease in positive ones, it's safe to assume your ISP and/or email service provider is questioning the desirability of delivering your messages. By extension, you can infer that even if your emails are being delivered, they might still be getting filtered out to the spam folder. If you do notice high or increasing rates for these negative indicators,
a best practice is to look at the emails causing it and analyze the content
. Look at all the different things that might cause an ISP to think your email is spam or cause a user to not open it: What are the subject lines? How often are you sending emails? Are you segmenting your list properly so you can deliver relevant messaging? For some additional help, check out our article about how to
avoid the spam folder
.
The Final Technical Detail: Get Whitelisted and Avoid the Spam Folder By Authenticating Your Email Address
ISPs and email services strive to deliver only high-quality messages to a user's inbox. To do this, they evaluate every message sent there in an attempt to identify and filter out spam. One of the most important factors they use is the reputation of the email address that sent the message. The more you can do to signal your trustworthiness, the more likely your messages are to get delivered. Therefore, another best practice is to
authenticate your email address
. There are three main authentication standards used:
Sender ID
Sender Policy Framework (SPF)
DomainKeys and DomainKey Identified Mail (DKIM)
If the terminology appears to be a collection of technical language you'd rather not handle, rest assured, you're not the only one. Fortunately, there's no real need for you to handle it. A trustworthy email service provider such as AWeber will authenticate the newsletters and autoresponders you send, adhering to all three standards, by leveraging their reputation to back your account automatically.
At the end of the day, understanding how to get whitelisted is not complicated.
It's as simple as following the best practice of focusing on providing targeted value that reaches the right subscribers at the right time
. If you do that, your subscribers will want to receive your messages and will engage with you if you ask them to. Your ISPs and email service providers will notice, and allow your emails to consistently bypass the spam folder and be delivered directly to your subscribers' inboxes.
---
Sources
http ://www.firemailing.com/whitelist.html
https ://help.campaignmonitor.com/email-authentication
https ://returnpath.com/wp-content/uploads/2017/08/2017-Deliverability-Benchmark.pdf?sfdc=701370000006V4u
https ://moosend.com/blog/email-deliverability/
http ://www.firemailing.com/whitelist.html
https ://blog.aweber.com/email-deliverability/how-to-get-whitelisted.htm
https ://blog.aweber.com/email-marketing/the-easiest-way-to-get-whitelisted-and-grow-your-business-at-the-same-time.htm
https ://help.campaignmonitor.com/email-authentication
https ://fulcrumtech.net/resources/avoiding-gmail-spam-filter/
https ://www.smartinsights.com/email-marketing/email-list-management-ecrm/email-opt-in-best-practice-infographic/
https ://www.convinceandconvert.com/convince-convert/15-email-statistics-that-are-shaping-the-future/