iPage review

Overview
iPage: Bargain Solution for Small-to-Medium Websites
iPage is one of the most popular hosting sites out there, thanks to its basic 75% off plan with a free domain,  as well as other profitable plans and popular features for most webmasters. Offering what it calls the Essential Plan, iPage gives you unlimited bandwidth, disc space, domains and email addresses. It also is one of the few hosts to provide a free SiteLock Security plan including malware and spam scanners. The free Marketing Suite allows you to make a nice start on a promotion campaign. Yet note that support can be long sometimes, so tickets are preferable. WHY CHOOSE IPAGE?
Great for Small Business/Blog
Unlimited bandwidth and disc space
Basic SiteLock Security Plan
Risk-free 30 day money-back guarantee
Want to know if iPage is right for you?
Let's check it out¦
User Reviews
iPage Review
iPage's pricing is good for introductory rates, but are INSANE to renew. I got their "essentials" package for 2 years at less than $50, which is great. However, to renew, it will be nearly $300.I figured, okay, I'll just back up my sites and da tabases and move to another host. Well, you have to pay $12.95 to make a backup. Seriously?!It'll be a pain in the butt, but I'll back up everything manually, and of course I will move my site to a different host.
GArrick Garrick
iPage Review
Ipage has the worst customer service. They correspond by email (on their site) and then lock you out of the account and will not allow you to reset a password. I would NEVER recommend Ipage to anyone after they made unauthorized charges to my accou nt and have caused me more hassle than help.
krystal
iPage Review
I signed on to iPage, but ended up not using them. After a year, I suddenly got all these emails saying that my domain was running out and I needed to pay, but the credit card had changed (my husband changed it without my knowledge). The demand for payment surprised me because I had signed up for 2 years, not 1. I asked them several times what the charge was for, and I got friendly, but confusing answers. Something about domain security. Then my domain name expired, but was registered as taken, so I could not buy it at another place. I waited for a while, but saw that they refused to make available my expired domain name -- basically holding my domain name hostage. So I stupidly paid them what they asked for, but when I submitted requests to walk me through pointing my domain name, they refused to answer at all. In the end, I bought a different domain name somewhere else. I'm lucky I hadn't set up a website with them. I guess I should have known because when you sign up with them, and you uncheck all the boxes for the stuff you DON'T want to pay for, they sneakily have those boxes re-checked. A quick call to them solved that problem, fortunately, but it shouldn't have happened at all. I should have realized that if they are willing to trick you, they aren't reliable. I've never had something like this happen. I won't use any webhost now.
Lisa
To all the 4 user reviews

Templates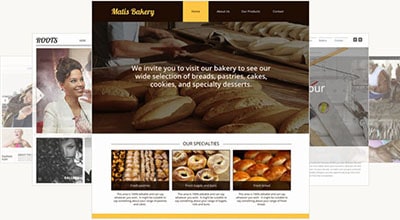 Reliable and Secure with SiteLock
The company promises your website will be live 99.9% of the time. A checkup of the iPage website's uptime  indicates iPage's overall reliability and shows iPage is mostly loyal to that marker.
A professionally designed and responsive, mobile-friendly  and engaging website to ensure your marketing efforts deliver effectively.  An active Facebook and Twitter feed announce any service issues. IPage takes the incentive to keep your site safe from hacking, and offers a free Basic SiteLock security plan with its business verification, daily system scans, certification display and a highly secure data center. iPage offers you a choice of thousands of professionally looking templates.

Features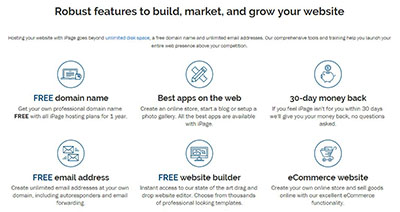 A Lot of Features for Your Hosting Bucks
iPage package with its nice set of features would perfectly match the needs of small-to-medium websites like blogs, portfolios, startup projects, promo sites of small companies, etc. Large sites with a lot of traffic and bandwidth should look to a provider with VPS or dedicated hosting. Also you will certainly like the eco-friendliness of iPage  all their equipment is powered by wind.
iPage features include:
Free drag and drop website builder
1,000s of free templates
Free domain registration
Free email address
Free marketing tools

Ease of Use
Signing up is easy, but as you go through the walk-thru, they entice you with add-ons you may not need, like security and backup, especially as a beginner.
However, iPage is user friendly, giving you instant access to a convenient and easy to use drop website editor. Also offers excellent eCommerce functionality for your online store. With iPage, you can create an unlimited number of email addresses at your own domain, including auto-responders and forwards.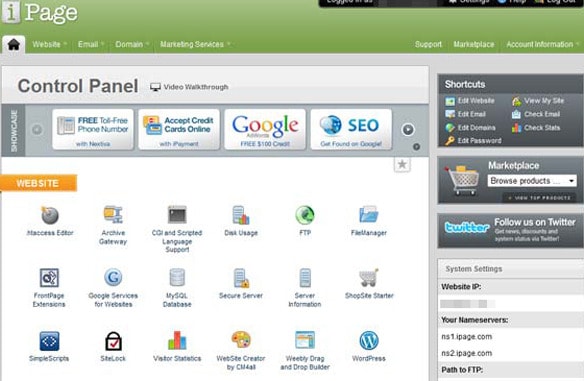 Bucking the trend, iPage uses vDeck, a newer control panel that is proving popular with webmasters for its overall streamlined interface and configurability. They have incorporated Google Webmaster tools within, a neat feature that will help you manage AdWords, etc. vDeck also uses SimpleScripts, an easy one-click solution for installing popular tools like WordPress and Joomla. Those more familiar with cPanel might be a little confused/disappointed, if only for a second.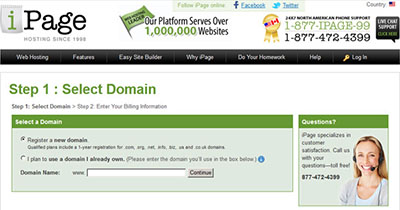 Support
Responsive Support And Useful Tutorials
The Essential Plan does includes 24/7 phone, live chat, email and support tickets. The User Guides contain a lot of information for beginners as well as the more advanced, about the different aspects of being a webmaster, from "Understanding Web Hosting" to "Designing Your Website" to "Selling Online". For resolving immediate issues we'd advise the 24/7 Live Chat — it works perfectly well, support agents are friendly, attentive and give clear answers to all your questions.
Support Center – Limited
Phone Support
Video Tutorials – a handful of generic tutorials
Live Chat
Email Support – ticket through control panel
Forum
Blog
High price for Premium Support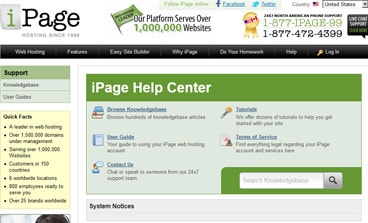 Pricing
Prices Can Double at Renewal
Although iPage offers competitive pricing for its essential package –including a free domain registration, unlimited email accounts and disk space–, buyer beware! While the first contract price can go lower than $2.00 per month (2 or 3 year contracts) the renewal price can be more than double. Plus, the initial free domain you are given upon joining also carries a renewal fee. Plus, a host of other services like directory listings or mobile versions can make your costs add up.
Good bargain for first year, with lots of add-ons, then prices increase. But they offer a 30 day money back guarantee.
.
WordPress Hosting

Plan Name

Disk Storage

CPU

RAM

OS

Price

More details

Review Summary by Max Anderson
Free Drag & Drop Site Builder – Powered by Weebly
Unlimited Space & Unlimited Traffic
Free Domain + Host Unlimited Domains
Free Domain: No

Review Summary by Max Anderson
Free Drag & Drop Site Builder – Powered by Weebly
Unlimited Space & Unlimited Traffic
Free Domain + Host Unlimited Domains
Free Domain: No

Write a Review
What do you think about iPage?
Every review is personally checked by our team. If we find it is truthful, we will post it.
Donations
In order to remain neutral and loyal to you, our community, we do not accept funding from outside sources. Therefore, if you want to support our activities, any donation will help.
Compare with the top alternative