SiteGround and HostGator might seem familiar – they're strong contenders for WordPress hosting and they're both owned by EIG (Endurance International Group), a huge corporation with control over 60 web hosting brands – but behind the scenes, they're more different than you can imagine. There's one clear winner, and in my mind, there's no real question as to which web host is better for you.
SiteGround leads the way for customer support, value for money, security, and performance too. Keep reading to find out why.
I've been investigating HostGator and SiteGround, comparing their claims with user experiences and testing out their performance. In this head-to-head battle, I've compared HostGator vs SiteGround in five important areas:
Round 1: Speed
SiteGround's Speed Technology Leaves HostGator Trailing Behind
If your website is slow to load, then you have a 33% higher chance of your visitors clicking away before your homepage has finished loading. While shared hosting isn't going to give you the kind of performance you'd get with cloud servers or VPS (virtual private servers), the technology your web host uses can significantly affect page loading speeds.
SiteGround has put a lot of effort into ensuring that your web pages load quickly no matter where in the world your website visitors are. Its features include:
CDN (content delivery network) for utilizing servers closest to your visitors' locations
NGINX server technology to improve server response times
SuperCacher for storing static content for better speeds
HTTP/2 to help your pages load faster
PHP 7.3 for improved speed and reliability (and security, but we'll discuss that in round three)
SSD drives for greater efficiency and faster speeds
The results of these speed-boosting features are faster server response times and improved page loading speeds (compared to hosts without these features). SiteGround claims that with its SuperCacher enabled, your pages will load in around 1.3 seconds – and those speeds won't be affected even when you have a large number of people browsing your website at the same time.
On to server response times: HostGator's servers took an average of 1.7 seconds in one recent month just to respond to the requests made when a visitor first clicks on your website (as the screenshot below illustrates). SiteGround's servers respond in around 0.5 seconds – making SiteGround over 3x faster than HostGator.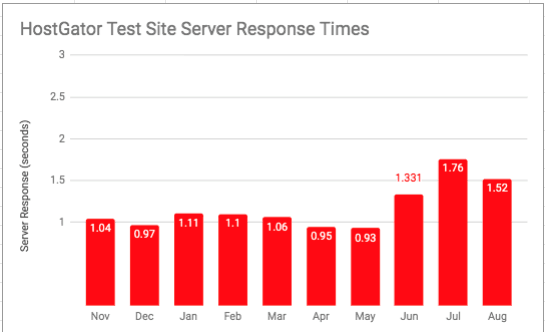 HostGator doesn't automatically use the latest PHP version and doesn't have speed-boosting features enabled on its servers. It does use SSD drives, but many hosting companies have moved to these now.
Both SiteGround and HostGator have 99.9% uptime guarantees. In the past year, HostGator's uptime was a respectable 99.987% on average. SiteGround's average for the same period was 99.989% – which adds up to a negligible one-minute difference between the hosts. It's hardly a deal-breaker!
And the winner is: Siteground. Giving you all the technology you need to achieve fast page loading speeds, SiteGround is the clear winner here. HostGator's performance has deteriorated recently, so if you use your website for business, it could affect your bottom line.
Round 2: Features
HostGator Has Decent Features, but Can SiteGround Compete?
What you get as part of your hosting package can be drastically different between hosts – and sometimes they don't make it clear whether some functions are limited. For example, HostGator tells you that you get weekly backups, but if you look in the support documents, you'll discover that these are only "courtesy" backups – and there's a fee if you need to restore your website from a HostGator backup.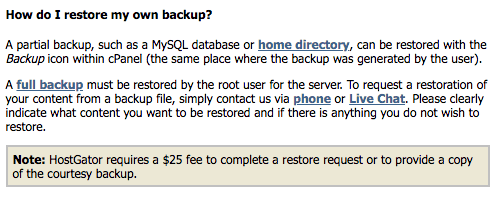 However, if you need to host large video files or want to sell digital downloads with large file sizes, HostGator has unlimited storage, while you'll only get 10 GB to 30 GB with SiteGround.
To help you compare the features, I've sorted them into a table for a side-by-side comparison:
SiteGround
HostGator
Free Domain
🆇
 🆇
Free SSL
✅
✅
Disk Space
10 GB to 30 GB, depending on your plan
Unlimited
Bandwidth
Unmetered, but with "recommended monthly traffic" (e.g., 10,000 monthly visitors on the StartUp plan up to 100,000 on the GoGeek plan)
Unlimited
Backups
Daily, kept for 30 days
Weekly "courtesy" backups, but there's a fee if you need to restore your website
Website Builder
✅
✅
Email Accounts
Unlimited
Unlimited
Email Spam Protection
✅
✅
Subdomains
Unlimited
Unlimited
Multiple PHP Versions
✅
✅
Free Site Migration
✅

(except on the StartUp plan)

✅
Ad Credits
🆇
$200 on all plans
Staging
✅
🆇
And the winner is: SiteGround. Daily backups and a staging area (so you can make changes to your website without your website visitors being affected), push SiteGround ahead. Plus, Siteground offers more features (which you can learn about in our expert review), except when it comes to storage.
Round 3: Security
HostGator's Security Comes at a Cost, While SiteGround's Is Outstanding
When you sign up for web hosting, you might assume that security features are part of the package, and with some hosts, you'd be right. However, there's a growing trend with some budget hosting companies to make you pay for the security your website needs. HostGator is, unfortunately, one of these.
It's a little misleading when you look at HostGator's website because it says you get malware scans as part of your package. These are provided by SiteLock, as a feature called SiteLock Lite. What the sales pages don't tell you, however, is that SiteLock Lite only scans your website weekly, and will scan a maximum of five pages.
HostGator's checkout process offers you the option of adding SiteLock Premium to your package, for an additional fee, of course. In fact, the SiteLock Premium add-on option is automatically checked in your basket, so you have to manually deselect it if you don't want the additional charges.
SiteGround, on the other hand, has a "security-first mindset." Its security features are installed in all SiteGround plans – no extra fees required. It uses anti-bot artificial intelligence (AI) systems to detect and prevent brute force attacks, uses account isolation so your website won't be affected by issues on other websites on the same server, and frequently updates its firewall rules to keep you protected.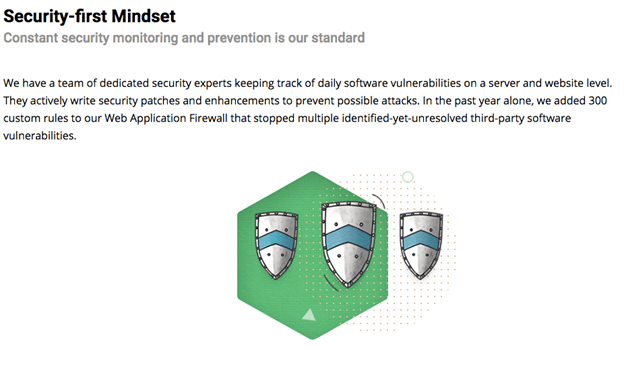 While many hosts wait for developers to release security patches when vulnerabilities are discovered, SiteGround works hard to develop and apply its own patches, meaning your website will be protected more quickly, thereby reducing the risk to your webspace.
And the winner is: SiteGround. Not only does SiteGround have advanced security features, they are included in your hosting plan at no extra cost. HostGator's approach to security seems to be more of an attempt to generate more fees rather than protect its users.
Round 4: Value for Money
Are HostGator's Unlimited Plans Better Value Than SiteGround's Limited Options?
When it comes to value, it's common to assume that more = better value. This isn't necessarily the case. For example, HostGator's unlimited plans can seem to be a great value – but the majority of websites won't exceed 10 GB (unless you're hosting large files) and the additional cost for security and backups can add a lot to your hosting fees, making SiteGround a better value in most cases.
The length of your initial hosting term is something you should consider, too. For example, SiteGround's monthly equivalent prices are not dependent on you paying for three years of hosting up front. You pay the same monthly equivalent whether you sign up for one, two, or three years.
With HostGator, however, you have to pay for three years up front to get the lowest price. Choose a one-year plan and you'll pay more than double the advertised price – making it more expensive compared to SiteGround (even without the extra fees for security and backups).
And the winner is: SiteGround. Unless you want to host large files on your website, SiteGround is much better value than HostGator. Backups are included, you don't pay extra for security, and it's unlikely that you'll need more storage than is available.
Round 5: Customer Support
SiteGround Offers Super-Fast, Unbeatable Customer Support
Knowing that there's help available if something goes wrong – and it will – with your website is important. Customer support isn't just about the hours that support agents are available, or by what contact options are available (e.g., phone, live chat, or ticketing). You need to know that the support is fast and efficient, too.
SiteGround has put a lot of effort into making its customer support the best. You get support 24/7 via live chat, phone, and a ticketing system. Not only can you be sure to get the support you need when you need it, even at 4 a.m., but SiteGround's customer support is both fast and efficient:
You get a fast response when you submit a ticket support request – the fastest in the industry (around ten minutes) – and when I tested it out, I got a reply (not from a bot) within eight minutes. The average response time for ticket support for other hosts is eight hours.
You don't have to wait for your calls to be answered – unlike other hosts who will keep you waiting for an average of five minutes before picking up.
Live chat support is quick and efficient. I was connected instantly to a support agent, and they were able to solve my issue in less than ten minutes.
HostGator's customer support isn't terrible – but it isn't as great as SiteGround's. It offers the same 24/7 support via live chat, phone, and ticketing. Live chat generally gets you the fastest response.
When I tested out HostGator's live chat support, I was very quickly connected to a support agent who was knowledgeable and able to answer my questions efficiently. There was no long wait between responses, either.
With HostGator, in addition to the regular support options, there is also a large knowledge base and a great selection of over 500 video tutorials so you can solve issues yourself. On selected plans, you also have access to priority support.
And the winner is: SiteGround. This is a closely fought round, but SiteGround's stellar support is hard to beat. You can be sure to have your issues resolved rapidly. If, however, you appreciate being able to solve issues yourself, you'll love HostGator's video tutorial database.
Choose SiteGround for Almost Every Kind of Website
Ultimately, SiteGround has sailed easily into first place in this battle of the web hosts. It offers better value, customer support, and security – and really shines in performance.
Our Recommendations
If you want to build a website full of multimedia files or you're planning on building a digital download e-commerce website, then you might prefer HostGator's unlimited storage. You will have to buy the security and backups you need with HostGator, though. Read our full review of HostGator to find out more.
If you're building any other kind of website, then SiteGround is our top recommendation. Fast-loading pages and top levels of security make SiteGround perfect for personal and business websites. Just keep in mind the maximum storage you can get is 30 GB with shared hosting.
You may have found the one for you, but remember that neither of our website hosts made the list of the very best web hosts this year. Check them out before you make your final decision.