there's always a chance you'll get a freelancer who ghosts you or lackluster animation you can't use but still have to pay for
. The best way to avoid bad freelancers and losing money is to hire on a reliable freelancer website that protects you (the buyer) and makes hiring
good
animators easy. Whether you're looking for 2D animators for hire or want a snazzy motion graphic for your website, a reliable freelance marketplace can help you hire the right animator for the job.
I thoroughly tested popular freelance websites
to find which ones actually a) have good animators on board and b) protect buyers just in case things
do
go south.
My top pick is Fiverr
for its range of animation jobs
(including hyper-niche services)
, flexible budget options, and buyer protection. But the other freelance websites on this list have a lot to offer too, and there might be another option that suits you better.
Browse animators on Fiverr
now or keep reading to see what the other platforms have to offer – as well as my personal tips on how to use them.
Short on Time? These Are the Best Freelance Websites for Animators in 2023
Fiverr – A large marketplace of animators for every need from logos to characters, suitable for any budget.
Upwork – Advanced management tools and support for teams and large animation projects.
Toptal – Rigorous freelancer screening process and matchmaking service to connect you with the best animation developer for the job.
What We Look For in the Best Freelance Websites for Animators
You can lower the risk of getting bad animation work by hiring on a freelance website that helps ensure their freelancers are, you know,
good
. Before we call a freelancer website the best place to hire animators, we give it a thorough test based on the following criteria:
Pro Animation Quality: If you're paying money for animation, you should get more than a flip book drawn on a stack of post-it notes. Whether you need an animated logo or sprite work for an indie game you're developing, a good freelance animator will deliver high-quality work you can actually use for your business or creative project.

Types of Animation: You can get animations for a ton of different things, so I included platforms that cover all areas of animation, from motion graphics to fully fledged cartoons.

Hiring Tools: The best freelancer websites make hiring an animator easy by providing you with inclusive search engine filters, detailed portfolios to browse, and contact forms. I also looked for handy features like crowdsourcing and matchmaking to help find freelance animators for you (spoiler alert: I found some!).

Payment Security & Refunds: I wish it wasn't so, but there's always a chance something will go wrong when hiring a freelancer. Still, you shouldn't have to lose money if this happens. The best freelancer sites protect your money with failsafes such as escrow payments, dispute centers, and fair refund policies.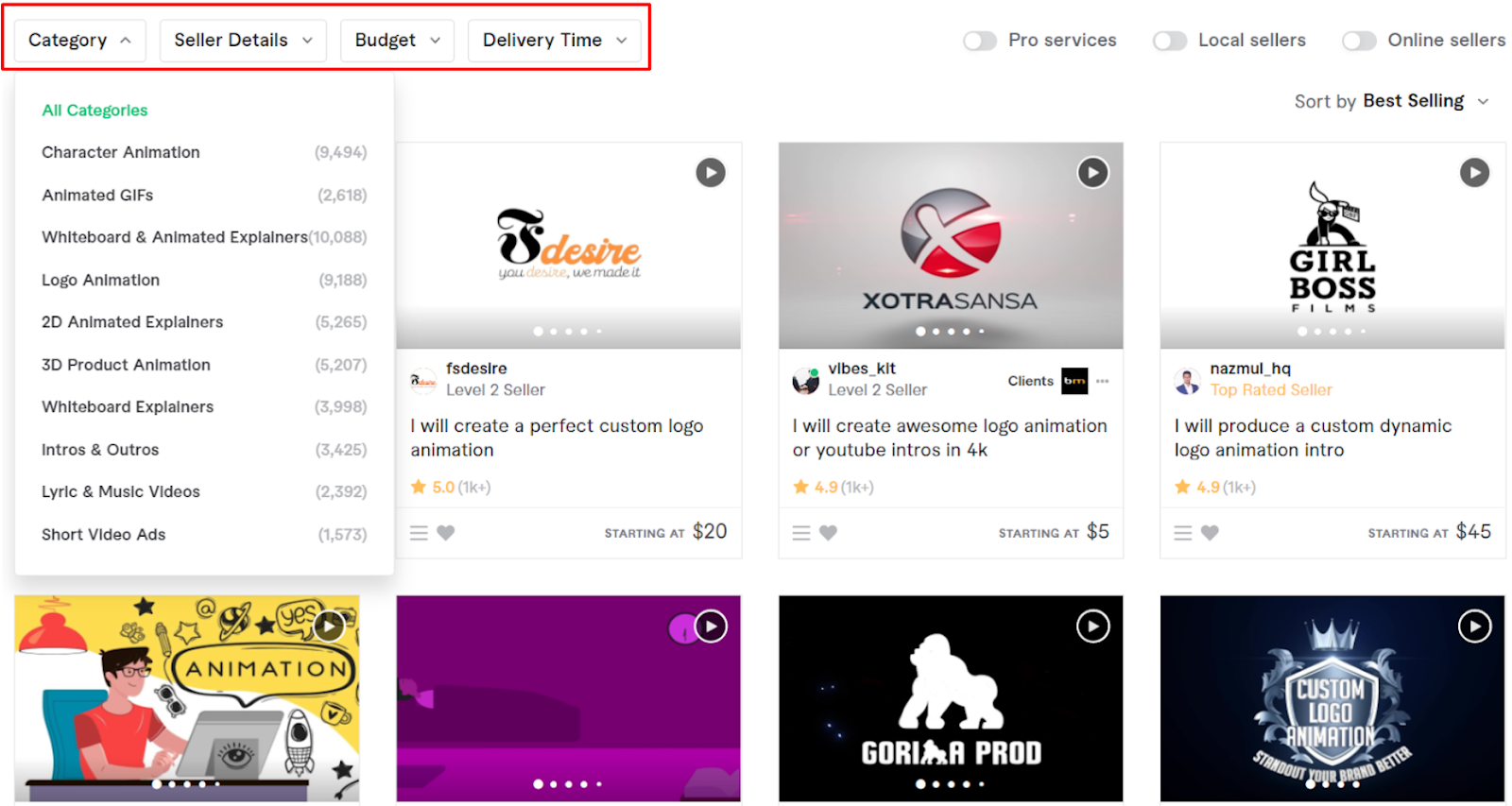 With such a huge freelance base and variety of categories, Fiverr is like the buffet of animation jobs.
Fiverr has freelance animators for characters, GIFs, logos, 3D, and videos.
If you have a niche need, I also found VTuber animators and sprite animators for 2D indie games. You can even find cartoon animators for hire! You can
hire almost any animator on Fiverr
at a competitive value, with pay options ranging from low budget (I found logo and video intro animators for $5-10) to higher quality but more expensive animations (you can get animated instructor videos for $175-$250+). Fiverr's advanced search engine makes finding a freelance animator super easy, too. You can
narrow your results to the kind of animation you want, like 3D or logo animation.
If you're on a tight budget, you can filter by price. You can also filter by location and language, making it possible to hire locally.
Features
Detailed Animator Portfolios. Look through a freelancer's previous animation work, languages, skills, education, and customer reviews to help make your decision. If you have a question, you can contact a freelance animator by clicking Contact Me in their profile.
Gig Subscription. If you strike gold with an animator and want to keep them, or you just have a long-term animation project in mind, you can subscribe to an animator's work for 3-6 months or longer.
Seller Levels. Freelancers on Fiverr are categorized into seller levels by their experience and customer satisfaction. To maintain a high seller level, freelancers on Fiverr must uphold good communication and on-time deliveries. If you want a reliable animator, search for a two-star or top-rated seller.
Add-on Services. Need an animation right away? Or want to expand on a freelancer's service, like adding extra seconds to an animation? Freelance animators have lots of add-on options like faster delivery. Just know that it costs extra!
For more details on how to hire freelancers on Fiverr, check out my colleague's in-depth
Fiverr review
.
Animation Categories
2D, 3D, characters, videos, cartoons, video games, graphics, and logo animation.
Hiring Process
Advanced search filters, seller levels, and contact freelancers before hiring.
Payments & Refunds
Escrow payments, resolution center, & full refunds within 14 days of job completion.
Starting Price

$

5.00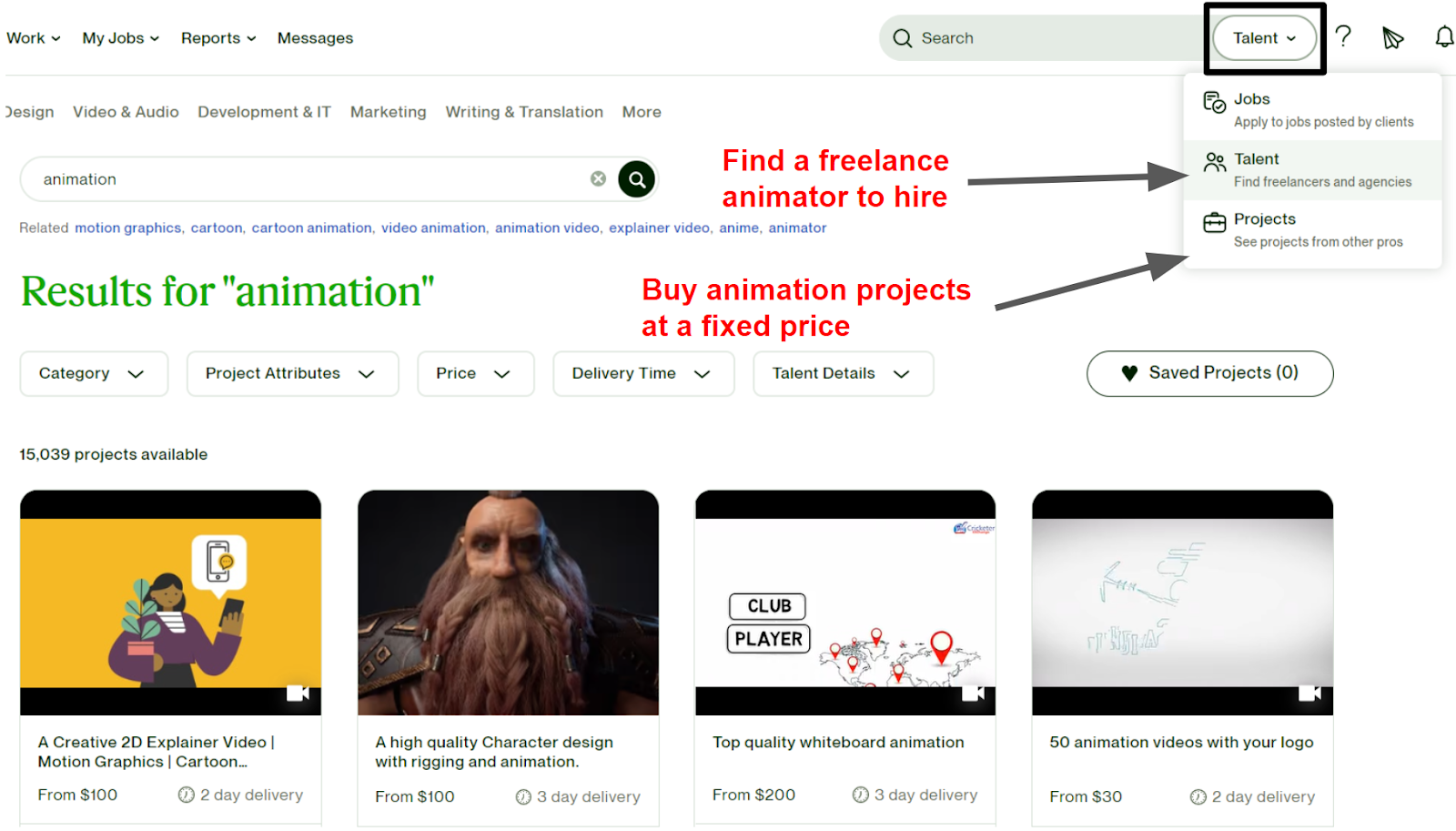 Upwork can be pricier than the budget options available on Fiverr, but you do get some perks for paying more. For one,
many
animators on Upwork are certified professionals
with industry experience and impressive portfolios. If you're on a budget, you can look for entry-level animators, browse projects at a fixed rate, or post a job of your own. But although hiring an animator with experience and positive reviews costs more, it's
very
worth it.
Highly rated freelance animators are much more reliable than budget options
and are more likely to deliver the work you want. To
find the best animators on Upwork
, filter your search with "90% and up" job success and look for "expert-rated" or "top rated plus" freelancers. Searching on Upwork,
I found a variety of 2D animators specializing in explainer videos, character animation, logos, custom gifs, and videos
. You can also get 3D animation and 3D graphics for projects like interior design in autoCAD or product photography.
Features
Project Management Dash. Collaborate with your animator or a whole team of animators via messenger and video chat. It's nice to be able to share files and manage billing all in one place. These management tools make long-term and large projects a whole lot easier.
In-depth Animator Profiles. Before you hire, check out each freelancer's profile to see their animation samples, work history, client reviews, education, skills, and projects. It's a pretty thorough insight into an animator's style and work ethic.
Job Bidding. Make the hiring process easier by posting a job specifying your budget and animation needs, and freelancers will send you proposals with their rate. All you have to do is compare proposals and accept your favorite.
Project Board. Many freelance animators offer services at a fixed rate on Upwork. Browse projects to find anything from animated logos to 2D explainer videos.
How good is Upwork, really? Check out our
Upwork review
to see why we gave it
4.9
out of 5 stars.
Animation Categories
2D and 3D animation, motion graphics, and animation production and design.
Hiring Process
Advanced search filters, freelancer profiles, job posting, hiring by the hour, and buying a service.
Payments & Refunds
Secure payments. Request refunds within 180 days of payment.
Starting Price

$

0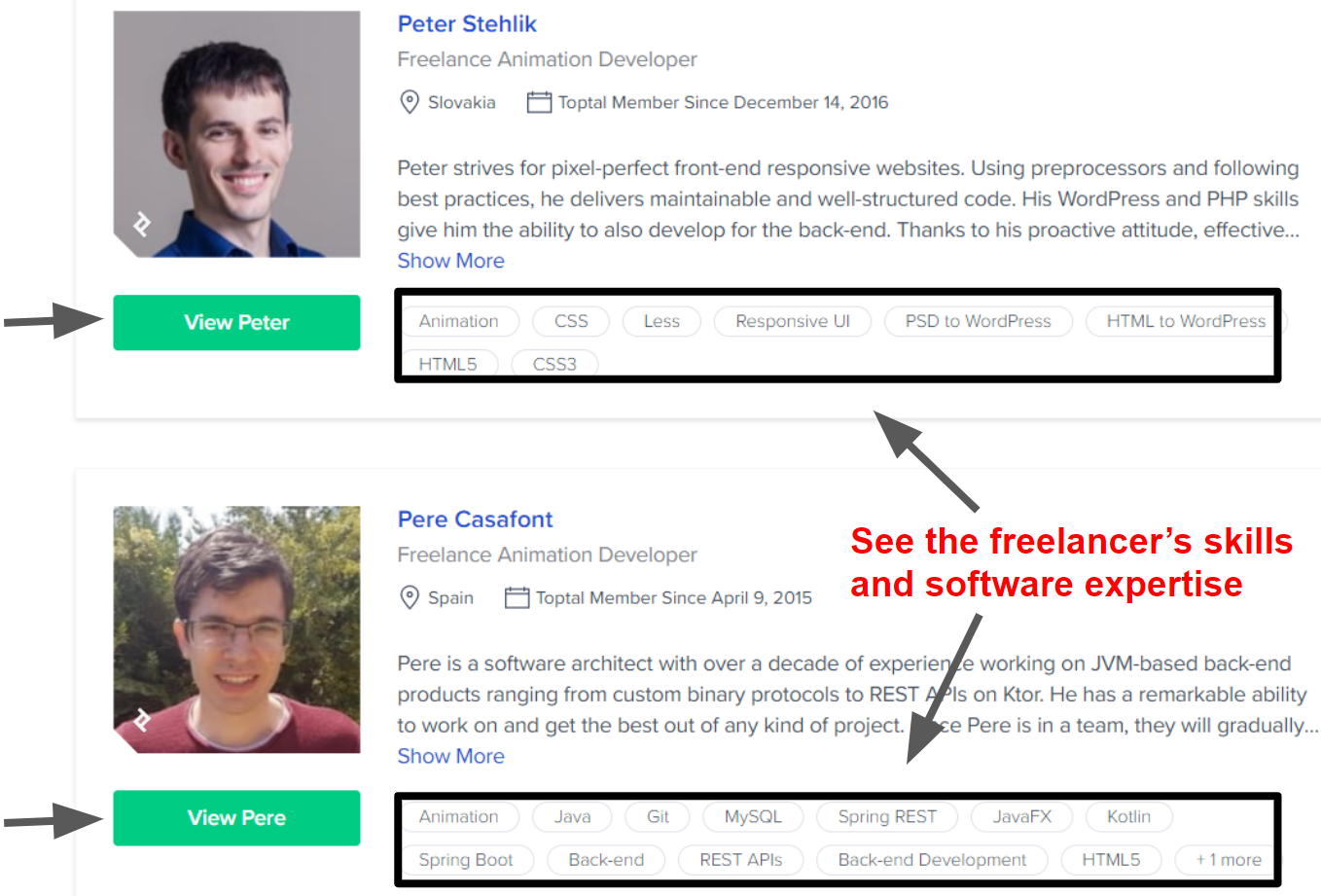 Toptal is a matchmaking service that assigns a freelancer to you depending on your needs. You can
hire expert animation developers on Toptal
, but not art animators – Toptal focuses on the tech side of things more than art. So,
it's best if you need a developer to design animations for a game, app, or 3D digital project.
You have to pay a deposit to hire on Toptal, and its freelancers aren't cheap, but there's a good reason for that.
Toptal freelancers are experts in their field and have to prove it
to join the site.
That's what really sets Toptal apart (in price and quality).
Toptal's strict freelance application process takes 2-5 weeks
and reviews applicants on language, skills, problem solving, communication, and professionalism. Freelancers then have to complete a test project.
Only the top 3% of freelancers get in
, so you know you're getting a freelancer who's above average in talent. This expert guarantee is why freelance animation developers cost so much more on Toptal than freelancers on Fiverr and other platforms. It's well worth the price –
if
you can afford it.
Features
Personalized Matchmaking. Talk one-on-one with a Toptal agent over the phone to tell them about your project. Toptal will pick the freelance animation developer that best fits your needs, project scope, budget, and availability requirements. If you're willing to pay, having someone hand-picked for you is a very nice touch!
Trial Period. For the first two weeks your freelance animation developer works for you, you can cancel the project and get a full refund if you aren't satisfied with their work. Keep in mind that if you want to continue your project, you have to pay for those 2 weeks.
Full-time Availability. Toptal is designed for long-term hires – you can even employ a freelancer into your company if you really like them! But if something doesn't work out, you can opt out of your project at any time without getting charged any fees.
Employee Management. Toptal handles scheduling, paid time off, vacations, paperwork, recruitment expenses, and termination of all its freelancers, so you don't have to worry about any of that.
Read our in-depth
Toptal review
to see its pros and cons and whether or not the price will be worth it to you.
Animation Categories
Animation development.
Hiring Process
Tailored matchmaking, in-depth freelancer profiles.
Payments & Refunds
Payments through credit cards or direct wire transfers. 2 week free trial.
Starting Price

$

60.00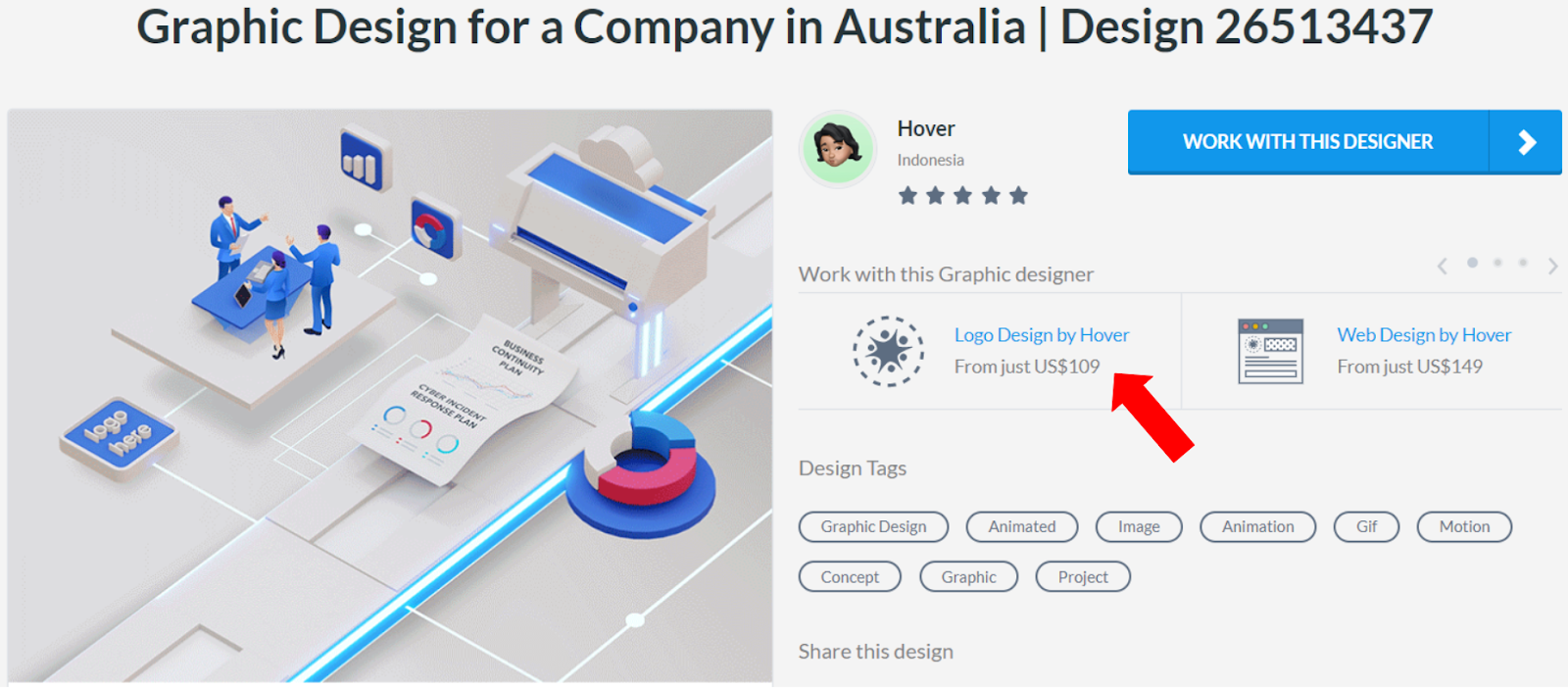 DesignCrowd is
a crowdsourcing platform for all things design, including animated graphics and logos
. You can get really cool animated designs like banners for your site, informational graphics, and eye-catching logos. The best thing is that when you
start a crowdsourcing project on DesignCrowd
, you get to compare and choose between an average of 25-100 designs. There are two ways to hire a freelance animator through DesignCrowd: posting a project, as I mentioned before, or direct hiring. You can
browse completed animation projects to find a designer who has a style you want,
or search for an animator
you want to hire.
Features
Risk-free Crowdsourcing. If you don't like any of the animated designs you get, you can cancel the project without having to pay a dime. Of course, you won't get to use any of the designs, but there's virtually no risk to posting a project.
Feedback & Revisions. If you like an animated design but it's not quite right, you can give feedback and have it revised for free. You can then decide whether to purchase the design. With crowdsourcing, you can supply feedback to multiple submissions, which encourages competition to get a better design.
Artist Portfolios. Designers each have an easy-to-view gallery of their past work, so you can see animation examples. You can also see their customer rating, overall ranking on the site, skills, and languages.
Fixed-Rate Services. Some freelance animation designers offer service packages you can purchase. For example, you can order a custom animated logo or hire that same designer to animate the logo you already have. And you don't have to worry about hourly fees, which is nice.
Here at Website Planet, we actually used a logo we bought through DesignCrowd – read all about how the process went in my colleague's
DesignCrowd review
.
Animation Categories
Logo animation and motion graphics.
Hiring Process
Crowdsourcing, 1-to-1 hiring, detailed portfolios.
Payments & Refunds
PayPal or Stripe. Request refunds up to 60 days of purchase.
Starting Price

$

109.00

99Designs makes it super easy to buy an animated logo or banner ad, but it'll cost you quite a bit. Still, if you're willing to spend the money,
you get high-quality custom animated designs made by a talented artist
. When you
start a project on 99Designs,
you can either invite a designer whose animations you like to work with you, or wait for designers to submit their animations to you. The number of submissions you receive depends on how much you pay. For example, the Bronze package starts at
$
299.00
and nets you 30 designs, the Silver package costs
$
499.00
and gets you 60 designs, and the Gold package costs
$
899.00
with 90 designs.
No matter which package you choose, you're guaranteed plenty of animations to choose from
. I like to see lots of options – but the cost of 99Designs is probably too high if you're on a budget.
Features
Rated Designer Packages. If you're willing to spend extra for the Gold or Platinum package, you can restrict your submissions to mid or top-level designers only. This means your design slots won't be taken up by novices, and you're guaranteed higher quality work.
Pre-Delivery Reviews. Provide feedback and get revisions on animated designs before you accept them and release payment. This protects your money until you're fully satisfied with the final animation.
Designer Statistics. Check out a designer's profile to see their customer reviews, how they're rated on the site, how many contests they've won, how many 1-1 projects they've completed, and how many return customers they have. These are great insights to judge how reliable a potential hire is.
Designer Galleries. Browse through completed projects for inspiration or animators to hire. You can also check out galleries of a designer's work experience to get an idea of their skills.
Read more about all the pros and cons in our
99Designs review
.
Animation Categories
Animated logos, banner ads, and motion graphics.
Hiring Process
Crowdsourcing and designer invitation.
Payments & Refunds
Credit cards and PayPal. No refunding a contest once a winner has been chosen. For direct hires, you have up to 60 days after payment to request a refund.
Starting Price

$

299.00

Fiverr Pro is an extension of Fiverr (well, duh) that lists jobs from top-quality freelancers who have passed extensive review.
You can tell when an animator is pro when they have the "Pro Verified" tag on their profile.
Pro freelance animators have all been approved by the Fiverr team
for providing high-quality work examples, as well as having industry experience and education or qualifications to back it up. The coolest thing about Pro Verified freelancers is that you don't have to subscribe or pay a fee to view or
hire a professional animator on Fiverr Pro
. Freelancers on Pro
do
usually charge more, so don't expect to find many budget animators here. But it's well worth the cost in my humble opinion, as
you're hiring an animator who's been thoroughly screened
for quality and professionalism.
Features
High Standards. To keep their Pro Verified status, freelancers on Fiverr must maintain a high quality of work and customer satisfaction. Pro freelancers who deliver work that gets refunded and/or poorly reviewed can lose their Pro Verified badge. This gives your animator even more reason to work hard and respond quickly.
Guaranteed Professionalism. Freelance animators need to be educated and/or experienced enough to qualify for Pro. Not only does that require hard work, but it means they need to work well with others, too.
Fast Turnaround: Experienced animators are faster at their craft, so you can expect quicker deliveries from Pro freelancers. You can also pay extra for expedited delivery if you need your animation even faster.
No Fees or Subscriptions: Fiverr doesn't hide Pro Verified freelancers behind a paywall, which is awesome! You can hire a Pro animator without any added charges.
We cover more on the benefits of Fiverr Pro in our
Fiverr review
.
Animation Categories
2D, 3D, characters, videos, cartoons, video games, graphics, and logo animation.
Hiring Process
Advanced search filters, seller levels, and contact freelancers before hiring.
Payments & Refunds
Escrow payments, resolution center, & full refunds within 7 days of job completion.
Starting Price

$

5.00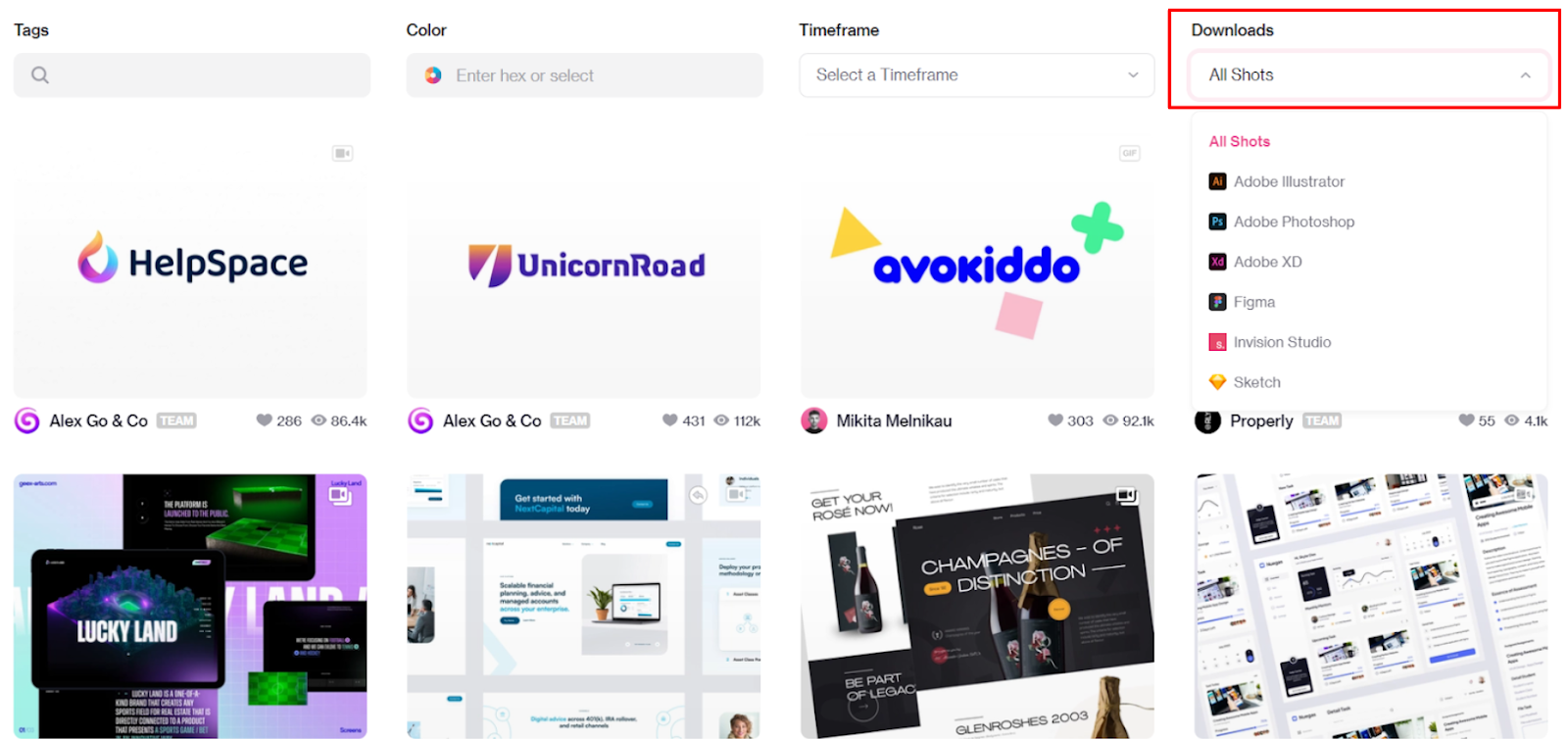 Since Dribble focuses entirely on design, all of its freelancers are experts on the artistic side of things.
You can get animated logos, graphics, gifs, videos, loops, and content for branding and web design
. Dribble is the most expensive freelance platform on this list – but you get some seriously amazing animations if you're willing to spend. I was
wholly
impressed by the unique designs and professional creativity on Dribble.
If you're a business with a big enough budget, you can find some truly unique creative branding and animations
that stand out from a crowd. If you're on a budget or just starting out, however, I suggest looking for cheaper animators on a platform like Fiverr.
Features
Animation Software Experts. Animators for hire on Dribble have the software skills of their trade. They're able to work in and provide files for programs like Illustrator, Photoshop, XD, Figma, Invision, and Sketch.
Dribble Pro. Freelancers on Dribble with the "Pro" label have paid extra to perfect and showcase their work portfolio. This means you have the option of hiring freelance animators who are extra serious about their craft.
Team Hires. For bigger animation projects, hire a whole team of professionals to create the product you want. This is a great alternative to hiring a design studio, which would cost a lot more!
Like and Save Portfolio Work. As you browse animators, you can like and save work that stands out. This makes it easy to compare and choose from multiple examples to find the perfect freelancer for your wants. You can also follow animators you want to keep track of.
| | |
| --- | --- |
| Animation Categories | Animated logos, motion graphics, gifs, videos, loops, branding, and web design. |
| Hiring Process | Browse portfolios, save and like work, follow freelancers. Send work opportunities to hire someone. |
| Payments & Refunds | PayPal and credit cards. Refunds for technical issues only. |
| Starting Price | $299 to post a job |
Are You a Freelance Animator Looking to Sell Your Services?
If you're thinking about offering your animation freelance, the first thing you need to do in order to get clients is network, network, network. And getting on a freelancer website is a great way to do just that! In my opinion,
Fiverr is one of the better freelance platforms to start with
, since it's so popular with clients and easy to show off your unique skills as an animator – but if you still need convincing, you can learn more in our
Fiverr review
. Setting up on Fiverr can be done in an hour, which is something I super appreciate. Let me tell you how it's done. First,
navigate to Fiverr's homepage
 and click
Join
in the top-right corner. You'll be prompted to sign up using your email or Apple, Google, or Facebook account.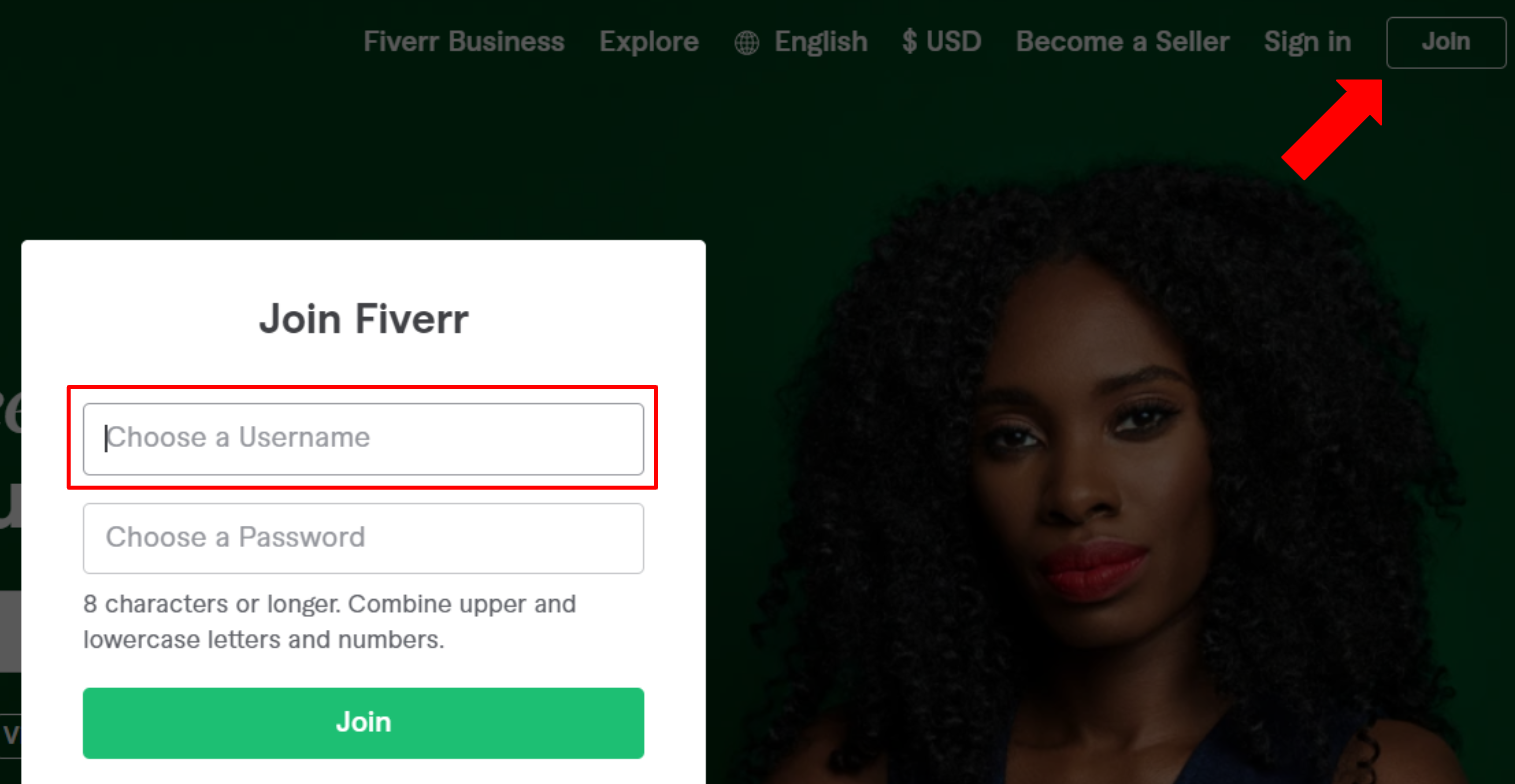 Great, now you have an account! But before you can start offering your animation services,
you need to set up a seller profile
. To do so, click your user image in the top right, then select
Become a Seller
from the dropdown menu. This will take you to a new page, where you'll have to click
Become a Seller
again.

Here's where you put in all the personal and professional info Fiverr needs. Your bio and skills are what will convince people to buy your service, so
really get into what makes you stand out as an animator
!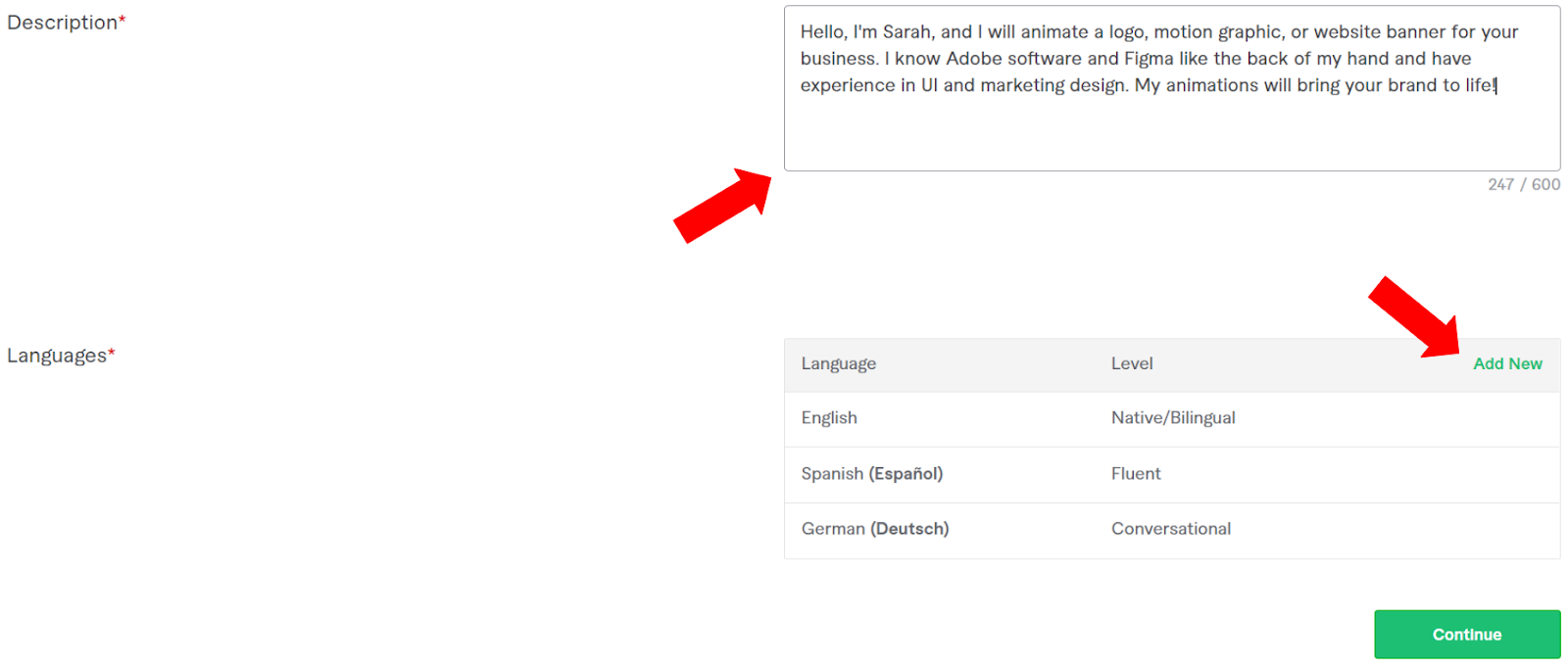 That's it – your seller profile is done and you can post your first gig! If you're new to freelance animation,
I recommend offering simple projects on the cheaper end
until you build up positive reviews. A good reputation will help you win over those higher paying clients. For more tips, check out
this article on how to get started selling on Fiverr
.
Hire a Freelance Animator Safe and Securely
You can not only obtain high-quality animations suitable for business use and creative projects but also save a considerable amount of money by choosing a freelancer. While hiring a freelance animator may carry some risks, a dependable freelancer platform significantly reduces these risks. In terms of buyer protection and sheer scope of animation services available,
go with Fiverr to get everything you need
 at a reasonable price. If you're willing to spend extra, you can browse Fiverr Pro for the best freelance animators on the platform. If you have a big and/or long-term animation project,
I recommend Upwork
 for its super handy management and team building tools. Or, if money is no issue and you're looking for a top-of-the-line freelance animation developer,
go with Toptal
 – it handles the entire hiring process for you by picking the best freelancer for your needs. Still can't decide where to hire a freelance animator? Check out the table below for a final comparison between my top picks:
| | | | | |
| --- | --- | --- | --- | --- |
| | Pricing | Best Feature | Best For | |
| Fiverr | $ | Full spread of budget options and animation services. | Small businesses and individuals with creative projects. | |
| Upwork | $$ | Project management tools for big and long-term animation work. | Businesses looking to build a team or who need long-term animation work. | |
| Toptal | $$$ | Strict requirements for animation developer skills and professionalism. | Big businesses willing to pay for pro animation developers. | |
| DesignCrowd | $$ | Affordable crowdsourcing of design specialists. | Small businesses looking for animated logos or motion graphics. | |
| 99Designs | $$$ | Ease of use and sheer amount of motion graphic designs to choose from. | Businesses willing to spend for a big selection of crowdsourced logos and motion graphics. | |
| Fiverr Pro | $$ | Careful vetting process of animation experts. | Businesses and individuals willing to spend more for reviewed and tested animators. | |
| Dribble | $$$ | Industry-level animations from expert artists and design agencies. | Businesses with big budgets looking for expert-level animations. | |
FAQ
How to find an animator?
You can find animators by heading to a freelancer website and either browsing by category or using the search function. You can find animators of all kinds, including animation developers, on my top 3 freelancer sites for animators or any of the platforms on this list.
What should I look for in an animator?
Good freelance animators will have experience, positive client reviews, and a strong portfolio to show off their skills. For reference, here's what we look for to find the best freelance animator sites. An animator with less experience can save you money – just make sure they have a strong portfolio first.
Where can I find an animator?
You can find animators for hire on any freelancer site or even online forums, but I recommend sticking with reputable platforms. We've tested all the popular freelancer sites and determined the 7 picks on this list are the best place to hire animators.
How much does it cost to hire an animator?
The cost of hiring an animator depends on the scope of your project and the animator's level of skill and experience. For example, you can hire a logo animator on Fiverr for as little as $5 or pay extra for an expert animator on Fiverr Pro who's been reviewed for their work quality and professionalism.