most websites offering video editing services at low rates tend to deliver low-quality videos
. Essentially, you're forced to spend extra time and money bringing the work up to par. That said, there are exceptions.
A handful of websites combine great prices with consistently high-quality work.
These platforms allow you to access freelancer profiles, showcase portfolios, and let you pick the individual video editor you want to work with. They also offer secure payments and client protection to ensure you get exactly what you order.
I did the research for you by setting up several projects on some of the most well-known freelance video editing websites.
Here's a list of websites and platforms that outperformed the competition.
Short on Time? These Are the Websites to Hire Freelance Video Editors in 2023
Upwork – Ideal if you're working on a bigger project and want to hire a video editor long-term.
Fiverr – The most cost-effective way to get your videos edited quickly.
Viedit – A great choice for small jobs that need to be completed as quickly as possible.
What We Look For in the Best Freelance Websites for Video Editing Services
While there are hundreds of websites offering online video editing services, only a few deliver quality work worth your time and money. I hired several freelancers for various video editing projects, then ranked each platform based on the following criteria:
Cost. If you're looking to hire a freelance video editor online, you're probably expecting to pay less than you would by reaching out to an agency. Striking the perfect balance between reasonable cost and high-quality work is a significant challenge. All websites listed here provide video editing services at a great price/quality ratio.
Detailed freelancer profiles. One of the biggest advantages of using online platforms to find freelance video editors is the ability to scan plenty of profiles. My recommendations allow you to browse profiles so you can find the perfect fit for the job at hand.
Timeliness. Video editing is a lengthy process that requires proper briefing and sometimes several rounds of revisions to get the perfect finished video. Social media posts and ad content especially can prove quite tricky for professionals unfamiliar with your brand's vision. Websites that delivered videos on time earned extra points.
Payment security. No matter how much time you spend filtering profiles and working on your briefs, there's always a chance you'll receive videos that don't quite hit the mark. When that happens, you need to know your money is safe. My top picks offer payment protection and convenient money return policies.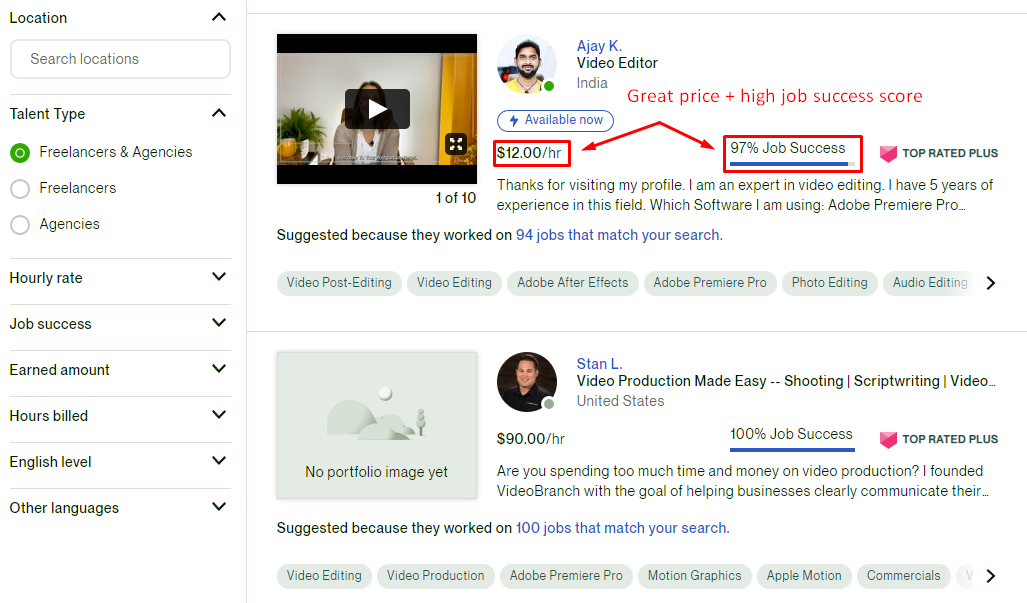 Although it's a decent choice for one-off jobs,
Upwork works best when you want to work with freelancers on more demanding or time-intensive projects
. That means I often turn to Upwork when I'm looking to establish long-term relationships with freelancers.
Think longer videos that require multiple rounds of edits, series of video ads that need to tell a story, social media promos,
and so on. Hiring video freelancers on Upwork is pretty straightforward, mainly thanks to
its streamlined, easy-to-follow hiring procedure.
You can publish your first job posting in less than an hour. You can then review proposals and invite candidates for an interview via chat or video call.
Features
Different hiring options. Browse talent via the "Discover" feature, or there's even a marketplace where freelancers post jobs similar to Fiverr's gigs.
Detailed profiles and portfolios. All Upwork profiles include detailed information about each video editor, including their formal education, work experience, and portfolio. Making the right decision is easy when you've got so much data to work with.
Work tools. Upwork's serious about its hourly contracts. It's developed its own online workplace ecosystem with helpful tools, such as work logs, time tracking, and image work diaries.
Safe and secure payments. You won't ever have any trouble with fixed-price projects on Upwork – payment is only released once you've approved the delivered work. Hourly contracts are a bit trickier, requiring you to check your freelancer's work diary weekly to ensure everything's in order.
Check out our comprehensive
Upwork review
for a close-up look into the platform.
Services

Video editing
Visual effects
Videography
Video production
Animation

Rating system
Job success + top rated status
Payment security
Easy dispute and payment resolution
Starting price
$10/hr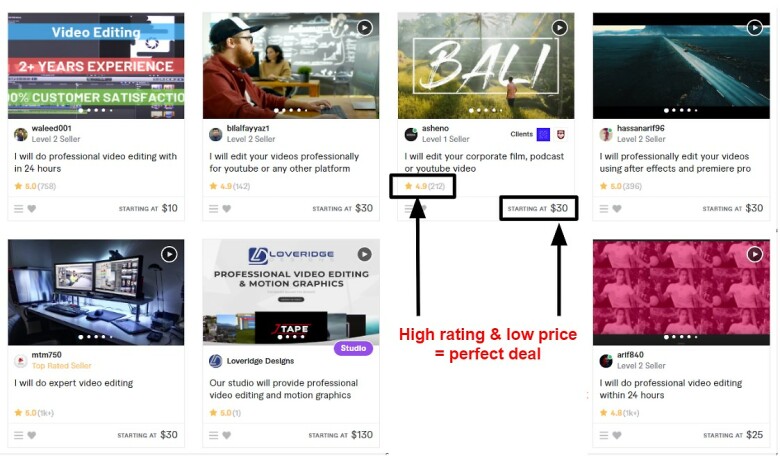 Fiverr is my go-to choice when I need something done quickly, cheaply, and effectively. To start with, it doesn't get any easier than
Fiverr's intuitive UI.
A simple search brings up thousands of relevant gigs. If I want to narrow it down, the advanced filtering system makes it straightforward.
Sure enough, a quick search for video editors brought up some 45,000 gigs!
The most popular gigs are priced at around $30. For that price, you can expect to receive edited footage of up to 5 minutes, and some sellers even include sound editing and mixing for a few extra dollars. I placed orders around the $30-50 mark and received my videos within a few days.
I'm no video expert, but overall, I was pleasantly surprised by the quality of work delivered.
Considering the price and ease of use, I'm definitely sticking to Fiverr for similar projects in the future.
Features
Various categories. My generic landscape video didn't come with an extensive brief or specific editing guidelines. But that's not the norm with Fiverr – there are dozens of video editing categories to choose from (such as ads, YouTube videos, or promos).
Fast delivery. Fiverr's add-ons are super useful, and I'm particularly fond of the one-day delivery option that's available with most gigs. It might cost extra, but it can be a real lifesaver if you're on a tight deadline.
Free revisions. It's typical for Fiverr sellers to provide at least one free revision with each package (and most offer a lot more than that). Some video editors offer an unlimited number of revisions with their packages, meaning they're willing to work with you until you're 100% satisfied with the result.
Secure payments. You can cancel orders anytime, and if you're not satisfied with what's been delivered, sellers are always willing to communicate and find a solution – their rating is at stake, after all. Disputes are quite rare, but getting your money back is as easy as it should be.
Read our expert
Fiverr review
to learn more about its features.
Services

Ads
Social media
Music videos
Subtitles
Promos
Intros and outros

Rating system
Seller level + star rating
Payment security
Easy payments, disputes are rare
Starting price
$5 for a few seconds of editing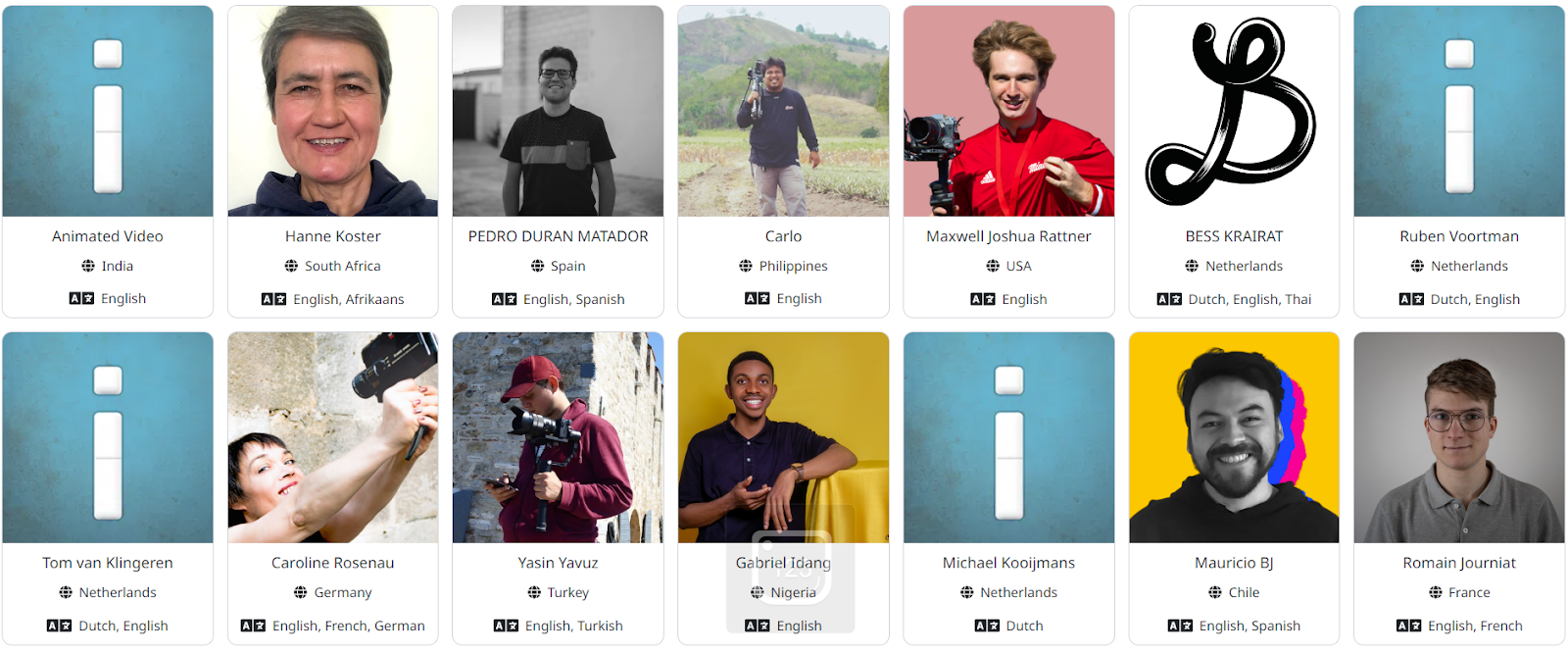 Although not as well-known as some other platforms on this list, Viedit has been around since 2013.
The website looks like it hasn't been updated in a while, but it's easy to use, so I can't complain.
You simply click the
Create Project
button on the main menu, specify your requirements, and
Viedit connects you with talented video editors
from around the world. Freelancers bid for your project, before you review their offers and choose the editor who best fits your needs and style.
My video was ready less than a day after I published my project on the platform.
It wasn't perfect, but in all honesty, it was much better than I expected. Viedit might not be as cheap as Fiverr or Upwork, but its freelancers are still great at what they do.
Features
Detailed portfolios. All profiles on Viedit include several sample projects that showcase each freelancer's abilities
Quick turnaround time. I received several offers within a few minutes of posting my project, and my hire delivered the edited video much sooner than the specified deadline.
Budget and time limit. When creating your project, you can choose a budget and specify a deadline. Be realistic about this to make sure you receive offers quickly.
Money-back guarantee. While you technically pay Viedit once you accept a freelancer's offer, Viedit won't pay them until you're satisfied with the result. Video editors have one chance to address your concerns before your money is automatically returned to you.
Services

Video editing
Animation
Camera work
Video production

Rating system
No rating system
Payment security
Money-back guarantee
Starting price
Expect to pay a minimum of $40-50 for a 3-minute video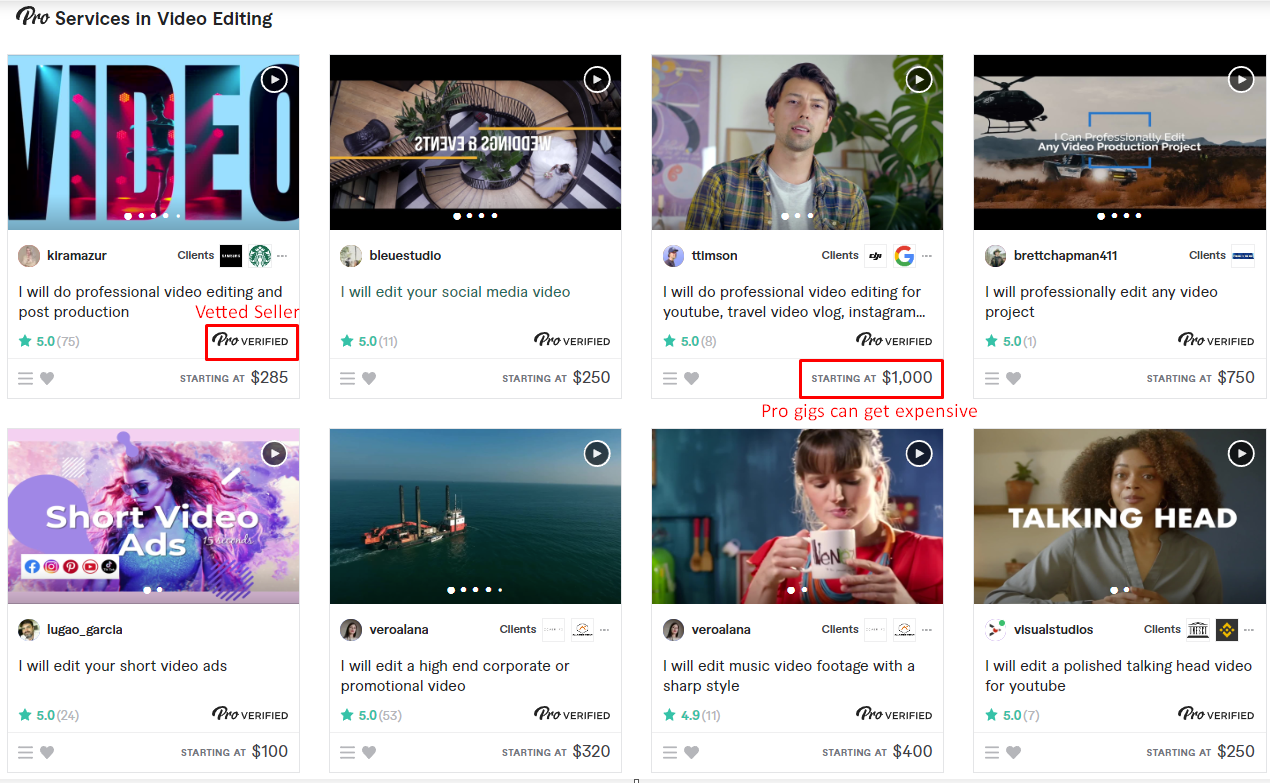 Although Fiverr has already made this list, Fiverr Pro deserves special mention. The two service levels might share the same website, but they're designed with different client needs in mind. While Fiverr is all about cost-effective solutions, the exclusive
Fiverr Pro program
only includes vetted freelancers who've proved their skills and expertise.
Only the best of the best are accepted into the program, earning freelancers a unique "Pro Verified" badge that's displayed under their username and on their profile page.
When hiring Pro sellers, I know the work I receive will be top quality.
I've hired video editors who were able to take disjointed shots and tell an engaging story with little to no guidance. Yes, such gigs can get quite expensive – but it's still much cheaper than a traditional video agency. Learn more about the
differences between Fiverr and Fiverr Pro in our detailed guide.
Features
Top-quality video editing. Some of the best freelance work I've received has come through Fiverr Pro. If your budget allows it, it's really a no-brainer.
Huge time saver. Don't get me wrong, most video editing tasks are totally serviceable via Fiverr, but sifting through thousands of low-quality gigs is time consuming. By browsing profiles on Fiverr Pro, I know I can hire a skilled and reliable professional in five minutes or less.
Detailed portfolios. Regular Fiverr gigs don't come with freelancer portfolios – which is a real shame. Pro sellers have a huge advantage because they can showcase the work they've completed on the platform.
Vetted pros. Prerequisites for joining the Pro program include a rating of 4.7+ and a 90%+ response rate. Freelancers also need to pass several industry-specific tests. Ultimately, only 1% of applicants get accepted and earn the much-coveted Pro Verified badge.
Services

Ads
Social media
Music videos
Subtitles
Promos
Intros and outros

Rating system
Seller level + star rating
Payment security
Easy dispute and payment resolution
Starting price
About $100 for a short ad or cinematic video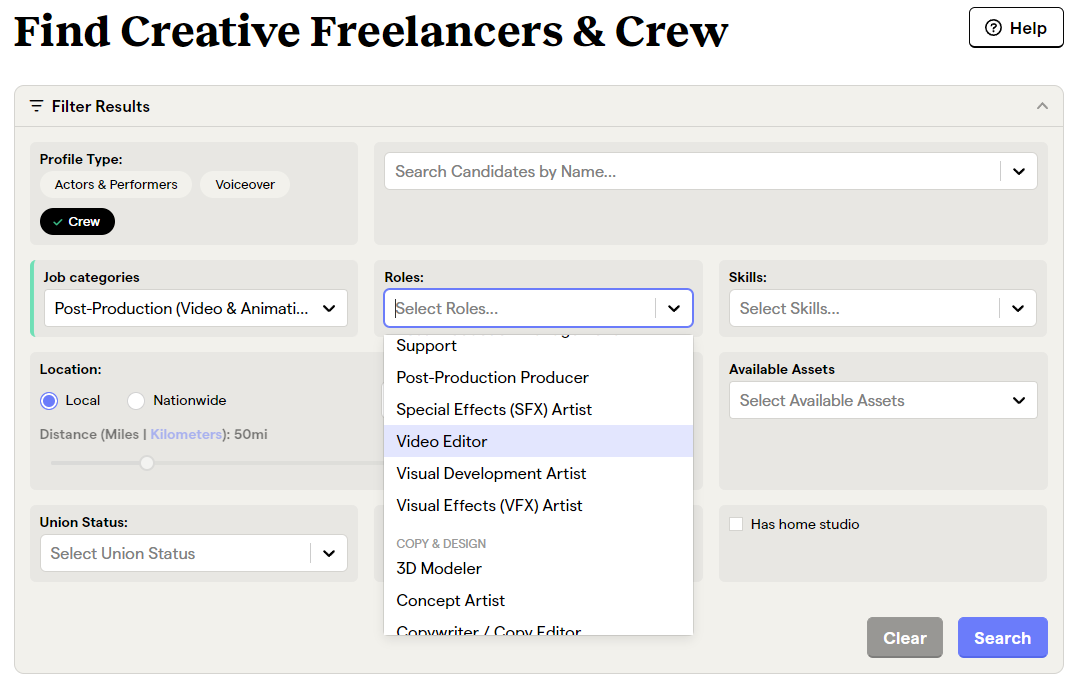 I initially thought Backstage was reserved for film and TV projects – but it turns out I was wrong. A quick search proved that
Backstage's freelance video editors are also capable of handling online ads, social media content, and other forms of video editing.
You can either post a job on the platform with your specific project requirements or browse profiles at your own pace through the "Find Talent" feature.
The site looks good, and the UI is well-designed.
Freelance video editors on Backstage can handle pretty much anything, but the majority prefer long-term work in film and TV productions
. That's ideal if you're working on that kind of project. If, like me, you just need someone to edit your amateur hiking footage, Fiverr or Upwork will probably serve you better.
Features
Quick talent search. You can search the Backstage marketplace for video editors in various industries with just a few clicks. The website features one of the most advanced filtering systems I've seen, making it easy to find the right fit.
Detailed profiles. Most profiles on Backstage include information about the freelancer's background, past work, and hourly rate.
Secure payments. Payment isn't released until you approve the delivered work. Freelancers are paid securely via Stripe, and for US clients, Backstage also takes care of 1099s.
Video production. Backstage is a great place to find talent for film and TV projects. You can host virtual auditions to find the right actors, hire crew members to help with shooting, and edit your footage in post-production, all without leaving the platform.
Services

Video editing
Animation
Camera work
Video production
Post-production work
Visual development
VFX

Rating system
No rating system
Payment security
Secure payments through Stripe for approved work
Starting price
Minimum average hourly rate at around $20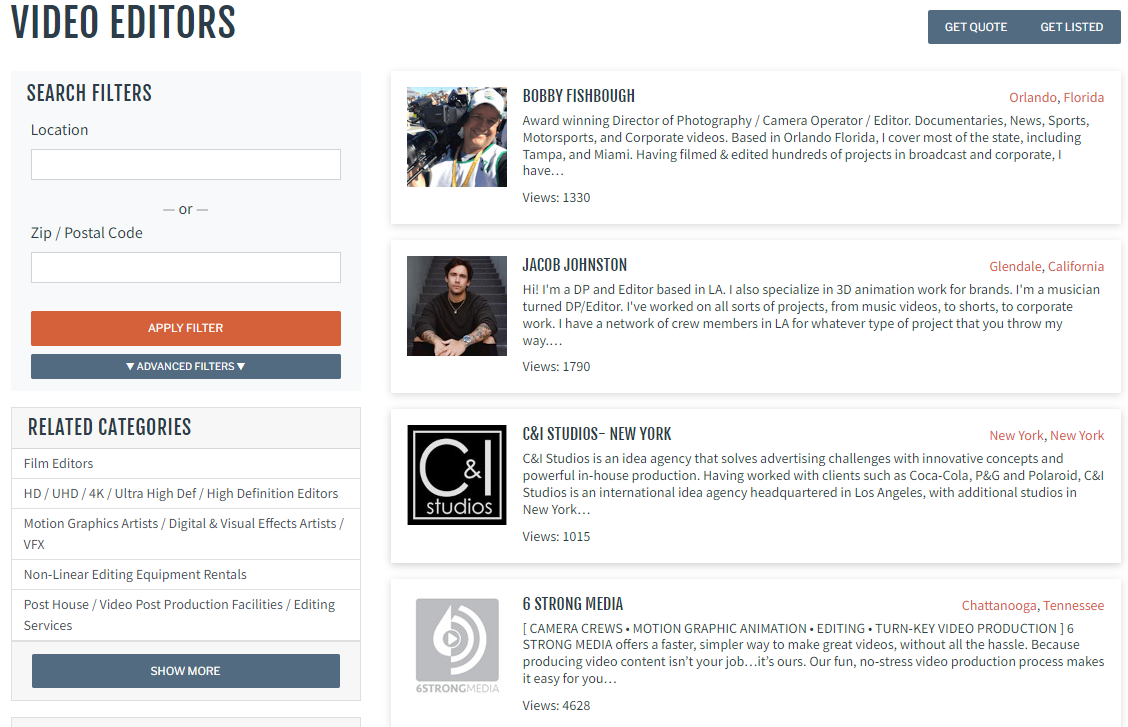 ProductionHUB is a global network that connects clients with professionals in the video production industry. And
video editing is just one of the hundreds of video production categories available
on the website. That means yes, ProductionHUB also lists agency and studio profiles. If you're only interested in hiring freelancers, then
you'll have to spend some time manually filtering out production companies
– the search filter is pretty limited in that respect. But
if you're looking to hire local talent or are interested in full-crewing services, ProductionHUB is a great place to start.
You can either post a request and have agencies and freelancers come to you or browse the platform's massive directory of profiles.
Features
Priority requests. While you can technically post job listings for free on ProductionHUB, priority requests are available for $99. These are processed immediately and are highlighted on the board, resulting in faster responses.
Detailed profiles. All ProductionHUB profiles come with detailed information about each freelancer/studio, including portfolios, galleries, and previous clients they've worked with.
Full-service crewing. If you're looking for more crew to support your production, ProductionHUB has dedicated managers who can help you find the right talent. Full-service crewing starts at $199.
Services

Video editing
Film editing
Post-production services
Captioning
HD editors
VFX

Rating system
No rating system
Payment security
N/A
Starting price
Varies greatly/quotes must be requested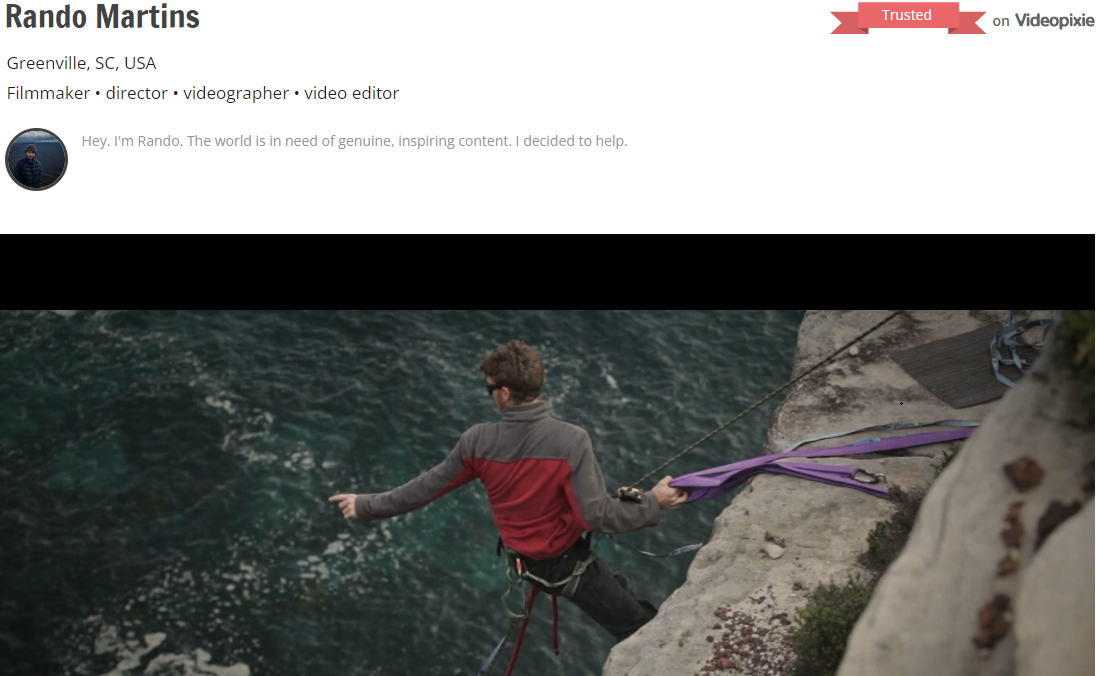 Much like Viedit, Viedopixie is a huge video production and video editing platform with
thousands of active profiles
. It also works in a similar fashion. You post a request, Videopixie freelancers and agencies bid on your project, and you pick the offer that best suits your needs. I posted my request in about five minutes, and my video was ready less than 24 hours later.
The video I received was of great quality, although I did pay quite a bit more than I would've done on Fiverr or Upwork.
If you find yourself in a rush, you also have the option to let the Videopixie team select a freelancer/agency for you – although I wouldn't specifically suggest this route. Certain agencies tend to impose higher charges than what's within the means of many. Additionally, the ability to directly invite a freelancer/agency to a job through their profile is unavailable, which is not an ideal situation.
Features
Fast turnaround. For smaller editing projects, Videopixie freelancers deliver work exceptionally quickly – usually within 24 hours.
Satisfaction guarantee. Videopixie works closely with its freelancers to ensure clients receive exactly what they pay for. If you're not satisfied with the result, Videopixie will either bring in another team or come up with another solution to address your concerns.
Full production. Videopixie is also capable of producing high-quality videos from scratch. Full production packages include camera work, videography, visual fx, and more. Just be aware these come with significantly bumped-up prices.
Services

Video editing
Voice acting
Post-production services
2D and 3D animation
Color grading

Rating system
No rating system
Payment security
Satisfaction guarantee
Starting price
$100-200 for a 3-minute video
Are You a Video Editor Looking to Sell Your Services on Fiverr?
If you're seeking remote video editing jobs, consider starting your journey on Fiverr. Within an hour, you can easily sign up, create your first gig, and start accepting orders. As an experienced video editor who has satisfactorily fulfilled a few orders on the platform, you even have the opportunity to apply for Pro seller status. Thousands of video editors have chosen Fiverr as their go-to freelance platform:
It's really easy to use. Anyone can join Fiverr – it takes about 5 minutes to sign up. The platform guides you through the gig creation process, the UI feels intuitive, and there are plenty of articles to help you get started.
There's no limit to what you can do. Fiverr is so massive that you can get away with very specific gigs – you're actually encouraged to find a specific niche in your industry. If you only want to edit weddings or work on video game trailers, well, you can do just that – and you'll be rewarded for it.
You gain access to a slew of performance-tracking tools. Since Fiverr operates similar to a search engine, being skilled at your job doesn't assure success. You also have to monitor the performance of your gigs (that is, the count of clicks and views) and adjust them as needed.
Learn more about Fiverr's features here
, or jump straight into how to start selling your services on Fiverr.
How to Sell Your Video Editing Services on Fiverr
Step 1:
Head to Fiverr's homepage and
click the Join button
on the top-right corner of the screen. You can sign up via email or connect with an existing Facebook, Google, or Apple account.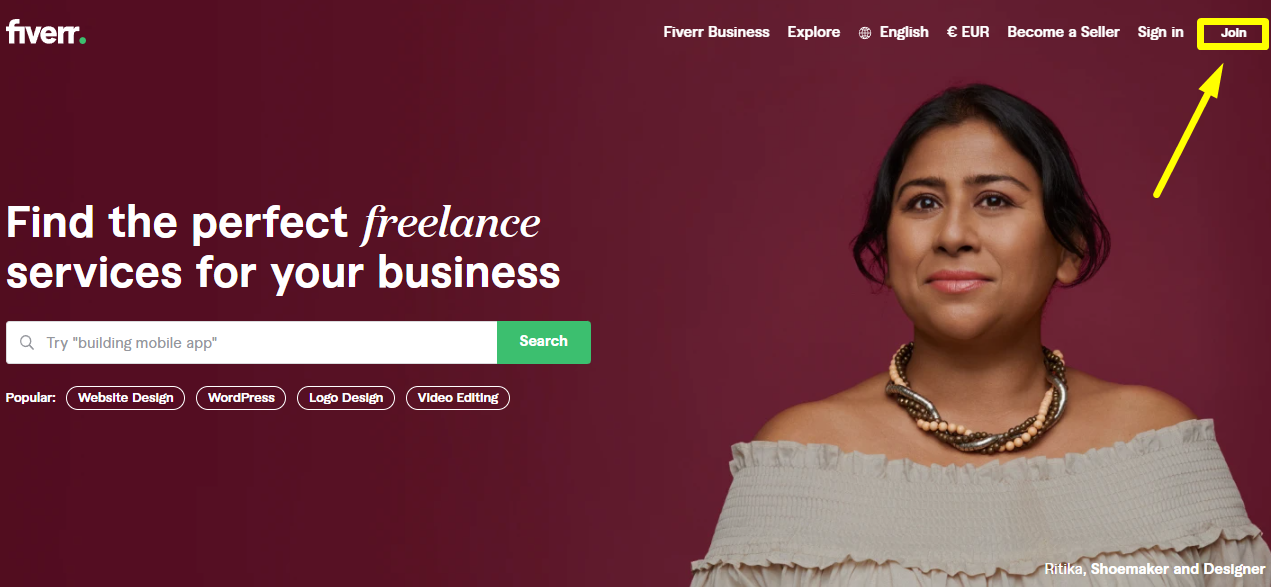 Step 2:
Pick a username and a password. Keep in mind that your username will be visible to clients browsing the platform – a name, nickname, or company name will do just fine.
Step 3:
Activate your account by clicking the link Fiverr sends to your email.
Step 4:
Return to Fiverr, click on your profile icon (top-right corner from the main menu), and select
Become a Seller
. Doing so will switch your account from buying to selling mode.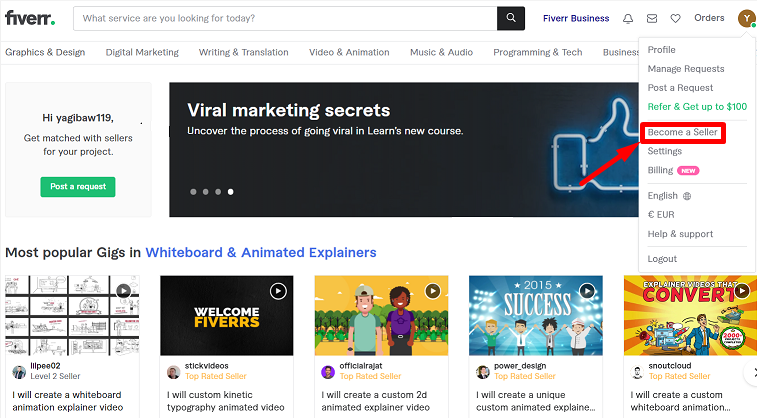 Step 5:
Fill out the form on the next page as accurately as possible. The more you tell Fiverr about yourself, the easier it'll be for potential clients to find you.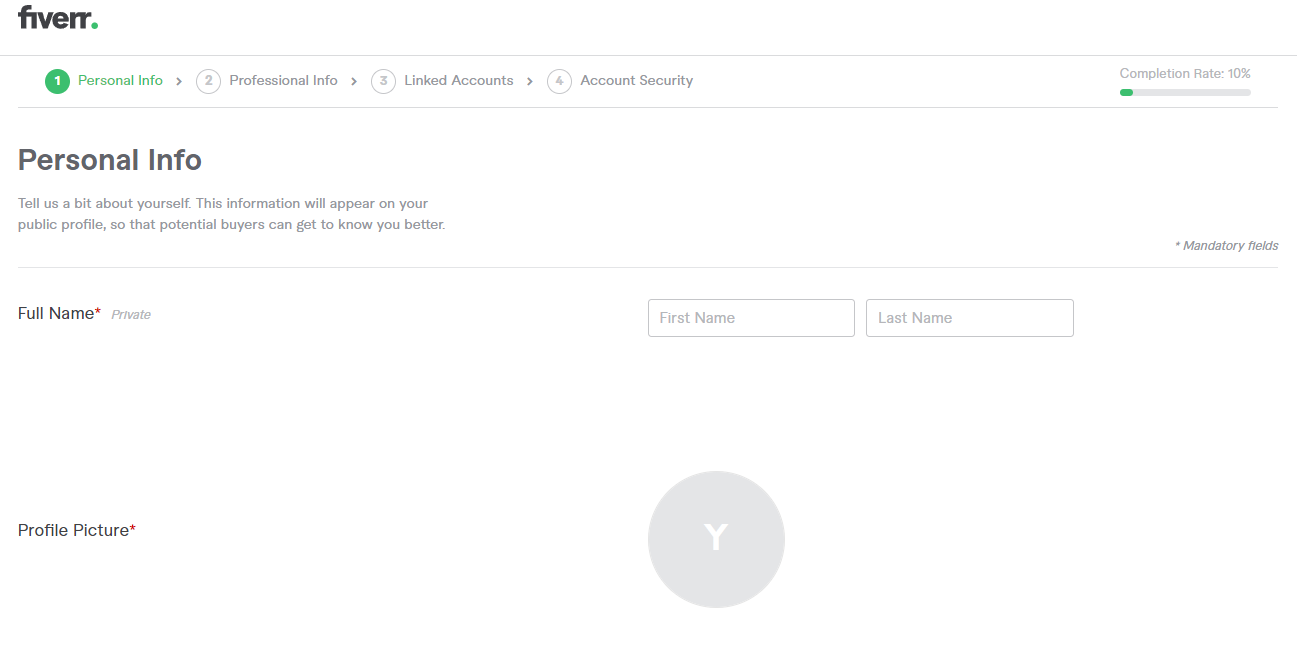 Step 6:
Press "Create a new gig" from your profile page to begin setting up your first gig. Start off on the right foot and avoid common mistakes by checking out our
expert Fiverr for Freelancers guide
.
The Best Website to Hire Freelance Video Editors
The internet is filled with websites offering video editing services. Some deliver better results than others, but there are a few platforms that stand out for all the right reasons. If you're on a budget like me, then you can't really go wrong with
Fiverr's competitively priced gigs.
Cheap, easy to use, and quick to deliver, Fiverr is ideal for small, one-off projects like weddings, birthdays, or social media ads. For recurrent work or tasks that take more time and effort to complete, I recommend checking out
Upwork's contract system
.
Upwork rewards freelancers for forming long-lasting relationships with clients, which makes it easier to find professional video editors willing to take on more demanding projects. Alternatively, if you want to access talent from all around the globe and don't mind sifting through bids and profiles,
Viedit's video editing experts
can get the job done in less than 24 hours. Let's recap all the websites we've looked at so far:
| | | | | |
| --- | --- | --- | --- | --- |
| | Pricing | Best Feature | Best For | |
| Upwork | $$ | Detailed profiles | Long-term/ongoing video editing projects | |
| Fiverr | $ | Good quality video at the best price | Simple, one-off projects | |
| Viedit | $$ | Many profiles and quick turnaround time | Quick jobs when you can spend a bit more | |
| Fiverr Pro | $$$$ | Top-quality work from vetted and experienced video editors | Professionals who only want to hire the best | |
| Backstage | $$$ | Massive pool of video production pros | Bigger film and TV projects | Browse >> |
| ProductionHUB | $$ | Traditional job board with free/priority requests | Full-crewing services and hiring local talent | |
| Videopixie | $$$ | Thousands of active profiles | Smaller projects on tight deadlines | |
FAQ
How to get a job as a video editor
Both Fiverr and Upwork offer plenty of work opportunities. Fiverr's gigs are a bit easier to get into if you're covering a very specific niche, and there are quite a few entry-level video editing jobs on the platform. Upwork contracts, on the other hand, work better for pros looking for long-term employment.
How much does it cost to hire a video editor?
It depends. A simple edit of a 15-second ad might cost as little as $5 on Fiverr. Longer (1-3 minute) video edits might cost as little as $30 on popular budget platforms and up to $200 on platforms like Backstage. Depending on the freelancer's experience, full production of a 10-minute video can go for as much as $10,000.
Which freelancing site is best for beginners?
Fiverr is, without a question, the best website for new freelance video editors looking for work. It's super easy to sign up, set up your first gig, and begin selling your services – more on that here. There are no strict requirements to enter the platform, but you need to make sure you deliver top-quality work if your goal is to attract more clients and achieve Level 3 seller status ASAP.
Where can I find freelance video editors?
It all depends on your individual needs. Fiverr is my go-to choice for quick, easy video editing jobs, and I usually turn to Upwork for more time-intensive projects. If price is not an issue and you just want to hire the best of the best, I can't recommend Fiverr Pro's vetted professionals enough. For more options beyond this list, check out our list of the 7 best freelance websites in 2023.