love
to see is no easy task.
Use the wrong format, and your resume might not even reach human eyes
! That's why
hiring someone to write a resume
for you
can boost your chances of landing your dream job
. I've done the research and compiled a list of the best freelance resume writers. I also discovered
you can get a professional resume for as little as $5
if you're on a tight budget. If you're willing to spend more for even better quality,
I've also included writers with impressive experience who'll produce industry-level resumes
and custom templates. Read on to find the best resume writer for you.
9 Best Freelance Resume Writers for Hire
I scoured the web for the best resume writing services you can hire online and discovered Fiverr and Upwork host the most professional resume writers at the best value. You can easily find a resume writer for as low as $5 on Fiverr, and Fiverr also has plenty of pro writers with industry experience for a higher cost. If you're willing to spend more,
Upwork hosts talented resume experts
who work as professional writers or in the industry they provide resumes for. You can see why we rate it so highly in our
expert review of Upwork
. Compared to other sites I looked at,
Upwork and Fivver offer a ton of project variety
, which makes it easy to hire resume writers who specialize in your job field. They also have
in-depth project portfolios, customer reviews, and freelancer rating systems
to help you find reliable freelancers and avoid getting a weak resume that could hurt your job search. After looking through dozens of top-rated resume writers on each site, I've narrowed them down to my top 9 picks. These freelance resume writers can help you:
Perfect your resume. A professional resume writer can rewrite your resume or create a new one from scratch with the layout and keywords recruiters look for.

Make a cover letter and/or LinkedIn profile. Resume writers for hire also often offer cover letter and LinkedIn optimization services. If you want, you can get a complete package from the same professional writer, meaning everything will flow nicely.

Land more interviews. With an optimized resume, cover letter, and LinkedIn profile, you'll have a much better chance of impressing recruiters and making it to the interview stage.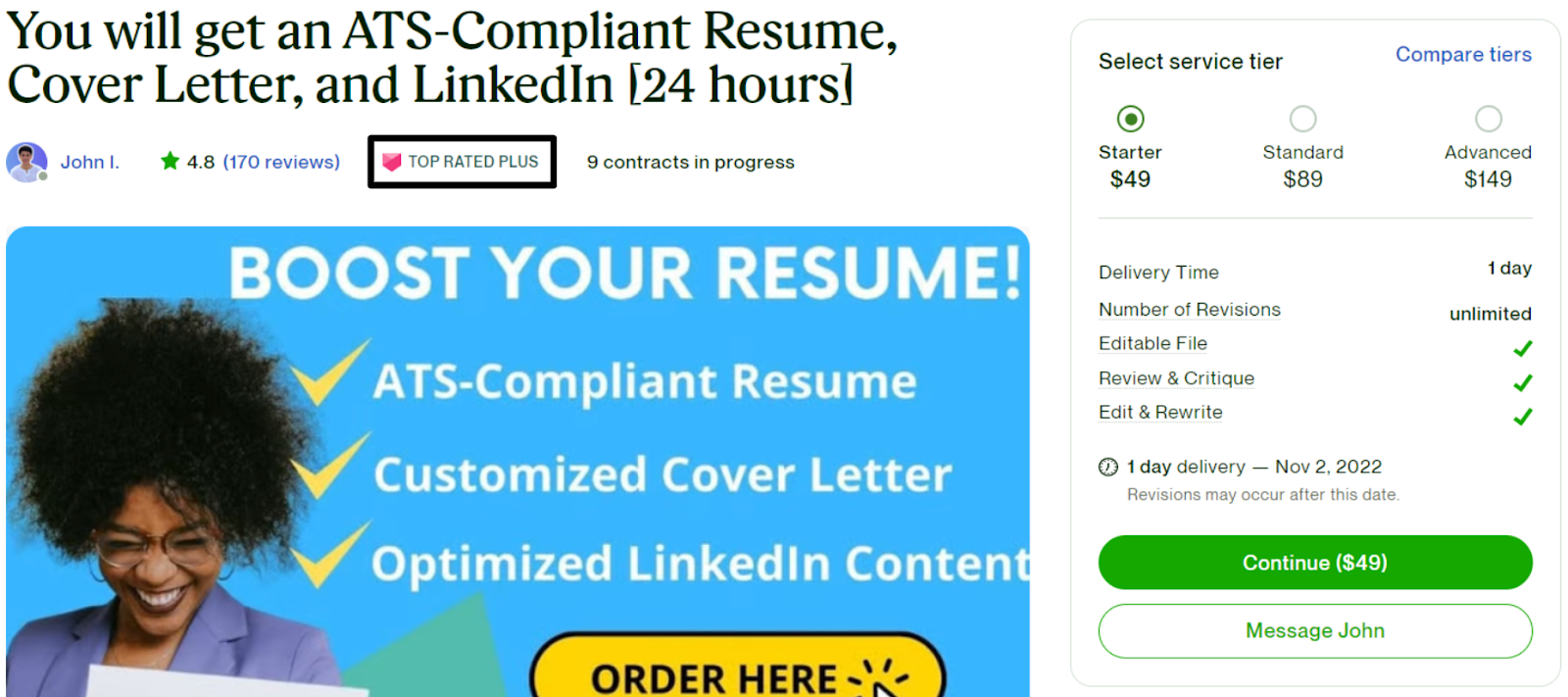 John is a Financial Advisor who writes high-quality resumes for several industries.
Fields he excels in include UI design, web/mobile development, finance, sales, marketing, HR, and healthcare
. He's written professional resumes for everyone from graduates fresh off the boat to established CEOs. John's Starter package includes a resume with unlimited revisions at a reasonable $49. Upgrading to his Standard package for $89 also gets you a cover letter, and upgrading to his Advanced package for $149 gets you a LinkedIn optimization on top of everything else. Or if you don't need as much as that, you can get just a cover letter for $29.
John also delivers your resume in 24 hours
. If you really need your resume
now
,
you can get a 12 or 6-hour rush order
. But you have to pay quite a bit.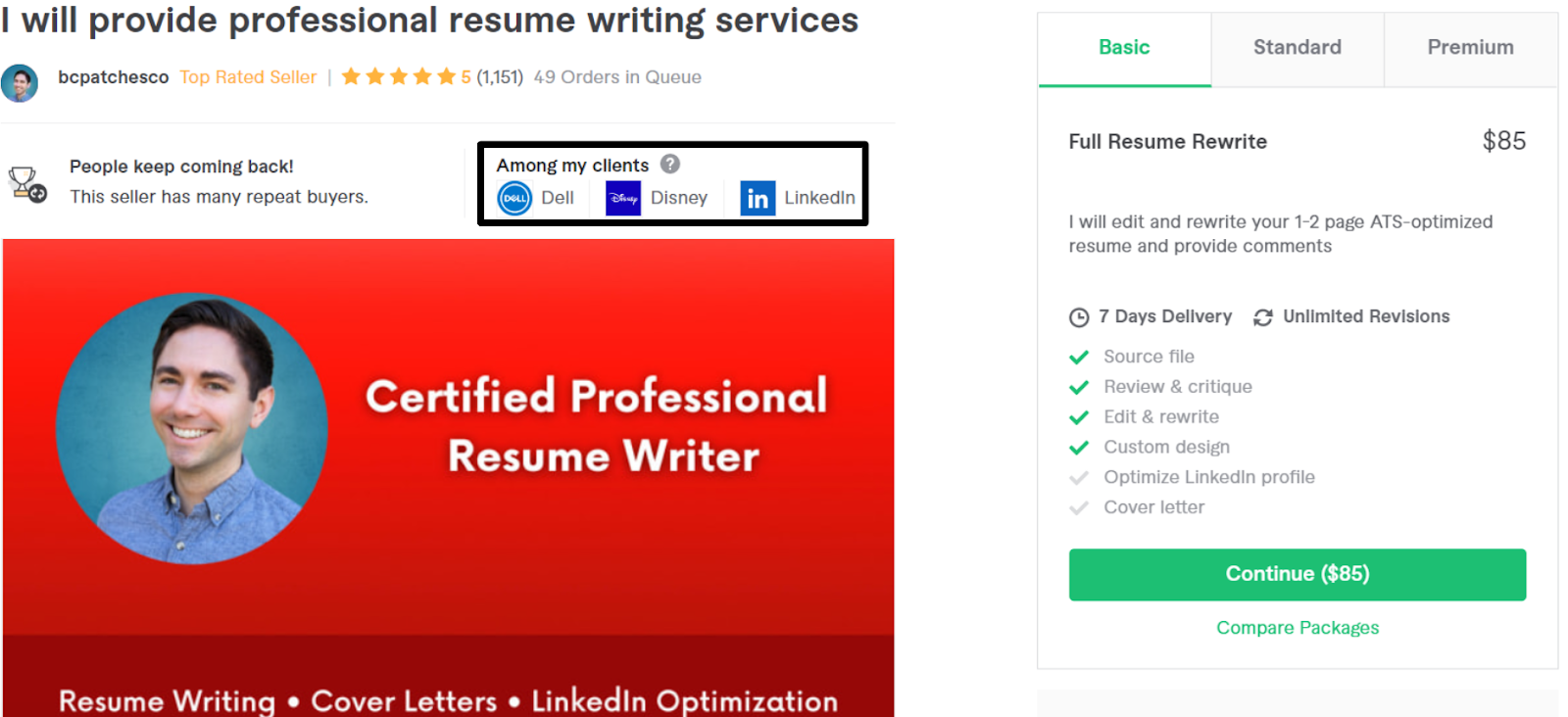 Cameron is a professional resume writer with over 10 years of experience.
He can rewrite your resume or write a new one from scratch
. Cameron's Basic package at $85 gets you a resume, or you can pay $70 for a cover letter. His Standard package includes both. And if you want LinkedIn optimization, you can buy his Premium package. He offers
unlimited revisions
until you're 100% satisfied. Glowing reviews praise how Cameron targets corporate wording and a person's strong points – he
tailors your resume to the position you're applying for and makes it ATS-compliant
. Cameron is Top Ranked on Fiverr, which requires a freelancer to complete at least 100 orders on time with a review score average of 4.7 or higher. He's a reliable resume writer, and I highly recommend him.

Ritzy runs a long-time tech and skincare blog (since 2015!) and offers
a full resume in 24 hours
. She's a communicative, fast writer with a quick turnaround and willingness to work with you and your target job. Her writing style is clean and simple in a way that catches recruiters' eyes. With Ritzy's Basic package for $5, you get a next-day resume made from a pre-built template.
If you want a custom design from her, you can upgrade to her Standard package for $35
. And if you want intensive research and a deep-dive into the job you're applying for, you can buy her Premium package.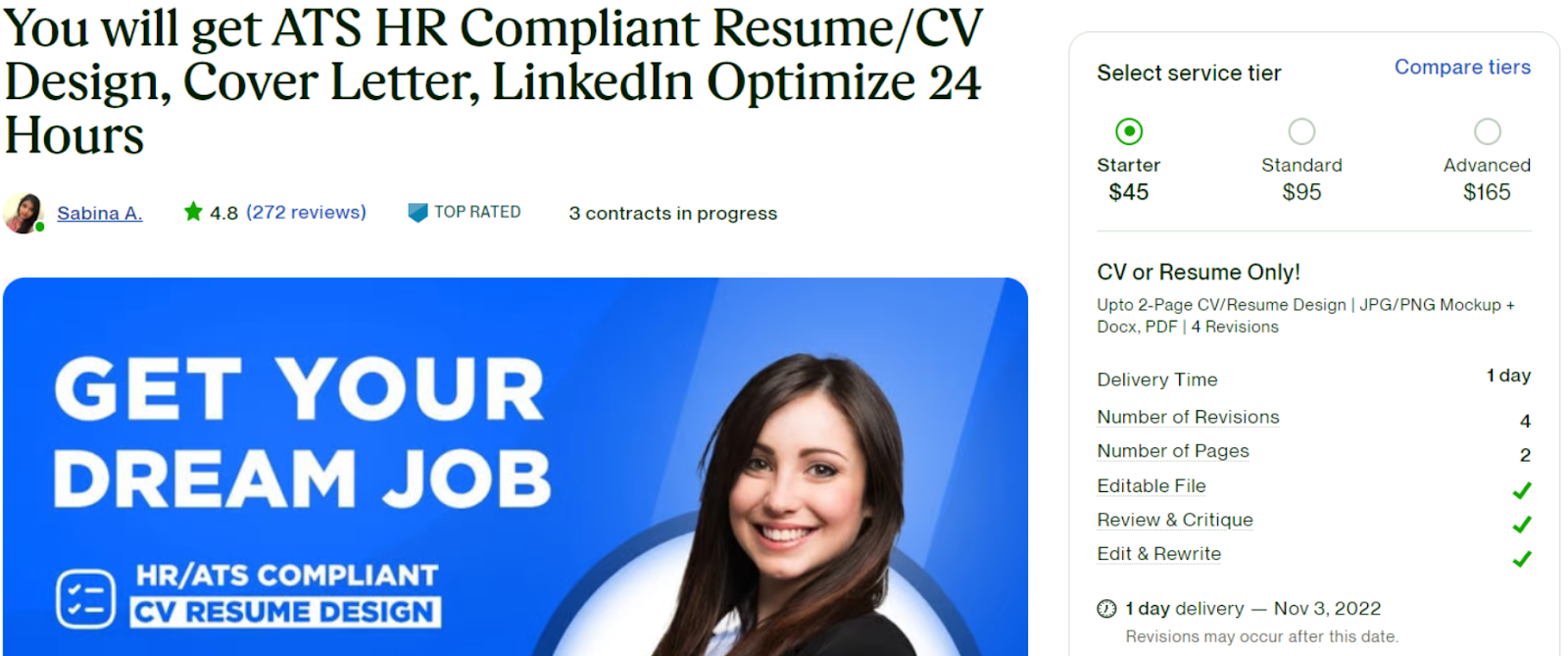 Sabina is a professional resume writer with extensive marketing experience. She's a Top Rated freelancer on Upwork, meaning she's in the top 10% on the platform. You can get a resume from her in the following sectors: academia, finance and accounting, government and public sector, media and ntertainment, and sales and marketing. I appreciate how quickly Sabina writes (you get a resume in 1 day!) and how high-quality her work is.
Her resumes are ATS-compliant
, and
she offers a service to help optimize your application
. Her Starter project costs $45 and gets you a 2-page resume or CV. With her Standard tier, you also get a cover letter. And if you buy her Advanced tier, she will optimize your LinkedIn profile too.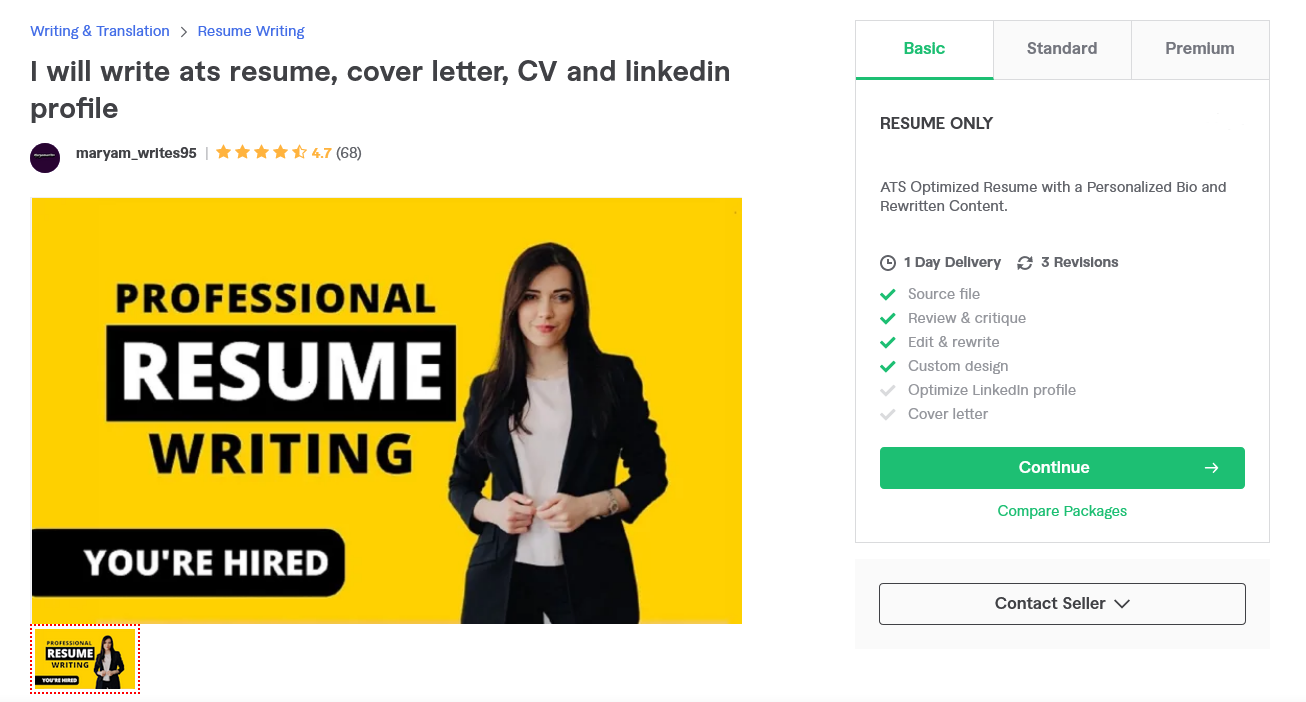 Mayam will write a resume for only $10, which is an
amazing
deal for the quality she produces. Her resume services include CEO positions, government jobs, career transition, HR, finance, marketing, sales, healthcare, customer service, retail, academic, legal, project management, and tech. Her service is
the cheapest way to get a professional CEO-level resume
I've seen! One thing about Mayam that really stands out is
she offers free evaluation of your resume to determine whether or not it's ATS-compliant
. If it's not, her Basic package gets you a resume. But if you want more, you can upgrade to her Standard package and also get a cover letter. If you go Premium, you also get LinkedIn optimization. Honestly? At those prices, Mayam's services are a total steal.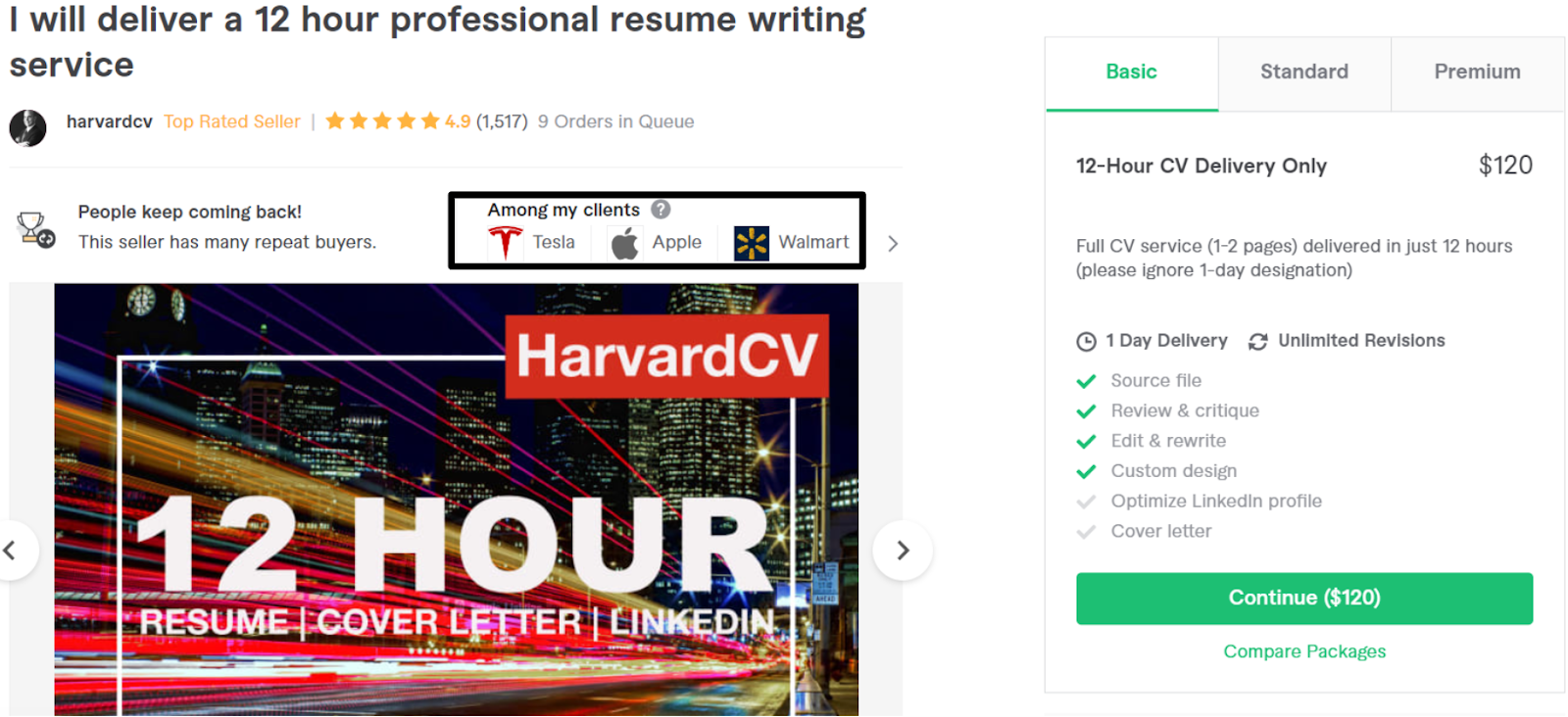 Richard is a Harvard graduate and career consultant who delivers professional CVs in just 12 hours – a seriously impressive turnaround! I've never seen faster delivery without paying extra for expedited service. He does cost more than other Fiverr freelancers on this list, but
you get extremely fast service from a Top Rated Seller
, the highest seller level you can reach on Fiverr. With Richard's Basic Package for $120, you get a clean CV with pro design and ATS keyword optimization. You can upgrade to his Standard package to also get a tailored cover letter, or his Premium package to get all that and content for your LinkedIn profile. No matter which package you buy,
delivery is always 12 hours
(yeah, whoa). In my opinion, paying extra for his pro CV writing skills and near-immediate delivery is well worth the cost, if you can afford it.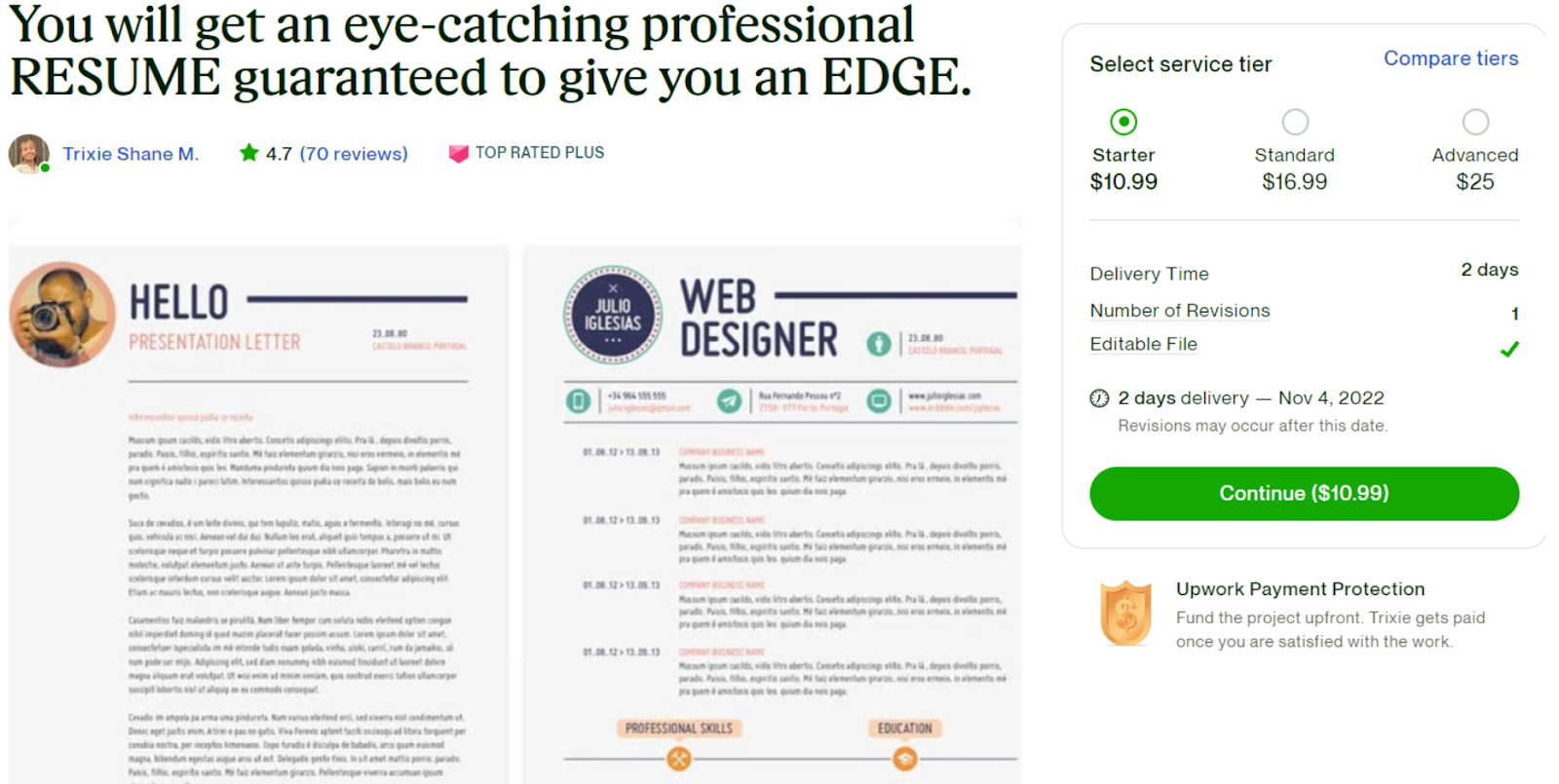 Trixie is a Project Manager who specializes in business and legal resumes. She's
one of the most affordable resume writers on Upwork
I found during my research. She stood out to me because she doesn't sacrifice quality for affordability. Don't just take my word for it though –
Trixie is Top Rated Plus on Upwork
, meaning she's completed 100+ jobs and received mostly positive reviews within the last year. For just $10.99, you can hire Trixie to write your resume. By upgrading to her Standard project, you also receive a custom design and cover letter, which is super reasonable! If you want LinkedIn optimization, too, you can buy her Advanced package.
This also comes with 3 revisions
.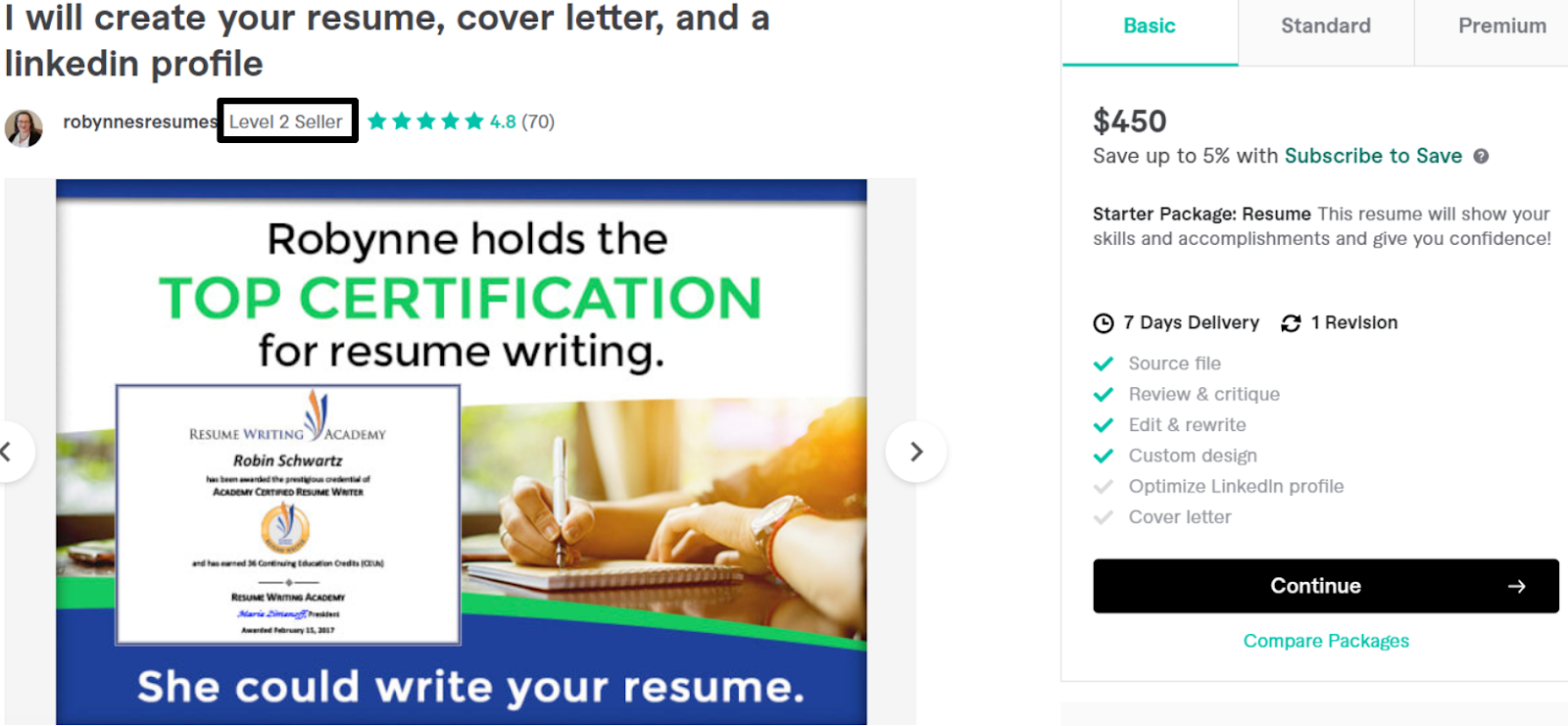 Robynne is a Pro Verified freelancer on Fiverr writing resumes at an industry level. To become Pro Verified, freelancers are heavily vetted by the Fiverr team for their higher education, industry experience, and quality of work. So, while Robynne is the most expensive freelancer on my list,
she's an excellent choice if you want a resume written to an industry-level standard.
Robynne's Basic package costs $450 and gets you a resume with a custom design. Her Standard package gets you a fleshed-out LinkedIn profile too. And for her Premium pack, you also get a cover letter.
Each package comes with a 1-hour interview
to learn about your skills and experience, and
you get 1 free revision
in case you need anything tweaked. Robynne provides a truly tailored experience, and her writing and editing process is extremely thorough.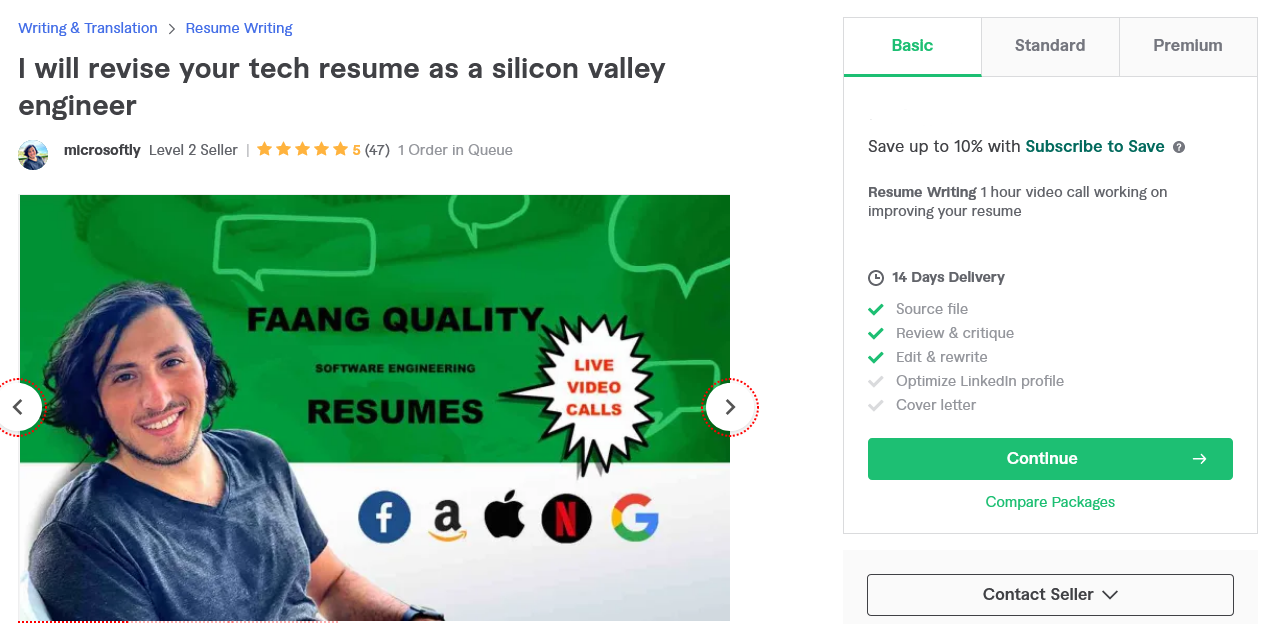 Being a Software Engineer, Matthew offers authentic insight into writing resumes
for those looking to land a job in the tech field
. He skillfully designs resumes suited for giants like Facebook, Amazon, Apple, Netflix, and Google. So, if you're applying for tech jobs, I recommend hiring Matthew to write your resume. Matthew's Basic package includes a resume for $275, but you can upgrade to his Standard package for to also get LinkedIn optimization. If you want a cover letter, too, you'll have to buy his Premium package. In every package,
Matthew will meet with you in a 1-hour video call to personally work with you and optimize your resume
. I love Matthew's one-on-one personal touch – it's refreshing to see and ensures you get a resume that's personalized to your skills and field.
How to Hire a Freelance Resume Writer on Fiverr
Fiverr has over 1.5 million freelancers on its platform, so finding and hiring the best resume writer for your needs can be a daunting task. (Believe me, I get it – I looked through dozens of them!) To help make it easier, I'll explain how to hire on Fiverr step-by-step
and
how to best use its job finding functions. You'll need to make a Fiverr account to hire a freelancer. Sign up with your email, Facebook, Google, or Apple account. Next,
navigate to Fiverr's homepage
 and type "resume writing" in the search bar
or
navigate to the "Writing & Translation" category and select "Resume Writing".

You'll see a bunch of results, including Fiverr's recommended top users. You can narrow your search even further by setting your desired budget, language, industry, seller location, and seller ranking on Fiverr in the search filters. For example,
you can find Level 2 or Top Rated sellers and set your max budget to find experienced resume writers in your pay range
.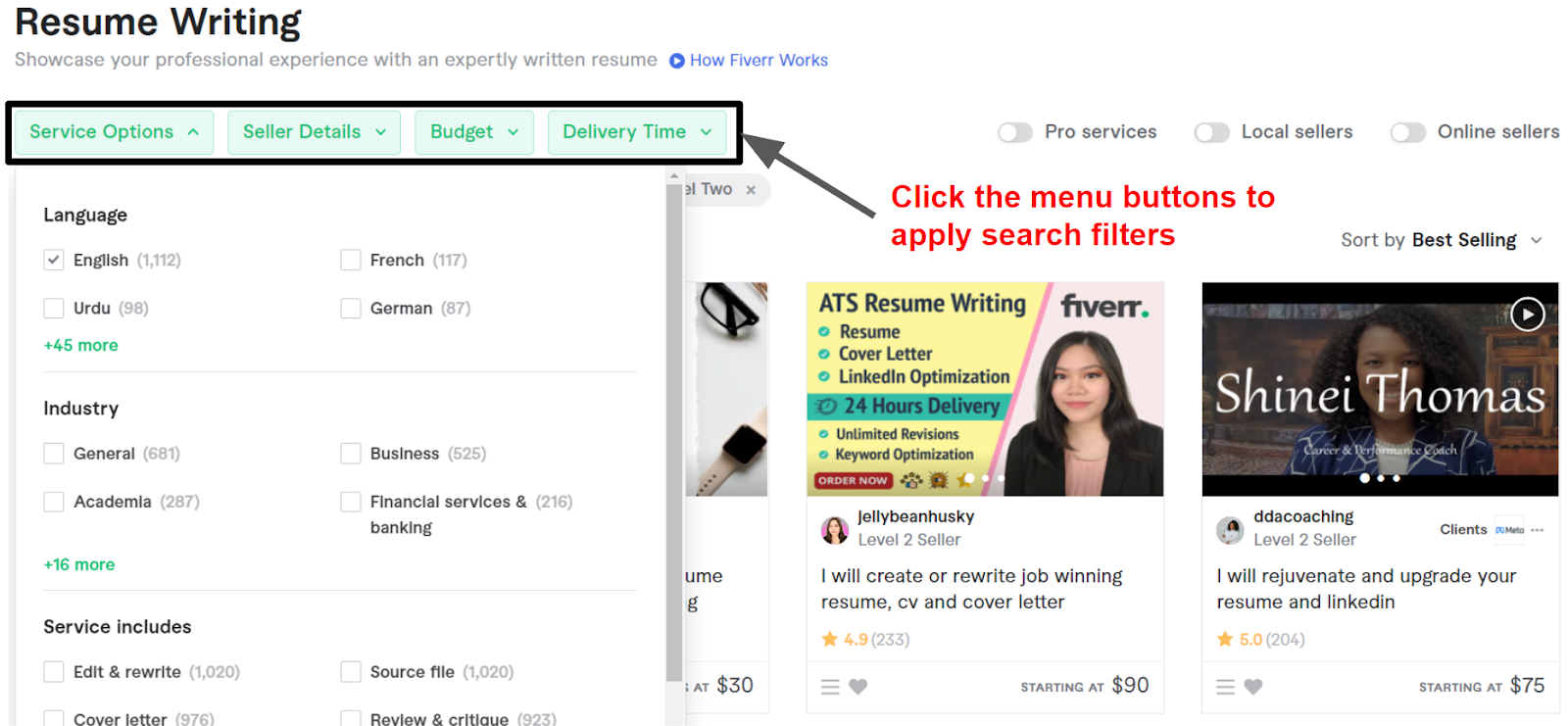 Pro tip: If you have a bigger budget and want the very best Fiverr has to offer,
click the "Pro services" tab to pull up Pro Verified resume writers
. Once you find a resume writer you like,
click their gig to view it in greater detail
. You'll be able to see exactly what you get with their service.
Each freelancer on Fiverr offers 3 tiered services
divided into Basic, Standard, and Premium packages. The price increases with each tier, but so do the services you get, like a cover letter or LinkedIn optimization.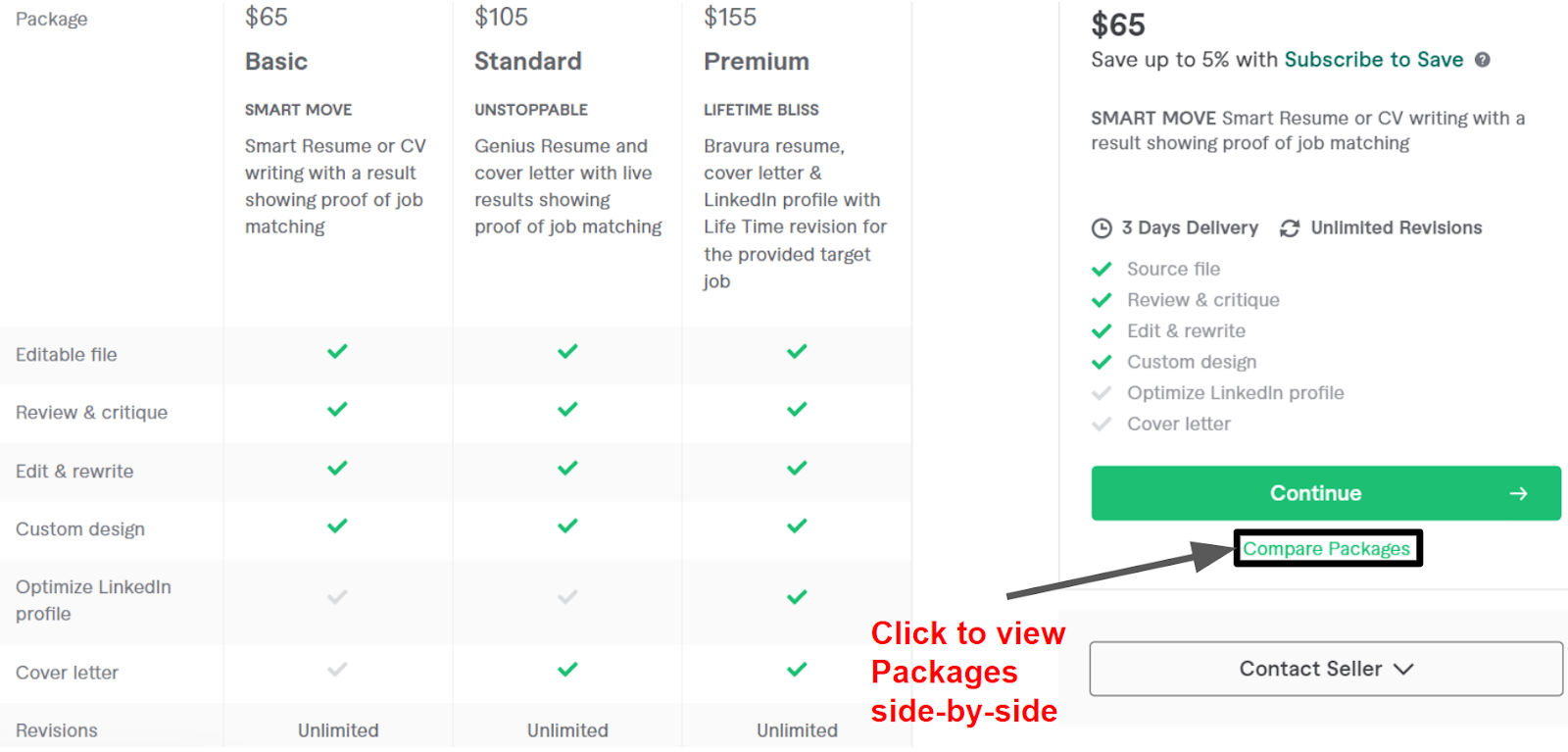 If you have any questions, you can and should
contact the resume writer before hiring them
. Some writers offer resume reviews and consultation to help you pick the perfect service and increase your chances of landing a job.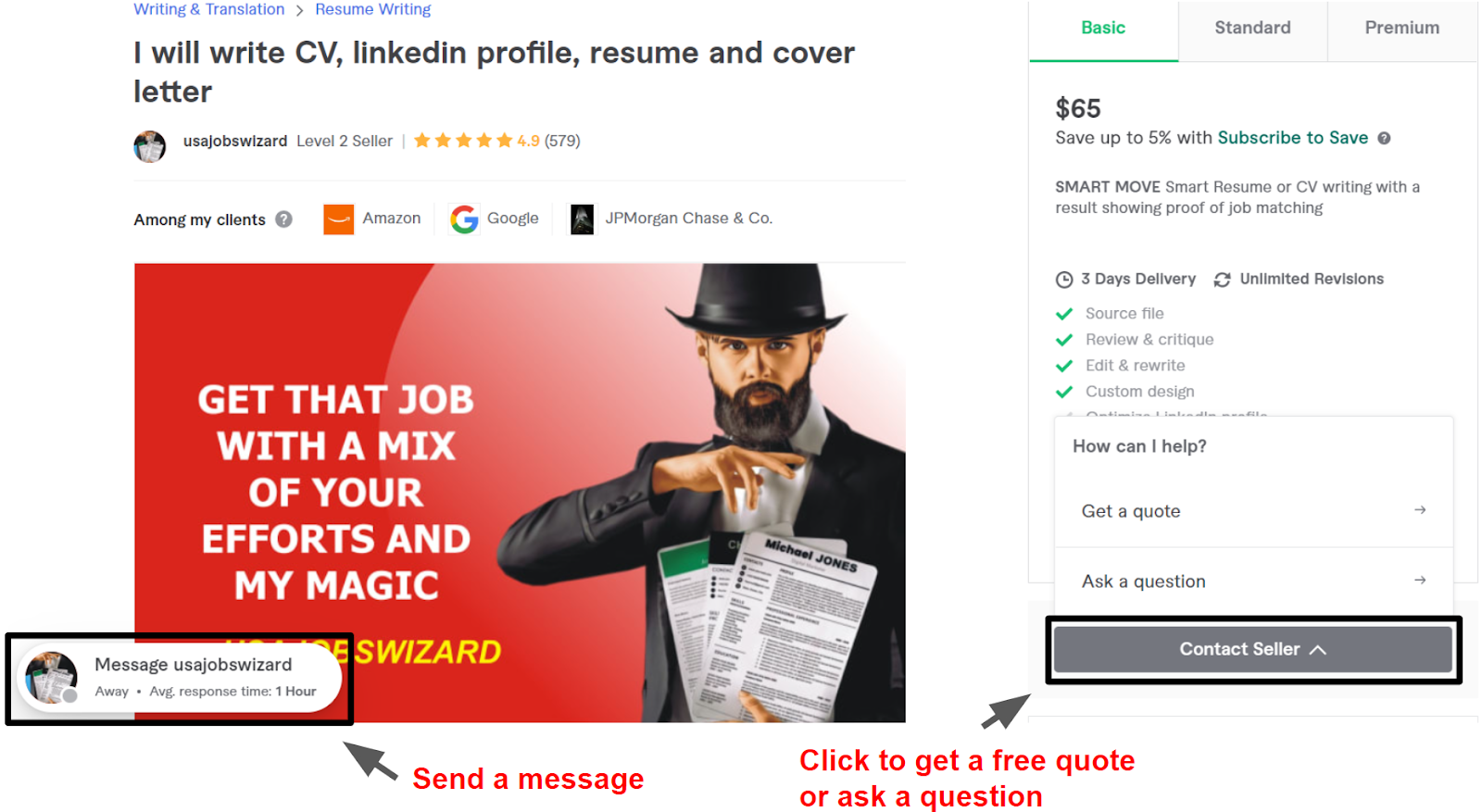 Finally, when you're ready to hire a resume writer you like,
select your desired package and click the "Continue" button
. From there, you'll be taken to checkout and can add any extra services the writer offers, such as faster delivery.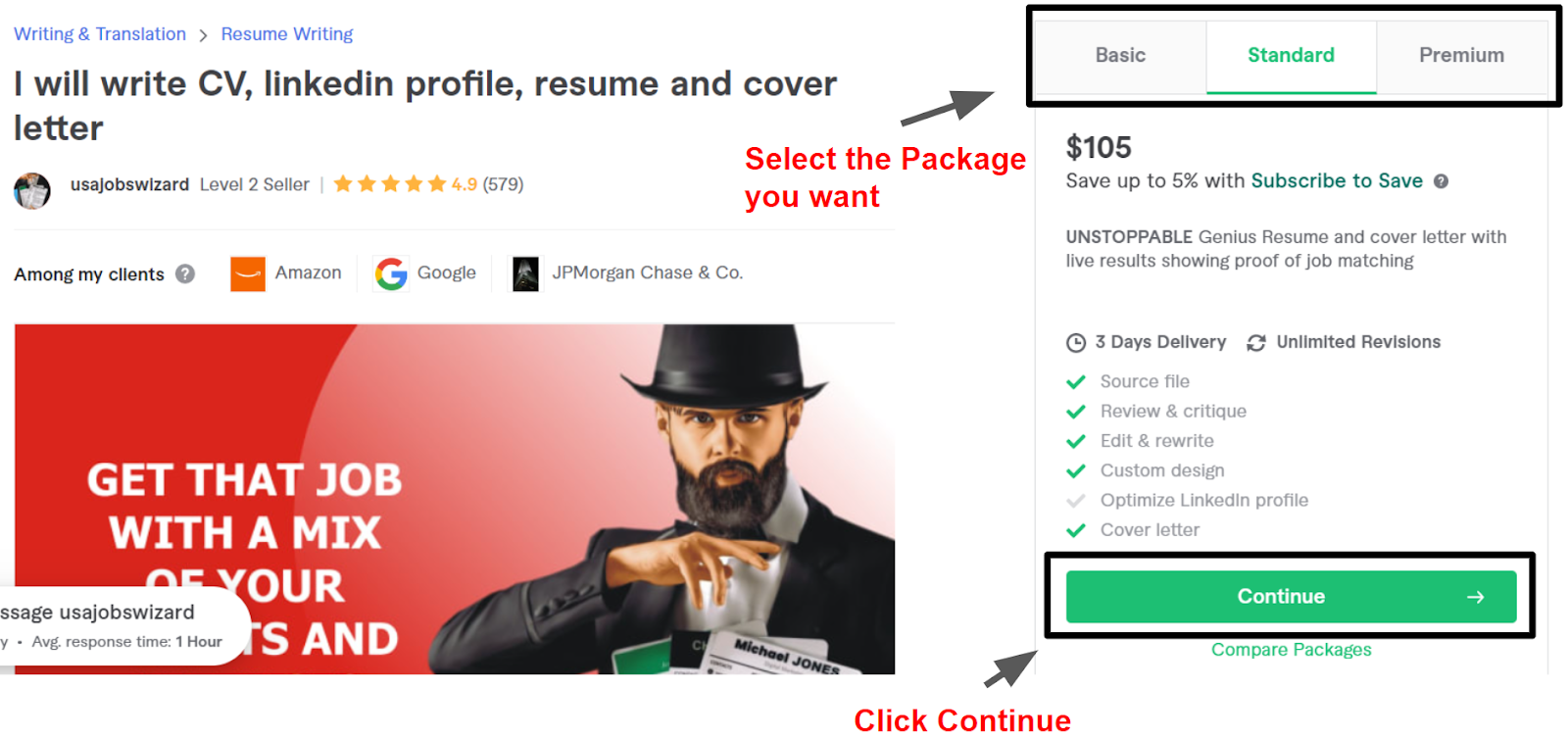 And you're done! Your resume writer will get to work fulfilling your order right away.
Payments are held in escrow on Fiverr
, so your money will only be released when you mark the job as complete.
What to Look For in a Freelance Resume Writer
Picking the right person to write your resume is key to landing a job in your field. With hundreds if not thousands of online resume writers to sift through, I've put together some key traits and services you can look for to narrow your search:
Writing an ATS-compliant resume. Big companies use ATS (applicant tracking system) software to filter out resumes that don't have the right format or use keywords that match the job description. Hiring a resume service ensures your resume will stand out from the crowd and reach the recruiter's hands.

Designing a custom resume template. Formatting is key to making your resume look professional and easy-to-read. On average, recruiters look at a resume for 6-7 seconds (which isn't long at all!), so you want your key skills and experiences to stand out cleanly.

Writing a cover letter. Not every job application requires a cover letter, but you will certainly improve your chances of getting hired by including one. A well-written cover letter can impress recruiters and put you ahead of the competition.

LinkedIn optimization. Some of the resume writers I picked offer LinkedIn optimization services, too. Optimizing your profile will put you in the searchlights of companies looking to hire, widening your net and giving you more opportunities to connect.
Pro Writing and/or Industry Experience. You need an experienced writer who comprehends the secrets of crafting an effective resume in any field. However, a resume writer who has held a position in your industry has not only successfully secured a job there but also possesses the knowledge to assist you.
Are You a Freelance Resume Writer Looking to Sell Your Services?
If you're a freelance resume writer for hire,
selling your service on Fiverr is a great way to find work
. It only takes 15-20 minutes to create an account and post your first gig. Plus, Fiverr is
very
popular (I'm talking 3 million buyers each year – just take a look at
our Fiverr review
) and gives you access to lots of new clients looking to hire a resume writer. For more tips on how to perfect your freelance resume writing career,
check out our guide to succeeding on Fiverr
. Once you're ready to get started on Fiverr, I broke down the setup process in a few easy steps. The first thing you have to do is make a Fiverr account. Doing so is super easy – just
navigate to Fiverr's homepage and click
Join
in the top-right corner. Follow the steps to set up your account.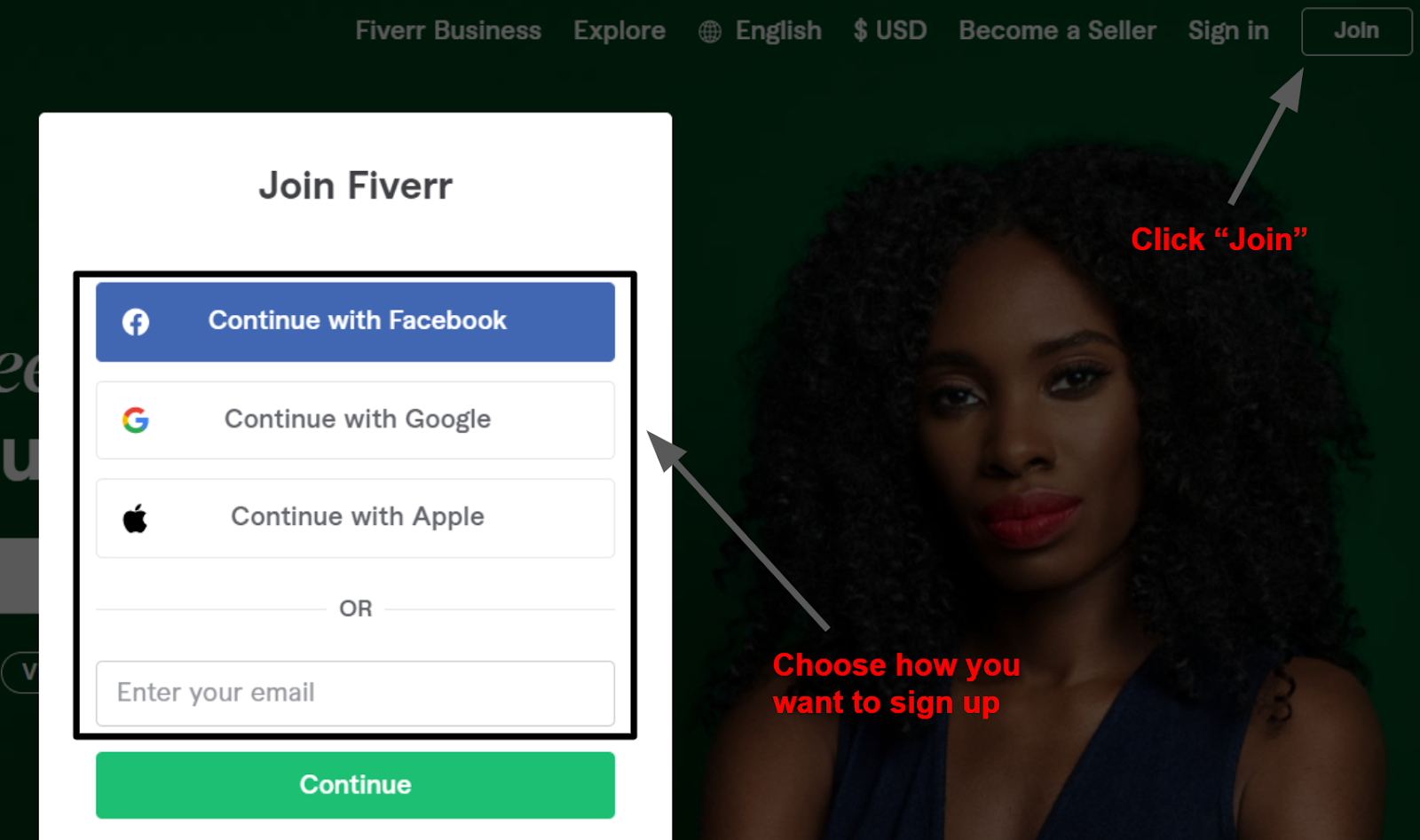 Once you have a Fiverr account, you have to set up a seller profile. To do so,
sign in to Fiverr
and click your user image icon in the top right
. A drop-down menu will appear. Select
Become a Seller
, which will take you to a new page. You'll have to click
Become a Seller
one more time.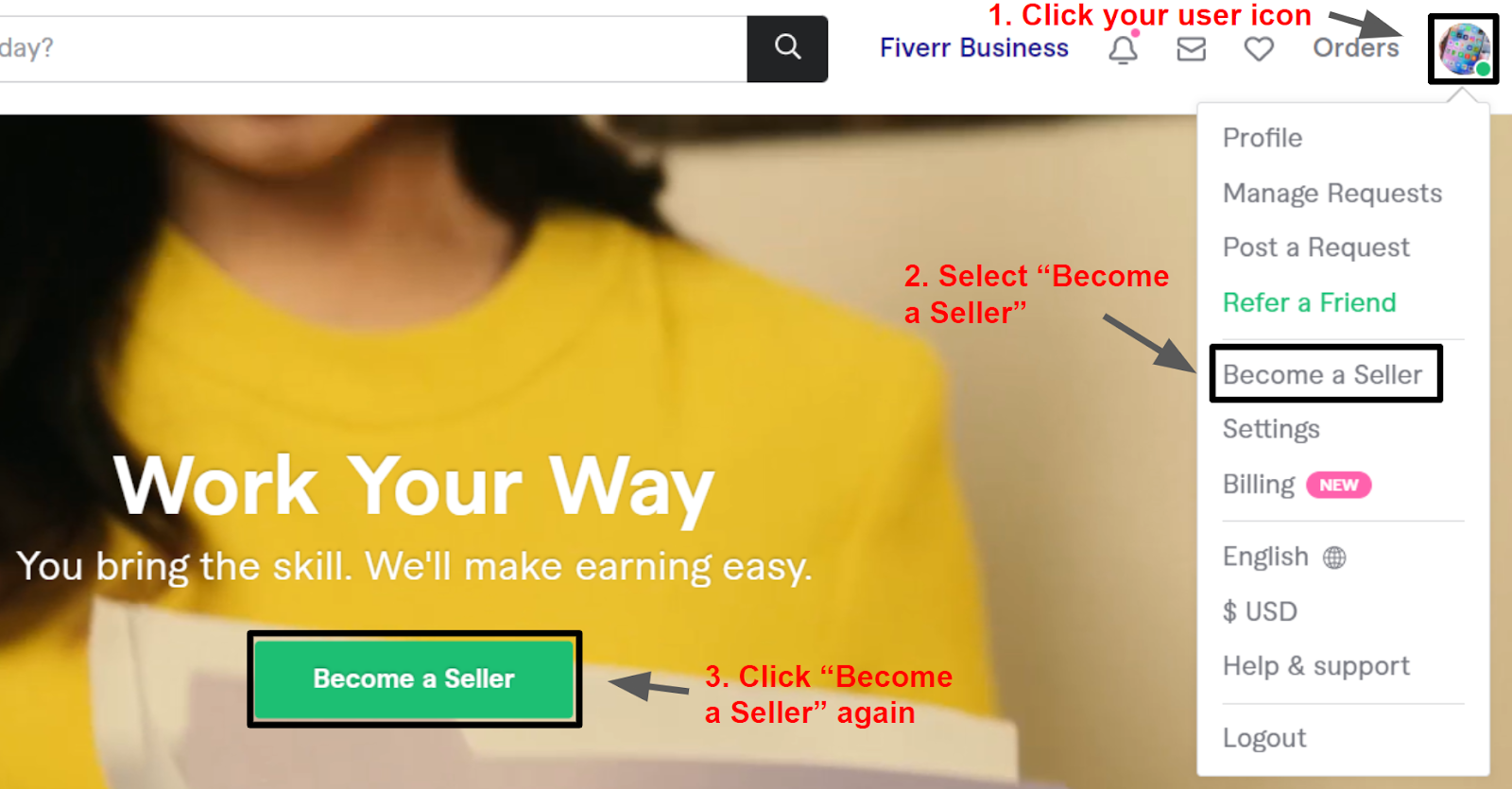 You'll be taken to a guided onboarding wizard where you'll fill in your personal and business information. The info you put here will be a potential client's first impression of you, so
really sell yourself with a standout description
. During onboarding, you can also link your Google, Facebook, Twitter, Dribble, and Vimeo accounts to tap into social media marketing and showcase your professional portfolios.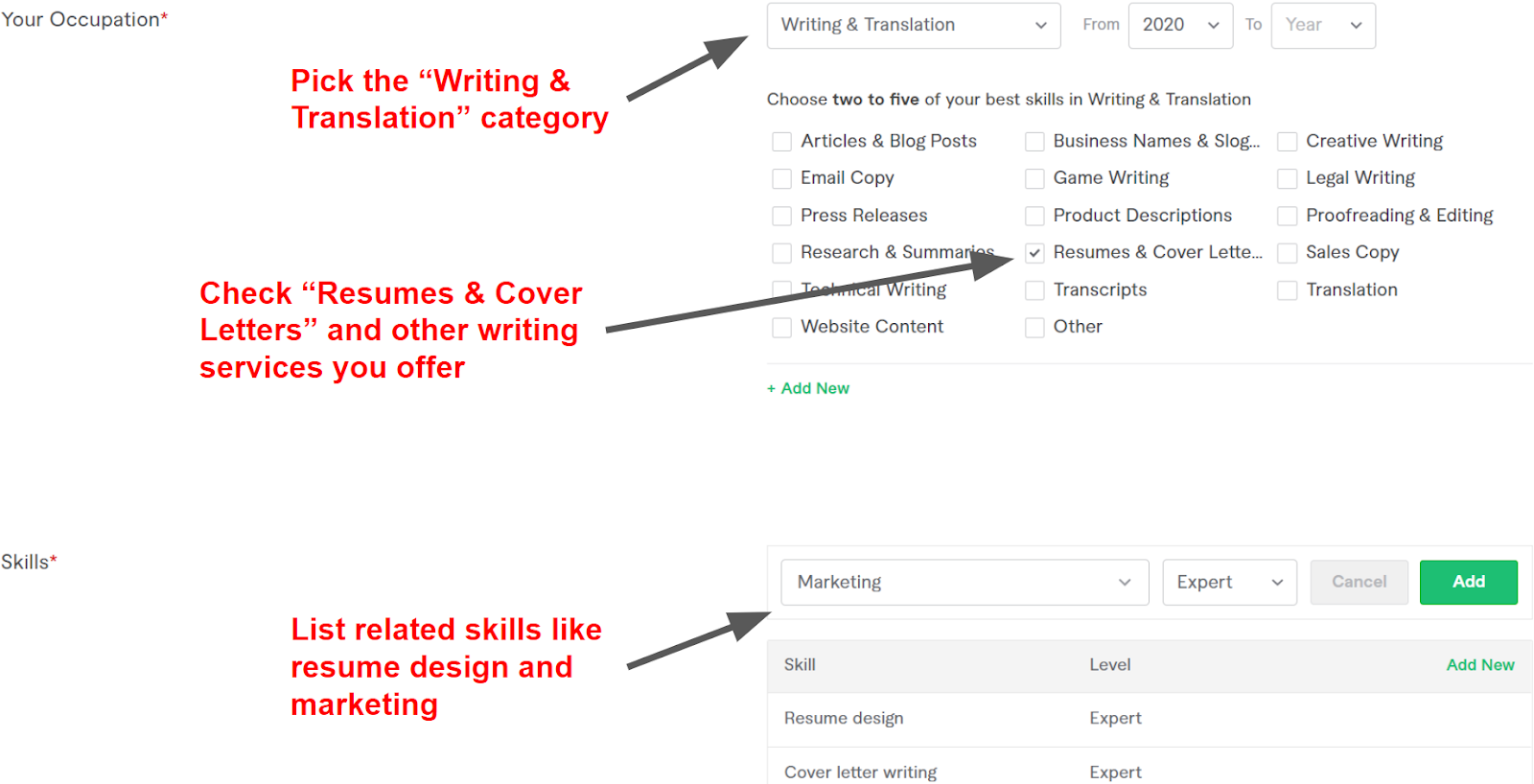 Once you finish setting up your seller account on Fiverr, you can jump right in and make your first resume writing gig. I suggest you
start with a small project aimed at people with a lower budget
– that way you can draw more customers and earn positive reviews. Once you're more established and have a good rating, you can raise your prices and still reliably make sales.
Land Your Dream Job With a Professional Resume Writer
Applying for jobs can be nerve-wracking, and receiving a series of rejection emails only makes it tougher to pick yourself up and try again. If you employ a person to craft your resume, you can reduce the pressure of promoting yourself and boost your odds of landing an interview. During my search, I found the best online professional resume writers on Upwork and Fiverr.
Check out Fiverr if you want to hire an affordable resume writer
or get an ATS-compliant resume in a niche field, like the tech industry. If you want experienced resume writers with 1-day delivery, you can
find a pro resume writing service on Upwork
. You have the skills for the job you want – all you need is a professional resume to wow recruiters and knock out the competition.
FAQ
How to hire a resume writer?
You can hire a resume writer on most freelancer platforms – I found the best resume writing services on Upwork on Fiverr. Check out this section for a step-by-step guide of how to hire a resume writer on Fiverr.
Is it worth hiring a resume writer?
Absolutely. If you hire someone to write your resume, they know the exact language recruiters want to see and can use proper layout and keywords to sell your skills and get past ATS. I cover exactly how a resume writer can help you here.
What's the best resume writer service?
The very best resume writing service depends on what you need, the job you're applying to, and your budget. Some resume writers focus on the job industry they're in, like tech or finance. Upwork and Fiverr hosts all types of professional resume writers. You can find resume writers for hire on any of these freelance sites, too.