app development can be extremely costly.
On average, organizations spend $50,000 to $200,000 developing an app. That's a lot, I know!
But you don't have to spend that much to get a mobile app if you hire a freelance iOS developer.
So, which website should you use to hire iOS developers who'll make your mobile app successful?
Some platforms lean more into tech services, while others offer app design
that can help you get stylish themes for your Apple app. I thoroughly researched popular sites to find the best places to hire iOS developers, and narrowed it down to these 7 platforms.
My personal pick is Fiverr, as it offers a wide breadth of services to get your app made at affordable prices.
But keep reading for more options that suit different needs, as well as for insights on how to hire developers and use these sites to their maximum potential.
Short on Time? These Are the Best Freelance Websites for iOS Developers in 2023
Fiverr – Largest pool of iOS developers and affordable fixed rates.
Upwork – Robust project management and payment tools on an all-in-one platform.
Toptal – Mobile app developer selected for you from a list of the top 3% of applicants.
What We Look For in the Best Freelance Websites for iOS Developers
Hiring a freelance iOS developer should be more affordable than a traditional full-time employee or an agency. A great website won't skimp on freelancers capable of high-quality mobile app development, and will also give you advanced tools to see the project through to fruition. When testing each freelance website for iOS developers, I looked for the following features:
Top-notch Developers: Freelance iOS developers should produce high-quality work and have good work experience, a professional attitude, and skills in Swift, Java, or Objective-C. You shouldn't have to sacrifice quality for affordability.
Job-Finding Tools: Hiring a remote iOS developer is a lot easier with tools like advanced search filters, in-depth developer profiles, job posting, crowdsourcing, and matchmaking. A website doesn't need all these functions, but it should offer enough to help you find the perfect developer.
Project Management Platform: Once you hire an iOS developer, it really helps if the website gives you a way to message, video chat, and file share with them. The platforms on this list can help with team building and collaboration.
Secure Payments & Refunds: Hiring an iOS developer online is safe, so long as the website you use protects your payments in escrow. The best websites also have resolution centers and refund policies to lower the risk if you don't love a freelancer's work at the end of a project.
Long-term Partnerships: Mobile app development isn't a one-off project, as you also need services like integration, bug fixes, and updates. These freelancer platforms let you hire iOS developers for the long haul, either part time or full time, and have options to subscribe or book by the hour.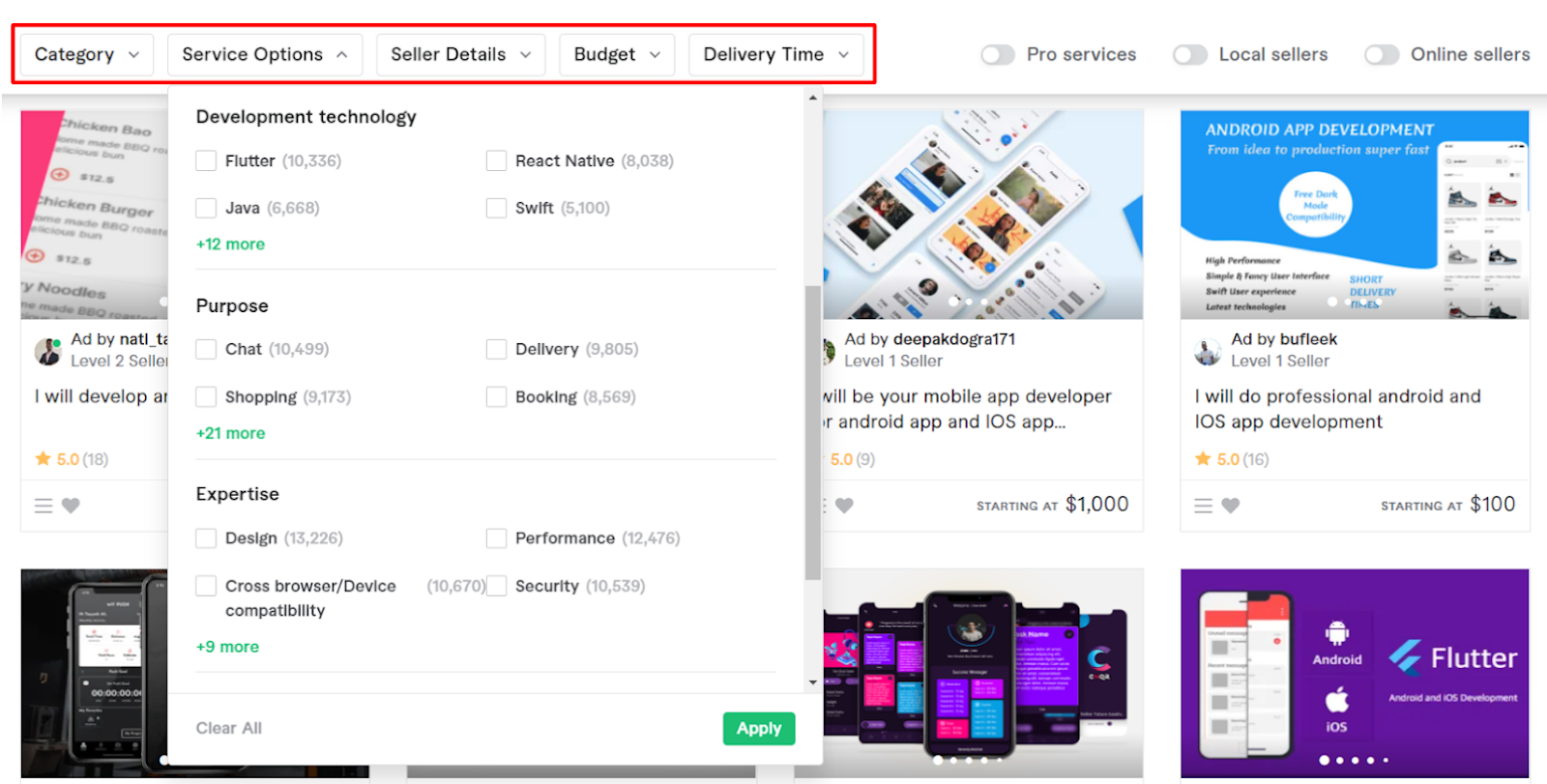 Fiverr is a giant platform of freelancers offering many services, including a wide breadth of developers. Many freelancers on Fiverr build iOS apps using Flutter, and you can
get an app for as low as $100
.
If you're willing to spend more, you can also get more advanced apps from developers skilled in Swift and Java.
Finding an iOS developer on Fiverr is super easy with advanced search filters.
You can narrow freelance developers by skills, turnaround time, budget, and category
– which makes finding devs specializing in something like social, dating, shopping, or health apps a cinch.
Features
Detailed Work Portfolios: Judge a developer's skill by examining their profile and work portfolio. Check out their customer reviews, work examples, skills, languages, and experience. If you have any questions, you can contact a developer with questions before hiring them.
Seller Levels: Freelancers on Fiverr are ranked by seller levels, so you can filter by top developers on the platform. For example, to be a top rated seller, a developer has to have $20,000 in earnings and maintain a 4.7 review score, plus a 90% delivery and response rate.
Packages & Add-ons: Developers on Fiverr offer 3 packages for each service. For example, a bronze package may get you a 1-page app, while a premium package will get you multiple pages. For faster turnaround, pay extra for expedited delivery – super useful if you're short on time!
Job Subscription: Hire an iOS developer long term by subscribing to their gig for 1 month, 3 months, or 6 months.
Check out my colleague's review of Fiverr
to examine its features further.
iOS Developer Scope & Quality
Large variety of app development for Apple devices from budget to advanced.
Job Finding Tools
Seller levels, in-depth profiles, and advanced search filters.
Refund Policy
Full refund within 14 days of job completion.
Starting Price

$

5.00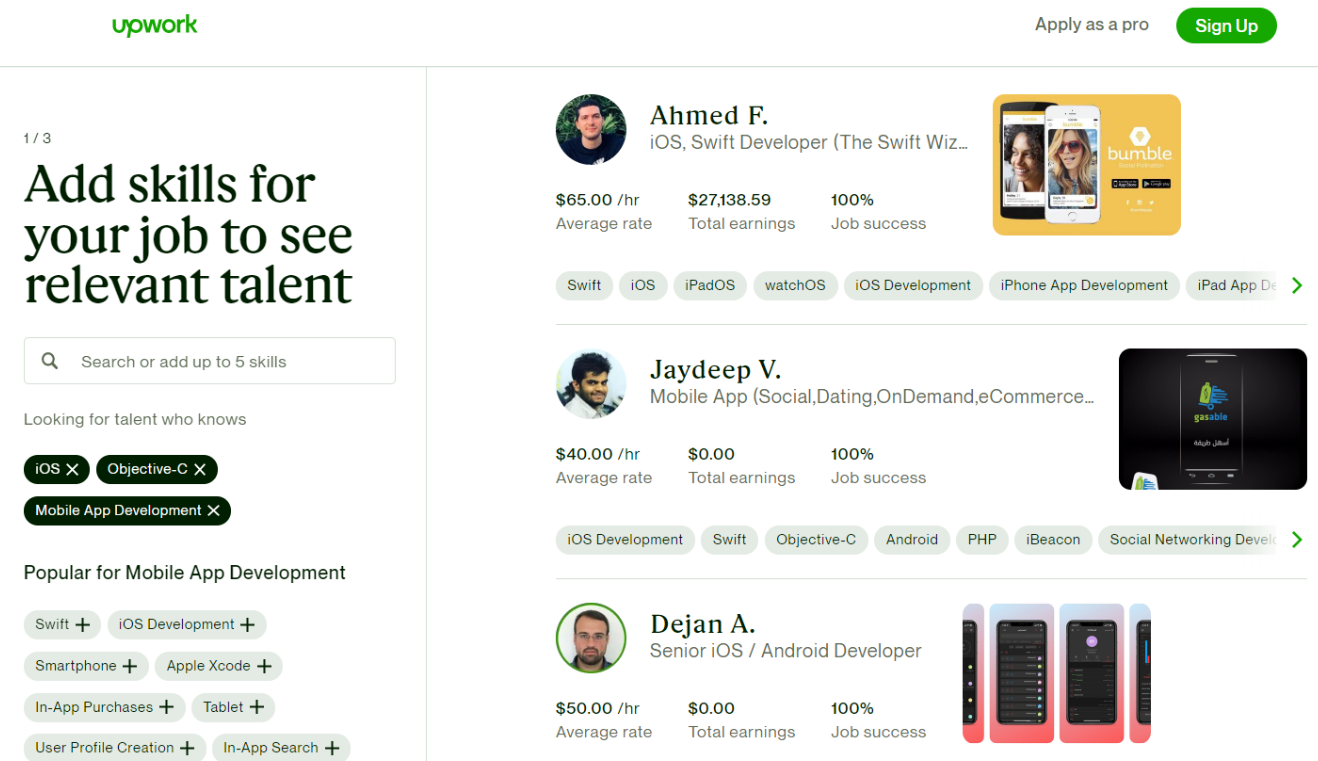 Upwork boasts a massive network of freelancers, including many iOS developers. You can
hire a mobile developer on Upwork
for anywhere from $40 to $150 per hour, or even
assemble a whole team and manage your project directly on the platform.
What I really like about Upwork is the
staggering number of top-rated iOS developers with experience in the industry.
And Upwork's advanced search filters make it a breeze to find them. Since you can hire developers long-term, it's also great for post-release maintenance and bug fixes.
Features
Job Posting: Post your job brief listing budget, project length, and the kind of iOS developer you want (Swift, Java, Objective-C, etc.). Mobile developers will apply, and all you have to do is pick your favorite to hire.
Project Management Tools: Handle communication, video meetings, file sharing, and invoicing all on Upwork. Not only is this super convenient, it also protects you if a dispute happens, since Upwork can access your message history.
In-depth Developer Profiles: Gauge a developer's work history, skills in software and code, and areas of expertise. If you want a freelancer experienced in Swift or someone who's made e-commerce apps before, all that information will be in the developer's profile.
180-day Refunds: Request a full refund up to 180 days after paying your freelancer if you don't like their work on your mobile app. This is a very generous time window – there's little to no risk of having to pay for a broken app.
Read more about Upwork in
my colleague's extensive Upwork review
.
| | |
| --- | --- |
| iOS Developer Scope & Quality | Experienced and high-quality iOS developers. |
| Job Finding Tools | Developer profiles and job posting. |
| Refund Policy | Full refund within 180 days of payment. |
| Starting Price | Freelancer rates vary but there is no monthly fee to sign up to and use Upwork. |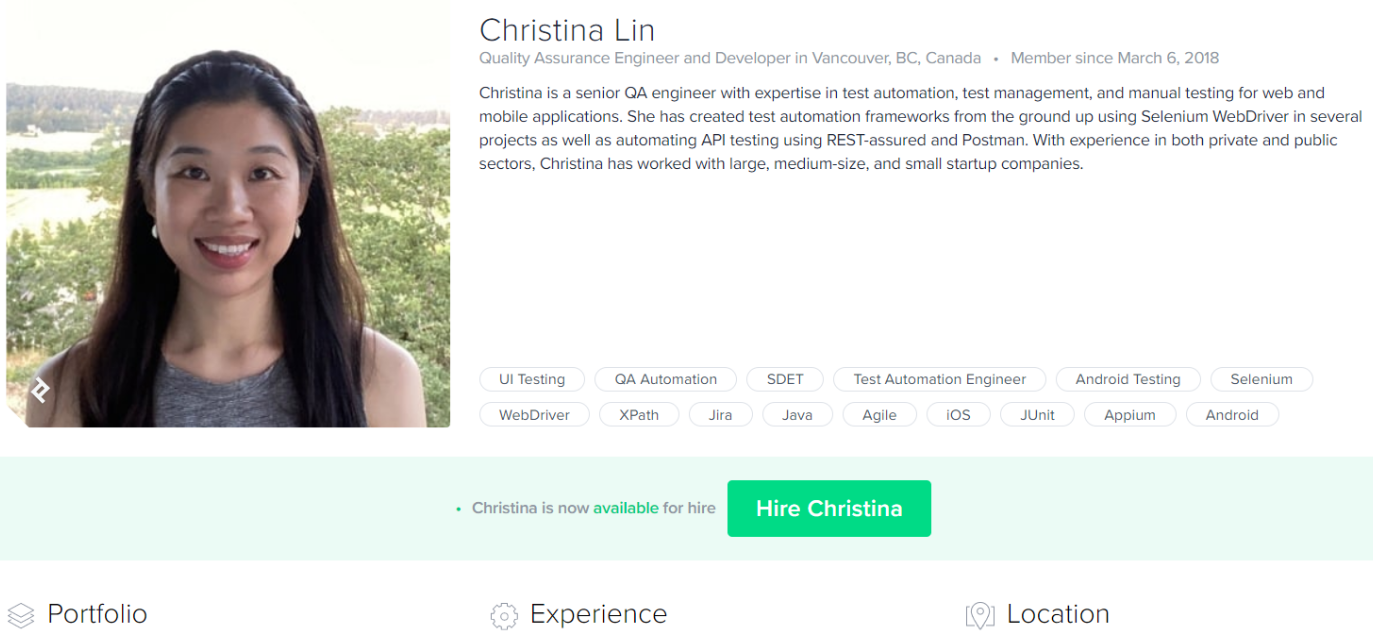 Toptal is one of the most expensive websites to hire a freelance developer from, but with good reason.
Every developer on Toptal has been screened with a rigorous 5-week application program.
This program includes interviews and test projects to determine both whether a developer is skilled enough and how they perform in a real-world job setting.
Only 3% of Toptal's applicants are approved, removing the stress and risk of hiring an iOS developer
. So, if you're at all worried about working with a freelancer and have the budget to spend, rest assured you can
find pro developers on Toptal
. You can choose how long you want your freelancer for on Toptal, and you can book them by the hour. This makes it really easy to get updates and bug fixes during your app's lifetime.
Features
One-to-One Matchmaking: You tell Toptal exactly what you want in a brief and a 20-minute phone call, and it matches you with the best iOS developer to suit your app.
In-depth Developer Resumes: Developers on Toptal have a lot of experience in the industry, and their resumes show it. Notable achievements are listed under employment history, so you can really see where each developer excels.
Large-scale Teams: If you have a big app project and need to take on multiple iOS or UX developers, you can assemble and manage a team on Toptal.
Trial Period: Pay a $500 security deposit and work with your freelance developer for 2 weeks. If you decide it's not a good fit, you don't pay anything AND get your deposit back. This is super reassuring, especially since Toptal is so expensive.
Learn more about Toptal's features in
our expert Toptal review
.
iOS Developer Scope & Quality
Professional dev experts who've been thoroughly screened.
Job Finding Tools
Personalized matchmaking.
Refund Policy
2-week free trial.
Starting Price

$

60.00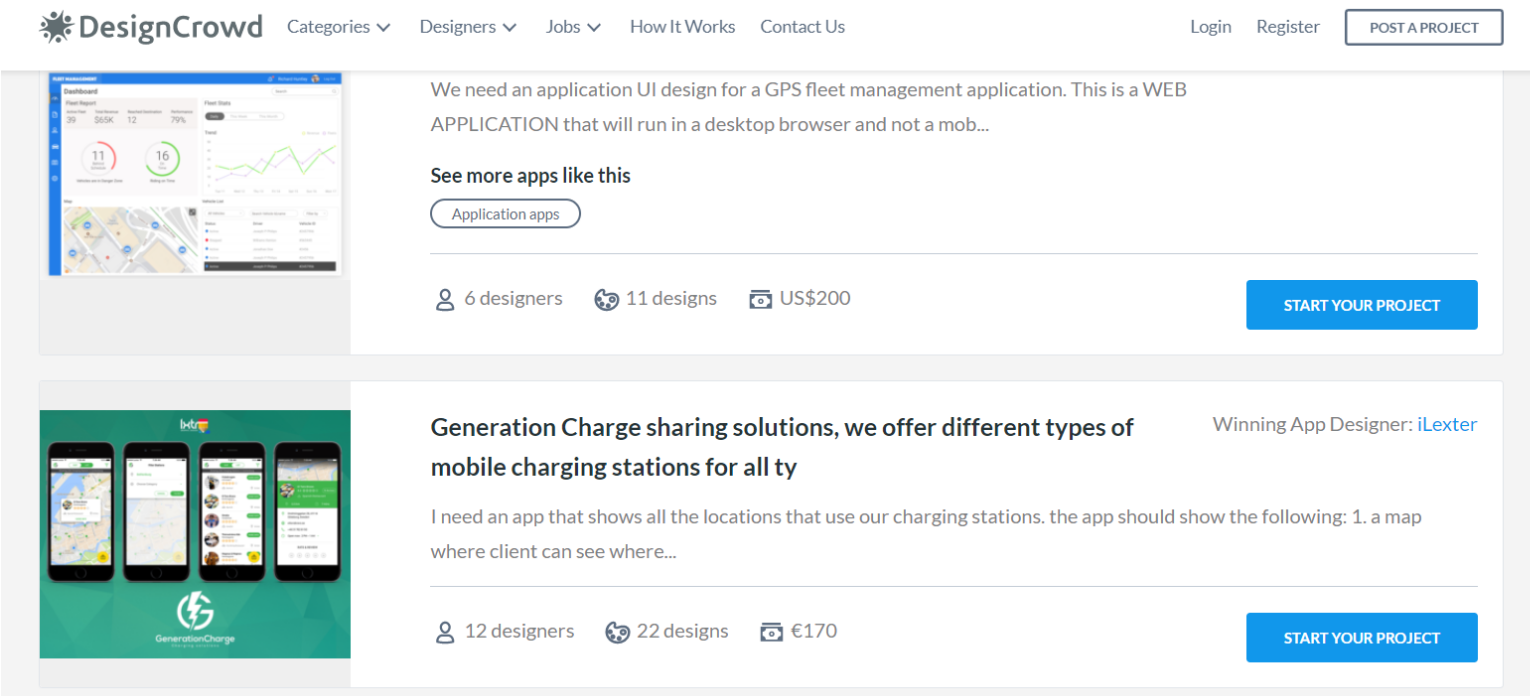 Not every developer is a designer, and DesignCrowd is a great place to get screens, themes, and layouts for your mobile app.
If you're still on the visual step of your app's development, consider crowdsourcing designs via DesignCrowd.
When you
start a contest on DesignCrowd
, you'll get an array of designs to pick from, maximizing your chances of getting something you like in a timely manner. Your design is delivered via source files and/or Figma, which makes it super easy to share with a mobile developer.
Features
App Design Contests: Post a project with all the details of the mobile app you want, and applicants will send you a flood of designs to choose from. You can get 1-3 designs for $99, or pay more for 20+ options.
Designer Portfolios: Browse through mobile app designers to invite them directly to your project. If you only want mobile design submission from freelancers you invite, you can pay extra to make your project private.
Project Upgrades: Pay for extra services like premium support (24/7 screen share calls), an NDA, express turnaround, featuring your project at the top of the page, and ensuring 3 top designers on DesignCrowd submit designs.
Design Gallery: Browse completed projects and design winners to get ideas for your mobile app. You can also see the winning designer, so this is a great way to find an app designer you like to invite to your project.
We cover more about how the process works in our DesignCrowd review, where we gave it [insert vendor review score] out of 5 stars.
iOS Developer Scope & Quality
Graphic designs for iOS apps.
Job Finding Tools
Designer profiles and crowdsourcing.
Refund Policy
Full refund within 30 days of posting your project.
Starting Price

$

109.00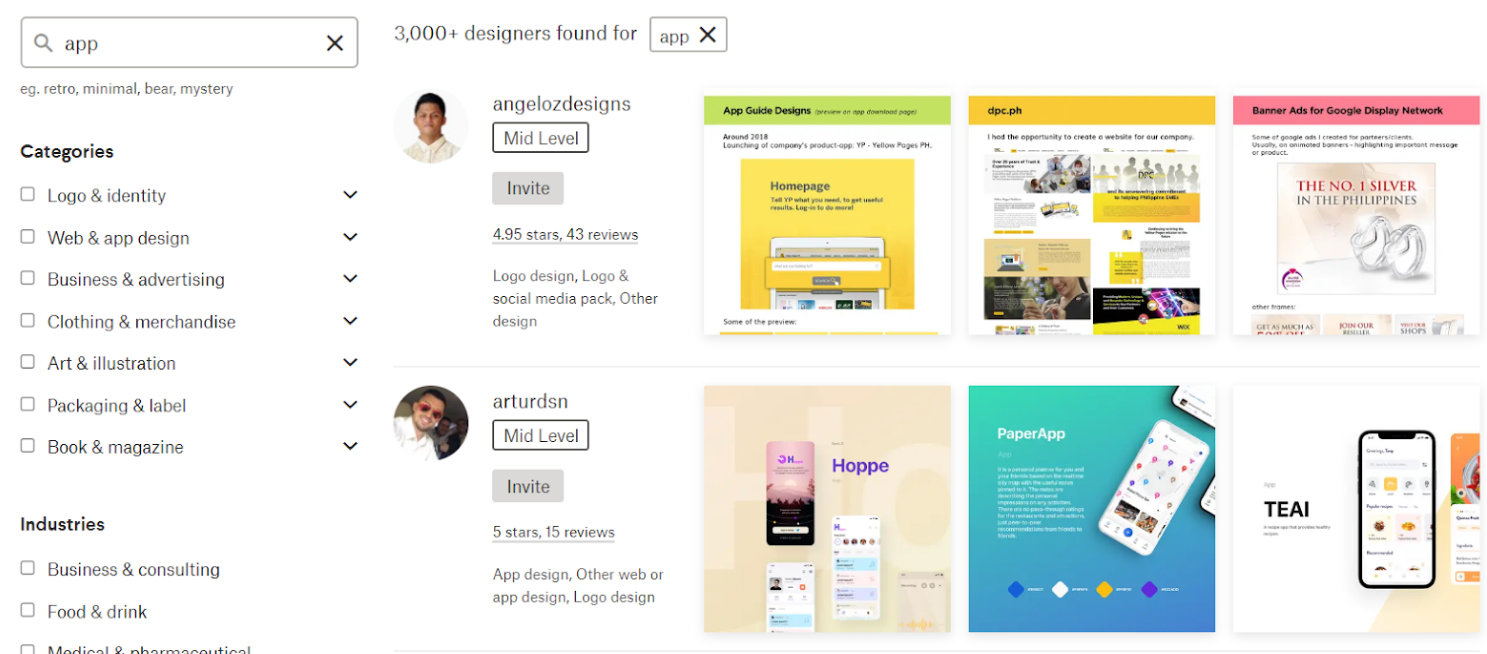 99Designs is an easy-to-use crowdsourcing tool.
This makes it an ideal choice if you're new to online hiring or simply want a guided process to follow.
99Designs is a bit pricier than its main competitor, DesignCrowd, but it offers a few features that might make it worth the extra cost. There are two ways to hire on 99Designs: start a contest or
hire a mobile app designer directly
. One thing about 99Designs that stands out to me is its overall quality of graphic designers. Chances are you'll get some nice art for your app. Plus,
there isn't a limit to how many designs you can get with a contest
, so you might end up choosing from dozens or even hundreds of graphics.
Features
Step-by-step Project Posting: Follow guided prompts to set up a project. Fill out your brief (what kind of app you want, the style you're going for, etc.). This helps freelancers deliver the app design you actually want.
Graphic Designer Profiles: Check out a freelance app designer's portfolio, customer reviews, experience, skills, languages spoken, and location to decide if their style and service is a good fit for you. The best designers on 99Designs have a "Top Level" tag right under their username, so look for that when hiring.
Winner Portfolios: Browse art portfolios and completed projects to find inspiration or hire a mobile app designer with the exact style you want.
100% Money-back Guarantee: 99Designs has a 60-day refund policy, which is a lot of time to decide whether or not you like your mobile app design. Keep in mind you can't get a refund on contests with a guaranteed winner.
Read about how we got a logo in
our review of 99Designs
.
iOS Developer Scope & Quality
Graphic design for iOS apps.
Job Finding Tools
Designer portfolios, consultation, and crowdsourcing.
Refund Policy
100% money-back guarantee within 60 days of payment.
Starting Price

$

299.00

Fiverr Pro gives you all the benefits of hiring on Fiverr, such as advanced search and niche services, with the added bonus of access to top-rated iOS developers. You can
hire a Pro Verified developer
at no extra charge, which is awesome – but these mobile app services do cost a lot more. However, I feel
the top-quality apps you'll get are definitely worth the higher pay rate.
To become Pro Verified, app developers on Fiverr must undergo a thorough application process.
Fiverr examines their industry experience, higher education, and overall work quality to decide if they're up to Pro standards.
So, you know you're hiring serious talent.
Features
Professional Service: Developers on Fiverr Pro are experienced iOS experts with great communication skills who'll deliver excellent work. You're far less likely to run into flaky or halfhearted freelancers.
Faster Delivery: With the exception of bigger jobs that require more time, iOS developers on Fiverr Pro tend to produce results more quickly than average.
More Robust Apps: App development services on Fiverr Pro typically include more features than normal Fiverr, such as full graphic design, network integration, and multi-platform compatibility. This is ideal for high-end apps and if you expect to have a lot of users.
Risk-free Hiring: iOS developers who are Pro Verified submit a 1-minute video and their social media accounts to show Fiverr who they are as people. This helps ensure your developer will be good to work with. And if you don't like the work you get, you can get a full refund.
If you still can't decide if Fiverr Pro is right for you,
check out our Fiverr review
for a more in-depth analysis of the benefit-cost ratio.
iOS Developer Scope & Quality
High-quality developers for Apple devices.
Job Finding Tools
Selection of screened professional developers.
Refund Policy
Order cancellation and full refunds.
Starting Price

$

5.00
7. Proxify: Developer-Focused Platform for Big Projects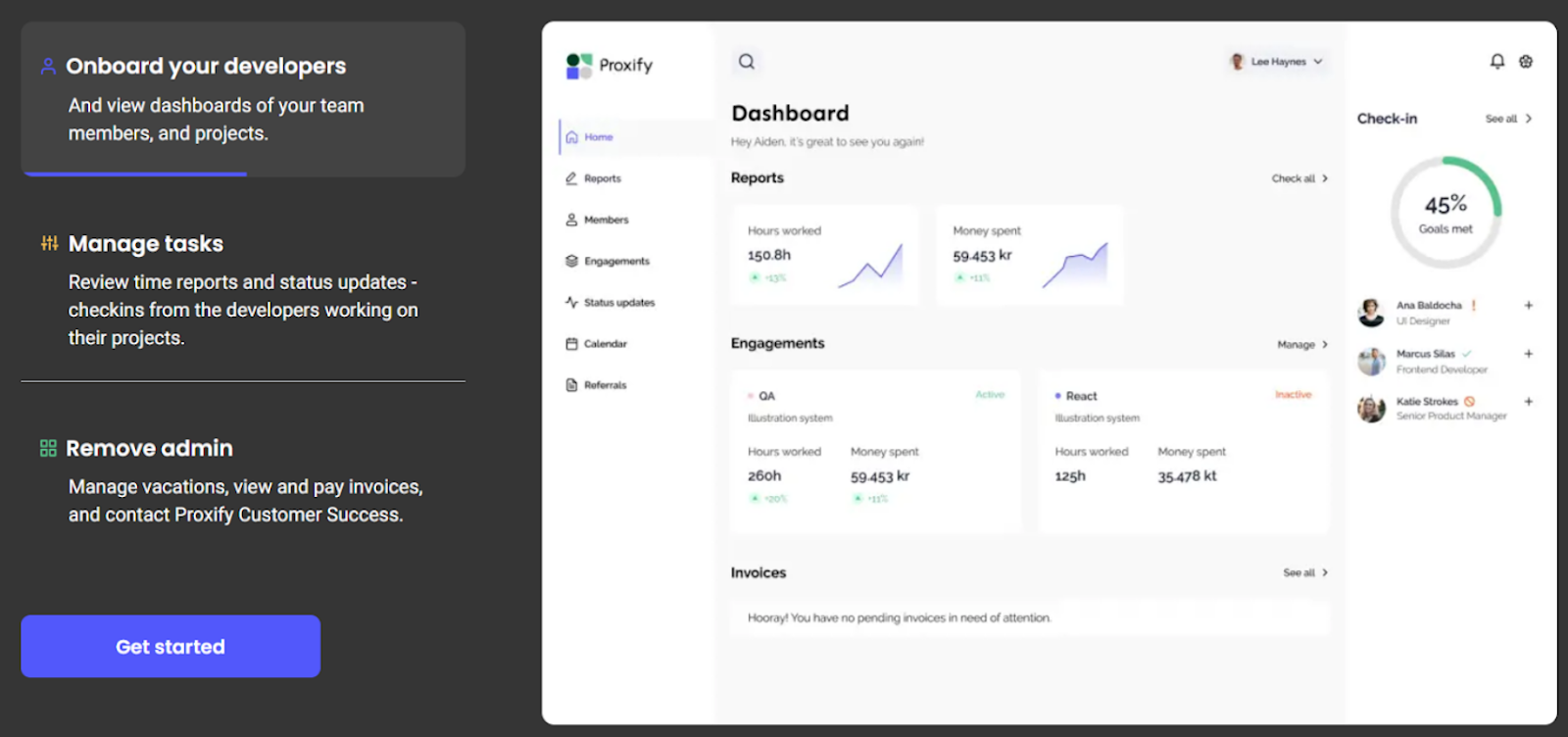 Proxify specializes in freelance developers, so it's a great resource to hire tech experts for your app. I like platforms that excel specifically in development, as this means the freelance devs you get are often very good at what they do.
Plus, developers on Proxify are carefully vetted – only 2% of 5,000 applicants are accepted per month.
One interesting thing about Proxify is you actually save money by hiring full-time developers, as their hourly rates are less than part-time workers. This is a feature I've never seen before, and could be super rewarding if you have a big project and need a full-time app developer. So,
Proxify may not be the best choice for short-term development – but it's great if you want to hire a team of iOS developers for a big project.
Features
Developer Profiles: View a freelancer's main expertise (such as iOS development or UX design), their list of skills, and their portfolio to get a sense of their style and work quality. One downside is there are no customer reviews.
Team Management Dashboard: Take advantage of a progress tracker, calendar, collaboration platform where you can gather all members of your team. This is excellent if you have a developer, a UX designer, and a project manager you want to work together.
On-Site Developers: While most developers on Proxify work remotely from home or their own offices, you can arrange for a freelancer to come in-person to your business if you need a local worker.
Blogs & Guides: Access a library of articles to help you figure out how to hire a great designer, how to retain employees, and more.
| | |
| --- | --- |
| iOS Developer Scope & Quality | Vetted developers from all over the world. |
| Job Finding Tools | Developer screening, freelancer profiles, and self-help guides. |
| Refund Policy | Refunds only available on a case-by-case basis or in the event of a service error. |
| Starting Price | $34.15 |
How To Hire an iOS Developer
Hiring an iOS app developer may feel like a daunting task, but I promise you it's not as hard as it looks. It's actually really easy to
find a mobile app developer on Fiverr
 and get started on your project within the day. Just follow a few simple steps. First, identify your budget and what you want – a single-page social app for cheap, or a pricier multi-page shopping app for your store? Then,
use the search filters on Fiverr to find iOS developers in your price range, category, and preferred code language.
This will only show developers who fit your criteria.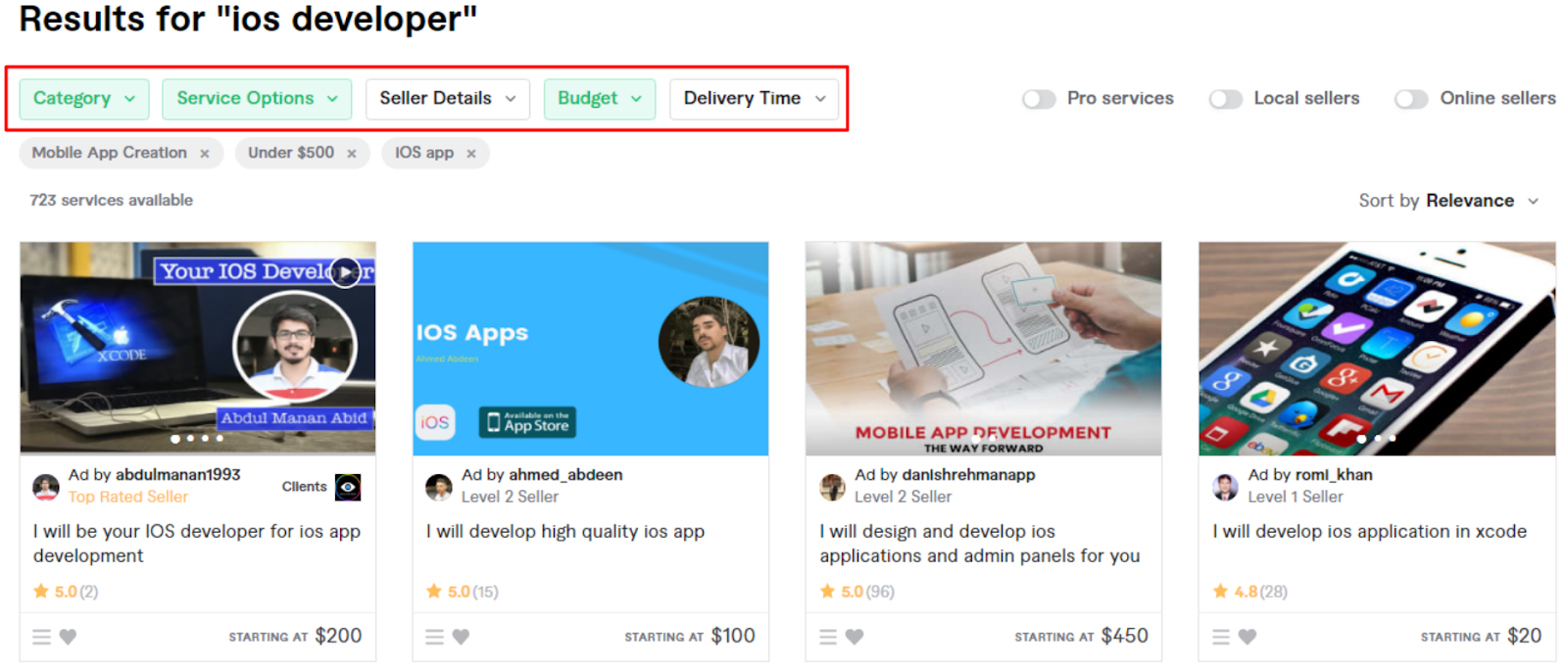 Look through a freelance developer's profile thoroughly before hiring them. Make sure they have mostly positive customer reviews and work examples you like.
You can contact a freelancer first to get a quote or ask a question – just click "contact seller" on the developer's gig page.
When you've decided on an iOS developer, booking their service is super easy.
Freelancers on Fiverr offer three packages: bronze, silver, and gold.
Each package includes different services (with premium packages costing more), so compare them to see which suits your project best.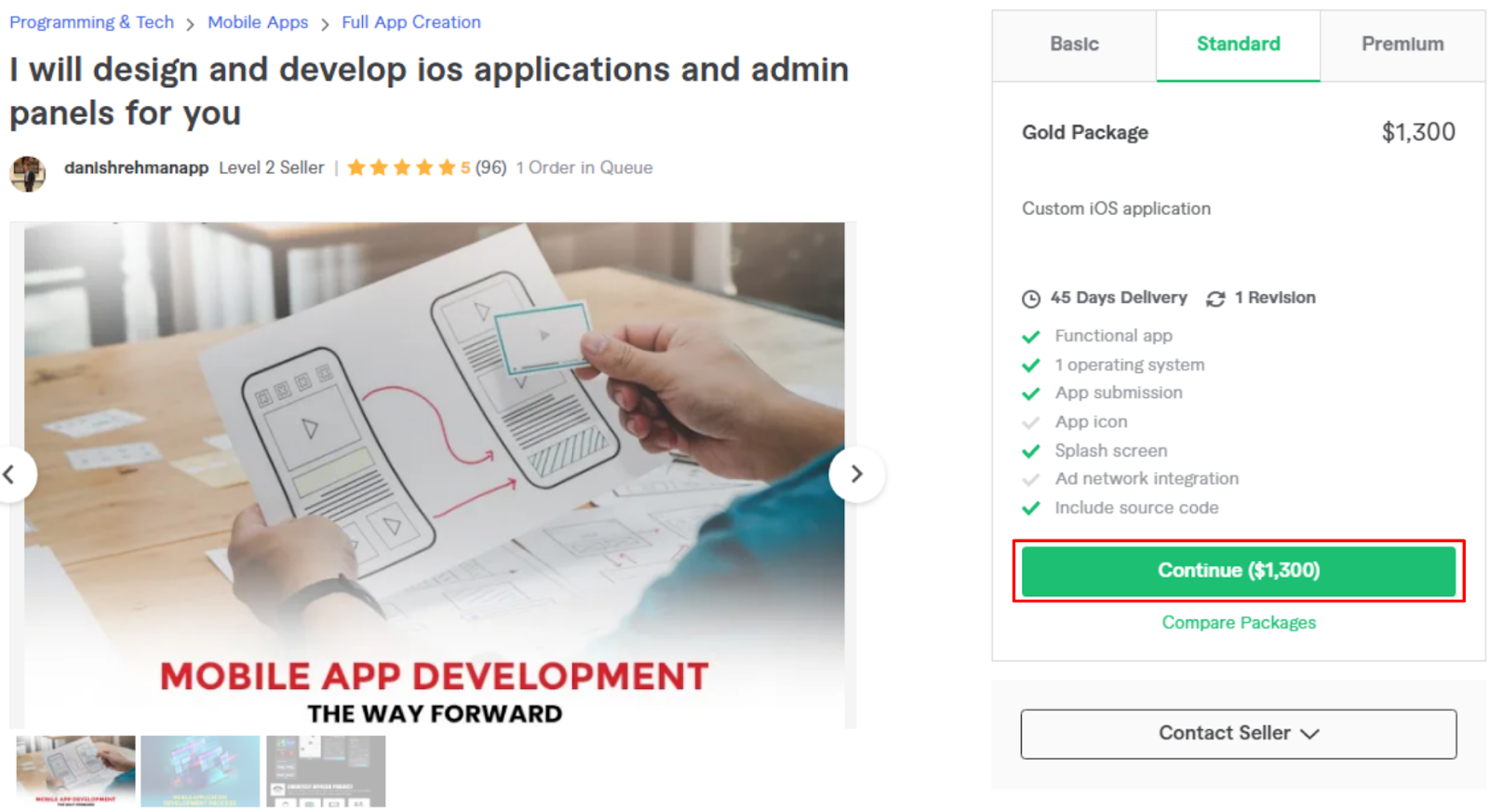 Click "continue" on the package you want, add any desirable extra services like expedited delivery and revisions, then continue to checkout.
Fiverr accepts payment via credit cards and PayPal, and your money is securely held in escrow until the job is complete. That's all it takes!
Are You an iOS Developer Looking To Sell Your Services?
If you're looking to jump into the world of freelancing and start selling your services as an iOS developer, I recommend getting started on Fiverr.
Sign up is free and takes 10-15 minutes before you can start selling to clients
. Its popularity makes it a pretty good way to rack up clients and build your portfolio. Want to know more? Read our
expert Fiverr review
to learn why it's such a good platform for freelancers.
To get started on Fiverr, navigate to its homepage and click "Join" in the top-right corner.
You can join with your Facebook, Google, or Apple account, or sign up via email. Your username is what potential clients will see, so make it good!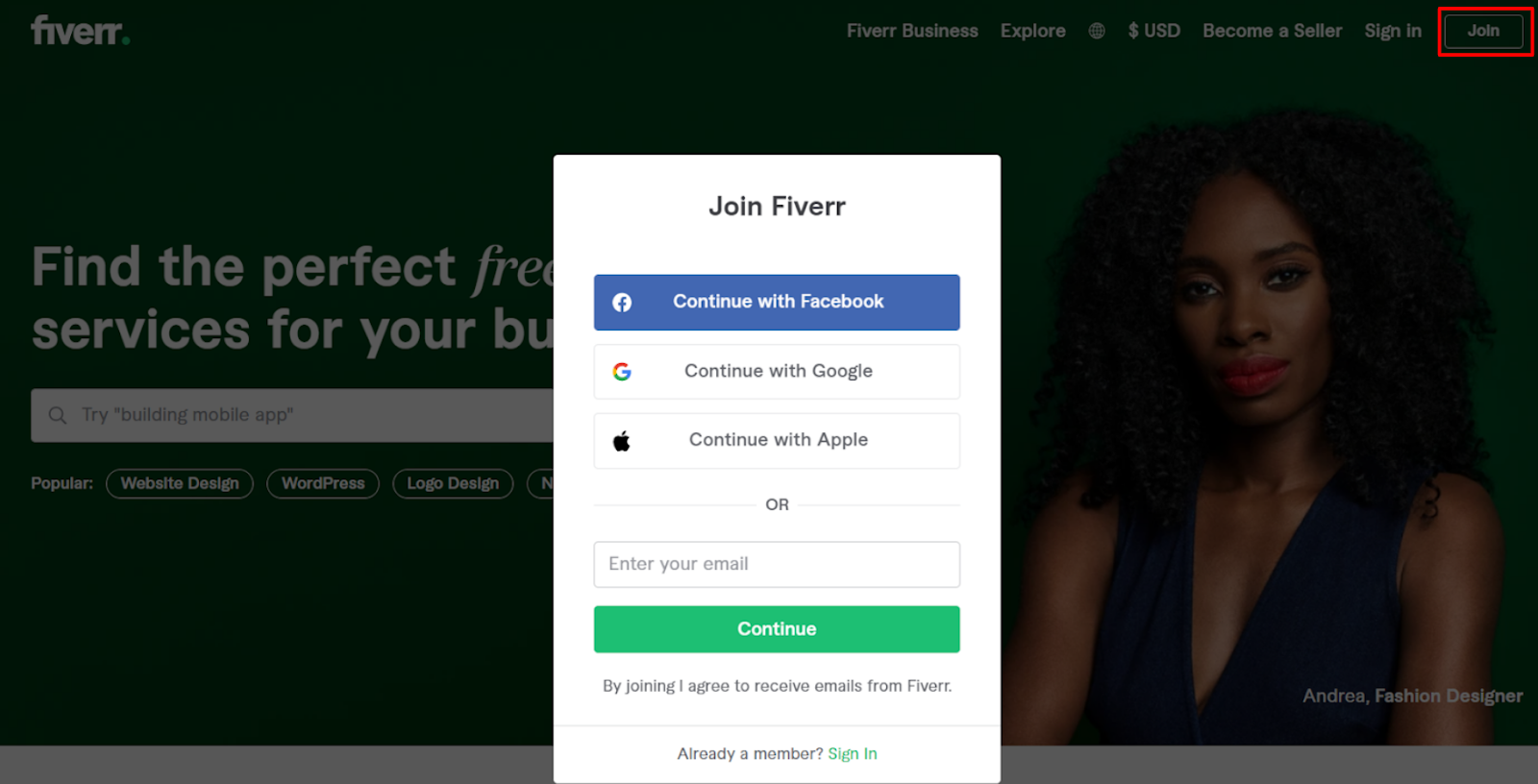 Now that you have an account, you have to sign up as a freelancer. Don't worry – it's easy to do.
Simply click your profile icon in the top right, select "Become a seller" from the dropdown menu, and click "Become a Seller" one more time.

This will take you to a seller profile builder.
Fill in all the required information and pick a unique profile picture.
The goal here is to stand out from the crowd, so don't hold back on your skills and experiences as a developer. Go into what makes you a cut above the rest.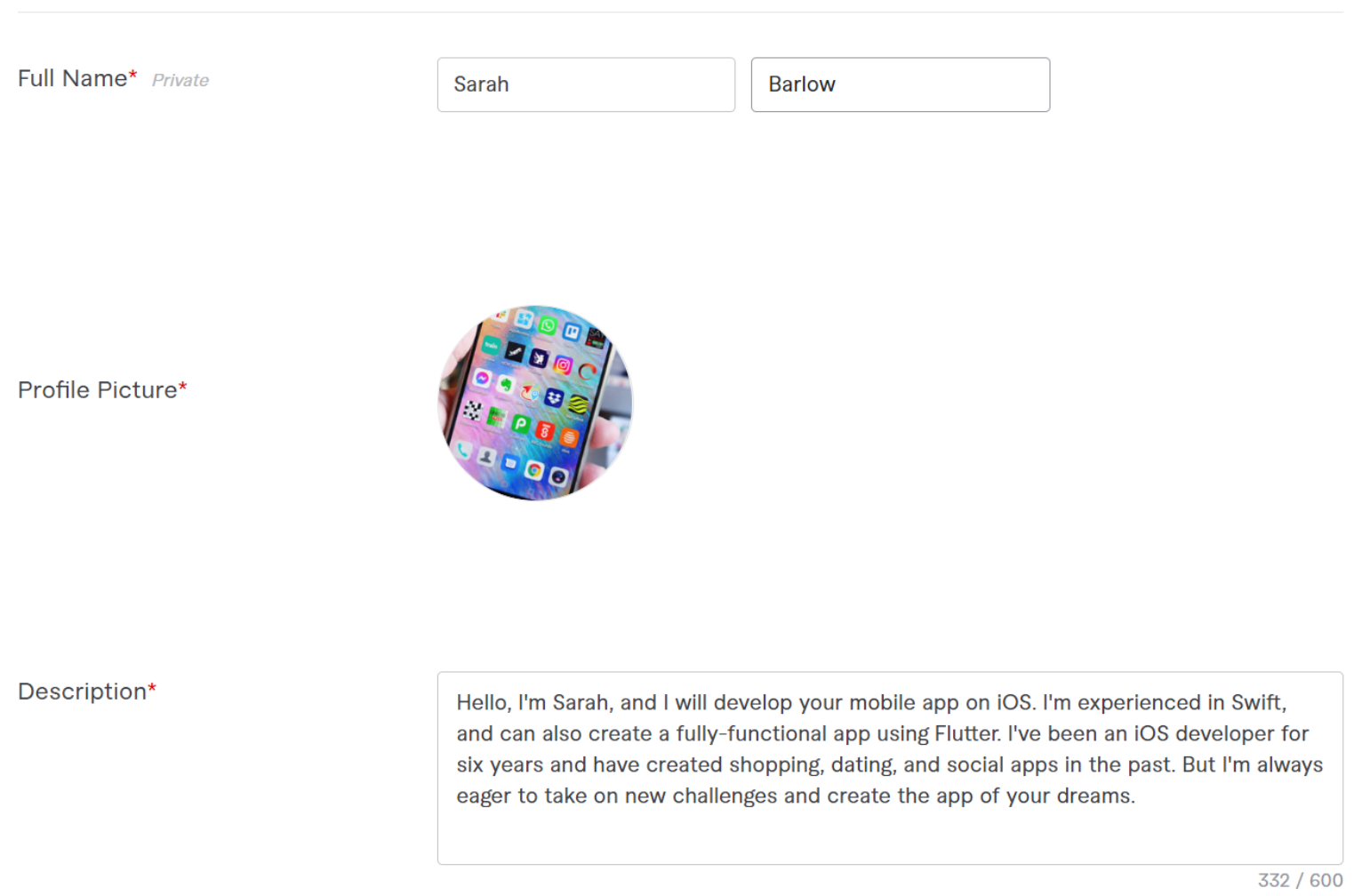 Once you complete your seller profile, you're ready to go!
You can create your first gig and immediately start selling as a developer.
My advice is to start with 1-2 low to moderately priced gigs until you build up positive reviews and a portfolio of mobile apps you've developed. We've also written a more
in-depth guide to freelancing on Fiverr
if you want to know more.
Get a Good iOS App Without Spending a Fortune
Many freelance websites offer the opportunity to hire an iOS developer. However, your best choice depends on your specific needs, budget, and the type of app you intend to create. Overall,
I recommend Fiverr for its wide range of budget options
from affordable to pro and massive pool of iphone app developers. Or, if you want to build a team and manage your app's development on the same platform,
use Upwork to hire experienced tech experts
 and UI/UX designers. If you want the absolute best and aren't afraid to spend extra, I suggest you
go with Toptal to get an iOS developer of the highest caliber
, handpicked through a selective screening process and personalized matchmaking.
| | | | | |
| --- | --- | --- | --- | --- |
| | Pricing | Best Feature | Best For | |
| Fiverr | $ | Massive pool of iOS developers across multiple expertises. | People who want a fast and affordable Apple app. | |
| Upwork | $$ | All-in-one platform from hiring, to team management, to invoicing. | Businesses looking for a mid to long-term iOS developer. | |
| Toptal | $$$ | Personalized matchmaking from a selection of vetted developers. | Enterprises that want top-quality freelance developers. | |
| DesignCrowd | $ | Affordable graphic design crowdsourcing. | People on a budget in need of app design. | |
| 99Designs | $$ | Easy-to-use freelance platform to get app designs. | Beginners or people who want hassle-free app designs. | |
| Fiverr Pro | $$$ | Vetted iOS developers. | Businesses willing to spend for top-quality & fast app development. | |
| Proxify | $$ | Team management dashboard. | Big dev projects and team building. | |
FAQ
What is an iOS Developer?
An iOS developer is a tech expert in script languages such as Swift, Java, and Objective-C, who can code an app for Apple devices.
How to Become an iOS Developer?
There isn't a simple answer, but the best way to get started is to learn how iOS apps work, learn the associated code language, and take courses in iOS app development. I suggest creating a personal iOS app to hone your skills. If you're already an iOS developer and want to start freelancing, here's how to get started on Fiverr.
What Does an iOS Developer Do?
An iOS developer writes code for mobile apps to create a functioning program. The codes most often used in iOS development are Swift, Objective-C, and Java. The app can be virtually anything, from social, to online shopping, to dating, to finance, to health and fitness.
How to Hire iOS Developers?
Hiring an iOS developer can be daunting, but it's not too difficult if you know what you want and where to look. Any of the websites in the article have good iOS developers and graphic designers for making a mobile app. Here's what I look for when judging whether or not a freelance website is a good place to hire iOS developers.
Where Can I Find iOS Developers?
You can find iOS developers online pretty easily on any of the freelancer websites listed in this article. For more freelance websites with skilled professionals, you can also check out our 7 best freelance websites to hire guide.