there's nothing worse than spending hours shooting footage, editing, and bringing a video together, only to end up with a low number of views and shares.
But that's because creating a great video is only part of the story. You also need to deliver your content to the right audience. But where do you even begin, and how much will it cost you? Thankfully, you don't need to spend a fortune to market your YouTube videos.
I found many video marketing experts offering their services for just $5 on Fiverr
, and the rates of experts on Upwork are also pretty competitive. Both Fiverr and Upwork offer payment protection schemes, adding an extra level of security to your transactions. Everything you need to promote your channel could be one click away!
9 Best YouTube Promotion Services for Hire
Fiverr is my go-to choice most of the time, especially if I need to promote a video as quickly as possible. A simple search brings up thousands of gigs, and I can use
Fiverr's advanced filters
 to find the right fit in a matter of minutes. Whether I just need help with my video's description or want to access a larger audience, I know there's always a Fiverr freelancer who can help. Upwork might be a better choice if you'd rather
hire a YouTube marketer by the hour
or don't know exactly where to start with your YouTube promotion strategy. Upwork's experts can guide you through the process, one step at a time (just take a look at our
Upwork review
to see the process). After weeks of rigorous testing, I narrowed this list to the 9 best YouTube promotion services. These services include video promotion and distribution, video SEO, channel management, and audience research.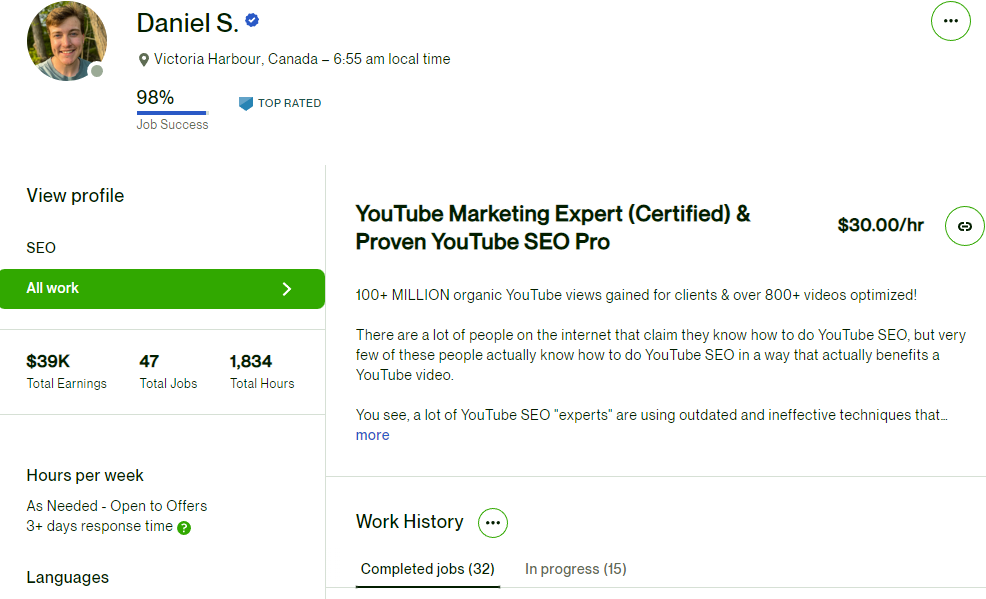 Daniel S. is a YouTube-certified expert in Search Engine Optimization (SEO), and he's already optimized more than 800 videos,
resulting in more than 100,000,000 organic views
. If you need someone to help nail your video's titles, descriptions, and metadata (such as tags and categories) while also pleasing the platform's complex algorithms, Daniel S. can help.
He has an impressive "Job Success" score of 98% and has also earned the "Top Rated" badge
(which is only given to the top 10% of talent on Upwork).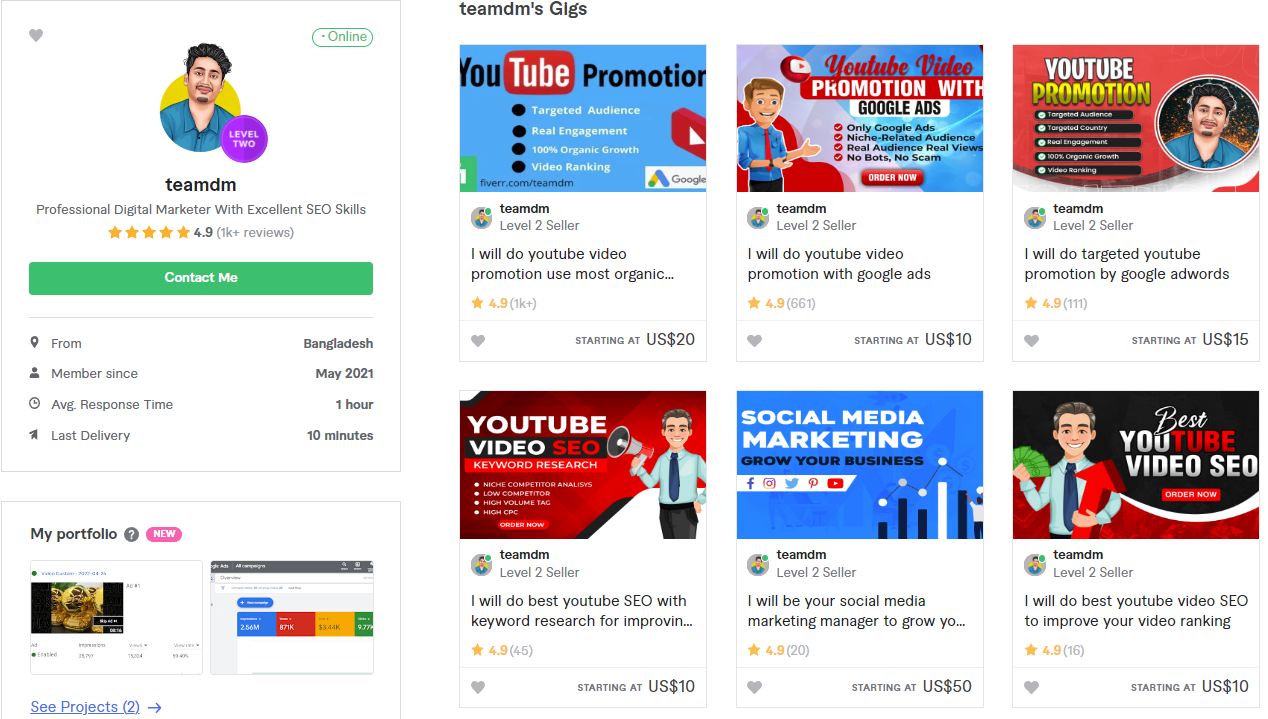 Teamdm is a professional digital marketer with more than one thousand 5-star reviews.
He runs several successful gigs on Fiverr, and they all come together to form a powerful YouTube promotion strategy.
His organic growth gig (via Google Ads) is one of the most popular on the platform
, but his SEO and social media cross-promotion gigs are also worth taking a look atl. He even offers a complete growth management package that includes deep channel analysis, competitor analysis, keyword research, and optimization.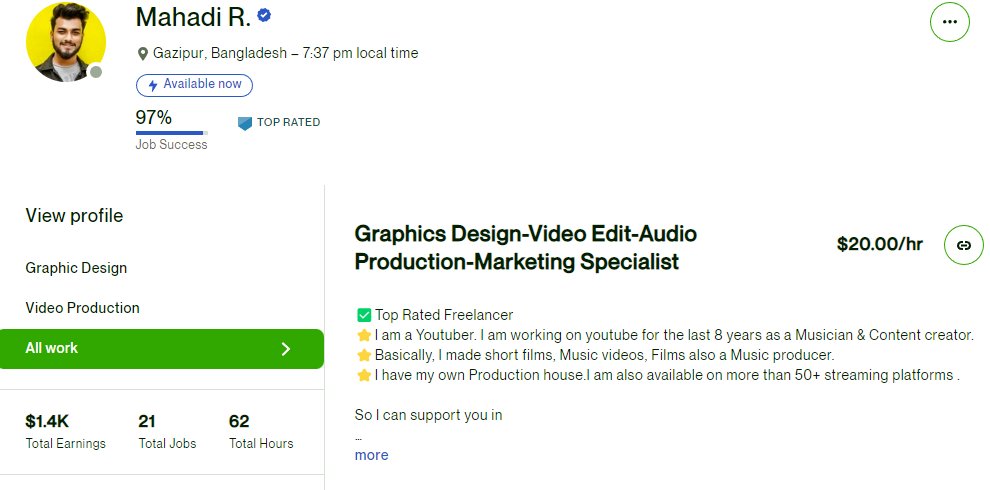 Mahadi R. is a YouTube marketer with experience in music production and content creation.
Although his profile on Upwork is relatively new, he has 8 years of experience shooting and promoting short films and music videos on both YouTube and other social media platforms. He's a top-rated seller with a high "Job Success" score, and his profile features plenty of reviews commending his professionalism.
If you're looking for ways to expose your short film/music video to a larger audience, Mahadi can help.
He also offers one-on-one consultations to discuss personalized strategy plans.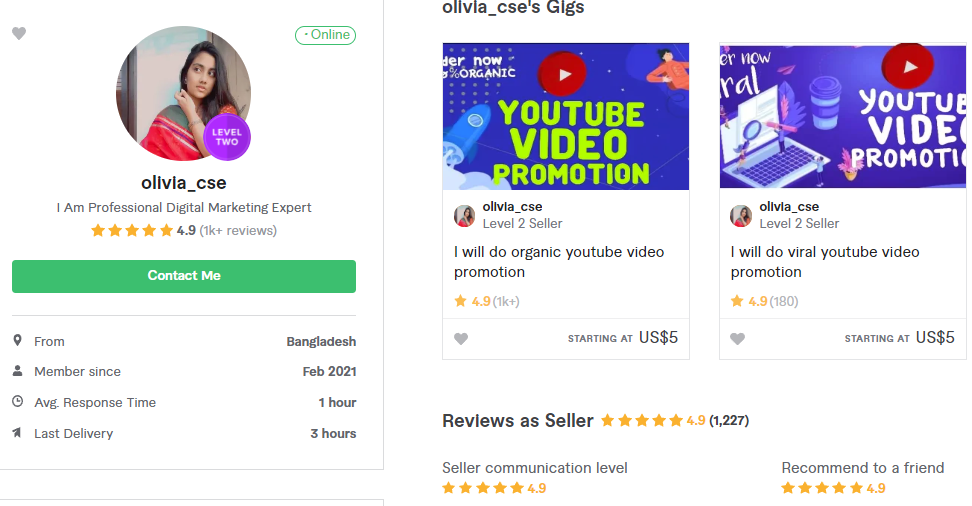 Olivia is a "Level Two" seller, meaning she has maintained a high rating over time.
Her team has access to popular social media accounts with multi-million followers in various niches and industries.
She has an impressive number of repeat buyers
as people keep hiring her to boost their YouTube channel performance. It's important to note that all the traffic you'll receive through this seller will be from actual users interested in the content you create – not bots.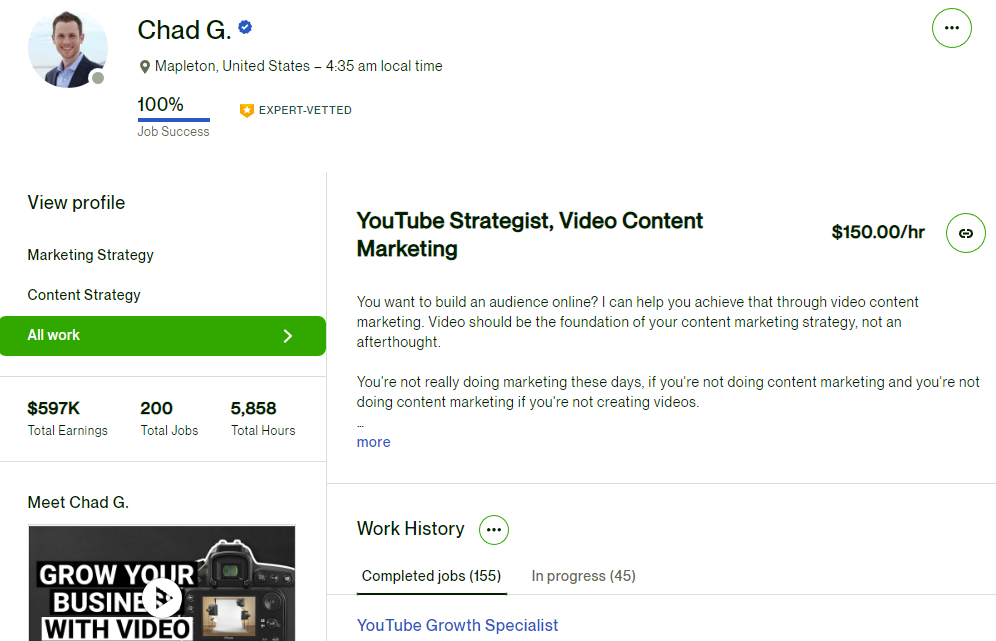 Chad G. is a YouTube marketer who develops video marketing strategies to achieve maximum growth.
He's earned the "Expert-Vetted" badge, which means he's part of the top 1% pre-screened by Upwork's talent management team. Although Chad charges quite a bit for his consultations, his clients are willing to pay the price. After all,
it only takes a few hours for him to come up with an actionable growth plan for your channel
. He has a "Job Success" score of 100%, which should tell you everything you need to know about his expert YouTube marketing skills.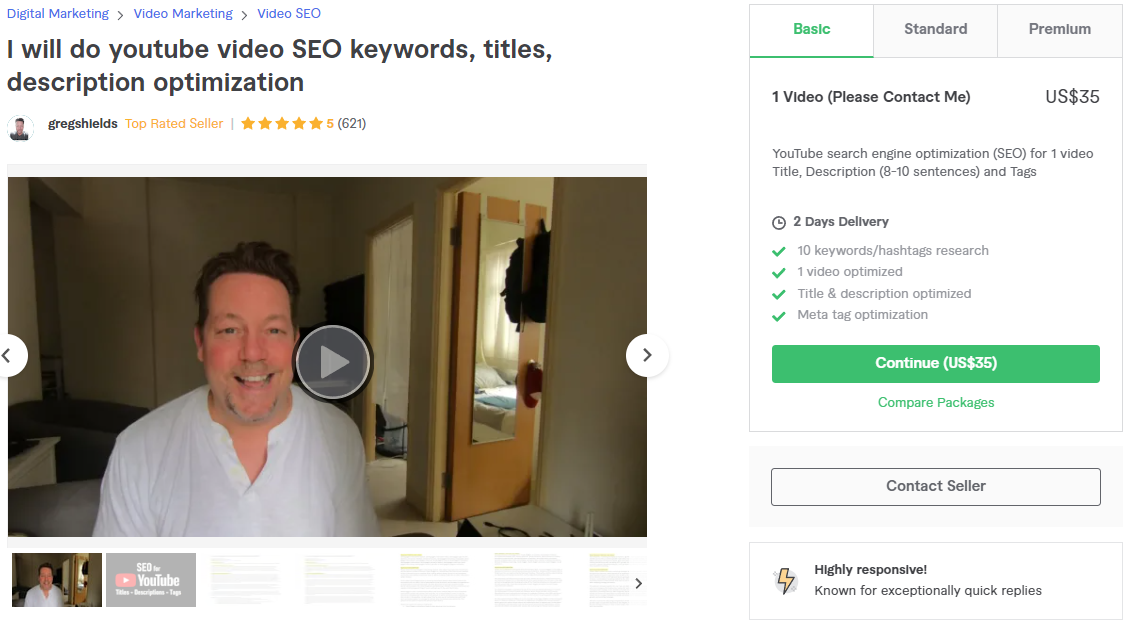 Gregshields is an English teacher and YouTube SEO expert with more than 600 orders completed and a perfect 5-star rating.
He researches your niche and optimizes your titles, description, and metadata to ensure your video ranks higher in YouTube's search results. Greg uses TubeBuddy to come up with high-traffic keyword phrases that will please YouTube's complex algorithms. He then optimizes your title and description to drive more clicks and increase engagement.
His clients have commended him on the quality of his work and excellent communication
, which has earned him Top Rated Seller status on Fiverr.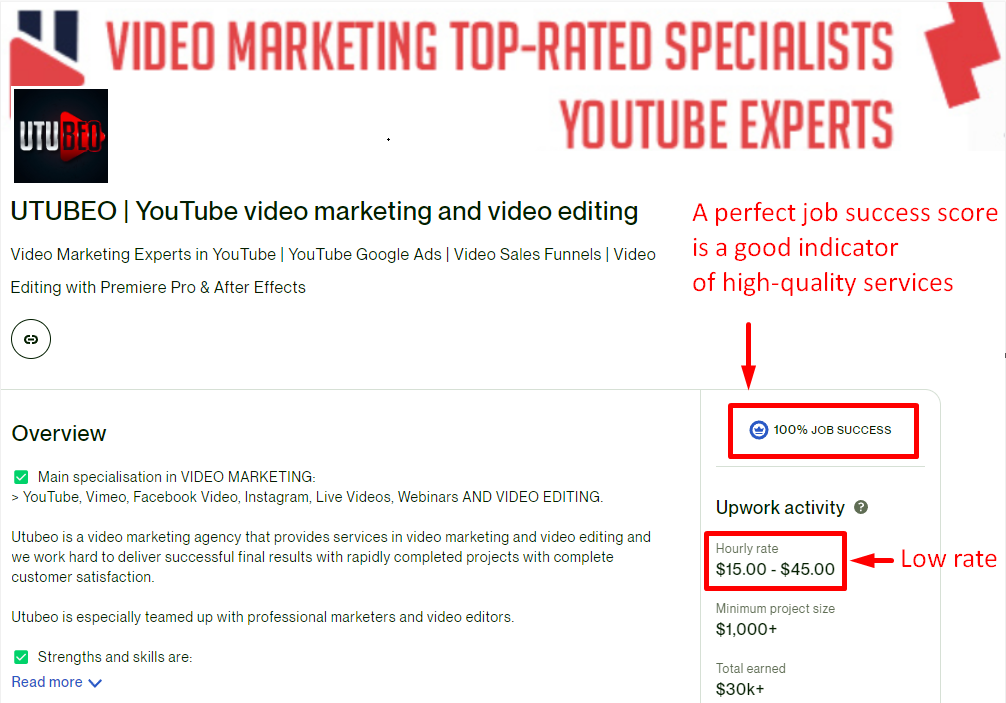 Utubeo is a video marketing agency comprising some of the most skilled video marketers on Upwork.
Utubeo's experts can help you through your YouTube journey, from brainstorming and storytelling to editing, optimizing, and promoting your channel to popular social media platforms.
Utubeo's manager, Aleks N., is a Top Rated Plus (representing the top 3% of performers on Upwork) freelancer
with an impressive "Job Success" score of 100%. If you're looking for an experienced team to help you develop a solid video marketing strategy, Utubeo can help you get it right.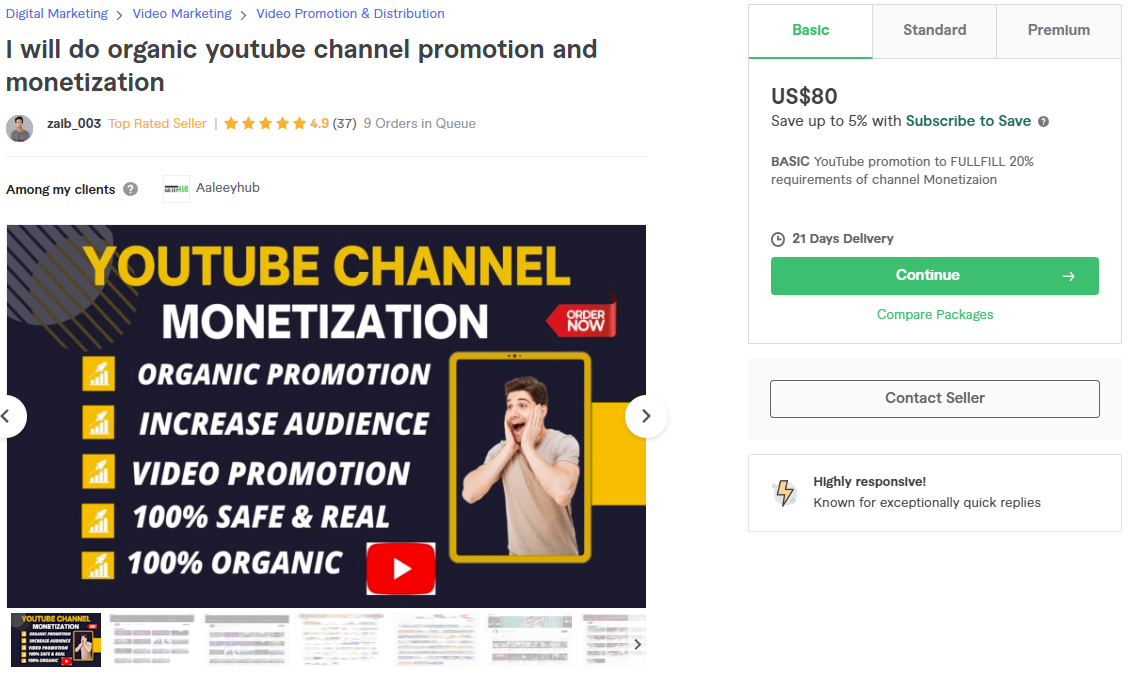 Zaib is a top-rated marketing expert specializing in YouTube channel monetization.
He uses a combination of social media marketing, ad campaigns, and video embedding to promote your videos to relevant niches. If you have a YouTube channel and want to join the partner program, you need engagement and organic growth.
Many clients who have previously worked with this seller stress that all incoming traffic was from real users interested in the content
– precisely what you want!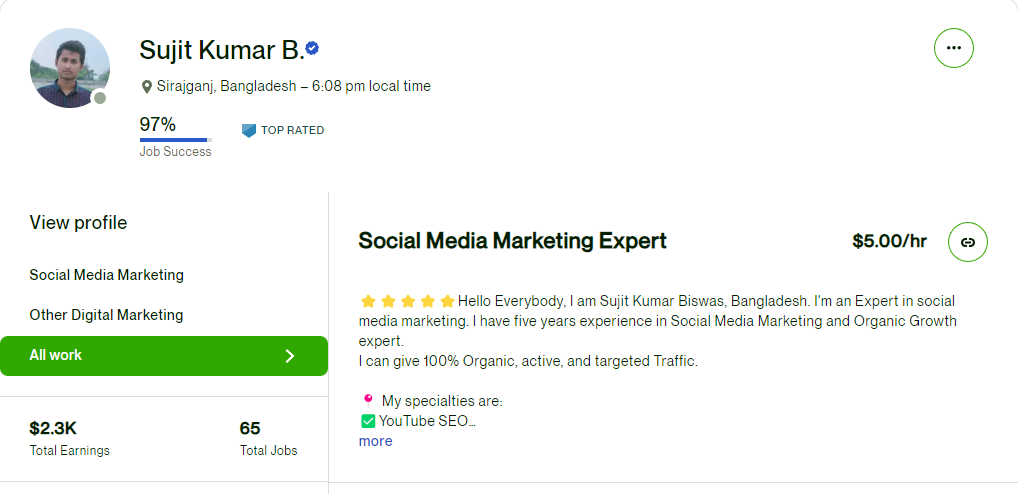 Sujit offers both YouTube SEO and marketing at an unbeatable rate.
He has a "Job Success" score of 97% and has earned the "Top Rated" badge by consistently delivering top-quality work.
If you're on a budget and need to give your YouTube channel a slight boost, Sujit can help.
Aside from video marketing services, he also offers help with Facebook, Instagram, and LinkedIn marketing. His profile's filled with comments from satisfied clients, so you know he's doing something right!
How to Hire YouTube Marketing Experts on Fiverr and Upwork
I prefer Fiverr and Upwork because they're easy to use and offer payment protection features that other platforms don't have.
I also like that I can perform a quick search and find someone to help me promote my YouTube channel in a matter of minutes.
Finding YouTube Promotion Services on Fiverr
Navigate to the Fiverr homepage
and type your chosen YouTube promotion service into the search bar. If you need some ideas, click on the "Digital Marketing" tab and select
Video Marketing
from the dropdown menu. Fiverr features thousands of profiles in each category. You can use the platform's advanced filters (e.g., rating, location, budget) to narrow your search.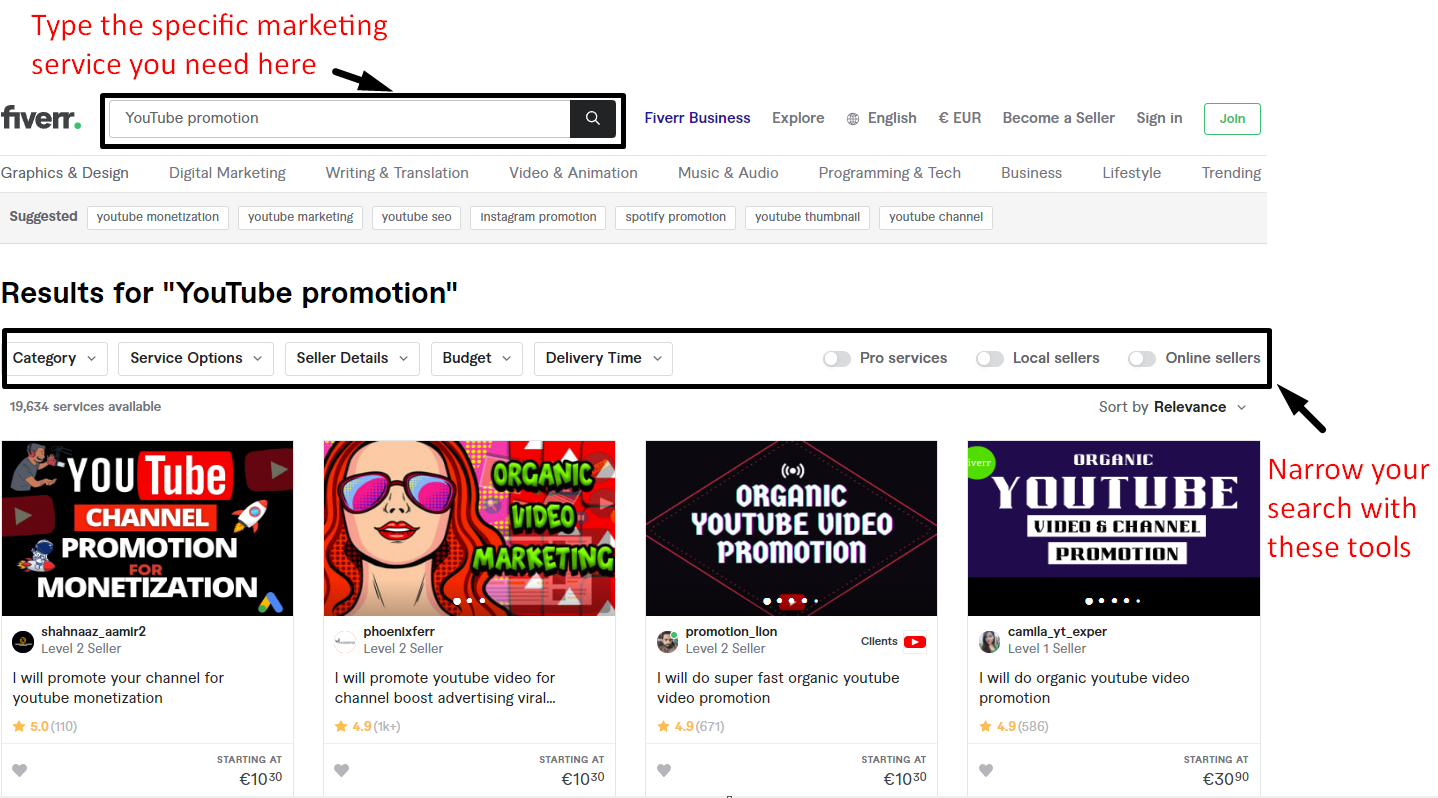 Click on the gigs that you find interesting.
Each gig page contains information about the seller's expertise, work history, and queued orders. It might seem like a lot at first, but you'll quickly get the hang of it after spending some time browsing around.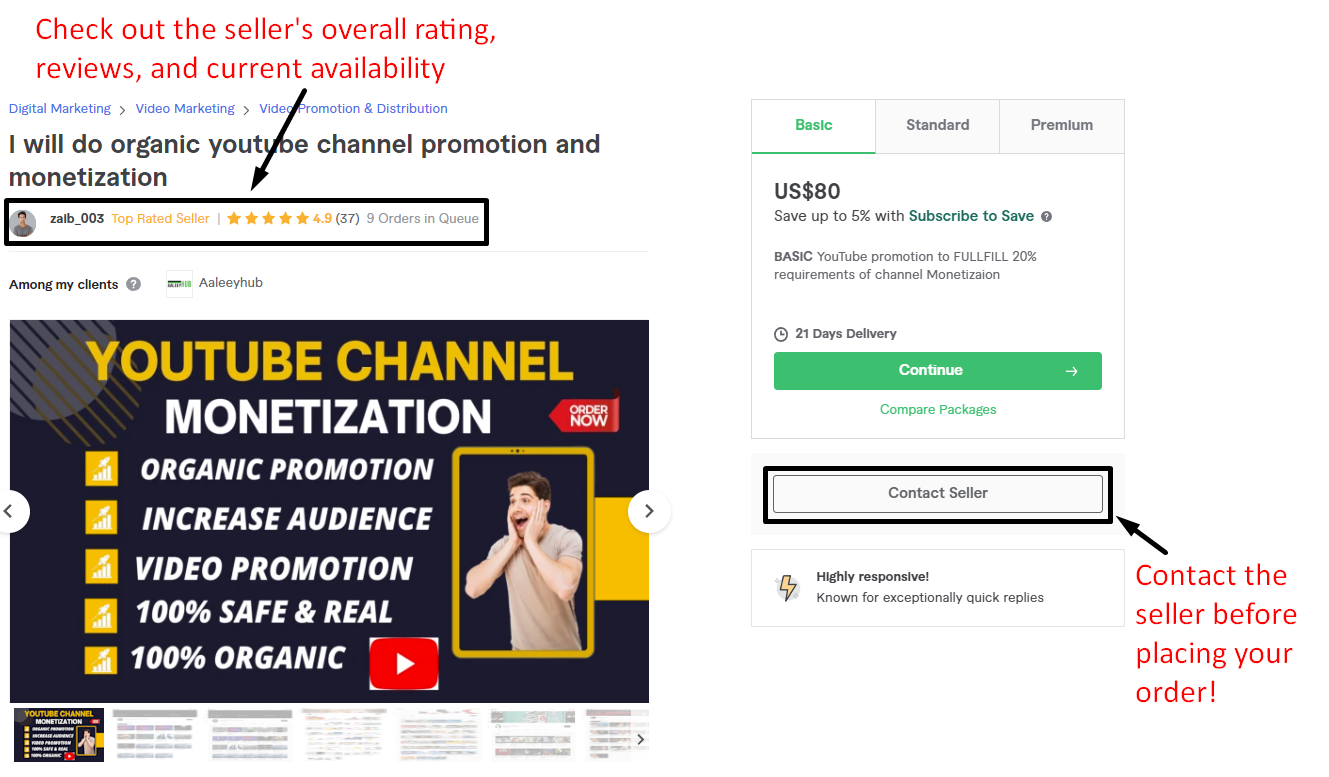 Most sellers offer three different tiers of service with their Basic, Standard, and Premium packages
. More expensive packages usually up the number of videos to be promoted, include access to larger audiences, and might also feature management and consultation services. When you do find a YouTube marketer who ticks all the right boxes,
make sure to message them before you place your order.
That way you can confirm their availability and see how they communicate firsthand. Look out for the "Highly responsive" badge indicating better-than-average communication skills.
When you feel ready to make a purchase, you can either ask for a personalized offer or return to the gig page and click
Continue
.
You then get to pick extras (like expedited delivery, additional revisions, hours of consultation) that can ease the hiring process. Click
Continue to Checkout
, choose your preferred payment method, and enter your details. You've successfully hired a Fiverr freelancer!
Hiring a YouTube Marketer on Upwork
Visit the Upwork homepage.
If you don't have an account with Upwork already, you'll need to create one first. Click
Sign Up
and follow the instructions – it only takes about 5 minutes. Upwork is a versatile platform, and there are a few different ways to hire YouTube marketers. If your project outline is clear and you know exactly what you need, simply
create a job post directly from your dashboard
. Experienced candidates will soon send their applications your way.
Alternatively, you can use the search bar to find YouTube experts specializing in specific areas of video marketing
(such as video SEO, organic growth, cross-platform promotion). There's also a project catalog with thousands of predefined services and packages, which functions a lot like Fiverr's gigs.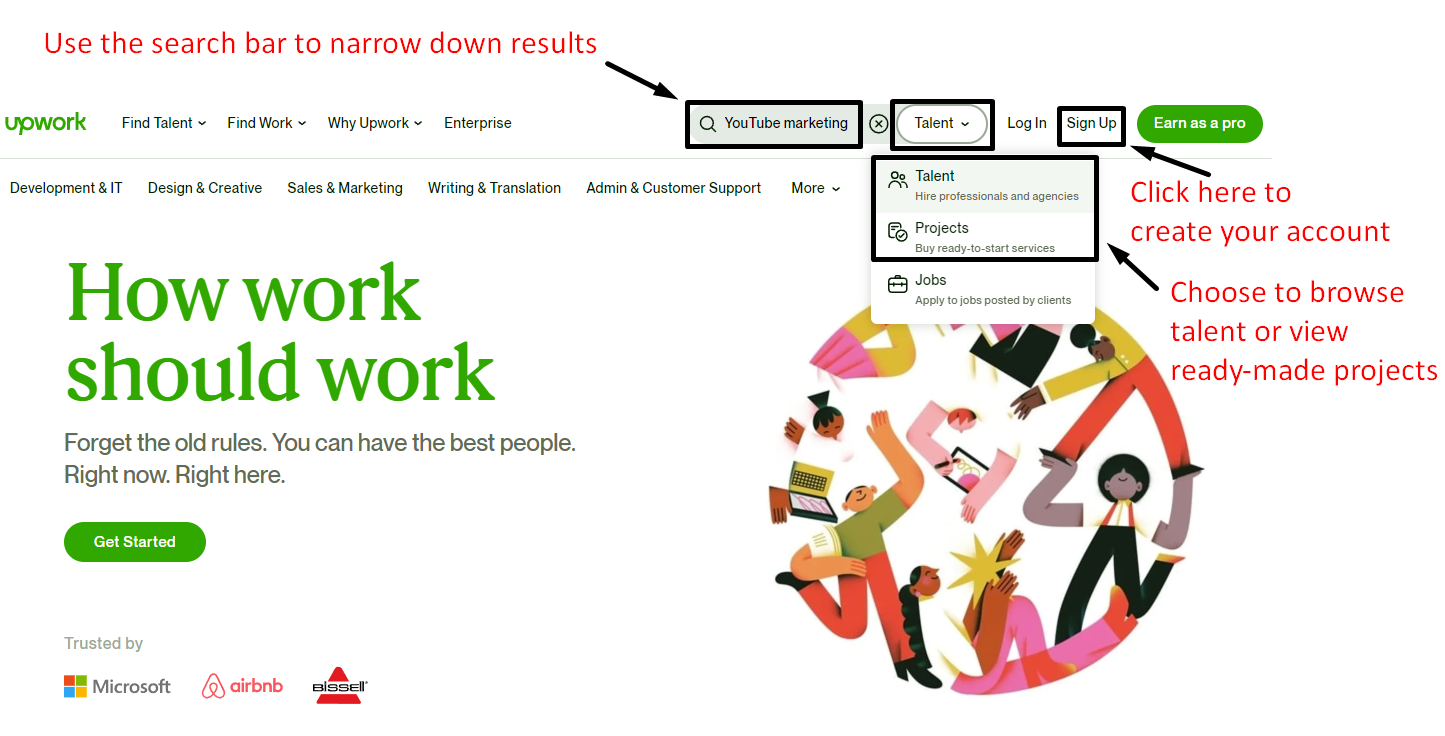 Once you perform a search, you can take advantage of Upwork's advanced filters (by things like budget, location, language, job success rate) to narrow down your options and find the right fit.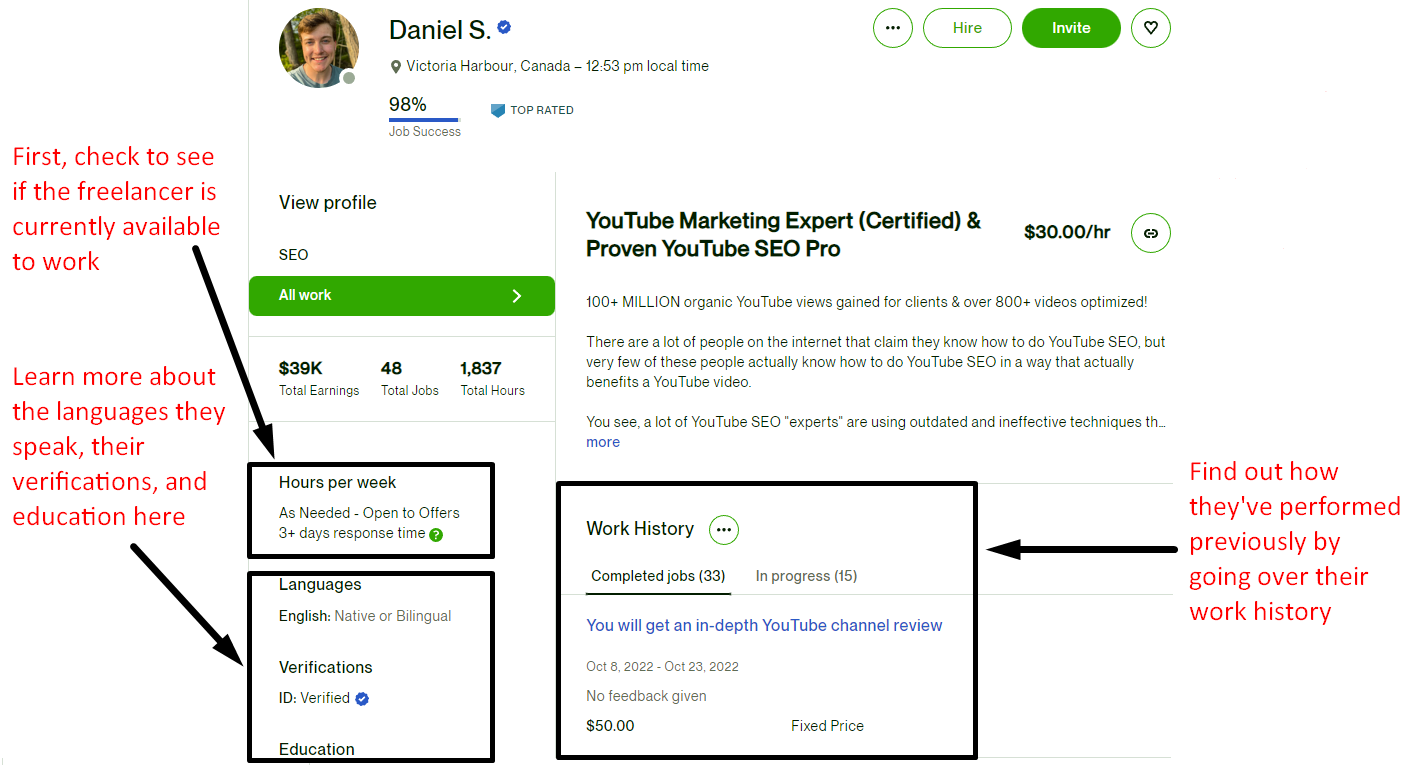 If a profile catches your eye,
click on it to get more information about the freelancer/agency in question.
Their profile will tell you everything you need to know about their availability, qualifications, hourly rate, and work history. Their "Job Success" and any talent badges they've accumulated will also be listed under their name. If you scroll to the bottom of a profile, you'll also be able to view any projects that they've posted. These work almost exactly like Fiverr's gigs.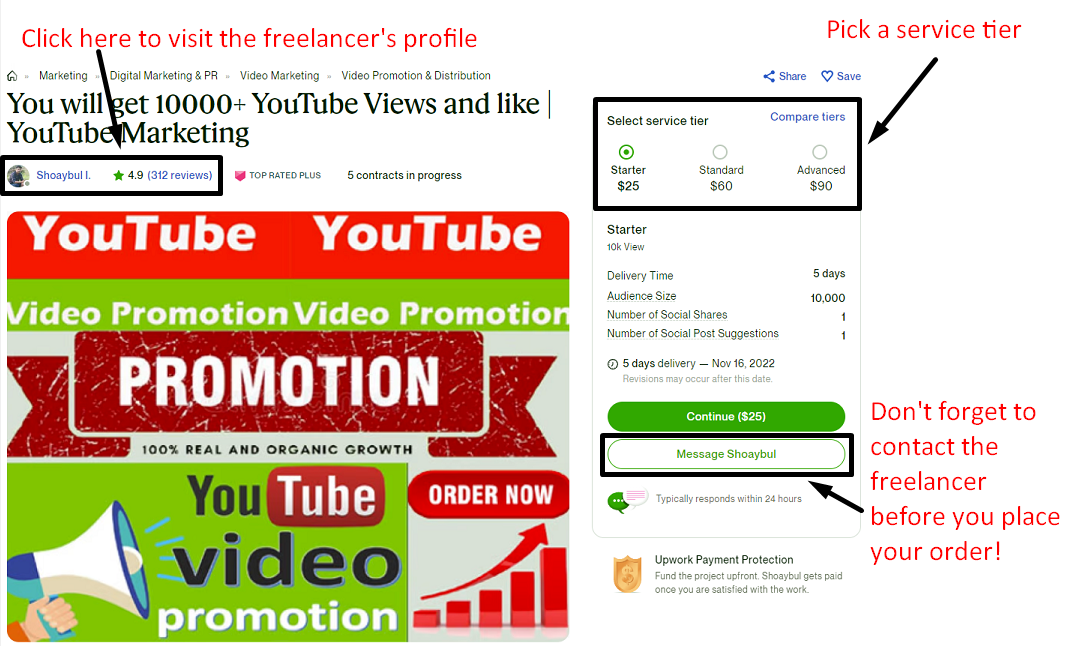 If you've hired freelancers on Fiverr before, then Upwork's projects will look pretty familiar. Just like Fiverr's gigs,
these projects come in three service tiers
, adding extra deliverables as they get more expensive. For example, a "Starter" package might include exposure to an audience of 10,000 and offer 1 social share, while an "Advanced" package might up those to 30,000 and 3, respectively.
One of Upwork's biggest pros is its flexibility when it comes to hiring people.
When a project doesn't tick all the boxes, you can still contact the freelancer and make a hire offer. If they accept, you can either sign an hourly contract or set a fixed price for the agreed service.
What to Look For in a YouTube Marketer
YouTube marketing can get quite complicated, so make sure you know what you need help with before hiring someone
. And, just as importantly, make sure the freelancer you pick has delivered results to other channels in the past. Here are a few things you need to look for when hiring a YouTube Marketer:
Prior marketing experience. When hiring a freelancer, double-check that they have prior marketing experience. That means they'll spend more time strategizing and won't just flood your channel with bot views in an attempt to impress you.
Audience expertise. Although YouTube is an international streaming platform, audiences around the world consume content differently. Ideally, your freelancer should know of ways to find and engage the audiences you're trying to reach.
Growth gurus vs. strategists. vs. SEO experts. Do you need more views, likes, and subscribers? Do you need advice on how to come up with a great promotion strategy? Do you need help with optimizing your metadata? Most YouTube marketers specialize in one specific area, so make sure you hire the right freelancer.
Proven results. Always check a profile's rating and reviews before placing your order. If you're not sure whether a freelancer can deliver or not, don't risk your hard-earned dollars – keep looking!
Communication skills. Both Fiverr and Upwork understand the importance of communication between clients and hires. If a freelancer takes too long to respond or doesn't make an effort to address your concerns, they're probably not worth your time.
Are You Looking to Sell Your YouTube Promotion Services on Fiverr?
If you're a YouTube marketer yourself and are looking for ways to find new clients, Fiverr is the place to be.
As one of the biggest online freelance platforms, Fiverr attracts thousands of customers every day. It's easy to use, and payments are always released on schedule. You can learn more about the platform and its various features in
our Fiverr review
. Did you know it only takes about 5 minutes to sign up for a new seller account?

From
Fiverr's homepage
, click
Join
to begin your journey. You can sign up with your email address or via your Google, Facebook, or Apple account. Click on the verification link you'll receive via email from Fiverr to continue with the setup.

Before you can create gigs, you need to set up your profile. From the main Fiverr page,
click on the icon in the right-hand corner and select
Profile
.
Fill in as much information about yourself as possible to earn the algorithm's favor and attract more clients.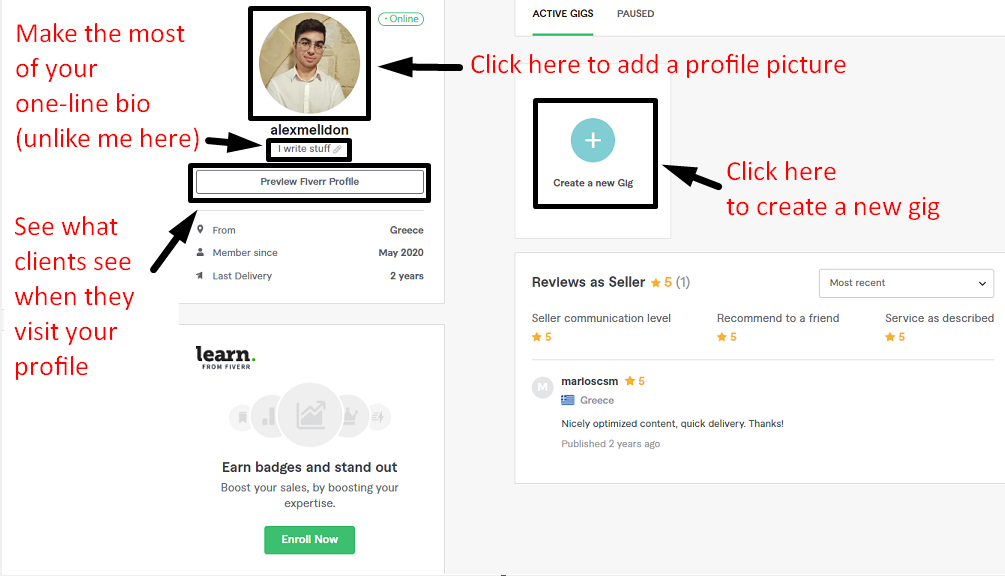 When you have a profile that looks good enough, click
Create a new Gig
to get started. Come up with a catchy gig title, select a category and a subcategory, and add some search tags. You're then tasked with creating three distinct service tiers (e.g., basic, standard, premium) priced at different levels. Finally, come up with an accurate description of your service, add an FAQ, and upload a picture that will function as a thumbnail. Your gig is ready to be published! The process is simple, but creating the perfect gig can be challenging. That's why we created
a guide to help you create successful gigs
with high click rates.
Improve Your Reach and Visibility With Top YouTube Promotion Services
Creating content entails a significant amount of work. If you promote your channel independently, it will likely require dedicating yourself to YouTube full-time. The question then arises: where should one begin? And what if mistakes are made along the way?
With thousands of YouTube marketing experts on both Fiverr and Upwork
, I don't see why you need to worry about any of these things. There are plenty of pros who can help with strategizing, SEO, and social sharing – some even offer complete management packages at very competitive rates. It's really easy.
Browse Fiverr's gigs now
if you know what kind of YouTube promotion service you need, or
post a job on Upwork
 (it takes 5 minutes) and have freelancers come to you with solutions.
FAQ
What is the best way to promote a YouTube video?
The first thing you should do is take a look at your video's title, description, and metadata (e.g., tags, categories). You then need to customize your thumbnails and find ways to increase social shares, views, subscribers, and total view time. Hiring an expert YouTube marketer/strategist will make your job a lot easier. Here's a list of the best freelance websites to hire YouTube promotion services.
Is Fiverr YouTube promotion legitimate?
Indeed, Fiverr's YouTube promotion gigs are authentic. Every viewer that watches your videos will be actual individuals, not automated programs. However, whether these viewers will find your content interesting enough to subscribe is another matter entirely. It's crucial that your freelancer understands who your audience is and the best way to connect with them.
Can you pay YouTube to promote your videos?
Yes, you can use Google Ads to advertise your video on YouTube and other sites across the web. Another popular YouTube promotion is TrueView's in-stream ads, which are billed per unique view. Expert YouTube marketers should be able to tell you more about how paid YouTube promotions work – and how much they cost.
How much does it cost to promote your YouTube channel?
It depends on the kind of promotion. Help with organic growth can go for as cheap as $5 on Upwork and Fiverr. As for paid promotion via Google Ads, expect to pay anywhere between $0.05 and $0.30 per view (CPV). Expert YouTube strategists charge anywhere from $30 to $150+/hour to manage and promote your channel for you.