there's a big difference between hiring just any freelancer in the UK and hiring a top-quality freelance professional
who delivers your project on time without any hassle. The truth is,
while most freelance websites promise to have talent pools of the best UK freelancers, very few deliver on this promise.
Many freelance websites don't vet their freelancers, so it's frustratingly easy to hire someone who doesn't have the skills or experience they say they do. And
that
means you can easily go over budget on your project trying to fix the work you received. Fortunately, not every freelance website is like this.
Some websites have built-in rating systems that quickly show you how reliable a freelancer is.
Others vet their talent pools by only allowing certain freelancers to work on their platform, or use skill tests to ensure freelancers are honest about what they can do.
I've tested dozens of freelance websites for trustworthy UK freelancers, and the ones I'm covering today certainly didn't disappoint.
So grab yourself a coffee, take a break from your project (you've earned it!), and carry on reading to see where you can find the best of the best.
Short on Time? These Are the Best Freelance Websites to Hire UK Freelancers 2023
Fiverr – Makes it easy to find trustworthy UK freelancers for as little as $5
Upwork – Offers flexible hiring options to suit all kinds of projects
Toptal – Ensures you're hiring the best UK freelancers through its rigorous screening process
What We Look For in the Best Freelance Websites to Hire UK Freelancers
While I was looking for the best UK freelancers, I made sure to keep an eye out for the following website features:
Freelancer rating system. An at-a-glance rating system gives you an idea of how trustworthy, communicative, and professional each freelancer is. Every website on this list allows clients to leave publicly visible feedback for freelancers.
Vetted talent pool. The best freelance websites vet their freelancers so you can be sure the person you're hiring really can do what they claim. This usually involves either short tests that allow freelancers to display that their skills are verified, or an application and review process that ensures only the best freelancers are allowed into the talent pool.
Search filters. With most freelance websites hosting talent from across the globe, you'll need a good search filter to narrow your search down to UK freelancers.
Freelancer profiles. A good freelancer profile will quickly show you where a freelancer is located. If you're hiring from outside of the UK, some even show the local time so you can gauge the best time to contact them.
Built-in currency conversion. Having currency conversion built in makes it easier to assess a freelancer's value, and to pay for a freelancer's services. You'll find this extremely helpful if you're hiring from outside the UK.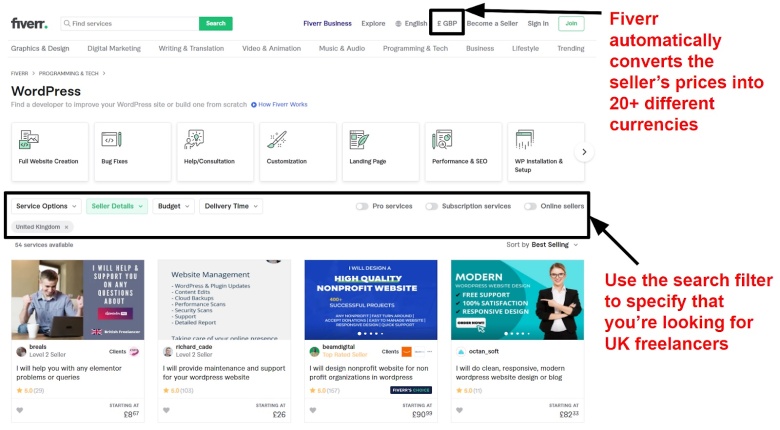 With hundreds of thousands of freelancers across a wide range of different industries and gigs starting from only $5,
you're certain to find a great freelancer on Fiverr.
And it's really easy to find what you're looking for –
Fiverr's search filter allows you to specify that you're looking for UK freelancers
as well as by budget and seller ranking.
I also love that Fiverr allows you to view prices and pay freelancers in your preferred currency.
Sure, you'll likely find prices are slightly higher because you won't get the best available currency exchange rate, but it'll save you a ton of time having to convert your money yourself.
Features
Freelancer profiles. Click on a seller's username to see where they're located, how long they've been selling on Fiverr, their skills and experience, and a full list of their available gigs. You can also message them directly if you want to ask any questions before hiring.
Verified skills. Fiverr sellers can take built-in tests to verify their skills. If they pass, they earn a green checkmark next to every skill that's been verified. This helps you to feel confident that the seller can provide the service they're advertising.
At-a-glance rating system. Whenever you search for gigs, you'll see an average star rating for that seller. If you click on this on the gig page, it'll take you to the reviews section. Here, you'll be able to see a rating breakdown for the seller's communication, whether the service was as described, and if the client would recommend the seller.
Discounts for long-term hiring. If you need ongoing help, you can save up to 5% by signing up for multiple orders in advance. This is a great way to both save money and ensure your chosen freelancer has room in their schedule to continue working with you.
Read our expert Fiverr review
to see how you can hire a UK freelancer for less.
Vetted talent pool?
No – but there are basic skills tests for freelancers to verify their skills
Search filters
Comprehensive filters that let you search by seller location, spoken languages, ratings, and more
Built-in currency conversion
Yes – you can pay with 20+ different currencies
Starting Price

$

5.00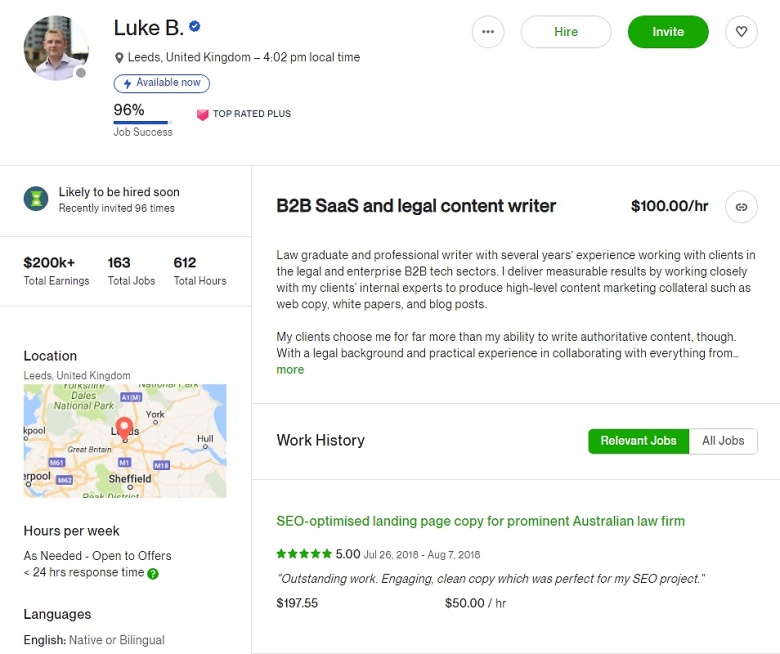 Upwork is one of the most versatile freelance websites around. If you've got a specific project in mind, head to the Project Catalog and find Fiverr-style gigs with defined project scopes. Otherwise,
you can hire UK freelancers on Upwork at an hourly rate
, which is ideal if you've got more complex projects or want to build long-term relationships with your chosen professional. While Upwork doesn't have specific skills verification,
freelancers can verify their identity by submitting ID documents.
Verified freelancers have a blue tick next to their name, so you can rest assured that the person you're talking to is genuine.
Every freelancer profile displays their local time
, which can be really helpful if you're looking to hire a UK freelancer from outside the UK.
Features
In-depth search filters. You can easily narrow your search down to UK freelancers using Upwork's search filters. You can even filter by their English language level (basic, conversational, fluent, or native/bilingual) and your budget.
Job postings. If you haven't got time to search for a UK freelancer yourself, you can easily set up a job post and start collecting applications. Upwork will also show you a list of freelancers that meet your job requirements, so you can send out invitations.
Rating system. Upwork freelancers earn Rising Talent, Top Rated, and Top Rated Plus badges by establishing a great reputation with clients. You'll see these badges whenever you search for talent or in the Project Catalog, helping you find the best talent Upwork has to offer.
Expert talent vetting. The very best freelancers on Upwork are eligible to apply for the Expert-Vetted badge. To earn this, their skills are evaluated by experts in their field and Upwork's talent managers. If you see an Expert-Vetted badge, you can be sure you're hiring from the top 1% of Upwork's talent pool.
Read more about hiring top talent in
our comprehensive Upwork review
. And if you're unsure on our top two choices, we've put together a
Fiverr vs. Upwork comparison
.
| | |
| --- | --- |
| Vetted talent pool? | No, but freelancers can verify their identity and language. Top Upwork freelancers can be invited for skills vetting |
| Search filters | In-depth search filters that allow you to search by location, talent level, language, and more |
| Built-in currency conversion | No – USD only |
| Starting Price |  $5/hour |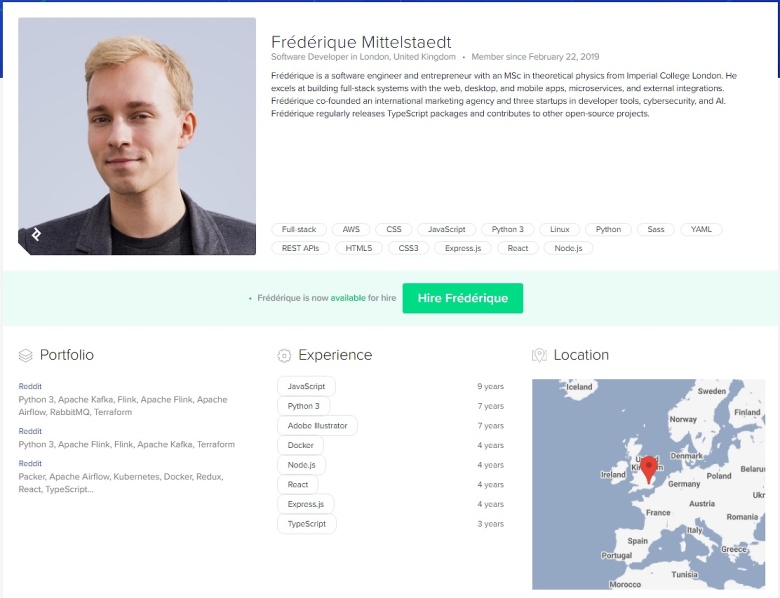 When only the best UK freelancers will do, get in touch with Toptal.
 You'll have to get in touch with the team if you want to hire from Toptal – there's no way to hire freelancers directly from its website. But all you have to do is fill out a short online questionnaire about what you're looking for, schedule a callback, and tell the recruiter exactly what you're looking for. This
does
mean there's no way to see the full scope of UK freelancers. However,
this callback system will save you a ton of time.
Toptal's recruiters take the stress out of the recruiting process for you. This process boasts a 98% success rate, too, so you can rest assured that your Toptal recruiter will find the perfect match for your project.
Toptal also screens every freelancer to ensure that it only has the best of the best in its talent pool.
So, you can be sure that whoever you hire through Toptal has proven themselves to be of a higher caliber than the competition.
Features
Extensive freelancer profiles. Toptal's freelancer profiles go into a ton of detail about a freelancer's work history, previous projects, and experience with specific skills. You'll also be able to see a portfolio of work, which will help you get a feel for if they're the right fit for you.
No-risk trial. Every time you hire a new freelancer, Toptal gives you two weeks to decide whether they're a good fit for your project. If they're not, you won't be billed for the time. This makes sure you're only paying for UK freelancers that bring value to your business.
Browse before you hire. While TopTal doesn't allow you to search through its entire talent pool, you can see a handful of available freelancers by clicking on a category page. If you find a freelancer you want to work with, you can start the hiring process by clicking a button in their profile.
Toptal Projects team builder. If you need multiple UK freelancers for your project, Toptal's recruiters will curate a remote team for you. This is limited to website and software development projects, but it's an invaluable resource if you need a temporary team to manage a project.
Read more about the talent screening process in
our expert Toptal review
.
| | |
| --- | --- |
| Vetted talent pool? | Yes – every freelancer on Toptal has passed a talent screening |
| Search filters | No – but a Toptal recruiter will find freelancers for you |
| Built-in currency conversion | No – USD only |
| Starting Price | $500* |
*You'll be asked to pay a $500 deposit on your first hire. This is refundable on your first invoice.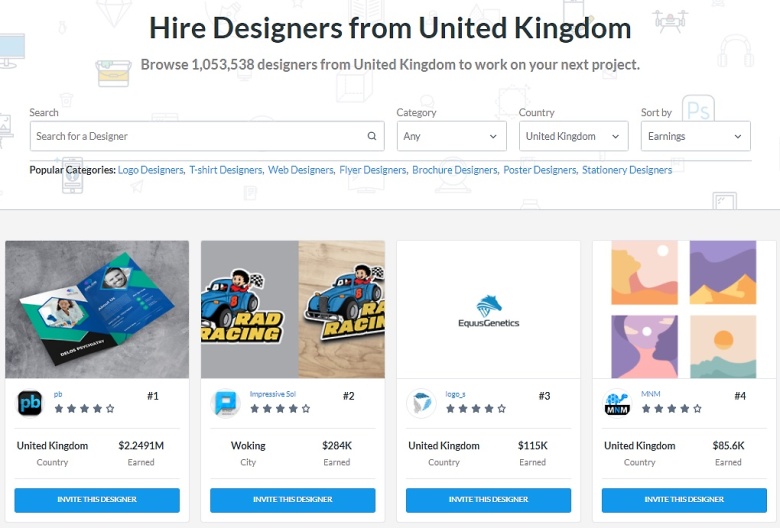 DesignCrowd has a unique take on hiring, which, admittedly, isn't for everyone.
Its main focus is running "contests" that allow freelance designers to contribute their work to your brief in the hope of "winning" the brief. You can invite specific designers to view your brief, but they're not mandated to contribute a design. Once the deadline ends, you choose a winning design to keep. Don't worry though – you can still hire individual designers.
If you see a design you like in a freelancer's portfolio, you can click
Buy a Design Like This
.
This allows you to pay a designer directly to create something similar to their past work.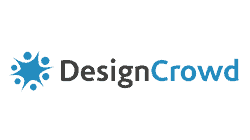 Save up to 50 % on your DesignCrowd plan!
Limited-time offer - Don't miss it!
179 users used this coupon!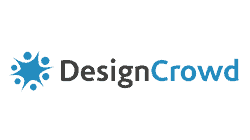 Save up to 50 % on your DesignCrowd plan!
Copy and paste this code at DesignCrowd
Features
Great search filter. Not only is there a category page for UK designers, but you can also narrow your search down even further by what kind of design project you need help with.
Plenty of project add-ons. Whether you want to make sure your project gets noticed by top-rated designers or you want to protect your project with an NDA, there's an option for that at checkout.
Easily rehire designers. You'll get the name of every designer that submits a contribution to your project. If you like working with them, you can easily rehire them from your project management screen.
Freelancer portfolios. Designer portfolios on DesignCrowd are automatically updated to show any public designs submitted by the freelancer. You can also filter the portfolio by design category.
Read our in-depth DesignCrowd review
to see how you can hire UK freelance designers for less.
Vetted talent pool?
No
Search filters
Yes, but they're basic
Built-in currency conversion
Yes – you can pay with 7 different currencies
Starting Price

$

109.00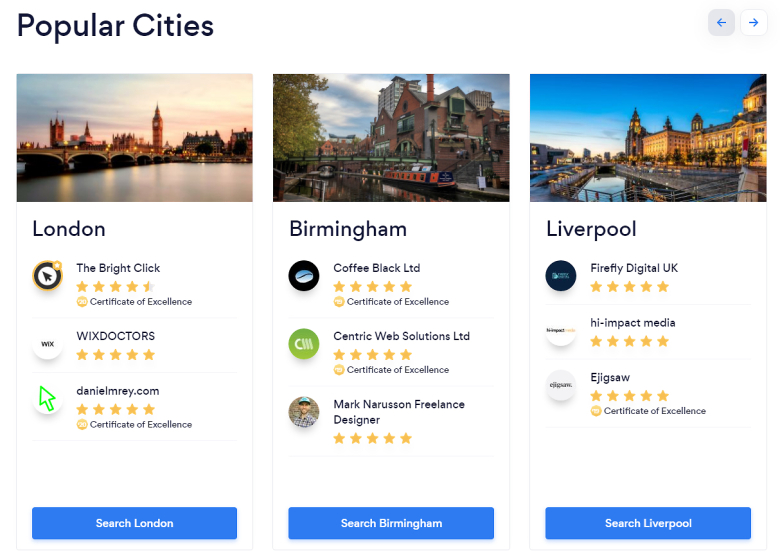 Bark doesn't just offer remote UK freelancers – you can hire in-person services, too. While designed primarily for UK clients looking for local services,
Bark lists thousands of UK freelancers
who will work remotely for clients both in the UK and abroad.
If you're hiring from within the UK, then Bark is a great choice.
While there's no search function, you can select a service then narrow your search by city or county to see which freelancers are available locally. Unfortunately, Bark
isn't
ideal if you're hiring from outside the UK, as
you can't search based on freelancers that are willing to work with non-UK clients.
You'll have to contact them individually to find out that information.
Features
Clear ratings system. Bark uses a 5-star rating system, and you're able to read full client reviews on each freelancer's profile. You can also filter the reviews section to only show reviews with a certain star rating.
Freelancer profiles. Freelancers can upload photos, social media feeds, additional services, FAQs, and more to their profiles. You can also request a callback or send them a message directly from their profile.
Free quotes. Because freelancers don't list their prices on Bark, you'll have to contact the ones you're interested in working with for a free quote. If you don't get a response within 48 hours, you may receive quotes from other freelancers within the same industry. So, you're not out of luck if your first choice is busy.
Hundreds of service categories. Bark hosts both in-person and remote freelancers. Whether you're looking for a local independent nail artist or you want to hire a remote web designer in the UK, you'll find plenty of freelancers to choose from on Bark.
| | |
| --- | --- |
| Vetted talent pool? | No |
| Search filters | No – but you can request quotes based on your location |
| Built-in currency conversion | No – Bark doesn't facilitate payments |
| Starting Price | Unknown / Variable |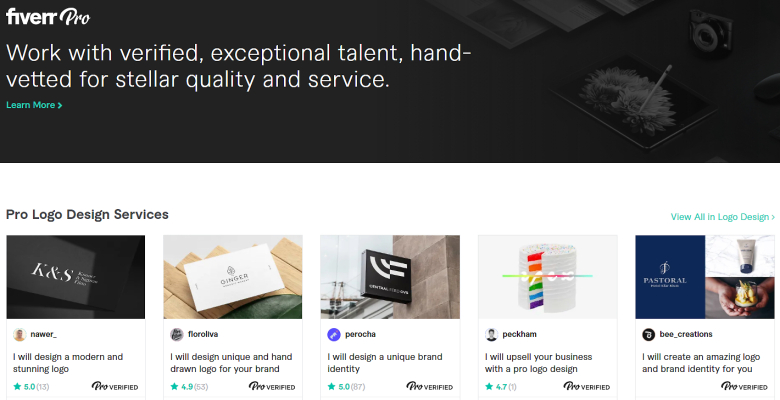 If you like Fiverr but the lack of a vetted talent pool is a dealbreaker for you, then
you'll love Fiverr Pro
.
Sellers have to submit identity, education, and professional information, as well as a video application, social media links, and supporting documents.
Fiverr claims only 1% of all Fiverr Pro applicants make the cut, making the
Pro Verified
badge pretty exclusive.
You'll want to search for Fiverr Pro sellers through the base Fiverr site, not through the Fiverr Pro section.
For some reason, the Fiverr Pro section of the website doesn't have Fiverr's fantastic search filter
– but you can specify that you're searching for Fiverr Pro sellers in the UK when you search on the main site.
Features
Enhanced seller profiles. Fiverr Pro profiles show you which skills have been verified by Fiverr's team. You'll also see links to external portfolios and social media profiles, plus a list of notable clients the seller has worked with.
Budget-friendly pricing. Every Fiverr gig has three different pricing options, so you'll always be able to find a gig to suit your budget.
Secure messaging. Fiverr's mandatory secure messaging platform ensures all of your project information and documents remain secure. This is text only, which might not suit everyone, but it means that Fiverr can access all communications in case of any issues.
24/7 customer support. When you purchase a Fiverr Pro gig, you'll get access to the 24/7 Pro customer support channel. No matter what you need help with, you're guaranteed to receive a response within an hour.
Read
our comparison of Fiverr vs. Fiverr Pro
to see which is best for your project.
Vetted talent pool?
Yes – every Fiverr Pro seller has passed skills verification
Search filters
Yes – but on the main Fiverr website only
Built-in currency conversion
Yes – you can pay with 20+ different currencies
Starting Price

$

5.00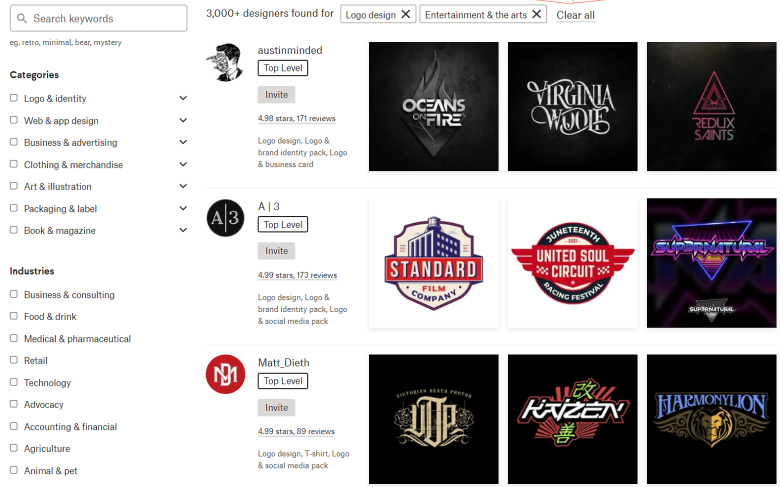 Similar to DesignCrowd,
99designs helps you hire freelance designers
 individually or set up contests to crowdsource work.
I particularly like that it helps you set up your design brief by asking you to choose between various design examples, color palettes, and even descriptive words to help designers get a feel for your business. What sets 99designs apart is that
you can hire designers to create brand guide documents with design usage guidelines, colors, fonts, different versions of your logo, and more.
You can also purchase a brand identity package that contains social media, letterhead, business card, and logo designs.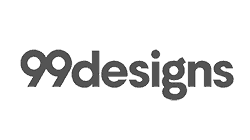 Get your first 99designs logo for just $299.00!
Customize & download the perfect logo at a discount.
131 users used this coupon!
Features
In-depth designer profiles. Designer profiles have an entire page dedicated to their portfolios. On the About page, you'll also see statistics regarding how many contests they've won, how many repeat clients they've had, and their responsiveness.
At-a-glance rating system. Whenever you search for designers, you'll be able to see an average score out of 5 below their name and how many reviews they've received. You can read the full reviews on their profile, giving you a good indication of what they're like to work with.
Tons of design categories. Whether you need someone to design product packaging, billboards, or even a WordPress theme, you'll be able to find a designer for your project on 99designs.
Stay in touch with designers. Once you've received work from a designer, their contact details will be stored under Designers > Your Contacts. This allows you to quickly invite them to projects or contact them directly the next time you need a new design.
Read our expert 99designs review
for more great features.
Vetted talent pool?
No
Search filters
Yes, but they're basic
Built-in currency conversion
Yes – you can pay with 10+ different currencies
Starting Price

$

299.00
Are You a UK Freelancer Looking to Sell Your Services?
Fiverr is a great website for selling your services in the UK.
With one gig purchased every four seconds, Fiverr can be a pretty lucrative source of income.
Plus, every Fiverr seller gets access to free courses and tools to help them manage their freelance business. If you regularly use things like invoicing software, task management suites, and time trackers, you can even save money as a Fiverr seller. Signing up for Fiverr is super easy and 100% free. To start your Fiverr journey,
go to the Fiverr homepage
 and click the
Join
button.

Let's start filling out your profile. Click on the icon in the top-right corner, and select
Profile.

Your profile tells buyers everything they need to know about you
, so it's a good idea to get this done before you set up your first gig. Don't worry, you can edit it later.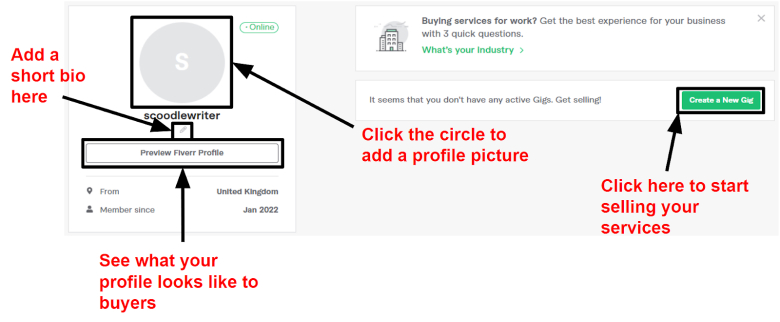 When you're ready to start selling, click
Create a New Gig.
On the first screen, you'll need to fill out some more basic information, including the languages you can speak and read. Then you'll need to specify what industry you work in, how long you've worked in it for, and what services you can provide. There's a
lot
that goes into successful Fiverr gigs – a lot more than I have room to cover here. Fortunately,
we've got a full guide to Fiverr gigs
that'll set you up with everything you need to know.
What Do I Need to Know to Freelance in the UK?
Freelancing is an extremely freeing way of working, but it's not for everyone.
Talking from personal experience, it's really easy to get caught up in the idea that you can make money from your hobby or passion, so that you forget that freelancing comes with a lot of legal obligations. Truthfully, I need a lot more room than I have here to give you a full breakdown of everything you need to know about freelancing in the UK. So,
I've condensed my list down into the key things you need to know to get started.
If You're a UK Citizen
If you want to start working for yourself as a UK citizen, you'll need to follow this process:
Decide on a company type. Most freelancers are sole traders, meaning it's only them in the business and they're fully responsible for taxes, profits, and losses. You can also be in a partnership with another person or company and share that responsibility, or set up a limited company.
Decide on a name. You can either trade under your name or a company name, and that comes down to personal preference. Bear in mind that if you create a company name, there are different rules for sole traders and limited companies.
Register as self-employed. To ensure compliance, it is important to register for self-assessment taxes with HMRC (the UK tax office) no later than the 5th of October within the ongoing tax year. I advise completing this registration promptly upon commencing your trading activities, as failure to do so within your second year of operation can result in penalties.
Start a document folder. You'll need to keep copies of invoices, payments received, receipts, HMRC communications, and any other documents related to your business. HMRC can – and will – investigate accounts for any reason, so it's best to have these documents in an easy-to-find folder.
Set up banking accounts. While you can use your personal bank account to receive money if you're a sole trader, you'll need a separate business account if you're a limited company. I also recommend you open a business savings account to put money aside for self-assessment taxes and national insurance.
Set up your accounts. You can either pay for an accountant or use accounting software like QuickBooks or Xero. Make sure you note down every transaction related to your business, as you'll be able to deduct costs like insurance, software licenses, and banking fees from your taxes.
Take out insurance. Depending on what products or services you're selling, you'll need insurance to protect yourself from potential legal issues. Professional Indemnity Insurance is the most common, and it may be required by some clients. If you're working from home, you'll need to check whether your home insurance allows you to run a business from home.
Start selling. Now you're set up, you can head into the wild world of freelancing and start making a living from the work you're passionate about. Congrats!
If You're Not a UK Citizen
The process is mostly the same as for a UK citizen (outlined above), but there are a few extra steps you'll need to take before you can register as self-employed in the UK:
Apply for a Visa. Whether you're planning a trip or relocating to the UK, starting your own business will require an Innovator or Start-up Visa. You can submit your application for these while you're already in the UK on a different Visa. After you've sent in your application, expect to wait 3 weeks for a reply if you're outside the UK, or 8 weeks if you're within the country.
Apply for a National Insurance (NI) number. Every self-employed person needs an NI number for tax purposes. You'll be able to apply for this once you've received the right to work in the UK. It can take up to 8 weeks to receive this following your application.
Register for self-employment. Once you've got both of these things secured, follow the steps I've outlined above to set up your freelance business. Welcome to the UK!
The BEST Websites to Hire Freelancers in the UK
Many freelance websites worldwide offer talent from across the globe, making it challenging to locate freelancers in the UK. Nevertheless, it is not impossible. The top freelance websites in the UK provide robust search filters and detailed freelancer profiles, enabling you to ensure that you are hiring UK-based freelancers.
It's for this reason that my top recommendation is Fiverr.
 You can filter any search to show UK sellers only, and its freelancer profiles tell you everything you need to know about your chosen professionals. It's a great choice if you're looking for help with a one-off project. On the other hand,
Upwork is a great choice
 for its option to hire freelancers by the hour or for specific projects.
If you're hiring from outside the UK, you'll love the ability to see a freelancer's local time on their profile.
If only the best UK freelance talent will do, then
I recommend Toptal
. Each freelancer is rigorously vetted and constantly assessed, so you can be sure that Toptal freelancers represent the best their industry has to offer. Plus, as a Toptal customer, you'll get a dedicated recruiter that will work with you to find a UK freelancer that fits your project seamlessly. Coffee break almost over? Don't worry, here's a quick comparison table to get you up to speed:
| | | | | |
| --- | --- | --- | --- | --- |
| | Pricing | Best Feature | Best For | |
| Fiverr | $ | Customizable search filters that make it easy to find UK freelancers | Finding reliable UK freelancers that suit every budget | |
| Upwork | $$ | Freelancer profiles that display the freelancer's local time – ideal if you're hiring from outside the UK | Hiring UK freelancers for both short- and long-term projects | |
| Toptal | $$$ | A highly vetted talent pool with UK freelancers who are constantly assessed for quality | Finding the best UK freelance talent | |
| DesignCrowd | $$ | Design contests that allow multiple designers to contribute ideas to your project | Giving hands-off creative direction to UK freelancers | |
| Bark | $$ | The ability to search for UK freelancers by city or your postcode | Hiring UK freelancers from within the UK | |
| Fiverr Pro | $$$ | A vetted and verified talent pool where only the best Fiverr sellers make the cut | Finding the best UK freelancers Fiverr has to offer | |
| 99designs | $$ | Automated contacts system that saves the details of designers you've worked with previously | Building long-term relationships with UK freelancers | |
FAQ
Where is the best place to hire UK freelancers?
My top recommendation is Fiverr. Fiverr boasts hundreds of thousands of sellers across hundreds of categories, so you're bound to find a Fiverr seller who offers the service you want within your budget. You can easily customize your Fiverr search to only show UK freelancers, too, which can save you a lot of time.
How can I find freelance work in the UK?
That depends on your industry and what you're selling. Fiverr and Upwork are both great starting points because both of these websites cover a wide range of industries. Upwork is ideal if you charge per hour, but you can also set up pre-set projects like you would on Fiverr. If you provide in-person services, Bark is an excellent choice as it'll help you to find leads in your local area.
What are the best freelance websites for beginners in the UK?
If you're brand new to hiring freelancers, then Fiverr's hiring process is super simple and easy to understand. Fiverr is also a good choice if you're a beginner UK freelancer as it offers free learning resources and software to help you grow your business. For other options, check out our top 7 freelance websites.
Is there a UK version of Fiverr?
If you're accessing the Fiverr website from within the UK, then it should show you a localized version with prices listed in GBP. If it doesn't, then you can easily change the displayed currency from a dropdown menu in the website's header. You can also customize your search so that you only see UK sellers.
Does Upwork work in the UK?
Upwork is available in the UK, but you can only pay for freelancers in USD – even if they're also in the UK. You can, however, narrow down your Upwork search to focus on UK freelancers.