If you're reading this, you're probably considering signing up with Kinsta. If you've read
my Kinsta review
, you already know Kinsta is an outstanding premium managed WordPress host. If you're hovering with your mouse over the "buy" button, but want to know what you're in for before you click, then read on, as I'm going to take you through signing up with Kinsta step-by-step.
How to Create a New Kinsta Account Step by Step
To get started with Kinsta, just go to the Plans page. You'll find all the information neatly displayed in a carousel, where all you have to do is select the plan you want. I like how the prices are completely transparent. Other hosts will show you attractive monthly prices, which later turn out to apply only if you pay for at least a year in advance. Kinsta shows you the actual monthly prices by default. However, Kinsta does offer two months for free with annual billing. You can easily toggle between the two throughout the next steps, so you don't have to make your mind up just yet. All plans also come with a 30-day money back guarantee.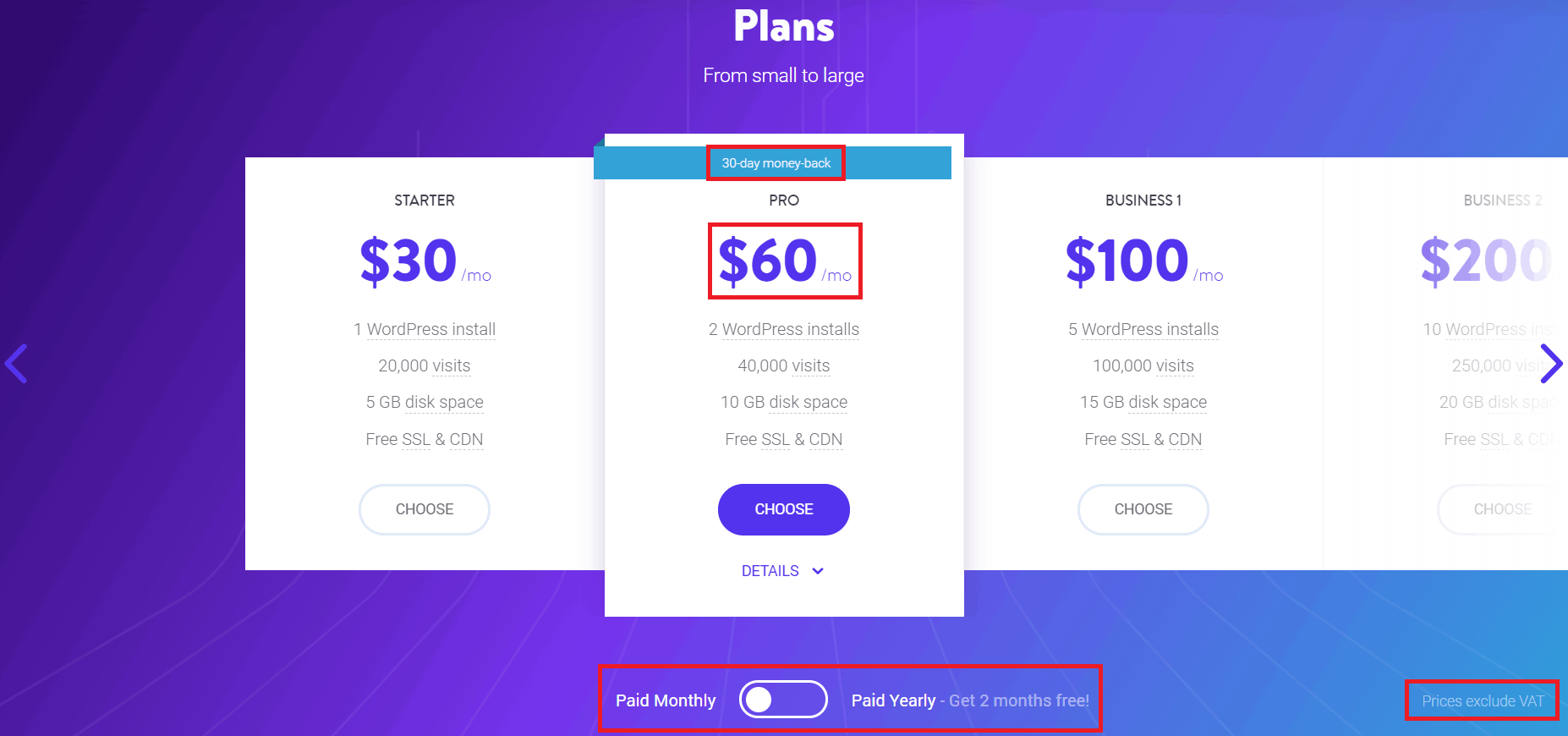 Next, there is a very simple signup screen where you just need to provide your email, name, surname, and a password: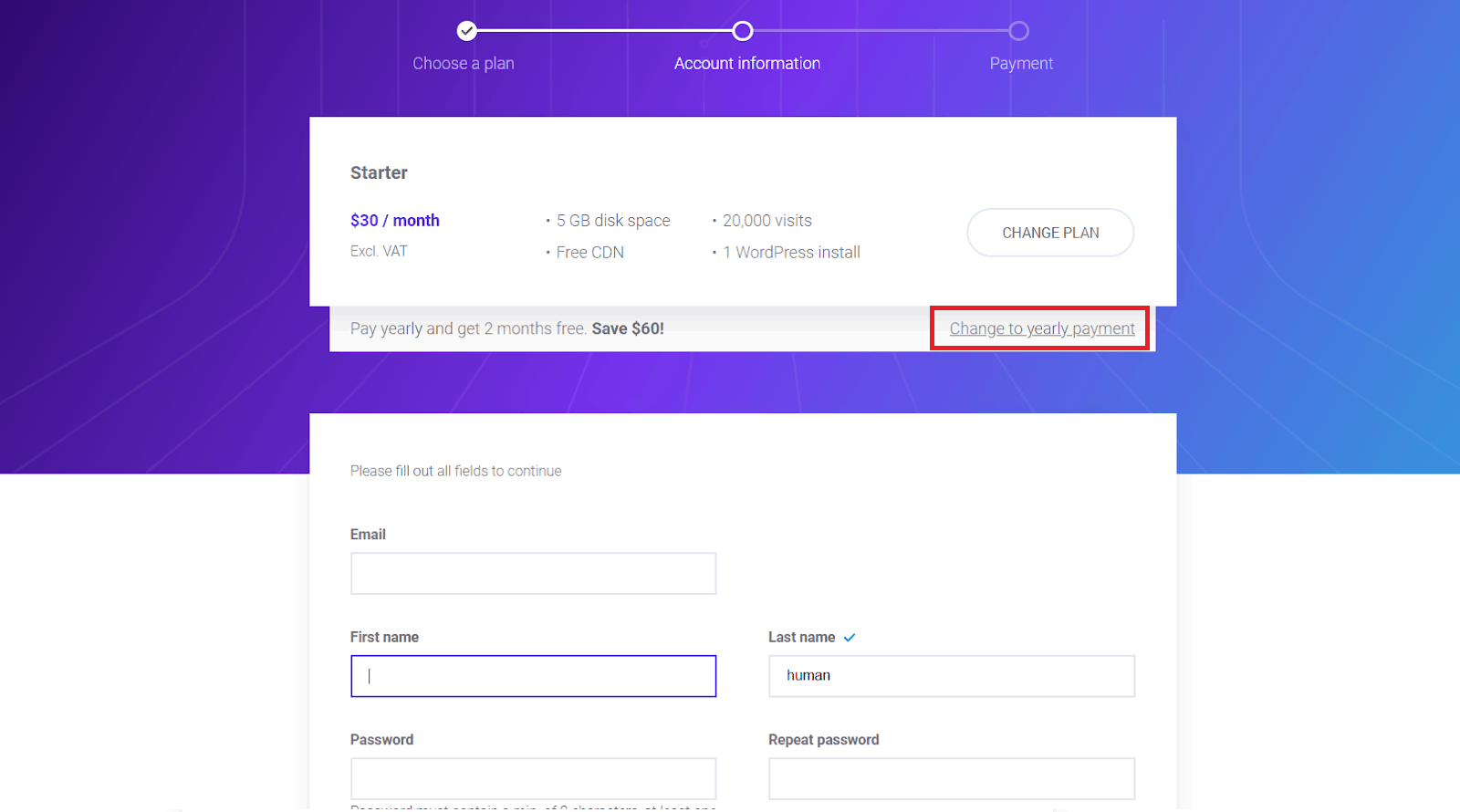 The bar at the top showing your plan and how much it costs will display the whole time, which I found convenient and reassuring. You can also click on the 'Change to yearly payment' at any time to switch to that option and vice versa. The next page is where you provide your billing details to pay for your hosting. As you can see, the required information is very typical, and you only need to supply your billing address and credit card details: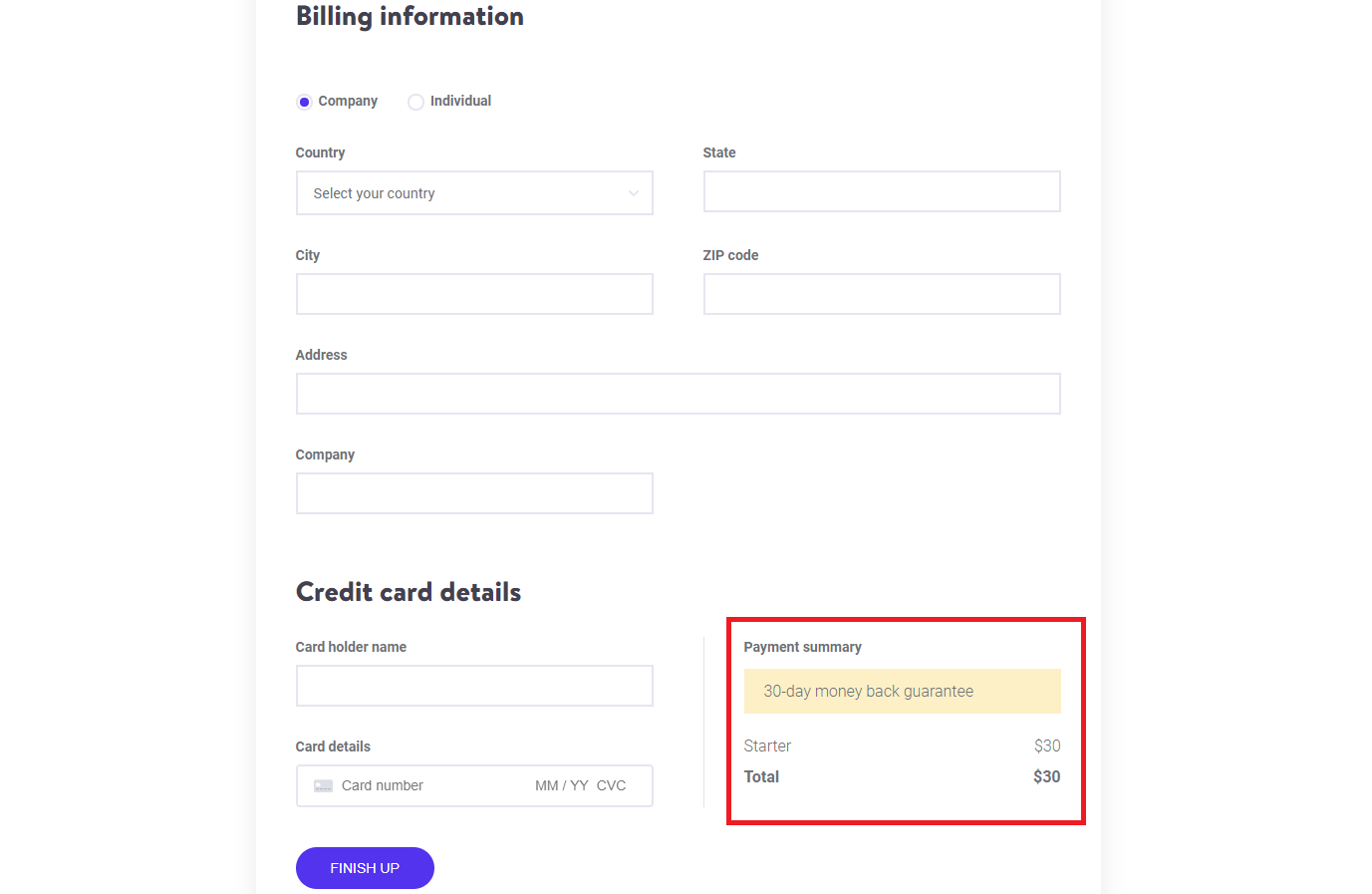 Once again, Kinsta reassures you of the money-back guarantee and lets you know the total cost of your order. Unfortunately, Kinsta only accepts credit cards, although you can use bank transfers for yearly options. Make sure all the details of your order are correct, because when you click 'Finish Up', the payment will be processed and your account will be created. This only took about 15 seconds for me, so you don't need to worry about a long wait time. From there, you'll be taken straight to your awesome Kinsta dashboard: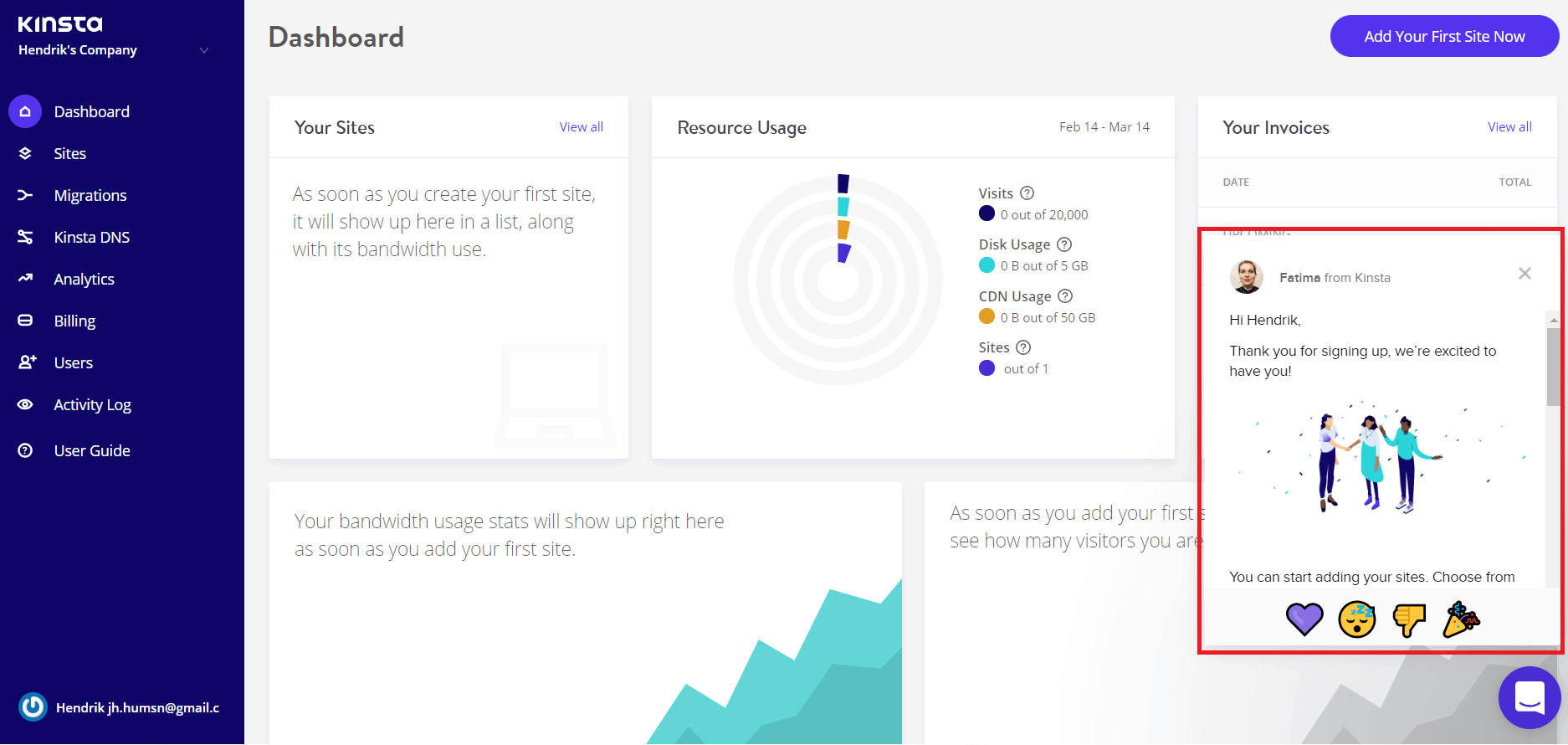 I was immediately greeted with a message from a support agent welcoming me to Kinsta. This message also had great onboarding links to information on how to add a site, choose a server location, migrate a site, and invite team members, as well as a link to the resource center. As a new user, these are all things you'd usually want to get done right away after signing up. I appreciated this info showing up in my dashboard instead of just through an email. For good measure, I was still sent an email with the same info: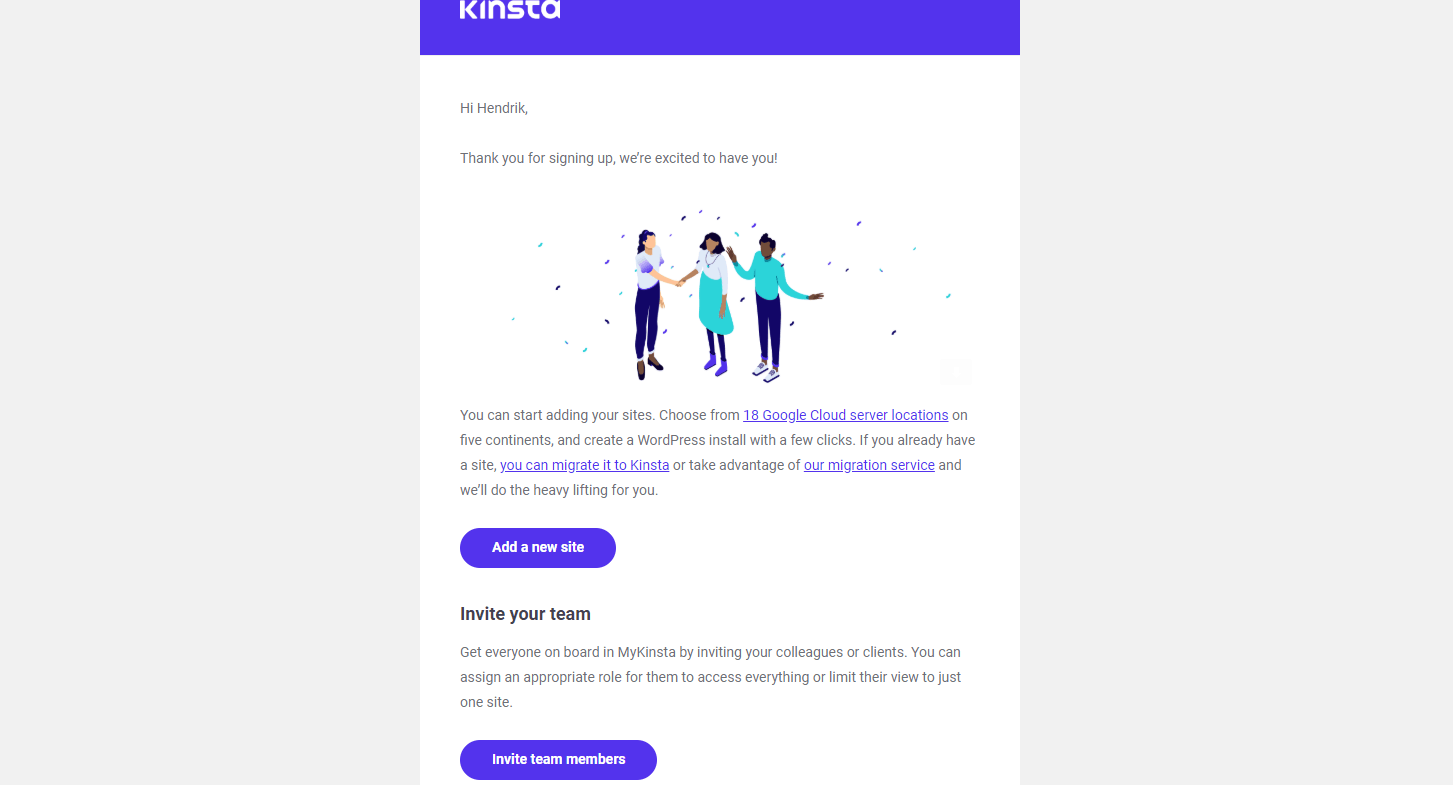 What did worry me a bit was that I didn't get an email with a receipt confirming my payment. I contacted support to ask them about this and to find out whether my payment was successful. The agent only took a minute or two to check my account and let me know that everything was okay. He sent me a link to the invoices tab within my billing dashboard, where you can download your invoices: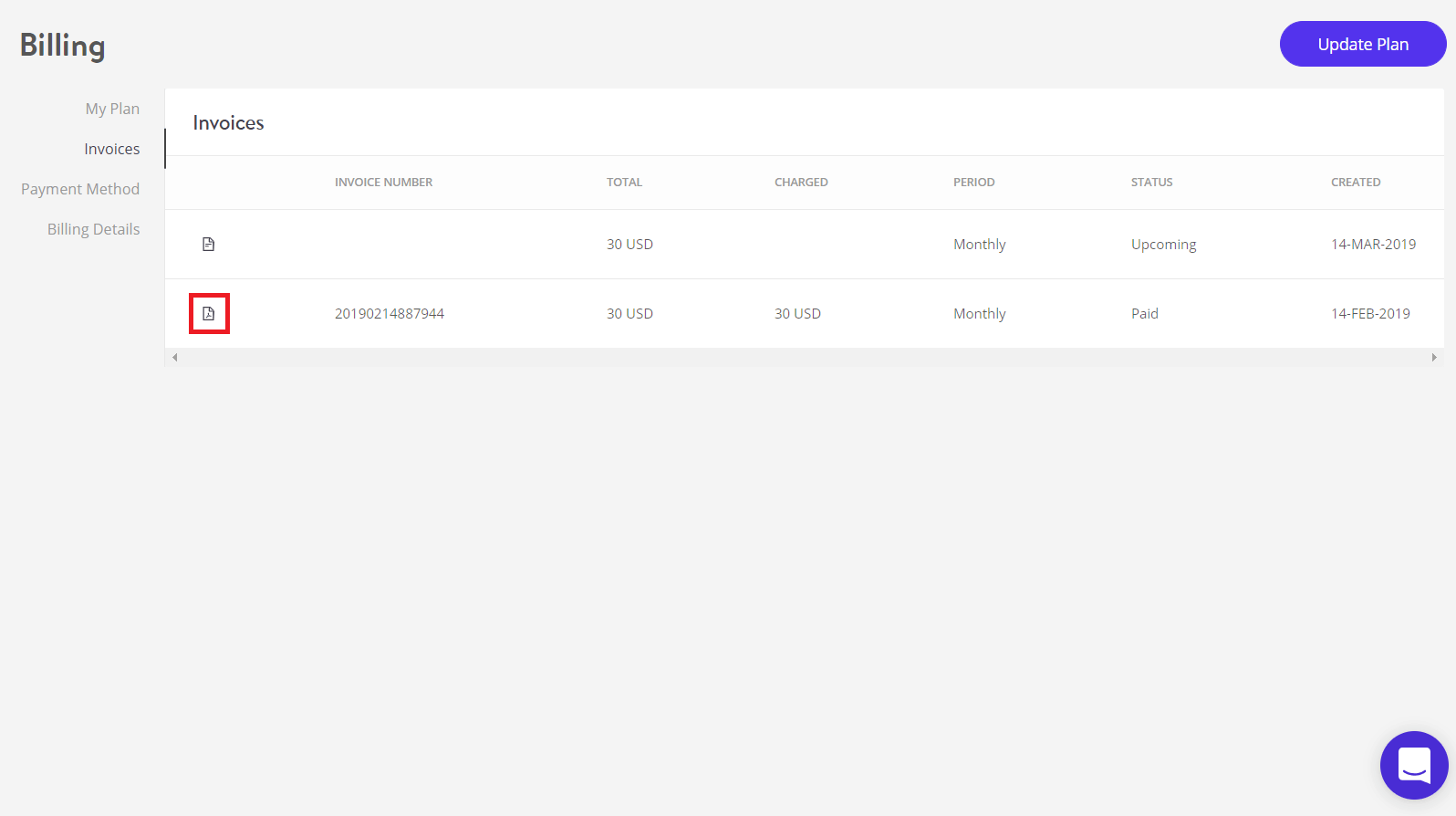 Although this is probably to minimize the number of emails they send you (some hosts can bombard you, which is very annoying), it probably would have been best to stick to standard practice here.
Quick, Painless, Upsell-Free Sign Up – What More Could You Want?
It's rare that I find a host with
a purchasing process I can't complain about
. In fact, the only bad thing I could come up with is that they don't email you a receipt. That says a lot. Other than that, there were no upsells and their all-inclusive pricing was completely transparent. It also only took me less than three minutes to create an account — making Kinsta one of the quickest hosts around. There were only three steps to the simple sign-up process, and there were no confusing or unnecessary actions to take. I never felt like I got caught off guard. You will encounter no upsells, domain registration, or add-ons to complicate the process. It's hard to believe just how effortless and swift the experience is, particularly given the premium nature of this hosting service. I can't think of any other host with a faster sign-up process, but if you're looking for a sign-up almost as fast but with a slightly more affordable and beginner-friendly host, then
GoDaddy
should be right up your street. To find out if the rest of the Kinsta platform lives up to the awesome experience I've had so far, you should read my
full Kinsta review
.