Thoughtful branding also helps to develop a sense of trust and expertise with your patients, and it's easy to do even if you have limited resources to work with
. Today, I'll show you how to make a medical clinic or hospital logo design using Looka's free AI-powered logo designer (
click here to jump to the tutorial
). You'll also see some examples of logo designs created with the tool, as well as examples of effective medical branding. Need more inspiration?
See a collection of famous medical logos below
.
9 Best Medical Logos
How to Make Your Own Medical Logo
1.   Create a Looka Account
Before you dive into the logo creation process, I recommend signing up for a Looka account.
It's free to try, and you're not obligated to purchase anything until you're satisfied with your logo
. To learn more about Looka,
read our in-depth review
 or watch the video below.
To get started, just
go to the Looka homepage.
You can sign up using an email address or a social media account if you prefer. It's quick and easy, and your progress is saved right away.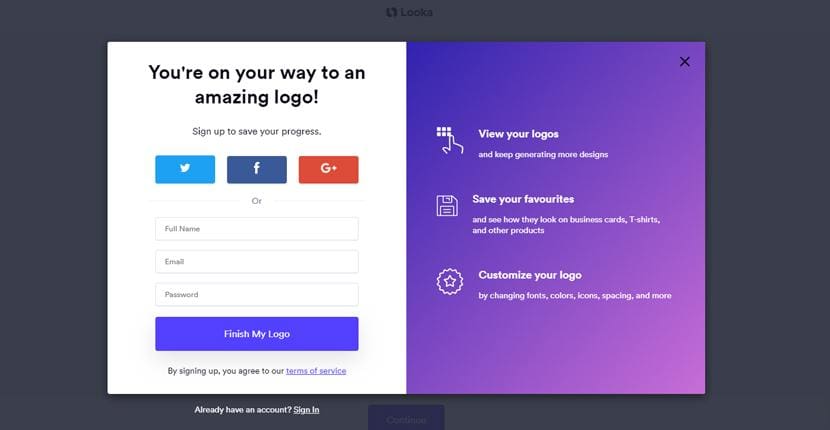 2.   Answer Away
Now, it's time to answer some questions to help Looka generate some initial designs.
If you feel overwhelmed along the way, click the little bubble down in the lower right corner, which takes you to the help section
. The first question is pretty straightforward. Just type in your line of work and hit continue.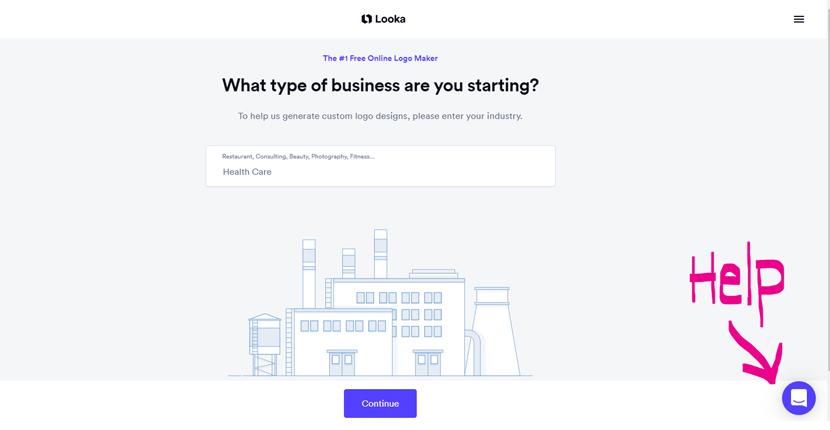 You can choose to skip over some questions, but I recommend answering them all, as it helps Looka hone in on your design preferences. The website gives you a sampling of logos to look at. You don't have to like them, but if you see colors and fonts you like, it's worth making a note of them.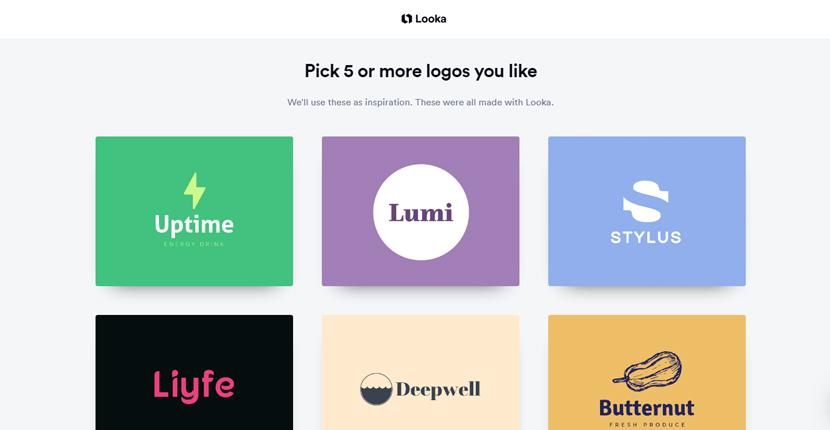 Next, you'll see a range of color swatches.
I've chosen blue, teal, and green, as these color ranges are typically associated with the healthcare industry, evoking feelings of health, wealth, and wisdom
.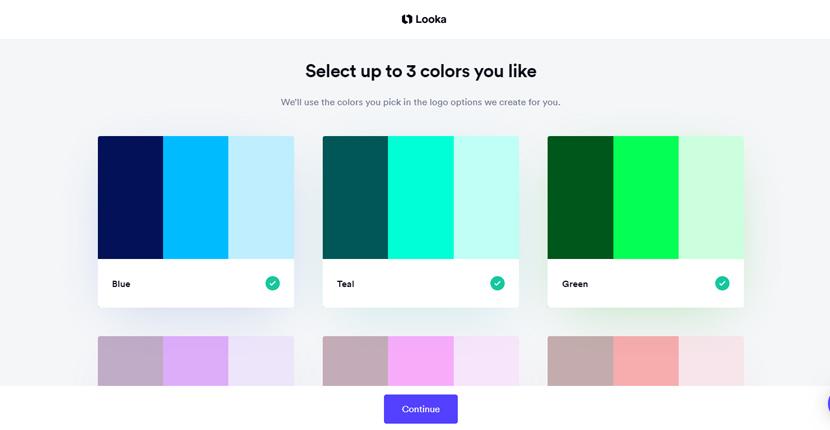 The next step is to enter your company name and slogan. You'll want to keep the text as short as possible and to the point as to not overwhelm viewers.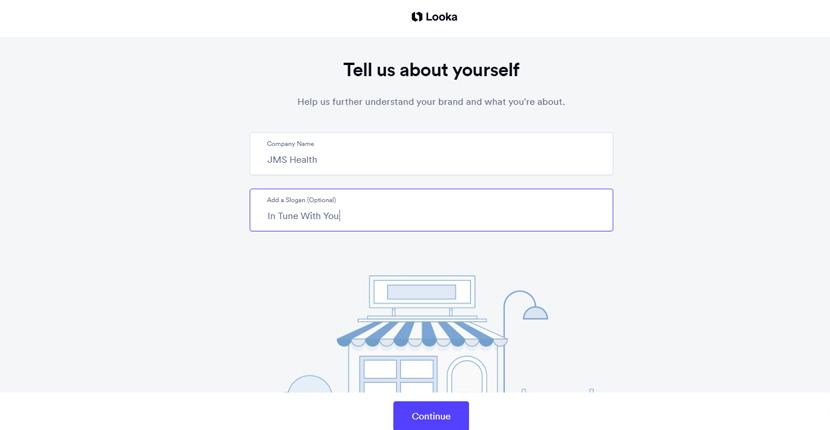 Expert Tip: Think about the message you want to convey to your patients. If you have a specialty such as maternity care or cancer care, consider putting that in the slogan, so people know right away what your primary focus is. If you're a general practitioner or family practice physician, that information is also useful to point out. You may simply want to summarize the style of care you offer. In my example, I put  "In Tune With You."
An important part of clinic logo design includes effective visual communication, so you'll want to choose symbols that best reflect your work.
Looka offers an extensive catalog of icons and symbols
. While you can only use one icon in your logo, you can choose up to five during the initial logo generation process, and the AI will incorporate those choices into the designs it creates for you.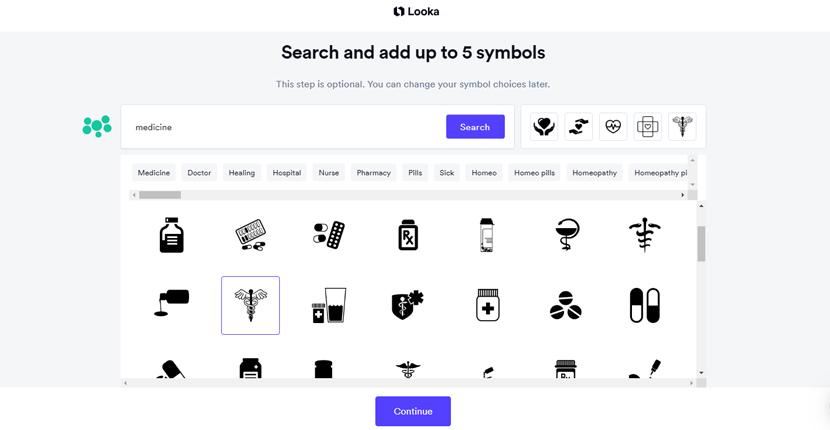 On the final page of the questionnaire process, Looka will display designs featuring your chosen color swatches and the symbols you've selected. You can have the tool keep generating more, or
if you see a design that catches your eye, you can start editing it right away
.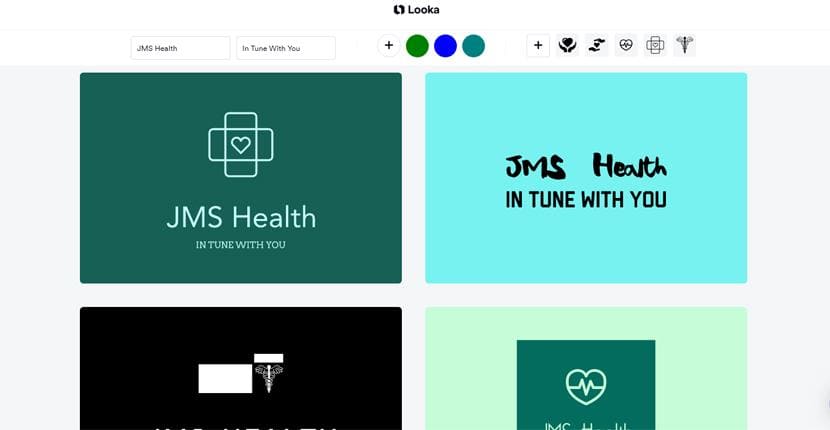 3.   The Editing Process
You don't have to commit to just one potential health clinic logo.
You can play around with multiple designs, and Looka will save your progress on each so you can go back and test other designs
. You can also revert to a previous version if you decide a design isn't working after you've edited it. You can adjust different logo elements, including background colors, font styles and sizes, and container shapes. Looka also generates previews of layout variations. If you want to run a logo by friends and patients first, you can also hit "share," and it will post your design to social media or send it via email.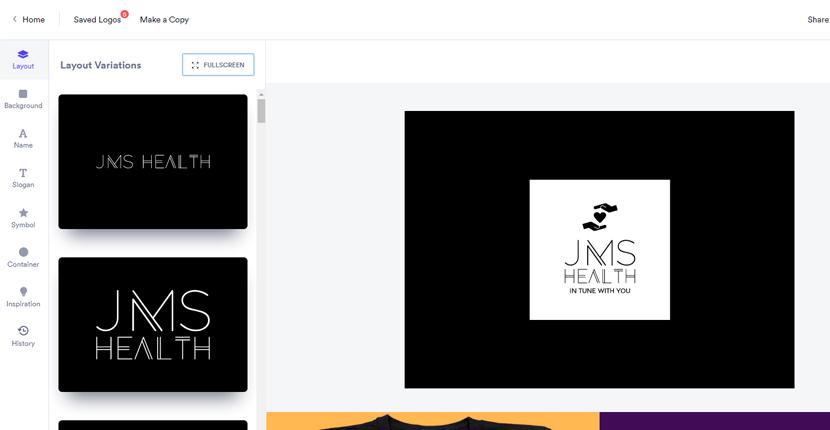 Although Looka doesn't currently offer printing via the website, it shows you previews of how your logo would look on apparel, stationery, and on social media.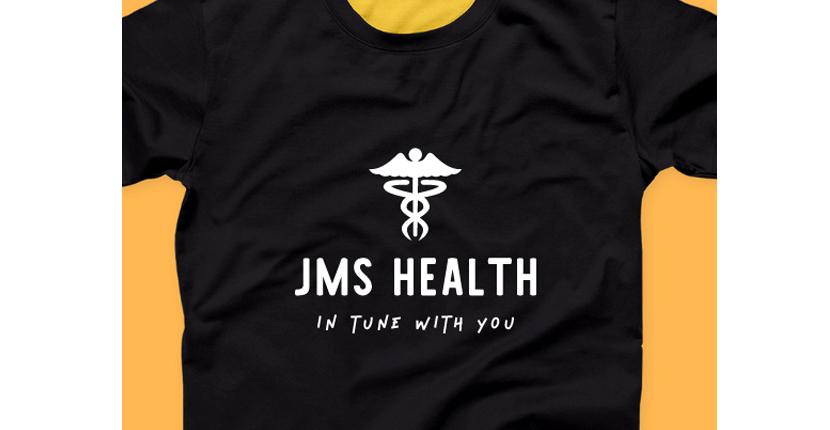 Expert Tip: It's helpful to preview mock-ups of your logo in several variations, including full-color and single-color logo formats. A well-designed logo should look clean and readable at small sizes for items like business cards stationery as well as on large-format pieces like banners and billboards.
If you're still feeling stuck in the design process, take a look at Looka's Inspiration Variations gallery
. It displays a range of logos created in the tool, and if you see a particular color scheme or font you like, just click the design and it will apply that logo's style to your own logo. You can still make edits if you want to swap out a font or gradient swatch, and your text and icon choices won't change unless you choose to adjust them.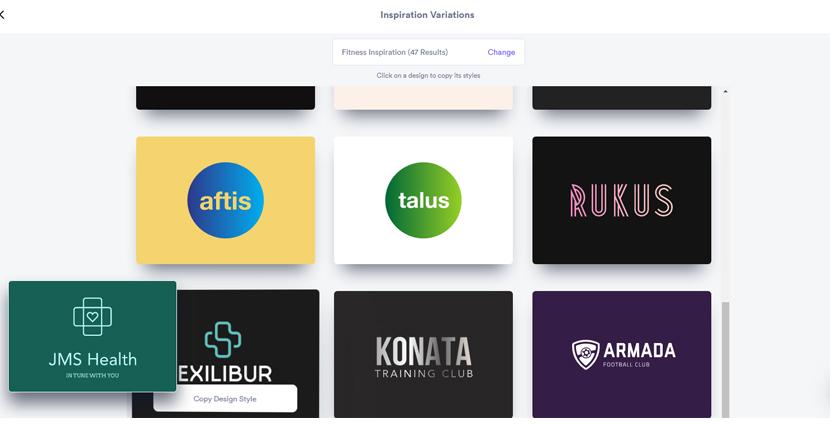 4.   Congratulations, It's a Logo!
Once you've created a health clinic logo that works for you, it's time to make a purchase. You'll find the "buy" button in the upper right corner (next to the share button), or you can purchase it directly from the saved logo or dashboard pages. Looka offers a few logo packages.
Premium is the most popular choice, as it gives you standard and high-resolution versions of your logo, including full ownership rights
. If you're looking to extend your marketing with print-ready business cards and a social media kit, the Enterprise package provides these in addition to everything in the Premium package. Here are some sample logo designs I created with Looka: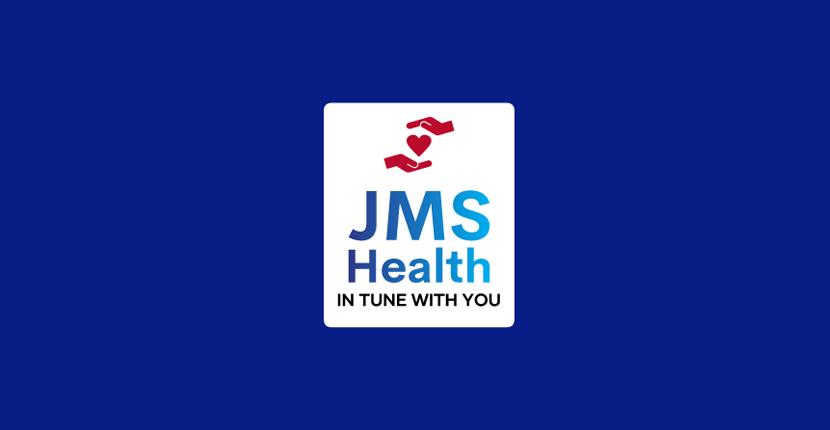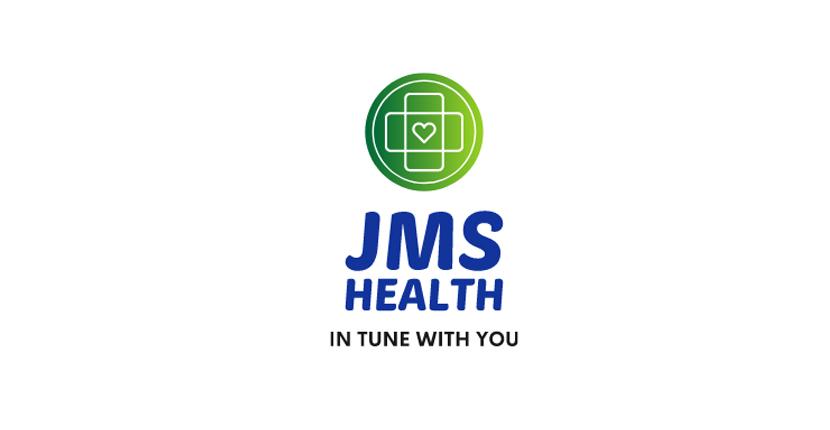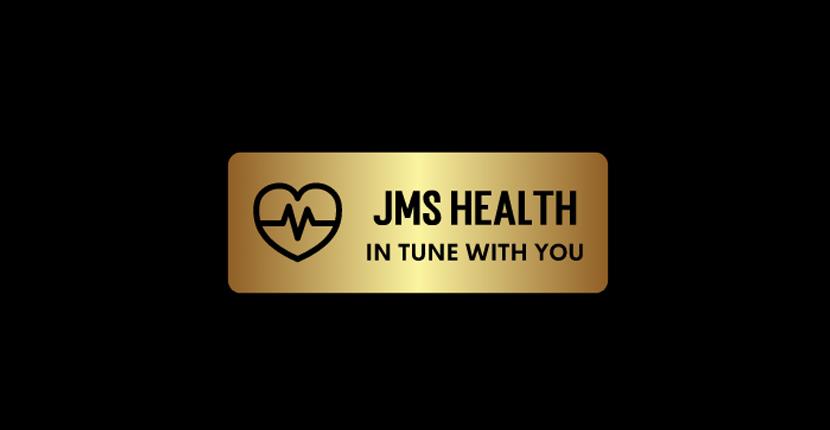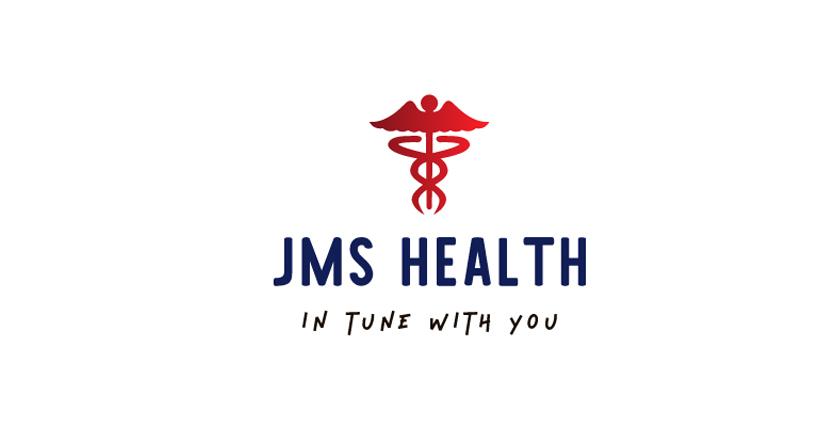 Looka Alternatives
Do you like Looka, but feel it's missing some of the features you're looking for?
Here are a few other logo makers you might want to check out
:
Do you need a logo in a non-Roman alphabet? Take a look at Wix Logo Maker.
Do you want to print your logo on stationery and a variety of other promotional items? LogoMaker lets you order a range of marketing products directly from its website.
Are you interested in creating seasonal branding for your medical practice? Tailor Brands can help you create logo variations suited to various holidays.
Prefer to Have Your Logo Created by a Designer?
If you don't have the time or patience to design your own logo, the best option for you is to hire an experienced hospital logo designer. Thankfully, it's easy to find skilled designers on Fiverr. While
designs start at just $5,
you'll also find a range of services available at different price points. You'll find logo design services listed at the top of the
Graphics and Design
menu of
the Fiverr website
.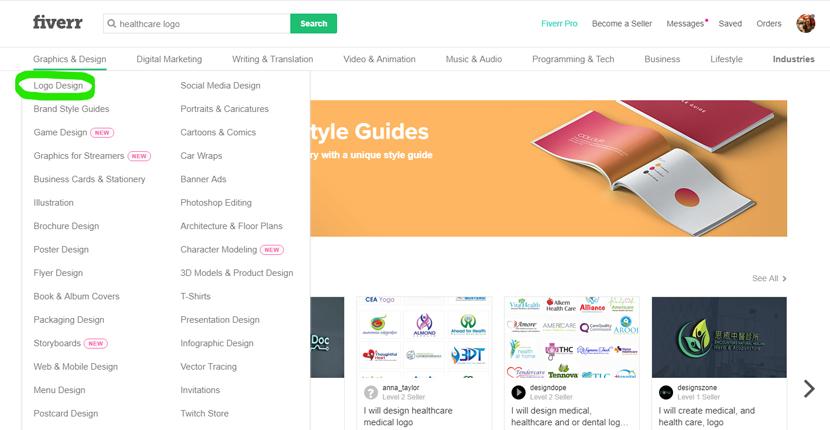 You can also hone in on your ideal designer with Fiverr's logo design search tool.
Find your ideal designer by answering a short series of questions about your brand and design preferences
.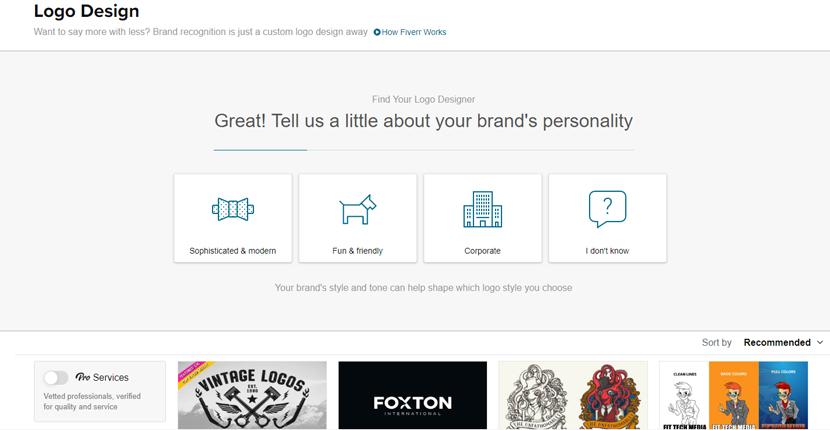 Based on your selection, Fiverr will show you a range of designers who follow that particular style, in this case, sophisticated and modern.
You can further refine your search based on your budget, required delivery time, and designer rating
. When you see a design you like, click on the designer to learn more about their work, including user ratings that can help you weed out the duds from the gems.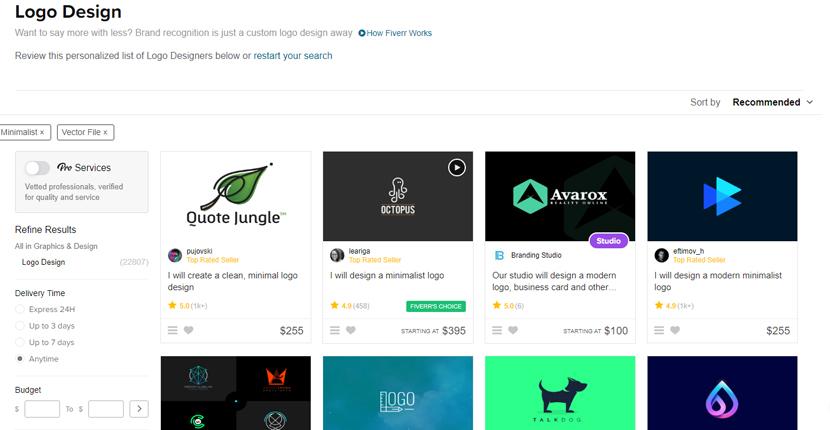 Other Reasons to Like Fiverr:
Most designers offer basic, standard, and premium package options to suit every need.
Fiverr's mobile app makes client-designer communication fast and efficient.
It has a top-notch Pro services program featuring highly-vetted design professionals.
If you'd like to expand your logo designer search further,
99designs
and
DesignCrowd
both feature designers-for-hire as well as design contests that let you choose a winning logo design based on the specifications and budget you set
.
Get Inspired by Famous Medical Logos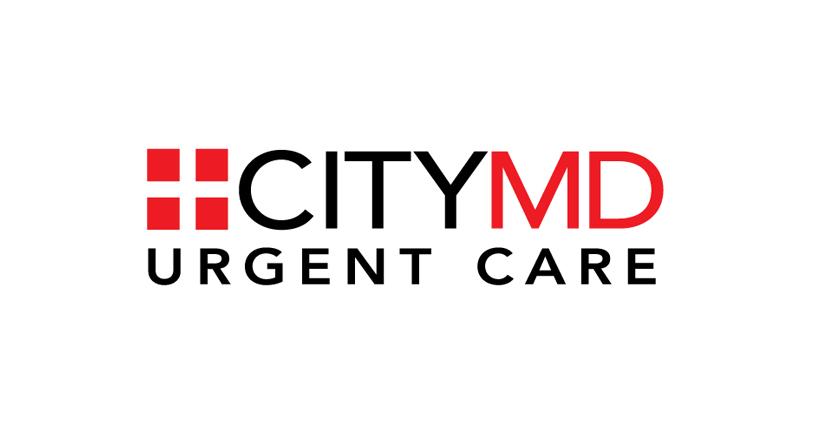 This logo for
CityMD
is clean, simple, and to the point. Its slogan lets you know it offers urgent care, and the use of red further emphasizes that. This is an important design consideration when patients need to know where they can seek immediate treatment.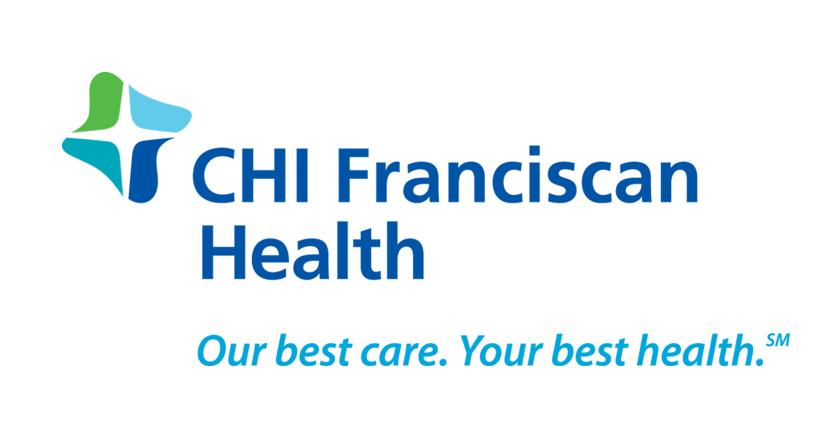 This logo for
CHI Franciscan Health
contains an abbreviation representing
Catholic Health Initiatives
, but that doesn't mean one has to be Catholic to be a patient. The use of the cross symbol subtly ties into a health system that provides faith-based support for those who want it, yet the emphasis is on providing the best care to all.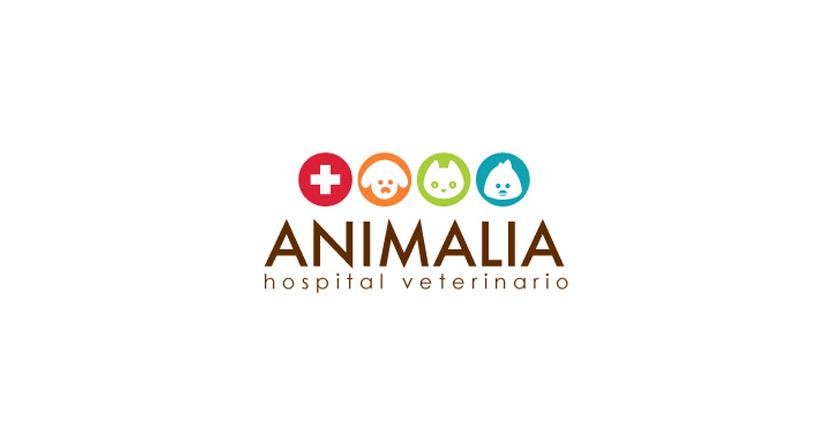 The logo for
Animalia
is cute and colorful, but also clean and modern. When people are entrusting their pets to a veterinary hospital for care, they want to know their pets are in good hands, and this simple design conveys that well.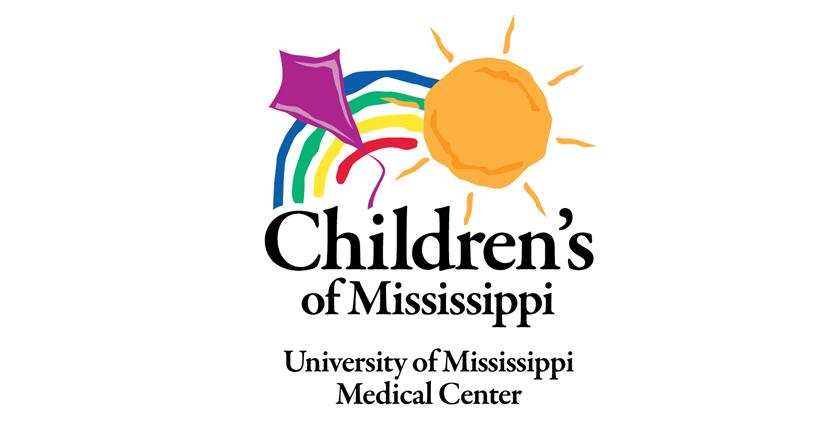 While some children's hospitals use cutesy text, this logo for
Children's of Mississippi
keeps things professional with a standard font choice, leaving the colorful illustration to project its child-friendly environment. This balanced design can help both parents and kids feel less apprehensive about hospital visits.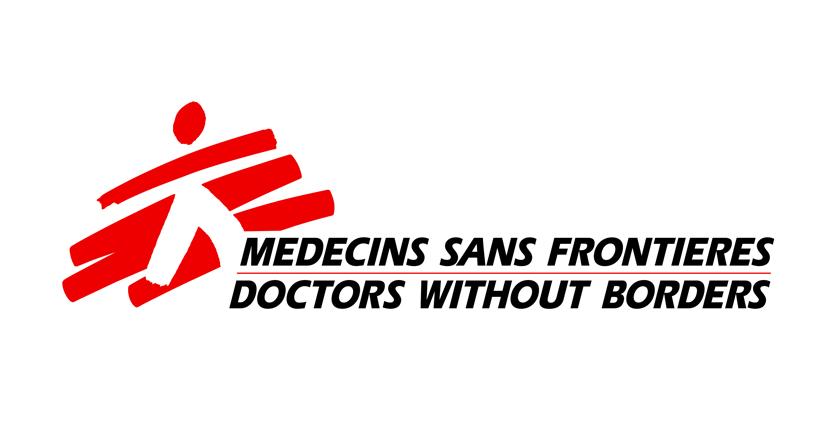 The primary logo for
Doctors Without Borders
features both French and English text, making it accessible to users in multiple locations. The logo maintains a consistent look to ensure global recognition with additional translations for speakers of other languages as well.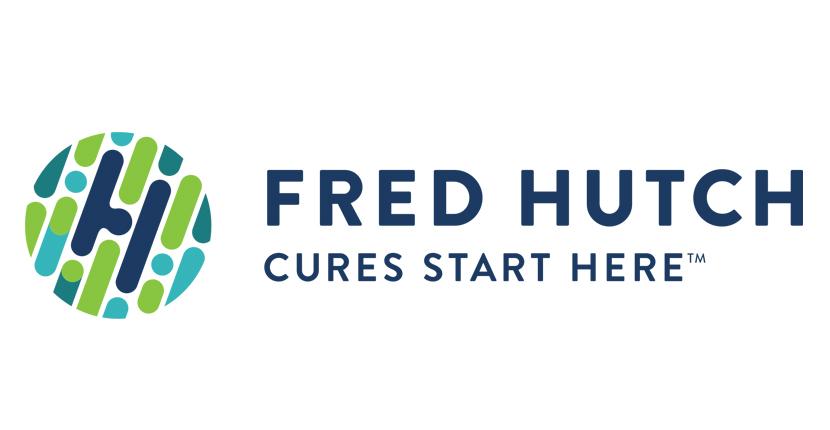 Fred Hutch
is actually a shortened version of the
Fred Hutchinson Cancer Research Center
but is commonly known by the shorter "Fred Hutch" or "The Hutch" by people in the medical community. The slogan keys into their primary mission, finding cures for cancer, and the microscope slide icon cleverly incorporates the "H" as part of the design.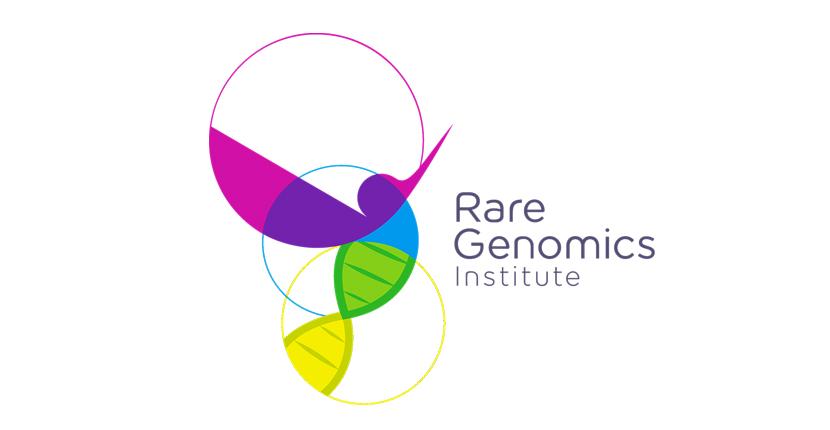 This logo for the
Rare Genomics Institute
is similar to Fred Hutch in how it uses a symbol of medicine, the DNA helix, as part of the design. It also cleverly incorporates the head and body of a hummingbird in the overlapping elements, giving it an airy and forward-looking feeling.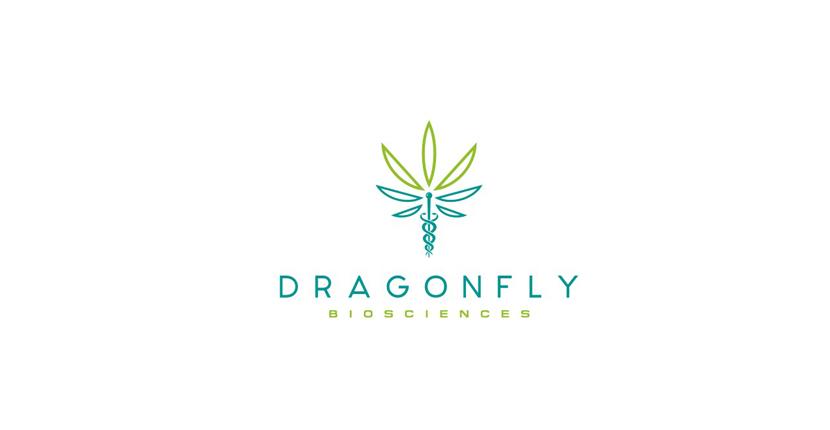 This logo for
Dragonfly Biosciences
tackles a rather delicate concept of medicine: alternative treatments. Some might not pick up on the subtle hint of a seven-leaved plant, which might be the intention. Staying within the law or directly mentioning medicinal products is something a lot of companies still need to be mindful of. This can be achieved with more abstract wording and imagery as Dragonfly Biosciences has by combining the leaves with a caduceus.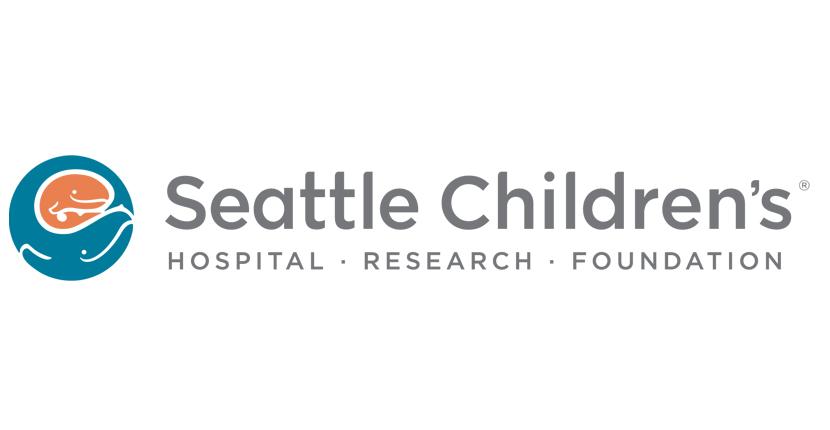 This logo for
Seattle Children's Hospital
is another good example of making a logo look modern, yet non-threatening for kids. The combination of the adult and baby whale implies a sense of comfort. They're very cute, but without looking too babyish for older kids and teens, which the hospital also treats.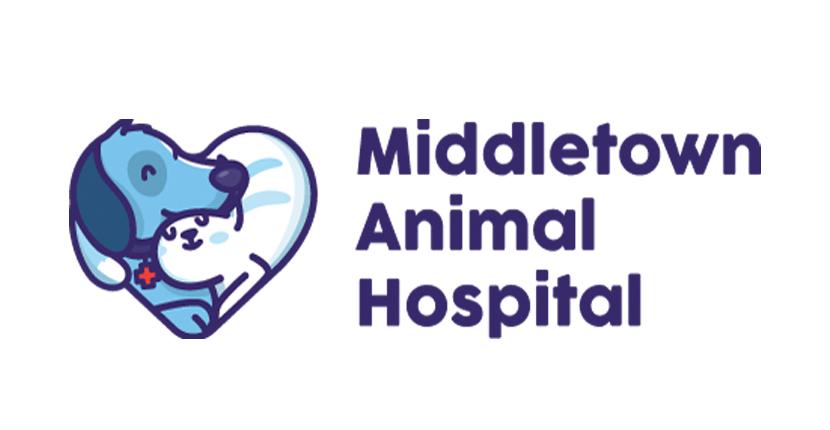 This adorable logo for
Middletown Animal Hospital
represents a love for its patients. The clever use of the red cross on the dog's collar lets you know the vets are going to carefully address each animal's medical issues. While a pet may not be affected by how the logo looks, it can help its owner feel more at ease.
*Website Planet is not affiliated with any of the medical brands above.
Stitching Things Up
Now that you've powered through the logo design process like a delicate surgery, you're ready to promote and grow your business even further.
You may want to review your logo and marketing assets every once in a while to see if they still hold up compared to your medical colleagues
. Or, you may find your branding offers a timeless look that needs no revisions. It's also helpful to stay on top of the latest design trends and ask patients and coworkers for feedback on your logo to keep a strong pulse on your professional presence. With an online tool like
Looka
, you can easily design your own logo for your medical process. If you'd rather leave the design work to the professionals, try a service like
Fiverr
. Discover more ideas in our list of
the top 10 logo design services
.