cPanel may seem intimidating at first, but it's a lot easier to use than it looks.
It's not the only web hosting control panel you'll come across, but it's the most popular one. So it's a good idea to understand how it works, and that's what this article is all about. My colleagues and I have tested all the most popular web hosts in the world, so we've used cPanel a lot. I signed up for shared cPanel hosting with InterServer so I could create
this easy-to-follow guide, with step-by-step instructions on some of the cPanel basics.
In this guide, you'll learn how to get started with cPanel, set up a WordPress site, set up your professional email, add account security, and more. There's a lot you can do with cPanel, and by the end of these instructions you should be well on your way to becoming a cPanel pro. You should allow for around 15-30 minutes to complete all the required steps in this guide. I've completed these steps using the
Standard Web Hosting plan from InterServer
, as it offers a really low price on your first month of hosting with many unlimited features.
Getting Started with cPanel
Once you've signed up with a cPanel web host, to start actually using cPanel you'll need to log in, choose your design, and learn to navigate the interface. It's also a good idea to change your cPanel password. In this section, I'll walk you through each of those steps. Just a head's up: some of the cPanel functions you'll find on the main page may differ depending on the host you use. For example, your host might disable the cPanel backup tool so it can offer its own backup product as an add-on. But the general layout of cPanel is the same from host to host, with lots of functions organized into different categories.
Disclaimer:
To use cPanel, you need to sign up with a web hosting provider that offers it. For example, some of the providers on our list of the
best web hosts for 2023
give you access to cPanel, or you can simply sign up with InterServer for
$
2.50
.
How Do I Log In to cPanel?
There are two ways to log in to cPanel and both are pretty easy.
Your first option is to use the link or login button your host provides.
InterServer, the host I signed up with
, has an access button on the web hosting account page.

The second way to log in is directly with cPanel
by entering http://yourdomain.com:2082 (for http) or https://yourdomain.com:2083 (for https) into your browser's address bar. The domain I created for this guide is coffeefilterworld.com, so that's what I entered.

When you use the :2082 or :2083 method, you'll land on the cPanel login page and be asked for your username and password.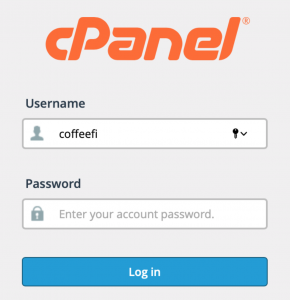 Your cPanel login info usually comes via a welcome email from your host.
If it doesn't, you may want to contact your host's support to get it.
How Do I Change My cPanel Design?
When you log into cPanel for the first time, you'll be introduced to the default design offered by your chosen web host. If you don't like how it looks,
you can easily change the theme, and depending on the theme you pick, you can often change the style too.
The themes and styles available may vary depending on your host.
Pro Tip: At the time of this writing, cPanel advises that it's in the process of removing its commonly-used Paper Lantern theme and all related styles, including Glass. So, cPanel recommends you use its new Jupiter theme. For this article, that's exactly what I'll do.
The
theme
of your cPanel interface dictates its layout. Think of it like the design for different types of houses. A colonial house looks much different than a cape or adobe house. Changing the
style
of your cPanel theme takes that layout and adjusts it to your taste. This is like changing the color of your house, putting on a new roof, or adding window shutters. cPanel styles can include lists vs icons, light vs dark backgrounds, and more.
You can change your theme using the Theme dropdown on the right sidebar.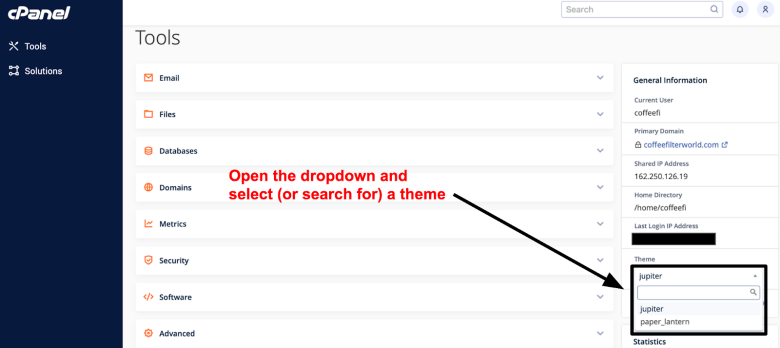 With InterServer,
the Jupiter theme doesn't currently allow for interface style changes.
If your chosen theme lets you change the style, there may be multiple ways to do it.
One way you may be able
to change the style is through the Preferences category.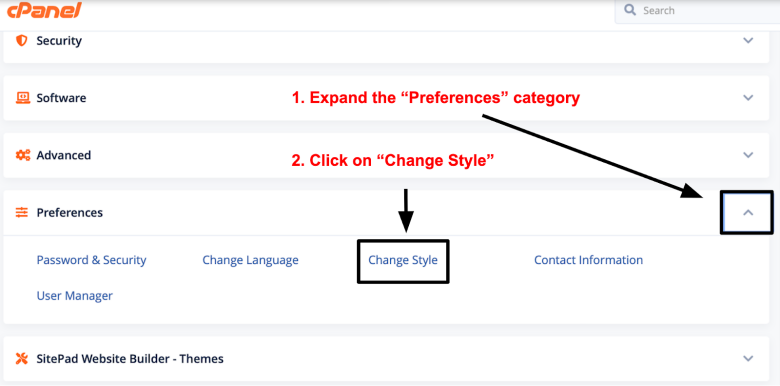 Another way you may be able to change the interface style is by clicking on your user icon (in the top right) and selecting Change Style
under the dropdown menu.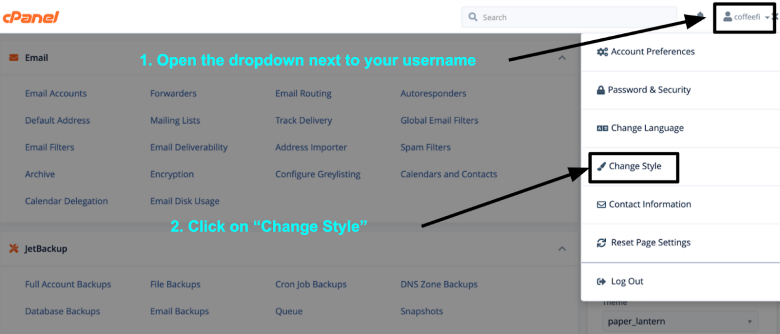 Once you get to the style screen,
click on the style you prefer.
Available cPanel styles vary by theme.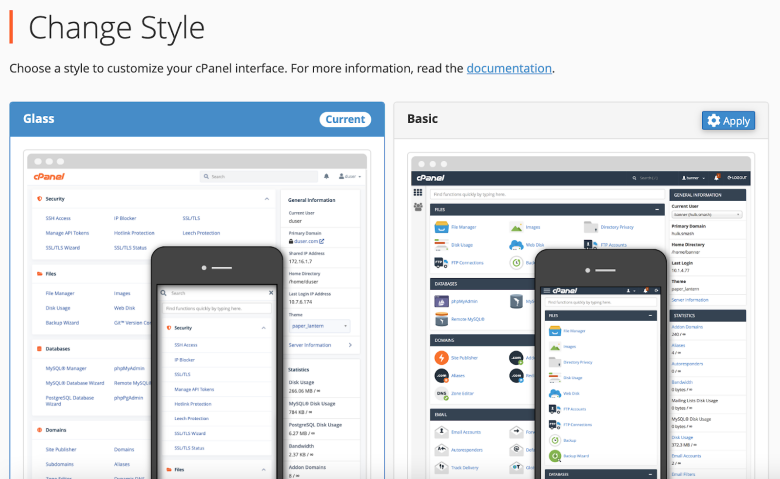 How Do I Change My Password?
For security reasons, it's smart to change your password as soon as you log into cPanel for the first time. There are two ways to go about doing this.
The first way to change your password is via the Preferences category.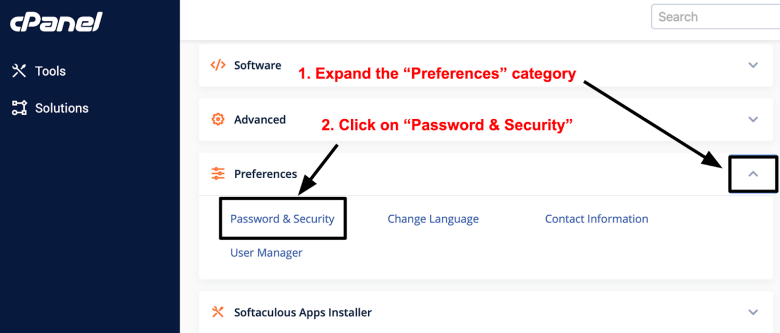 The second way to change your password is to open your user dropdown and select Password & Security.

No matter which method you use, once you click
Password & Security
you will be taken to a form to create your new password.
You'll have to enter your old password, new password, and new password again
– the second time to confirm it's correct. The form will also show you the strength of your new password, from Very Weak (0) to Very Strong (100).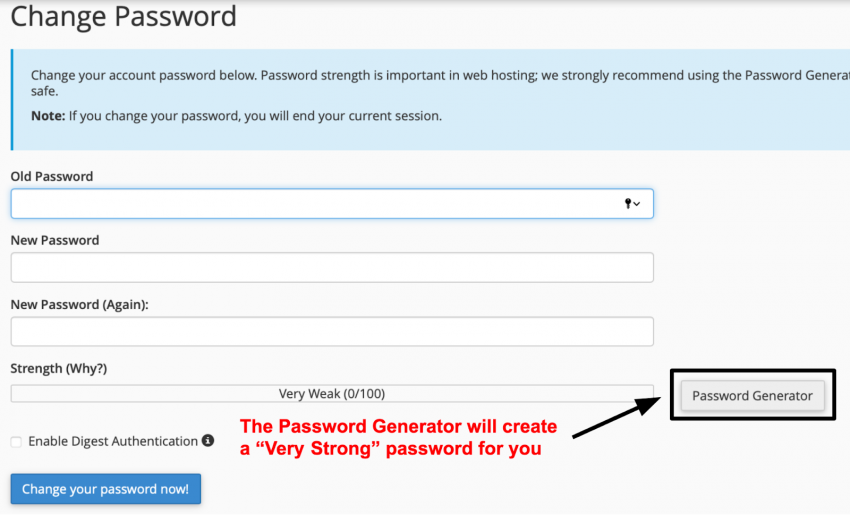 Once you've entered your old and new password, and you're satisfied with the strength of your new password,
click on Change your password now! and it will be updated.
How Do I Navigate cPanel?
The cPanel interface is dominated by its categories of functions, but it also has a number of other components you'll want to become familiar with. Let's look at each component of the cPanel Jupiter theme's main page a bit more closely. On the left hand side of the page you'll find a navigation bar. The options in
the left navigation bar will take you to different pages throughout the cPanel interface
. InterServer's left navigation bar gives you three pages: Tools, Solutions, and WordPress Manager. The left navigation bar may look different with your web host.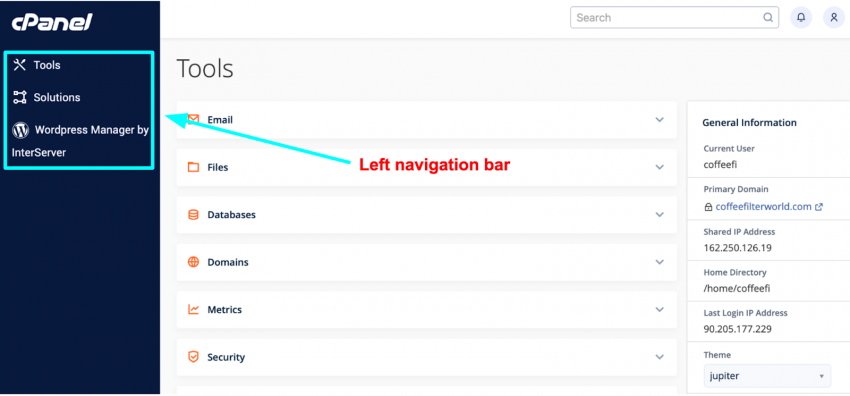 Tools
is the main page (you see in the above image), with all the categories and functions.
Solutions
takes you to a help page that includes everything from guides for setting up email and building a website to FAQs and resources, like video tutorials. There's even a cPanel University for technical courses and certifications.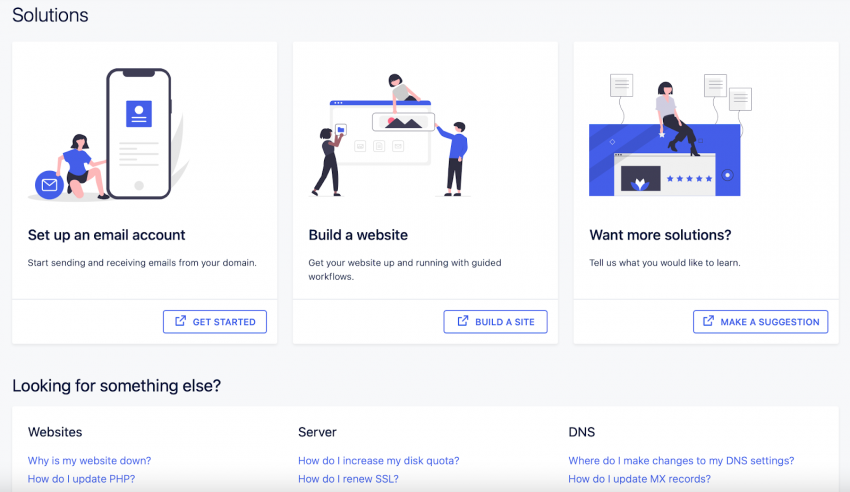 The final page on the left navigation bar (with InterServer) is WordPress Manager. If you want to learn more about WordPress Manager, jump to the
Installing WordPress
section below. The cPanel components you'll use most are found on the
Tools
page, so we'll focus on that for the rest of this section. The majority of the
Tools
page is made up of different categories. These
categories contain the various cPanel functions – aka, the stuff you'll use most.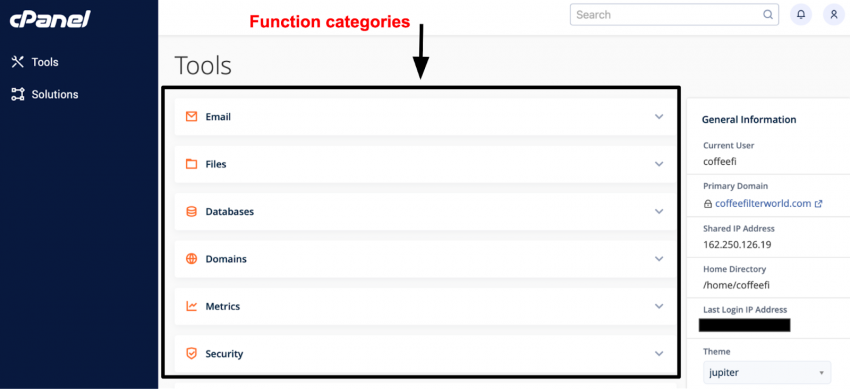 cPanel's older themes used an interface filled with icons, which made it a bit challenging to learn, and to find the functions you were looking for. Now,
cPanel uses a text-based design that you'll probably find is more user friendly.
The default view for the Jupiter theme has each category expanded so you can see its functions. I've minimized them in the above image so you can see more of the categories themselves. If you want to see the functions within a category, simply expand the category by clicking the dropdown arrow on the right.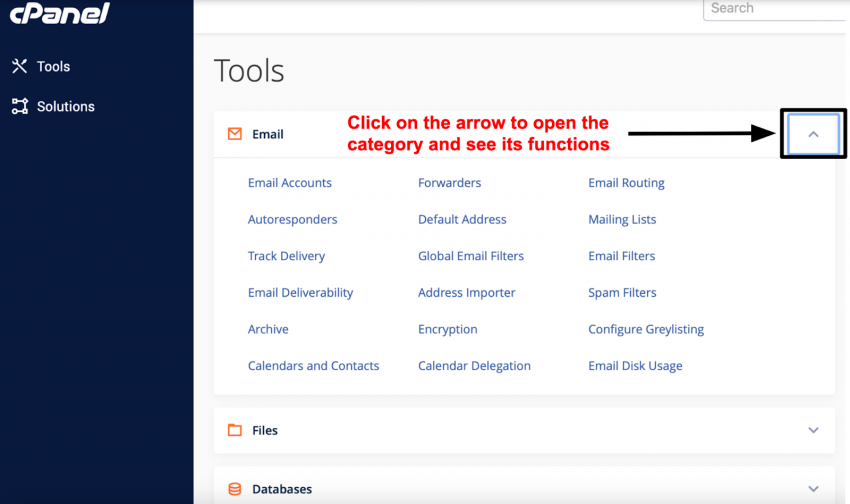 You won't need every cPanel function, so
you can easily rearrange the categories to put the ones you use most at the top
. Rearranging is as easy as dragging and dropping.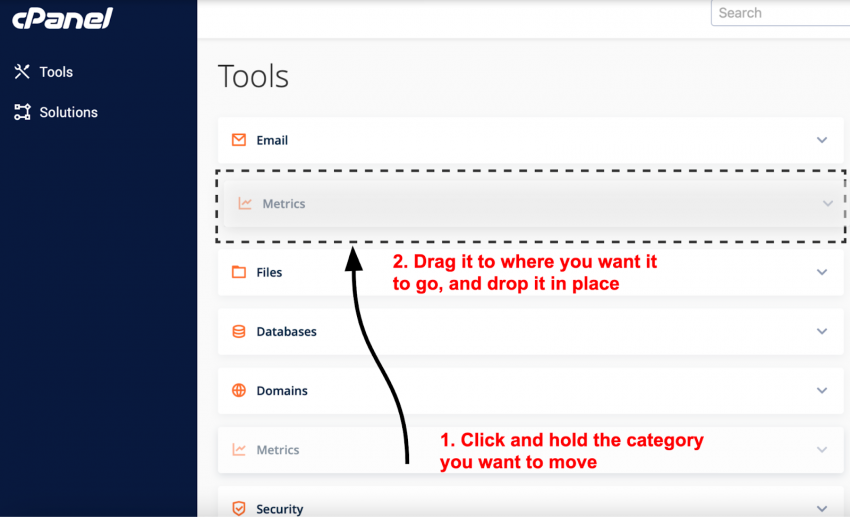 You can use the Search bar at the top right of the page to find anything specific within cPanel.
The catch is, you need to know what you're looking for.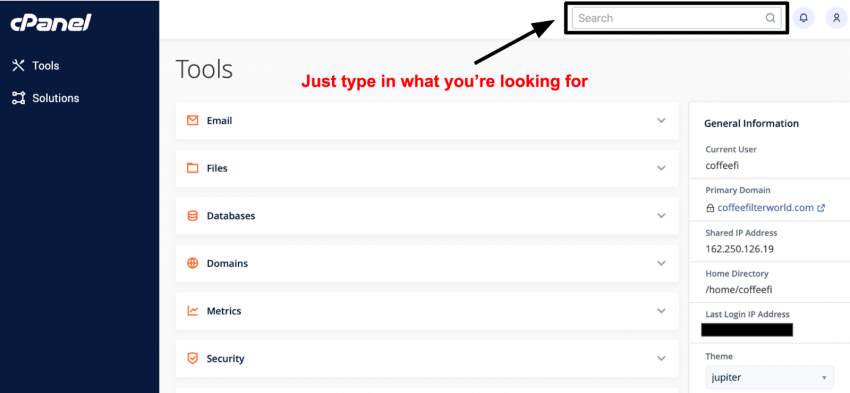 The notifications element will take you to a page with any notifications you have received.
It's indicated by a little bell at the top right of the page.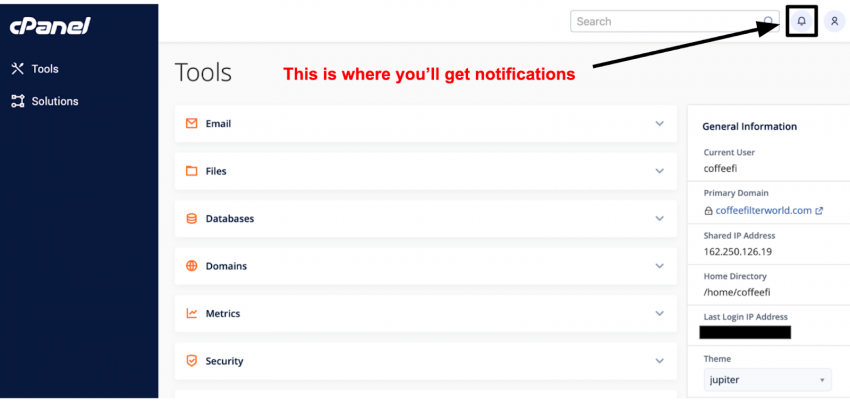 Another element of the cPanel interface, which we touched on when changing your password, is the user icon.
The user icon lets you open a dropdown menu of options to change your preferences, password, language, and contact information.
It also lets you reset the page to its original settings and log out of cPanel.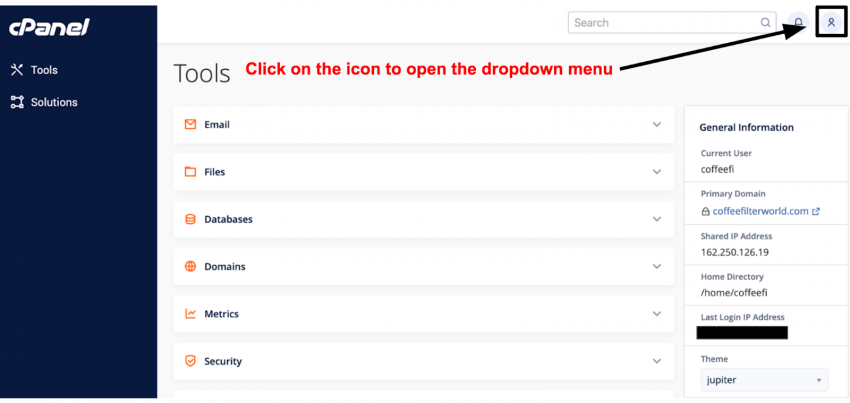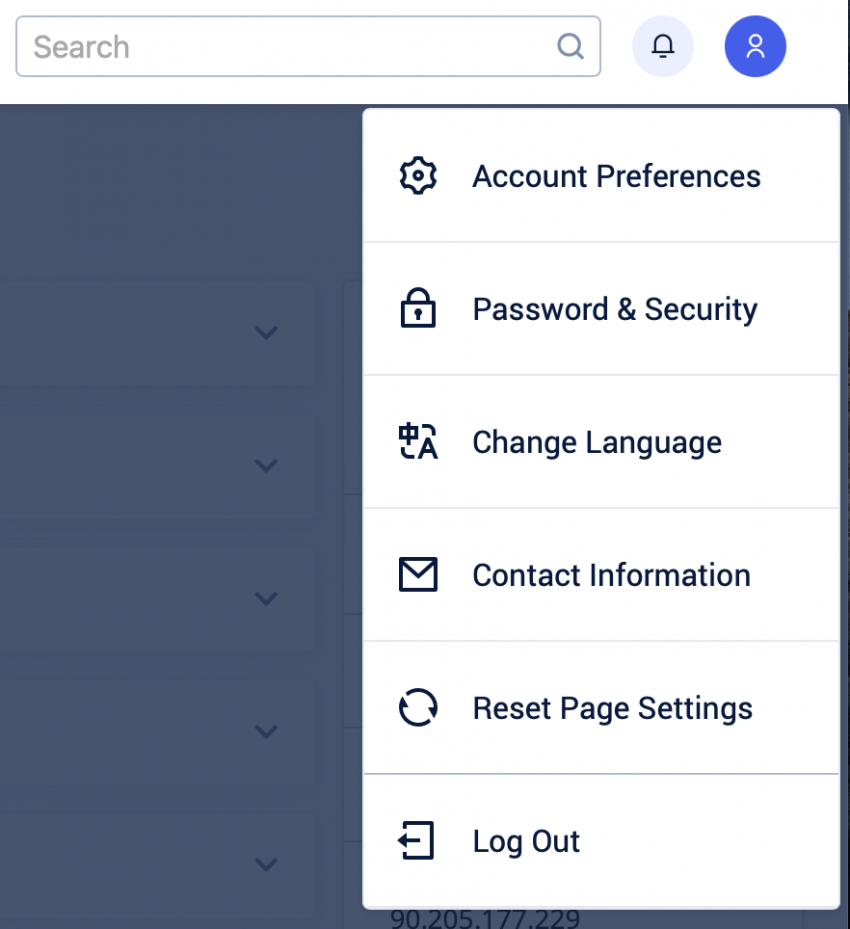 On the right-hand side of the page is the right sidebar.
The right sidebar includes general information about you and your domain, as well in-depth statistics on your web hosting usage
, including disk space, bandwidth, number of email accounts, and much more.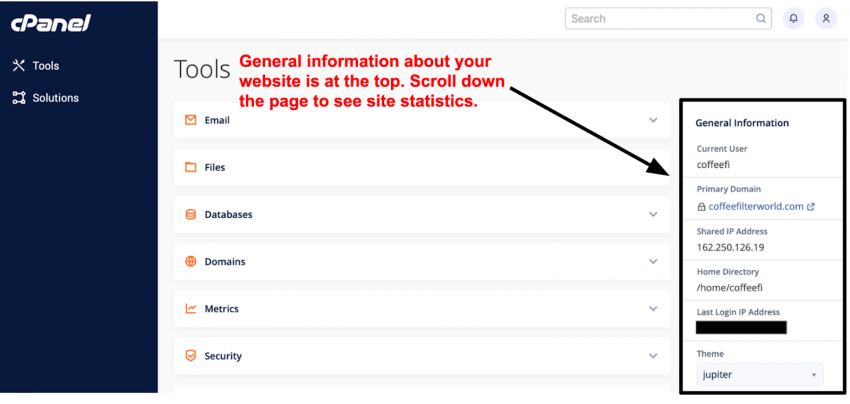 Don't worry if you don't have a full sense of how to access everything right away. cPanel's interface is generally easier to figure out and remember once you actually start using it. Most of the time, you'll want to start by adding a domain, which you can do by following the instructions below.
Before you continue, you may want to consider signing up for InterServer's Standard Web Hosting account for only $2.50 as it's the one I used to create this tutorial.
Adding Domains and Subdomains in cPanel
Creating a new domain or subdomain allows you to launch a new website or a separate subsection of an existing site. cPanel makes it easy to do this – read on to find out how!
Adding a Domain
To add a new domain in cPanel,
start by selecting Domains under the Domains category.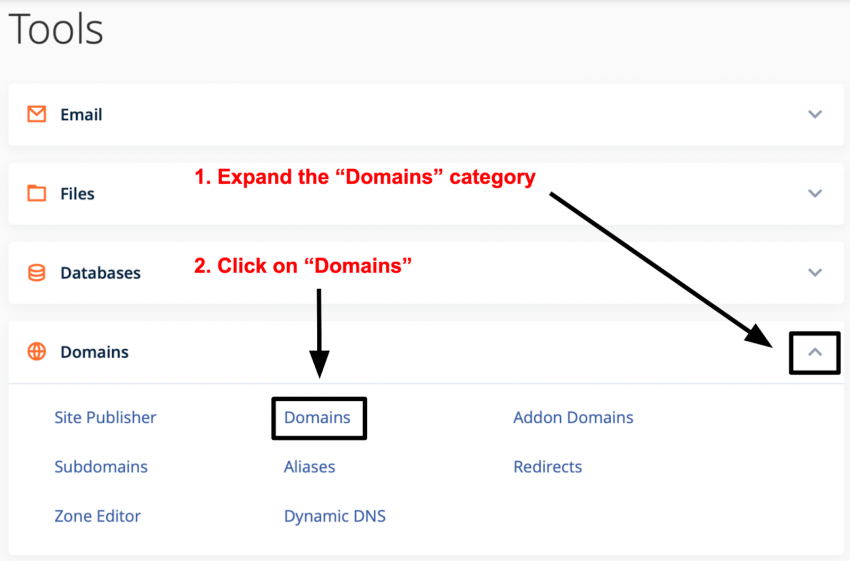 Clicking
Domains
will take you to your domain management interface. This shows you all your current domains, options for each, and it
gives you a button to Create A New Domain
.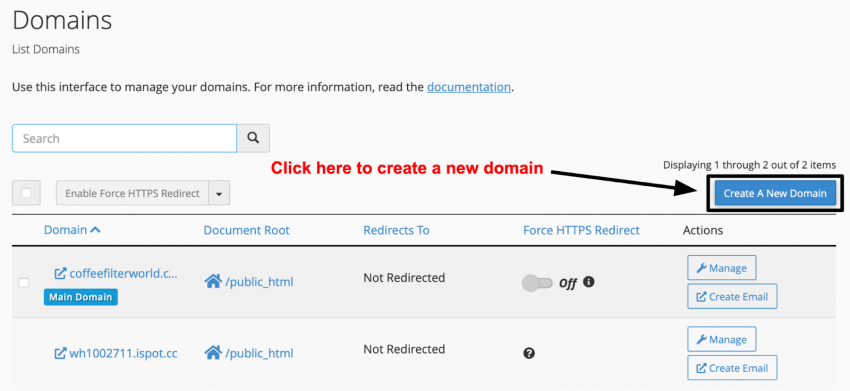 Once you click the
Create A New Domain
button, you'll reach a page that will let you enter a new domain name.
If you want your new domain to take your users to the same website as your main domain, make sure the Document Root box is checked.
If you want the new domain to be separate from your main domain, uncheck the Document Root box.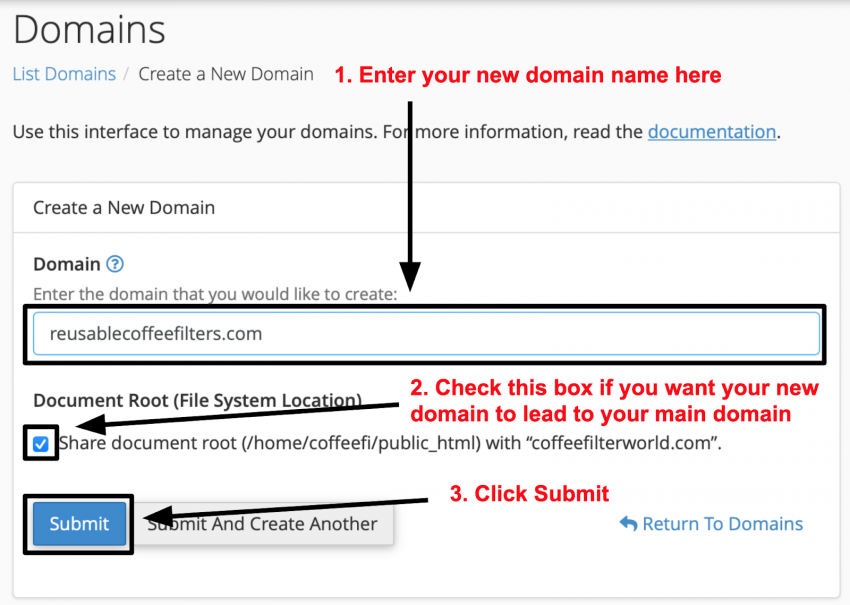 For the above example, I created the domain "reusablecoffeefilters.com" and I checked the
Document Root
box so that if someone goes to this new site, it will redirect them to my main site, coffeefilterworld.com. You can create as many domains as your web hosting plan will allow, and root as many of those as you want back to your main domain.
Adding a Subdomain
Adding a subdomain with cPanel is very similar to creating a new domain. The first step is to
open the Domains category, but this time choose Subdomains instead.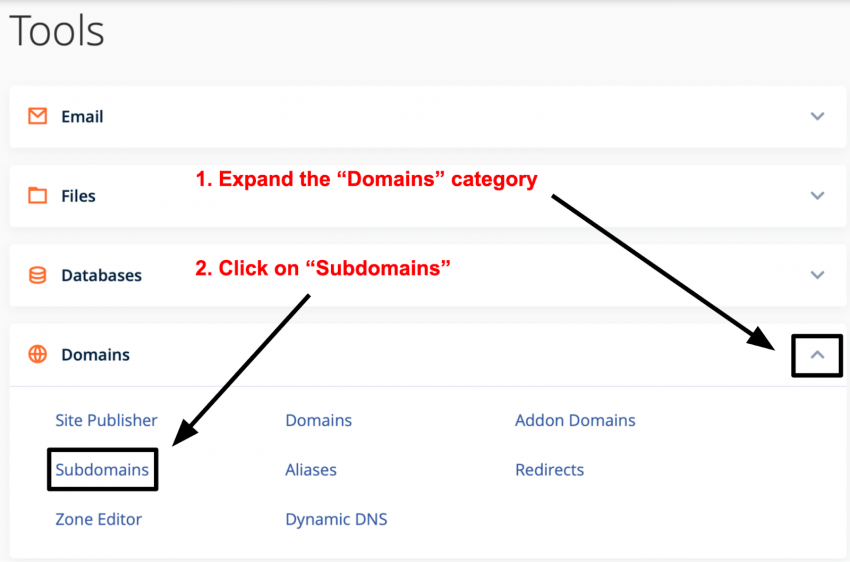 Clicking on
Subdomains
will take you to your subdomains management page. Here you can either add a new subdomain or modify an existing subdomain.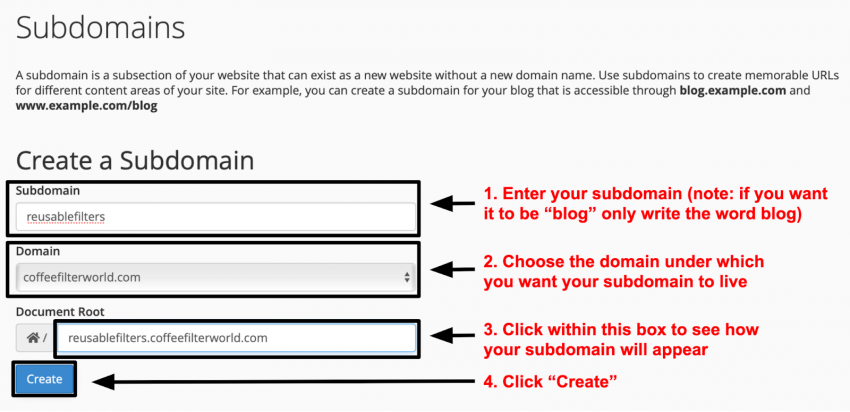 A subdomain is useful if you want to create a completely separate new section under the same domain name.
Subdomains are great for blogs, help sections, or if you have an online store, to create categories for your shop, such as adults, kids, shirts, pants, sweaters, and so on. You may even be able to install a completely separate instance of WordPress under a new subdomain if your web host allows it. For my test site, I created a subdomain for reusable coffee filters by typing "reusablefilters" as one word. I then selected my main domain (coffeefilterworld.com) as the domain to house it under. I clicked on the
Document Root
box to see how it would look, then clicked
Create
. After a few seconds, you'll get a confirmation that your subdomain has been created successfully.

Once you've created a subdomain, you can go back to your domains management page and you'll see your new subdomain on your domains list.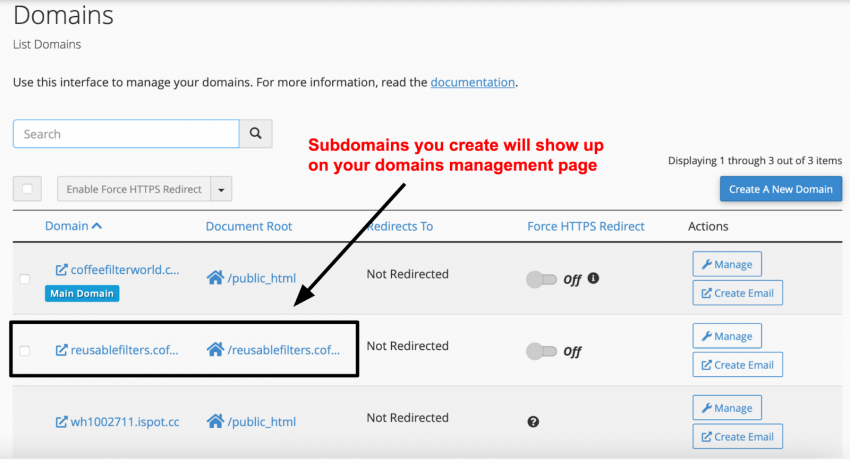 Once your domain is set up and connected with a domain name, you can start work on setting up a website in that space. While you can build and upload a static HTML site, and you can install various types of content management systems (CMSs), most people opt to use WordPress as it's usually the easiest and most flexible option. Also, many web hosting providers have web servers that are configured specifically to run WordPress, even on their cheapest plans.
Installing WordPress (and Other Software)
Most web hosts have an auto-installer to help make installing WordPress (or other software) a breeze.
InterServer uses Softaculous
. The way you access your auto-installer may vary by host. InterServer gives you three ways to auto-install WordPress, but only one way to install other software. The first way to start a WordPress install is to
access the WordPress Manager via the left navigation bar.

The second way to start a WordPress install is to
select WordPress Manager under the Software category on the Tools page.

If you opt to install WordPress via option one or two, you'll land on a user-friendly Softaculous WordPress Management page and
you simply have to click the Install button.

The third and final way to begin installing WordPress is to access WordPress via the Softaculous Apps Installer category.
This is also where you'll go to install other software.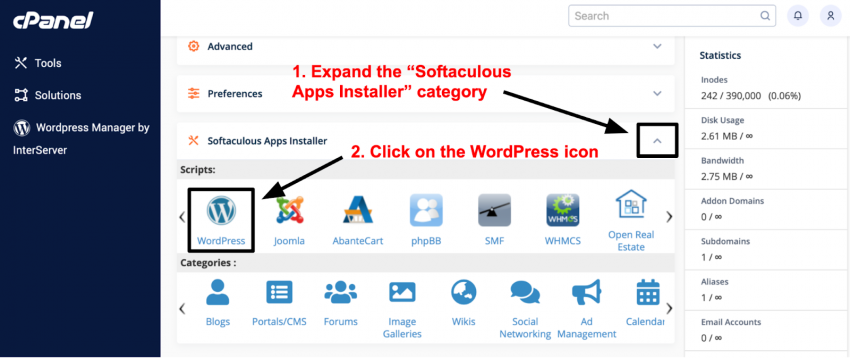 Clicking on the WordPress icon in the installer will open a version of the Softaculous installer with more options, which can be confusing at first glance. But
there's an Install Now button at the bottom of the page that requires just one click
to get your install rolling.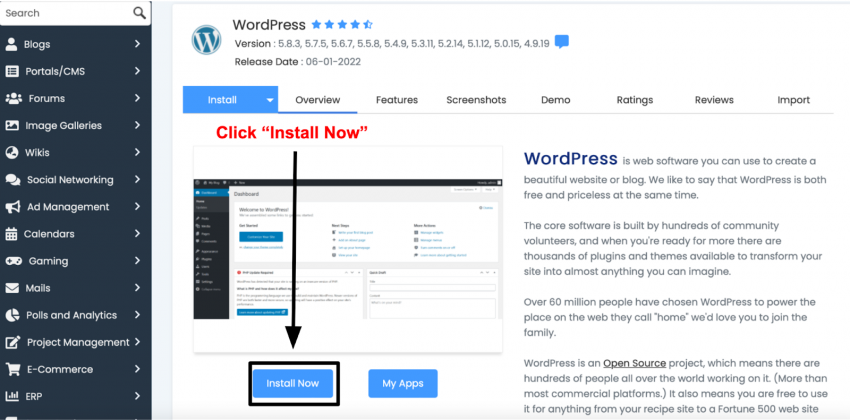 No matter how you access the WordPress manager, you'll end up on a setup page with a
Quick Install
button. This is where you'll connect your domain to your WordPress site. If you only have one domain, Softaculous will automatically connect it.
If you have multiple domains, you'll need to choose the URL of the domain on which you want to install WordPress
, then click the
Quick Install
button.
Pro tip: Unless you have a good reason to change it, keep the URL protocol as https:// to ensure your website is secure. And keep your host's default WordPress installation version – it's the latest version your host supports and will be the most up-to-date.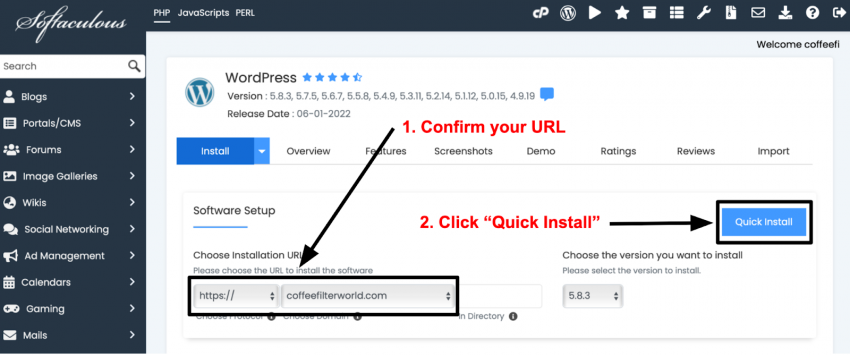 You'd think clicking
Quick Install
would start your install immediately, but it doesn't. After you click
Quick Install
, you get the option for a
Custom Install
– which is for advanced WordPress users – or a normal install, which requires you pick a WordPress theme before advancing. You can scroll through available themes or show all of them at once. You can also click on any individual theme to see what its subpages look like.
Once you select your WordPress theme, click the Install button at the bottom of the page and your installation will begin.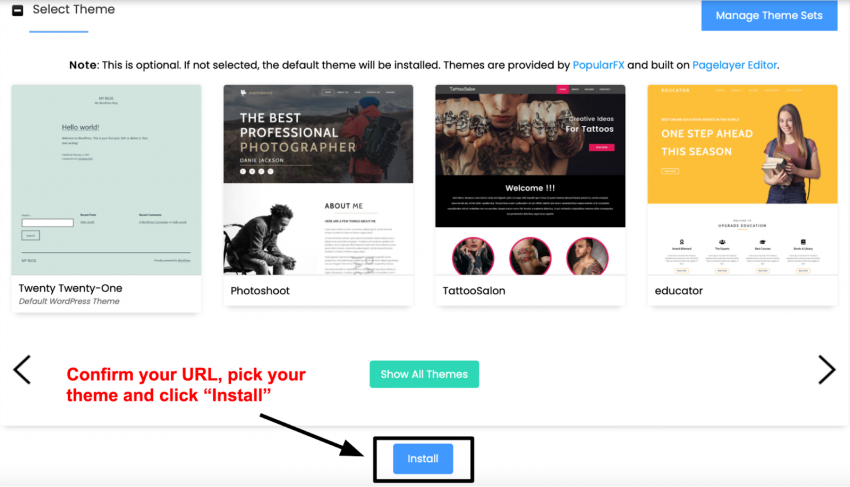 Your WordPress installation process can take three or four minutes, and you'll see a status bar that informs you of the progress of the install.

Once the install is complete, you'll get a completion confirmation.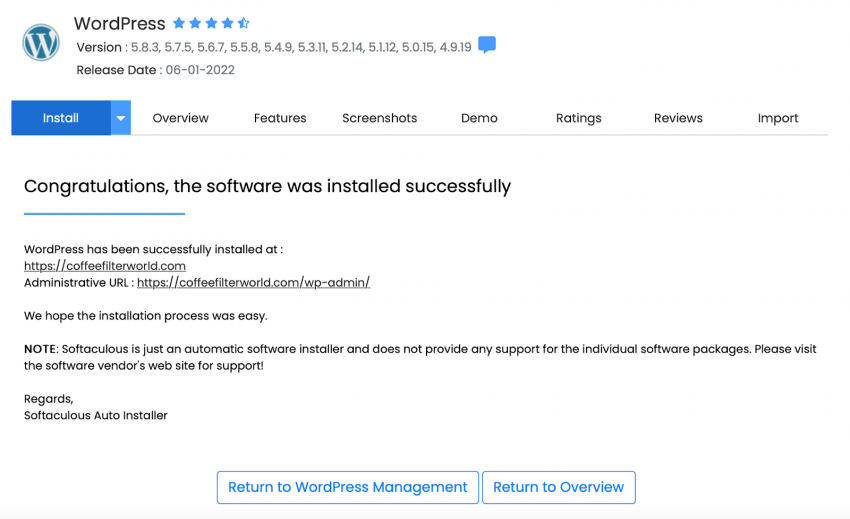 To manage your WordPress installs,
access your WordPress admin page via the WordPress Manager in the left navigation bar or through the WordPress Manager function
under the Software category.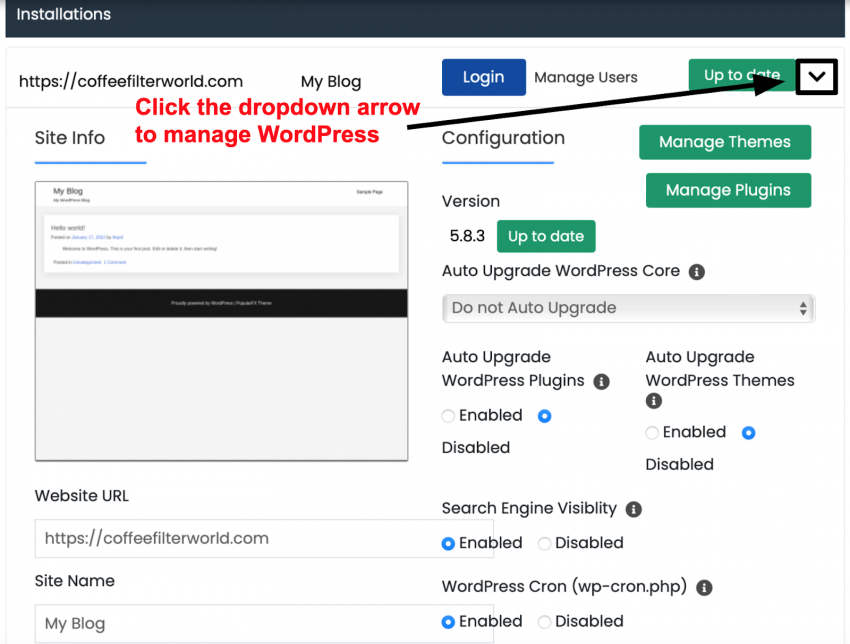 Your admin page will now let you manage themes and plugins you've installed, as well as let you enable automatic upgrades, allow or disallow search engine visibility, and more.
Setting Up a Professional Email Account
Not all web hosts offer the same email options.
InterServer's Standard shared hosting plan
 lets you create as many email addresses as you want and gives you 25GB of storage for each, but not all hosts are that generous. Bluehost only gives you 5 email addresses. And while HostPapa lets you have up to 100, it only gives you 500MB for each mailbox. That's not a lot. No matter which email options your host offers,
the process to create and manage an email account is pretty much the same from host to host.
How Do I Create an Email Address in cPanel?
Creating an email address in cPanel takes just a few steps. Start by selecting
Email Accounts
under the
Email
category.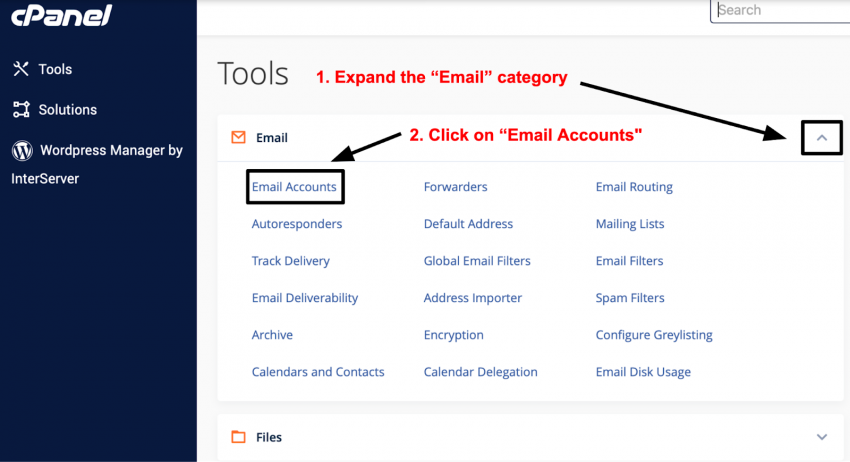 You'll be taken to your
Email Accounts
page, which is the hub for all email accounts you create. You can
create a new email account by clicking the Create button on the right
.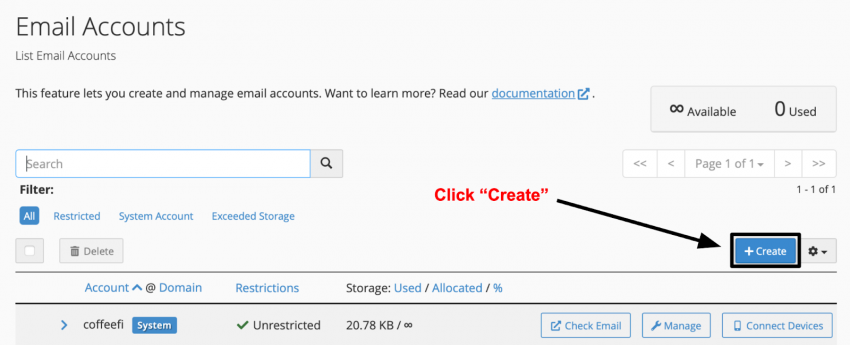 Once you click
Create
, you'll have to fill out an email account creation form. This is where you'll come up with a username, decide on the domain you want that username linked to, and create an email account password.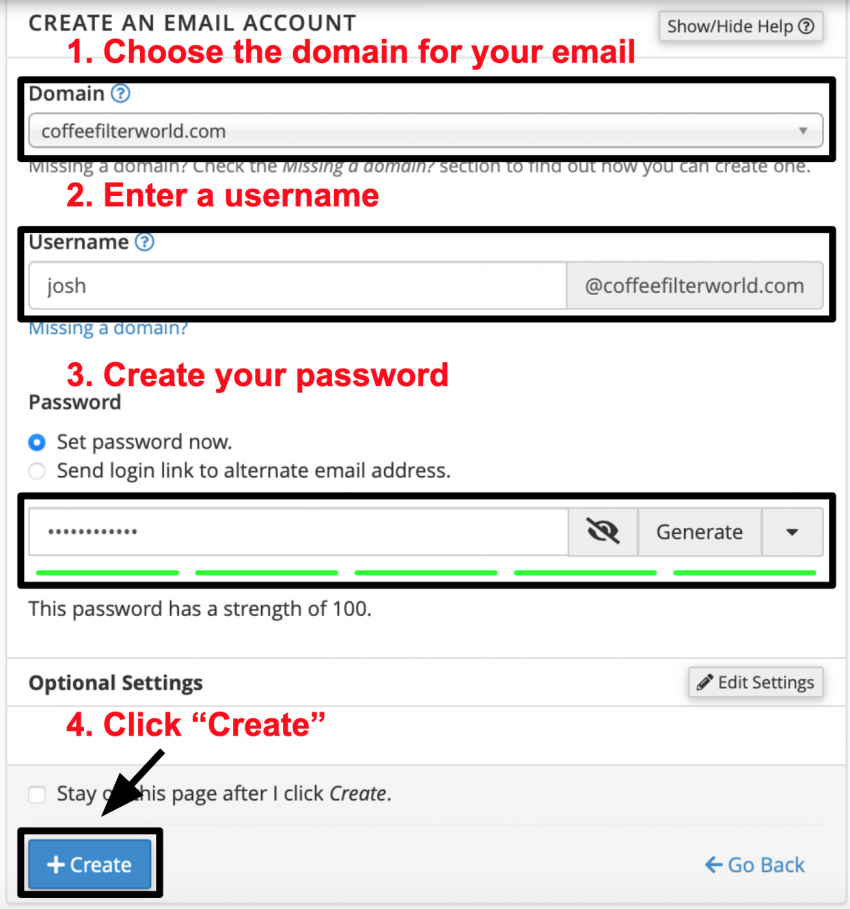 Once you've done all that,
clicking Create on the form will generate your email account
. You'll be redirected to your
Email Accounts
page. You will now be able to see how many of your allotted email accounts you've used, as well as manage all created email accounts.

How Do I Configure My Email?
There are two ways to configure your email with cPanel. Both
start by accessing your Email Accounts page under the Email category.
The most direct way to configure your email is to
click on Manage for the account you want to configure. 

Unfortunately, you can't configure multiple email accounts at once, so if you are creating a lot of accounts, configuration could take some time. cPanel has default email account settings, but you can configure each individual account to have different settings, if you choose.
You can adjust the amount of storage, create automated responses, set up calendars and contacts, create spam filters, and more.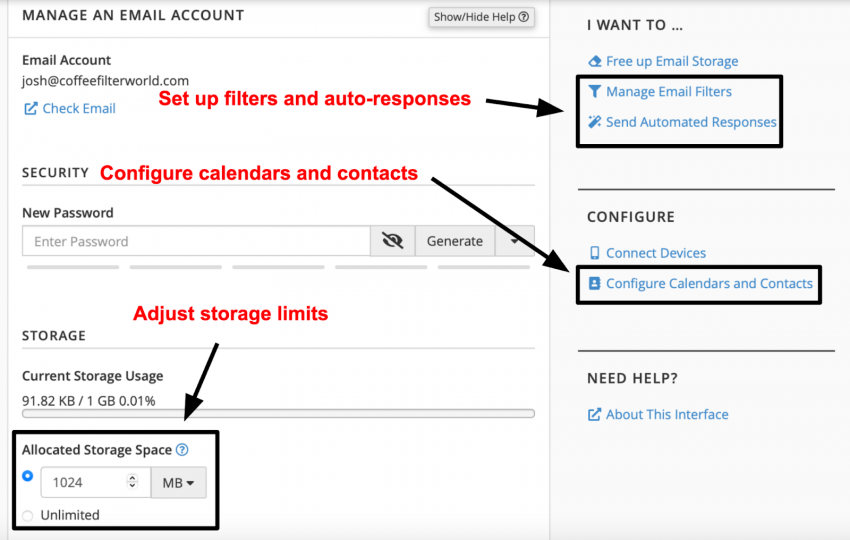 Some settings, like storage limits and spam filters, will vary depending on your web host. The
second way to configure your email is to access your account via Check Email.

Configuring your email account this way gives you a different view but mostly the same configuration options. This view is more user friendly, but you can't adjust things like storage limits from here.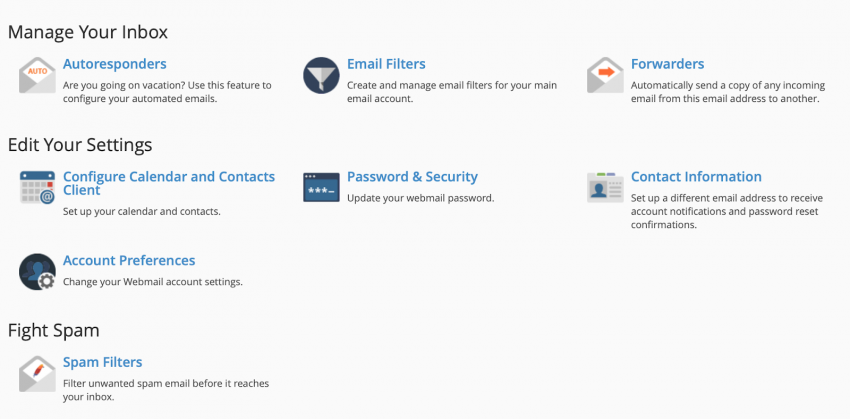 How Do I Access My Email From cPanel?
Accessing and checking your email from cPanel is as easy: just
click Check Email on your Email Accounts page.

The first time you access your email, you'll need to decide which webmail client to use. InterServer's default is Roundcube, but you can use a different one if others are available. For this guide, I've used Roundcube. I've also checked the box to open my inbox automatically every time I log in. The last part of the setup is to click
Open
.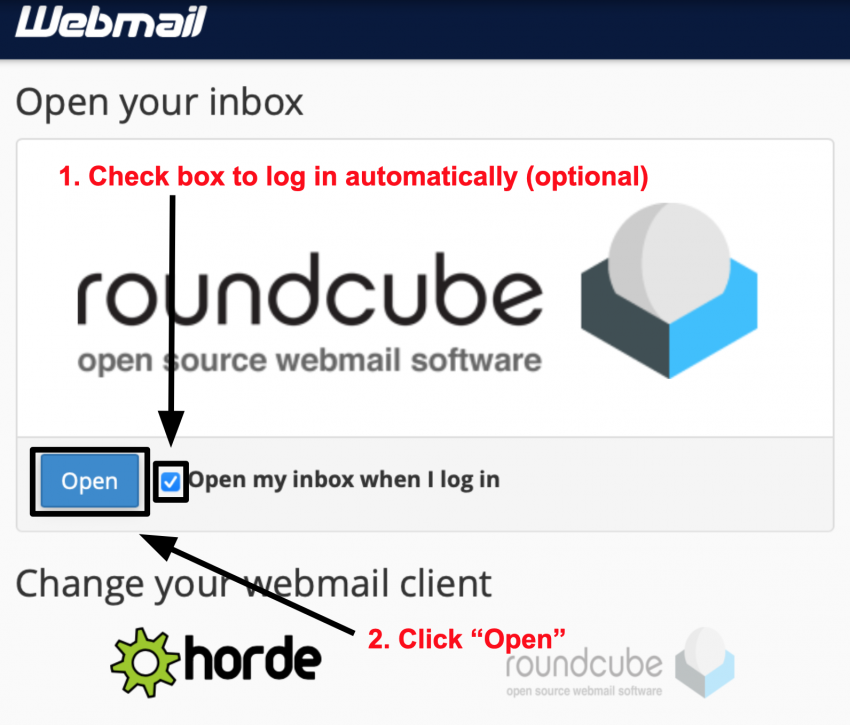 What your inbox looks like may vary depending on your webmail client.

If you're like me and want to double-check to see that everything is working properly, you can send a test email from your personal (Gmail or other) email account.
Pro tip: You can change your email settings from your inbox by clicking on Webmail Home, which is at the bottom of your left navigation bar.
At this point, you should be all set, and if you want to adjust your security settings, manage files, or work with your WordPress database, there are guides to three optional steps below. If your current host doesn't offer email,
InterServer will transfer your website over for free
, even with its cheapest plan.
Improving Your Website's Security From cPanel (Optional)
Enabling security features is critical for protecting your website from malicious attacks. Some web hosts offer free security features on their entry-level plans, but you often have to add protection yourself. You can use free plugins, like Sucuri's all-in-one security option, but there are also a few things you can do directly from cPanel to improve your website's security. These include: backing up your site, password-protecting specific directories on your site, and blocking traffic from specific IP addresses.
How Do I Back Up My Websites?
Backing up your website will let you recover your data with minimal website downtime if you sustain an attack. Some web hosts will automatically back up your site for you, but not all do. If you choose a web host that doesn't provide backups,
you can enable backups using cPanel's Backup Wizard
. The Backup Wizard is available under the
Files
category.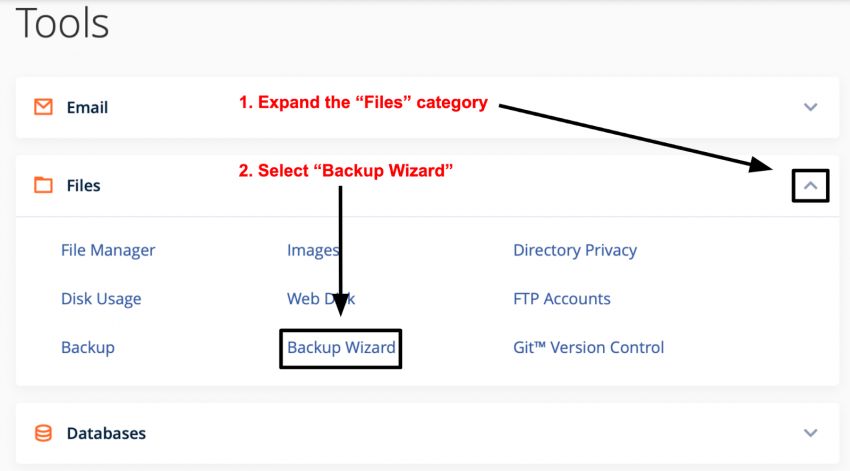 With the Backup Wizard you can do a full or partial backup of your home directory, MySQL databases, email forwarder configurations, and email filter configurations.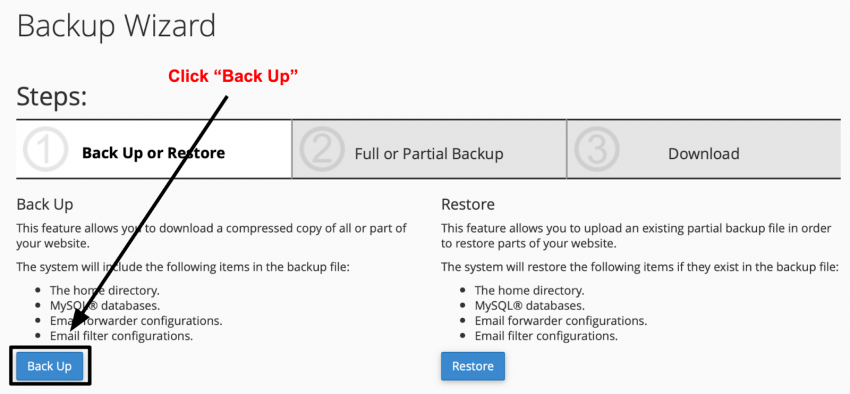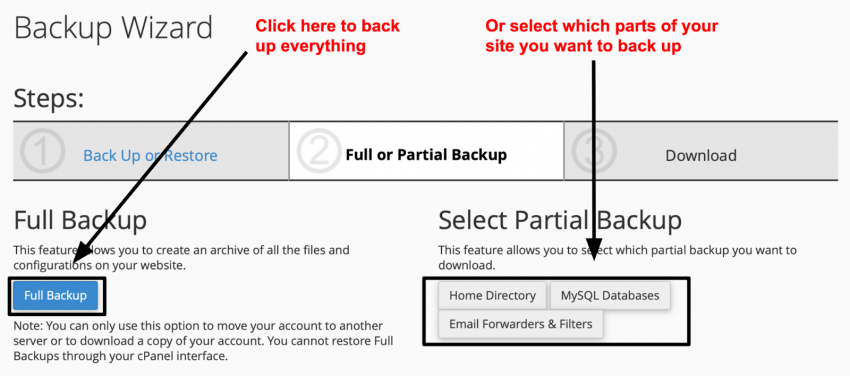 Once you
choose the elements of your site to back up
, you'll need to
select a destination where you want the backup to be stored
. I selected the Home directory, but you can back yours up to a remote FTP server for added security if you have access to one.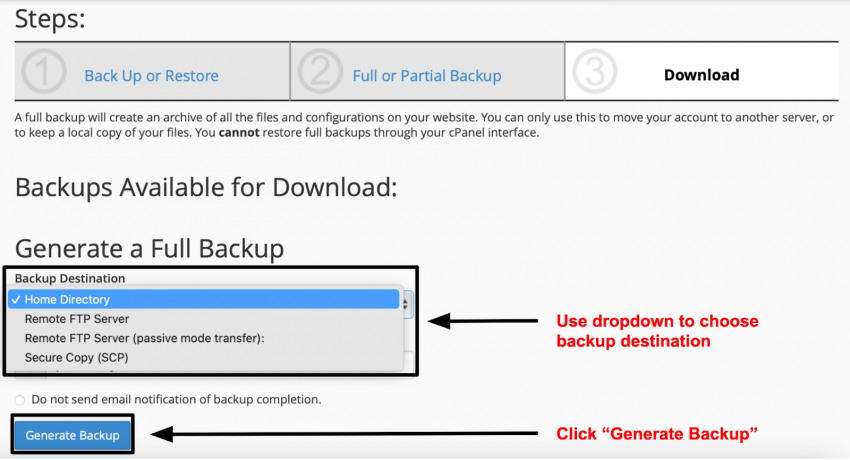 The backup may take a bit of time, depending on the size of your site. You will automatically be notified via email when the backup is complete, unless you tick the box to not receive a notification.
How Do I Add a Password to a Directory in cPanel?
Adding a password to a directory will prevent unauthorized users from accessing specific files or data. It's a simple three-step process. First,
click on Directory Privacy under the Files category
.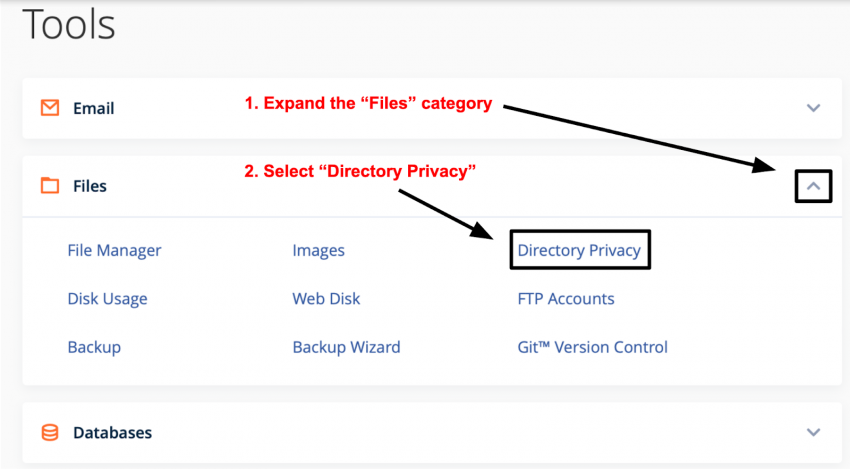 All directories for your site will appear in a list. If you haven't added a password to a directory, its privacy setting will be set to
No
.
Click the Edit button on the right for the directory you want to password protect
.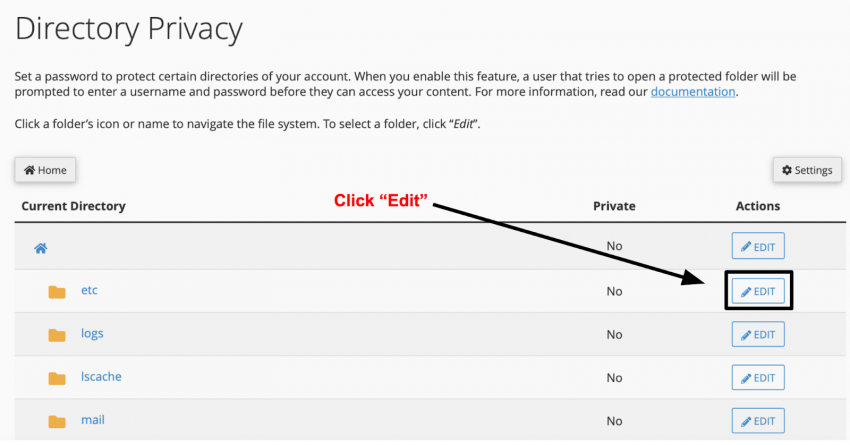 Finally,
tick the box under Security Settings to password protect the directory you've chosen,
and hit Save
. Now, whenever someone tries to access a directory, they will need to enter their username and password.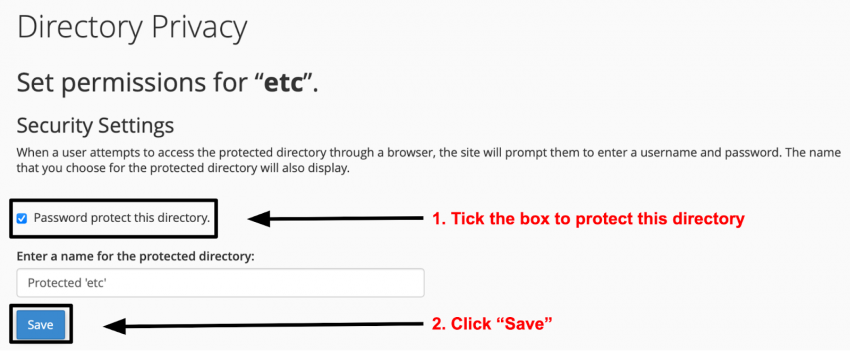 If you go back to the first Directory Privacy page (by clicking on
Directory Privacy
under the
Files
category) you will see that the directory you just password protected now has a lock added to the icon, as well as a lock icon and the word
Yes
in the
Private
column.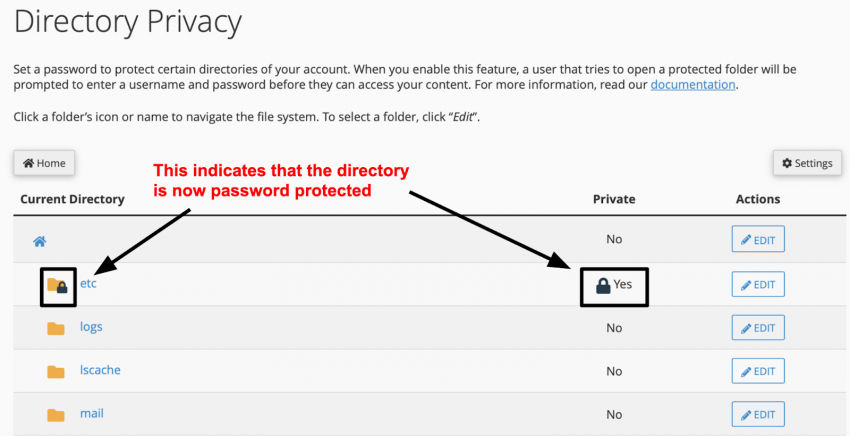 How Do I Block Traffic from Specific IPs?
cPanel has a security feature called the IP Deny Manager (or IP Blocker) that will let you keep specific IP addresses from accessing your site. To use the IP Deny Manager,
click on IP Blocker under the Security category
.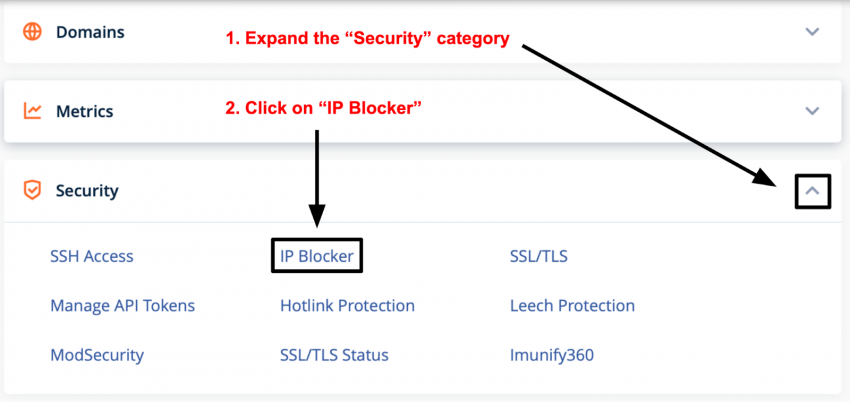 You can
block a single IP address or a range of IP addresses
with the IP Blocker using the formats indicated in the image below. You can also just enter a domain name, and the IP Deny Manager will identify the IP Address for you.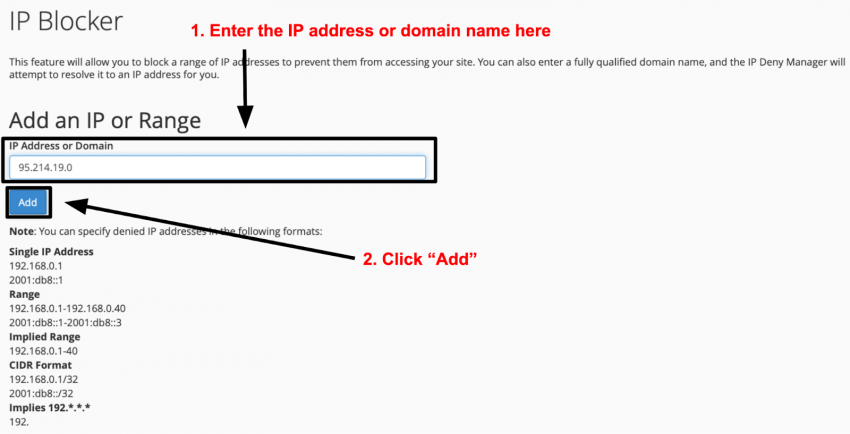 Once you block an IP address, it will show up in your list of currently-blocked IP addresses. For this example, I chose to block a random IP address in Antarctica. But you can easily remove an IP address from the blocked list by hitting delete.

You can find additional security tools available to you under the
Security
category on cPanel.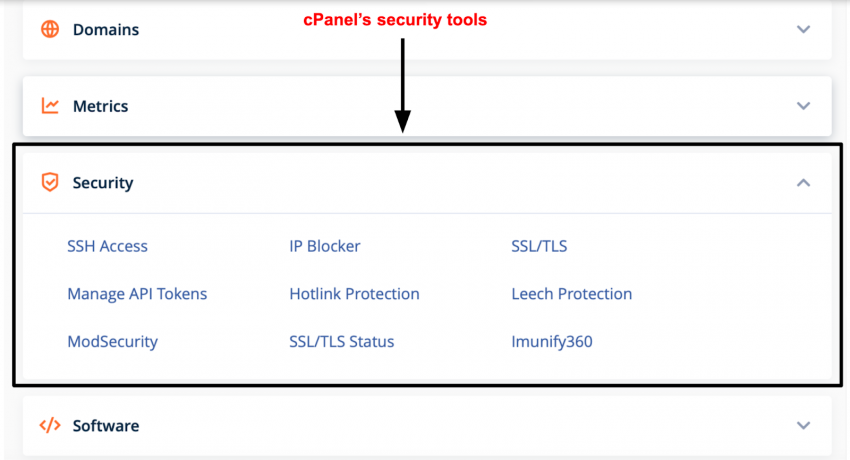 There may be numerous other security options, depending on your web host and the plan you're on. In any case, you'll want to ensure that you
do some research or reach out to support before you adjust any security settings you're not completely familiar with
.
Managing Your Files with cPanel (Optional)
cPanel's File Manager lets you upload and download files to and from your server and manage existing files.
This is an easy built-in option that you can use instead of installing separate FTP software on your computer. You can access it under the
Files
category from the cPanel
Tools
page.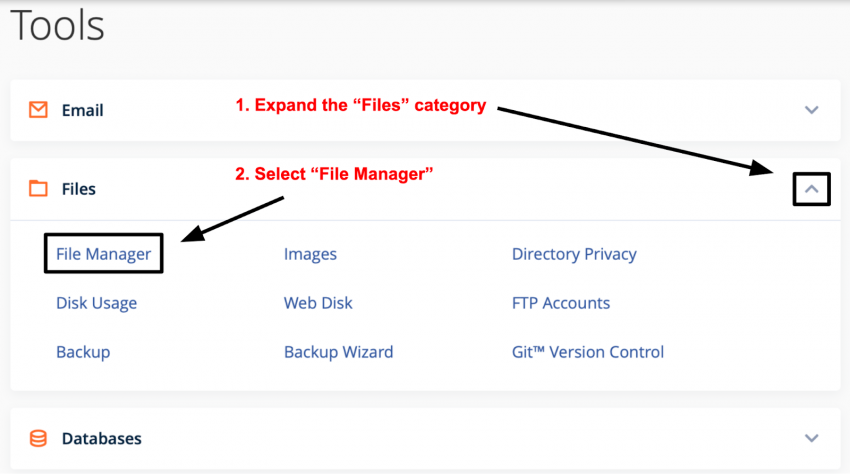 To upload a file, you need to first
click on the Upload icon
.
From there,
you can either drag and drop a file or group of files into the window or select an individual file for upload.

Once you've uploaded a file, it will appear in the list on your File Manager.
If you click on the file, all available functions for that file will appear in the top toolbar.
You can do things like copy the file, download it, delete it, rename it, and view it.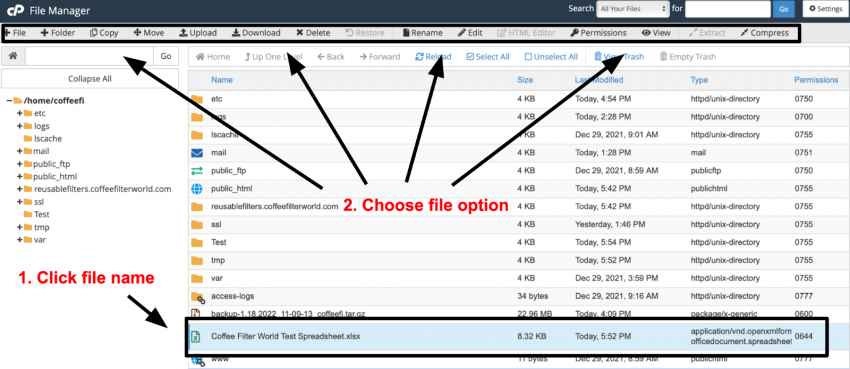 Pro tip: Be cautious if you decide to manage files from the File Manager – deleting, renaming, or replacing the wrong files in cPanel could break your site.
How Do I Upload Files via FTP?
Another way to upload files to your site is via a file transfer protocol (FTP) account. Once you set up an FTP account, it can be a more robust way to upload files directly from your device to your server. But there are quite a few steps to set up an FTP account. Almost all hosting providers enable FTP access. If yours does, the first thing you'll need to do before you can upload files is to actually create an FTP account. To create an FTP account,
click on FTP Accounts under the Files category
.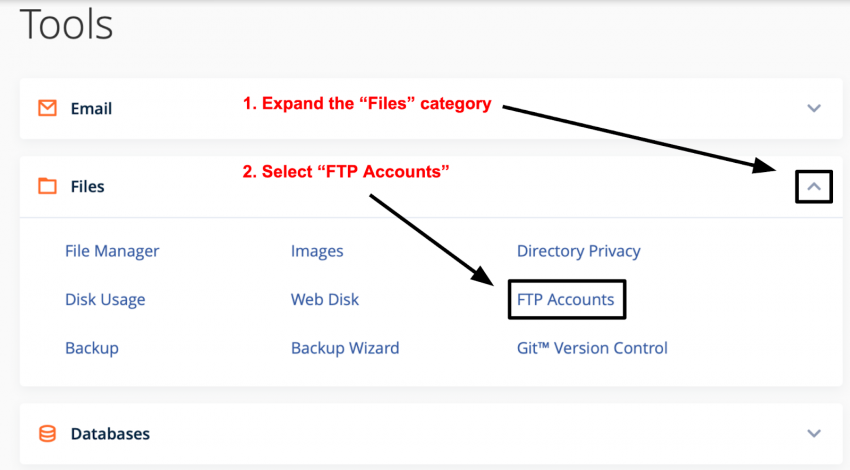 This will take you to a form you'll need to fill out to create your FTP account.
You'll have to create a login name, select the domain you want the account linked to, and create a password. You can also limit the amount of data a user can upload by adjusting the quota for that particular account.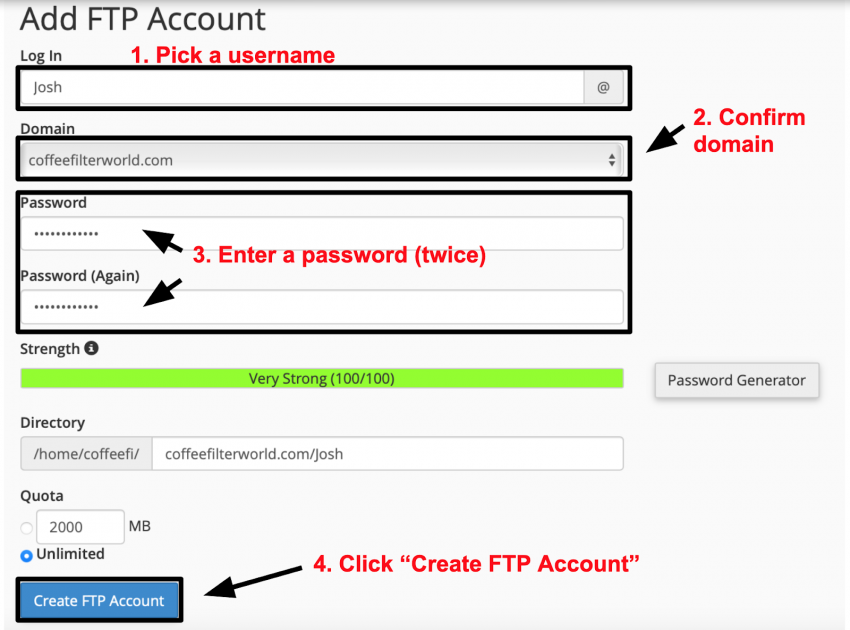 Once you've created your FTP account, it will show up in a list on your
FTP Accounts
page. You can change your password, quota, or delete an FTP account from this list.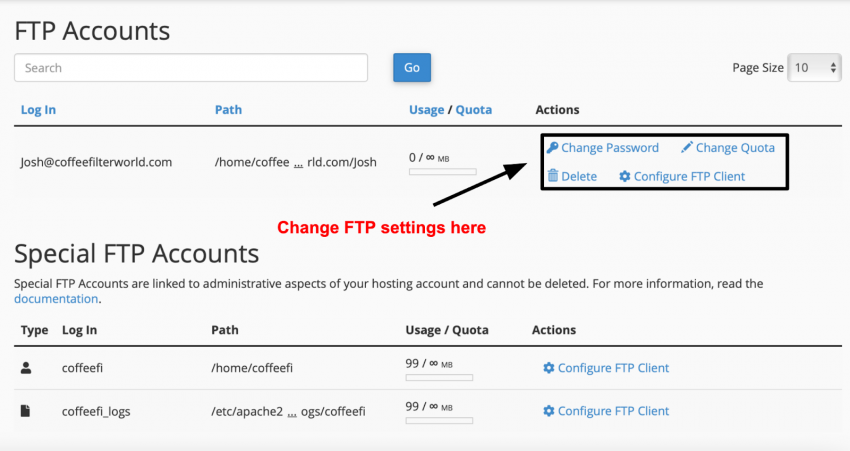 But before you can upload files, you need to
install an FTP client on your computer
. This is a program that will let your computer communicate with your FTP account. cPanel works with Cyberduck for Mac or CoreFTP for Windows, but just about any FTP client should be fine.
To install an FTP client, you need to go to the FTP client's website and download it.
Once your FTP client is installed, go back to your FTP list on cPanel and
click Configure FTP Client
, which you'll find amongst the functions for each individual FTP account. Then,
click on the FTP Configuration File button for the FTP client you're using
.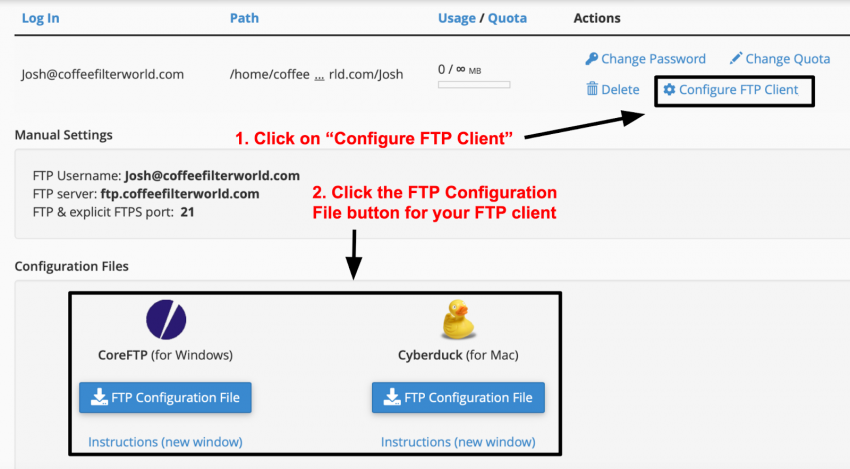 When you click the
FTP Configuration File
button,
a window will open on your computer
for your FTP client. Your username should already be populated, but
you'll need to enter the password you created for your FTP account.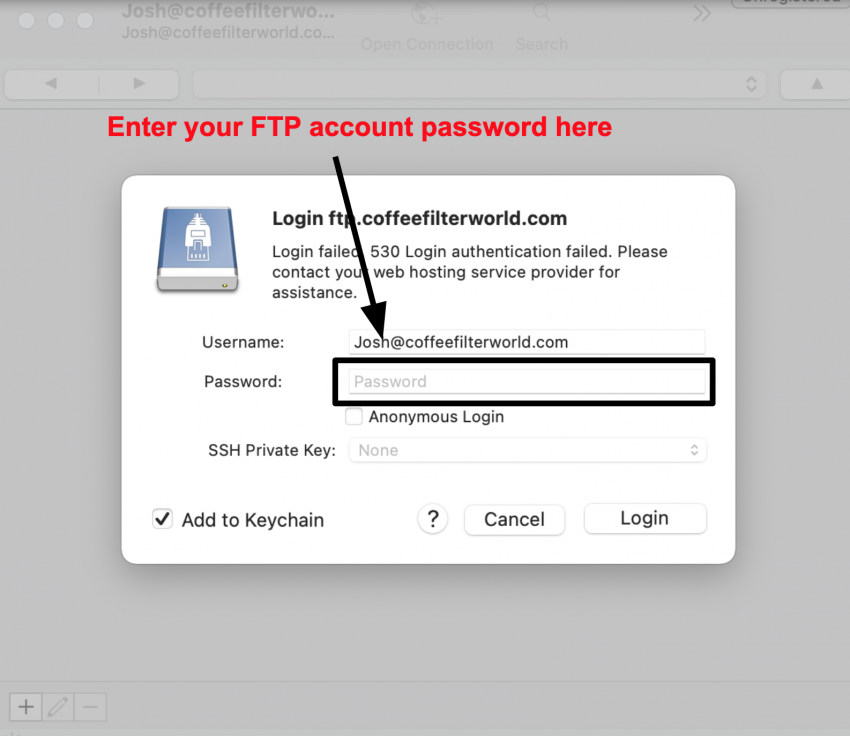 Now that you're finally logged in and your FTP client is connected to your FTP account, you should be ready to transfer files, right? Not quite. As soon as you
open your connection within your FTP client, you'll be asked to log in again, and this time you also need to enter your FTP server address.
Your FTP server is simply "ftp.yourdomain.com."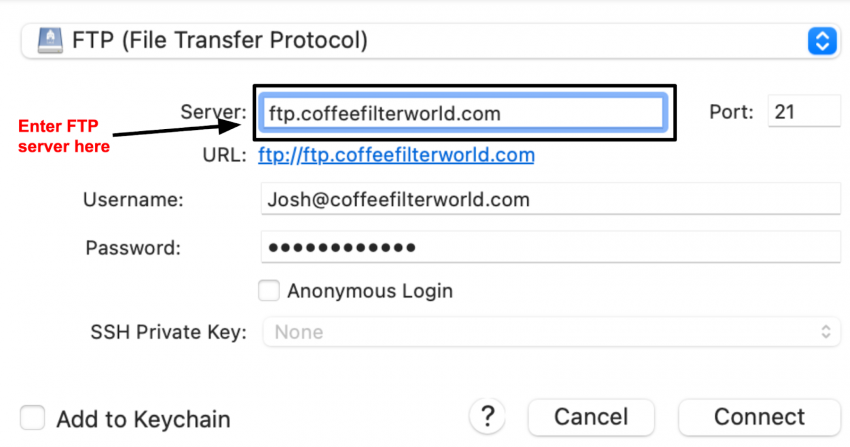 You can also find your FTP server address when you
Configure FTP Client
for a specific FTP account from your
FTP Accounts
page.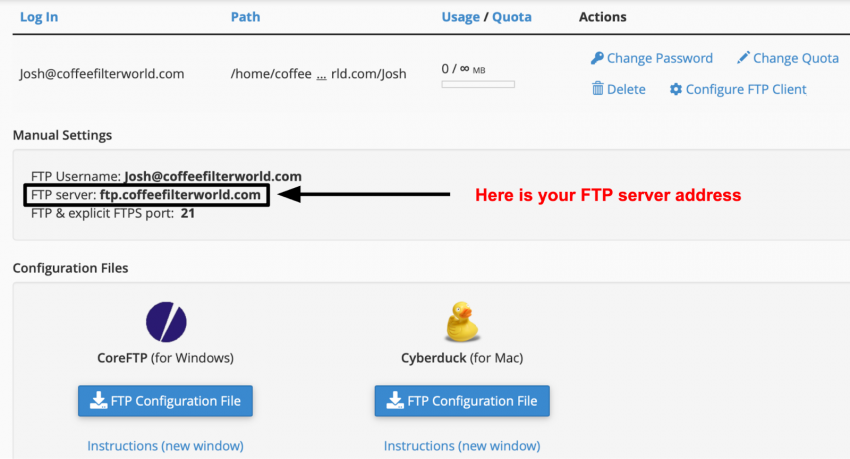 At this point, you'll be ready to upload and download files. And like I said before, once your FTP account is set up, this can be a faster and easier way to do so. Simply
select the file or files you want to upload and drag them into the FTP client window.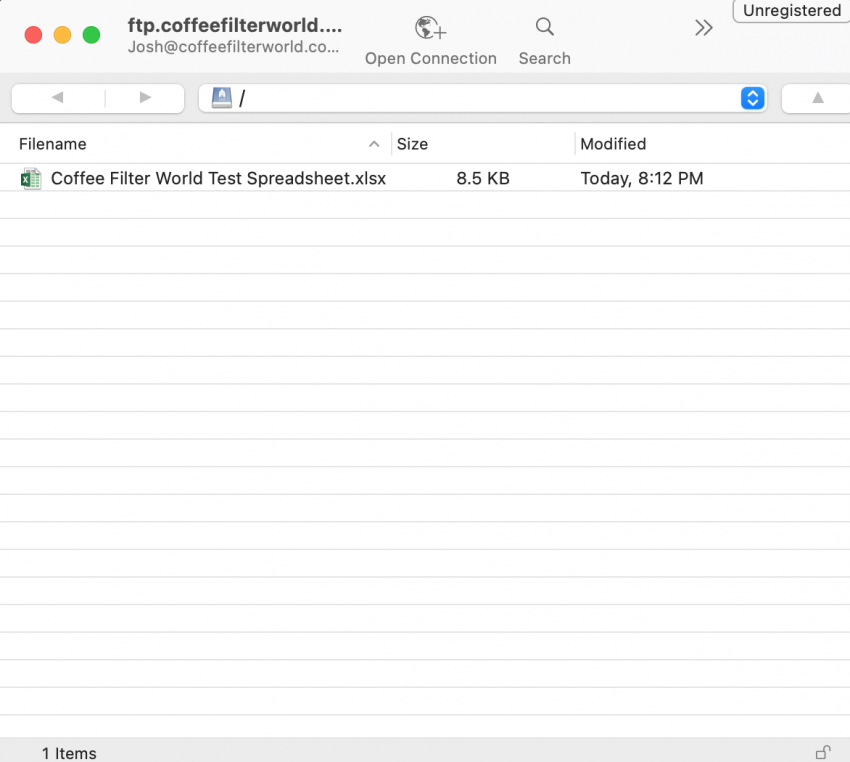 While your files are uploading, you'll see a transfer status report.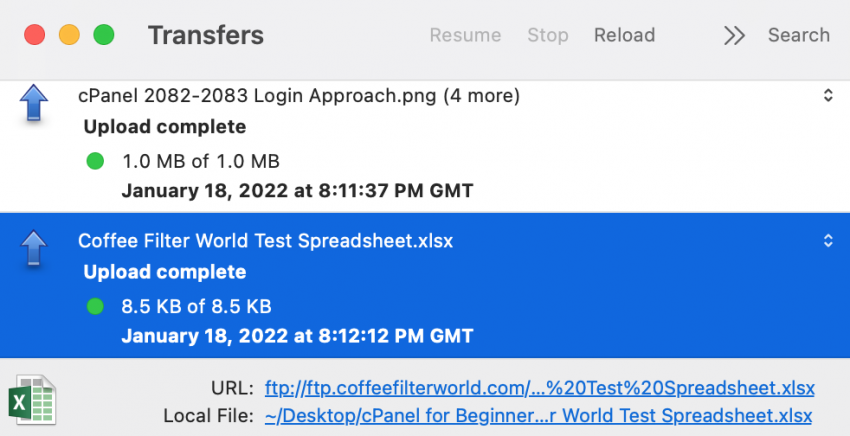 Files you upload via FTP go directly into your hosting folder. If you want to manage them via the File Manager, they will be located under your website directory and username, which you can find on the left-hand side of your File Manager interface.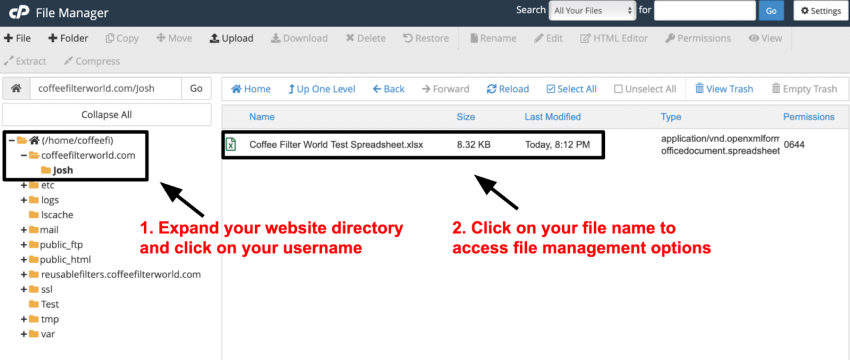 Keep in mind that simply uploading files via FTP won't allow them to show up on your website unless you link to them, so this option is best for files that you are putting online as separate downloads (like PDFs, for example). Using WordPress' media uploading features will automatically upload the file and create a link to it or embed it on a given page of your website.
Managing Your Databases with cPanel (Optional)
Databases give you a way to store and easily access information, and are necessary to run a WordPress site as all the site's text content is contained in a database. If you use an auto-installer, like Softaculous, you probably won't have to worry about databases at all, because one will be created automatically during your WordPress installation. But I'll walk you through creating a database manually and managing it anyway, in case you ever need to create one separately. There are two ways to create a new MySQL database from cPanel. The easiest way to do it is to
open the Databases category and click on the MySQL Database Wizard.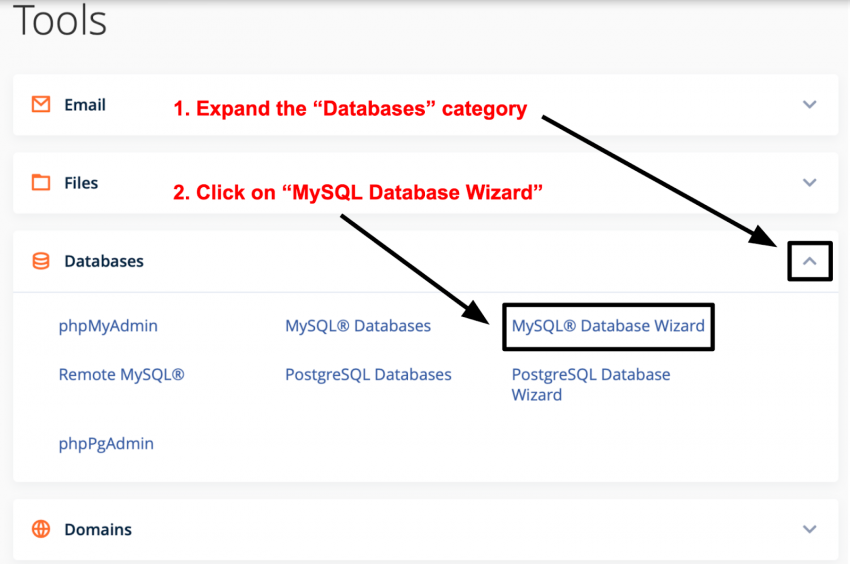 This is a three-step process that will let you create your database, add a user, and assign privileges to that user.
Step 1 is to come up with a database name.

Step 2 requires you to add a user and create a password for that user.
You can use the password generator to come up with a very strong password, but keep in mind that you can't use special characters in a MySQL database password.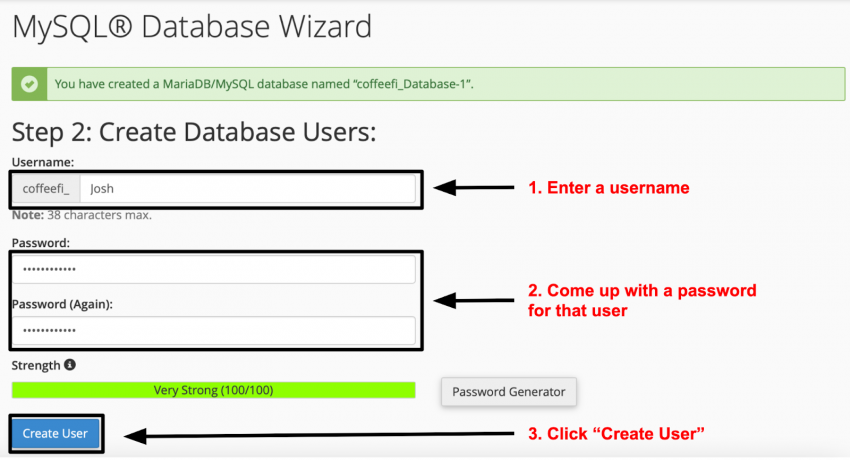 Step 3 is to assign privileges to your newly-added user.
You can check off as few or as many privileges as you want a user to have. This will depend on the purpose of your database, and you can look this up in the help files for whatever software your database is being created to support.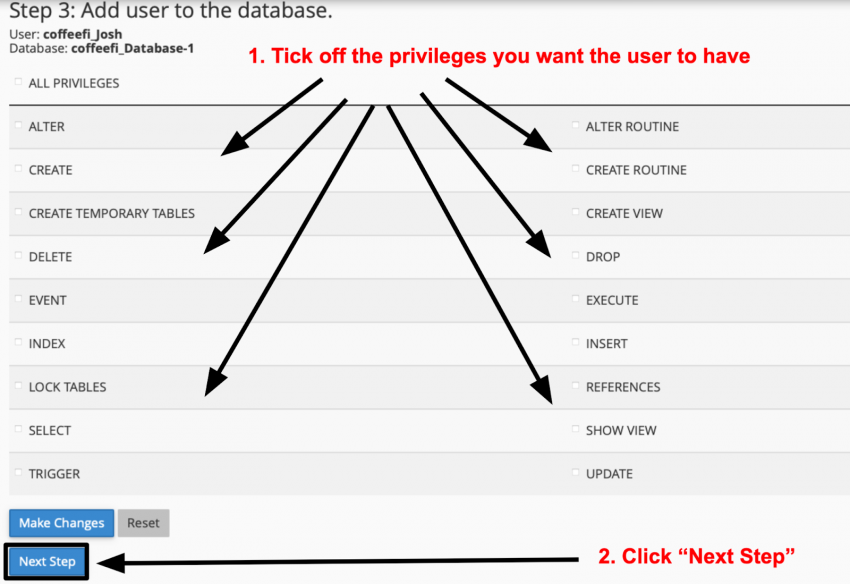 There is a fourth and final step of the MySQL Database Wizard, but it isn't really a step at all. Rather, it's simply completing the task by choosing whether to add another database, add another user, return to the cPanel home page, or return to your MySQL Databases.

If you click on
Return to MySQL Databases
, you'll find yourself on your MySQL Databases management page. You can also get to this page by clicking on
MySQL Databases
(rather than
MySQL Database Wizard
) under the
Databases
category.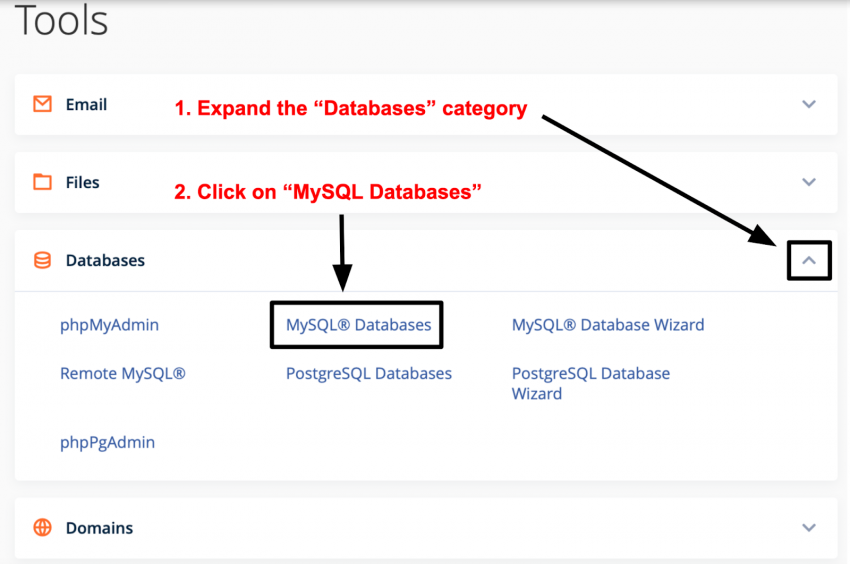 The first thing you'll see on your MySQL Databases management page is the option to create a new database.
While this is a quick, one-step way to create a database, you'll still need to add users and privileges at a later time in order to use the database, so it's not as efficient as the Database Wizard.

If you scroll down the page you'll find a section where you can modify your databases by checking or repairing them.
Checking a database will check for issues. Repairing it will fix those issues.
You'll also find a list of all your current databases and the user accounts associated with them.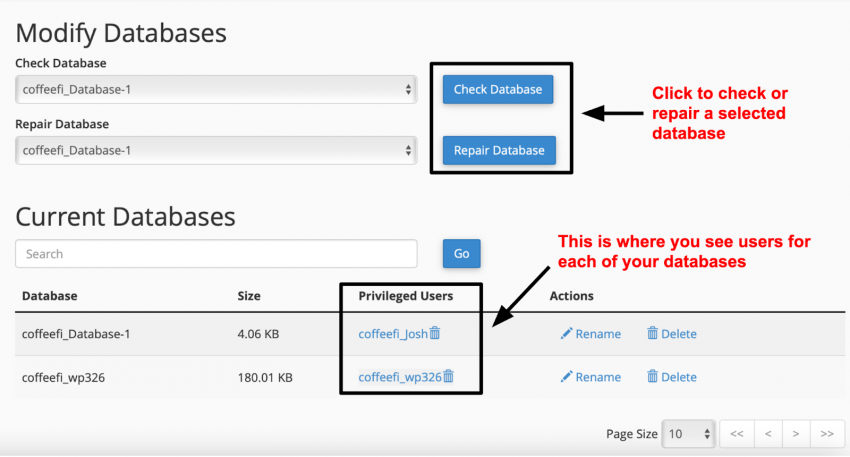 Further down the MySQL Databases management page
you'll find a section to add new users.
This process is the same as within the Database Wizard: come up with a username and give that user a password.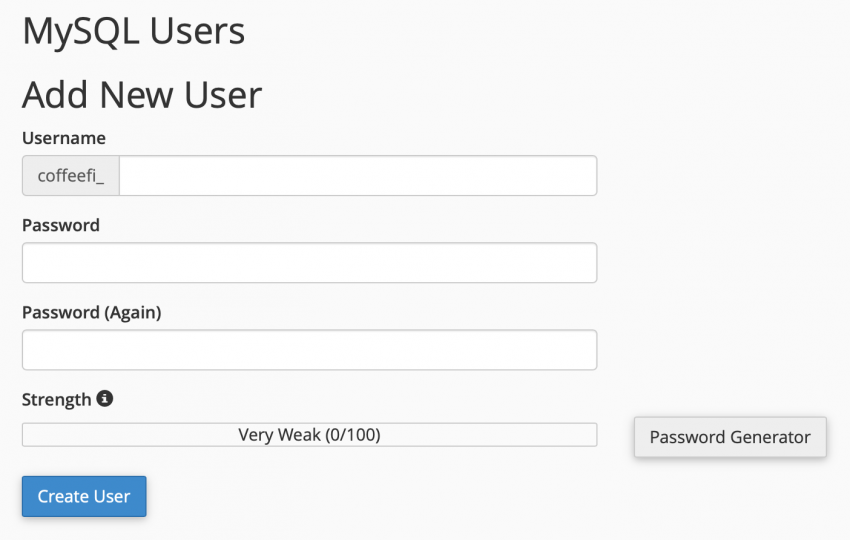 At the bottom of the page you'll be able to see all current users as well as
add users to your existing databases.
When you add a user to a database, you'll automatically be redirected to a privileges page like the one in the MySQL Database Wizard. Once you assign privileges to your user, you will find yourself back on the MySQL Databases management page.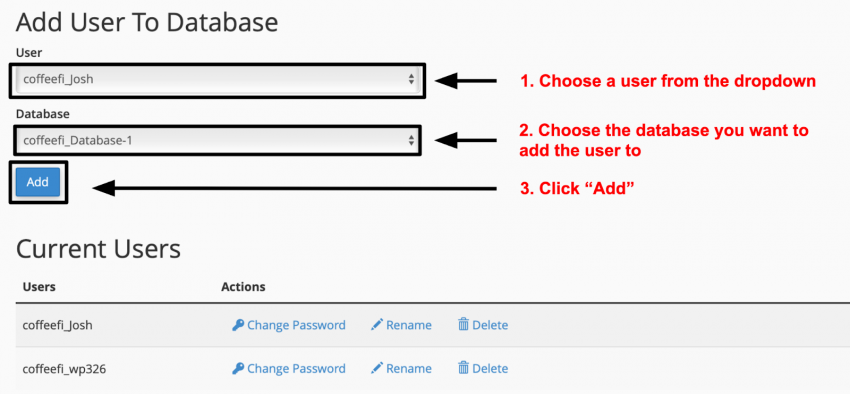 How Do I Optimize a Database in cPanel?
If you've recently removed a substantial amount of content from your WordPress-based website, we recommend optimizing the corresponding database to ensure it maintains peak performance. To achieve this optimization in cPanel, you should utilize the phpMyAdmin database control panel. You can
find phpMyAdmin under the Databases category on cPanel.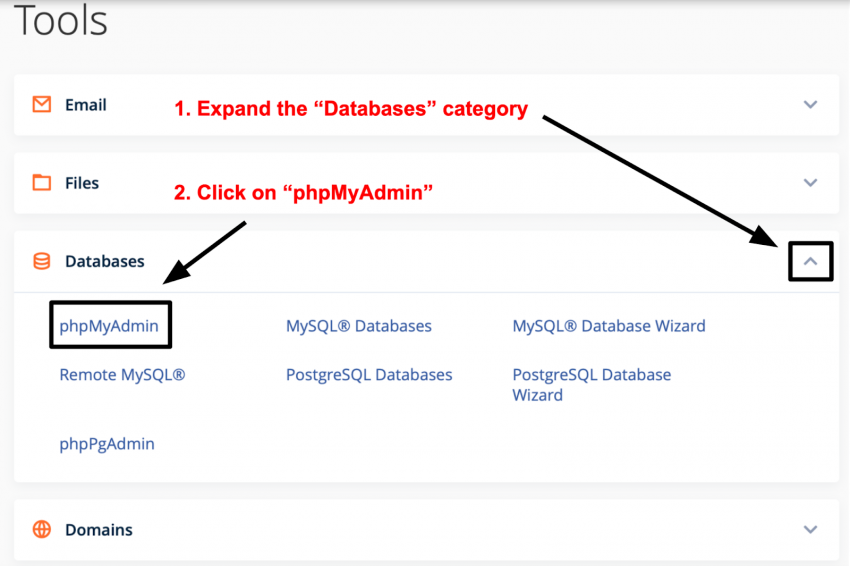 Once the phpMyAdmin control panel opens,
click on the database that you want to optimize in the left navigation bar.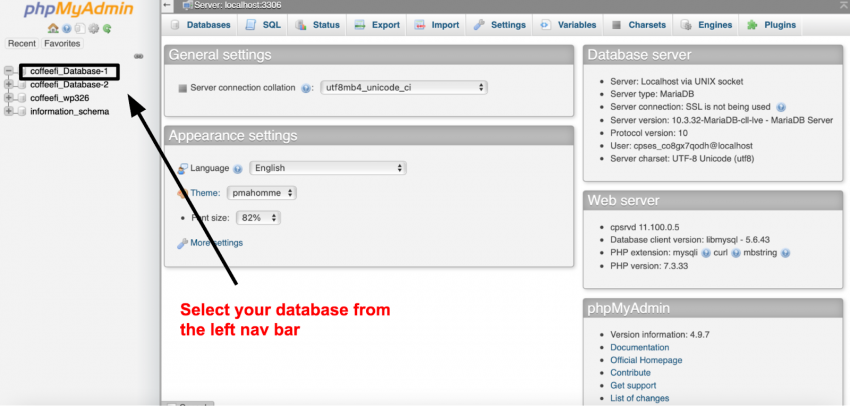 After you've opened your database,
choose which tables you want to optimize and select Optimize table from the dropdown menu.
If you want to optimize your entire database, tick the box for
Check all
.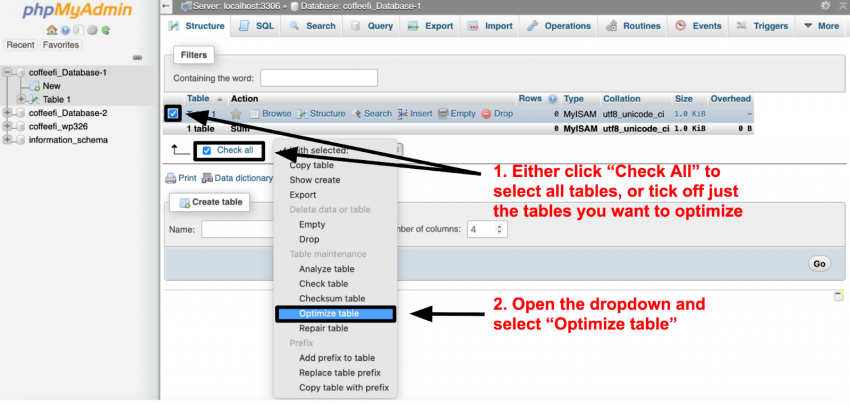 Once your database has been optimized, a notification will appear on your screen that your SQL query has been executed successfully. Your database is now optimized.

cPanel Is Easy To Use, Once You Know What You're Doing
The amount of time you spent reading this guide may be more than you'll need to spend working in cPanel when you first get started, particularly if you've chosen
InterServer's top-value Standard shared hosting plan
 to host your website.
Once you've installed WordPress and chosen a theme, you can go on to build your website and get it ready to share with the world.
You can come back into cPanel to set up security features and other optional elements as needed before you launch your site, and you can always refer to this guide or to cPanel's Solutions page if you need more help. Once you know your way around cPanel, it will become a convenient tool to help you manage your website from behind the scenes.
FAQ
What is cPanel?
cPanel is a Linux-based web hosting control panel that helps you manage your website. It helps you publish your site, manage domains, create email accounts and databases, manage your site's security, and more.
Is cPanel easy to use?
cPanel is the industry-standard control panel, and a lot of the top web hosts use it. At first, it can seem intimidating, but once you get used to it, it's pretty easy to navigate. But there are more user-friendly options out there, like Hostinger's hPanel.
Can I use cPanel for free?
You need a license to use cPanel, and while that license can sometimes cost more than web hosting itself, all shared hosting providers include either cPanel or some other control panel option in their hosting plans. For example, all of the hosts on our list of the top 10 best-value web hosting providers for 2023 include cPanel or a similar option.
Does cPanel have an auto-installer?
Most hosts, like InterServer, offer Softaculous as part of cPanel or some similar option as an auto-installer, but not all do, so be sure to find this out before you commit to a hosting plan.
How do I create a website using cPanel?
Creating a website with cPanel can vary from host to host, but the general steps are similar. Start by installing WordPress (or another content management system), connecting your domain and choosing a theme. Or, you may want to have a look at our step-by-step guide to choosing a web host and launching your first website in 2023.