Sure, an e-commerce website can run on shared hosting or WordPress hosting. But you're looking for something more.
You want a high-performance website that will help you make conversions, not drive your visitors to the competition. You want your site to meet customer demands now and in the future. You're ready to move forward to the next phase of your online store.
WooCommerce hosting can be the next step, and Liquid Web offers just that. But is it the best fit for your online store? And is it really worth the extra expense?
You know your products and what your store needs, and we can help you determine whether WooCommerce Hosting can fit your needs. We've also examined the top WooCommerce hosting providers, and we'll tell you how they stack up compared to Liquid Web.
Click here to read more about WooCommerce hosting.
What is Liquid Web WooCommerce Hosting?
WooCommerce is a great e-commerce plugin that comes with many great tools, but it's not a complete solution. That's where WooCommerce hosting comes in.
Liquid Web's managed WooCommerce hosting is a dedicated e-commerce platform that will bring out the best in your WooCommerce website. Let's take a closer look at some of the benefits.
Superior Performance, Headache-Free
Every managed WooCommerce account comes with a Virtual Private Server (VPS) that's been specially tweaked for e-commerce. This means you'll have the resources and performance necessary to handle any surges in traffic, which will come in handy during peak shopping seasons or when you're running promotional campaigns.
Just managing a WordPress site can be time-consuming and difficult. With managed WooCommerce Hosting, you don't have to worry about conducting tedious backend maintenance. The Liquid Web team will take care of WordPress and plugin updates for you, while monitoring your server 24/7 to make sure your site stays online.
Lots of Freedom AND Lots of Freebies
Liquid Web's WooCommerce hosting is open. This gives you the freedom to change and add whatever you want to your website, with no limitations.
Customizing your site will be easy, as the platform includes Beaver Builder, a flexible drag-and-drop website builder designed specifically for WordPress, and Astra Pro, one of the fastest WooCommerce themes available.
Normally, you'd have to pay for Astra Pro and Beaver Builder separately, but you get them both for free when you sign up for one of Liquid Web's managed WooCommerce hosting plans.
Your website will be fully mobile-responsive. This means you'll never have to worry about losing potential customers because your site won't load properly on their mobile device.
Liquid Web's Woocommerce hosting also includes a comprehensive set of plugins from IconicWP, allowing you to customize your website to help increase sales. Want to add a wishlist feature or expanded product detail functionality? You can do all of this and more, for no additional licensing fees.
Advanced Marketing Tools to Take Your Store to the Next Level
Liquid Web has partnered with Jilt to provide abandoned cart software on all WooCommerce hosting plans. This will help you reach out to customers who are on the fence about buying your products, enabling you to close more sales.
Another advantage of using WooCommerce hosting with Liquid Web is that you get access to Glew, a group of actionable reports that will help you improve sales. You can learn more about your customers through Glew, including which customers are big spenders and who pays full price as opposed to using discount coupons.
Glew also gives you a variety of reports concerning website activity, including conversion rates, refunds, number of visits, average order value, and more.
Is Liquid Web WooCommerce Hosting Right for Your Store?
What type of store can you build with WooCommerce hosting? The sky's the limit. Liquid Web's plans will allow you to build anything from a basic store with a limited number of products to a robust marketplace with thousands of products.
There are five standard plans available, and plans are scalable to allow you to expand as your business grows. If you're a dropshipper, the Standard plan and up include dropshipping via ShopMaster.
If you need even greater performance, there are multiple high-performance plans as well, including an Enterprise plan that supports up to 10,000 orders per hour.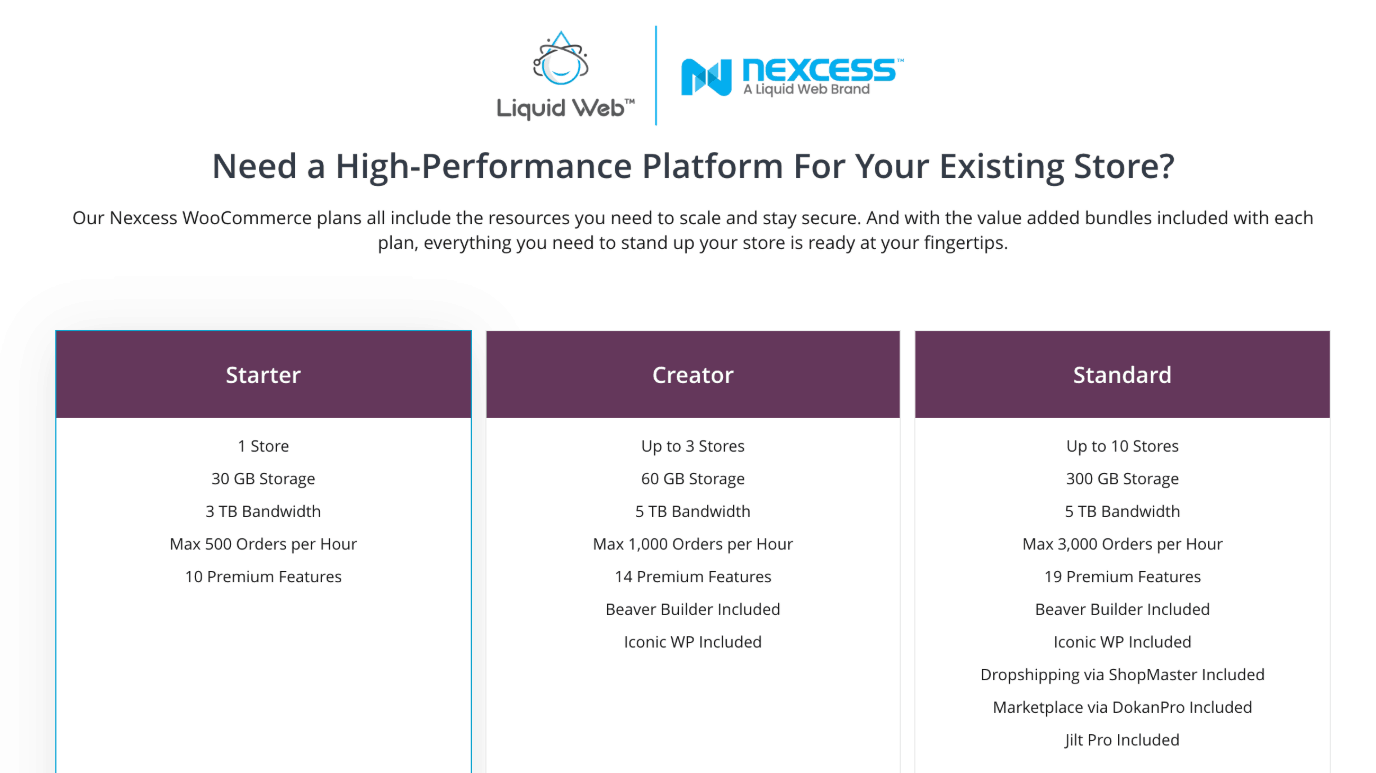 Do you already host your e-store on a different platform? No problem, as Liquid Web offers free migrations.
If you're just starting out, you'll be happy to know that Liquid Web has your back with 24/7 customer support. The company offers live chat, phone, and email support, and quick responses are guaranteed.
Check out our in-depth review to learn more about Liquid Web hosting.
Can't I Just Use Managed WordPress Hosting for My Online Store?
Liquid Web also offers regular managed WordPress hosting. On the surface, it would seem that you can use it to do all the same things as with Managed WooCommerce hosting. But once you dig beneath the surface, reality kicks in.
If you're planning on running an e-commerce site, managed WordPress hosting comes with a couple of big caveats.
You'll have to install WooCommerce on your own, and that can be a real pain.
You'll also have to find and install your own tools, not to mention pay for them. Managed WordPress hosting does not come with any of the premium toolsets you'll find with Woocommerce Hosting.
E-commerce stores do not operate the same way as typical websites. Customers are constantly looking up items, adding and removing items from shopping carts, and accessing their purchase histories. These queries can add significant load to a web server, and can result in slower websites. If your website is running slow, customers may get frustrated and abandon your site.
Managed WordPress hosting is not optimized to handle heavy workloads.
Managed WooCommerce hosting is designed to handle the extra workload of e-commerce websites. For instance, Liquid Web has a proprietary table structure that can reduce query loads on your website by up to 95%. This results in a faster website, meaning fewer bounced customers.
However, keep in mind that with managed WooCommerce hosting, you can only host one site. If you want to host multiple online stores, you will need to either stick with WordPress Hosting or purchase multiple WooCommerce plans.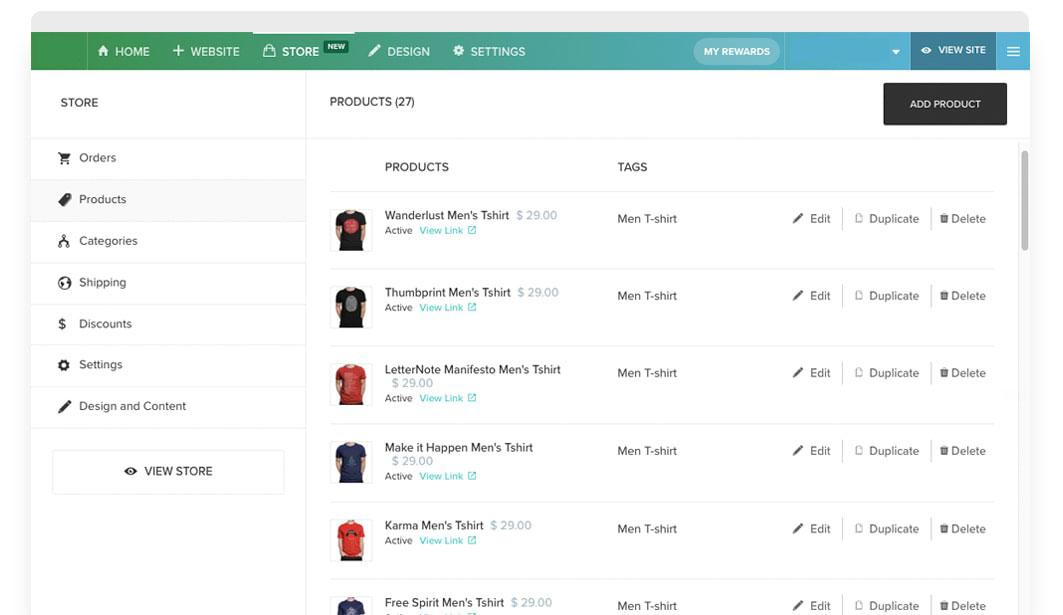 How Does Liquid Web Compare to the Competition?
Liquid Web is not the only host out there offering WooCommerce hosting. Several top hosting providers offer managed WooCommerce or WordPress hosting, but do they provide the same features and value as Liquid Web?
I took a closer look at three top hosting providers to find answers.
SiteGround – Its Service Is as Cheap as Its Prices
The first contender on this list is SiteGround. It offers managed WooCommerce plans that are much cheaper than the average Liquid Web plan. (For example, its top-tier plan, GoGeek, is less expensive than the entry-level plan for Liquid Web.)
However, there are a few things to note about SiteGround's plans:
These plans are more of a WordPress-optimized shared hosting product rather than a VPS. Services are managed, but storage space is limited. The only real advantage here is that plans above StartUp support unlimited websites.
SiteGround's plans don't include any premium e-commerce tools, such as abandoned cart software. This means that to get the most out of your e-commerce store, you'll have to pay extra for premium tools.
You'll have to sign up for SiteGround's top-tier plan to get all the necessary features. The StartUp plan is really no more than basic WordPress hosting, since you won't get essential features like PCI-compliant servers and a staging environment. With Liquid Web, you get these features and more.
I'd only recommend SiteGround if you're looking to host multiple websites. For instance, if you've got an e-store but also want to host multiple landing pages or websites on a tight budget, these plans might work for you.
To learn more about SiteGround, read our in-depth review.
WP Engine – Expensive and Very Limiting
WP Engine doesn't offer managed WooCommerce hosting, but it does specialize in managed WordPress hosting.
The first thing you'll notice is the price. While WP Engine offers a Startup plan that is a couple of bucks cheaper than Liquid Web's basic WooCommerce plan, the rest of the plans are more expensive.
There are a few other things about WP Engine to watch out for.
You don't have the freedom to install whatever plugins you want. WP Engine has a list of disallowed plugins, including caching plugins, some backup plugins, and more. If your favorite plugin is on this list, you'll have to find a replacement.
WP Engine claims to offer managed hosting, but they won't handle your plugin updates. When I spoke with support, they told me the reason for this is that it may make your website function improperly. So, what's the point of getting managed hosting if they aren't going to manage your website properly?
One thing that looked promising was the WP Engine Toolkit for Woocommerce. It helps you optimize your site for peak performance and gives you additional tracking tools that will help you track various metrics such as cart additions, product searches, and orders processed. It also allows for one-tap payments through the Payment Request API.
However, this toolkit may not be as good as it sounds:
It's only available for certain plan levels. You must contact support to see if you qualify for the toolkit.
You can only accept payments through Stripe using the one-tap system.
One-tap may not work with older browsers that don't support Payment Request API.
The only significant advantage I see to WP Engine is its library of over 35 premium StudioPress themes includes the Genesis Framework, which gives you advanced SEO tools along with custom widgets, advanced layout options, and more.
However, these themes are no WooCommerce themes. You still have to add WooCommerce and perform all customizations yourself.
Want to read more about WP Engine? Don't miss our expert review.
HostGator – Only Good for Those on a Tight Budget 
HostGator's plans are some of the cheapest around, with its Business plan more than half off Liquid Web's Basic managed WooCommerce plan.
It offers cloud-based WordPress hosting with a decent set of features that are good for basic WordPress websites, but not ideal if you're looking to host a WooCommerce site.
Also, while HostGator offers managed WordPress hosting, only plugins and features that are available through WordPress.org will be updated. If you happen to have a plugin that's not listed there, you're on your own.
HostGator doesn't offer tools related to WooCommerce. You're responsible for installing WooCommerce and all associated features. This also means you'll be paying for all the extra premium plugins and features, such as abandoned cart technology.
HostGator may be a good option if you're on a very tight budget. Its Starter plan supports up to 100,000 monthly visits and has unmetered storage. Its Business plan supports up to three websites and up to 500,000 visits.
Keep in mind that you'll have to design and handle all upkeep on your WooCommerce store, so factor the value of your time into your decision before choosing this platform.
If you're considering HostGator, check out our in-depth review.
Supercharge Your Online Store With Liquid Web WooCommerce Hosting
If you're ready to take the next step with your e-commerce store, Liquid Web's WooCommerce hosting is a great choice. The VPS-based platform offers you a treasure trove of premium plugins and features that you won't find with comparable providers.
You can sell an unlimited number of products, and the platform is designed to support everything from physical products to digital products and even dropshipping stores. This eliminates many of the operational headaches associated with running an e-commerce business.
While it's true that you'll have to pay up for Liquid Web hosting, you get exceptional value for your money. The plans are also scalable, meaning your e-commerce website can grow alongside your business.
Shared hosting and managed WordPress hosting services are great starting points for an e-commerce business, but over time, your needs evolve. You need a platform that can handle heavy traffic while providing a superior customer experience. Liquid Web offers these features in a fully-managed platform that will help you grow your bottom line.