Jimdo provides a great way of designing and building your very own website without the need to pay thousands of dollars to a web development agency or a freelance developer. If you are strapped for cash then using a website builder like Jimdo can help you reach your end goal for a fraction of the price.
In today's article we wanted to highlight the best ways of adding pages to your newly designed site, as well as being able to delete and hide pages. If you are unfamiliar of the Jimdo interface, then you may not be fully aware of how to do this task.
Depending on which template you are using, will ultimately decide on where you can add your pages. We are using the Evolution theme in this example, so you will need to hover your mouse over the top navigation of the template.
Adding a New Page
When you hover over this top area you will see an 'edit navigation' box appear, which you will need to click. Once you click this box a new dropdown box will appear which will highlight all the current pages that you have setup on your Jimdo page. To add a new page you simply need to click the blue highlighted button at the bottom that says 'Add a new page'.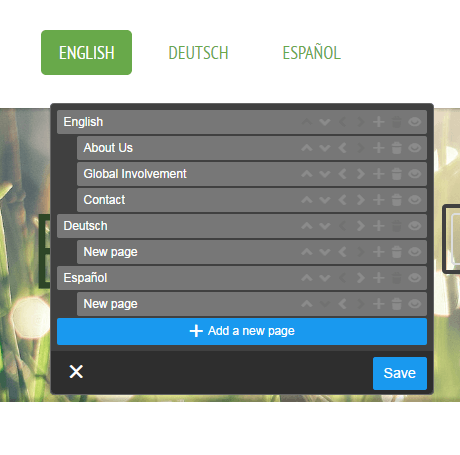 Deleting a Page
To delete a page you simply need to locate the trash bin icon towards the end of the row next to the page title, take a look at this example below: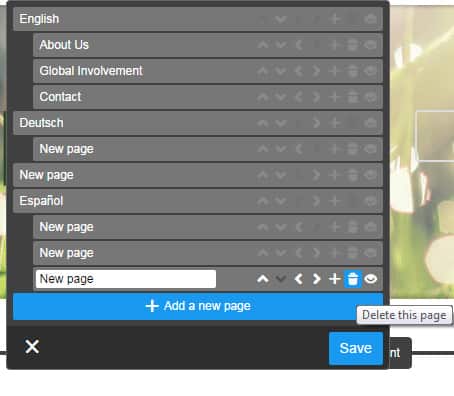 Hiding a Page
Again, hiding a page is easy you just need to navigate right to the end of the row and click the eye icon which will hide the page for you so it won't show on the live site but at the same time is available for future use.
Ordering Pages
To order pages there are some handy arrow icons which can help you set where pages appear in your navigation, use the up arrow to push pages up and down arrows to push pages downwards in the order.  There are also right and left arrows which will put your pages into sub-pages or main pages.
Setting up pages is one of the major elements you will need to know in order to start building up your site. It is important to know how you can add, delete and hide pages at the touch of a button. Having this knowledge will help you from the start, so get going now and build your Jimdo site. Visit Jimdo.