used
to be good, and neither do your site visitors.
You want to know whether SiteGround or A2 Hosting is better right now, and my most recent tests showed some surprising results.
As it turns out, SiteGround is not nearly as impressive as it used to be, especially when you compare it to a low-cost, high-performance service like A2 Hosting.
 Don't get me wrong: there are still many things to like about SiteGround, including the fact that it's super easy to use. But when it comes to performance, it can no longer keep up. To accurately compare A2 Hosting and SiteGround, my colleagues and I have tested both hosts over a period of several months.
I'll be blunt: A2 Hosting is much faster than SiteGround, and it'll cost you less, too.
That said, SiteGround offers better support and some pretty impressive ease-of-use features.
Click here to see A2 Hosting's latest deals
, or read the full story below.
1. Plans and Pricing
A2 Hosting Is Cheaper Than SiteGround, Especially in the Long Run
If you're after an affordable shared hosting plan, you can save a lot of money with A2 Hosting.
A2 Hosting's shared hosting plans
 are about half the price of SiteGround's equivalents, and the gap gets even bigger after renewal.
For instance, A2 Hosting's entry-level Startup plan includes one website, a generous 100GB of storage space, and unlimited bandwidth. Meanwhile, SiteGround's Startup plan costs twice as much, and comes with just 10GB of storage and only enough bandwidth for about 10,000 monthly visits.
To be fair, SiteGround's hosting plans include managed WordPress services, which is not the case with A2.
 You get a one-click installer, a WordPress startup wizard, automatic updates and backups, as well as specialized support. With A2's entry-level plan, you don't get the same features, but there is a one-click WordPress installer and you can easily run your own updates and backups.
A free domain name is included with some hosting plans from SiteGround
A2 Hosting has separate plans for managed WordPress hosting, but these are significantly more expensive.
 Even so, these might be worth considering for more complex WordPress websites. The plans run on A2's best-performing Turbo servers, and include a Jetpack Personal license for free.
If you need an even more powerful hosting solution, you can opt for one of A2 Hosting's managed VPS plans or for SiteGround's managed cloud, but A2 still offers better value.
 For example, SiteGround's Business plan is double the price of A2's Lift 16, while A2's plan offers double the memory and processing power and more than seven times the amount of SSD space.
2. Features
SiteGround Might Be Easier to Use, but A2 Hosting Has Better Features on the Cheapest Plan
Features were always SiteGround's forte, and the premium plans are still pretty powerful in this respect.
However, the Startup plan is really basic, and this puts it at a disadvantage compared to A2's entry-level plan.
Not only does A2 give you more storage space and bandwidth, but you also get the tried-and-tested cPanel control panel. SiteGround's proprietary Site Tools is easier to use, for sure, but lacks some important functions. For example,
cPanel lets you clone a website and set up a staging environment to test changes, whereas Site Tools doesn't give you this option unless you're on a premium plan.
In addition, cPanel comes with a one-click installer for hundreds of content management systems (CMSs). A2 Hosting even added a few custom installations to help you quickly set up WordPress and other popular CMSs with a decent kit of preselected performance and security plugins.
Site Tools has its own one-click installer, the App Manager, but the latter supports only 18 CMS installations.
 Popular options like WordPress, Drupal, and Joomla are there, but if you want a framework like Symfony or Laravel, you'll have to install it manually.
Even Git, a useful tool for developers that is included with almost all cPanel hosts, is disabled on SiteGround's basic package.
You can get all of these features, plus advanced caching, on-demand backups, and collaboration tools with SiteGround's most expensive GoGeek plan, but it isn't cheap. It's also worth mentioning that while SiteGround has a fairly standard 30-day money-back guarantee,
A2 Hosting gives you the option to apply for a prorated refund at any time during your contract.
 No other host in the industry does this.
| | | |
| --- | --- | --- |
| Feature | A2 Hosting | SiteGround |
| Hosting Type | Shared, WordPress, VPS, dedicated servers | Shared, WordPress, managed cloud |
| Free Domain | No | No |
| Free SSL Certificate | Yes | Yes |
| Disk Space | 100GB on Startup, unlimited on all other plans | 10GB – 40GB |
| Bandwidth | Unmetered | 10,000 – 100,000 Monthly visits |
| Automatic Backups | Yes (Daily), but not on the Startup plan | Yes (Daily) |
| Control Panel | cPanel | Site Tools (Proprietary) |
| Email Accounts | Unlimited | Unlimited |
| Free CDN | Yes | Yes |
| Free Site Migration | Yes | Yes |
| Money-Back Guarantee | Anytime | 30 Days |
3. Performance
A2 Hosting Is Faster Than SiteGround…Much Faster
Both A2 Hosting and SiteGround offer SSD storage on all plans, which is a big plus.
 In addition, both hosts let you choose between multiple data center locations, so you can improve site loading speeds for your target audience.
A2 has servers in the US, the Netherlands, and Singapore, while SiteGround offers these same locations plus the UK, Germany, and Australia.
In terms of web server technology, SiteGround uses Nginx throughout, and several cache plugins are activated on the premium plans. Meanwhile,
A2 Hosting runs the classic Apache on its two entry-level plans, and LiteSpeed on Turbo Boost and Turbo Max.
Given that Nginx is faster and more stable than Apache, you'd expect SiteGround to outperform A2 Hosting. I certainly did, especially since SiteGround had recently migrated its services to Google Cloud Platform, one of the fastest cloud infrastructures in the world. But I was in for a surprise.
When I used GTmetrix to put A2 Hosting's performance to the test, I got an outstanding average loading time of 1.3 seconds.
 The best recorded time was 1.1 seconds, and the worst was a very acceptable 1.6 seconds. I was positively impressed.
You can see the full results of our speed tests in our in-depth A2 Hosting review
.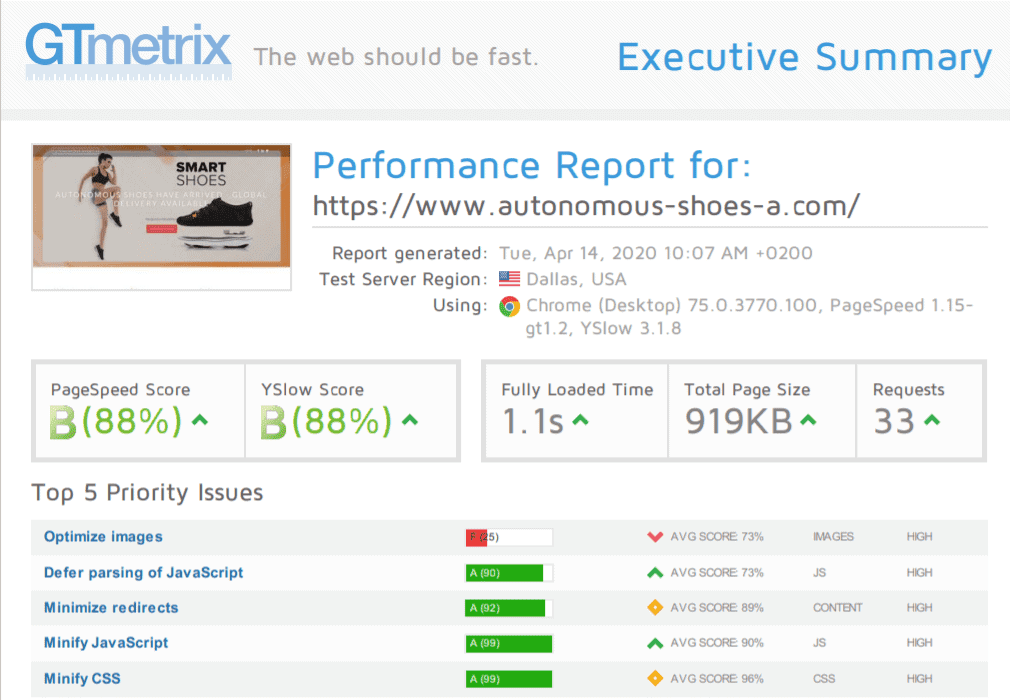 I still had high expectations for SiteGround, though, so imagine my disappointment when I got a meagre 2.02 seconds loading time on average.
 The slowest recorded speed was 2.5 seconds, and the fastest was a mediocre 1.4 seconds.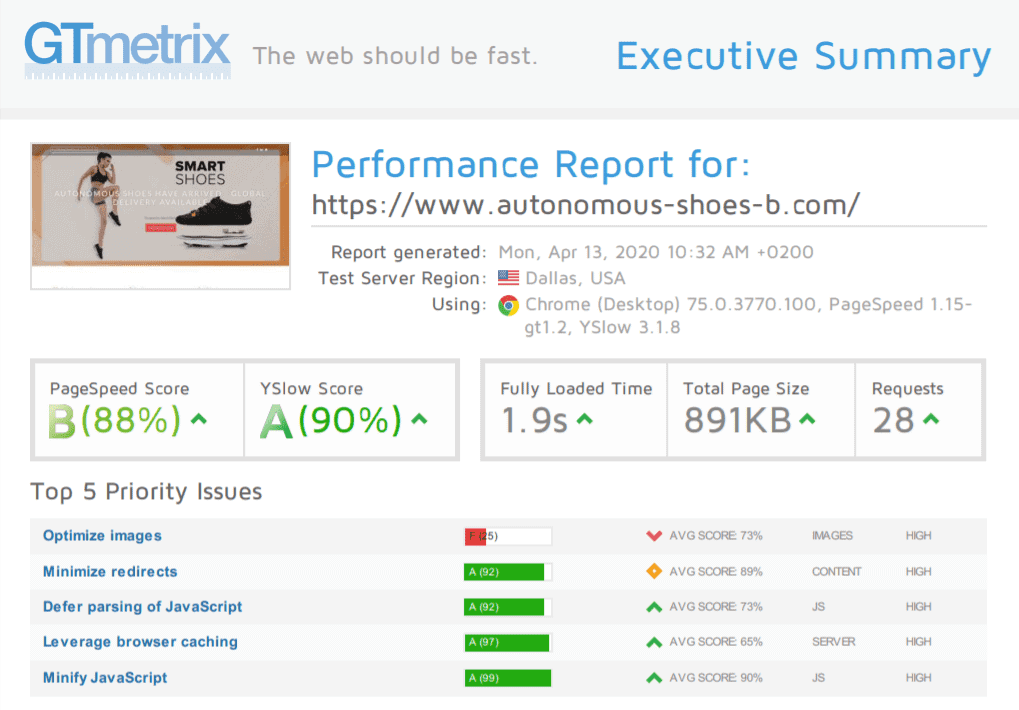 SiteGround's results were slightly better with the Sucuri Time Load Tester, which provides some insight into the host's global performance. Even so, I got a measly B for overall performance. For more information about SiteGround's performance tests,
see our full SiteGround review
.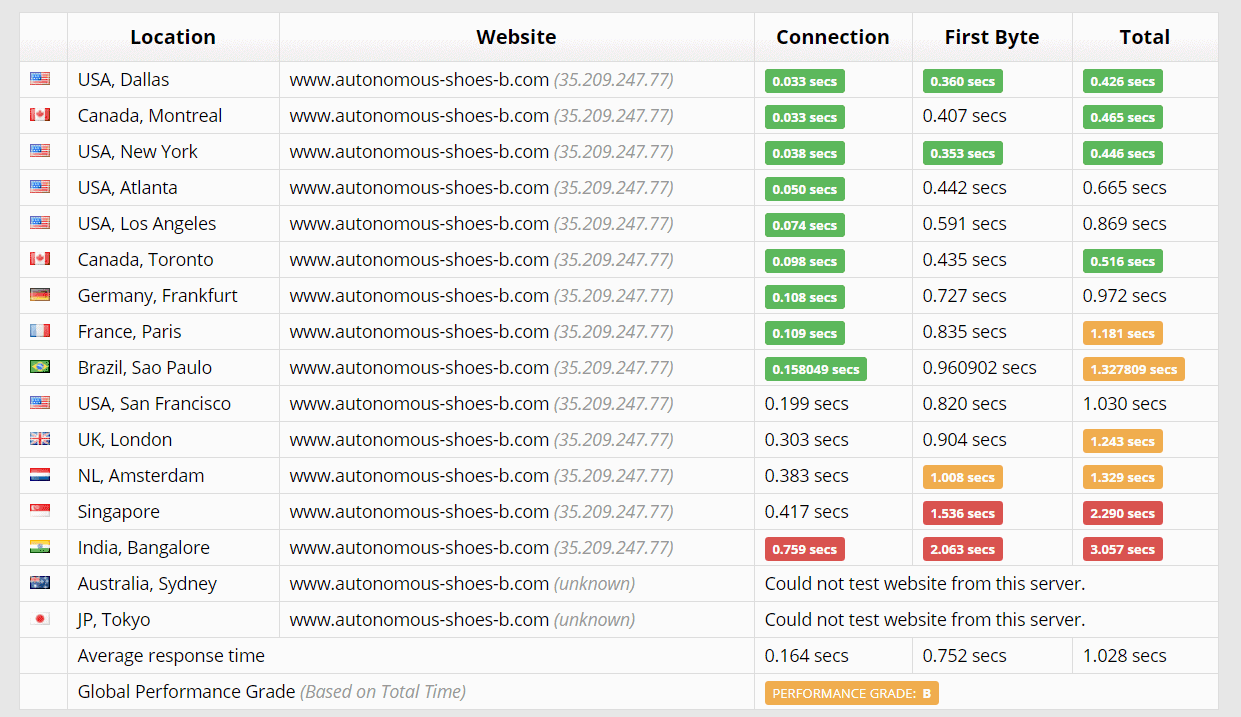 A2 Hosting did worse on the Sucuri test, but I can't say that I fully trust these results.
 It might just be that A2 Hosting is actively throttling its requests. Since A2 got such stellar results on GTmetrix, I'd say that Sucuri, rather than the host, is to blame for the poor performance grade.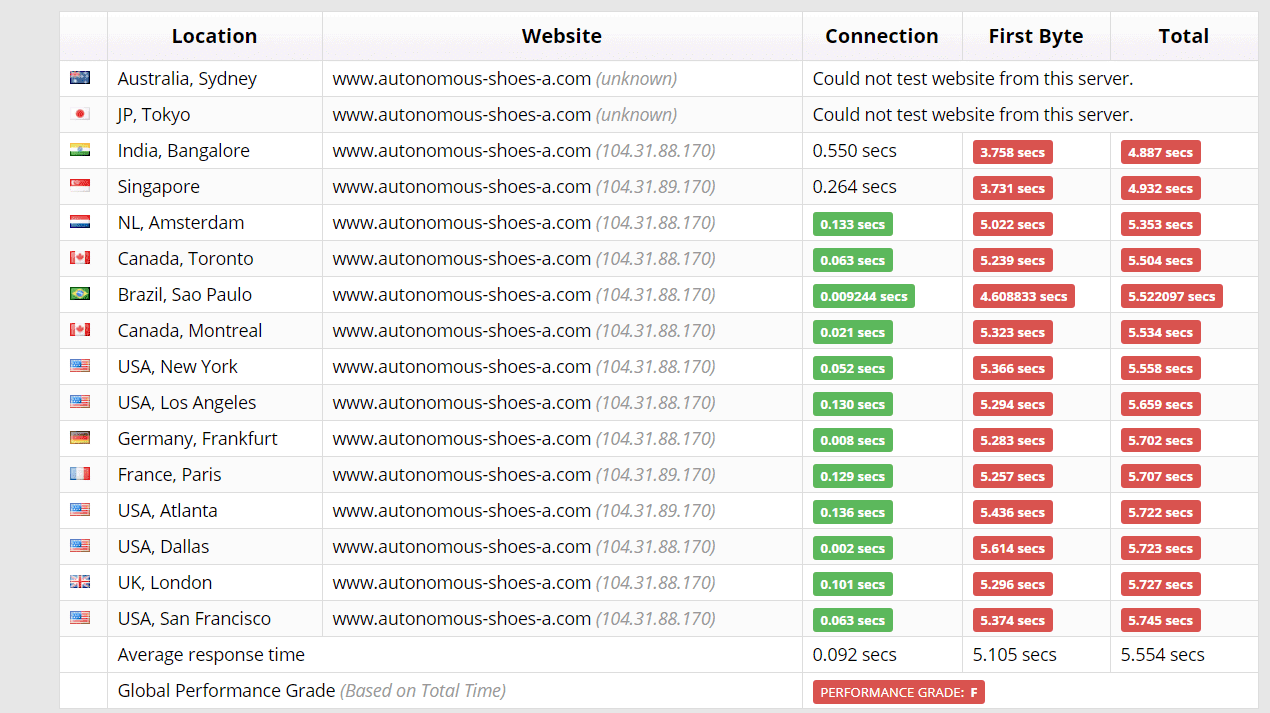 As for uptime, both SiteGround and A2 Hosting did very well.
 Over the course of several months, SiteGround recorded an almost perfect 99.997% uptime, way better than the 99.9% guarantee.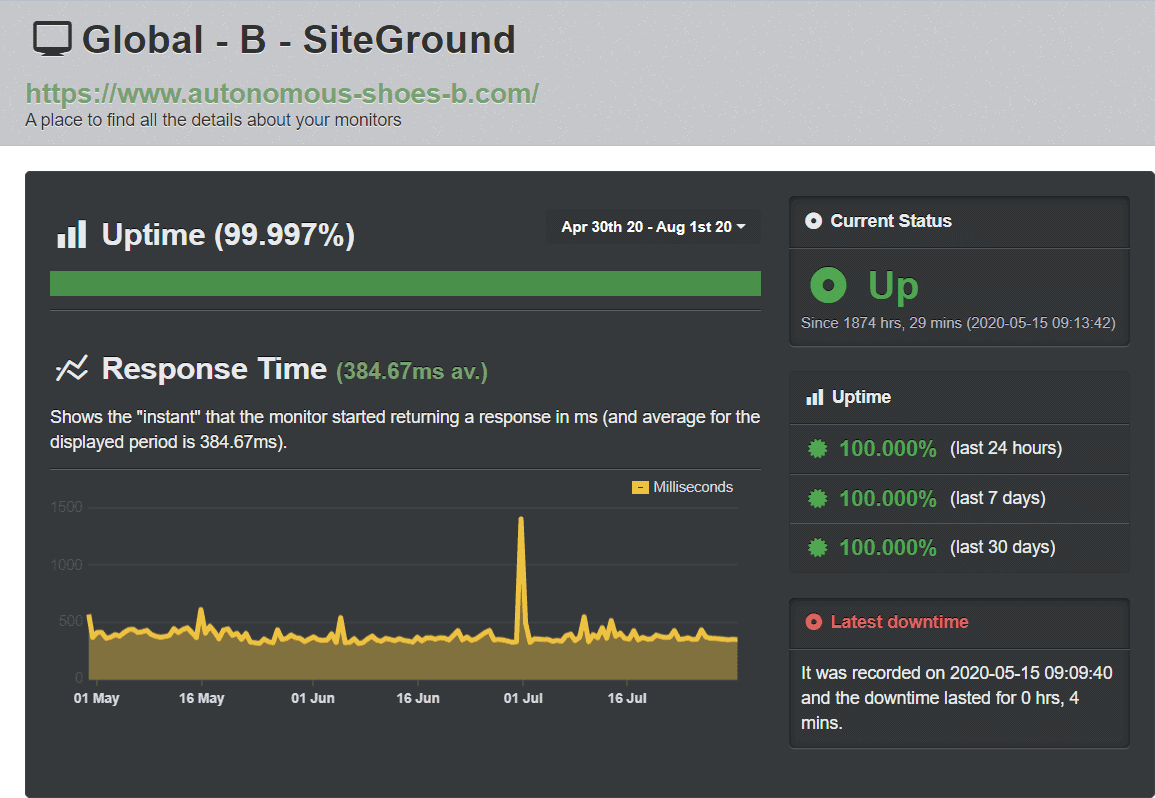 A2 Hosting has a similar 99.9% uptime guarantee, but my tests indicated a perfect 100% uptime.
 This isn't to say that you'll experience no downtime whatsoever with A2, but it does show that it is more stable than most.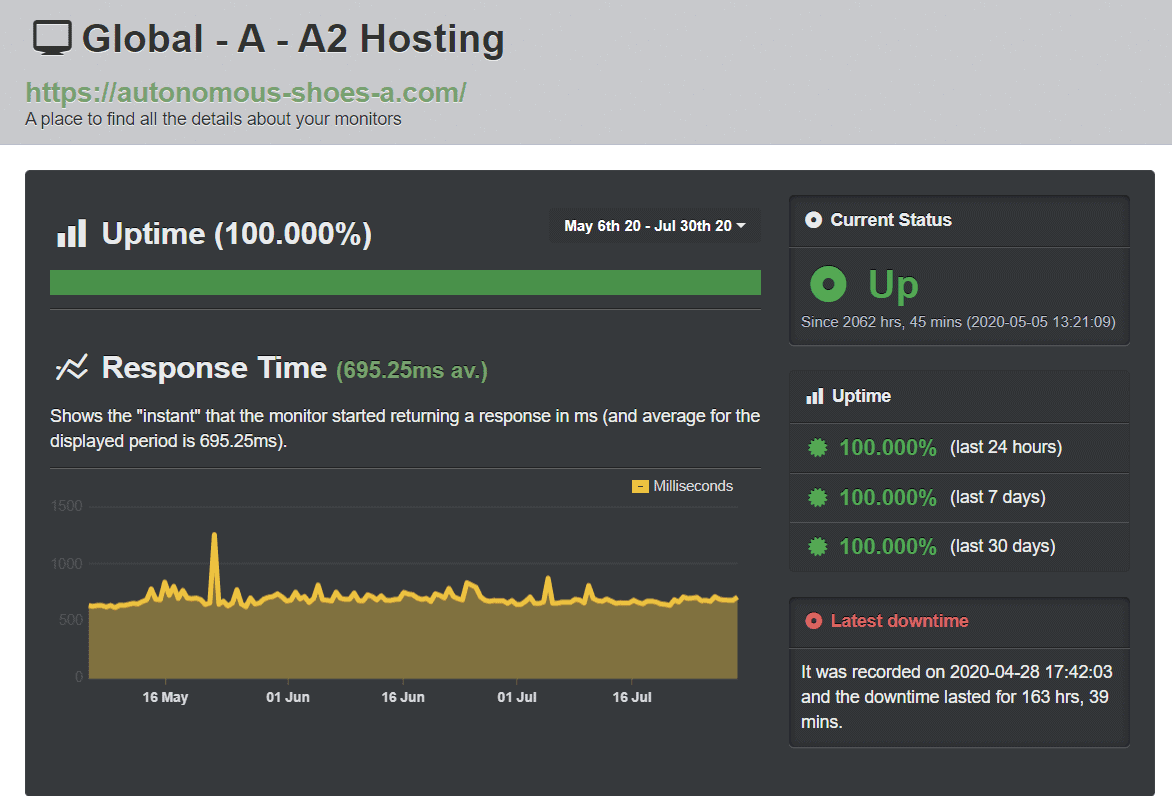 To sum things up, uptime may be similar with both web hosts, but A2 Hosting is faster than SiteGround by a comfortable margin.
 Keep in mind that I wasn't even using A2's Turbo servers when I ran these tests, so the results are all the more impressive.
4. Security
A2 Hosting Gives You Free Security Tools, while SiteGround Charges Extra
Compared to the average web host, both A2 Hosting and SiteGround have decent security features.
For one, they both give you free SSL certificates on all plans, which means that your visitors' data and connections will be kept safe.
You'll also get a little padlock appearing next to your website's address, so your visitors will know their information is secure. Plus, search engines will reward this with a bump in your search ranking. Aside from the SSL, A2 Hosting offers a complete security suite with all plans. This includes
a dual firewall, reinforced DDoS protection, a malware scanner, and the Patchman security tool,
 which notifies you of any outdated software and immediately quarantines suspicious files. SiteGround provides a firewall and a 24/7 monitoring system, but that's about it.
If you want advanced security tools, such as a malware scanner, you'll have to pay extra for the SG Site Scanner add-on.
The one advantage that SiteGround does have in this category is that it offers automatic daily backups on all plans.
 With A2 Hosting, backups are not included in the Startup plan, so you have to run your own.
5. Support
Both Hosts Are Hard to Reach, but at Least SiteGround Will Help You
SiteGround and A2 Hosting offer 24/7 customer support. SiteGround has 24/7 live chat, phone, and email/ticket support, while A2 Hosting offers 24/7 live chat and tickets support – it has phone support available, but not 24/7. 
The problem with both hosts is that it can be a challenge to actually get a hold of an agent.
With SiteGround, for example, you have to go through a labyrinthic help center and answer a bunch of annoying questions before you even get the option to use live chat.
The system appears to be in place to discourage users from getting in touch, which – let's be honest, SiteGround – is not a nice thing to do at all.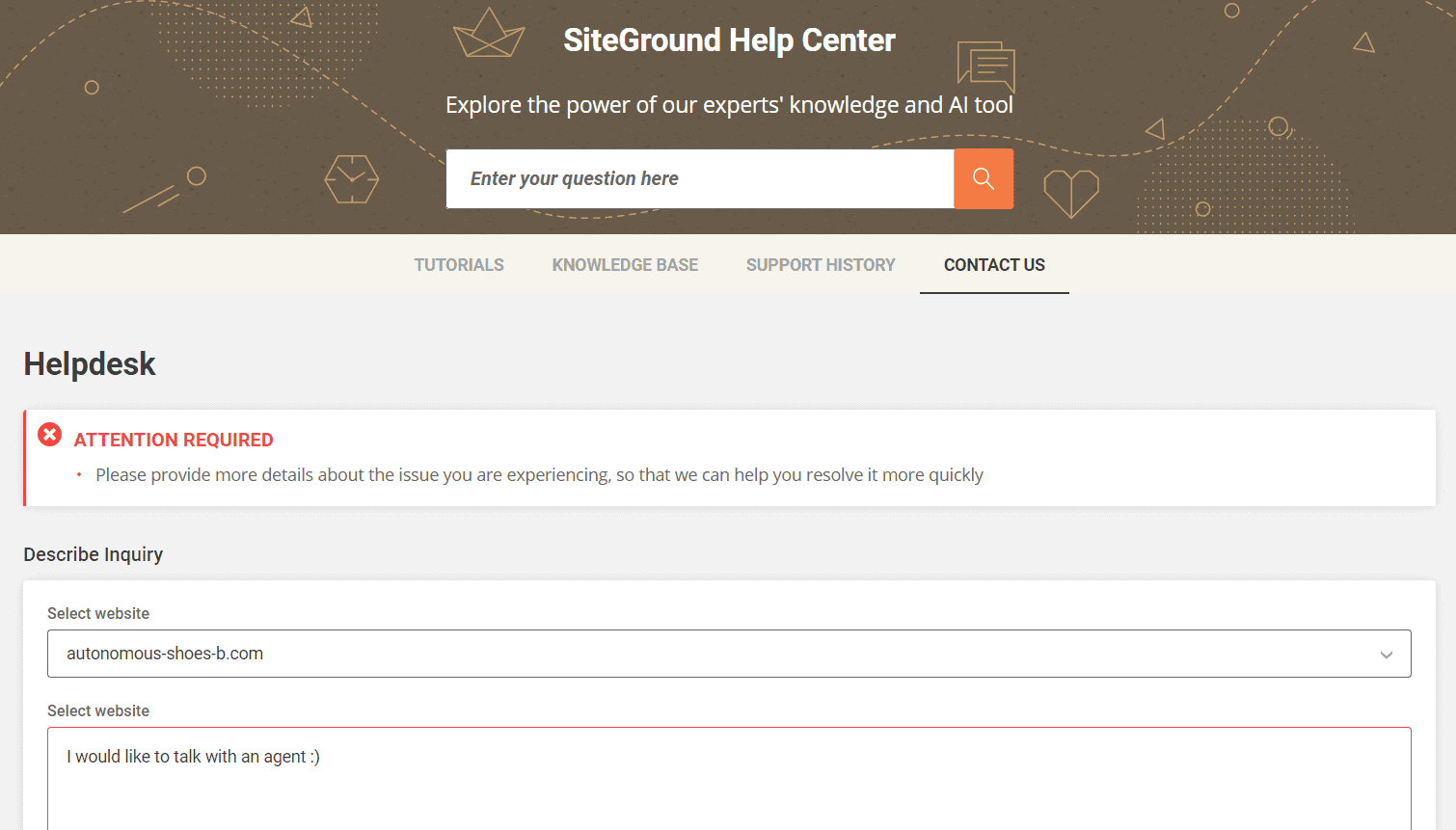 That said, my experience with SiteGround's customer support was more than decent once I was able to contact an agent.
I got detailed replies for most of my questions, and the agent even offered to install WordPress and an SSL certificate for me.
 They knew the way to my heart, that's for sure. So much so that I almost forgot it had taken close to an hour to get a reply.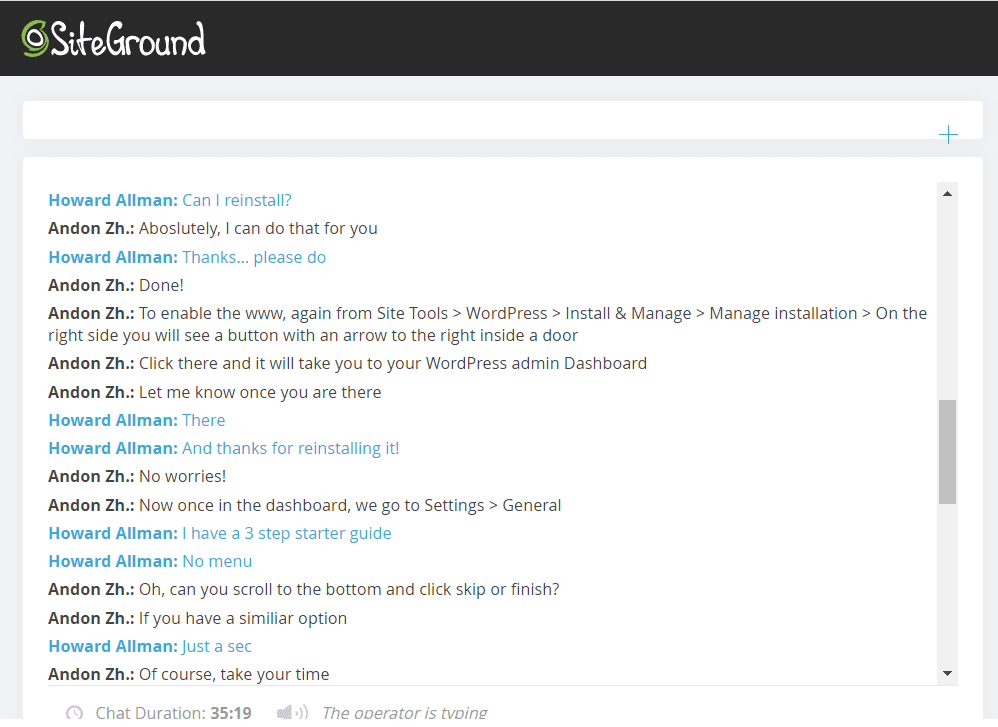 On the other hand, things didn't go so well with A2 Hosting. I wish I could say that the "Guru Crew" was faster, but while the live chat option was easier to reach, the agents themselves were not.
On one occasion, I had to stand by for almost two hours to get a reply.

The worst was yet to come, though. When one of A2's support agents finally responded, I quickly realized that I wasn't going to get any useful information from them.
Most of the time, I felt like I knew more about A2 Hosting's platform than the agent did, so talking to them was confusing at best.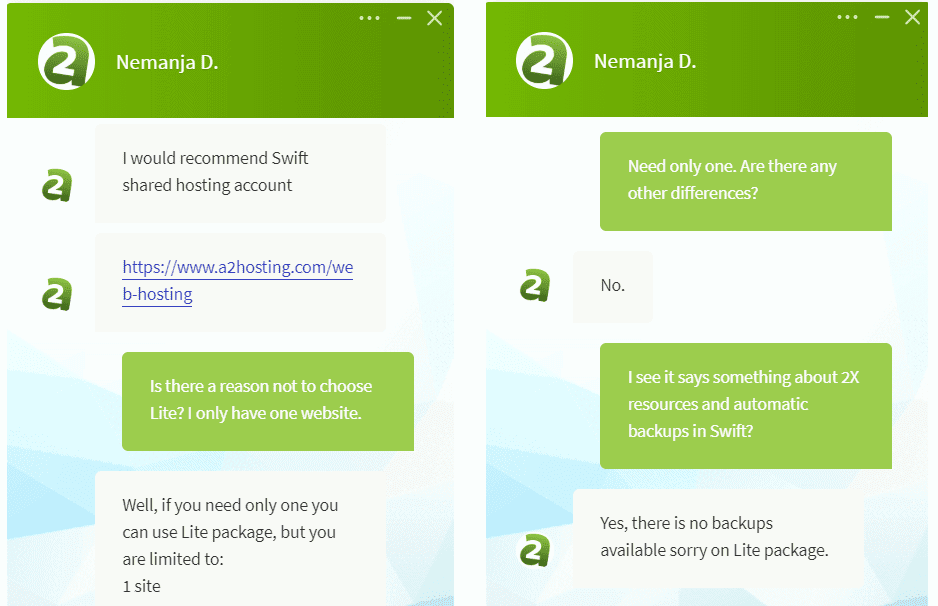 I obtained coherent answers through the ticket system, but I did not receive any "expert advice" whatsoever. The information provided was merely basic, something that even Google could have potentially informed me about. If you prefer DIY solutions, good on you.
You'll likely be able to avoid live chat altogether, since both SiteGround and A2 Hosting have extensive knowledge bases with comprehensive guides.
Go with A2 Hosting for Outstanding Performance at a Low Cost
For all of its former glory, SiteGround is currently no match for A2 Hosting.
 Sure enough, A2 has its own problems in the customer support department, but it beats SiteGround in every other category.
If you don't mind learning the ropes by yourself, A2 Hosting gives you significantly more value, especially on the entry-level plan.
If, on the other hand, you want a more streamlined user experience,
SiteGround is a decent option
. I wouldn't use it to host a complex website or an ecommerce store, but it could be a good solution for a simple WordPress blog, personal page, or business presentation website. Both SiteGround and A2 Hosting made our list of
the best web hosting services
, but if I were you, I'd take a look at how each did against other top hosts before making a final decision.
Plans and Pricing
Excellent value, significantly cheaper than SiteGround, especially after renewal, anytime money-back guarantee
Good value on the GrowBig and GoGeek plans, less so for the Startup package
Features
Unlimited storage space and bandwidth on most plans, classic cPanel, optimized CMS installations, site staging, Git
Limited storage space and bandwidth, proprietary Site Tools, WordPress starter wizard, a streamlined user experience
Performance
SSD storage, Cloudflare CDN, LiteSpeed web server on the Turbo plans, four data center locations, outstanding performance for shared hosting
SSD storage, Cloudflare CDN, Nginx web server, six data center locations, advanced caching on premium plans, mediocre performance
Security
DDoS protection, dual firewall, malware scanner, Patchman security, automated daily backups on most plans, free SSL
DDoS protection, web application firewall, free SSL, automated daily backups, additional security tools are available for a fee
Support
24/7 support via live chat, phone, and tickets/email; extensive knowledge base
24/7 support via live chat, phone, and tickets/email; extensive knowledge base
FAQ
Which host is better, A2 Hosting or SiteGround?
According to my tests, A2 Hosting is better and cheaper than SiteGround. Although its customer support is pretty disappointing, A2 is one of the fastest low-cost web hosting services in the industry. You also get plenty of resources, optimized CMS installations, and decent security, even on the entry-level plan. Meanwhile, it's difficult to justify SiteGround's premium pricing given that its performance is rather mediocre. SiteGround does make website hosting simpler, but I wouldn't use it for a high-traffic or complex website. To see how both SiteGround and A2 Hosting did against other top hosts, check out our list of the best web hosting services.
Does A2 Hosting offer WordPress hosting?
Yes, you can get managed WordPress hosting from A2, but it'll cost you more. Even so, it might be worth considering for a WordPress website that sees a lot of traffic. All of A2 Hosting's managed WordPress plans run on the host's superior Turbo servers, and they come with plenty of resources, as well as a Jetpack Personal license. These are just a few of the reasons why A2 Hosting made our list of the best managed WordPress hosting services.
Is SiteGround hosting worth it?
If you had asked me this question a few years ago, I would have said yes. SiteGround's pricing has always been a major drawback, but back in its glory days, I would have argued that the excellent performance and streamlined user experience were worth the extra cost. That said, my most recent tests have shown that SiteGround is lagging behind other top hosts in terms of loading speeds. I still think that SiteGround's control panel is one of the easiest to use in the industry, but your visitors will only care about how quickly your website loads. In any case, before you sign up for a plan, you should check our frequently updated web hosting coupon page to make sure you're getting the best deal.
Does SiteGround Have cPanel?
No. SiteGround uses a proprietary control panel called Site Tools. The latter is less cluttered and significantly easier to use, but a few important features are missing on the entry-level Startup plan. For example, you can't test new features in a staging environment unless you upgrade to a more expensive plan. Git integrations, advanced caching, and some security tools are also locked behind a paywall.