Email marketing is essential to growing a small business. Its potential for lead generation is huge, but only if you use a service that meets your needs and price point. It's complicated to balance everything and know which option is the best for you.
MailChimp and AWeber are on the short list of many small- and medium-sized businesses (SMBs) because they offer excellent functionality at different price points. The right choice for your business depends on the balance you need.
AWeber Highlights
Every subscriber to AWeber has access to all of its features and functionality. You pay based on the number of contacts in your subscriber list. That means SMBs can get everything they need, and pay for nothing they don't.
Drag-and-drop editing makes it easy to get the design you want
Subscriber-list segmenting lets you deliver the right message to the right people
The analytics suite shows you everything you need to know about the ROI of your email campaigns
MailChimp Highlights
SMBs can use MailChimp's "forever free" plan to see whether the platform is right for them. That pricing model has made it the most popular option for businesses in every vertical and industry.
You can't beat the entry-level price of free
MailChimp integrates with popular e-commerce platforms like Shopify and WooCommerce
Personalization options let you give your emails a unique touch
AWeber vs. MailChimp Feature List
AWeber and MailChimp are two of the best email marketing services available. However, they have several key differences in functionality.
User Interface
AWeber makes building a design as quick and easy as it should be
AWeber's user interface uses a minimalist drag-and-drop design. All you have to do to create effective emails is click the functionality button and drag it onto the draft.
Text functionality is clearly labeled into intuitive categories like "Headline" and "Article" so you can get the right fonts and line spacing for each section of your email without any hassle. Additional content like "Logo," "Coupon," and "Video" make it easy to add dynamic options to emails as well.
The bottom line is this: Even if you don't have any experience in email marketing or email design, you'll be able to create something that looks great in minutes.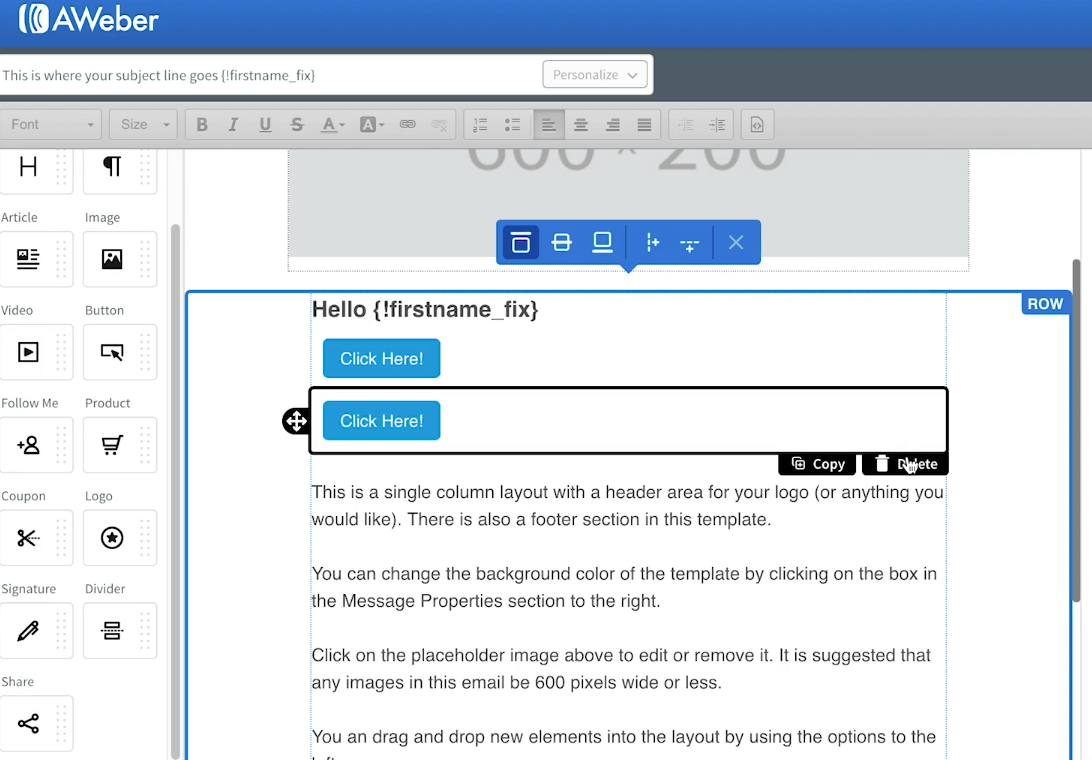 MailChimp builds great emails, but not as effortlessly
There's little doubt that MailChimp's drag-and-drop editor is powerful, and you can use it to make beautiful emails that convert. But the design of the interface is more complicated than AWeber's. For example, AWeber's text functionality is presented based on section (Headline/Article) by default; by contrast, MailChimp has a single "text" feature that users must edit to get a different look in each section of their email.
For SMBs with no knowledge of email marketing, these little bits of additional complexity add up over time. So while MailChimp isn't "complicated," it's definitely more complicated than AWeber.
List Management and Segmentation
AWeber manages your list from acquisition all the way to retargeting, but has only basic automation capabilities
AWeber lets you build your list by building customized forms, landing pages, and integrations like PayPal and WordPress. As your list grows, you can manage it by segmenting subscribers by tags you create. These tags can be characteristics like location, or actions like purchases. Once you send targeted messages, analytics capabilities track results such as sales, open rates, and link click maps.
AWeber lets you automate your email marketing funnel by setting rules for what emails to send based on a subscriber's actions. However, its segmentation automation capabilities are way too basic, without the ability to work with subscribers' characteristics to build new lists from disparate conversion points.
MailChimp fully automates list management and segmentation
MailChimp lets you create lists based on any unique characteristic you track. For example, e-commerce merchants can segment lists based on customer preferences or previous purchases, regardless of where the subscriber converted. You have full control to create lists based on the characteristics you believe are most likely to get conversions.
Analytics and Reports
AWeber offers big-picture data, but lacks a granular view
AWeber lets you check all the big-picture data points that matter. You can track open rates, see what links are being clicked in the text, and follow unsubscribes. SMBs just starting out with email marketing will find it comprehensive, but not overwhelming.
However, that simplicity becomes a liability when it comes to e-commerce. AWeber lacks the deep-dive analytics you'll find in other email marketing solutions.
MailChimp is simple, but comprehensive
MailChimp is an analytics-heavy platform that lets you organize and view very detailed data. E-commerce companies can track their entire pipeline and see how many purchases were made after interacting with their email content, compare the results of different email campaigns on sales and ROI, and build additional segmentation reports within other reports.
To help guide you, MailChimp gives you data on averages in your industry. That way, you can compare the results of your efforts with what others are seeing. It's a great way to get an objective benchmark for your results.
A/B Testing
AWeber A/B testing makes finding the right message easy
AWeber offers A/B testing for email subject lines and the message body. The results are presented in an easy-to-use visual format, making it easy for SMBs that don't have sophisticated marketing experience to see what's working.
You can test up to three different messages. This provides additional flexibility that helps you find the right message without the need to set up multiple tests if you have more than two email versions you want to test.
MailChimp offers more in-depth testing, but you have to know how to use it
MailChimp lets you test three different versions of an email's subject line, imagery, delivery times, and more or less any other variable that can impact conversions. You can also choose the percentage of your subscribers you'd like to run the test on to determine the right message before sending it out to your full list.
The problem for SMBs is the complexity. Those looking for a simple way to ask the platform "which version of this is better?" might get frustrated. The comprehensive nature of the functionality buries the basic idea in a maze of options that will be overkill for those not looking to run sophisticated campaigns.
Automation
AWeber's drag-and-drop automation features are as easy as it gets
AWeber makes it easy for SMBs struggling with creating lead-nurturing tracks to create automation sequences they understand. It uses a drag-and-drop editor for events that lay out the logic and events in a simple, clear fashion.
You can visually construct your automated sequence to activate when certain actions are taken by subscribers, sending specific email content depending on which "fork" a subscriber takes.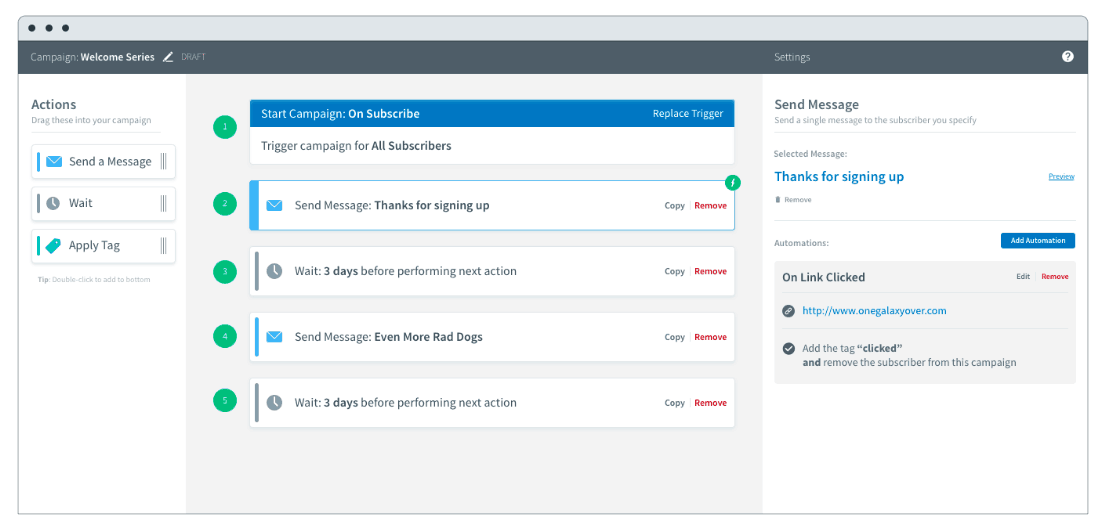 MailChimp provides comprehensive automation for e-commerce stores
For SMBs running e-commerce stores, MailChimp offers the kind of functionality that drives ROI. Automation sequences can be tied to products, personal preferences, and cart abandonment. It's also possible to keep interested subscribers up to date on your latest product offers with segmented product recommendation sequences.
What's not there is the ease of use. Unlike AWeber's drag-and-drop editor, MailChimp will send you through a cascade of menus to build your sequences. It's a small price to pay if you need the functionality. But if you don't, then it's an overcomplicated process compared with what you can get from AWeber.
Deliverability Rates
AWeber's infrastructure and monitoring give it the reputation you need to get your email delivered
AWeber owns all of the software they use to monitor emails as they're delivered, allowing them to see when abuse is happening and take action. Accounts that are suspicious can be quickly stopped or shut down, a practice that gives AWeber a strong reputation among email service providers so that good messages from reputable SMBs get through easily.
MailChimp uses several layers of deliverability protection to give huge subscriber lists the green light
MailChimp users a combination of different IP groups, analytics and abuse reporting, and overall system monitoring and authentication to get even large email lists through to inboxes. MailChimp's reputation as one of the most widely used email services around also gives it a strong working relationship with all major email services, further increasing the chances of delivery.
Integrations
AWeber integrations are comprehensive and easy to find
AWeber integrates with all the major platforms used by SMBs to grow their business. Options include WordPress, WooCommerce, PayPal, and SalesForce. Quickly search for a specific integration you know you want, or use the menu provided to search by functionality like running webinars, increasing productivity, and e-commerce for additional integrations that you didn't even know you wanted.
MailChimp integrations are also comprehensive, but less easy to find
MailChimp is just as comprehensive, with Shopify, SalesForce, WooCommerce, and more all available. However, because the platform is geared less toward SMBs than larger companies, it's almost assumed that you know exactly what integration you want.
Unlike AWeber, MailChimp provides no organized category search to help smaller companies find something to meet their needs, or bring something new to their attention.
Pricing
AWeber gives you full functionality no matter what plan you choose
AWeber's pricing model is unique. You get the platform's complete functionality no matter what plan you get. What differentiates the price is the number of email subscribers you have on your list.
This model is an absolute boon to SMBs. They can use all of AWeber's functionality to grow their list without having to pay tons of money they don't have for a subscriber capacity they're nowhere near. You pay less when your list is small; then, as business ramps up and your list grows, you pay more. All email marketing providers should use this model.
MailChimp may start free, but it doesn't stay free
MailChimp's "forever free" plan has made it one of the most popular email marketing platforms in the world. However, it comes with limited functionality and limited volume. You can have only 2,000 subscribers and send 12,000 emails a month. If you exceed these limits by even just a single subscriber or email, then you'll be switched to a "Growing Business" plan that, despite the name, doesn't include key features like multivariate testing and advanced segmentation that are required to grow a business.
To get those, you'll need the only other available plan — the "Pro" plan — which costs 20x the "Growing Business" plan.
Verdict: AWeber Edges Out MailChimp
AWeber and MailChimp offer good functionality, but have very different strengths for SMBs. AWeber's simplicity is the clear favorite for those with little or no email marketing experience. The drag-and-drop interface is easy to find, easy to use, and available not just for content creation but also for automation.
By contrast, MailChimp excels for e-commerce. MailChimp's depth of testing is superior, and the segmentation capabilities attached with its automation options are much more in-depth. In addition, there are options to create Facebook and Instagram ads that give companies additional visibility for their content. There's no question that all of this gives MailChimp an ROI edge when it comes to selling product to customers.
What breaks the tie here is price. AWeber's unique pricing model is simply too good for SMBs to pass up. Many businesses lose out because they can't afford to use the heavy-hitting techniques that really grow a business. AWeber eliminates that entirely. Meanwhile, MailChimp's "Forever Free" option gives you limited functionality for free, but really hits you hard in the wallet when it comes time to carry the momentum of using that plan forward.
SMBs can do well with either one of these options, but AWeber gives you the key to the toolbox without having to spend more than is justified by the size of your list.
For more information about AWeber, don't miss our expert review.