When I set out to compare AWeber vs Mailchimp, I thought it would be a close contest. Turns out, I was wrong. Even though both are popular with email marketers, Mailchimp just didn't live up to my expectations.
After spending the past few weeks testing AWeber vs Mailchimp, I can tell you that AWeber came out on top time and time again.
I'm not saying that Mailchimp is a horrible email marketing platform. It does okay – most of the time – but that's just not enough to beat one of the top contenders around today.
AWeber has more email templates, more landing pages, better automation tools, cheaper pricing, and considerably better customer support
. Yeah, no marketing platform is perfect, but
even when Mailchimp did something well, AWeber did it three times better
. And when Mailchimp underperformed, it did so
spectacularly
. Read on to find out exactly how the two compare on features, ease of use, deliverability, price, support, and more. Or,
if you want to try out both to see for yourself how they compare, both AWeber and Mailchimp come with a free plan
.
Features
Everything Mailchimp Does, AWeber Does Better
Features can make or break an email marketing service (EMS). While I was setting up my email campaigns, both platforms offered plenty of features to work with – although I kept my lists small and my expectations low.
Email Templates
My adventure started with the templates each platform offered, which is where AWeber first began to pull ahead of Mailchimp.
I counted at least 700 templates.
 Okay, some of them seemed a bit outdated, but it didn't really matter with such a huge selection. Oh, and
 let's not forget AWeber's huge stock image library, which currently includes more than 6,000 royalty-free images
.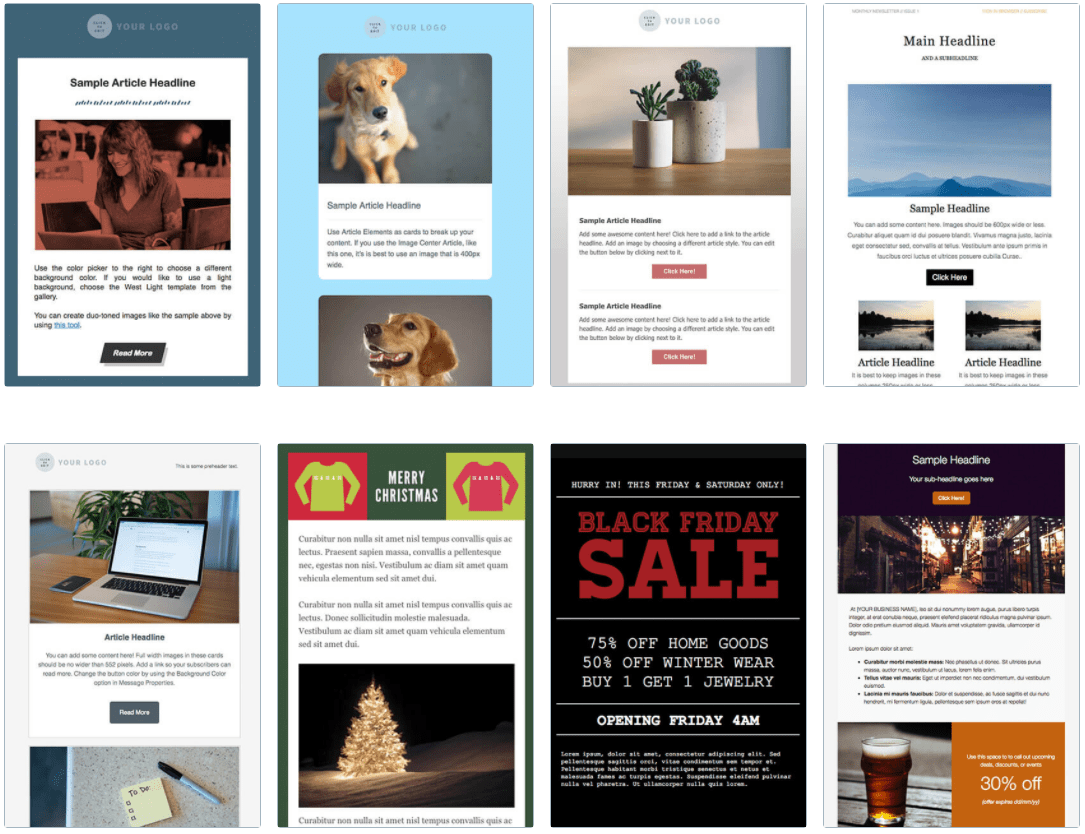 And then there's Mailchimp. There are only around 100 templates to choose from, and most of them look like they were extracted from a 1997 floppy disk – not cool. Just see how we got on when we tested out an email campaign for
our Mailchimp review
for more on that… Sure, minimal graphics can increase deliverability, but people also need to be interested enough to read your emails.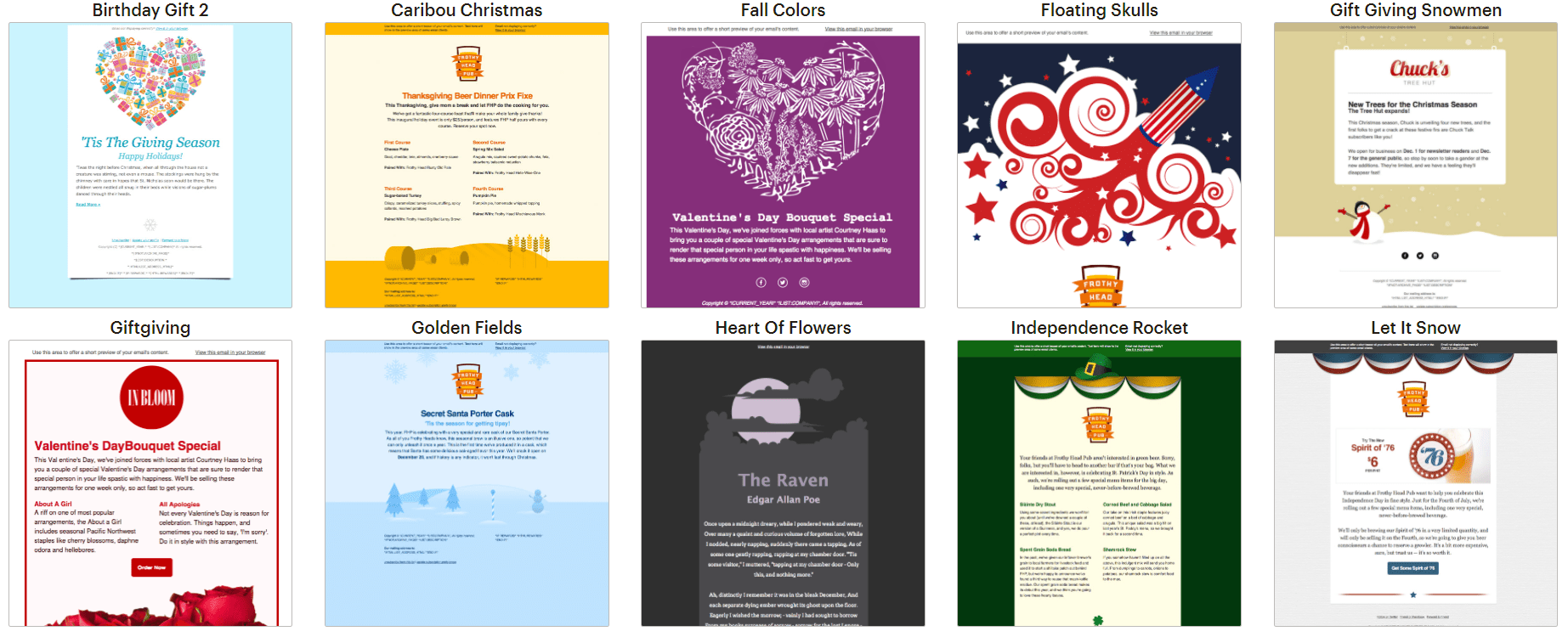 Types of Emails
As for the types of emails you can create, both AWeber and Mailchimp offer plenty of options.
AWeber's messages include broadcasts (one-off messages), follow-ups (autoresponders), campaigns (series of autoresponders), click automations (utilizing tags, based on clicks and segmentation), blog broadcasts (delivery of whole articles through an RSS feed*), and A/B testing campaigns. Mailchimp's email options include regular campaigns, plain-text messages (no formatting), RSS messages, and A/B testing campaigns. I should note that
advanced automation and A/B testing campaigns are limited to the Pro plan for AWeber (

$

12.50

/month) and the Essentials plan for MailChimp (

$

20.00

/month)
. * RSS stands for Really Simple Syndication. It's a file usually coded in XML format, including information about every piece of content ever published on your website. You can take advantage of RSS to easily incorporate blogs – and other types of content – into your emails.
Integrations
What about integrations?
AWeber offers around 800, while MailChimp doesn't exceed 300.
 But it's easier to integrate apps with Mailchimp, especially with some of the most common social platforms – you can do the same job with AWeber, but it takes a few more steps.
When we're looking at Mailchimp vs AWeber for Shopify, AWeber wins
. Due to a data dispute in 2019, Mailchimp cut all ties with Shopify – or was it the other way around? If you're planning to combine email marketing with the most common social platforms, Mailchimp wins. If you're looking for variety, AWeber has the upper hand.
Native RTL support
AWeber offers full support for right-to-left (RTL) languages – something my colleague found out in his AWeber review.
 Mailchimp doesn't. So, if you're planning on setting up emails in languages such as Hebrew or Arabic, AWeber would be the obvious choice for you.
Autoresponders
If your goal is to set up simple autoresponders that trigger when users take specific actions (e.g., sign up for a newsletter),
both AWeber and Mailchimp will cover your needs. However,
AWeber's Campaigns tool offers a cleaner interface, so is a bit easier to use.
Advanced Automation
Marketing automation is for those who want to take automation a step further, sending emails based on user behavior such as email opens, link clicks, and purchases.
Mailchimp's Customer Journey function is slightly better than AWeber's Campaigns tool.
 You can take advantage of a clever if/then system to create a complicated sequence of emails with specific requirements and prerequisites. Unfortunately, Mailchimp's Customer Journey function is only available with the Standard and Premium plans, starting at $14.99/month – although that's still a great price! Similarly, AWeber's behavioral automation features (which are limited to tags and clicks) are locked behind the Pro plan, starting at
$
12.50
/month.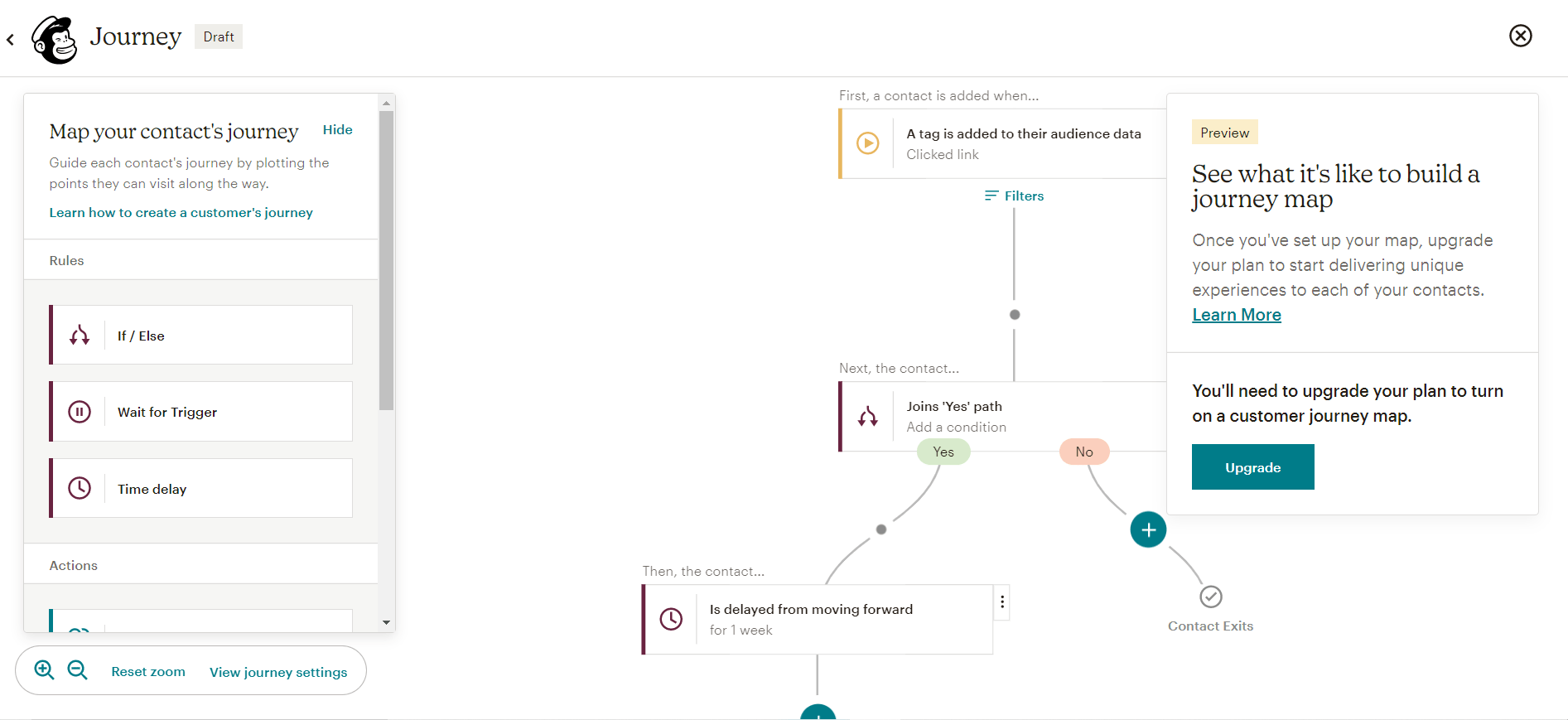 If behavioral automation is something you'd like to incorporate into your email marketing campaigns, you may want to take a look at our GetResponse review.
With
GetResponse's Plus plan
, you gain access to one of the most sophisticated automation tools on the market. Aside from its clean interface and easy-to-use branching tools, GetResponse integrates automation with sales and webinar funnels – a powerful combination that can skyrocket open rates and keep users engaged.
Landing Pages
When it comes to landing pages, Mailchimp does put up a good fight. Although its template selection is limited (I counted 10 templates vs AWeber's 40+),
Mailchimp has a slight edge as it provides users with landing page analytics and performance stats.
A/B Testing
On to A/B testing.
Neither platform offers split testing on their Free plan, which really is a shame.
 AWeber's A/B testing tools are available with the Pro plan, and they allow you to test everything, from subject lines to copy text and email design. That's more than I could ask for, considering most platforms only let you test subject lines. Mailchimp offers a split-testing tool with its Essential plan, but I found it lacking and confusing to use.
AMP
Another feature that AWeber offers but Mailchimp lacks is AMP.
 AMP email is a new technology that allows users to embed interactive elements into their emails. With dynamic content, you can keep users engaged without forcing links and redirects. For example, you might incorporate booking forms and surveys right into your mailouts.
This opens up a whole new world of possibilities, and it's a big win for AWeber.
Affiliate Marketing
If you're into affiliate marketing, you might be shocked to learn that Mailchimp is very strict when it comes to affiliate marketing. AWeber is much more lenient with its approach, but there are, of course, strict guidelines and limitations in place.
Ease of Use
This One Is Simple – Both Platforms Are Easy to Use
I don't have any major complaints with either platform here
. Both AWeber and Mailchimp have spent a lot of time designing intuitive interfaces that contribute to a great user experience.
That being said, I finished my tasks quite a bit faster with AWeber.
 Let's compare the email editors, for example. Both platforms feature drag-and-drop editors meant to speed up the design process and get great-looking emails to your subscribers as quickly as possible. With AWeber's visual editor, I got the job done in a few minutes. On the other hand, Mailchimp crashed twice while I was setting things up, which was probably the result of heavy HTML and messy coding. It's a similar story with sign-up forms.
AWeber makes it super easy to add sign-up forms and customize them.
 For some reason, Mailchimp generates code, meaning you need to have some basic HTML knowledge to embed it on your landing page/website.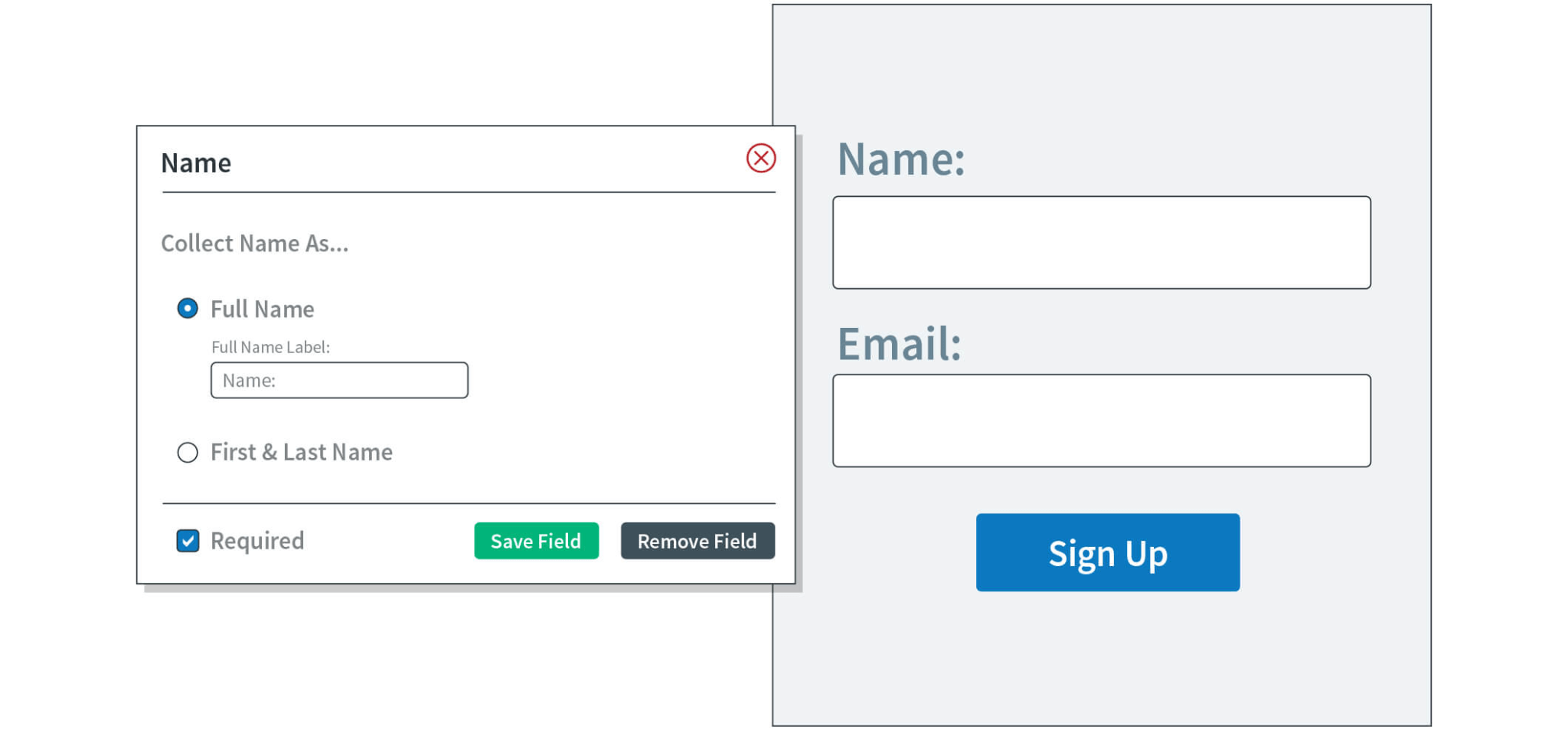 Importing contacts isn't Mailchimp's strong suit either.
While AWeber makes the process easy by supporting several file formats (including XLS, TSV, CSV, TXT), Mailchimp sticks to CSV and good old copy-pasting
. Now, this isn't a dealbreaker, but it adds manual work and takes away precious hours that could be spent doing something more productive. Certainly not the best choice for beginners!
Deliverability
Why Percentages Don't Tell the Whole Story
Deliverability is a huge part of email marketing. Once you've set up your campaigns and designed your emails, you want to make sure they end up in the right place – your subscribers' primary inboxes. It makes sense to run tests, trying to come up with a specific deliverability rate for each email marketing platform.
 But whatever that number, in the end it really has nothing to do with the platform itself.
In that sense, a strictly-defined AWeber vs Mailchimp deliverability rate makes little sense. That's because all email marketing platforms are designed to deliver your emails.
But the deliverability rate goes up or down depending on the kind of actions YOU take.
 Instead of relying on arbitrary figures, it's better to just concentrate on
what you can do to boost your deliverability rate
. Have you ever heard of DKIM authentication? It basically helps email providers verify it's really you sending those emails. Fortunately,
both AWeber and Mailchimp have DKIM authentication,
 which should make it relatively easy for your emails to get through. Next up, you need to examine each service's anti-spam policy. A strict anti-spam policy translates into a better environment for all. Needless to say, resorting to spammy practices is a sure way to get banned from any platform, and the same is true for both AWeber and Mailchimp. It's even better when services place safeguards to ensure spam never makes it out of the platform in the first place.
When I tried uploading some junk contacts to my email list, AWeber refused to comply.
 Unfortunately,
Mailchimp let me import several spam emails without issues
. This may not sound serious, as I'm sure Mailchimp blocks spam from escaping the platform. Having said that, the fact that AWeber goes the extra mile to keep the platform clean makes me feel much safer as a marketer.
The best way to guarantee a high deliverability rate is to send your emails from a dedicated IP. Unfortunately, this option isn't available with either platform
, even if you opt for the most expensive plans and spend hundreds of dollars a month.
If a very high deliverability rate is what you're after, I recommend looking into GetResponse's Max plan.
 For a little bit over $100, GetResponse will provide you with a dedicated IP address to send your emails from.
Reporting and Analytics
Mailchimp Offers Plenty of Reporting Tools…but AWeber Helps You Take Action
Marketers live and breathe stats. Being able to tell which campaigns are doing well, making estimates about specific demographics, coming up with new ideas for future mailouts – that's what it's all about.
While both platforms offer plenty of reporting tools, AWeber allows users to take immediate action, which is why it wins this round.
AWeber provides all the tools you need to know exactly what's going on. You can easily generate advanced reports on overall data, email opens, link clicks, and contact location. Want to see daily, weekly, or monthly subscriber growth reports? AWeber does it all. And that's just on the
free plan
.
Purchasing the Pro plan will unlock access to even more reports, including advanced message analytics, advanced audience/account analytics, and email sales tracking
. You can learn more about AWeber's excellent analytics and reporting tools by checking out our updated
AWeber review
. Mailchimp does a great job on reporting, too.
Aside from all the basic data you'd expect from every platform,
Mailchimp also comes with a unique member rating system and a useful competition comparison tool
. The member rating system shows engagement rates for each member of your mailing list, and the comparison tool allows you to compare your performance against industry standards. The Premium plan unlocks access to comparative reports.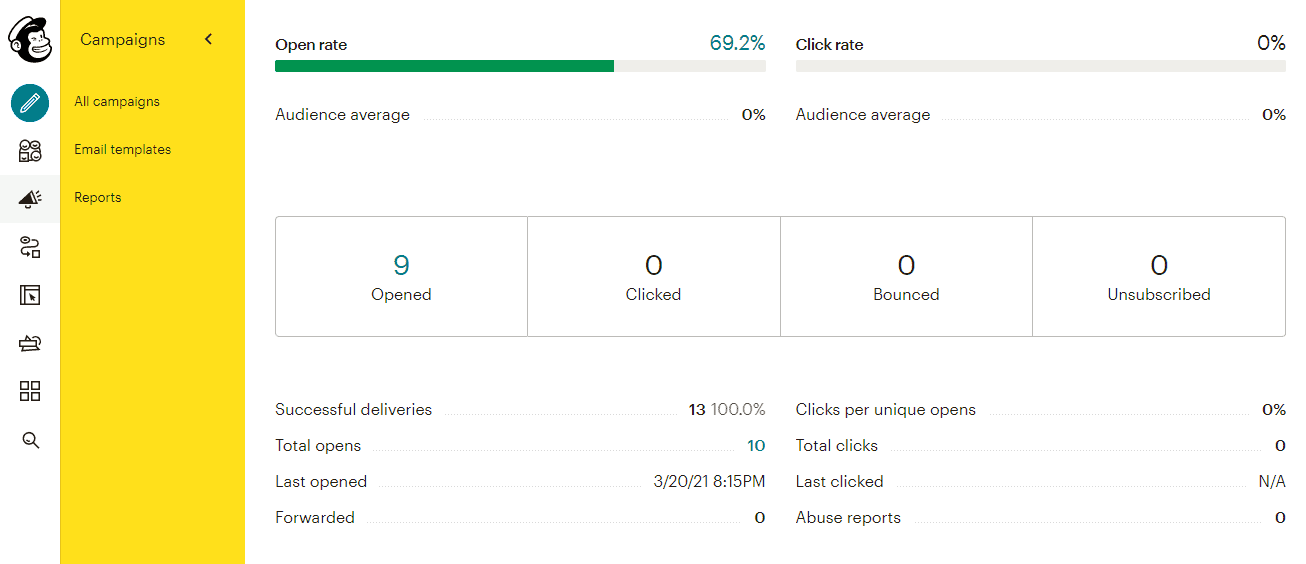 What sets AWeber apart, however, is how easy its analytics suite makes it to take action based on your data
. For example, you can create new segments based on your analytics directly through the reports tab. So, if your newsletter does really well, you can immediately target those who opened it with a follow-up message. To compare this to how you'd achieve the same thing with Mailchimp, you'd have to export the subscribers who opened your newsletter, make a new list, and then send them your follow-up message. Which might not be how you were planning to spend your Sunday afternoon!
Pricing
AWeber and Mailchimp's Free Plans Are Comparable…AWeber Wins the Battle of the Paid Plans
If we're talking free plans, you'll find that both services have their pros and cons. However, as we take a deeper dive into the different paid plans, you'll see that Mailchimp's price tags quickly spiral out of control.
Here's what you get for free
Although there's a limit of just 500 subscribers, AWeber's Free plan does offer a range of useful features.
 You get access to hundreds of templates, basic automation, AMP, unlimited landing pages, stock images, sign-up forms, reporting, and the list goes on. Note that you're also limited to 3,000 emails per month – that's less than Mailchimp (10,000) and
Sendinblue
(approximately 9,000), but still more than
Benchmark
(250) and other top competitors.
By comparison, while Mailchimp's subscriber limit on the Free plan is set at 2,000, the platform doesn't offer as many features as AWeber
. There are no email templates, and you're also only allowed 10,000 emails per month.
But
the most outrageous limitation comes in the form of 30-day email support.
 Yeah, you heard that right. Mailchimp will only answer your email queries for the first 30 days after signing up. After that, good luck – you're on your own.
Compare that with AWeber, which offers phone support on all its plans.
Here's what you get if you pay
AWeber offers one scaling paid plan, named the Pro plan. It starts at

$

12.50

/month for 500 contacts and scales all the way up to 25,000 contacts for $149.99/month
. The Pro plan includes everything that comes with the Free plan, as well as access to behavioral automation, sign-up form split testing, advanced reporting, and more. You can save a few dollars by purchasing an annual plan.
Mailchimp's pricing system is unnecessarily complicated – and frankly quite confusing.
The Essentials plan starts at
$
20.00
 for 500 contacts (fewer than the free plan!). For the same number of contacts, the Standard plan is set at $14.99. The Premium plan starts at
$
0
 with a minimum of 10,000 contacts. That's a huge jump in price! The Essentials plan includes email templates, A/B testing, as well as email and chat support. The Standard plan unlocks the Customer Journey Builder and behavioral targeting. The Premium plan also comes with advanced segmentation, comparative reporting, and…phone support! You can contact AWeber by phone even if you're on the free plan. Basically,
Mailchimp charges $299 more for a feature that's available for free with AWeber.
There's also no discount if you opt for an annual plan with Mailchimp, and no money-back guarantee. AWeber may issue a partial refund for canceled annual plans, but that's usually determined on a case-by-case basis.
AWeber vs Mailchimp Pricing Comparison Table
Number of contacts
500
2,000
2,500
2,500
Number of emails per month
3,000
10,000
Unlimited
30,000
Number of users
Unlimited
1
Unlimited
5
Integrations
800+
290+
800+
290+
Discount for annual plans
N/A
N/A
19.2% ($26.15)
No Discount
Money-back guarantee
N/A
N/A
Yes (partial refund on a case-by-case basis)
No
Support
It's Night and Day Between These Two
When you're dealing with software, it's good to know that there'll always be someone to answer any questions you may have. Unfortunately, that's not the case for both platforms here.
AWeber offers live chat, email, and phone support on all its plans.
Mailchimp, on the other hand, has an endless list of FAQs and does everything in its power to redirect users back to it, avoiding human interaction at all costs
. If you're on Mailchimp's Free plan, you'll also only receive email support for the first 30 days. This is a bitter pill to swallow, and I still believe it's outrageous. What happens after 30 days? Does the Mailchimp team block you and pretend you're not there? I'd really like to know. There's live chat support on both Mailchimp's Essentials and Standard plans, but phone support is only available with the Premium plan (which starts at
$
0
/month). I emailed both AWeber and Mailchimp to see what kind of response I received. My query was:
What is AWeber's/Mailchimp's refund policy?
 As expected,
AWeber's impeccable support team got back to me in just a few minutes.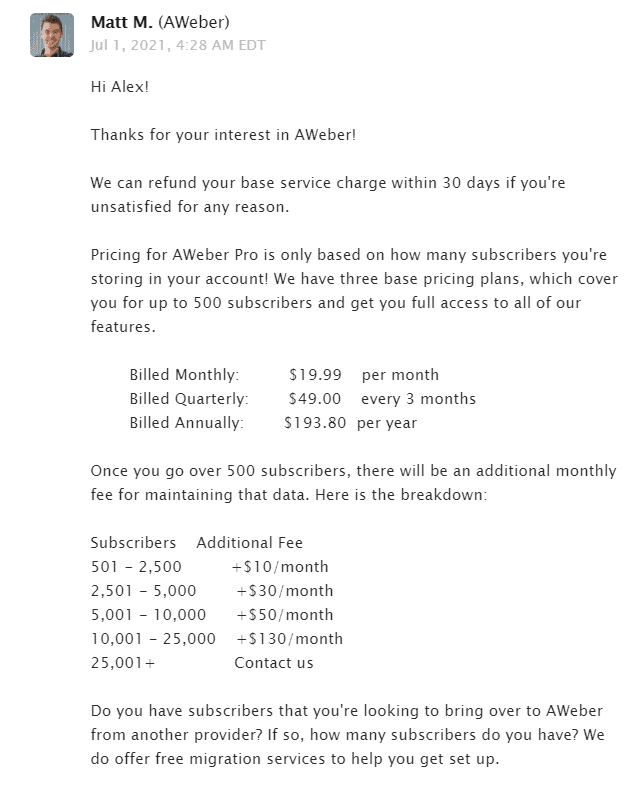 Four days later, and I'm still waiting to hear back from Mailchimp
 – and I can't say I'm surprised. This isn't the first time Mailchimp has failed to provide adequate support. Ben, who wrote our full
Mailchimp review
, had a similar experience.
AWeber vs. Mailchimp Support Breakdown
AWeber vs MailChimp – The Verdict
AWeber claimed victory in what was a very one-sided battle.
This came as a huge surprise, considering Mailchimp is one of the biggest names on the market. Of course, MailChimp's automation system and landing page builder impress, but AWeber clearly outperforms in all other aspects. It seems that a product's potential can only be maximized to a certain extent through advertising…
AWeber has more templates, more integrations, better A/B testing tools, native RTL language support, better prices, impeccable reporting and analytics…and the list goes on
. We could perhaps turn a blind eye to all these discrepancies if it weren't for Mailchimp's support – or lack thereof.
Mailchimp vs AWeber Comparison Table
Automation
Basic automation on the free plan
Slightly more advanced tools overall
Apps and integrations
800+
290+
Landing Page Builder
42 templates
10 templates + analytics
A/B testing
Yes
Yes, but it's confusing
Native RTL language support
Yes
No
Affiliate Marketing
Yes
No
Ease of use
Easy to use
Some tasks take more time
Reporting and analytics
Excellent analytics suite + tools to take immediate action
Great analytics suite – new lists must be created manually
Pricing
Free plan limited in subscribers but offering multiple features, affordable paid plans
Free plan allowing 2,000 subscribers but limited features, expensive paid plans
Support
Excellent support
Little to no support
Total rounds won
10 🥇
2 🥈
FAQ
Which is better, Mailchimp or AWeber?
In my opinion, AWeber is, without a doubt, the better email marketing platform. It's cheaper, easier to use, and offers more templates, more integrations, and excellent customer support.
What is better than AWeber?
AWeber is an excellent service, but if you're looking for cheaper plans and even more advanced automation, you might want to check out GetResponse instead. ActiveCampaign is another great choice for marketers who want to take automation to the next level. We've also put together a list of the best email marketing services in 2023 to help you make your decision.
Does AWeber have a free version?
Yes! And AWeber's Free plan comes with several useful features. You can create your own email designs using hundreds of email templates and thousands of stock images, gain access to basic automation and reporting, and the list goes on. However, keep in mind that you're limited to 500 subscribers, and you can only send 3,000 emails per month. Here are some similar free email marketing services.
Who should use AWeber?
AWeber's Free plan is ideal for marketers who are just getting started with email marketing. If you're looking for more sophisticated behavioral automation tools and advanced analytics, you might want to consider upgrading to the Pro plan.
What does AWeber cost?
AWeber's Free plan is free forever, as long as you keep your subscribers count below 500 and you send fewer than 3,000 emails each month. The Pro plan starts at

$

12.50

/month for 500 contacts and scales up based on the size of your list. For example, if your list contains 25,000 contacts, the Pro plan would set you back $149.99/month. For larger lists, you'll have to contact AWeber support and set up a customized plan tailored to your specific needs. Don't forget, you can also save yourself some money with our email marketing coupons for AWeber, Mailchimp, GetResponse, ActiveCampaign, and plenty of other email marketing platforms.