AWeber or Mailchimp? It's hard to decide. If you've narrowed down your options for email marketing platforms to these two popular choices, that's already a great start.
The question is: Which one will take your email marketing strategy from good to great, and make it easy for you to achieve your goals?
You can accomplish a lot with either Mailchimp or AWeber, but the right choice may depend on your role, your budget, and the features you actually need.
To help you decide, we've done the hard work for you, looking at AWeber vs. Mailchimp in multiple categories, including:
Contact import
Signup form templates
Email newsletter creation
Email automation
Segmentation
Email analytics and reporting
Pricing
This will give you a reliable guide to both email marketing solutions, and you'll be able to decide which one wins for you.
Contact Import
Mailchimp Has Easy Contact Import – AWeber's Process Is More Involved
When you get started with email marketing platforms, one of the first things you'll want to do is import your contacts. Both AWeber and Mailchimp have a process for this.
AWeber,a favorite among users, lets you import up to 10,000 subscribers a month without a manual review. That's great if you've got a huge list and need a bulk email service. You can either add subscribers to a list by importing a supported file type (XLS, XLSX, TSV, CSV, TXT), or paste subscriber emails manually into a text box.
You just have to match up your subscribers' information with the right field.

Then you have to do the following:
Say how your subscriber joined your list
Choose whether they need to opt in again
Decide on whether they'll get your welcome email series
Next, you finalize your contact import.
Mailchimp doesn't say how many contacts you can import at a time, but it suggests that you prep your contacts file before importing. There's even a guide for how to do that, so you can avoid messing up your contact import.
With Mailchimp, you choose the Audience you're working with before you start the import, then upload the file or use a copy/paste process. If you've done a previous import, you can save time by reusing previous settings, which is a great feature if you need to import contacts to multiple lists.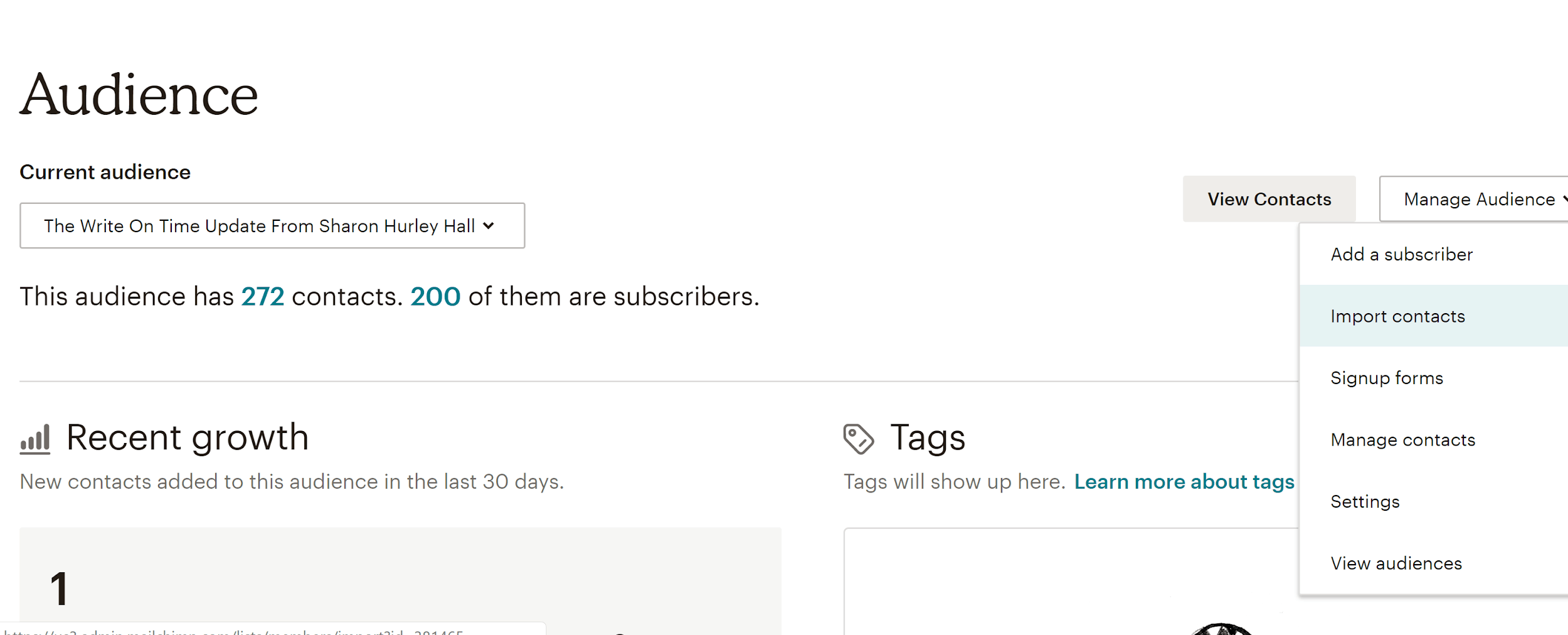 Mailchimp uses a data-matching process that's similar to AWeber's, though it feels more intuitive. Then you can optionally tag and group your contacts, and set their status (subscribed or non-subscribed). And if one of your existing contacts is also in the list you're importing, you can automatically update their profile with any new information.
And the Winner Is…
Mailchimp. Its import and data matching process feels far less complicated than AWeber's. With its inclusion of time-saving features like tagging and grouping in the same interface, Mailchimp takes this category.
Signup Form Templates
AWeber Has Hundreds of Signup Form Templates – Mailchimp's Options are Limited
Mailchimp makes it easy to create an email signup form, though it can take a few seconds to find out where to do it. Go to Audience, and select the right audience, then go to Manage Audience > Signup Forms > Embedded Forms.
You can choose from four form types to create a simple signup form for your website. You can also create popup subscriber forms via another menu setting. The only trouble is that the forms are quite plain, so you'll have to edit them manually to get a look you like.
By contrast, AWeber has hundreds of email signup form templates spanning multiple business categories. Templates also have multiple color schemes, so you can get an attractive signup form in only a couple of clicks.

The signup form creation process is even simpler than Mailchimp's, needing just a few clicks from creation to publishing.
However, when you're ready to publish, you'll probably find that easier to do with Mailchimp.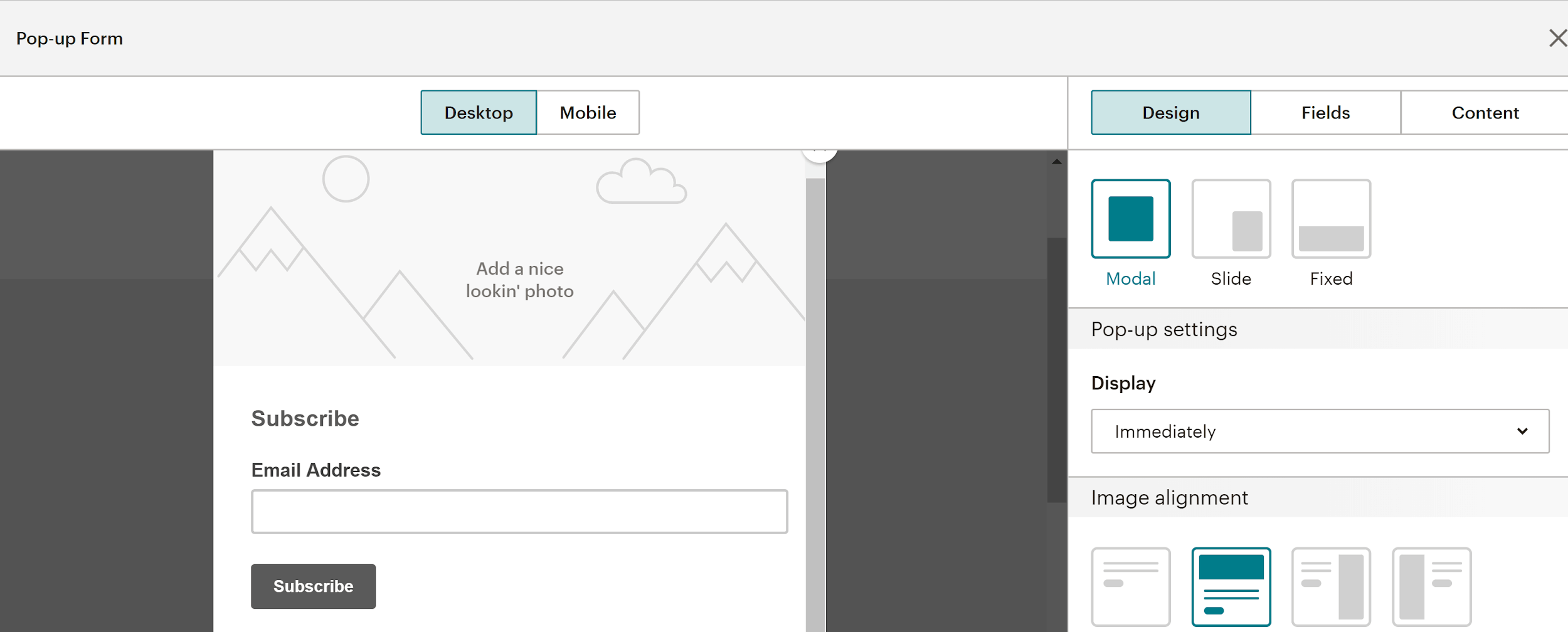 That's because Mailchimp has a wide range of integrations, making it simple to publish a signup form on virtually any site.
And the Winner Is…
AWeber. Just because of its sheer number of design options, AWeber wins this category. It makes it far easier to get a signup form that works for your business. Check out AWeber'sfree trial and see for yourself.
Don't ignore ease of publishing, though. If this is important, you might want to use Mailchimp and simply hire someone to customize your form.
Email Newsletter Creation
Mailchimp Makes Email Newsletter Creation Simple – AWeber Is Less Flexible
Mailchimp offers only around 100 templates, while AWeber gives you over 700. Given the larger number of options, you might think that AWeber makes newsletter creation simpler, but that's not the whole story.
The trouble with AWeber's templates is they aren't as easy to customize as Mailchimp's. Sure, AWeber gives you a drag-and-drop editor and lets you change templates, but the way you use templates in Mailchimp is more intuitive.
With Mailchimp, you can pick your purpose and then your design, or you can just select a simple one- or two-column template and build a custom design. The point is that it's simple, so you can start getting those emails out faster.

Pro tip: Mailchimp and AWeber use different terminology. For AWeber, an email newsletter can be a Message or a Broadcast. A Campaign is an automated set of messages.
By contrast, everything's a Campaign in Mailchimp; you just decide on whether or not it's ongoing
When you're ready to create and send your email, the platforms take different approaches.
With AWeber, you draft your message in one place, then pick your send options in another.
With Mailchimp, everything's accessed from one page, and there's a handy navigation bar that shows you where you are in the process. Plus, Mailchimp makes it easy to preview and test your emails without your having to use an external email spam testing service.
And the Winner Is…
Mailchimp. AWeber prides itself on having three different editors, but who needs that complexity? Mailchimp's simple one-page email creation interface keeps the learning curve short and makes it easy to get those emails out faster. This is only one of the reasons it gets such great reviews.
Email Automation
AWeber Has Limited Automations; Mailchimp Has More Options
A key aspect of successful email marketing is the ability to set up drip email campaigns. Both AWeber and Mailchimp offer this functionality.
To create an AWeber autoresponder, head to Campaigns to set up your workflow, choose your list, and tag users.

If that's all you need, you'll likely find AWeber enough, but what about the Mailchimp autoresponder setup?
The great thing about Mailchimp is that it includes a number of preset workflows for different niches or goals, which you can select and then customize.
Again, it's quick to get started, and you can edit your emails using the same editing interface you're used to. Whether you want a workflow that works for a nonprofit or a followup sequence for customers, Mailchimp has you covered.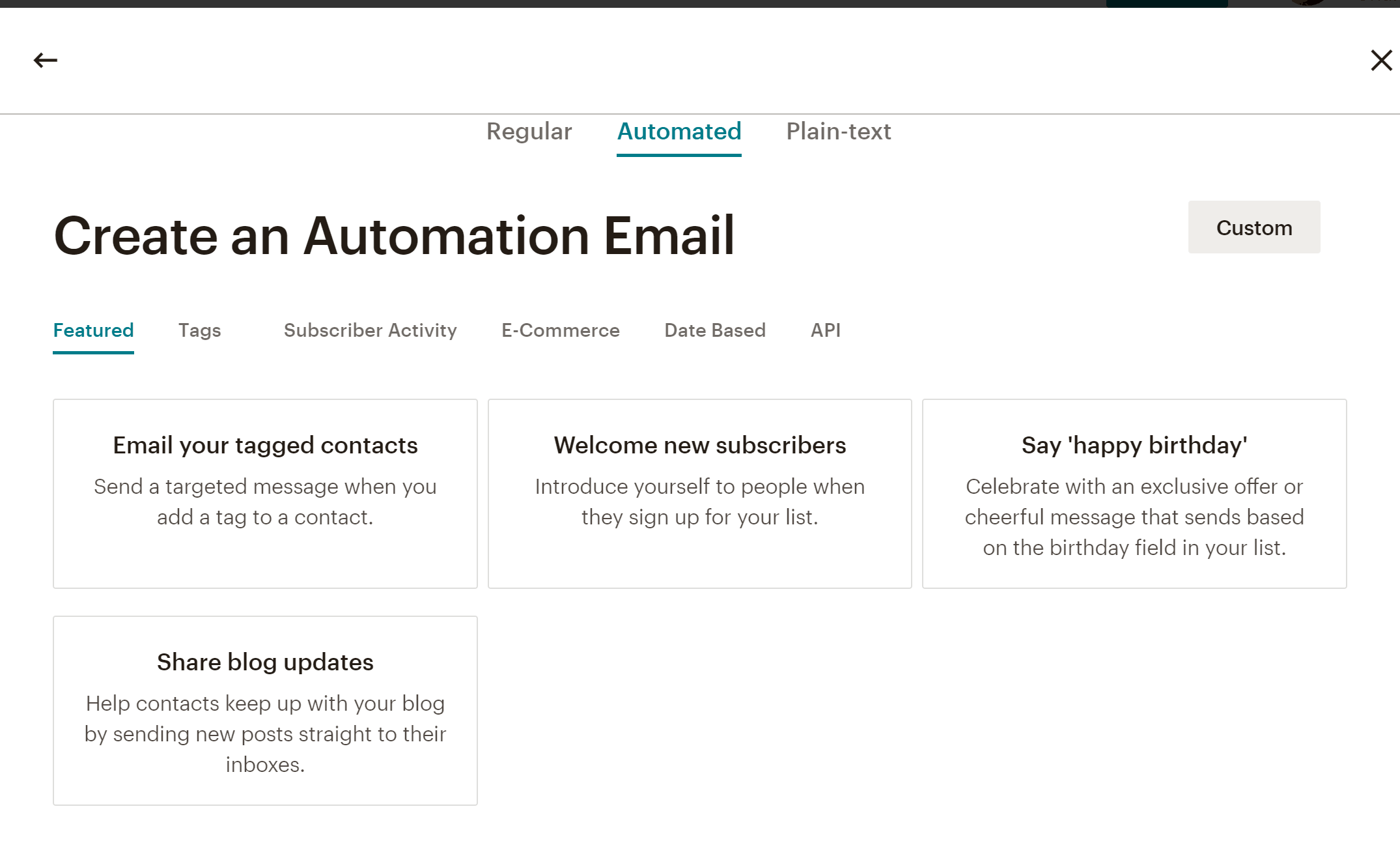 And the Winner Is…
AWeber. If you want simple automationswith an easy setup process, then pick AWeber. But if you have more complex needs, then Mailchimp is a great option, and it's still easy to use.
Segmentation
AWeber Offers Basic Segmentation – Mailchimp Has More Options
Email marketing is all about sending the right emails to the right people at the right time. That's why you need email list segmentation, which both AWeber and MailChimp offer.
AWeber lets you segment by different types of subscriber activity; you can send emails to those who have clicked links, or to those who failed to open an email.

Mailchimp is similar, letting you segment emails according to campaign activity, import date, and more. With either platform, you can use one or more criteria to create a segment, and then you can email that specific segment.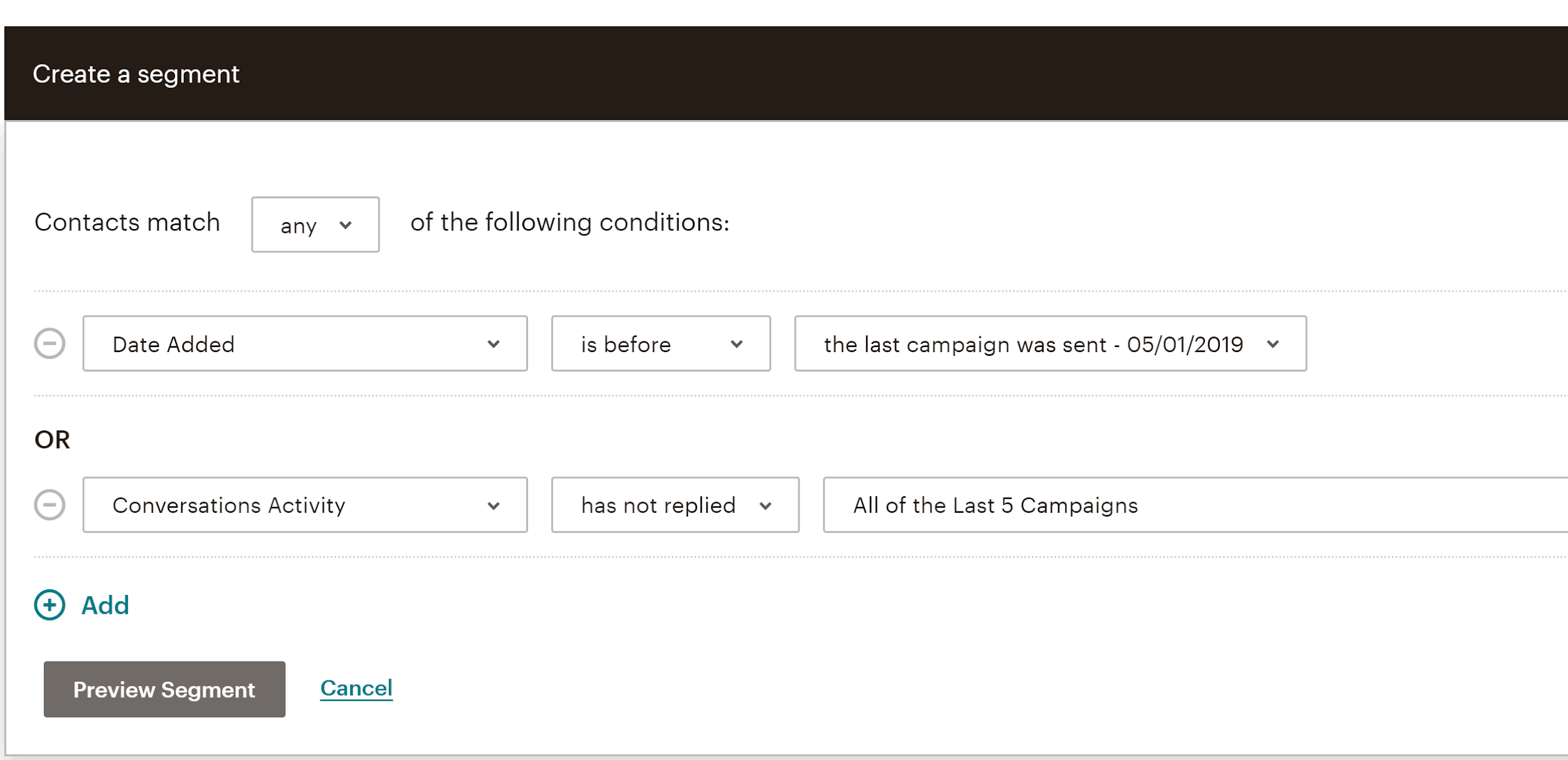 And the Winner Is…
For the initial plan, it's a tie because both Mailchimp and AWeber offer the same features. Mailchimp does offer more advanced segmentation with the more expensive plans, though.
Email Analytics and Reporting
AWeber Includes Solid Reporting; Mailchimp Has a Few Superb Features
When it comes to reporting and analytics, both Mailchimp and AWeber have a lot to offer. They have easy-to-read dashboards with stats on email open rates and click rates, bounce rates, and more.

But Mailchimp's paid plans give you more options by integrating with Google Analytics, social reporting, e-commerce tracking, and more — all in the same easy-to-use graphical interface. And even in the Mailchimp free plan, they includes a useful subscriber rating system so you can quickly see how people interact with your emails.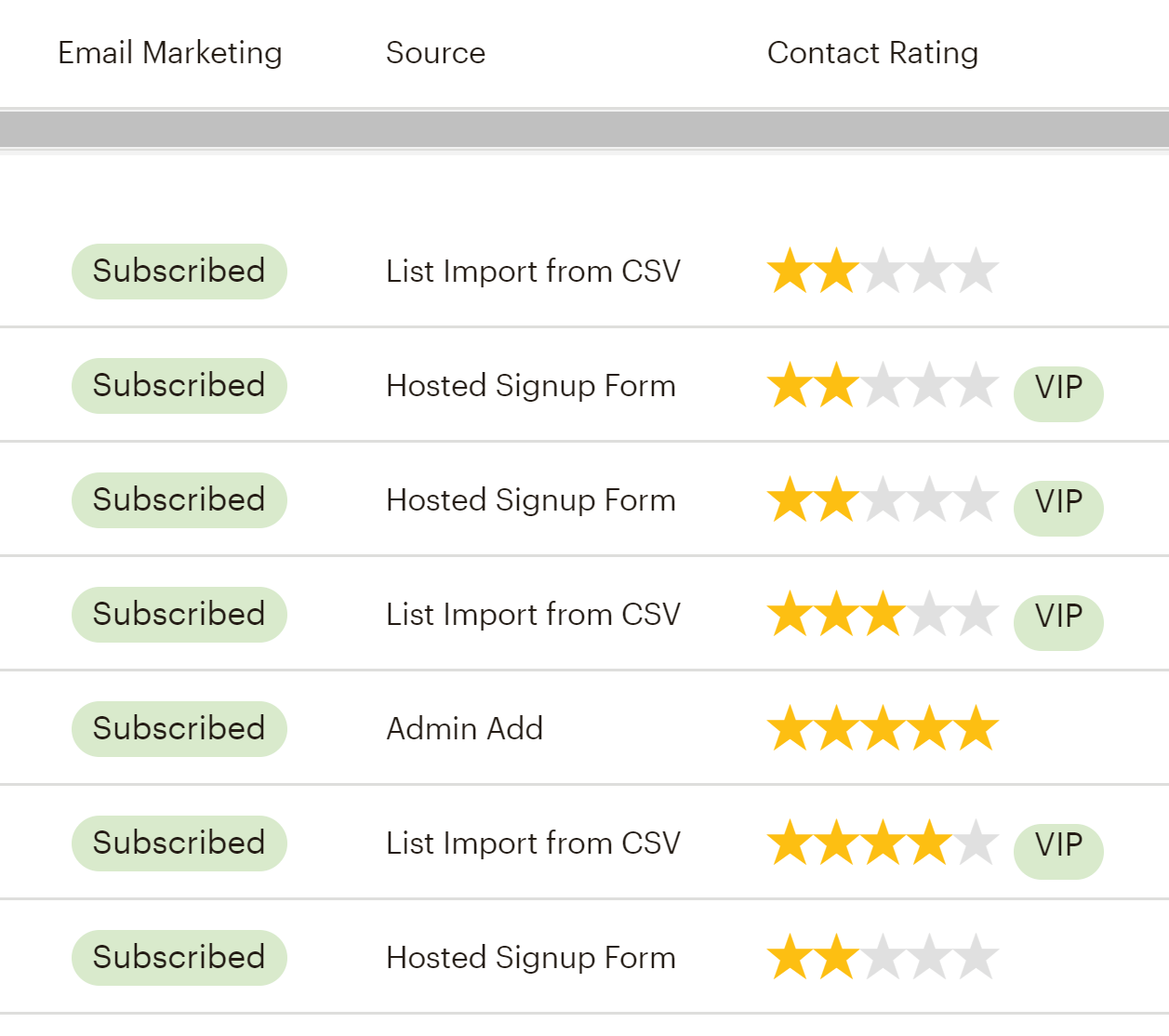 And the Winner Is…
Mailchimp. Though AWeber is a solid contender in terms of email reporting and analytics, Mailchimp wins by a large margin because it's so feature-rich.
Pricing
AWeber Pricing Is Affordable: Mailchimp Has a Great Free Plan
If you're thinking about budget (as every business is), then it's important to compare AWeber pricing with Mailchimp pricing. AWeber has a 30-day free trial, and even at under $20 a month for up to 500 subscribers, AWeber is affordable for people with small email lists. You can choose from these AWeber plans:
However, it still can't beat Mailchimp's pricing. That's because Mailchimp has a free plan that allows you to send up to 12,000 emails a month with a contact list of up to 2,000. This generous Mailchimp free limit is one of the reasons why this email marketing software is so popular. Even when you upgrade, pricing remains on a par with other email marketing platforms. Take a look at the Mailchimp plans below:
And the Winner Is…
Mailchimp. If you're looking for free email marketing, it's hard to find a better deal than Mailchimp. But pay attention to how pricing changes as you upgrade to see which option is really the one for you.
AWeber vs Mailchimp: Which Is the Best Email Marketing Service?
Which email marketing service is right for you? If budget is your main consideration, then Mailchimp is the best choice. It offers a lot of functionality for the unbeatable price of free, and it's our all-around winner. If you're a solopreneur or small business, this could be a good place to start.
To learn more, read our expert Mailchimp review.
But don't write AWeber off completely. If you want a head start on email newsletter and signup form creation, AWeber's an excellent choice because of the sheer number of templates it offers.
And with the ability to import thousands of contacts, AWeber may appeal to big businesses looking to switch email services.
Don't miss our in-depth AWeber review.
| | |
| --- | --- |
| Feature | Conclusion |
| Contact import | Mailchimp's contact import process feels simpler and more intuitive than AWeber's. |
| Signup form templates | AWeber has many more templates and color schemes than Mailchimp. |
| Email newsletter creation | While AWeber has lots of templates, Mailchimp's interface is easier to use. |
| Email marketing automation | Mailchimp has a wider range of more powerful automation sequences. |
| Email list segmentation | Both AWeber and Mailchimp offer useful segmentation tools, but Mailchimp has advanced features. |
| Email analytics and reporting | Mailchimp has a lot more integrations and reporting options, making it a better choice. |
| Pricing | It's hard to beat Mailchimp's free plan |