In reality, Mailchimp and Weebly Promote both lack the in-depth analytics and automated workflows that most marketers need to stay competitive.
In my experience as a digital agency owner, all-in-one marketing platforms can be incredibly convenient. Yet they rarely have the advanced features that dedicated email marketing services offer. Still, I was curious to compare Weebly Promote vs. Mailchimp to see if either could live up to their promises to stand up to the best email marketing services out there.
In a direct comparison,
Weebly Promote does better in some areas while Mailchimp is stronger in others, but both have serious shortcomings – especially if your needs go beyond the basics.
Let's compare the pros and cons and look at
one of the top d
edicated email marketing services
I recommend for advanced marketers.
Features
Weebly Promote Keeps It Simple; Mailchimp Is More Advanced
For an email marketing platform that's integrated with a website builder (so one that isn't a dedicated service), Weebly Promote actually has a pretty decent list of features.
Along with nicely designed email campaigns, it has simple automated workflows and basic subscription forms.
Mailchimp's features are a bit more advanced – but the platform still doesn't offer anything out of the ordinary.
Email Campaigns
With just 15 email templates, Weebly Promote provides a fraction of the variety that Mailchimp offers.
But the Promote selection is tightly curated, and the designs all have a sleek, contemporary look.
By contrast, Mailchimp has over 100 templates – but many look incredibly dated, so I'd only ever consider using a select few of those anyway.
Finding the right Mailchimp template is a challenge to say the least. You can sort by categories like newsletters, e-commerce, and holidays – but good luck finding a layout that you can use without a ton of modification.
Mailchimp does let you build your own layouts…which seems like a plus until you realize that's because you practically have to build your own if you want a usable template
. Given the choice, I'd much rather grab a perfect, ready-made template and focus my marketing efforts on content.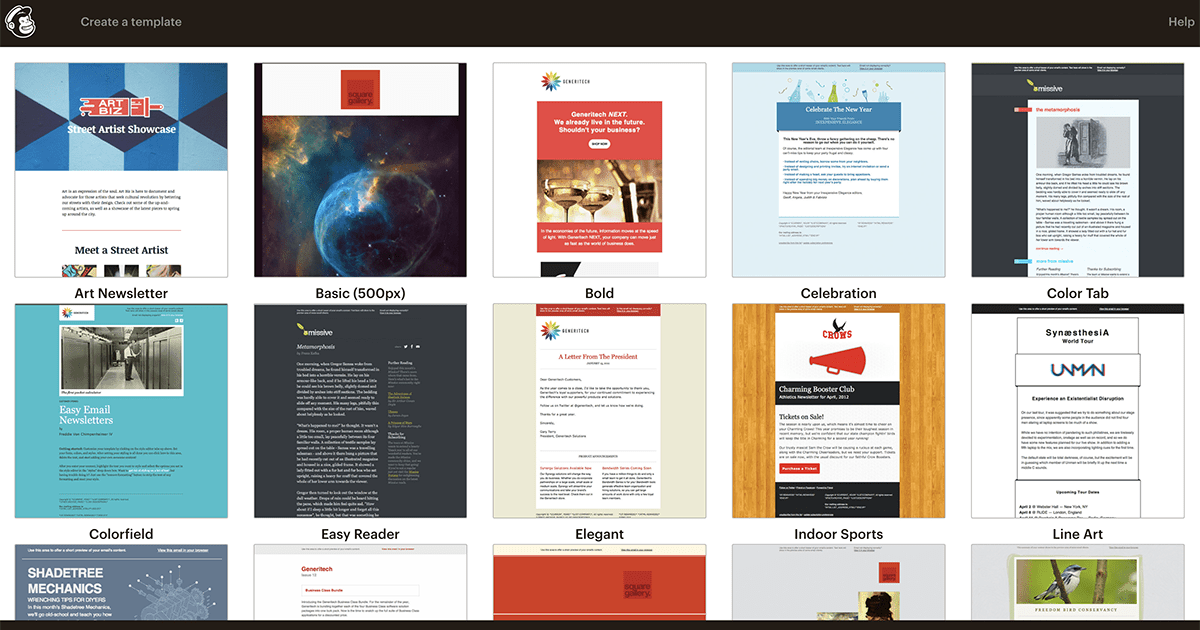 All the Promote templates, on the other hand, fit the bold Weebly aesthetic, making any of them a good fit for marketing your Weebly website
. I also like that Promote lets you create totally custom layouts from scratch – but I like it even more that you don't
have
to go this route like you might with Mailchimp.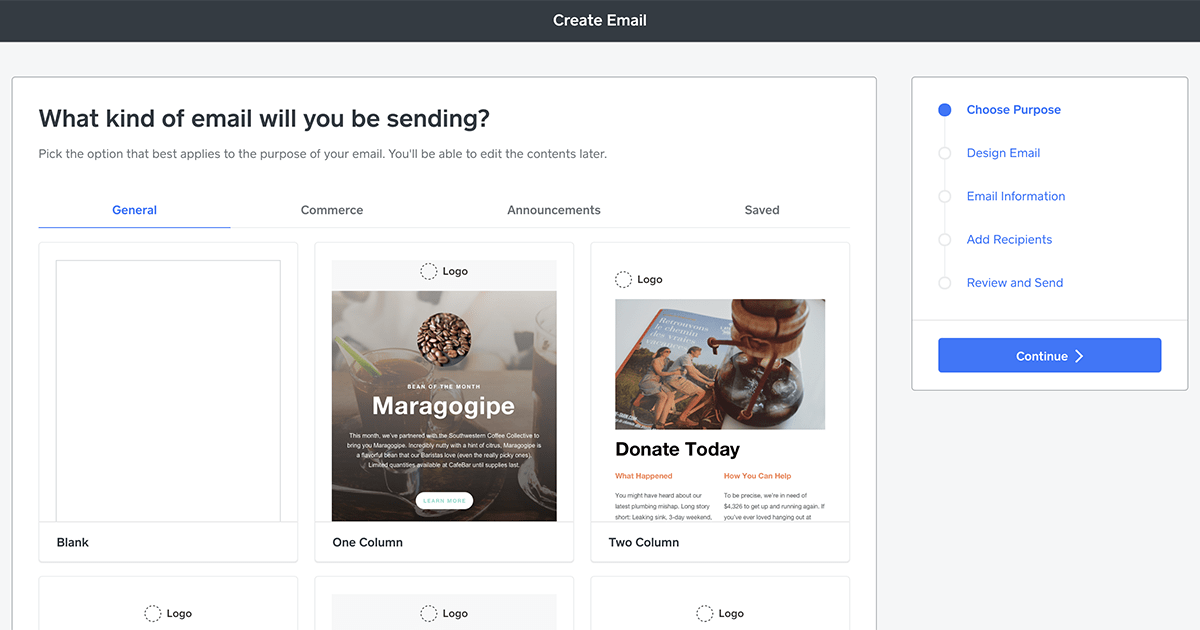 Automated Workflows
On the surface,
Weebly Promote's automated workflows look pretty useful because they allow multiple steps. Yet the list of available automation triggers is almost too short to be usable.
Mailchimp's automation, on the other hand, allows for many more use cases and more extensive customization. Yet Mailchimp only offers advanced automation with its higher-tier plans, so you'd better have your wallet handy. Still, if you ignore the price tag,
when it comes to automation Mailchimp definitely surpasses Promote.
Mailchimp's journey builder lets you create totally custom automation using well over a dozen triggers. And I like that this platform has a bunch of behavioral triggers, making it possible to connect with subscribers who engage with specific content. Just keep in mind that
if you need to create automation with branches or multiple starting points, it's going to get expensive.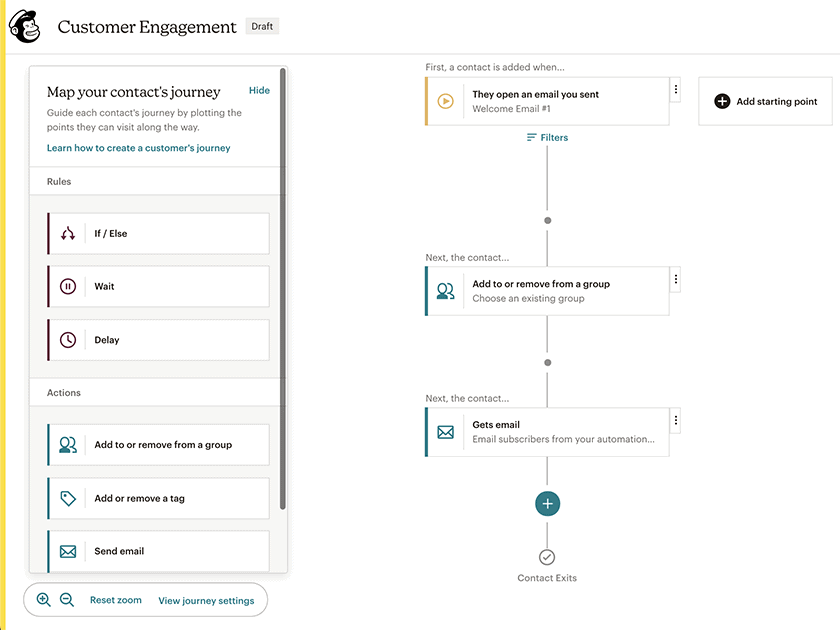 Price aside, Mailchimp isn't your best bet for automated emails, anyway – not by a long shot.
It doesn't have as many automation templates as a platform like
ActiveCampaign
, and it doesn't integrate with as many apps. That means you're looking at more setup work and more difficulty creating efficient automation.
With a Weebly e-commerce store, you can create purchase-related workflows for customers
. If you just have a standard Weebly site, however, your automation options are way more limited. You can send welcome emails and drip campaigns that nurture subscribers over time, but that's it.
I'd rate Weebly's email marketing workflows more highly if I could create behavioral automation.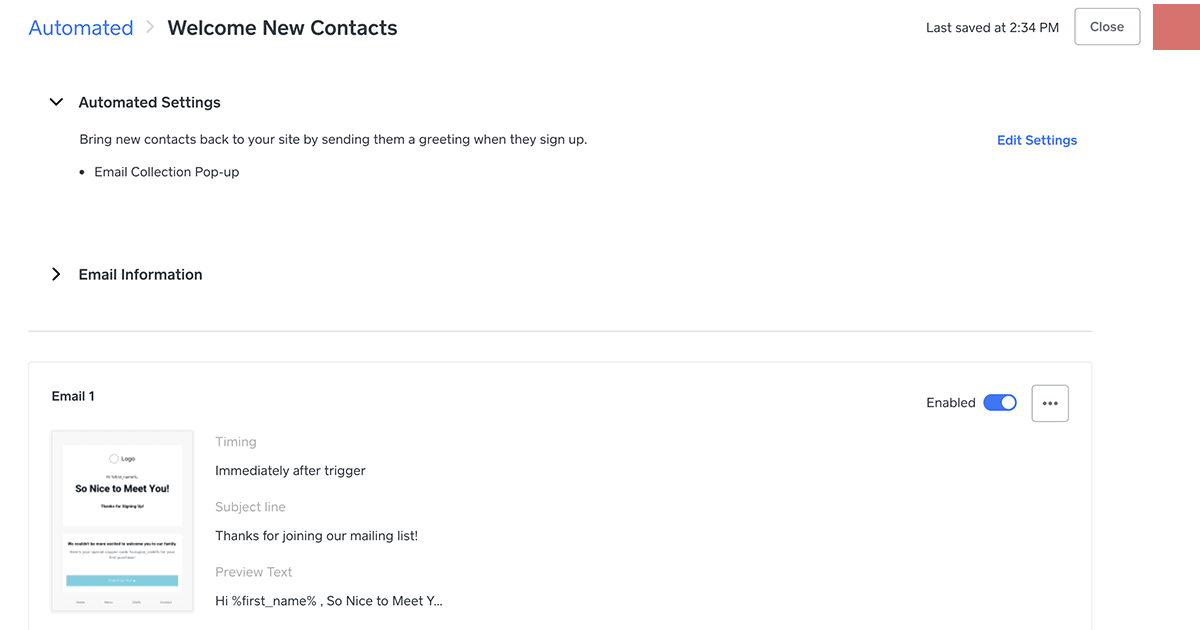 App Integrations
In terms of numbers alone, Weebly app integrations are slightly ahead of Mailchimp.
Weebly connects to about 400 apps
, while Mailchimp offers just under 300
.
Yet none of Weebly's integrations add functionality to the Weebly Promote service, while many of Mailchimp's connected apps help you do more with email marketing.
Mailchimp clearly comes out ahead here. Mailchimp has far more helpful integrations, including major design, marketing, website builder, and e-commerce apps. It also works with Zapier, which lets you connect a whopping 3,000 other apps with Mailchimp. Unfortunately, you can't link your Weebly site with Mailchimp, because
Weebly hasn't added an integration app to Zapier.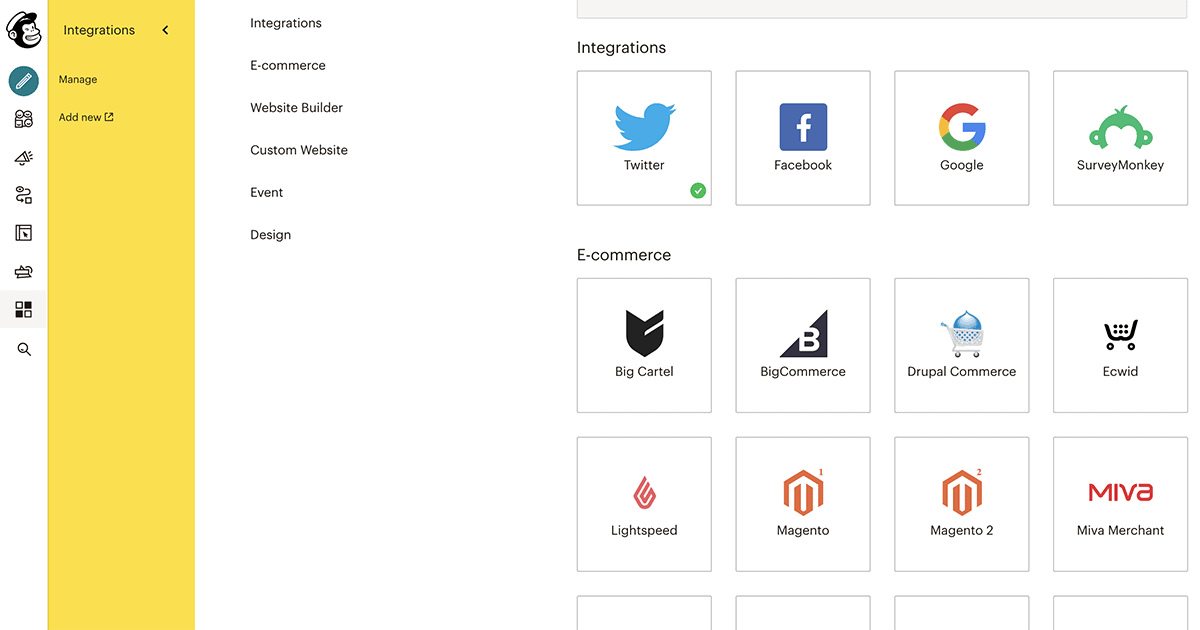 Weebly has the usual mix of marketing, e-commerce, and communication app integrations, but the list is missing a lot of big names. For example, there's no direct connection to social media channels like Facebook and Twitter, or to e-commerce platforms like Magento and WooCommerce. So
while the options are slightly more extensive, they're ultimately less helpful for most marketers.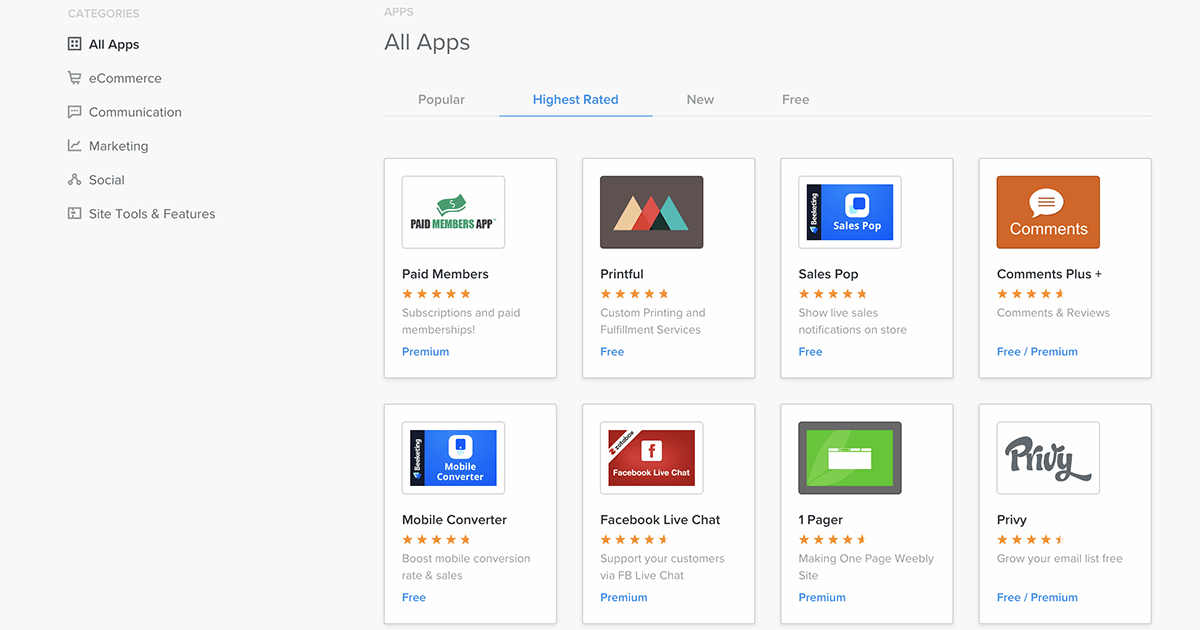 Overall, I'd say
Mailchimp has the edge when it comes to features
. Although I prefer Weebly Promote for creating email campaigns, Mailchimp's automations and integrations are far more useful.
Ease of Use
Weebly Promote Is Simple to Navigate; Mailchimp Is More of a Slog
Weebly Promote is a much newer email marketing service than Mailchimp, and it shows.
The Promote interface has a fresh look and user-friendly navigation, while finding your way around Mailchimp requires a lot more clicks and dropdown menus.
Email Editor
With Mailchimp's drag-and-drop editor, you can drag image, text, and product blocks into your emails to customize your messages. But
I'd find it much more useful if I could choose content blocks that would automatically plug in content,
such as a page from my website, without having to input the text and images manually.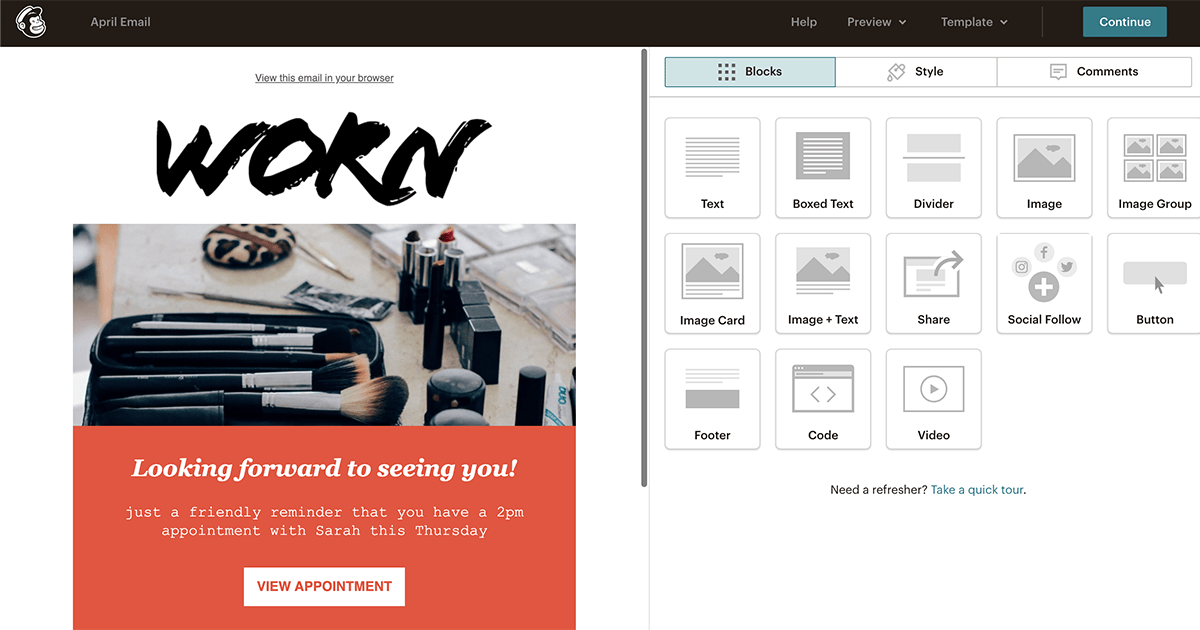 By comparison,
Weebly Promote's drag-and-drop editor goes above and beyond
.
When you add an
Item
or
Blog
content block, you get a prompt to choose which post or product to feature – and then Promote adds in all the details. This editor also has an
Undo
button, which Mailchimp's is inexplicably lacking.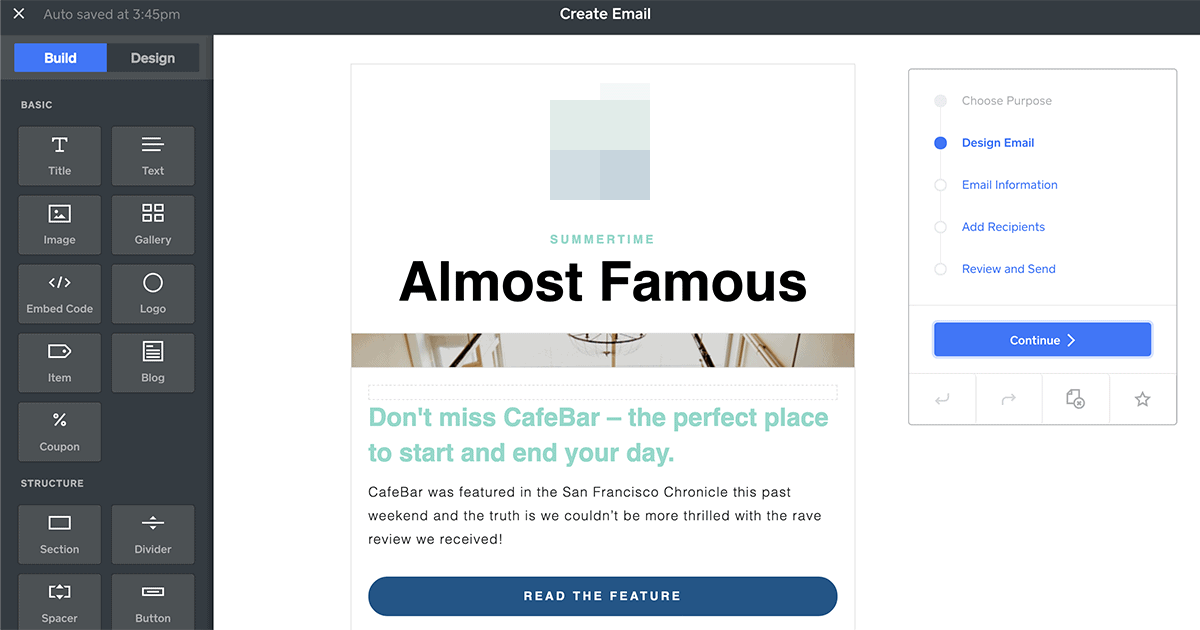 Form Builder
Mailchimp gives you tons of options for growing your list. You can create popup, embedded, and even linked subscription forms. But making them look decent is more difficult, as the builder doesn't give you much design assistance.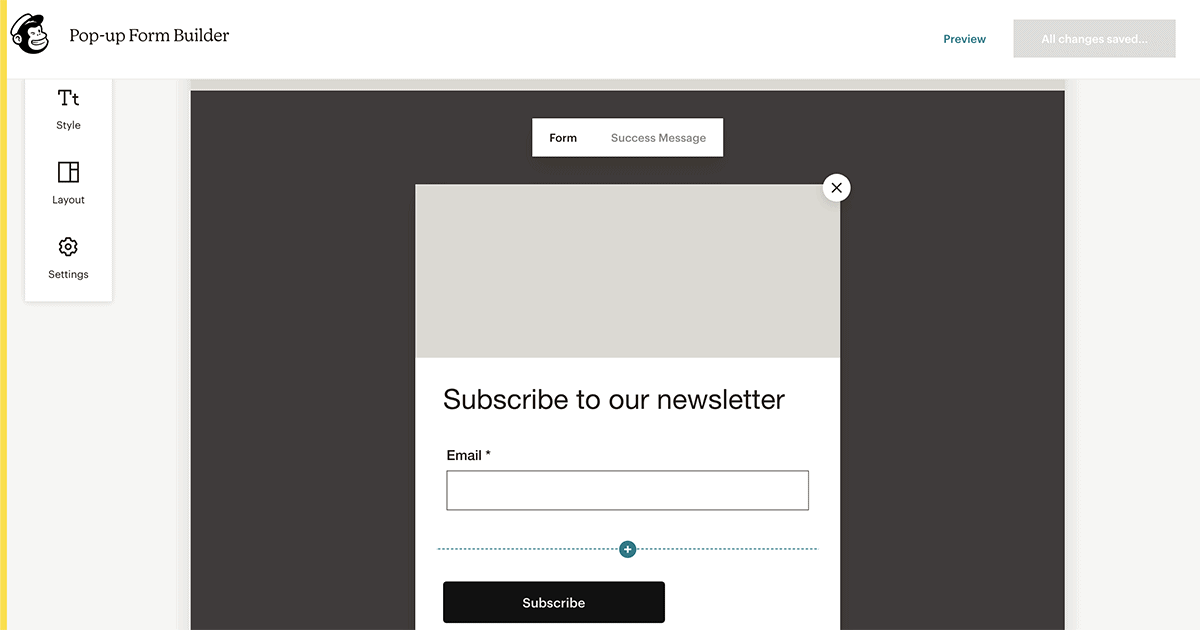 With Weebly Promote, you can only create popup forms. Yet they're infinitely easier to design, as Promote has some sharp-looking layouts ready to go.
That means Promote can help you save time on design work and start collecting emails faster,
which sounds like a win-win situation to me.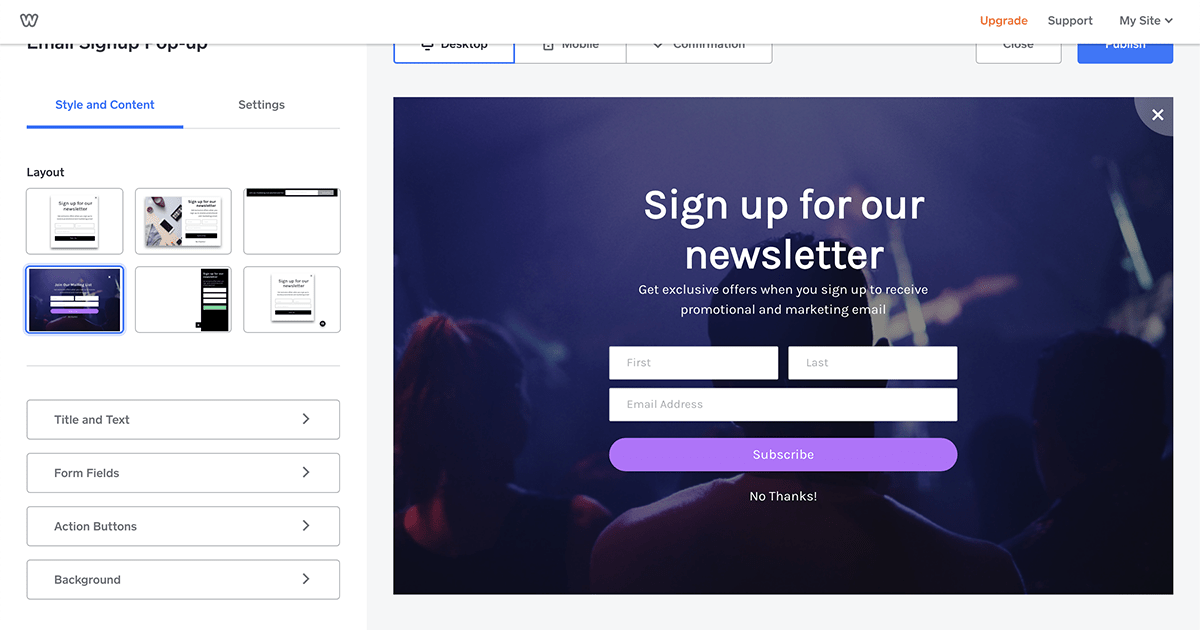 Branding Studio
Mailchimp's Creative Assistant can look at your website and identify your brand colors and logo, then generate branded designs. While this is a great concept, it would be much more useful if it was integrated into the email campaign editor. As it is, it's way too difficult – and sometimes impossible – to incorporate branded designs into your content. It's one of the many, slightly irritating, flaws we discovered in our
Mailchimp review
.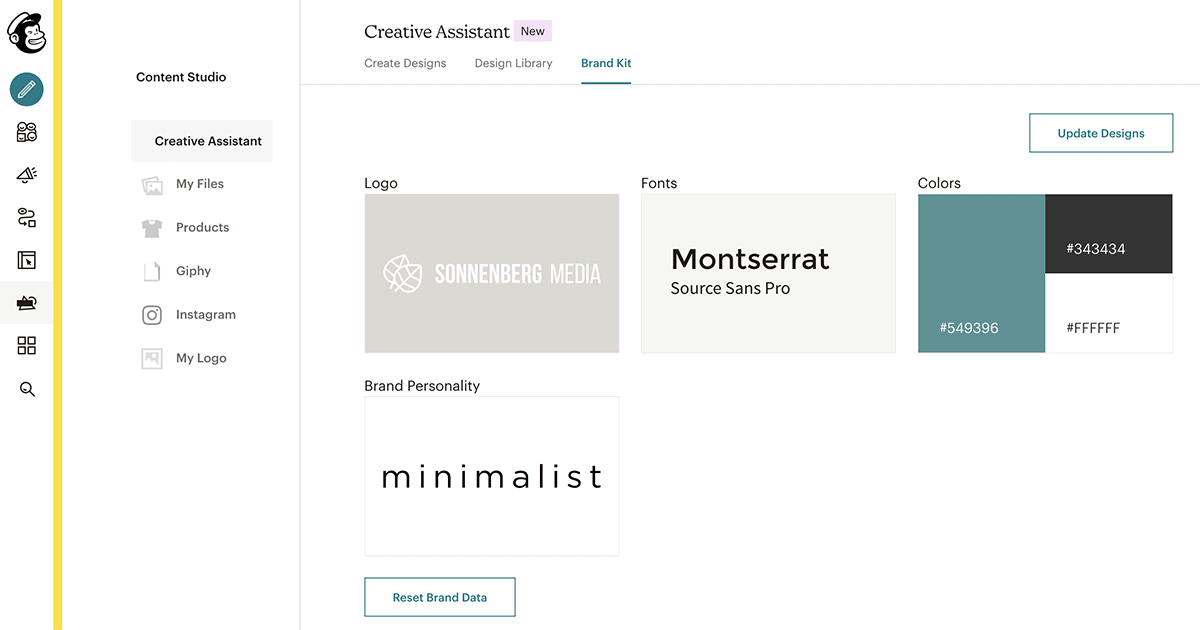 Weebly Promote's branding studio is a bit simpler, although you have to input your brand colors and logo manually. But once you do, Promote automatically applies your branding to every campaign you create, which can save tons of time.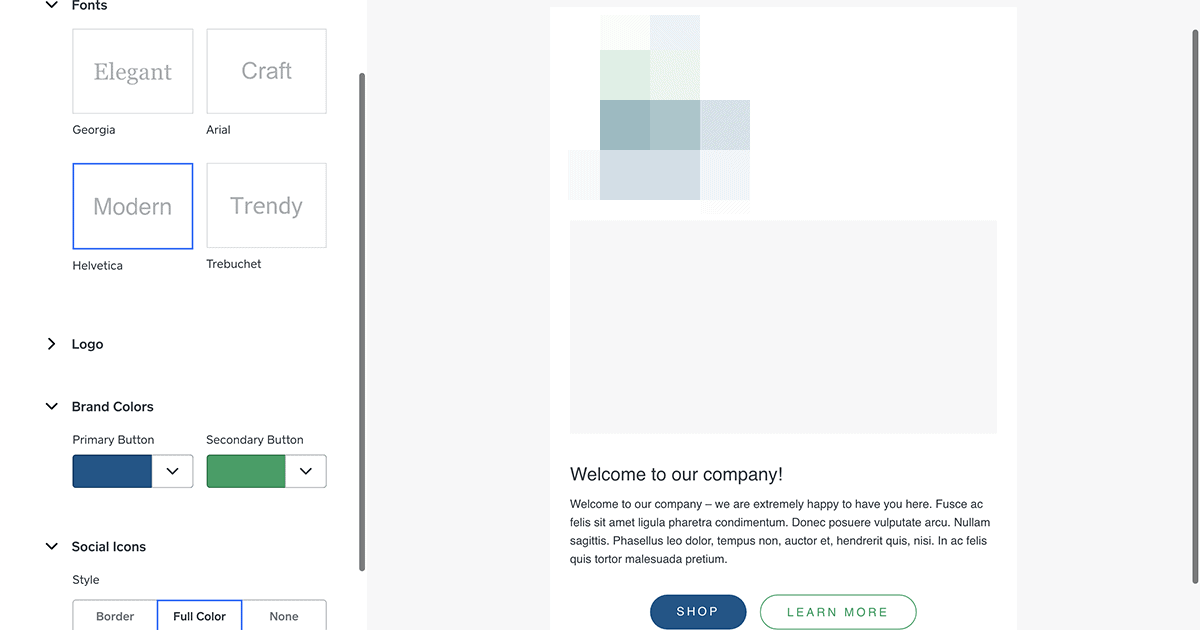 When it comes to usability, Weebly Promote is the clear winner.
The drag-and-drop editor, form builder, and branding studio are all far more functional than Mailchimp's features.
Reporting and Analytics
Promote Analytics Are Always the Same; Mailchimp Reports Offer More If You Upgrade
Both Weebly Promote and Mailchimp have relatively decent email marketing analytics, but there's one big difference between the two.
Promote provides the same reports no matter which plan you choose, while Mailchimp offers more advanced analytics – if you're willing to shell out hundreds of dollars for the highest-tier plan.
For an all-in-one marketing platform, Weebly Promote has pretty good reports. They include basics like click-through rates (CTRs) and open rates, and reveal the links that your subscribers clicked.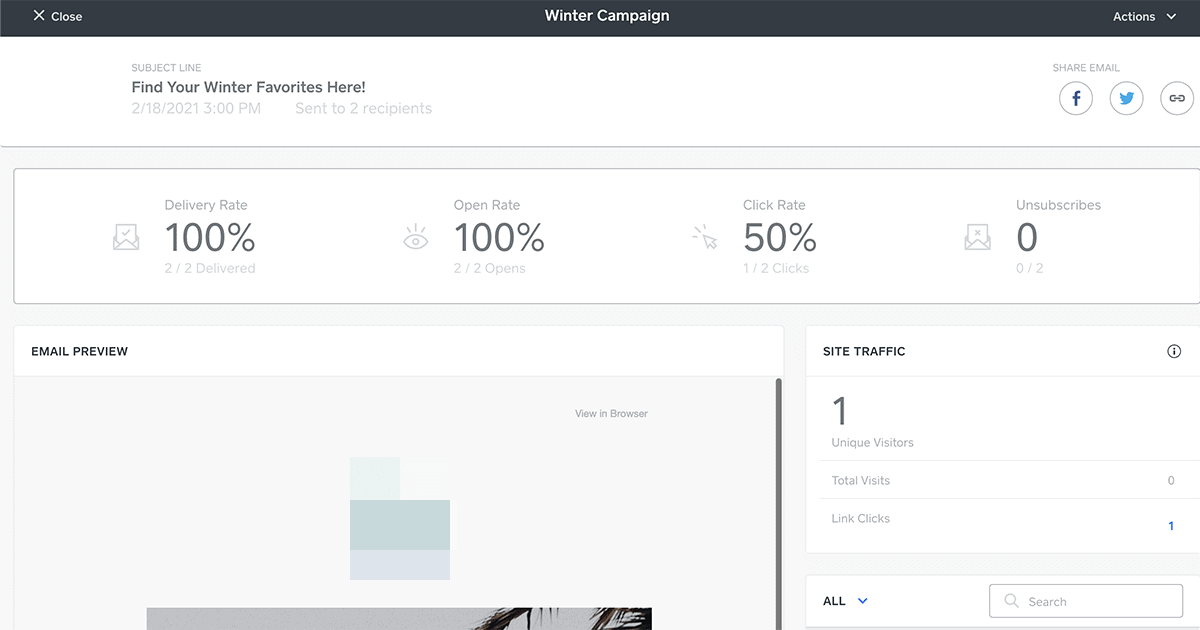 You can access more insights, but you have to click around in the Weebly dashboard to find them. I found the marketing insights report especially good for illustrating the impact of my email marketing efforts, as it shows metrics like website visits and sales over time. But I'd really prefer a comparative report that let me contrast campaign performance and identify what works best for my audience.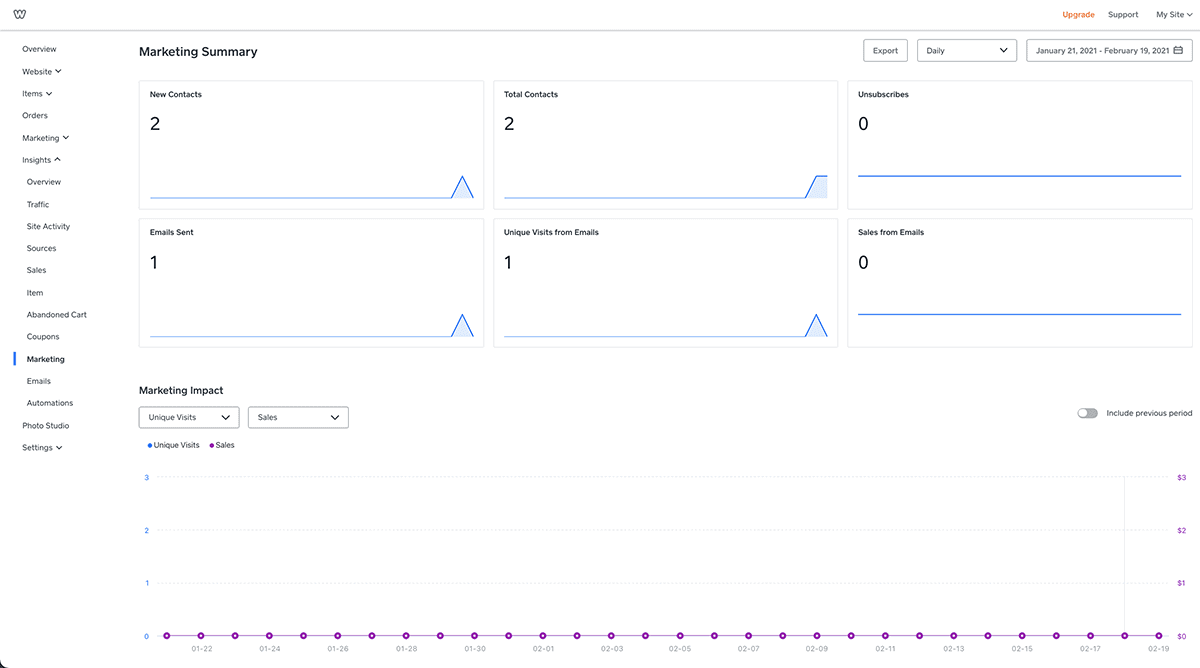 By contrast, Mailchimp has the comparative reports I want, but they're only available with the most expensive plan.
And I definitely don't think it's worth spending $299 per month for more comprehensive reports – especially when other email marketing services include these reports in far cheaper plans. For example,
Benchmark offers impressive insights for no cost whatsoever.
Even on the
Benchmark free plan
, you can find out all of the opens, clicks, where people have clicked, bounces and amazingly, where in the world they have clicked from.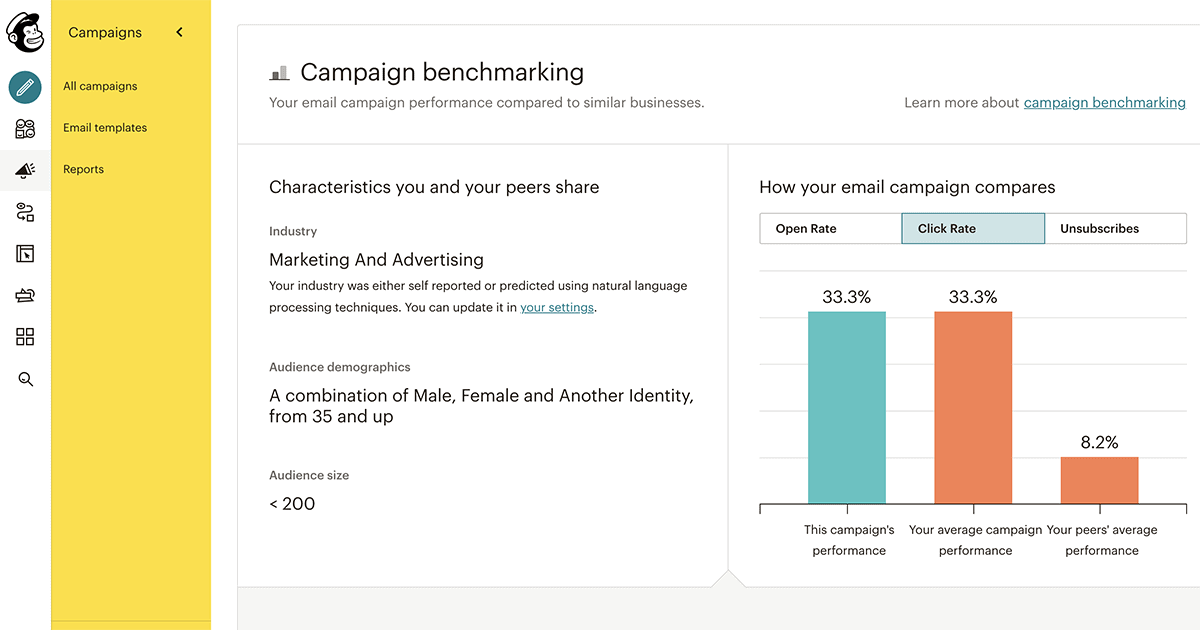 If you purchase one of the lower-tier Mailchimp plans – like I did – then you'll get reports that are only slightly more in-depth than Promote's.
Along with essential metrics like CTRs, Mailchimp has subscriber maps and campaign benchmarking.
But although the benchmarking option is interesting, it doesn't go into enough detail to give you much useful information.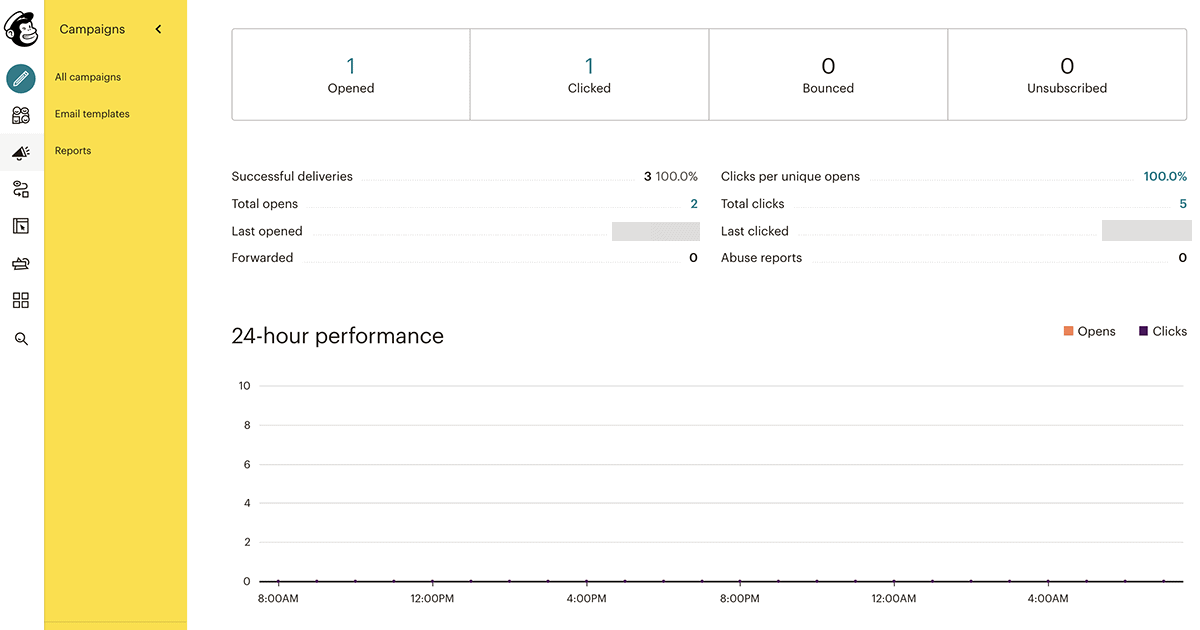 When comparing analytics, I'd give a slight edge to Mailchimp. Even on the lower plans the reports are slightly better than Promote offers. That said,
you can get more for your money elsewhere, and Mailchimp's advanced reports on their high plans are too pricey to recommend.
Given the choice, I'd opt for
Benchmark's free plan
 and above average reporting instead.
Pricing
Weebly Promote Is a Bargain Compared to Mailchimp – but Neither Is a Great Deal
At first glance, Weebly Promote looks cheaper.
Pricing maxes out at

$

75.00

 per month for the highest-tier Promote plan, while pricing for Mailchimp's most expensive plan starts at $299 per month.
Yep, you read that right. However, Weebly Promote's lower-tier plans are so restrictive that upgrading to the most expensive plan is almost inevitable, while Mailchimp's mid-tier plans would work just fine for many marketers. So what's the catch? The thing is,
Mailchimp pricing depends on your plan and your list size – which can get really expensive.
Here's What You Get For Free
Weebly Promote's Free plan offers just enough to let you try out the platform – but only just.
You're limited to 500 contacts and 1,000 emails a month and can't use any of the service's other features. You can't even schedule emails. On the other hand, the Basic plan is almost as limited, so if you're thinking of giving Promote a try, you might as well see how you get on with the
Free plan
 before upgrading. Mailchimp has a Free plan that comes with a handful of email templates, basic segmentation, and an automation builder. Yet the free version lacks the visual customer journey builder, comparative reporting, and advanced automations you'll want as your list grows. It also restricts you to 2,000 subscribers and 10,000 email sends per month, two limits you'll reach faster than you might think. Even so, that's a lot more than you'll get with Weebly's Free plan.
Here's What You Get When You Pay
Weebly Promote plans have flat rates, which means the price doesn't change as you collect more subscribers, up to the maximum for the plan. However,
you have to upgrade to the next plan when you reach a sending or subscriber limit
. Beyond the lowest-tier plan, none of the options are exactly cheap:
Build: Send up to 2,500 emails to 500 subscribers per month, but no automations, segmentation, or even scheduling emails. Price:

$

8.00

 per month.
Grow: Send up to 50,000 emails to 2,500 subscribers per month, including segmentation and 5 automated emails. Price:

$

25.00

 per month.
Accelerate: Send up to 250,000 emails to unlimited subscribers each month, including all available features. Price:

$

75.00

 per month.
Mailchimp has subscriber-based pricing, which means you pay more every time you reach a new contact threshold – even if you stay on the same plan. So while the two lower-tier plans start off cheaper than their Weebly Promote counterparts, the price escalates surprisingly quickly. If you're on a tight budget, you can forget about Mailchimp's most expensive plan, which is the priciest non-enterprise email marketing plan I've seen.
Essentials: Send up to 500,000 emails to up to 50,000 subscribers per month (10x the contact limit for your plan level), including the automated customer journey builder and A/B campaign testing. Pricing starts at $9.99 per month.
Standard: Send up to 1.2 million emails to up to 100,000 subscribers per month (12x the contact limit for your plan level), including branched automations. Pricing starts at $14.99 per month.
Premium: Send up to 3 million emails to up to 200,000 subscribers per month (15x the contact limit for your plan level), including comparative reporting and multivariate campaign testing. Pricing starts at $299 per month.
With the chart below, it's a little easier to size up these two services.
Yet when you compare the cheapest Mailchimp and Weebly Promote plans to the Free plan from Sendinblue, it's obvious that you don't have to pay anything to get the email marketing features you need.
Weebly Promote: Build
Mailchimp: Essentials
Sendinblue: Free
300 emails per day (approx. 9,000 per month)
Limited multi-step automations
Customizable multi-step workflows
Limited live chat hours, email ticket support & community forum
24/7 email & live chat support
When it comes to pricing, it's a draw. Weebly Promote's mid-and top-tier plans aren't cheap, but neither are Mailchimp's
, especially as you start amassing a bigger list. Plus, Mailchimp's priciest plan is shockingly expensive – and that's just the starting price.
Support
Neither Is Particularly Fast – but Weebly May Leave You Hanging
Mailchimp and Weebly offer support in distinctly different ways. While both services have room for improvement, I discovered that Mailchimp is the superior choice. With Mailchimp, the email marketing plan you choose determines how much support you get.
All paid plans come with 24/7 chat and email support, while the highest-tier plan also includes phone support.
I tested out Mailchimp's email support system by asking for help with avoiding the spam folder and improving deliverability.
I had to wait about 48 hours for an answer, but the response I received was helpful and thorough (which is a completely different story to what happened to my colleague in his Mailchimp review).
It even indicated that the Mailchimp agent had taken a look at my account to provide personalized support.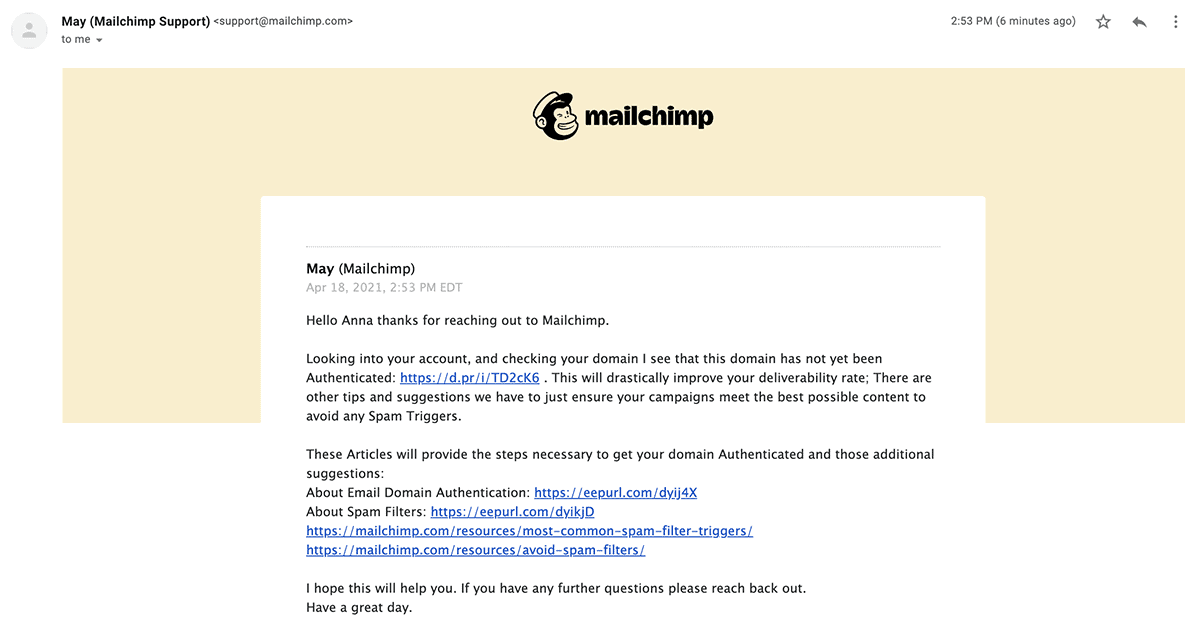 Weebly doesn't offer separate support for its email marketing plan. Instead, your support options depend on your website builder plan.
As I mentioned in my
Weebly Promote review
, Free and Personal accounts come with email, live chat during business hours, plus community forum support. With a
Professional plan
,
you get phone support, and with a Performance plan, you can jump to the front of the line. I tested out Weebly's email ticket support by asking for help with avoiding the spam folder.
More than two months later, I'm still waiting for a response from Weebly support.
At this point, I think it's safe to assume I'll never receive one.

Mailchimp definitely comes out ahead when it comes to supporting.
Both services take their time, but at least Mailchimp eventually responded to my support ticket.
Mailchimp and Weebly Promote Are Comparable – but Neither Is Really the Winner Here
Weebly Promote is a bit better when it comes to pricing and ease of use, while Mailchimp has slightly better features and support.
But I wouldn't declare either platform a true winner.
I
f you want to grow your business, it's essential to
choose a dedicated email marketing service
that actually meets your needs.
For those on a tight budget, I recommend Sendinblue, which offers one of my favorite free plans.
You can segment subscribers, design custom workflows, and access advanced reports at no cost.
Or, if you're ready to dive right into the deep end, I suggest ActiveCampaign.
Every plan comes with over 250 automation templates
, and the mid-tier Plus plan includes advanced performance reporting and contact scoring to help you get a better return from your efforts.
| | | |
| --- | --- | --- |
| | Weebly Promote | Mailchimp |
| Features | Approx. 15 email templates, limited automation, approx. 400 app integrations | Approx. 100 email templates, premade & custom automation, approx. 300 app integrations |
| Ease of Use | User-friendly interface that's easy to use | Nicely designed interface that's easy to navigate |
| Reporting | Passable reports with some marketing insights but no option for more advanced reports | Relatively basic reports with advanced insights for the highest-tier plan |
| Support | All Weebly plans include chat during business hours & email ticket support, and higher-tier plans have phone support | 24/7 email & chat support for all paid plans and phone support for the highest-tier plan |
| Pricing | No free plan; flat-rate plans have a subscriber and sending limits | Free plan available; paid plan pricing is subscriber-based |
FAQs
Does Mailchimp work with Weebly?
There are no direct integrations between Mailchimp and Weebly, and Weebly doesn't support Zapier. However, you can use third-party apps to add a Mailchimp subscription form to your Weebly website.
What is the cheapest email marketing service?
The cheapest email marketing services offer both a generous free plan and affordable pricing for paid plans. Sendinblue has the best free plan, with advanced segmentation and customizable automation, and its paid plans have reasonable send-based pricing – especially if you use one of our email marketing coupons.
Which is better: Weebly Promote vs. Mailchimp?
Weebly Promote wins on price and ease of use, while Mailchimp has more advanced features and faster support. However, neither is necessarily better. Instead, I'd recommend reading our list of the top 10 best email marketing services and taking a closer look at dedicated email marketing platforms like ActiveCampaign or Sendinblue.